Growing up potato leek soup was a staple in our house. To this day potato soup is one of my absolute favorites. I still request my dad to make it for me almost every time I am home. Over the years I have put my spin on the soup. However the other night I wanted a simple version. I didn't want to deal with chopping a ton of veggies and wanted to keep the classic simple. So I made a new version of potato leek soup with BACON!
Everything is better with bacon
At least in this house it is! As picky of a meat eater as I am I LOVE bacon. I love the flavor it gives things. The smokiness of the bacon in this recipe pairs nicely with the leeks. But I don't like crumbling the bacon into the soup until the very end. I find the bacon just gets soggy which I don't like.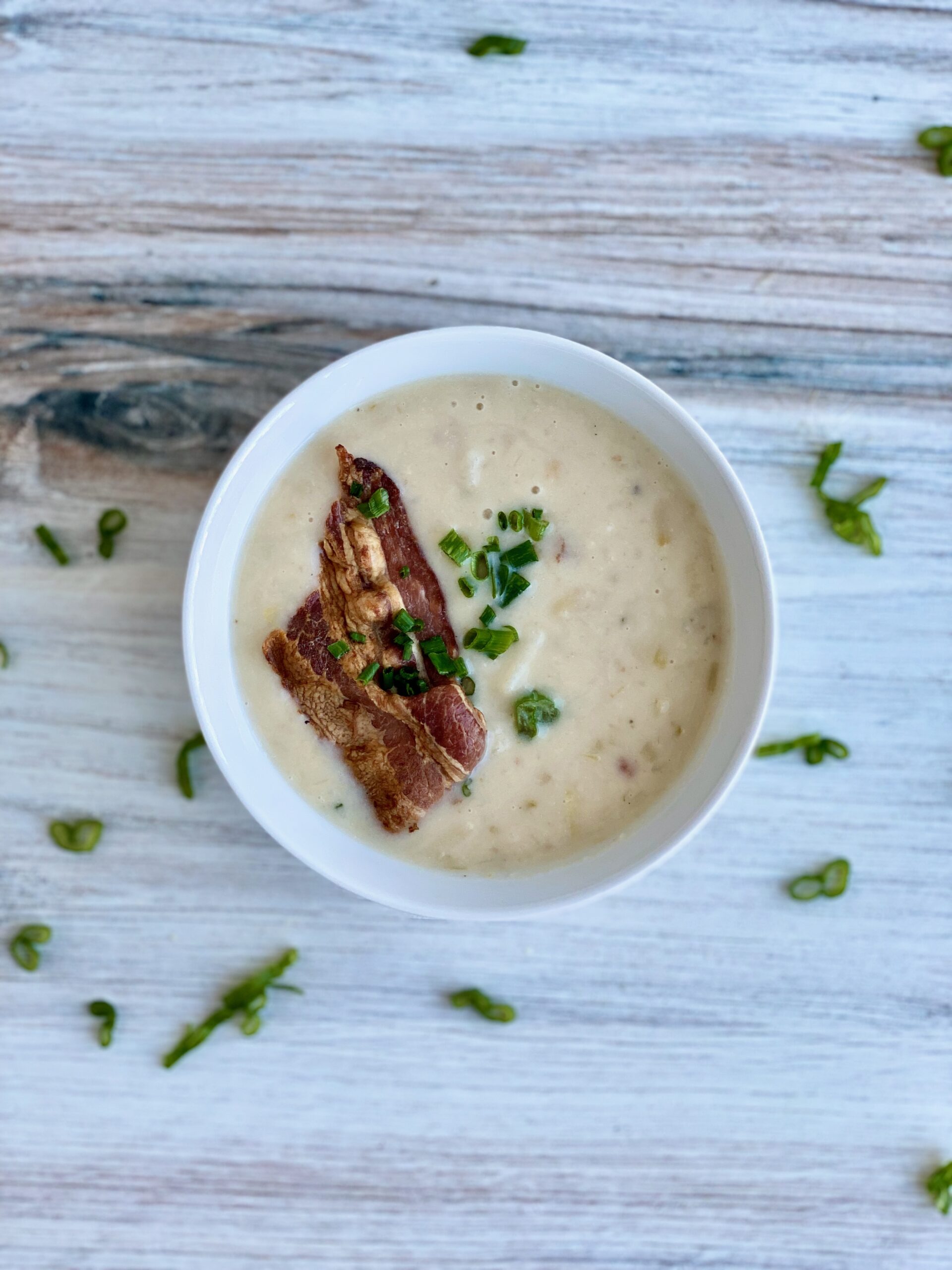 So to get more bacon flavor I use the bacon fat. It's so funny, when I was younger I would have read this and thought "ewwww" and now I think of bacon fat as liquid gold. The one thing I love about bacon fat is it's not processed. It's literally the fat from cooking the meat instead of some vegetable that goes thru a ton of processing to extract oils. And most importantly – it tastes good!
To infuse that bacon flavor in my soup I cook my leeks separately. In a small pan over medium low heat I sauté the leeks in a few tablespoons of that bacon fat that was left from cooking the bacon in the oven. Also some of those little bacon bits stay in the fat and help flavor the leeks. Then the reserved cooked bacon gets crumbled up on top of the soup for a crispy salty addition.
Mashed potato…..soup?
I go back and forth between how I like my soup. Sometimes I want chunks of potatoes. Sometimes I like the soup creamy. On this particular day I decided I wanted a hybrid of the two. I had been perusing Pinterest and I came across a potato soup that mashed the potatoes. I thought it was genius and wanted to try it for myself.
When you blend potatoes if you over blend the starch in the potatoes can cause the soup to become gummy. But by mashing the potatoes you can control the texture and not over blend. Also this makes the soup so easy to make. Since chicken broth would be the base of my soup instead of cooking my potatoes in water I boil them in the broth. I only use enough broth to cover the potatoes. Then when the potatoes are done cooking I mash the potatoes in the chicken broth. Then all that is left is to add the other ingredients and let the soup simmer for a bit.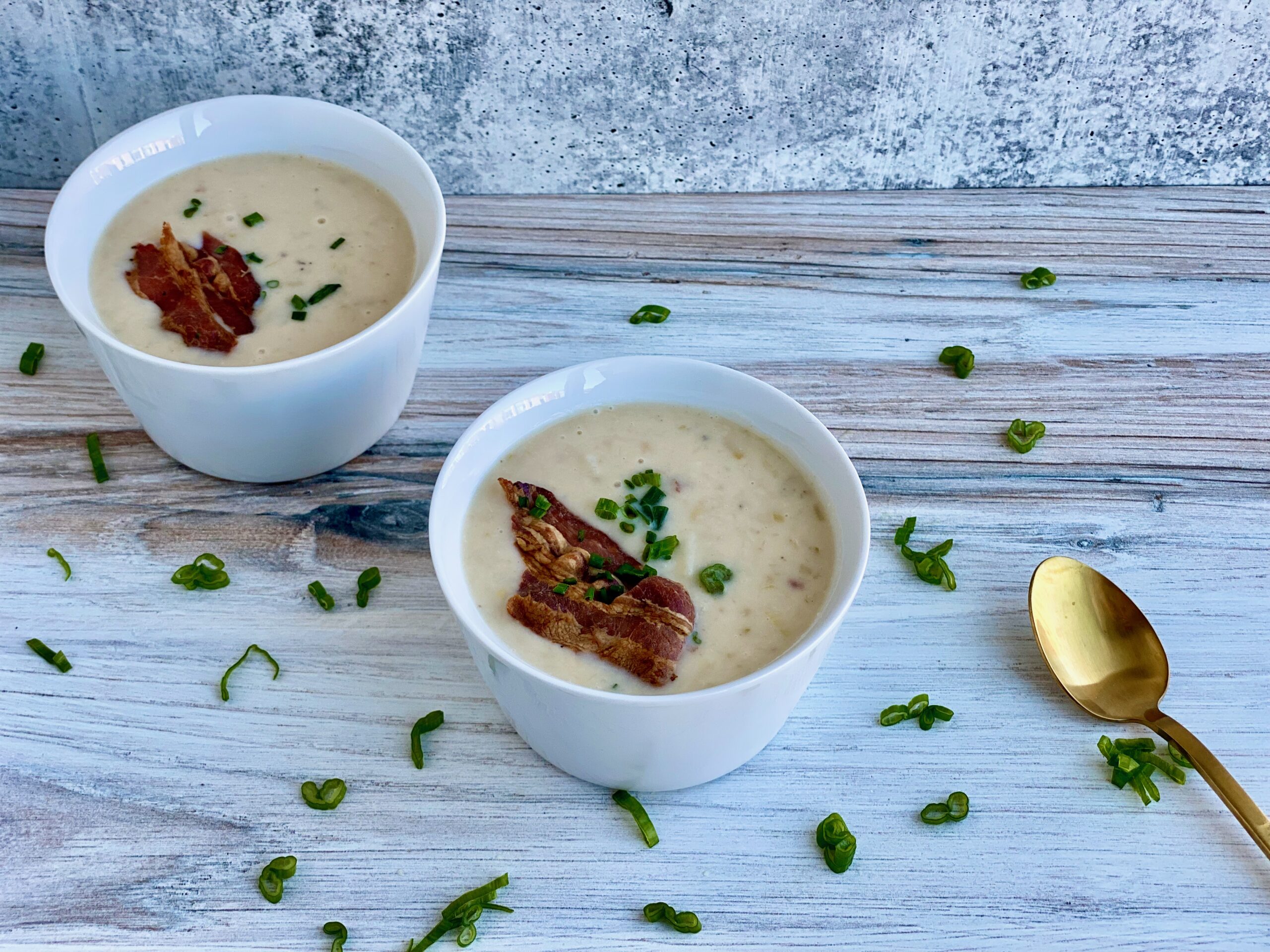 So the next time you are craving potato leek be sure to make it with bacon. And don't forget to mash your potatoes. This potato leek with bacon soup hands down is one of the best versions I have made. My dad would be proud!
For more recipes be sure to check these out:
This lower carb soup potatoes are swapped for cauliflower in this cauliflower leek soup
For a mashed potato side be sure to try these Boursin cheese mashed potatoes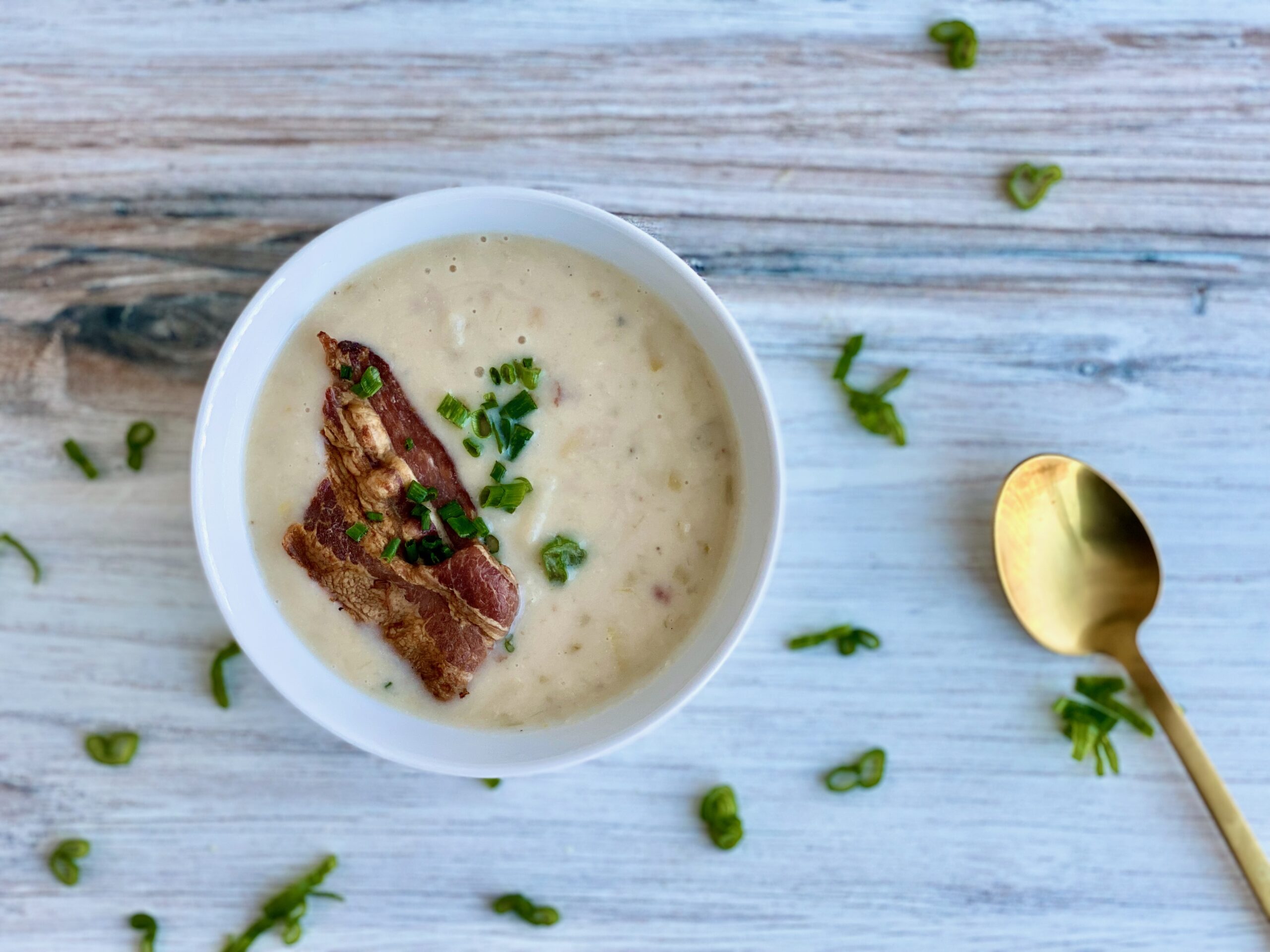 Print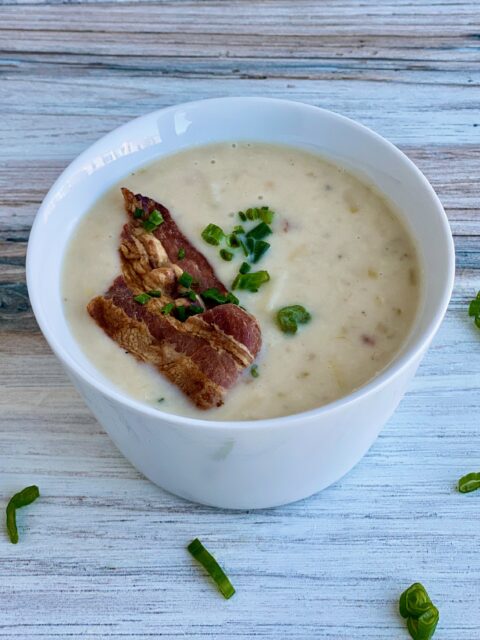 Easy Potato Leek with Bacon Soup
---
Author: Karissa P
Total Time: 42 minute
Yield: 6 1x
Description
This potato leek soup adds bacon for a smoky flavor. Mashing potatoes saves time for an easy meal.
---
6 large russet potatoes, peeled and chopped into a medium dice
4 cloves of whole garlic
2–3 leeks, sliced thin (I slice in half length wise, cut in half lengthwise again and then thinly slice) and washed
1 TBS butter
6–8 c chicken broth
2 bay leaves
5–6 sprigs of fresh thyme tied together with twine
1 lb bacon
1/4 c heavy cream
6 scallions, thinly sliced
8 oz cheddar cheese block, grated
chives for topping
---
Instructions
Cook bacon in method of your choice, I personally love cooking in the oven at 400 on a cookie sheet for 12-15 minutes until bacon is crispy – SAVE BACON FAT
In a large soup pot combine potatoes with 4 c chicken stock or enough stock to just cover the potatoes, add in garlic cloves, bay leaves and thyme bundle. Bring to a gentle boil, cook 12-15 minutes until potatoes are fork tender.
While potatoes are cooking in a frying pan combine leeks with butter and 2 TBS of bacon fat. Cook over medium low to medium heat until softened, 15 minutes (be sure the heat is not too high, the leeks should not brown)
When the potatoes are cooked remove thyme bundle (you can pull some leaves off the stems and add to the soup) and begin to mash the potatoes with a potato masher in the broth. You want to have some small lumps left in the potatoes.
Once potatoes are slightly mashed add in 2 more cups of broth, the scallions and cooked leeks. Stir to combine. The soup should now be soupy. If it is still too thick add a little more broth. Season with salt and pepper. Cook over medium heat for 10 minutes until soup melds together and scallions have cooked slightly.
Stir in heavy cream
A handful at a time stir or whisk in cheese. Be sure the cheese has melted in the soup fully before adding more
Serve the soup with crumbled bacon and chives
Prep Time: 10M
Cook Time: 40M
Category: Soup
Keywords: potatoes, bacon, soup, leeks