Fall is in the air. Which means football, leaves changing, pumpkin everything and soups, chilis and stews. Last weekend I was craving a good chili but wanted some meat in it. I have made white chicken chilis before but wasn't really wanting that. Recently I had made a really good posole soup. So I decided to combine the two and make a verde chicken chili.
All the things verde…..
Salsa verde is typically made with tomatillos, jalapeños, onions and spices. And it so happens to be the base of this chili. But making it is super easy and you get to control the flavors so I would definitely try to make your own versus using a jar.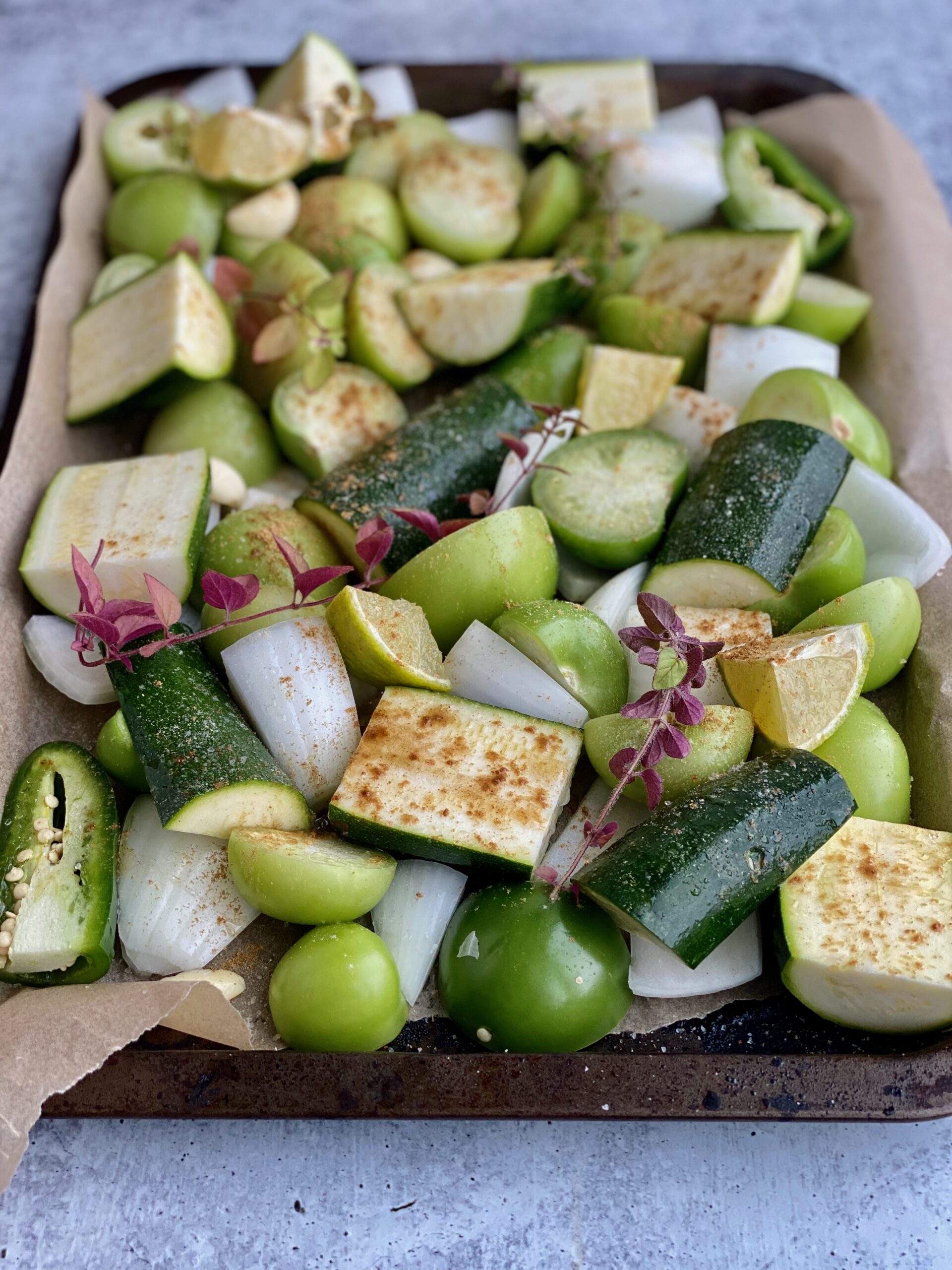 To start making the salsa verde I put tomatillos, white onions, jalapeños, and limes on a parchment lined cookie sheet. (easy cleanup!) But of course I wanted to add some extra veggies into the chili so I snuck a couple zucchinis in the mix. The zucchinis will get blended up with everything so you don't even taste them. Instead it just gives the extra nutrition to the soup like folate, potassium and Vitamin A. I also add a few sprigs of fresh oregano (from my herb garden). The oregano will actually dry up in the oven and become crispy which gives a nice flavor to the salsa.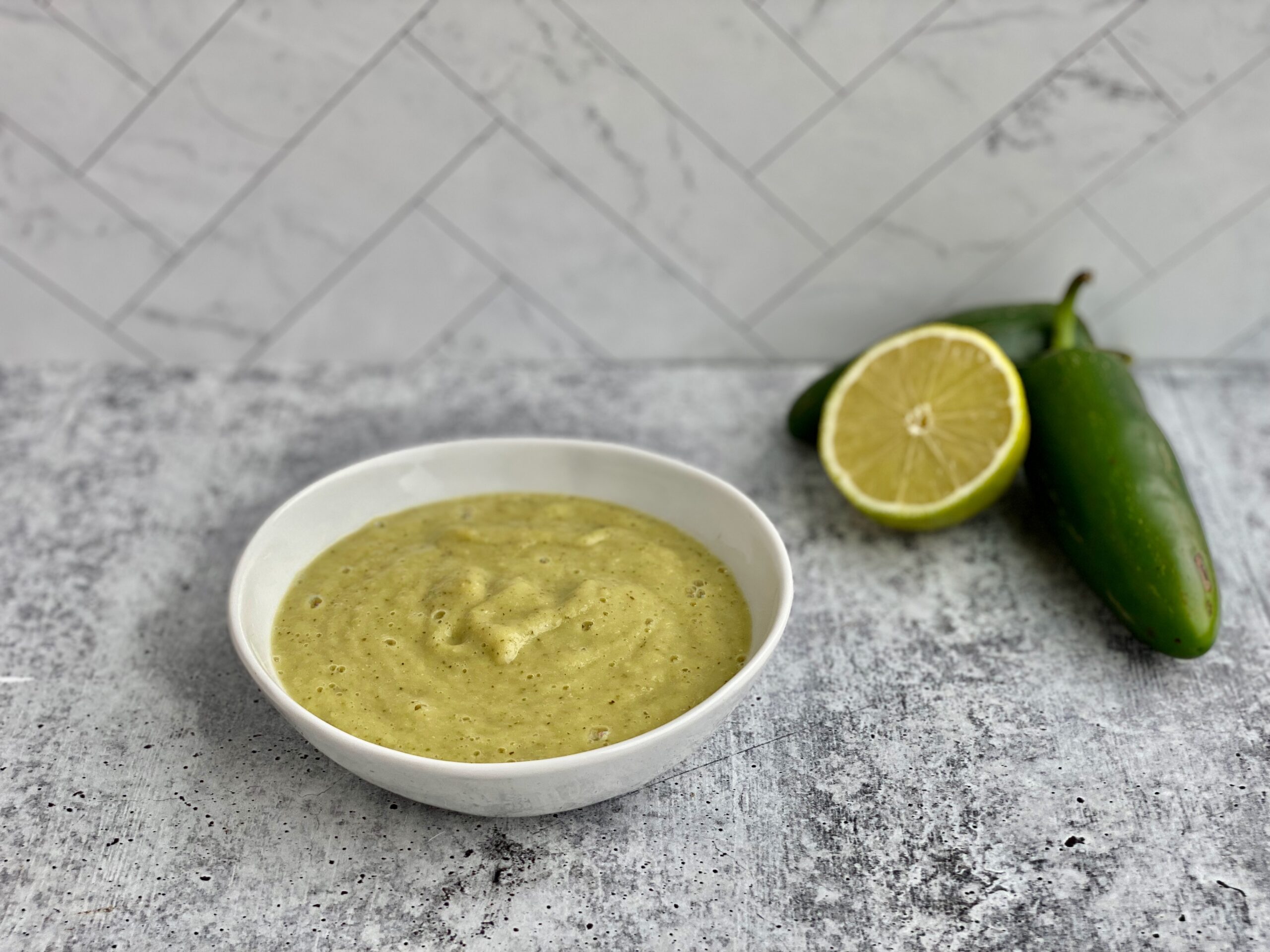 Once the veggies are all roasted in the oven I squeeze the juice from the cooked lime onto them. Then I put everything into the Vitamix and blend. This would be great to just eat with chips. Or to use as an enchilada sauce. But instead this salsa becomes the base for my soup.
All the extra things
There are a few more things that make this chili stand out from others. First off, the hominy. Instead of using frozen corn I decided to use hominy. We went to Mexico this year and the posole (Mexican soup) was to die for. Hominy is a key ingredient in posole. I found organic hominy on Amazon and it came with 8 large cans so I decided to put some to use.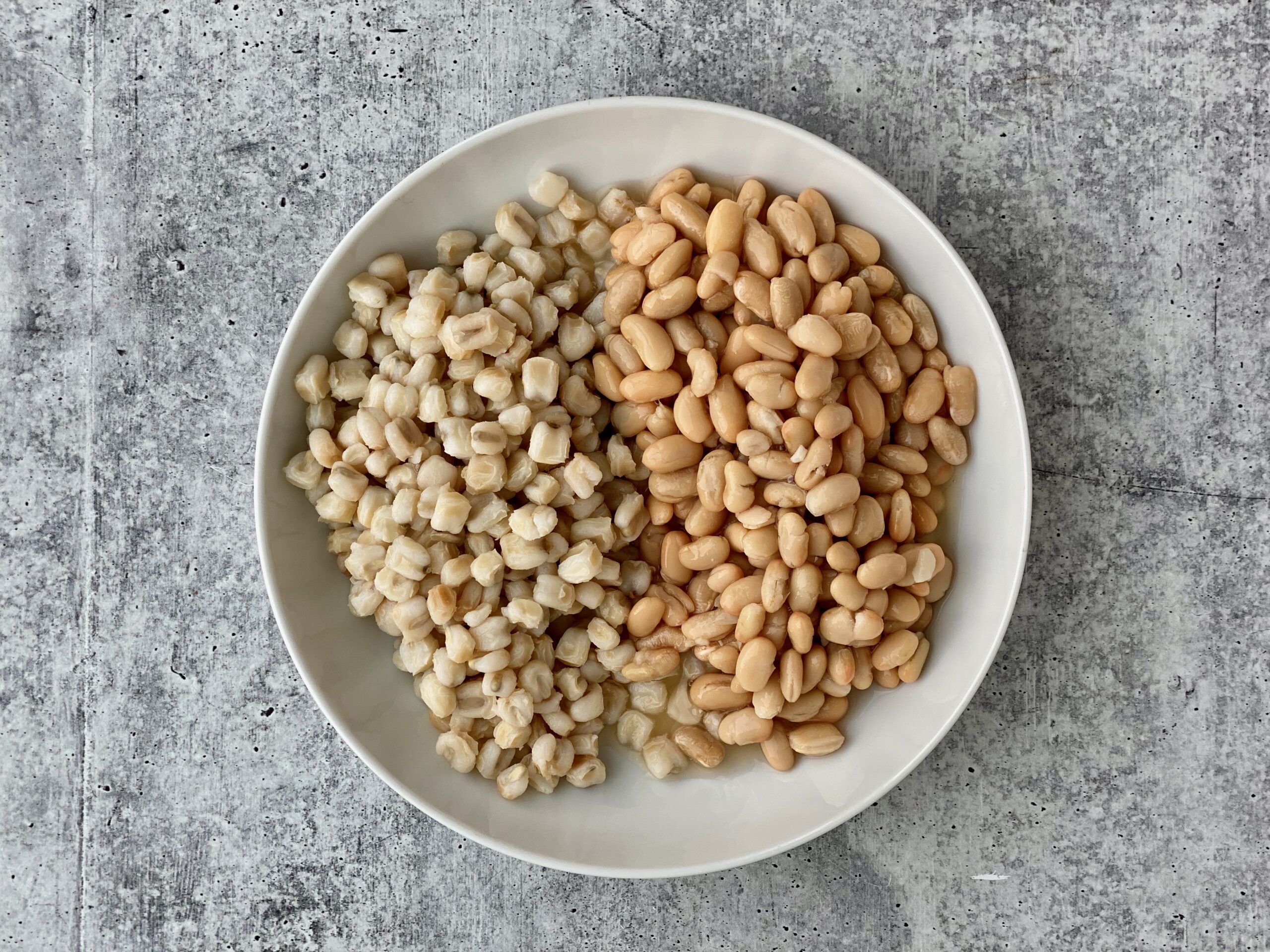 Hominy is like a big puffy corn. It reminds me of the corn nuts you maybe had as a kid without the crunch. Hominy is corn that is removed from the hull and then softened. Hominy is actually digested more easy than corn due to the softening process. But it definitely tastes different. If you can find hominy definitely try it in this verde chicken chili for a little something extra!
Next let's talk chicken. I used to just poach chicken breasts for soups but I feel like then the chicken has no flavor. But I learned from Ina Garten a trick for soups to roast chicken and I haven't gone back. I use bone on, skin on chicken breasts. The key here is not to just roast them in the oven. First you have to season the heck out of them.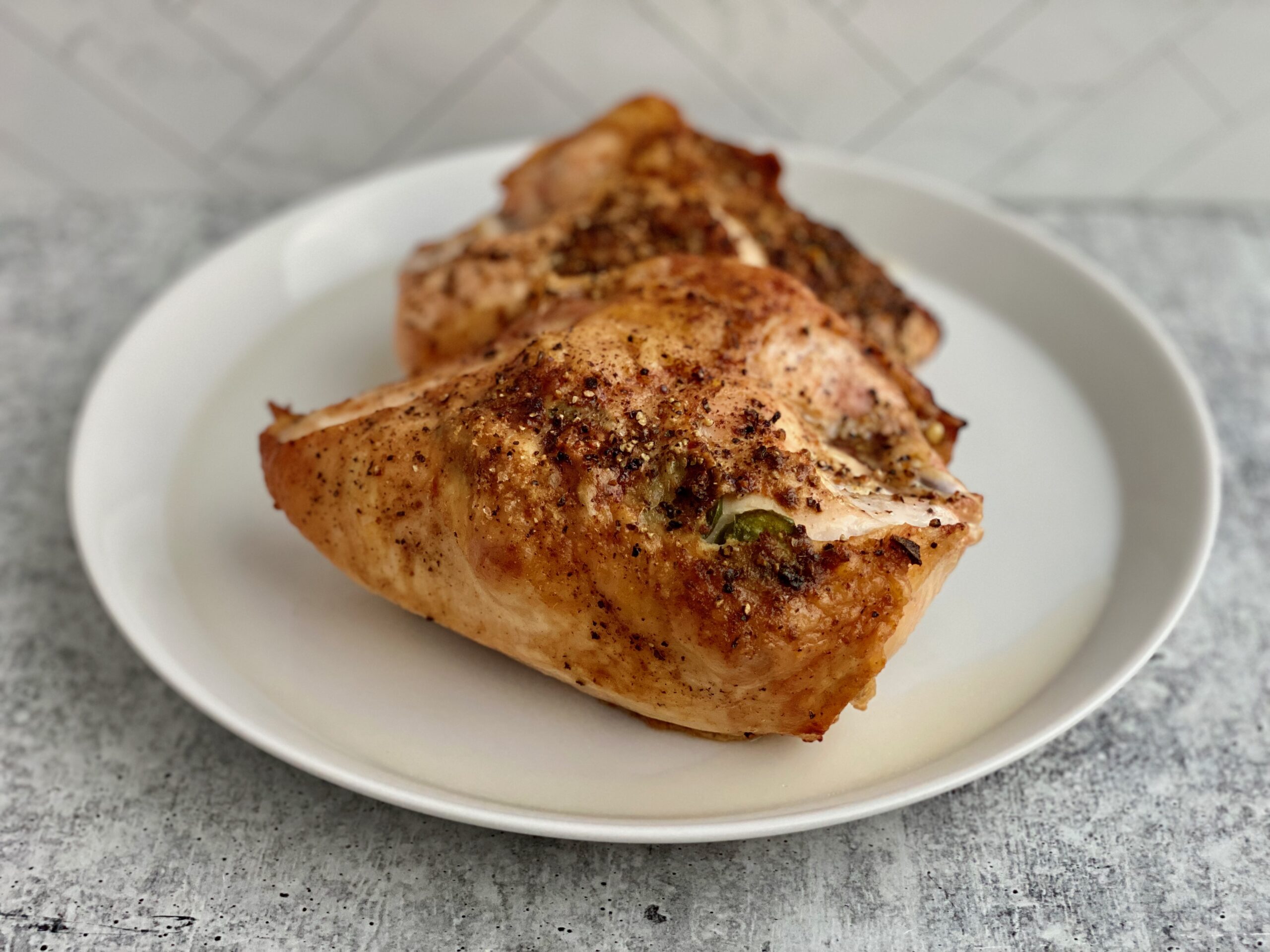 To do so I remove the skin away from the meat slightly and stuff flavorful ingredients in between the skin and the breast. Garlic cloves are a must. I decided to also stuff the breast with a few thin slices of jalapeño peppers too. It doesn't make the chicken spicy, it just infuses it with flavor. Then I drizzle the skin with a little olive oil and liberally season with salt, pepper, cumin and a squeeze of lime juice. Don't worry about going to town with the seasoning. It helps flavor that chicken and make it juicy.
Putting it all together
The chili itself comes together quickly. Onions, bell peppers and spices are suateed together. Then the salsa and some chicken broth gets added with white beans (because it's chili!) and the hominy. I like to multi task and do everything while the chicken is roasting. Once the chicken comes out of the oven everything can get served together.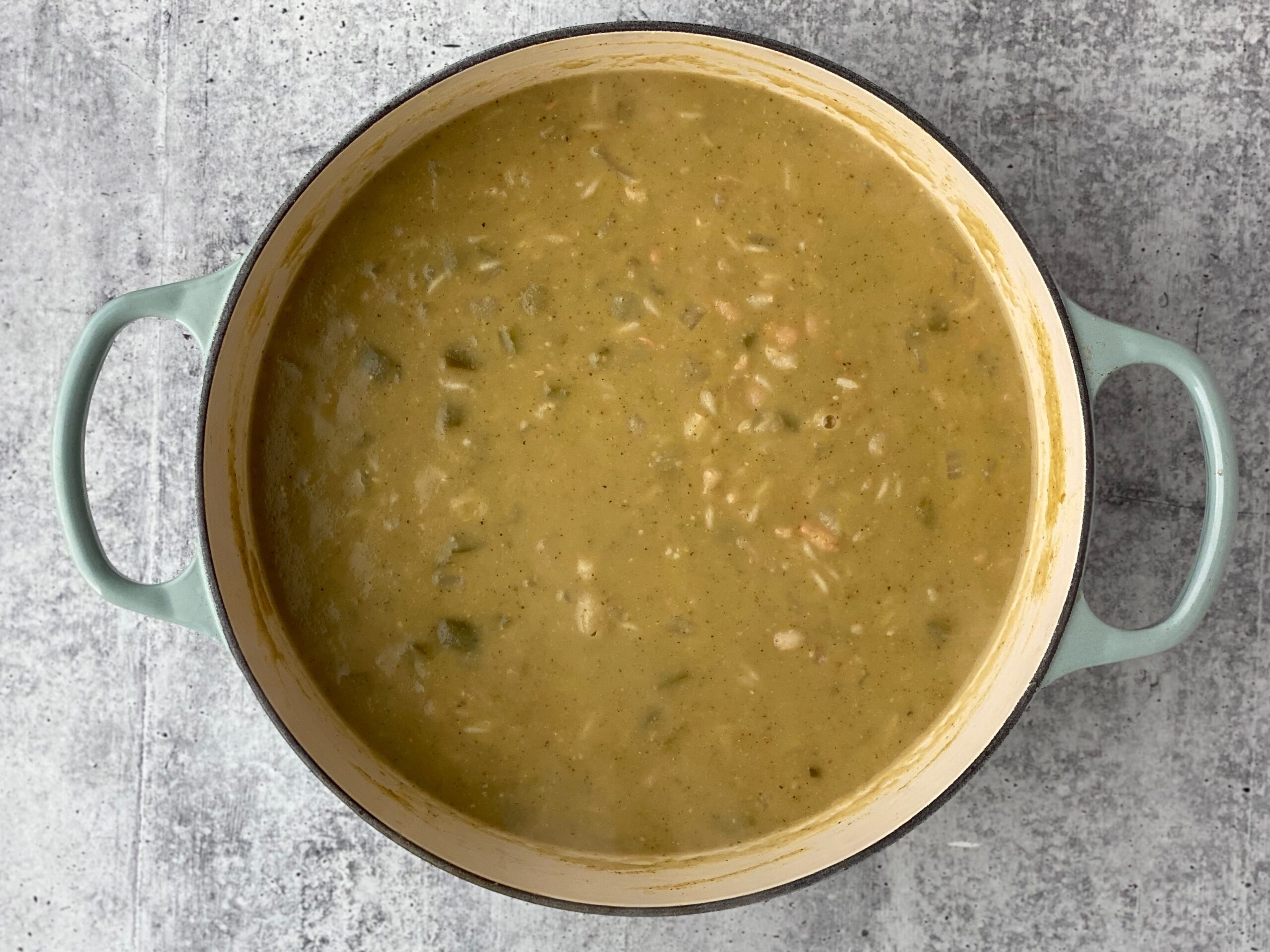 Don't forget your toppings! We like to top the chili with cheese, avocado and some scallions. My husband adds more jalapeños and cilantro. The verde chicken chili is great the next day too. And if it's too thick for you you can always thin it out with a little more chicken broth.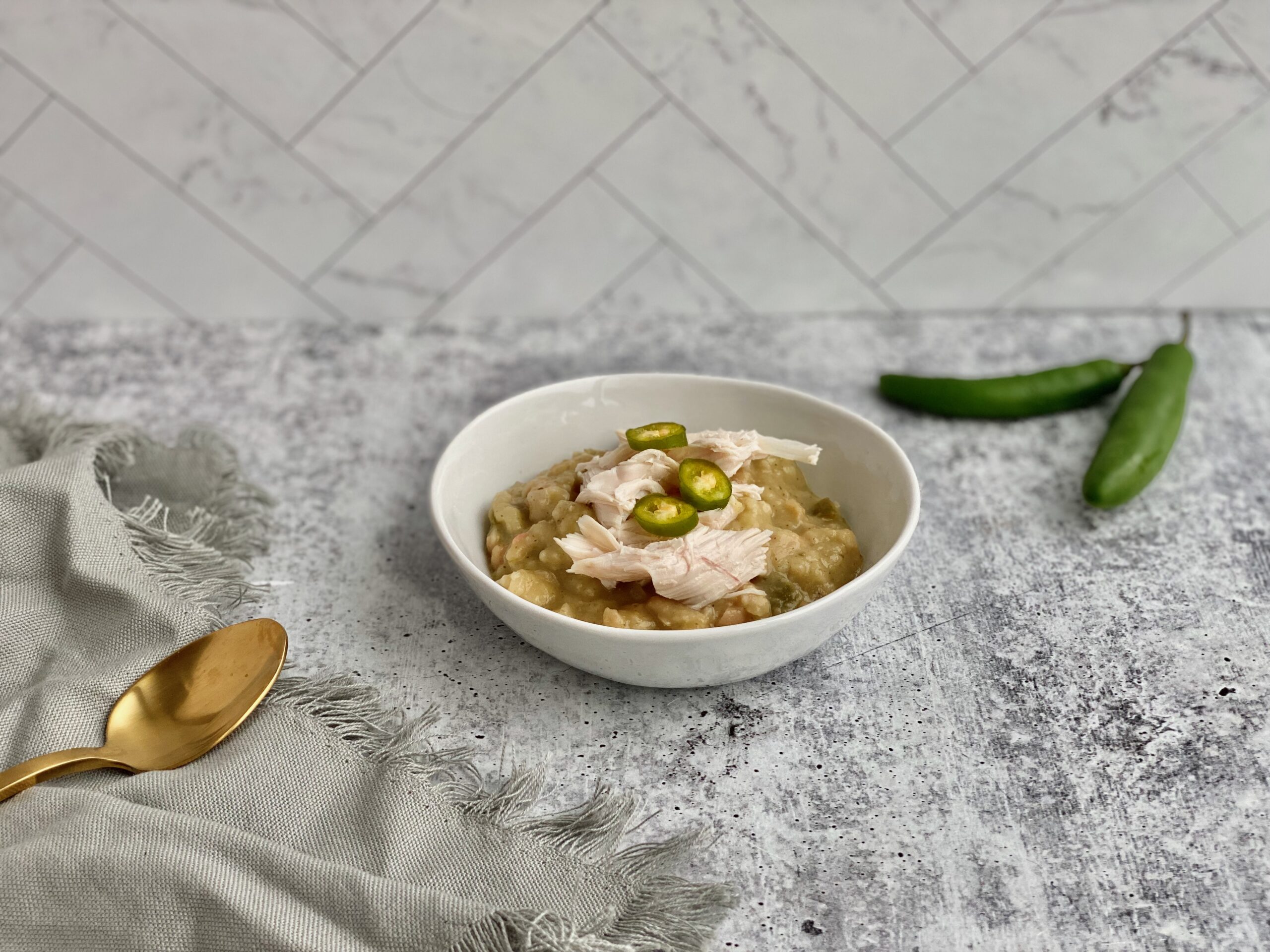 The next time you think about chili on a weekend or game day be sure to give this verde chicken chili a try for something different!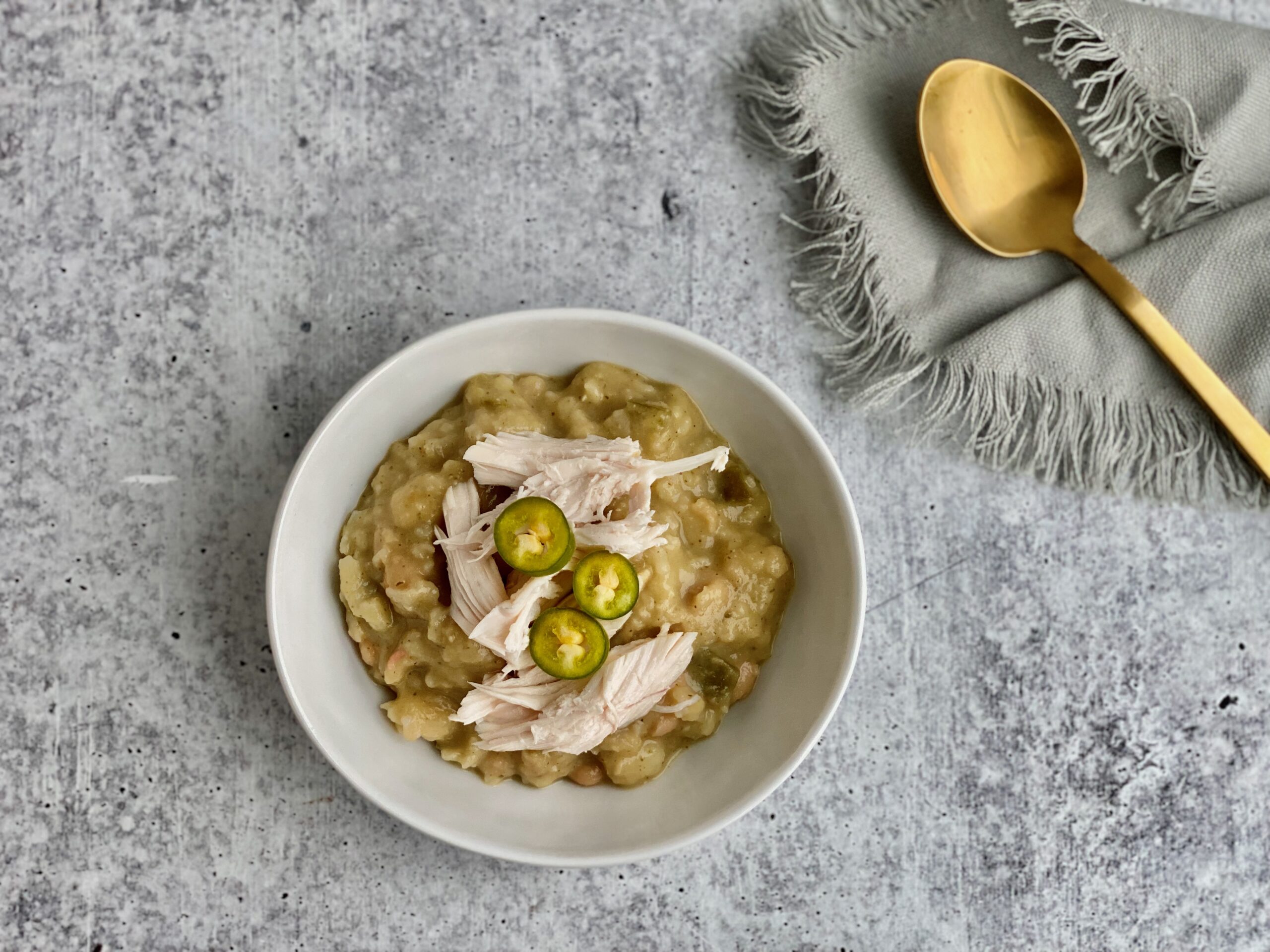 Want more fall soups?
This veggie enchilada soup keeps with the Mexican chili theme
The same roasted chicken technique gets used in this chicken wild rice soup
This vegetarian chili is great for Meatless Mondays
And remember, if you try this recipe be sure to leave a comment below and let me know how you like it or tag me on Instagram!
Print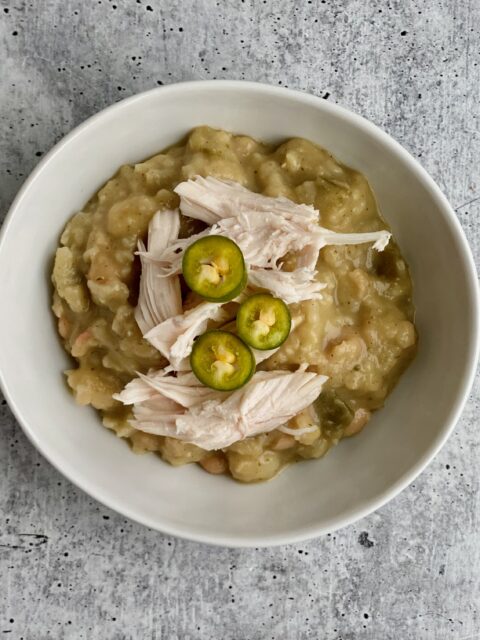 Verde Chicken Chili
---
Author: Karissa P
Total Time: 33 minute
Yield: 6 1x
Description
Chicken chili goes green with the addition of salsa verde.
---
Salsa Verde
1–1.5 lb tomatillos, husks removed cut in quarters or half
1 white onion cut in large chunks
10 cloves of whole garlic
2 medium zucchini cut into large chunks (I cut in half lengthwise and then chunks)
1 jalapeno sliced in half lengthwise
1 lime cut in large chunks
4–5 sprigs of fresh oregano
1 TBS cumin
For the Chili
1 lb bone on skin on chicken breasts
6 cloves of garlic left whole
6–8 slices of fresh jalapeños
2 green bell peppers, small dice
1 white onion, small dice
1 TBS cumin
4–6 c chicken broth
3 cans cannellini or great northern beans, drained not rinsed
1 28 oz can hominy, drained
1/3 c long grain white rice (I used basmati because I didn't have anything else)
Additional Toppings:
cilantro
jalapeno slices
sour cream
scallions
avocado slices
Monterey or pepper jack cheese
---
Instructions
Pre-heat oven to 425 and take the chicken out of the fridge (you want the chicken to come closer to room temp before cooking so it cooks evenly)
On a parchment lined cookie sheet place all ingredients for the salsa. Drizzle with olive or avocado oil. Season liberally with salt, pepper and the cumin. Bake 30 minutes stirring occasionally.
Once veggies are done, remove oregano leaves for the stems (they will crumble up when you do this so do it over the veggies) and squeeze the limes over the veggies. Blend in blender and reserve.
Place the chicken on the same cookie sheet (no reason to dirty another dish). Using a fork or your hands loosen the chicken skin away from the breast. Slide the garlic cloves and jalapeño slices under the skin. Drizzle olive or avocado oil over the chicken, season liberally with salt, pepper and a few sprinkles of cumin.
Cook the chicken 10 minutes at 425 until skin gets crispy, turn heat down to 400 and bake 20 more minutes. Check with a meat thermometer to make sure the temp is 165.
While chicken is cooking, in a large soup pot sauté bell peppers, onions and cumin in a tsp of olive oil over medium to medium low heat for 10-12 minutes
Add in salsa verde, 4 c of chicken broth, hominy and beans. Turn up heat to medium high.
When soup comes to a gentle boil add in rice. Turn heat down to low. Be sure to stir often to prevent rice from sticking to pan. Cook 20 minutes until the rice is cooked all the way. The chili will continue to thicken. If it is too thick and you want it thinner add more chicken broth to get the desired consistency.
Remove chicken from the bone, shred or cut in bite size pieces.
Serve chili in bowls, top with chicken and the toppings of your choice.
Prep Time: 10M
Cook Time: 1hr
Category: Soup
Keywords: soup, chili, chicken, Mexican