Baby it's cold outside! And I mean really freaking cold! I think we went from an Indian Summer to straight up sub Arctic temperatures. When I woke up the other morning the temperature was four. FOUR degrees. Not only was it four degrees it then said "feels like negative seven". When it's cold like this, these are the types of days that I just can't seem to warm up. Whatever you seem to wear, thick down coats, warm winter boots, mittens, layers and you still just feel that bone chilling cold.
All day I couldn't shake it. My husband was out of town for work which usually means for me smoothies or popcorn or something easy for dinner. However, I had done that all week. Plus I couldn't seem to warm up so I decided I would go to a hot sweaty yoga class, come home and sit in my shower until it ran out of hot water (I know I know, it sounds like a waste but I have a small hot water heater so that doesn't last long anyway!) and put on a big pot of soup. Besides, I needed something for lunch the next day anyway. Something thick and hearty and HEALTHY was what I was craving.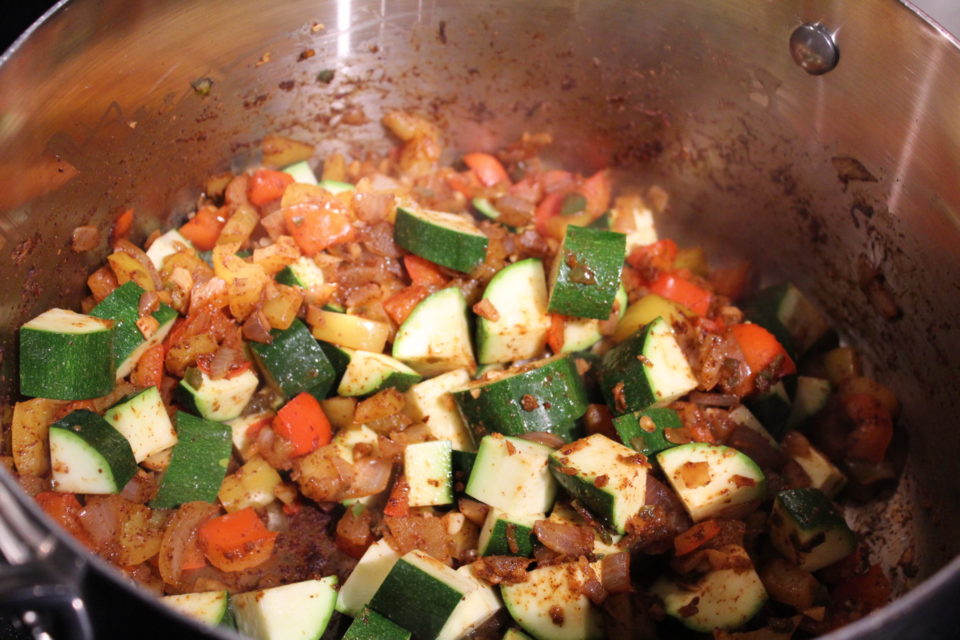 While I love chilis, most chili involves meat. Because I hate eating meat heated up in the microwave (actually I hate the microwave in general but have no choice at work) I wanted to make something veggie. Black bean chili on its own is great. But when you add in lentils to the mix it gives the chili almost a ground meat like texture. Lentils come in a variety of colors and sizes. Personally I keep a big glass jar of them on my countertop for decoration which has a mix of green, orange and black lentils. You don't have to go crazy and buy all three unless you want to create a pretty layered look on your countertop – one variety will do fine.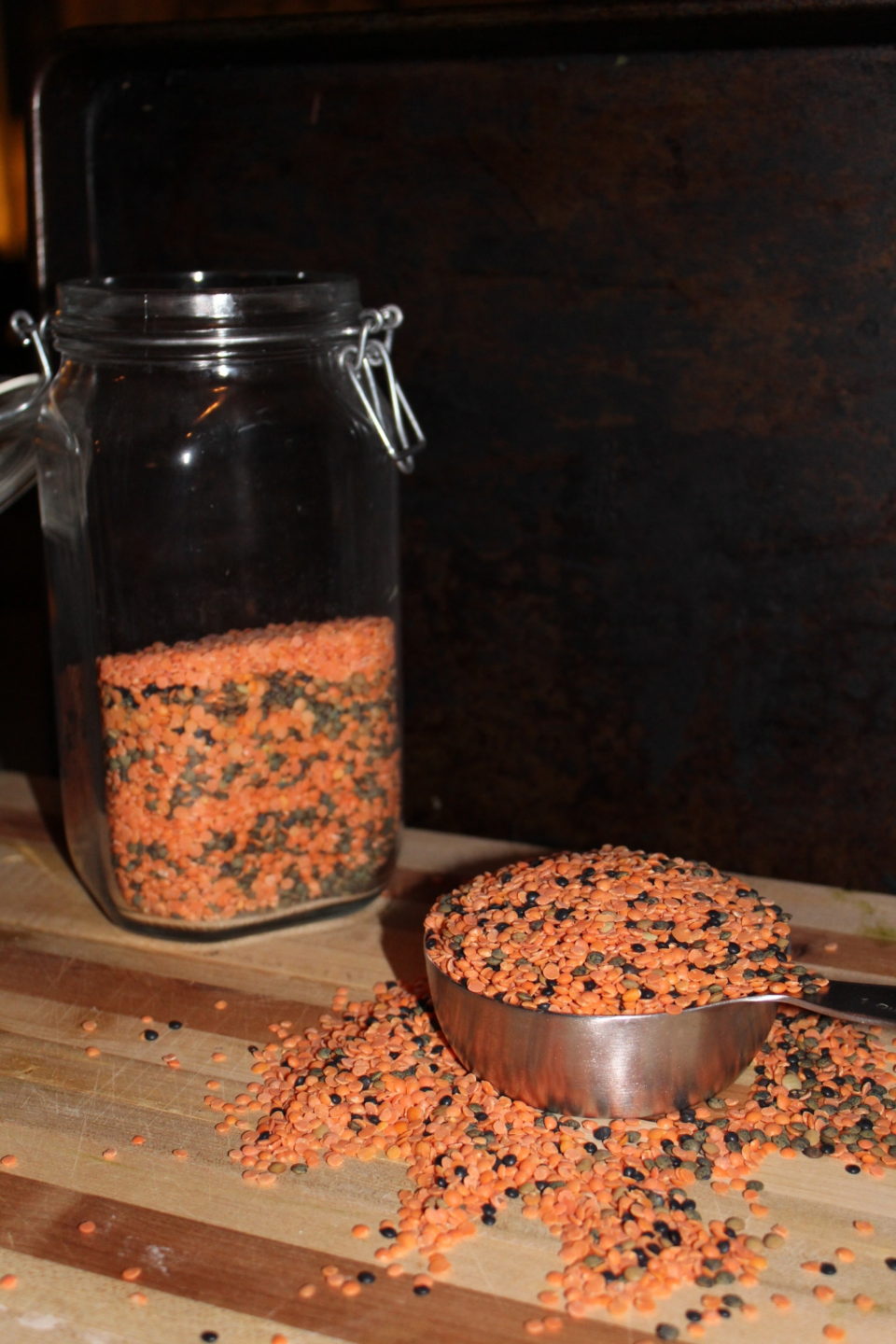 The beauty of chilis is that you can almost throw in whatever you like. In my version of this black bean lentil chili I used bell peppers, jalapeños, diced tomatoes, zucchini and roasted poblanos. Usually if I have a little time at home I like roasting my own peppers. For the most part it's easy to do. However the most time consuming part of the process is peeling the skin off the peppers once they are roasted. You can find more detailed instructions on how to do this here. Alternatively, if you don't want to roast your own peppers a can of diced green chilis will work instead.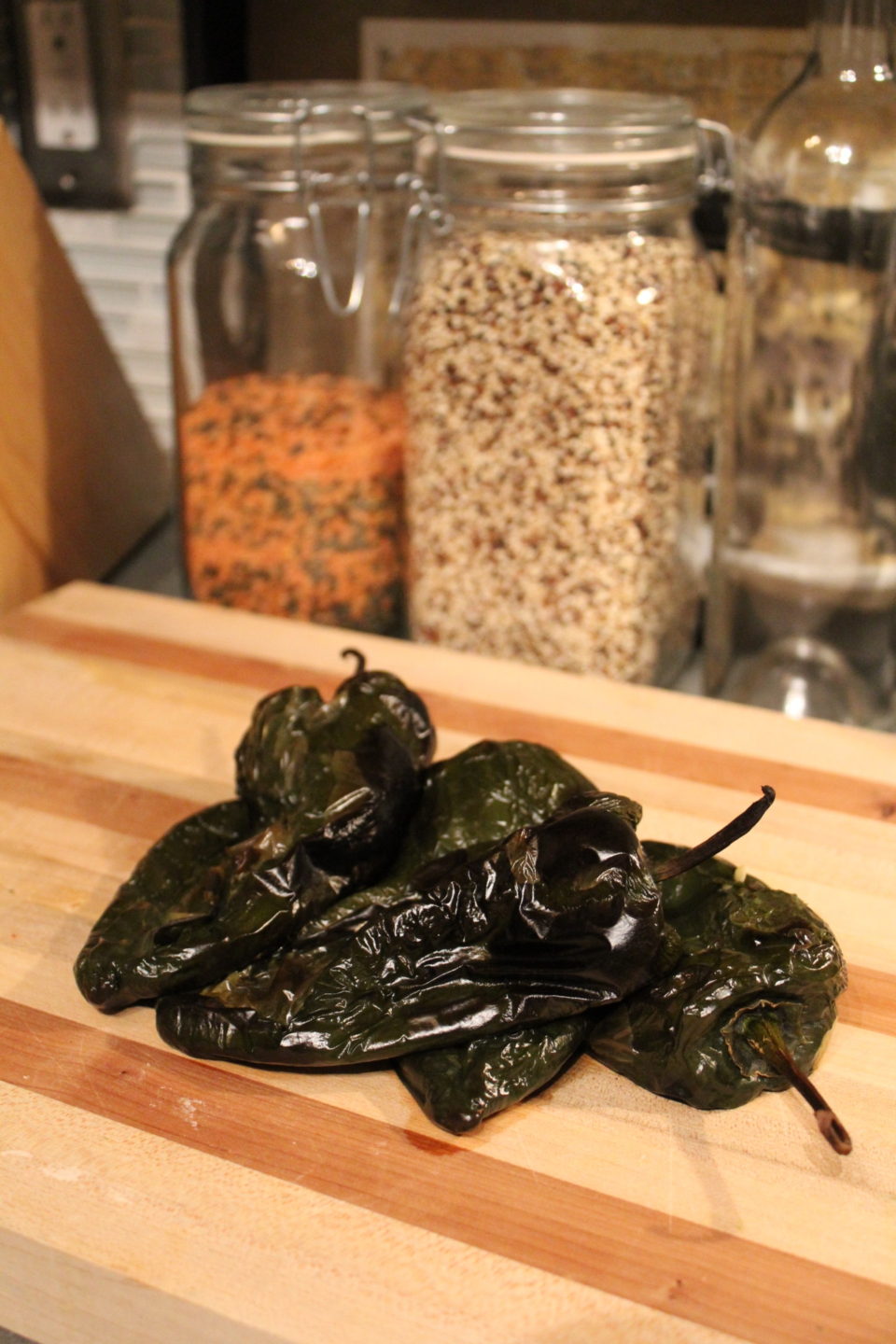 Lastly the toppings of a chili can be just as impactful as what is in the inside of it. You can really play around here. Some of my favorites are avocados, scallions and a good variety of cheese (Monterey or pepper jack work nicely here). While some people like sour cream, I prefer Greek yogurt. Additionally if you like cilantro load your chili up (I am one of the people that despise it). The beauty is you can really get creative and top with whatever you like.
So when you are looking for a nice way to warm up on a cold day this black bean lentil chili will pack enough heat to do the job!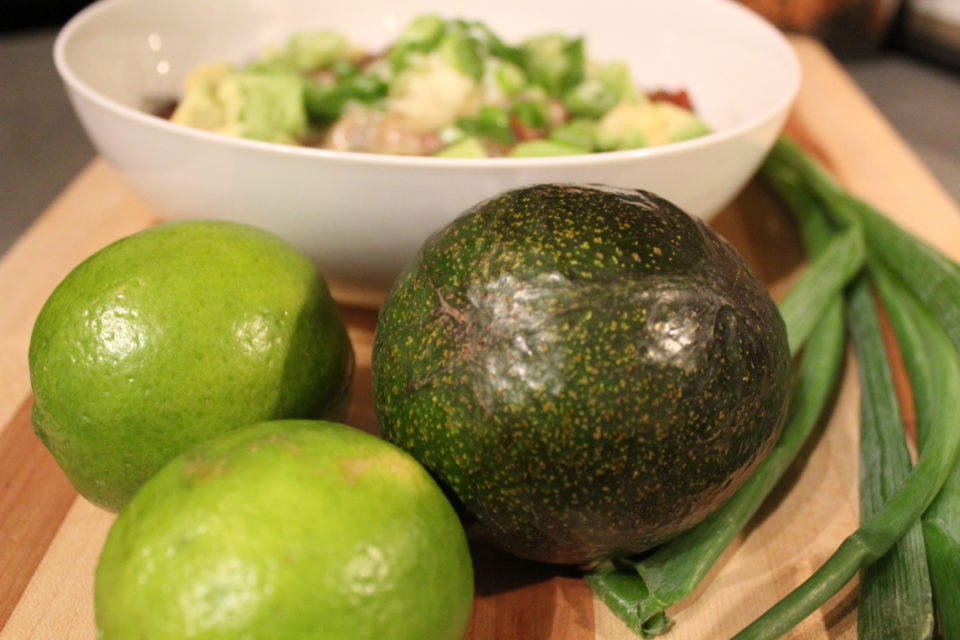 Print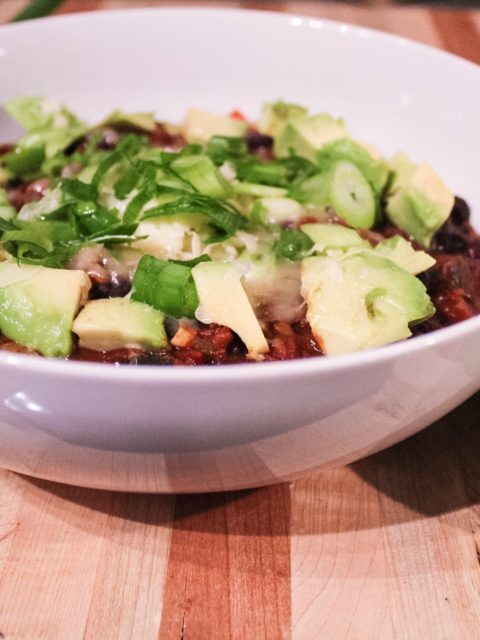 black bean and lentil chili
Prep Time:

15

Cook Time:

45

Total Time:

1 hour
---
2

colored bell peppers, diced

1

yellow onion, diced

6

–

7

cloves of garlic, minced

3

poblano peppers, roasted, skins removed, seeded and diced (if you don't want to roast peppers yourself

1

–

2

cans of diced green chilis will do the trick)

1

jalapeno, minced (my jalapeño was smaller if yours is large use half unless you like lots of spice)

2

medium zucchini diced (I cut mine in quarters and then slice chunky)

2

bay leaves

1.5

TBS chili powder

2

TBS cumin

3

cans of black beans, drained (not rinsed)

4

–

6

c of chicken or veggie broth

1

c dried lentils (mine were a mixture of green and orange)

1

28 oz can diced tomatoes (can also used fire roasted here as well)
Suggested toppings
cheese
Greek yogurt or sour cream
scallions sliced thin
avocado
diced tomatoes or salsa
cilantro
---
Instructions
Start by sautéeing bell pepper, onion, jalapeno and garlic in a large soup pot over medium heat until tender. (about 10-12 minutes).
Next add in zucchini and cook an additional 2-3 minutes. Add in spices, tomatoes, roasted poblanos, 4 cups of broth and bring to a boil. Season with salt and pepper to your taste.
As soon as the soup is boiling add in the lentils and black beans and turn heat down to medium stirring occasionally so lentils don't stick to the bottom of the pan.
Cook for 25 minutes or until lentils are cooked through. If your chili is too thick you can add in an extra cup or 2 of the broth to thin it out.
Season with more salt and pepper if needed.
Lastly, top with any toppings of your choice
---
---