I think I was an Italian grandma in a past life. I love all things pasta. Also I don't know how to make dinner for two. I cook too much food always. On the weekends I love making pasta. This past weekend was no exception. I love a good caprese salad in the summer. Fresh tomatoes, basil and mozzarella pair so nicely together. Inspired by the salad I decided to make a creamy tomato basil sauce. I also wanted to use little mozzarella balls and orecchiette pasta is similar in size. So my new creation became orecchiette with tomato cream sauce.
This meal is SO easy. There are hardly any ingredients, the only prep time needed is to chop an onion and garlic which takes all of five minutes. The rest of the cook time is set it and forget it. Well, ALMOST forget it. I would make sure you are going to be able to stir the sauce every twenty minutes or so so it doesn't scorch.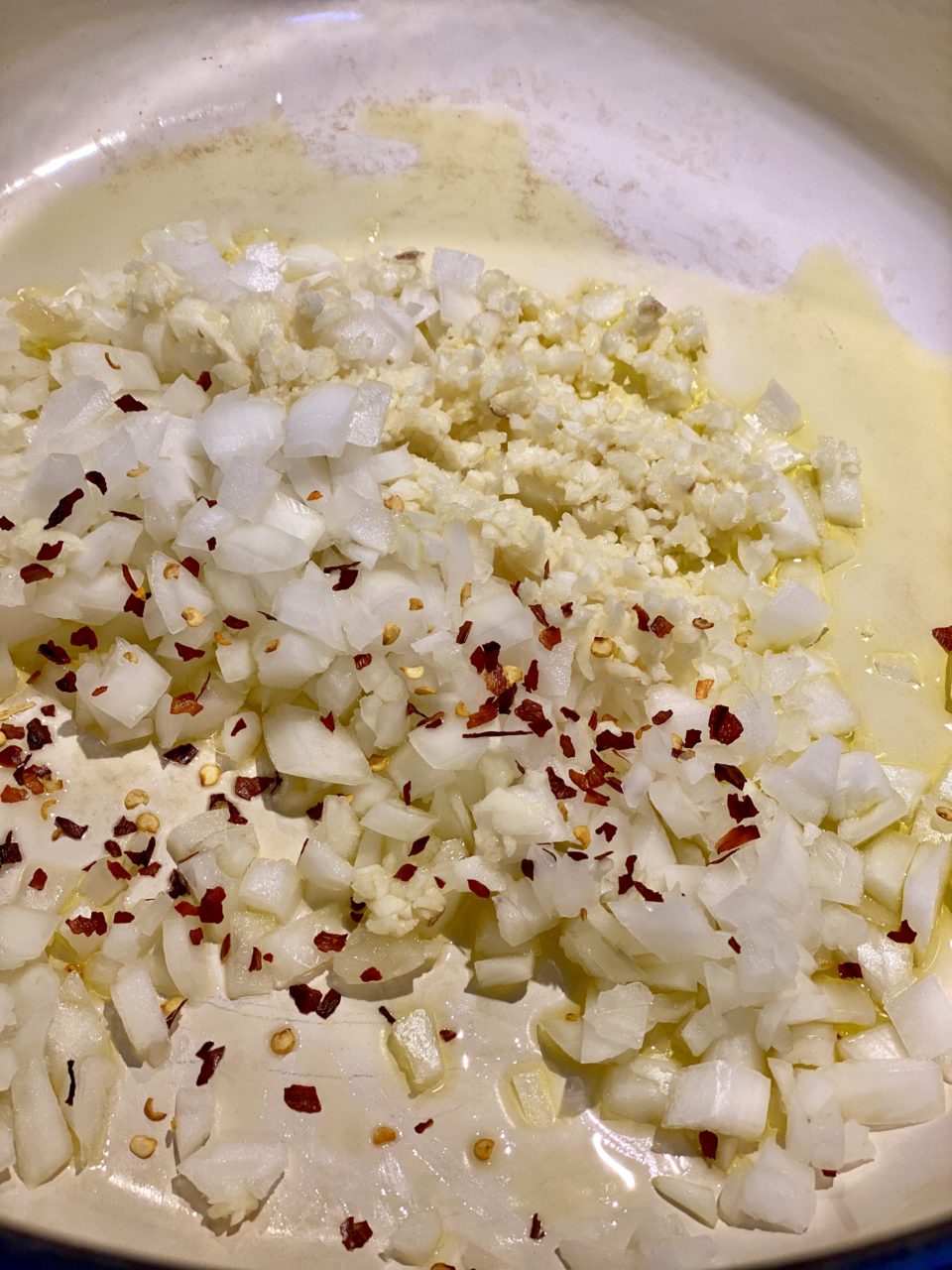 Simple does not mean flavorless
The pasta sauce could not be more simple. To start I sauté onions, garlic and some red pepper flakes in a nice amount of olive oil. Then I add in my crushed tomatoes, whole tomatoes, a teaspoon of sugar (helps the medicine go down), and the parmesan cheese rinds. And that's IT! Once the sauce has cooked for an hour or two (the more time you have the better flavor it gives!) I add in the basil and heavy cream and it is done!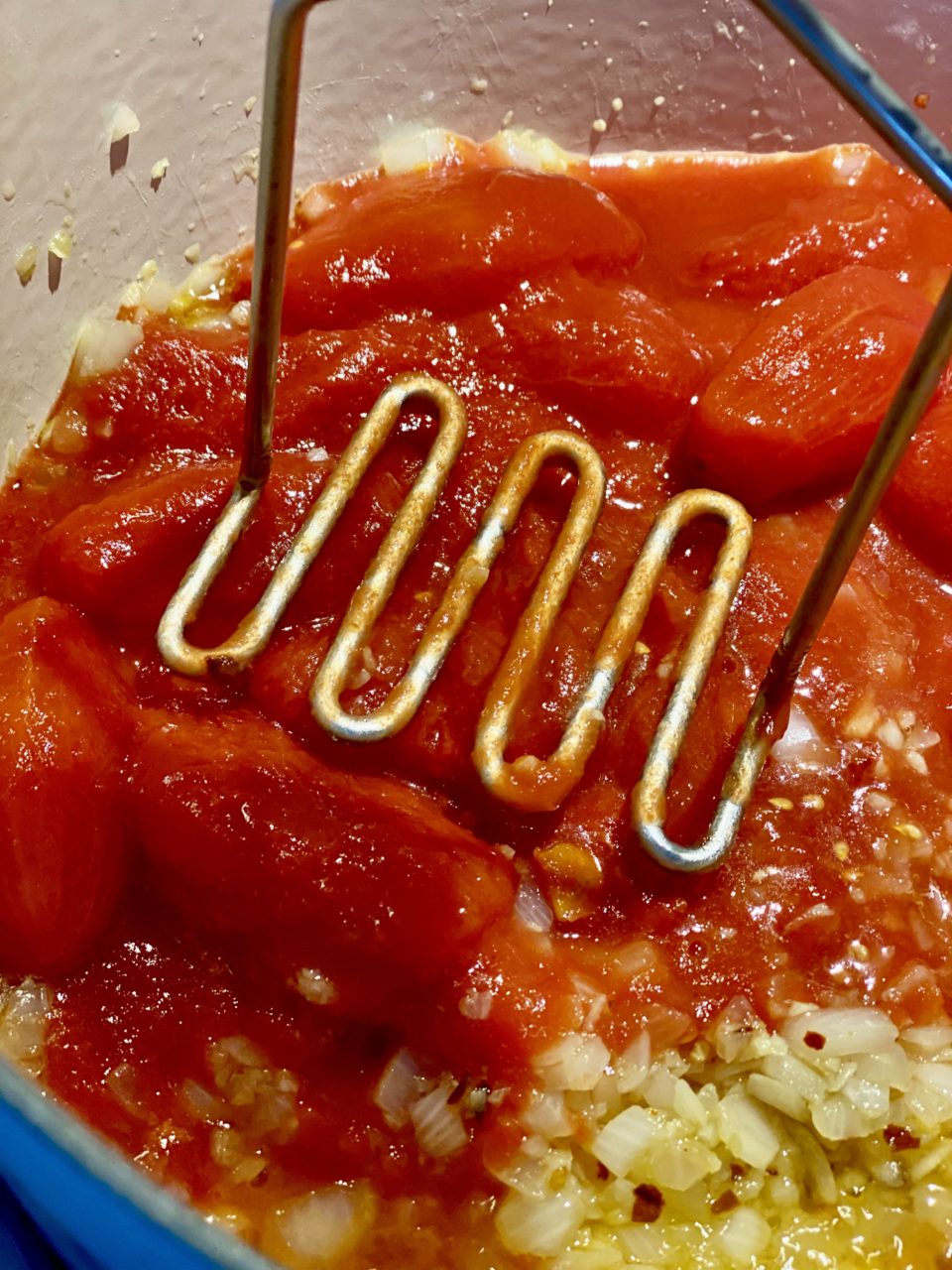 Cheese please!
I love using small mozzarella balls in my pasta. They become these hidden little nuggets that are a little surprise when you take bite. So to compliment the mozzerella balls I wanted to use a similar shape pasta. I love orecchiette. Orecchiette means little ears in Italian. The pasta to no surprise, looks like little ears. They are usually "rigate" which means lines, or grooves. All these little lines and grooves give the pasta texture which helps the sauce bind to it. If you have never tried orecchiette I highly recommend. But if you can't find it shell pasta would substitute nicely.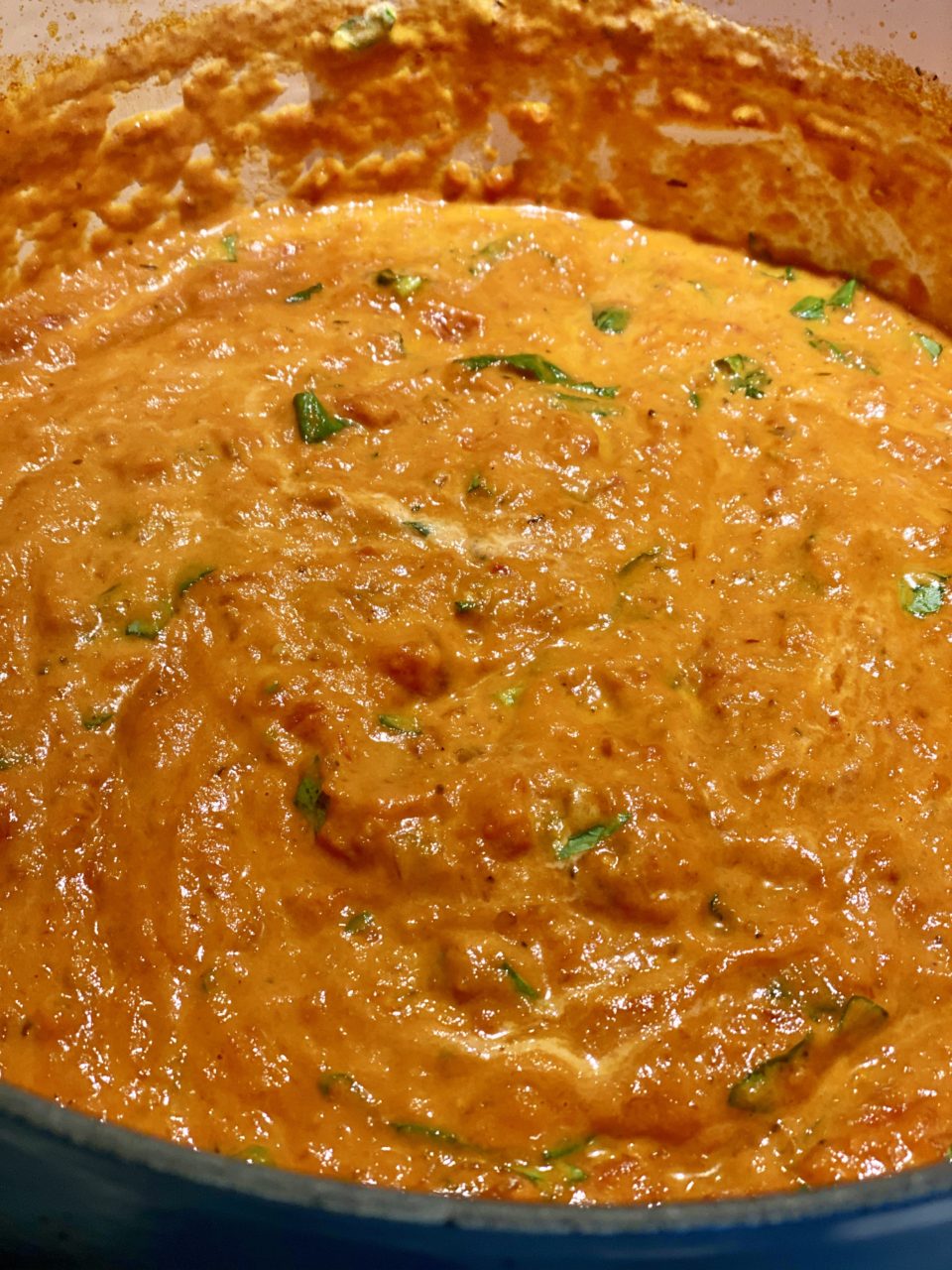 I paired this dish with my meatballs and it was a perfect meal. I may or may not have made some homemade garlic bread to go with! 😉 So if you are looking for an easy recipe and a way to use a new pasta shape, this orecchiette with tomato cream sauce is for you!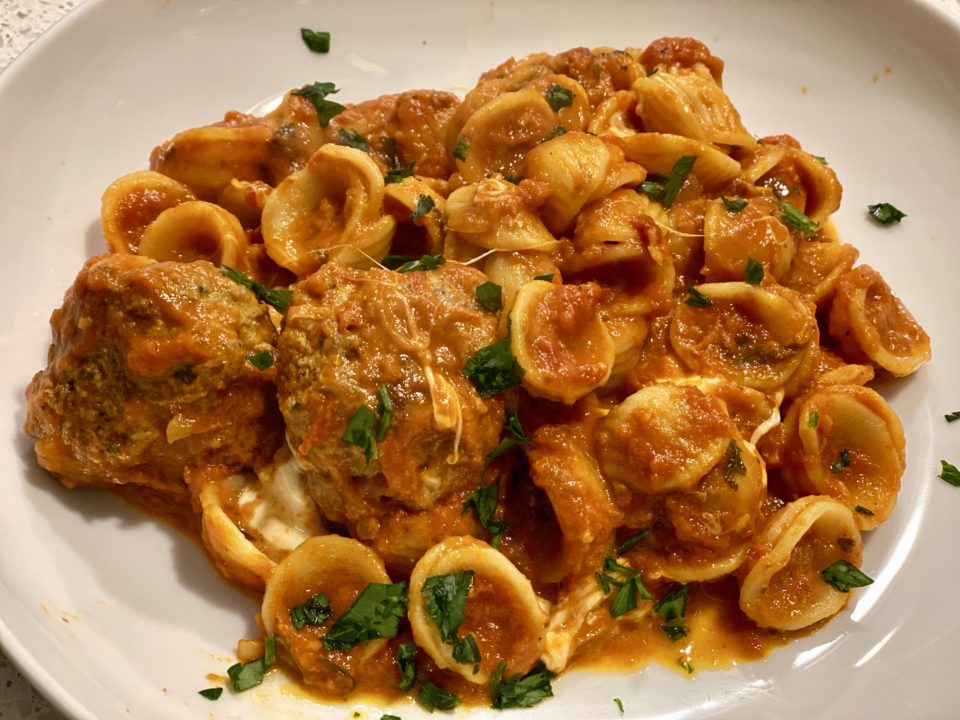 Print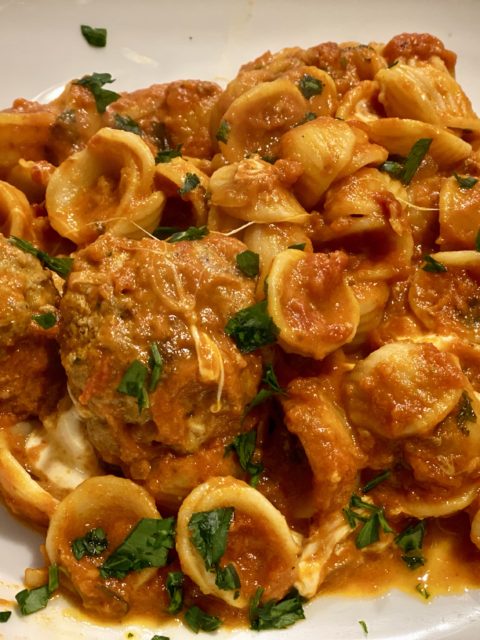 Orecchiette with Tomato Cream Sauce
---
Author: Karissa P
Total Time: 2H35M
Yield: 4-6 1x
1 small yellow onion, minced
6 cloves of garlic, minced
red pepper flakes (optional) a few shakes depending on how spicy you like things
1 tsp sugar
1–2 parmesan cheese rinds
2 28 oz cans crushed tomatoes (I prefer organic imported from Italy, a little more expensive but better quality/flavor in my opinion)
1 28 oz can whole tomatoes
1 TBS Italian seasoning
1/2 c heavy whipping cream
A large handful fresh basil, minced or torn into small pieces
8 oz mozzarella balls – pearl sized if you can find, if not cut larger balls in half
1.5 lbs orecchiette pasta
Optional parmesan cheese and chopped Italian parsley for garnish
---
Instructions
In a large dutch oven pan or large pot sauté onions, garlic and a dash or two of crushed red pepper flakes over medium low heat 15-18 minutes until garlic and onions are soft and fragrant. You don't want the mixture to brown so think low and slow.
Add tomatoes, Italian seasoning, parmesan rind and sugar to the pan. Squish the whole tomatoes with a potato masher or fork. Season with salt and pepper.
Let sauce cook partly covered for 1-2 hours over medium low – medium heat stirring occasionally. The more time you have the better the sauce tastes.
Put a large pot of water on to boil for the pasta.
In the mean time add in the basil and heavy cream to the pasta sauce. Turn heat off and keep covered for the basil to wilt into the sauce.
When water is boiling liberally salt your water and add in pasta. Cook according to package directions.
Once pasta is cooked I like to scoop the pasta straight out of the water into the sauce, especially if the sauce is super thick the little bit of water helps thin it out slightly. Or you can just drain the pasta and add straight to the sauce.
Stir in the mozzarella balls.
Top with Italian parsley and a little parmesan if you would like!
Prep Time: 5M
Cook Time: 2H30M
Category: pasta
Keywords: pasta, tomato sauce, cream sauce, easy