I love Greek food. And while I don't cook a ton of their traditional dishes I definitely use them as inspiration. I have been making these grilled chicken Greek bowls almost weekly lately. They sound complicated but they really aren't. If you have a grill or grill pan you are good to go!
This bowl combines all my favorite Greek-spiration ingredients – lemon, oregano, feta and fresh veggies. In the afternoon I start by simply marinating my chicken. The marinade is just olive oil, lemon zest and juice, fresh oregano, garlic, a little dijon and some red pepper flakes. I like to let my chicken sit at least two hours to really infuse with all that good lemon flavor.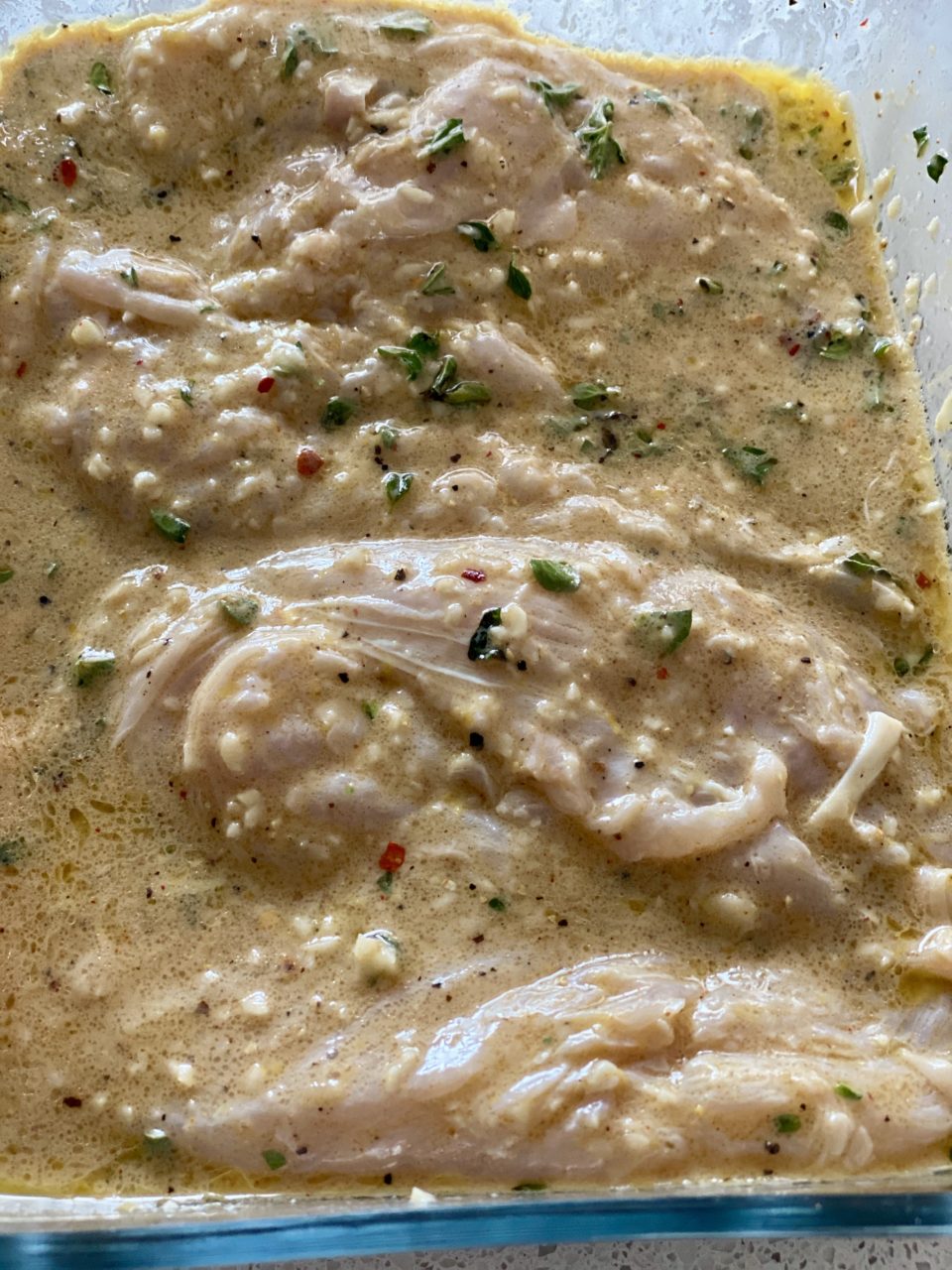 Recently I started making my own tzatzki. It sounds complicated but it could not be easier. The only exception to my tzatzki is my husband HATES dill. So if you like it by all means add it in but this version is just as delicious without it. My Greek friend Christopher is probably rolling his eyes if he is reading this!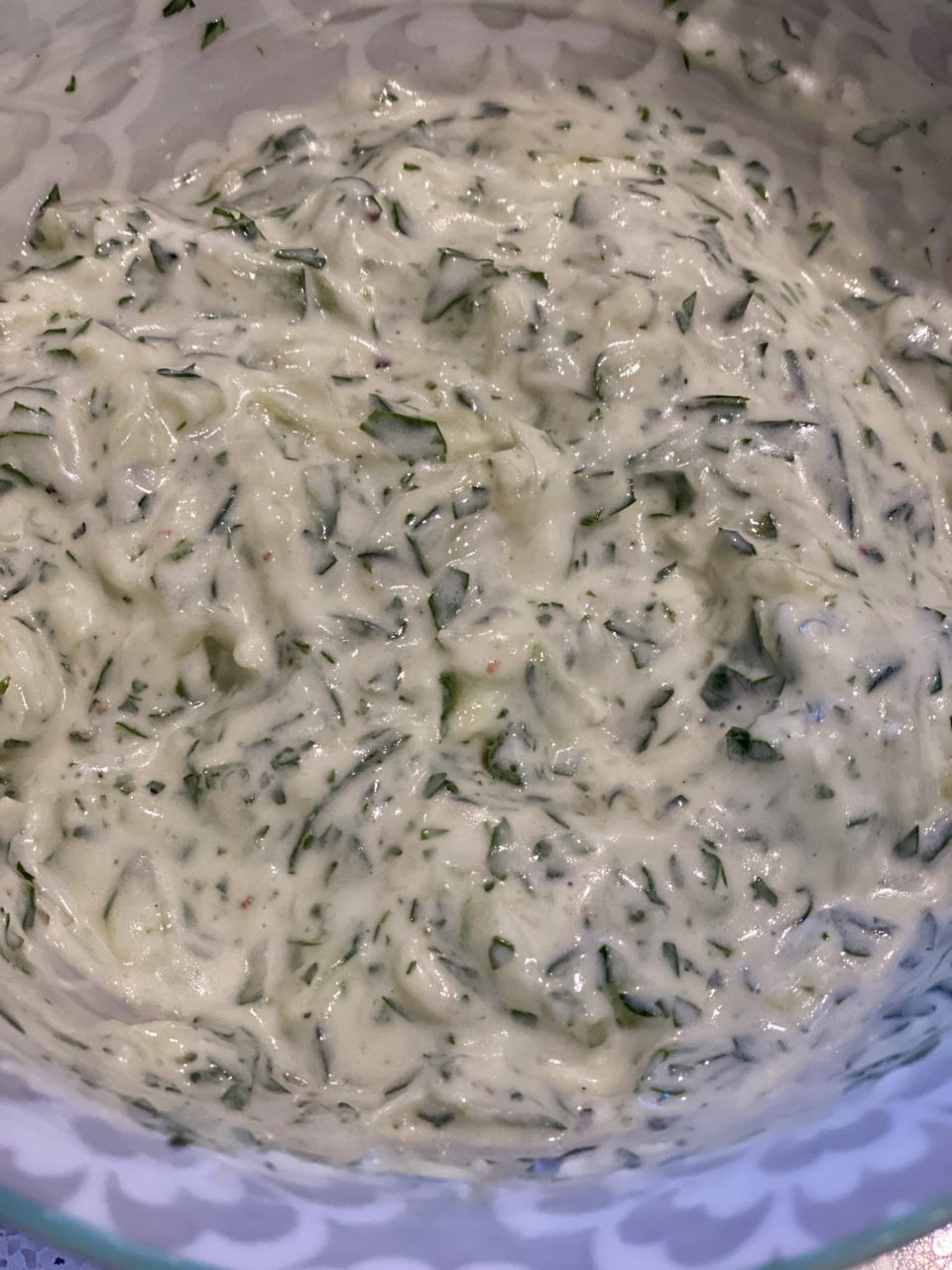 Since I am firing up the grill (well by me I mean my husband!) anyway for the chicken I feel like I might as well throw veggies on too. I take bell peppers and quarter them. Then I grill the pepper with large slices of zucchini and large red onion rings. Here is a tip – it's easier to grill large chunks of veggies and chop them later. First off they won't fall through the grates. Secondly I find when the veggies are already chopped they tend to char up really fast. And I like my grilled veggies al dente so this helps get them just right!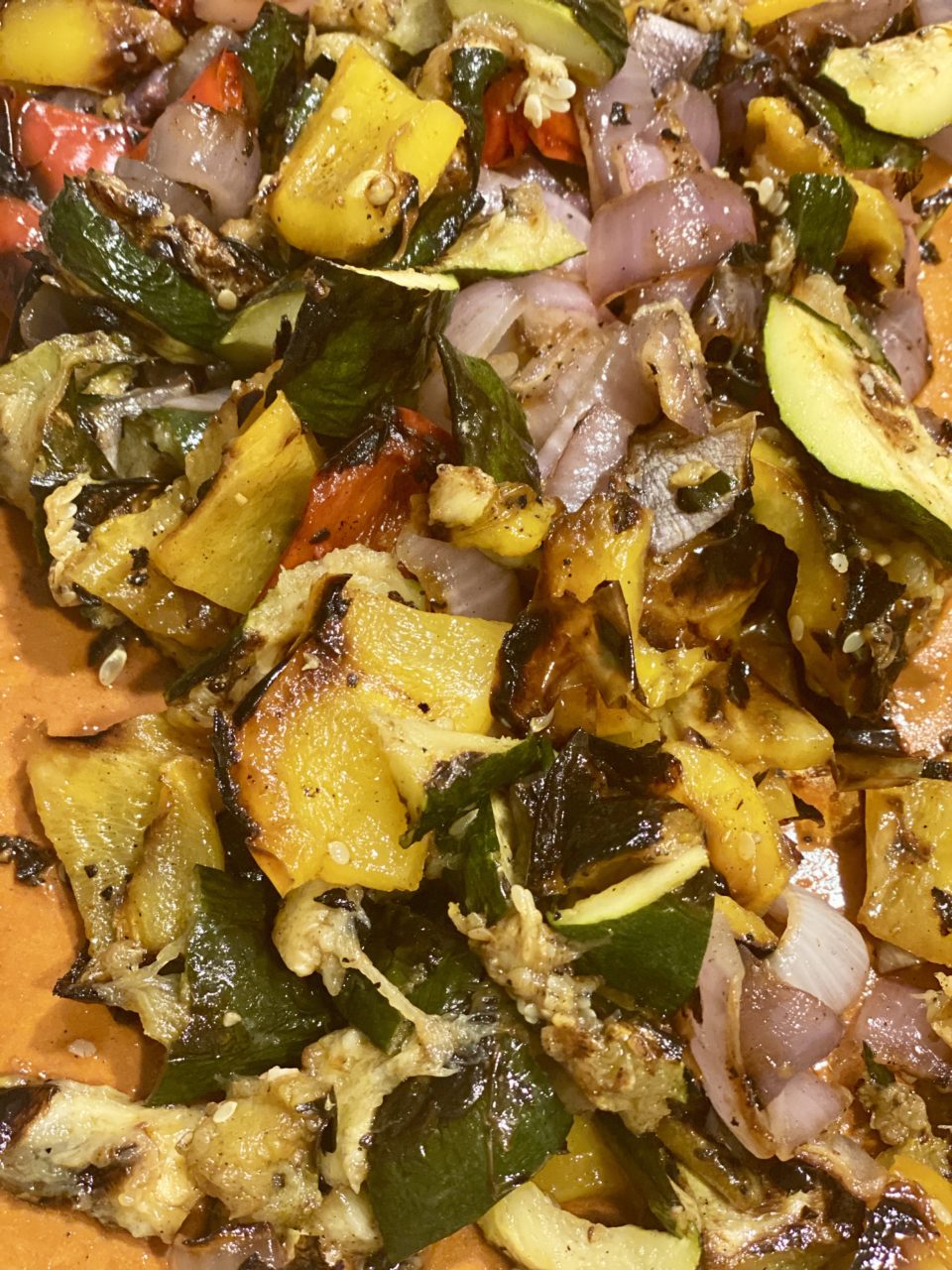 And last but not least let's not forget the couscous. Rice probably would be a little more traditional Greek but I love couscous. My favorite is the large pearl couscous. It's technically more of a pasta than a grain since it is made with flour. It's definitely not gluten free so you could always swap this out with quinoa or even GF pasta if you wanted. Or if you are on a low carb diet you could skip it all together.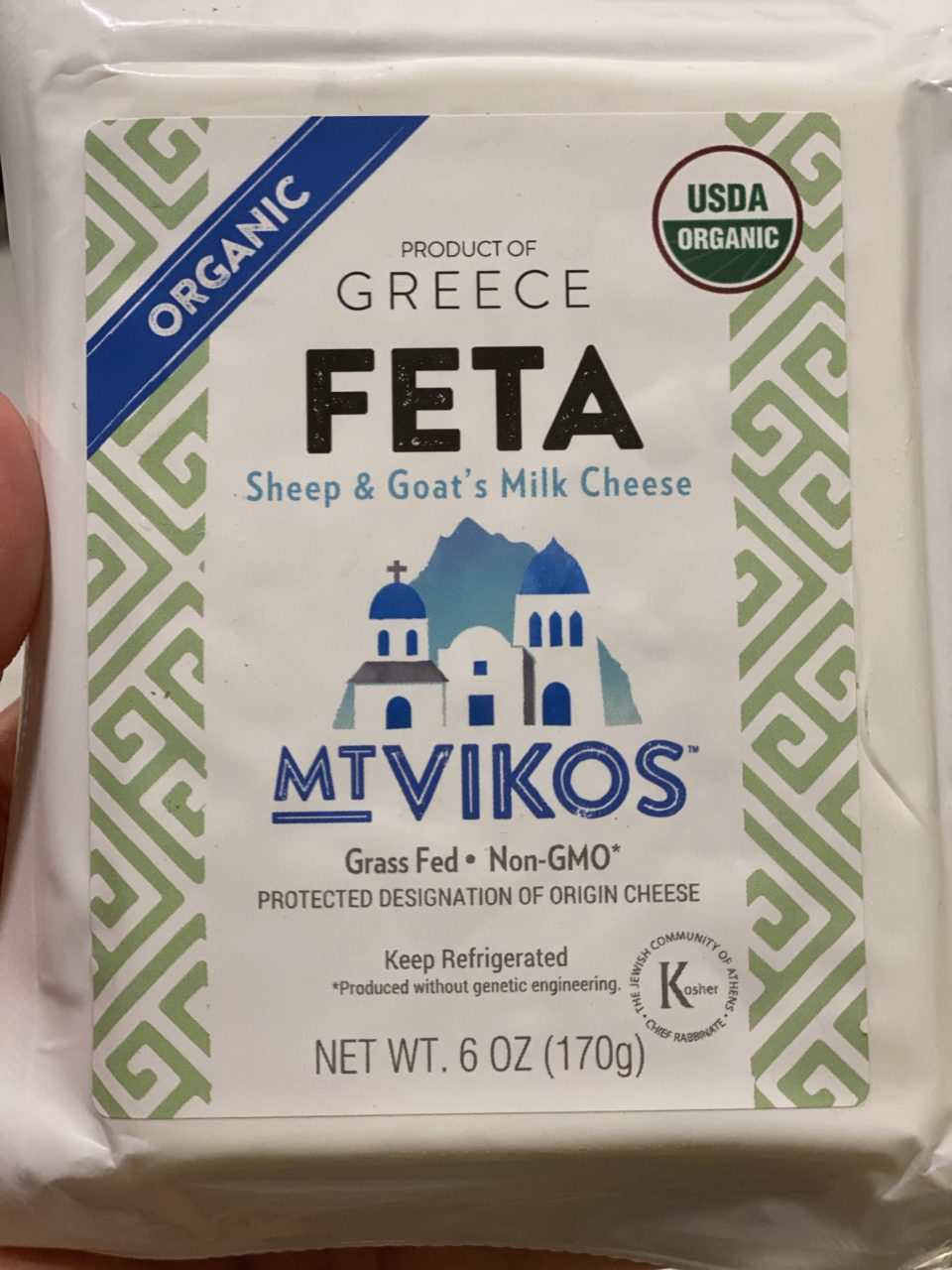 Finally when the veggies and chicken are done I chop it all up with some fresh tomatoes and kalmata olives. I put all those ingredients on top of the couscous. Lastly I top it with the fresh feta and the tzatzki. Even though you probably wouldn't get this in Greece these grilled chicken Greek bowls might make you think you are there!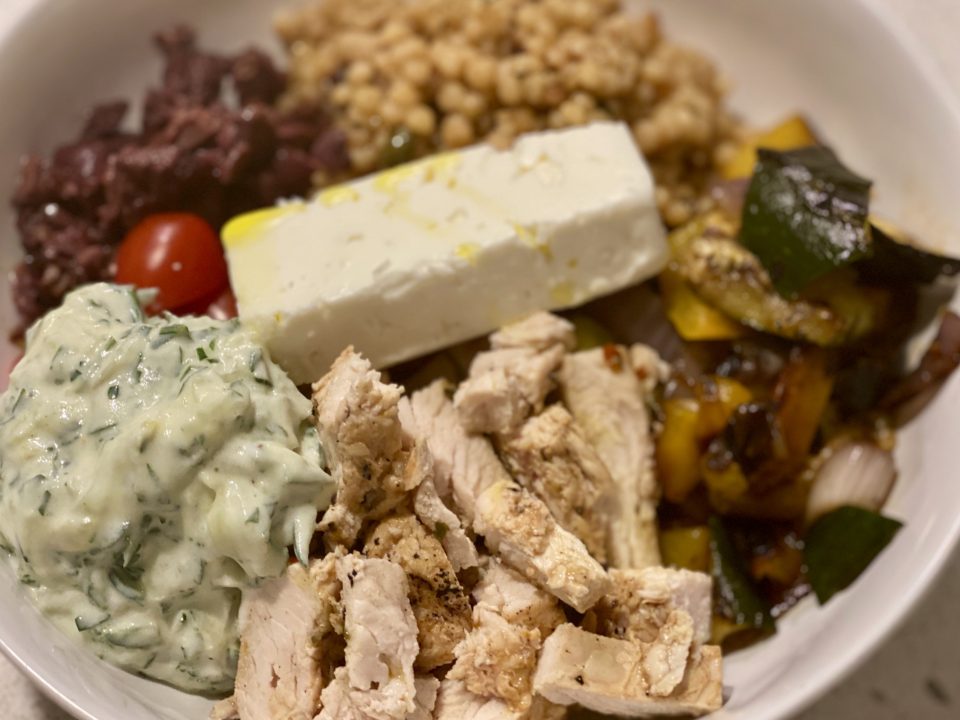 Grilled Greek Chicken Bowls
June 8, 2020
: 4
: 20 min
: 30 min
: 50 min
: Easy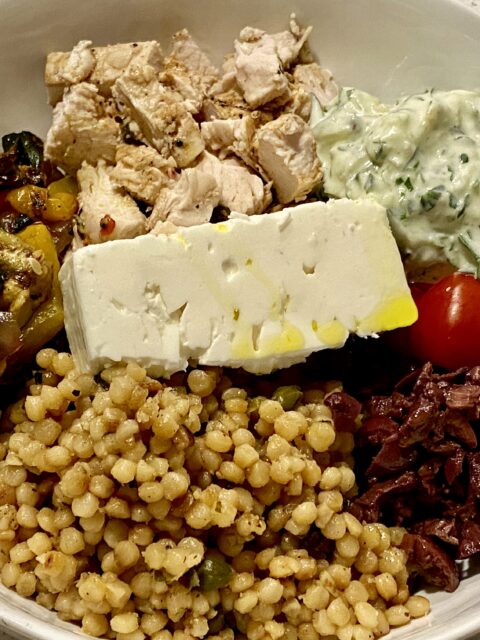 Ingredients
FOR THE CHICKEN:
1-1.5 lb boneless skinless chicken breasts or thighs, pounded 1/8 inch thin
2 TBS Dijon mustard
6 cloves garlic, minced
1/4 c olive oil
zest and juice of 2 lemons
dash red pepper flakes
the leaves of 3 sprigs of fresh oregano (can use 2 TBS of dried if you can't find fresh)
FOR THE TZATZKI:
6 oz full fat greek yogurt
1 cucumber, grated with all the water squeezed out
1/8 c olive oil
juice of one big lemon or 2 small lemons
2 cloves of garlic minced
large handful of fresh italian parsley, minced
FOR THE REST:
2 c uncooked Israeli couscous - cook according to the directions (we like to throw in some garlic cloves and oregano leaves when we cook it so the flavors are similar)
4 bell peppers, cut in quarters
2 zucchini, cut in quarters length wise
2 red onions, cut in large rings
1 brick of feta cheese
1 pint cherry tomatoes, cut in half
1 c kalmata olives, rough chopped
Directions
Step 1

3-4 hours before cooking, combine all ingredients for the chicken marinade in container that you can cover. Whisk and season liberally with salt and pepper. Add the chicken to the mix and coat well. Place in the refrigerator until 1 hour before grilling.

Step 2

Combine all ingredients for the Tzatzki sauce in a bowl. Whisk together and season to taste with salt and pepper. Place in fridge until time to use.

Step 3

Pre-heat your grill to medium high heat.

Step 4

Season veggies simply with a little olive oil, salt and pepper.

Step 5

Place your veggies and chicken on the grill. The side with the veggies turn down the heat to medium-medium low.

Step 6

Cook the chicken and veggies 4-5 minutes a side. Check the veggies so they don't burn. Chicken should be heated to 165, pounding the chicken thin helps reduce the cook time

Step 7

Once chicken is cooked chopped the chicken and the veggies into a large dice.

Step 8

In each bowl divide up the chicken, grilled veggies, fresh tomatoes, kalmata olives and couscous. Top with Tzatzki sauce and feta. Drizzle with a little olive oil.