Lately I have been inspired by my travels when I cook dinner. Probably more so than ever since I am unable to travel anywhere. We have been cooking a lot of Greek inspired dishes. From Village Salads to Greek Bowls. The other night we were grilling shrimp and I knew a lemon garlic parmesan rice would pair perfectly with them. It was so easy to make that I had to share. Even if I don't have a ton of pictures of it to show!
Rice and easy – tips for perfectly cooked rice
As easy as rice seems to cook I have found over the years it actually isn't. I have suffered from mushy rice to overcooked rice more times than I can count. So here are a few things that have been working out for me.
Rinse your rice! It helps remove the starch from the rice which also helps it prevent clumping and mushing together.
The second thing I like to do is add butter to my rice. I never used to but I find that a little fat helps the rice cook plus it gives it a ton of extra flavor. When I make Indian or Asian inspired dishes with rice I use a big heaping spoonful of the fat from coconut milk. This dish uses slightly more than a LITTLE butter but I promise its soooo good.
Lastly, read the directions of your rice. It sounds like a no brainer but not every grain is the same. I always thought rice was 1:1. Meaning for every cup of rice you use one cup of water. For a lot of variations this is true. But for some, like Jasmine or Basmati it's usually a little more liquid. So that was throwing me off for a really long time and resulted in a lot of bad batches of rice.
Flavor infusions are a must!
Simple ingredients get added to the rice as it cooks. Oregano, garlic, butter and lemon zest infuse into the rice. So even though it requires little to no additional work, the flavor punch it packs is incredible. This super simple lemon garlic parmesan rice makes the best side dish to pair with grilled meats, veggies or even to top on a salad. Be sure to make some extra for leftovers, you won't be sad when you do.
You then can replicate this concept for whatever type of dish you are making. Here are some examples of more flavor aromatics to add:
For basic rice I will put in whatever I have on hand like leftover herbs (thyme or rosemary always taste good!)
I always cook my rice in broth now and not water. These little things help prevent a bland rice.
For Asian I add in garlic, ginger, scallions, a little soy sauce and coconut milk
For a Mexican version I use a little tomato paste, garlic cloves, the green ends of scallions and a little cumin
The next time you need a simple but flavorful side dish be sure to make this lemon garlic parmesan rice. And if you do be sure to rate and comment below and tag me on Instagram!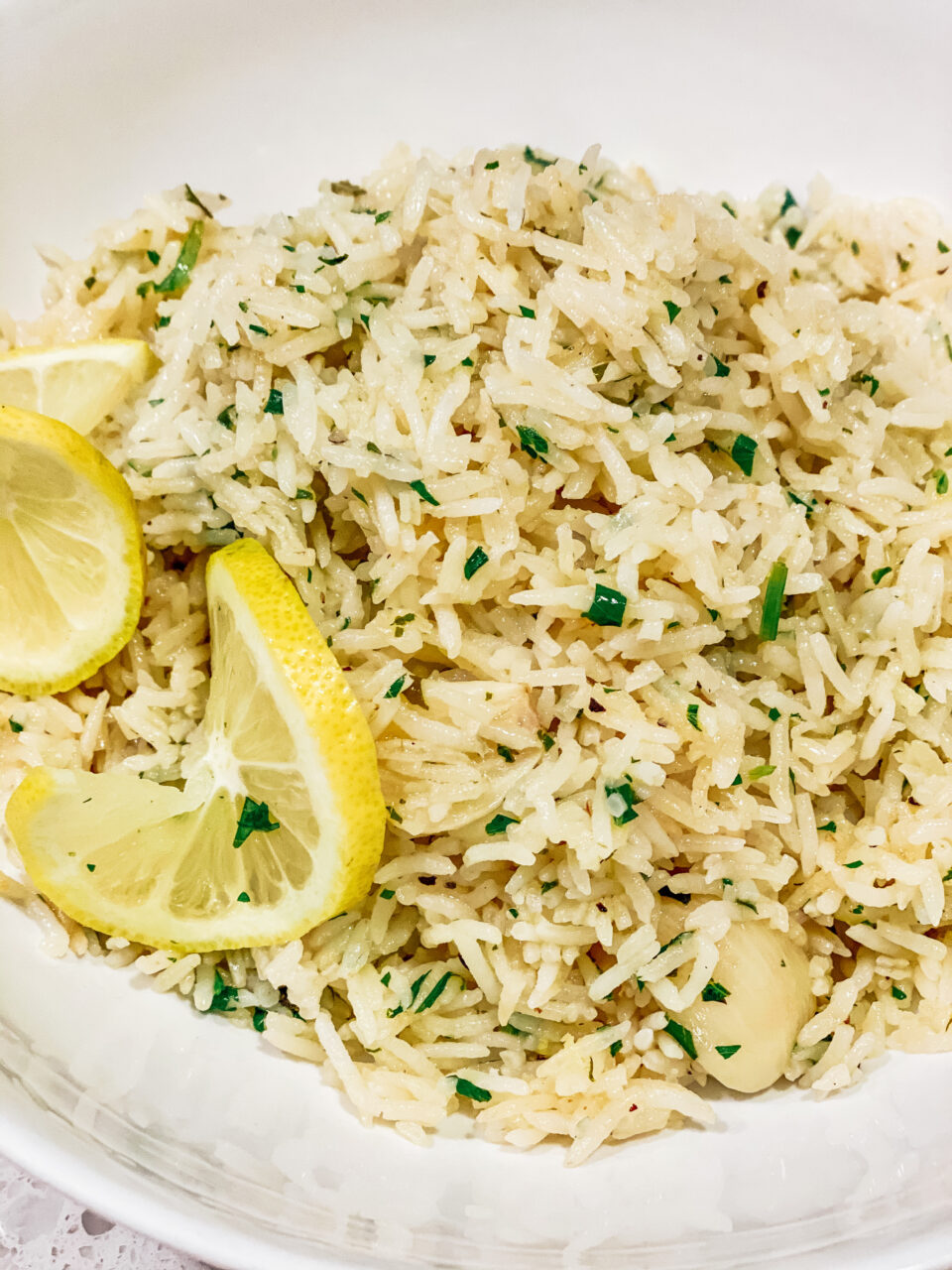 Print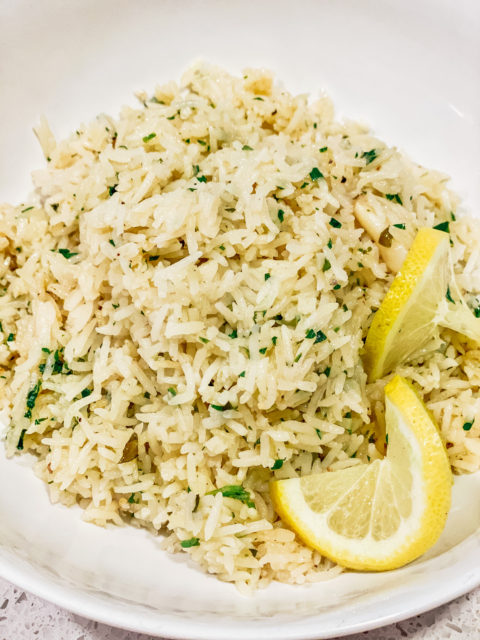 Easy Lemon Garlic Parmesan Rice
---
Author: Karissa P
Total Time: 30M
Yield: 6 1x
Description
This rice is easy yet flavorful with bold ingredients like lemon and parmesan cheese.
---
2 c basmati or jasmine rice, rinsed under cold water
3 c chicken or veggie broth
4 cloves of garlic, cut in half
juice and zest of 2 lemons
1 stick of butter
1 large handful of Italian parsley, finely chopped
3 spring of fresh oregano, leaves chopped or torn into pieces
1/2 c grated parmesan cheese
---
Instructions
Read cooking instructions for your rice. In a large sauce pan add in the corresponding amount of broth. The basmati rice I use calls for 1.5 c for every 1 c of rice. You may need more or less depending on your rice.
To the broth add in the rice, garlic, oregano, 4 TBS of butter, juice and zest of one lemon and bring to a boil. Season with salt and pepper.
Once boiling, cover and reduce heat to a simmer, cook according to package instructions. Remember to include the time that the directions calls for the rice to sit.
Once the rice is done stir in the remaining half stick of butter, Italian parsley, parmesan, the juice and zest of the last lemon. Season with more salt and pepper with necessary.
Notes
Pairs nicely with grilled meats or grilled vegetables. Use veggie broth for a vegetarian version, omit cheese and use a few TBS of olive oil for a vegan version.
Prep Time: 5M
Cook Time: 25M
Category: Sides
Keywords: rice, sides, lemon, parmesan