Since it's summer we are eating a ton more salads. They are perfect on a hot summer night. We don't eat a lot of bread but every now and again we make BLTs and I don't like the rest of the bread to go to waste. Which is perfect to make a panzanella salad. I have been experimenting with my panzanella salads lately. I make a really good Greek version. But we just had Greek food the night before. So I decided to make a pesto panzanella salad instead.
This version is pretty simple to make. The most time I spend is grilling my bread. I love the char that my grill pans gives the day or two old bread. The original recipe for Panzanella calls for day old bread torn into cubes. You can do that as well but I prefer my bread slightly crunchy. If you don't have a grill pan, you can get a similar effect if you just place your bread directly on the racks of your oven and broil it for a few minutes each side.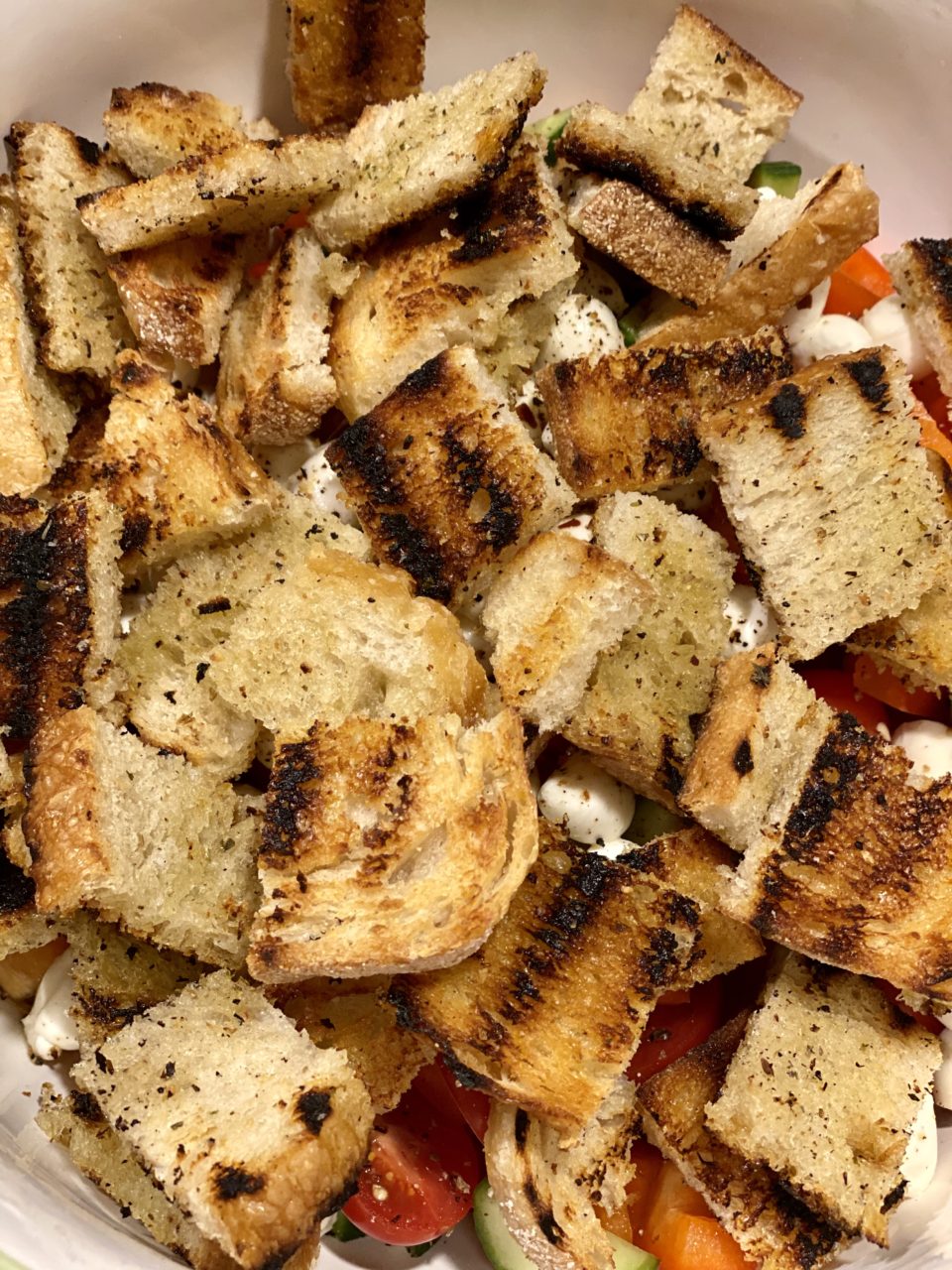 The veggies for this salad are simple. I use cucumbers, cherry tomatoes and bell peppers. If you like red onions in your salad you could throw some of those in there as well. To add a little something extra I use mozzarella balls. For this recipe I wanted bite sized pieces so I found the smallest balls I could find for my salad.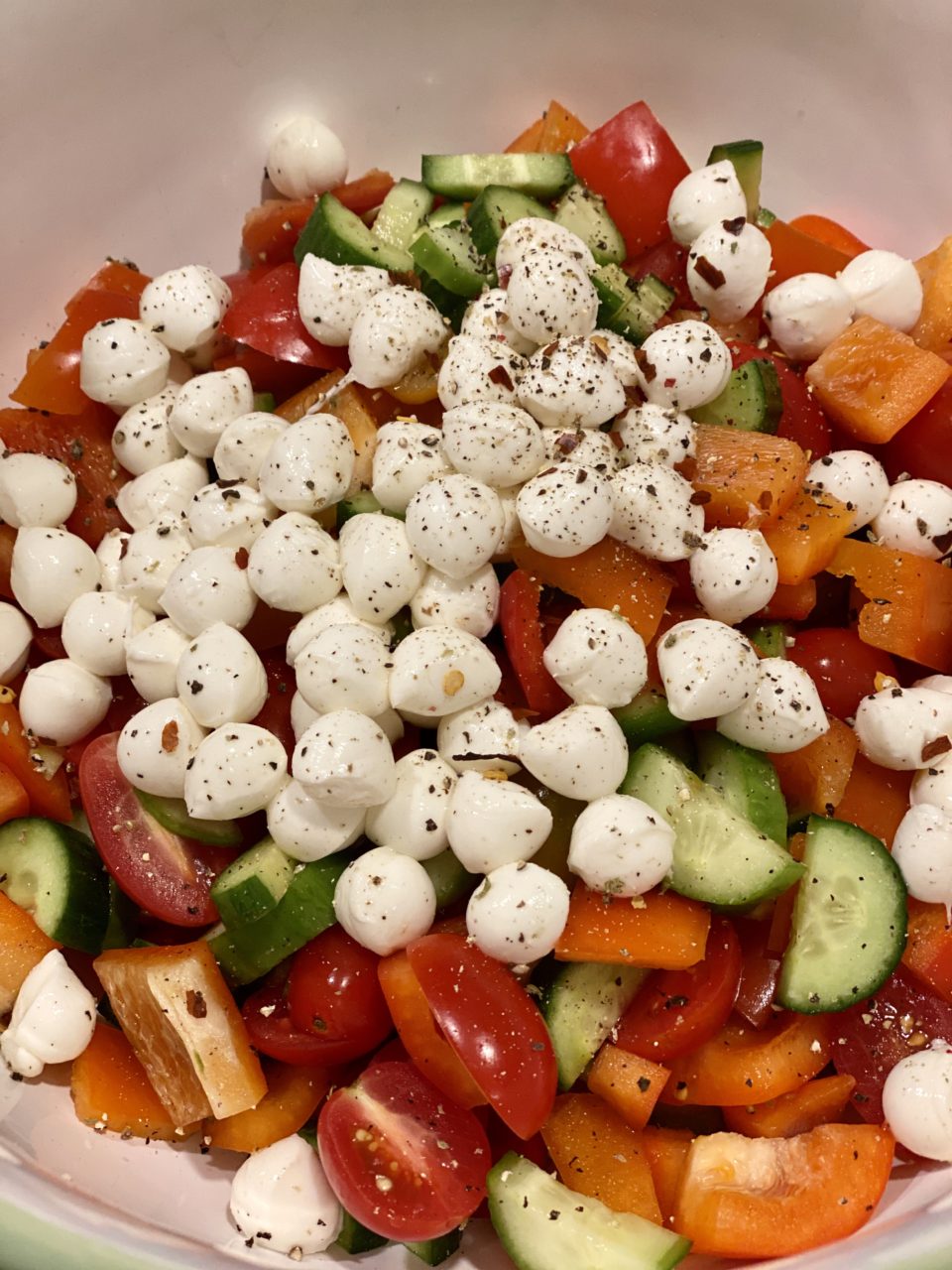 Lastly it all comes together with the dressing. I had basil that I have been growing that I needed to trim back so it was perfect. Because I wanted this more like a dressing than a pesto I used my Ninja blender to blend it all up. I combined all the standard ingredients for pesto in my blender – basil, pine nuts, garlic and parmesan. Then I made it more liquid by using the juice of one big lemon as well as the olive oil. And don't forget to season it as well as your salad. Because the salad is so simple you don't want it to be bland.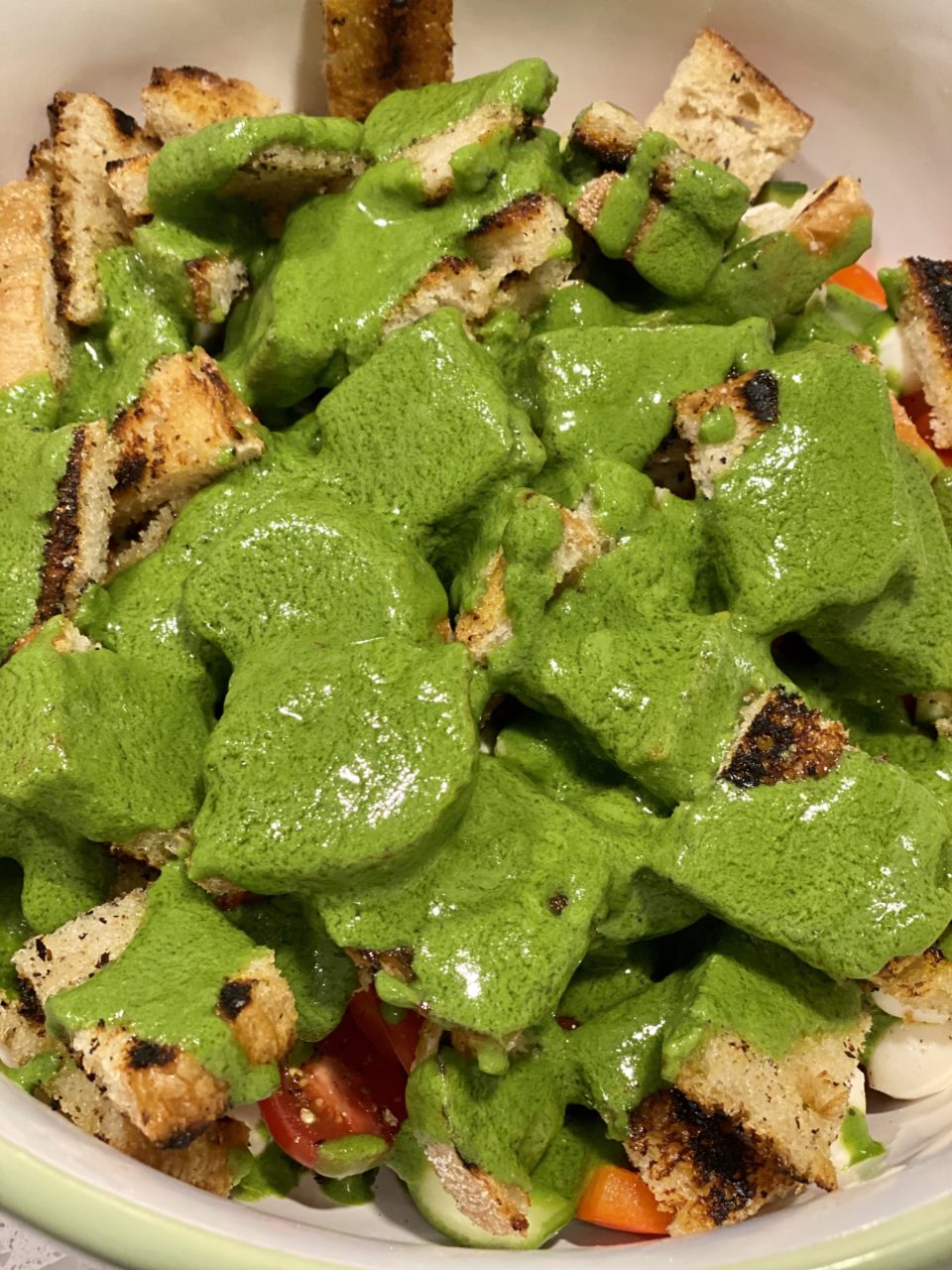 To finish it I just throw everything in a big bowl, add the dressing to the salad and toss with tongs so that every piece of the salad is coated with the pesto vinaigrette. Super simple but very delicious. If you wanted meat you could easily top this with grilled chicken. While we ate this as our main meal it would be perfect as a side dish too. It's a great way to use up basil in your garden for something a little different.
Try this new take on an Italian classic. This pesto panzanella salad makes a perfect summer night meal!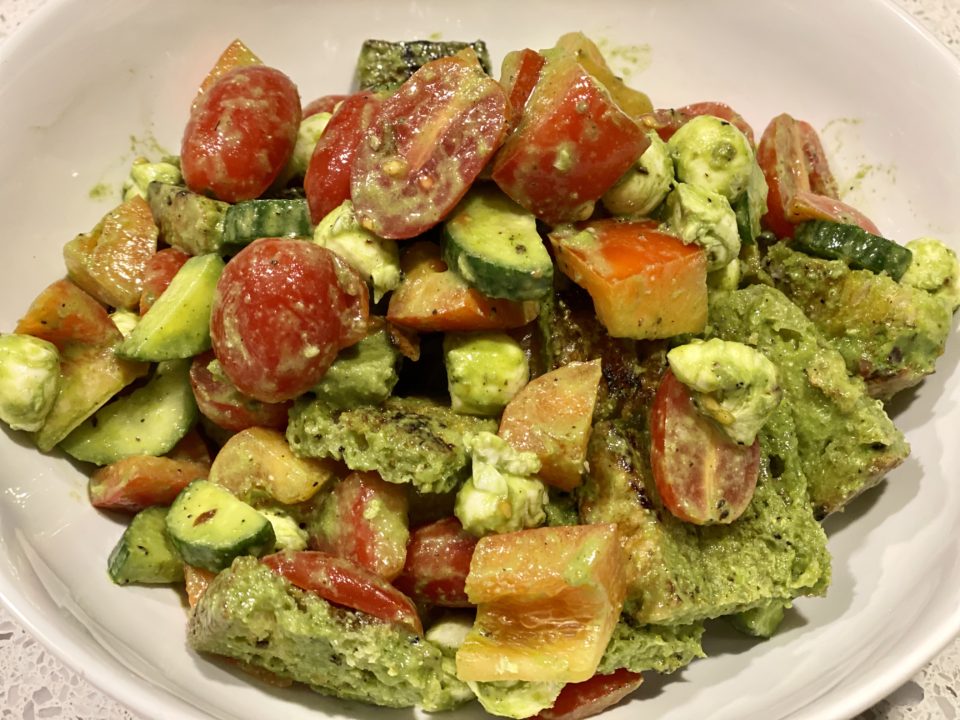 Print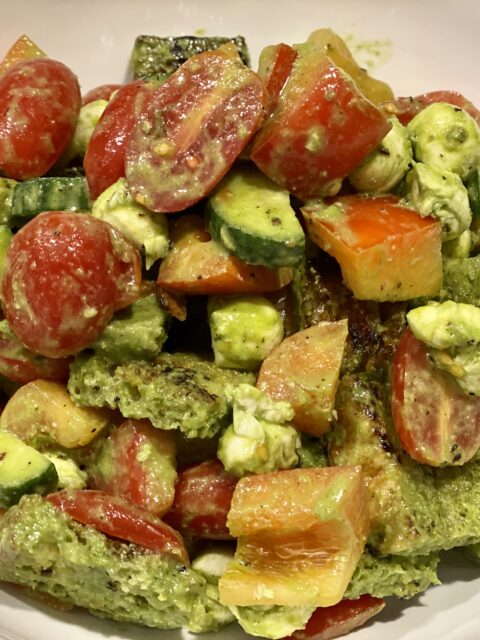 Pesto Panzanella Salad
---
Author: Karissa P
Total Time: 20m
Yield: 2 1x
Description
This pesto panzanella salad recipe is a new spin on a classic. Pesto vinaigrette, grilled bread and mozzarella balls adds a little something extra to the original version.
---
1 English cucumber, large dice
2 bell peppers, large dice
1 pint of cherry tomatoes, sliced in half
8 oz pearl mozzerella balls
4 slices of day or two old bread
Italian seasoning
For the Vinaigrette:
1/8 c pinenuts
2 cloves garlic
1/4 c grated parmesan
1 oz basil or a huge handful
1 handful fresh baby spinach
juice of one large lemon
1/4 c olive oil
---
Instructions
Pre-heat your oven or grill pan for the bread
Drizzle bread with olive oil on both sides. Season with salt, pepper and sprinkle with Italian seasoning. Grill each side for 3-4 minutes until golden brown. Cut into large cubes once cooled.
Place all ingredients for dressing in a blender. I don't like using a food processor for this because I like it very smooth. Season with a little salt and pepper. Blend until everything is smooth and emulsified. Taste the dressing, season with more salt and pepper if necessary.
Put all the veggies, mozzarella and grilled bread into a large salad bowl. Add the dressing. Toss everything together to get everything coated with the dressing.
Notes
We ate this as dinner salads so it served 2. If you were using this as a side dish it would serve more.
Omit cheese for a vegan version
Add grilled chicken for an entree salad.
Prep Time: 10m
Cook Time: 10m
Category: salad
Keywords: salad, panzanella, pesto, vegetables