This creamy lemon angel hair pasta is made in the time it takes to cook the pasta. Ingredients like pepper and lemon result in big flavor.
When I think light pasta my mind goes right to angel hair. There is something about the thin noodles that makes me think of pasta as light, even if it's in a creamy sauce. I was in the mood for some "light" pasta the other night and really wanted a simple lemon sauce to go with it. My vision of this creamy lemon angel hair came together as perfect as I had envisioned.
Simple Sauce
I didn't want to do much work for my creamy lemon sauce so I was trying to think of what could keep it simple. One of my favorite pasta is cacio e pepe. It is a simple pasta sauce made of fresh cracked black pepper and nutty pecorino cheese. I decided to make a play on that but add a few non-traditional ingredients.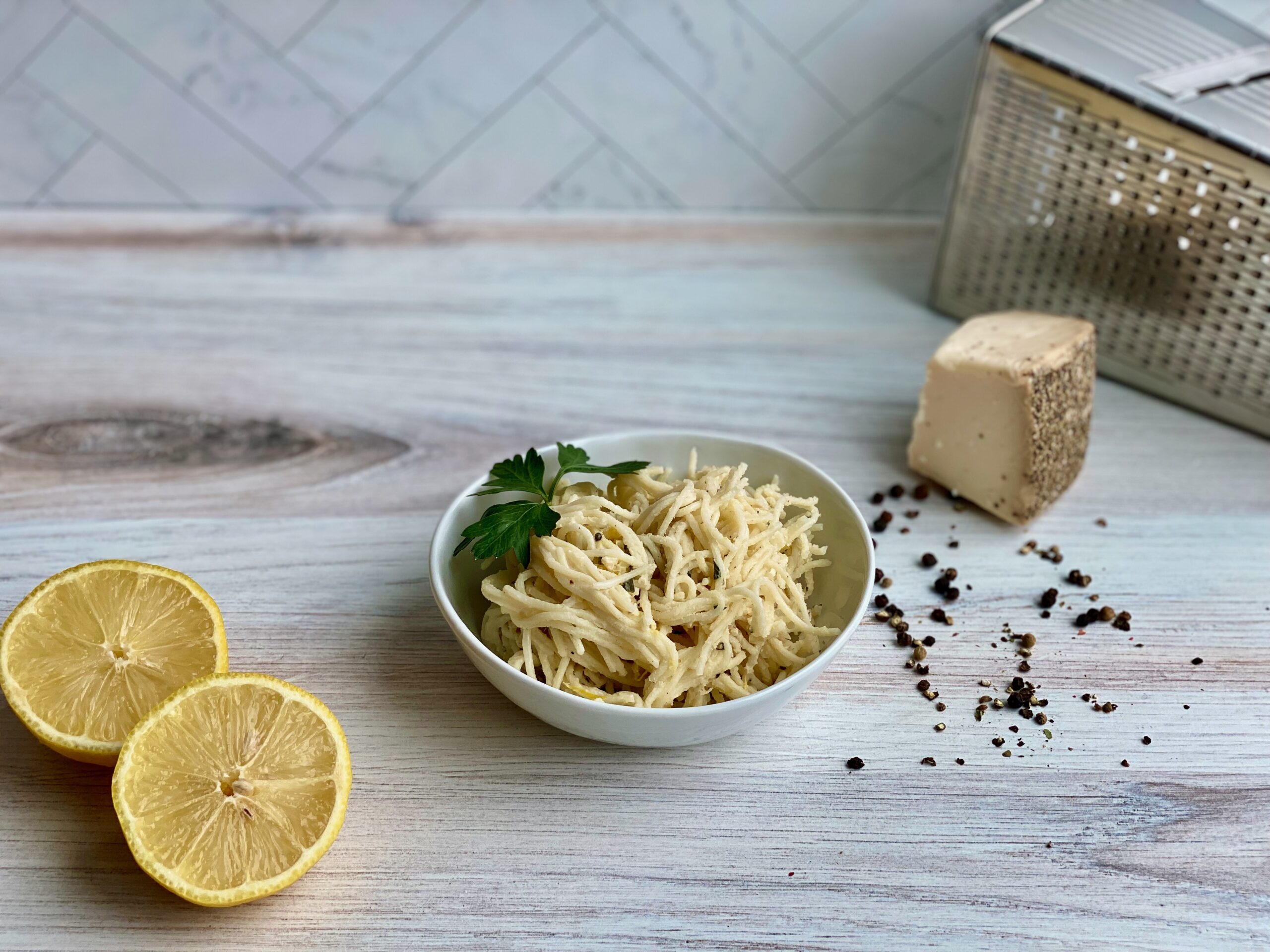 Because I was going the cacio e pepe route I kept it traditional by using pecorino. Pecorino is a sheep's milk cheese. Pecora actually means sheep in Italian so pecorino is derived from the Italian word sheep. Pecorino reminds me of parmesan slightly. They have the same texture but I find pecorino is a little more tangy than parm. That tang pairs nicely with the pepper and lemon so if you can find pecorino USE IT!
In addition to the pecorino I happened to have another cheese in my fridge that worked perfectly in this dish. If you haven't had Trader Joe's pepper Toscana – speed to your nearest TJ's IMMEDIATELY! (If you don't have a TJ's I also like the Sartori brand as well). This cheese is cheddar like in the sense that it's much creamier than the pecorino. But the rind is the best part since it's loaded with peppercorns. And since I was already using cracked pepper, why not use more?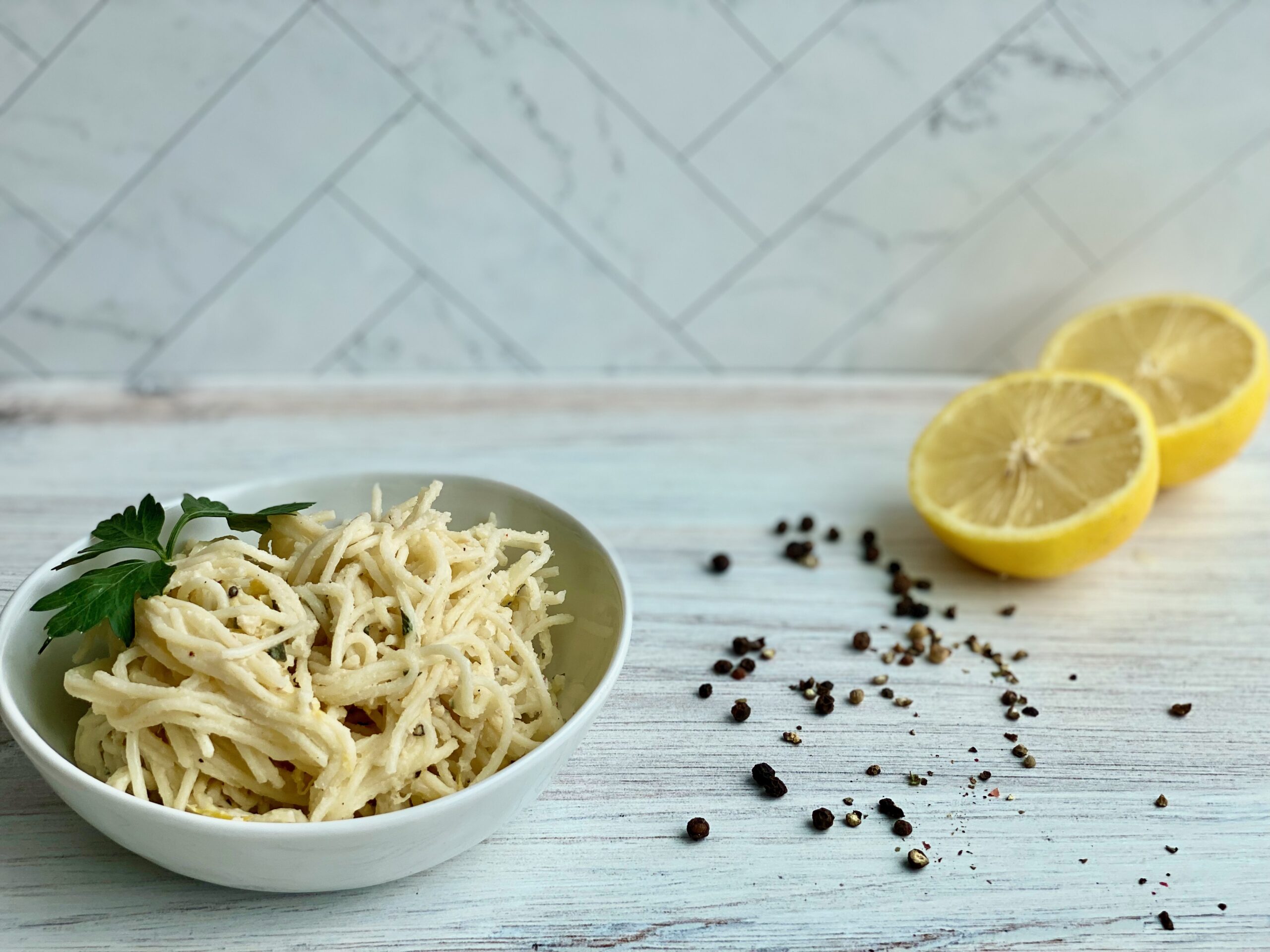 Light and creamy pasta, is that possible?
I feel like it's cliche to call this pasta light and then use heavy cream. But like I said there is something about angel hair that my mind associates with "light". I like using the thin long noodles in this dish so that the sauce really can coat the noodle. Plus angel hair pasta cooks up quick.
One trick I like to use in this pasta is transferring the pasta right from the cooking water to the sauce. The cheese and cream make the sauce rather thick to start. A lot of recipes will call for saving the pasta water. By moving the pasta straight from water to the sauce some of that pasta water gets into the sauce and thins it out. Then the sauce isn't as thick and creamy.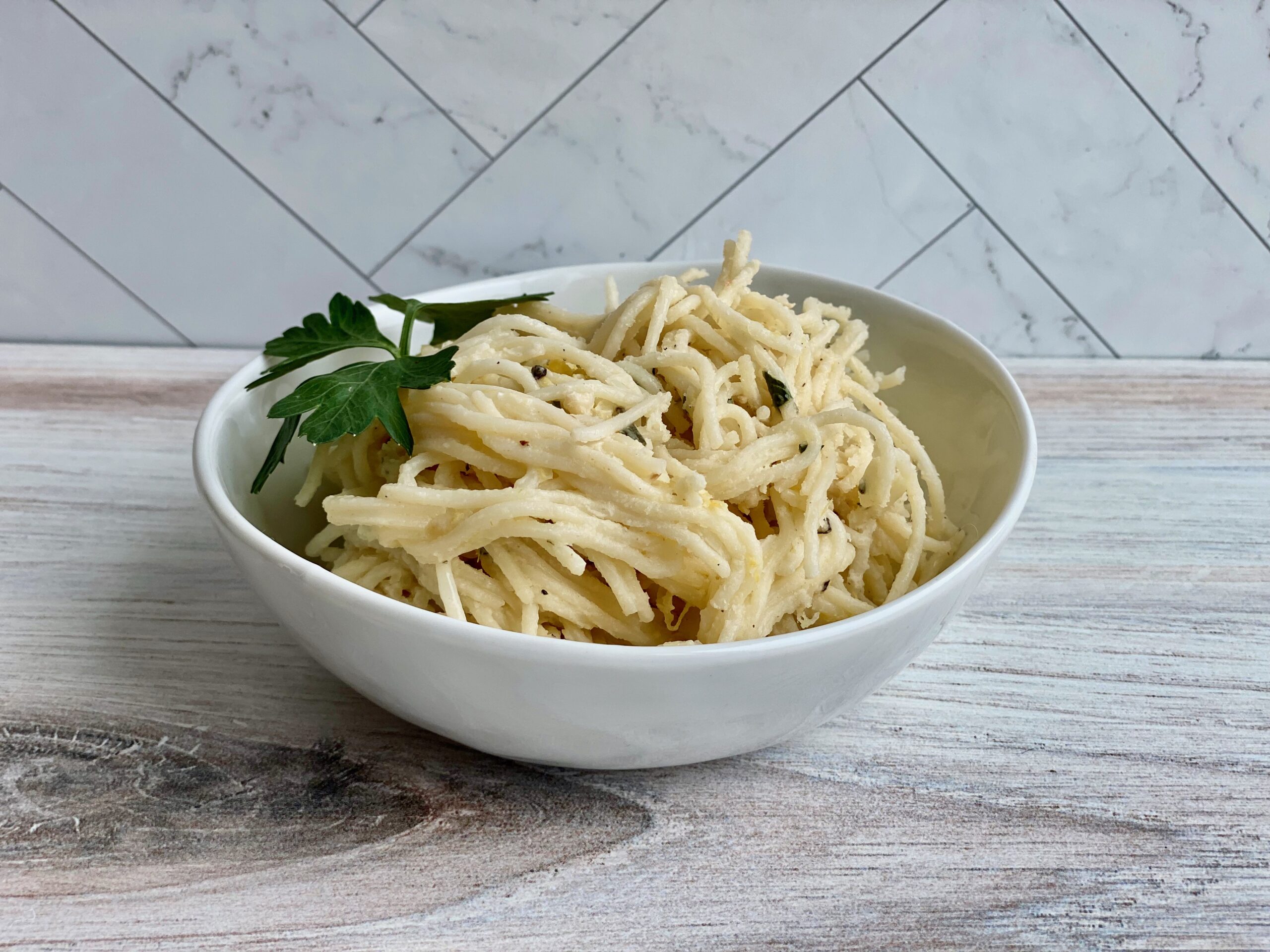 To keep things light, lemons are a must! I love lemons in pasta sauce, especially if I want to keep things simple yet flavorful. With lemons a little goes a long way. I also have experience some of my sauces breaking when I have added lemon juice to it. So for this version of pasta I decided to skip the lemon juice in the sauce all together. Instead I only used the zest of the lemon and once my pasta was plated I gave a little squeeze over the top. Finally I used fresh chopped Italian parsley in the dish. Fresh herbs really enhance the flavor of simple dishes. Not only that I feel like by using herbs that screams lightened up to me as well.
So the next time you are looking for a quick pasta meal make sure to try this creamy lemon angel hair pasta. It's perfect for a main course with a veggie or paired with a protein like grilled chicken or shrimp.
FOR MORE LEMON RECIPES:
Here is another easy lemon dish with rice instead of pasta
This version of lemon pasta gets spiked with vodka
This lemon couscous soup is also quick and easy to make
And remember, if you try this recipe be sure to leave a comment below and let me know how you like it or tag me on Instagram!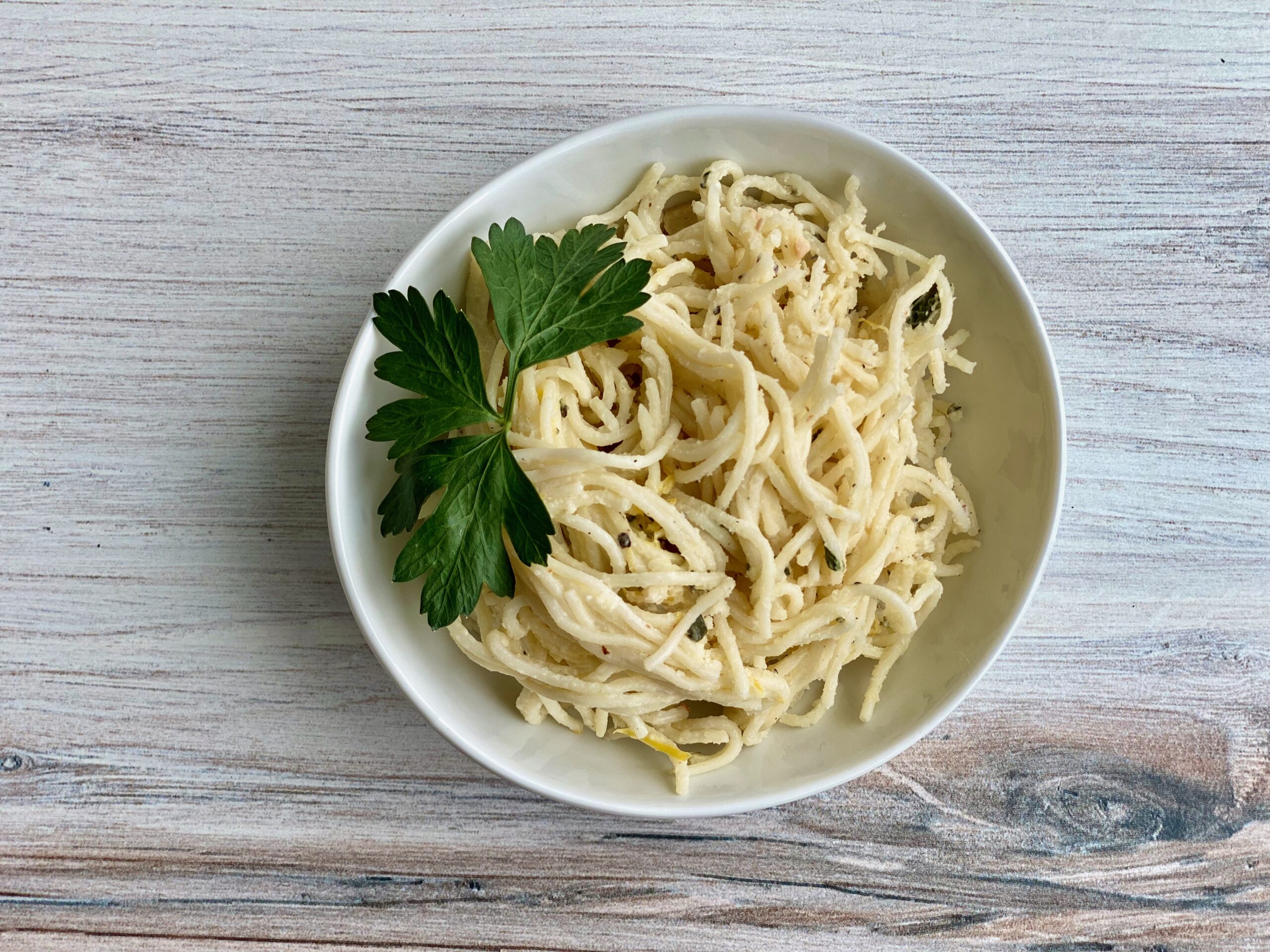 Print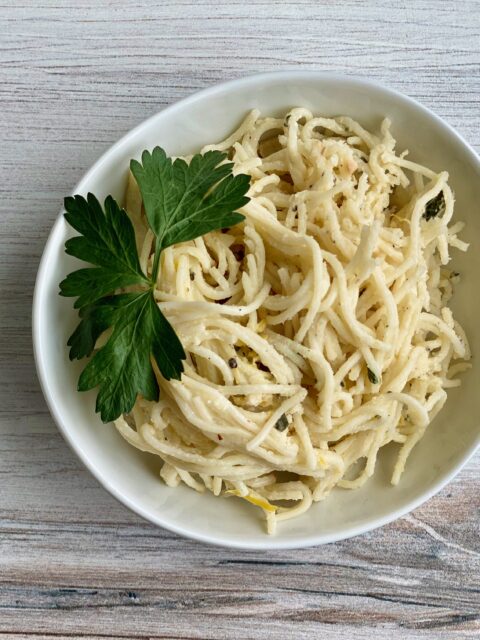 Creamy Lemon Angel Hair Pasta
---
Author: Karissa P
Total Time: 15M
Yield: 4 1x
Description
This creamy lemon angel hair pasta doesn't take much more time than cooking the noodles. Simple to make yet big on flavor.
---
6 cloves of garlic, minced
3 TBS butter
1/2 c heavy cream
1/2 c grated pecorino cheese
zest and juice of one lemon
1/2 c Black pepper toscana cheese (if you can't find you can use more pecorino or a mix of pecorino and parmesan)
1/4 c Italian parsley, minced
1 lb angel hair pasta
---
Instructions
Bring a large pot of water up to a boil for the pasta. While the pasta water is coming to a boil, start your sauce.
In a large sauce pan (big enough to fit the pasta in once cooked) sauté garlic and butter over medium low heat for 1-2 minutes, careful not to brown the garlic.
Once garlic is softened add in heavy cream and heat thru.
Season liberally with cracked black pepper. You want this to be a pepper forward sauce. Hold off on salting the sauce for now, the cheese and pasta water will be salty.
Turn heat down to low and with a whisk stir in cheese. Make sure the cheese melts down and is whisked into the cream so the sauce becomes smooth. Add in lemon zest and parsley.
When pasta water is boiling season liberally with salt. Should be like the ocean. Cook pasta according to directions.
When pasta is cooked to al dente, transfer the pasta to the sauce with tongs. Stir all around.
If the sauce is too thick still, add one ladle at a time of the pasta water from the cooking pot to thin out sauce.
Serve immediately and finish with a quick squeeze of fresh lemon on top.
Prep Time: 5M
Cook Time: 10M
Category: pasta