I remember growing up as kid and my grandma making us Spanish rice for dinner. Her version had rice, green bell peppers and ground meat in a tomato based sauce. We always loved it as a kid. The other night I was craving a simple Mexican inspired dish and my mind went to my grandma. Using her inspiration I made up this one pot Spanish rice recipe.
But of course – it's vegetarian!
So I don't like ground meat. The texture of ground beef pretty much grosses me out. The ONLY time you will catch me eating ground beef is in a pasta sauce or meatballs that I make. Other than that it's a hard pass. But I wanted something more than rice and vegetables in my version of Spanish rice. Pinto beans were the perfect substitute. But if pinto beans aren't your favorite black beans would work well in here too.
In addition to the beans and rice I wanted extra veggies. I kept the traditional pepper and onion combo but decided to sneak more veggies in. For extra nutrition I use grated zucchini in so many recipes. I grate them in my daughters oatmeal, add them to soups and even sometimes to hash browns. By using a box grater the zucchini becomes small and almost the same size of the rice so it really gets lost in the dish – but the nutritional value does not.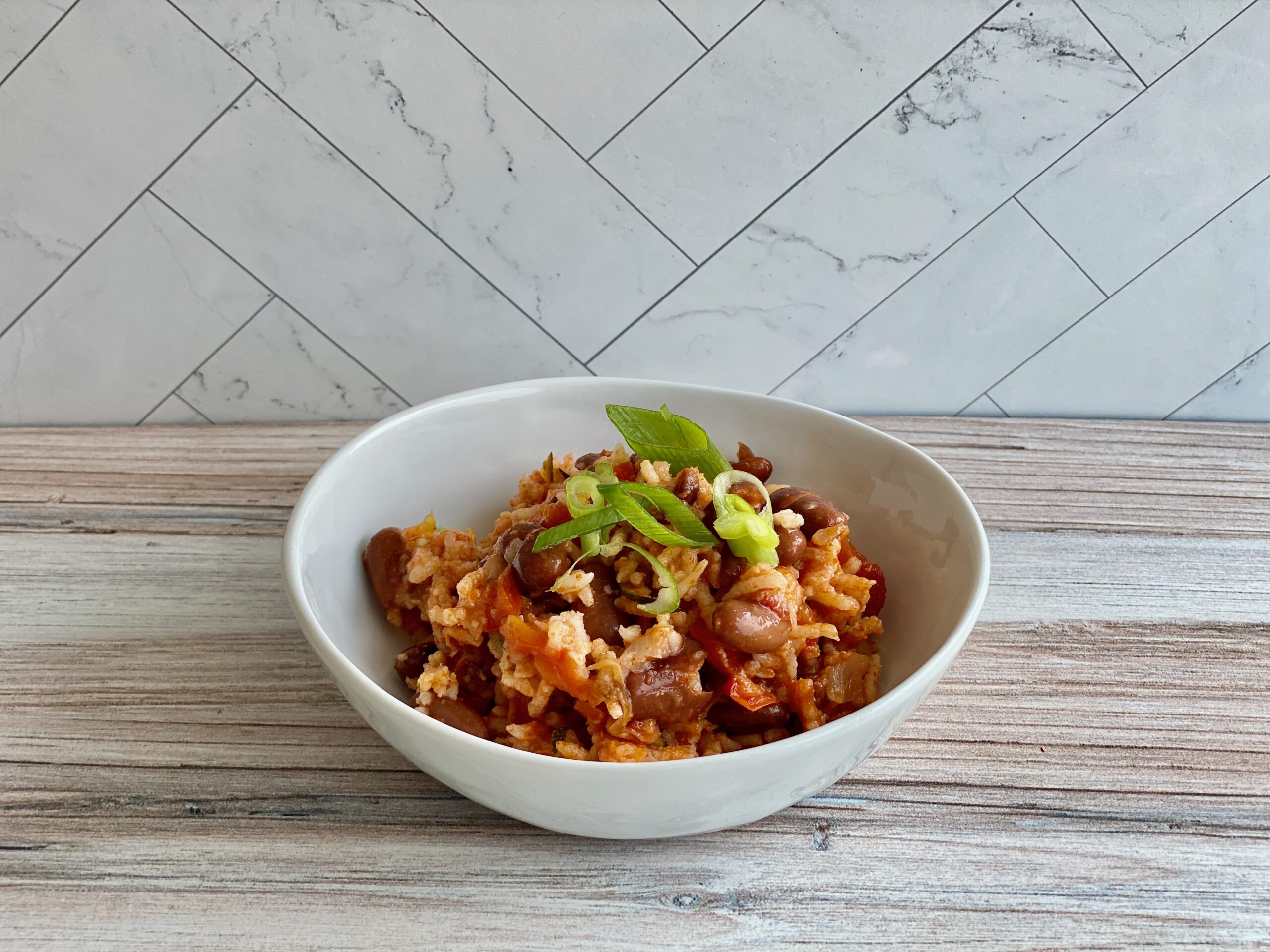 For some additional flavor I also used a can of diced green chilis. But my husband is from the south so the mild green chilis don't cut it in our house. He always buys the canned Hatch chili peppers. If you like spice the next time you cook with these peppers try the hot version.
One pan wonder
I wanted as little clean up as possible for this dish. So after I sauteed my veggies for a few mintues I tossed in the remaining ingredients – including the rice. I was experimenting and I know that two cups of rice feeds my husband and I dinner and then gives us enough for leftovers. Holy crap two cups of rice went a long way in this dish! If you are cooking for two be prepared to have some leftovers.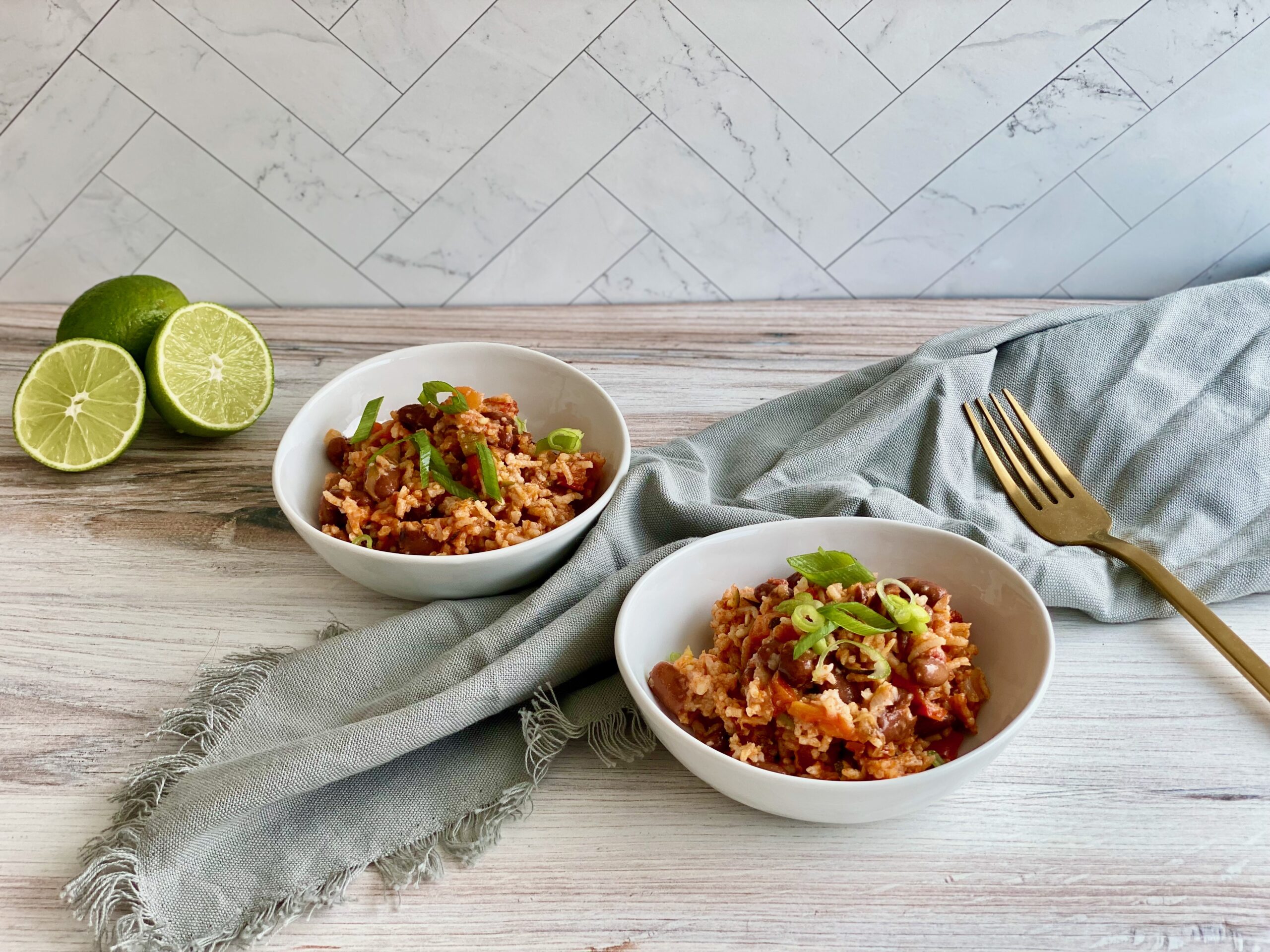 The key to cooking this dish is starting with an oven safe pot. Then you can go from stove to oven seamlessly. Once the rice is up to a gentle boil all you have to do is put the lid on the pot and finish cooking the rice in the oven. So most of the cooking time for this dish is really the time it takes to bake in the oven. You can set it and forget it and do other things while you wait.
While this one pot Spanish rice isn't the version I had in my childhood the flavors took me back. Plus by cooking it in the oven it probably came together faster than my grandma's version. When you are looking for an easy meal be sure to try this one out!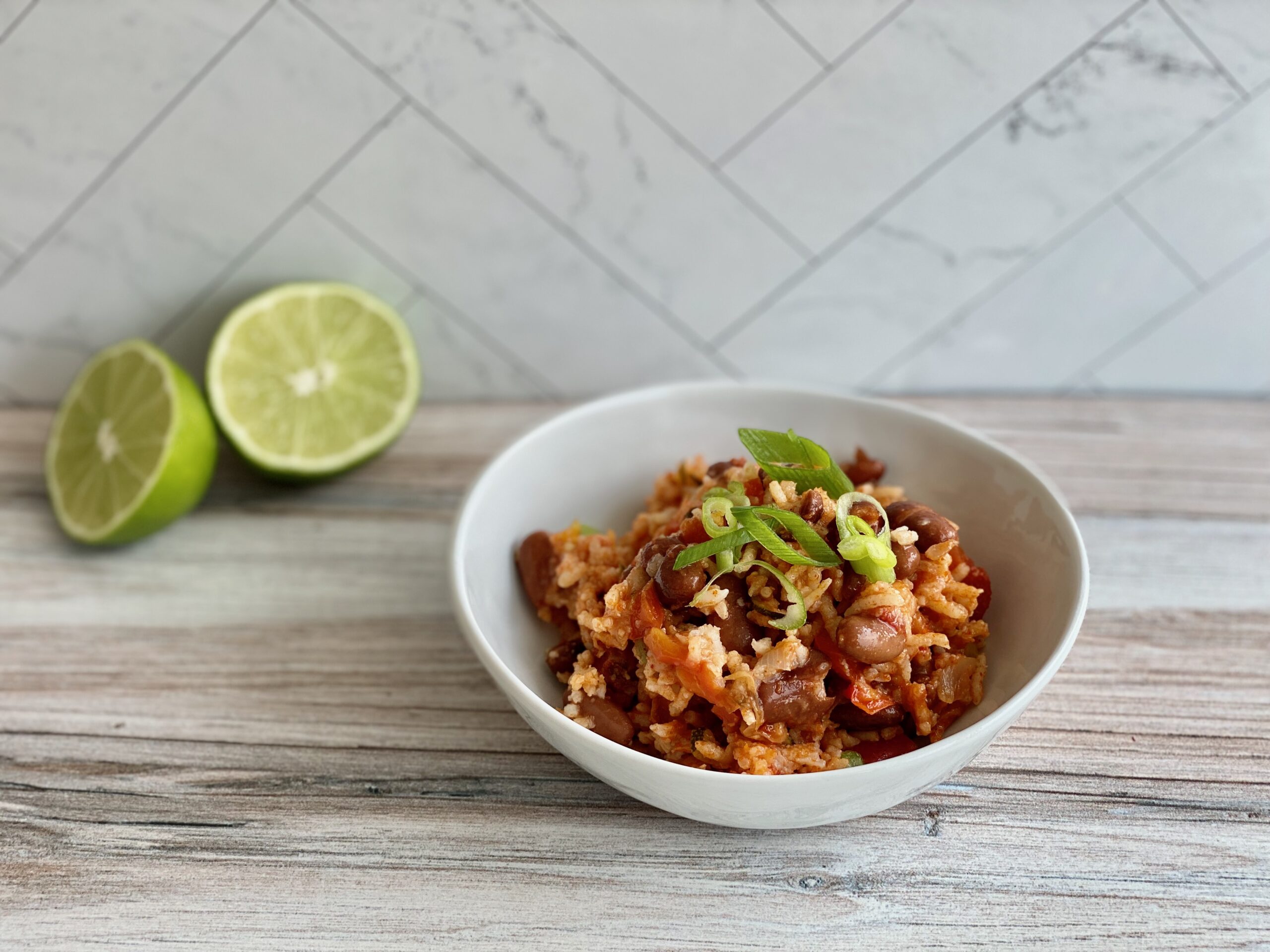 FOR MORE Rice Recipes:
One of my most pinned recipes be sure to try this Lemon Parmesan Rice for a side
For another time saving recipe with wild rice try these Unstuffed Peppers
If you want another quick Mexican inspired rice dish try these easy Veggie Burrito Bowls
And remember, if you try this recipe be sure to leave a comment below and let me know how you like it or tag me on Instagram!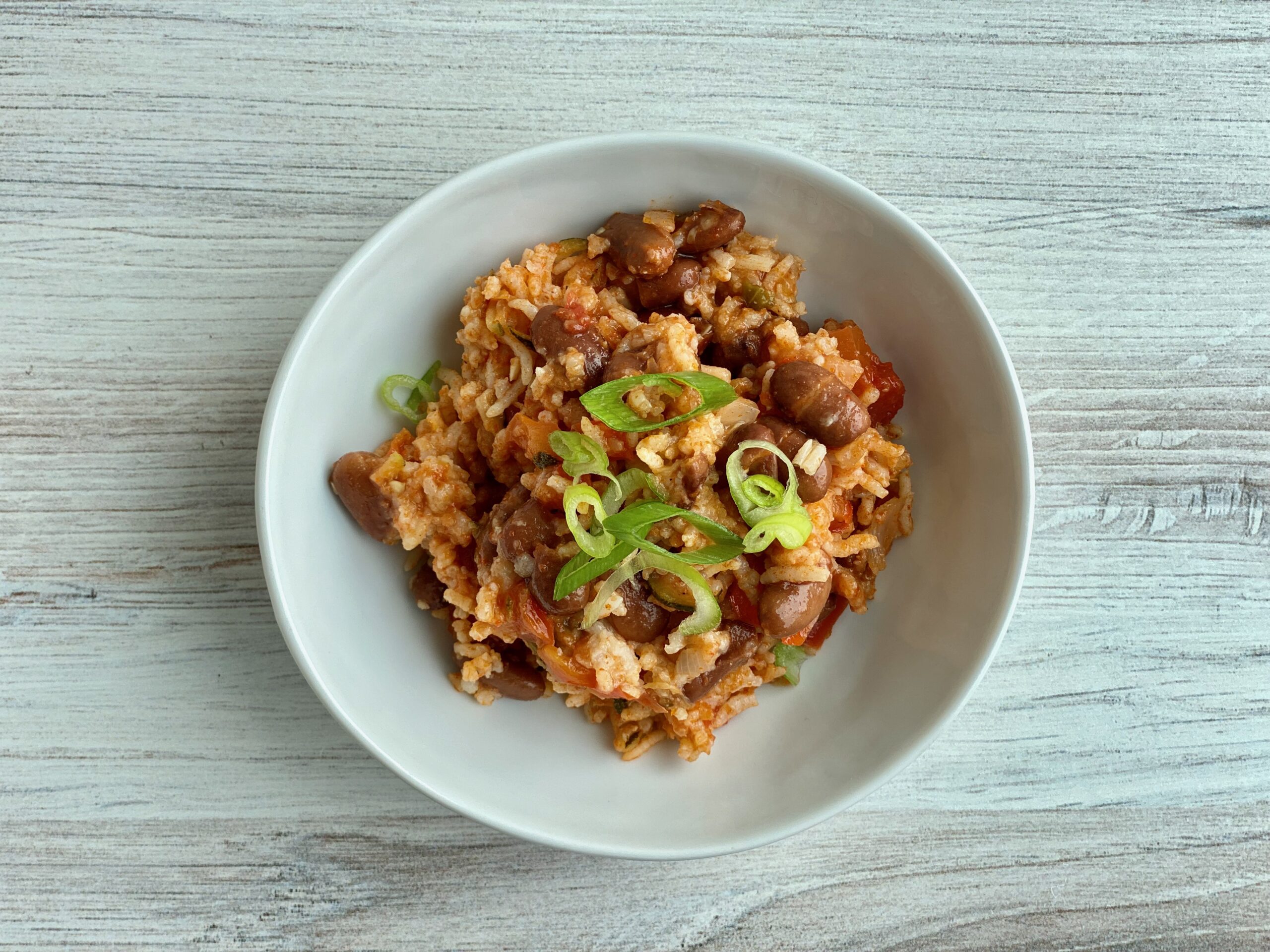 One Pot Spanish Rice
July 24, 2021
: 4-6
: 10 min
: 45 min
: 1 hr
: Easy
This one pot version of Spanish rice starts on the stove and then cooks in the oven all in one pan.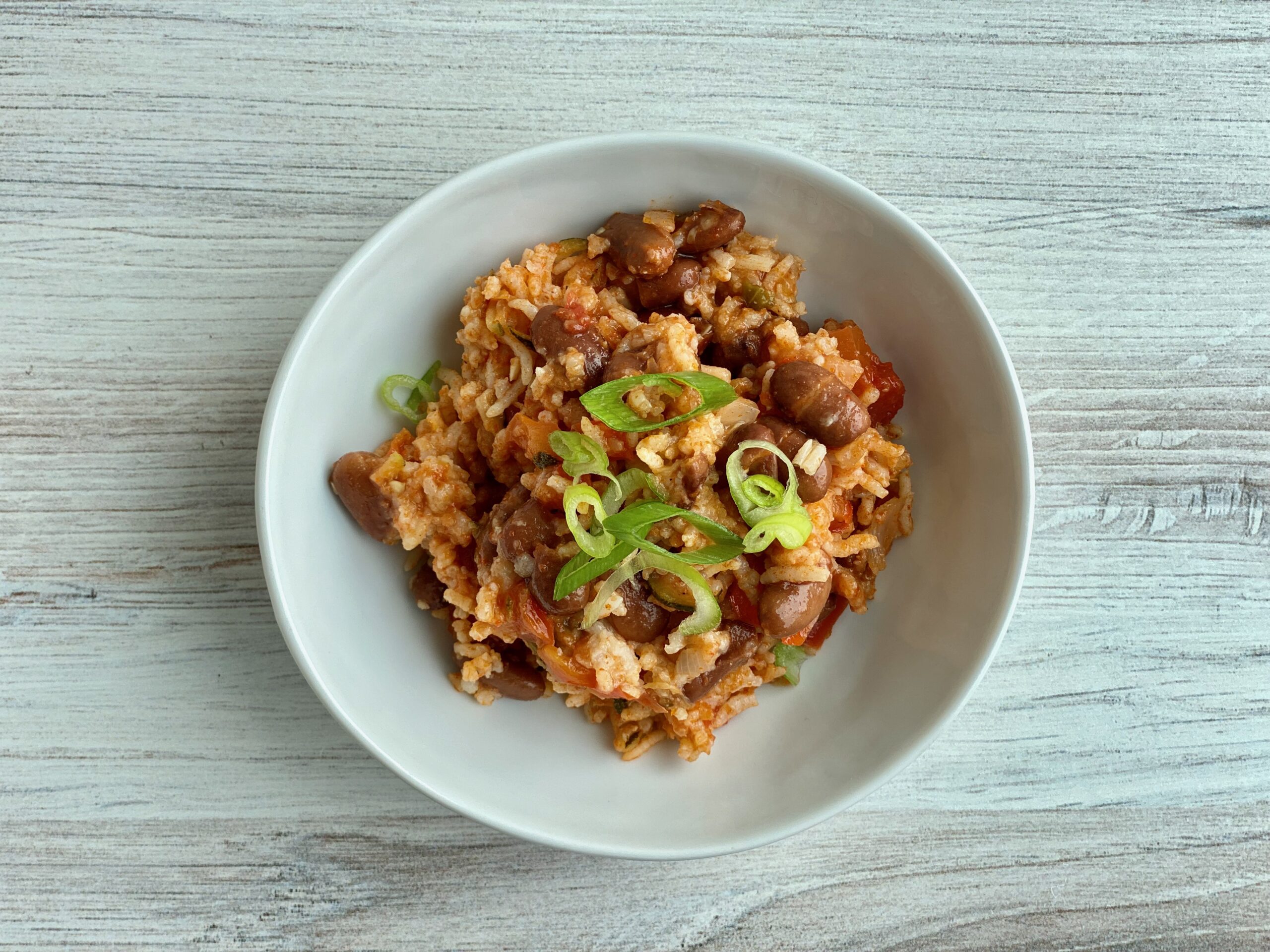 Ingredients
1 yellow onion, small dice
1 jalapeno, minced
2 bell peppers, small dice
6 cloves of garlic, minced
1 large or 2 medium zucchini, grated
1 TBS cumin
2 cans pinto beans, drained
2 c basmati or long grain white rice, rinsed
1 c canned diced tomatoes
1 c red enchilada sauce
2 TBS butter
3 c veggie or chicken broth
Additional ingredients to top with:
Avocado or guacamole, cilantro, salsa, scallions, jalapenos
Directions
Step 1

Pre-heat oven for 350

Step 2

In a large oven safe pot that has a lid (I use my dutch oven) sautee peppers, onions, jalapenos and garlic over medium to medium low heat in 1 TBS olive oilv for 5-7 minutes until slightly softened.

Step 3

Add in zucchini, cumin and rice. Stir around to combine. Allow rice to toast up for a few minutes.

Step 4

Add in tomatoes, beans, enchilada sauce, butter and broth. Sitr everything to mix together. Bring to a gentle boil.

Step 5

Once bubbling, transfer pot into the oven with the lid on. Bake for 35 minutes.

Step 6

Remove from oven. Fluff rice with a fork. If the rice is still slightly al dente, place cover on and let sit 5-10 more minutes on the stove. You don't need to turn the heat on, the rice will continue to cook in the covered pot.

Step 7

Serve in bowls with toppings of your choice.