One of my favorite things to get from Chipotle is a veggie burrito bowl. They are simple yet flavorful. Beans replace the meat (and frankly I think taste better). But the star of the burrito bowl in my opinion are the veggies. We live in downtown Detroit and the nearest Chipolte is fifteen minutes away and I have found that in the time we could drive there I could just make them. So the other night I decided to whip up my easy veggie burrito bowls at home. Here's how!
Eat yo' veggies!
In our household the more veggies the better. My husband and I eat big salads (think Seinfeld, the BIG salad) at least once a week. My three year old loves broccoli. What kid loves broccoli?! So in most meals you can find me sneaking in as many veggies as possible. These bowls are no exception.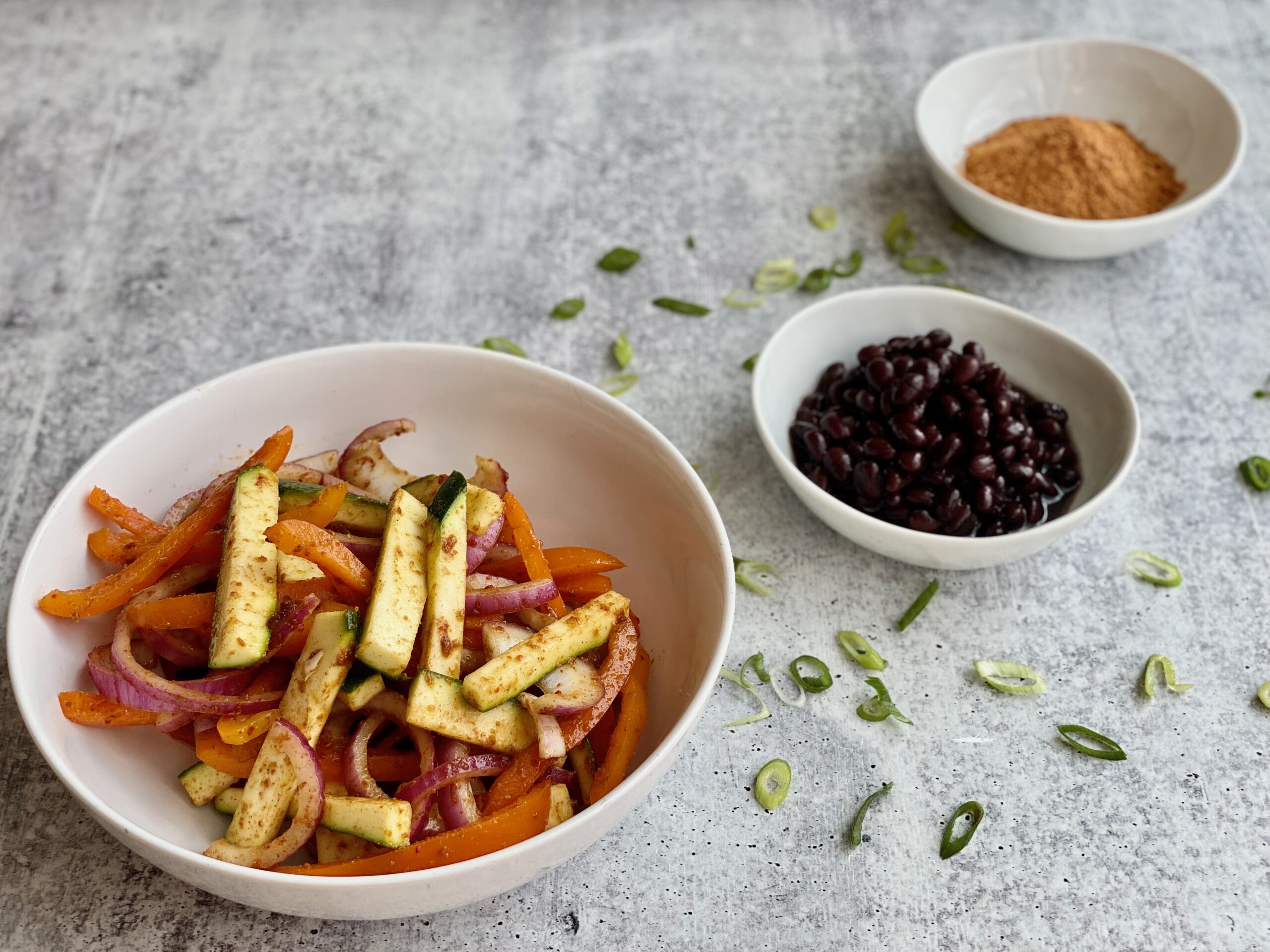 When you order fajitas at a restaurant the veggies are usually bell peppers and onions. The combination of the two goes very well with Mexican(ish) cooking. However since the veggies are the star of this meal I want more. So in combination with the peppers and onions I usually add zucchini. To keep everything uniform in size I slice the zucchini into fourths lengthwise. Then I cut those into three to four long strips and usually then cut them in half. The key here is to keep the zucchini the same size as the julienned (long thin strips) of peppers and onions so everything cooks in the same time.
Next to season up the veggies and give them a nice flavor I use a ton of spices. I LOVE Trader Joe's Chili Lime spice (apparently they have a mayo now too?) when I am cooking with chili powder. It has chili powder, lime, red bell pepper and salt. The lime gives the chili powder a little something extra. I also use cumin, a little onion powder, paprika and some garlic powder – think taco seasoning! The key here is layering flavors into every ingredient of the bowl and the veggies are no exception.
Once the veggies are seasoned they get cooked on high heat in a cast iron. Pro tip here – let your veggies sit. Yes, walk away from your veggies for a few minutes. You want the veggies to get that nice cast iron char like a fajita and if they are stirred constantly that won't happen!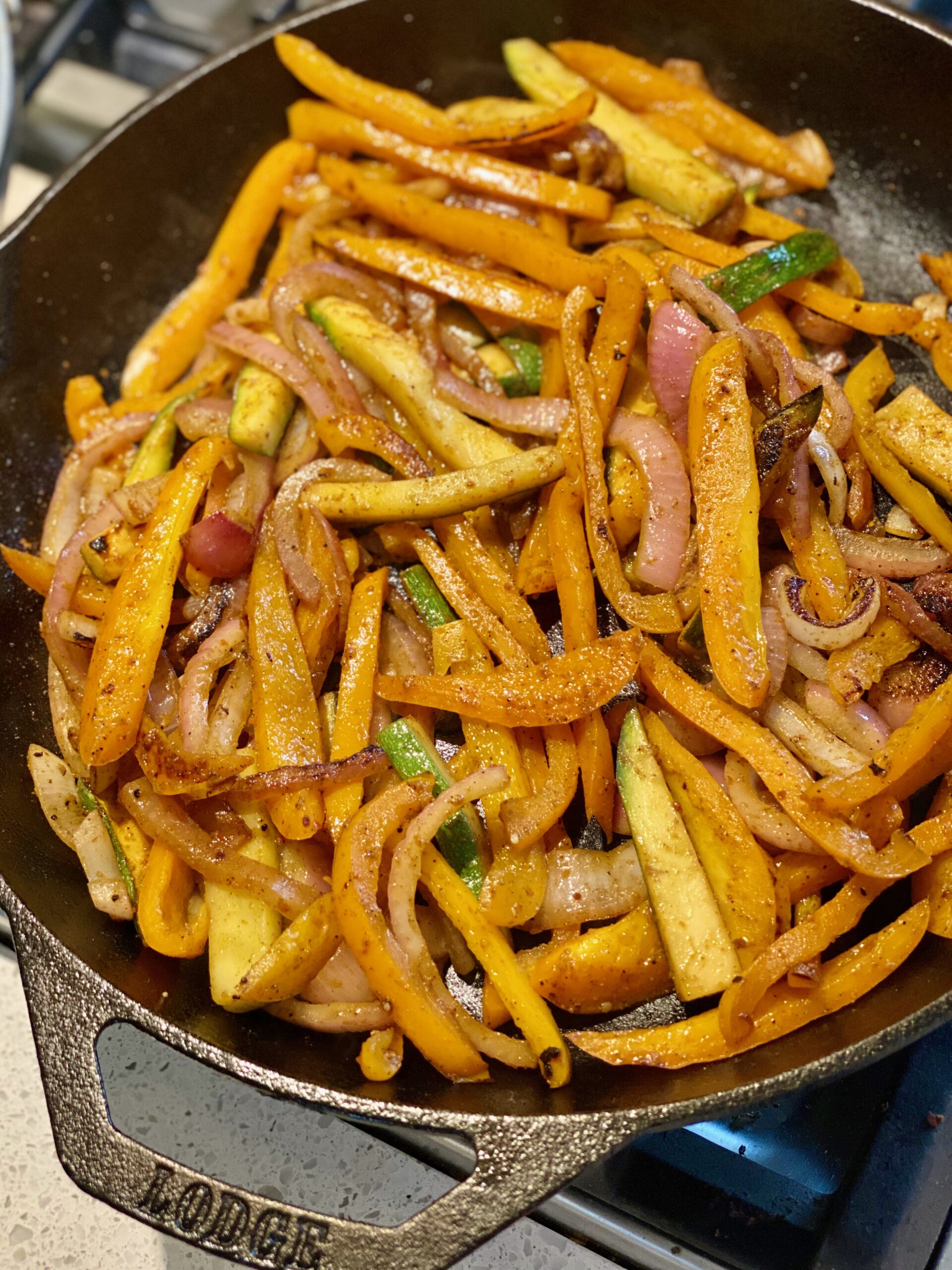 Meatless meal
I have always been a picky meat eater in my adult life. Because of that I tend to eat mostly vegetarian. It's something that I just prefer for myself but also feel good about the affects of a plant based diet on the environment. Our bodies do not need meat every meal of every day. Plus in these bowls we are going to use brown rice and black beans so you still get your protein.
This is where the "easy" comes in. I cheat to save time. First I use one can of black beans. Canned black beans are already cooked so the only thing there is to do is warm them. Second I buy frozen pre-cooked brown rice. Brown rice often takes longer to cook than white rice. And when I can't spare twenty to forty minutes of cooking I take a little help from the store. Look in your freezer section for this. Like the beans the only thing that needs to be done is heat the rice up.
I take my canned beans and frozen rice and put them in a sauce pan. Then I cheat again (remember, EASY veggie burrito bowls). To season the rice and bean mixture I use a packet of taco seasoning. In a previous post I told you all how I love shopping at Thrive Market. They have an organic taco seasoning that is really tasty. I find that some taco seasoning uses weird ingredients like maltodextrin and natural flavors. I prefer to buy things with ingredients I can actually read and know. Thrive has a great organic mix that I love. So like you would season ground beef, I season my beans and rice with it. It seriously takes five minutes at most to heat the mixture up.
All of the fixings
Once the veggies, rice and beans are cooked up all that is left to do is top the bowls. Here is where you get to be creative. My bowls are always topped with spicy cheese, avocado, salsa and scallions. But because I wanted more veggies I chopped up a fresh Roma tomato to put on the bowl.
Other ideas would be cilantro (which I despise), sour cream and fresh or pickled jalapeños. The world bowl is your oyster! Fix it up how you like it. But be sure to hit it with a little fresh lime juice. The slight bit of acid really compliments the veggies.
So that's it! Faster than you could pick up your take out you can make these easy veggie burrito bowls at home. Unless you live next-door to Chipotle!
For more Mexican inspired meals:
Try this Mexican Mac & cheese for a little spice
If you want enchiladas without all the prep try this easy enchilada bake
And remember, if you try this recipe be sure to leave a comment below and let me know how you like it or tag me on Instagram!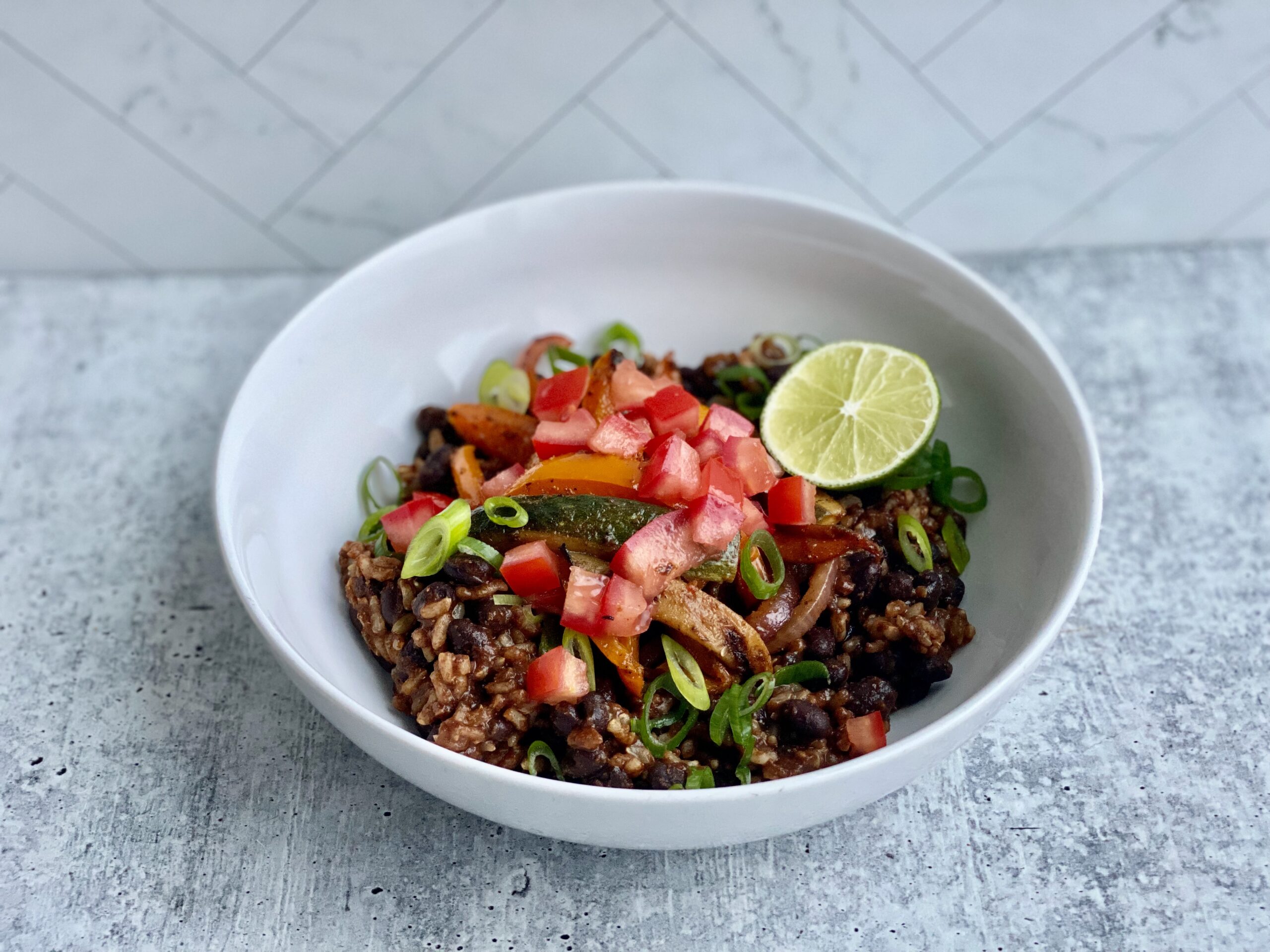 Easy Veggie Burrito Bowls
July 10, 2021
: 2
: 10 min
: 10 min
: 20 min
: Easy
These easy veggie burrito bowls are made in less time than picking up takeout.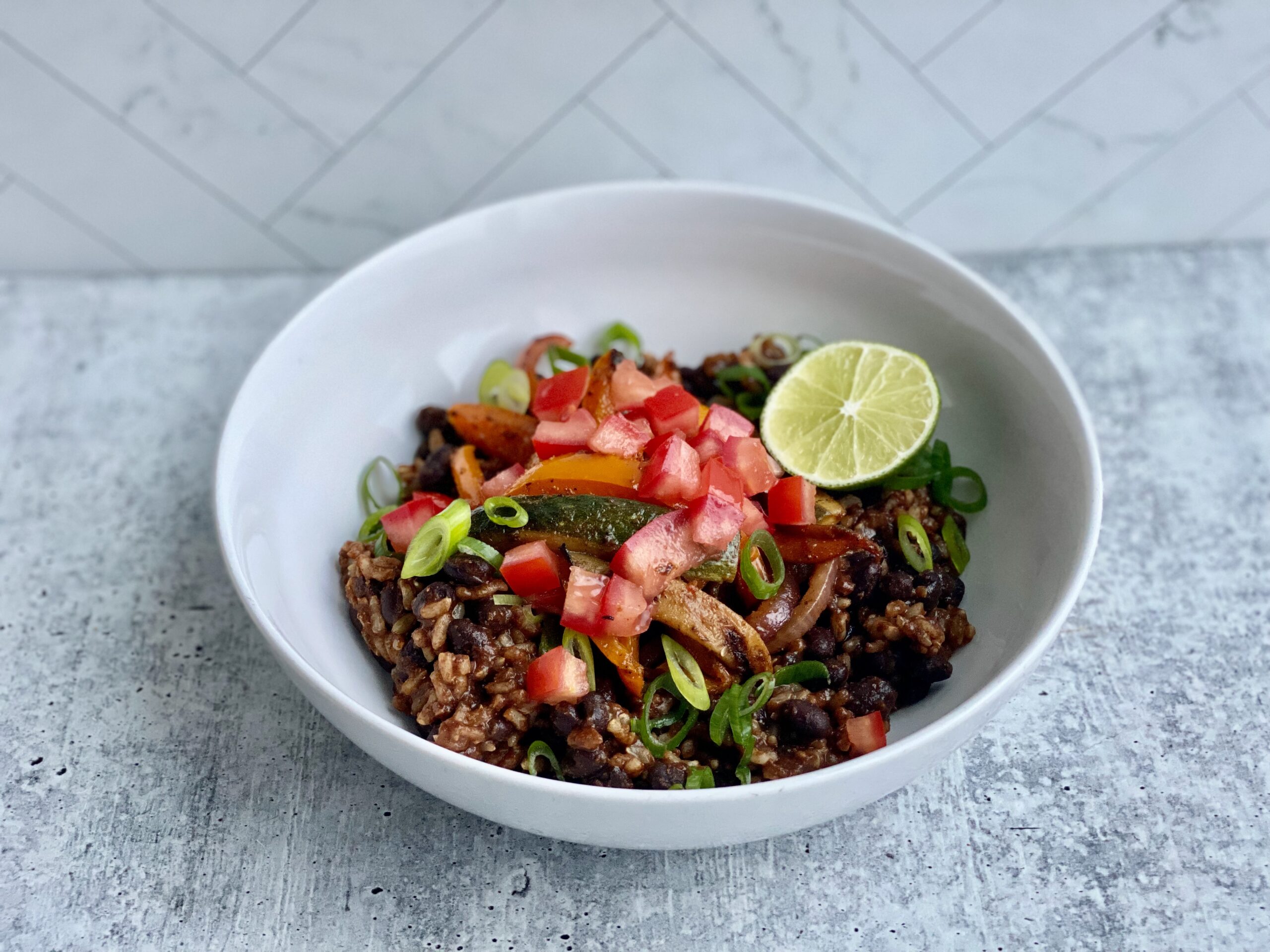 Ingredients
2 bell peppers, sliced thin
1 red onion, sliced thin
1 medium zucchini (or 2 small), sliced thin
cut lengthwise 3-4 times, then into strips, then cut strips in half to match peppers and onion
2 c frozen already cooked brown rice
1 can black beans (do not rinse or drain)
1 oz package of taco seasoning
2 TBS chili powder (Trader Joe's Chili Lime is so good here)
1 TBS cumin
1 tsp paprika
1 tsp onion powder
1 tsp garlic powder
Additional toppings for bowls:
Fresh chopped tomatoes, cilantro, salsa, cheese, sour cream or Greek yogurt, avocados or guacamole, fresh jalapeños, lime wedges, scallions
Directions
Step 1

Heat up a large cast iron skillet. I slowly heat mine until it reaches medium high.

Step 2

Combine bell peppers, onions and zucchini in a large mixing bowl. Toss with 1-2 TBS olive oil (or avocado oil) and all seasonings except taco seasoning. Season with salt and pepper. If you are using the Chili Lime from Trader Joe's beware there is already salt in it.

Step 3

Add veggie mix to cast iron skillet. Let veggies char up before stirring. Cook 8-10 minutes until softened.

Step 4

In a large skillet combine rice, beans and taco seasoning. Heat on medium low for 5 minutes until warmed thru. If the mixture is too thick thin out with a little water.

Step 5

Assemble your bowls. I like to put my bean & rice mix down, then cheese then the veggies so that the cheese melts.

Step 6

Top with any toppings of your choice.