On a ninety degree sunny day what is the first thing that comes to mind to cook? Mac and cheese! No? Just me? Ok not really but it was Father's Day and the day was all about making my husband things HE liked which is pretty much anything Mexican. I threw on a pot of barbacoa (from this amazing recipe here) and needed something to go with it. He originally said pasta for dinner so I thought why not make a Mexican Mac and cheese to go with.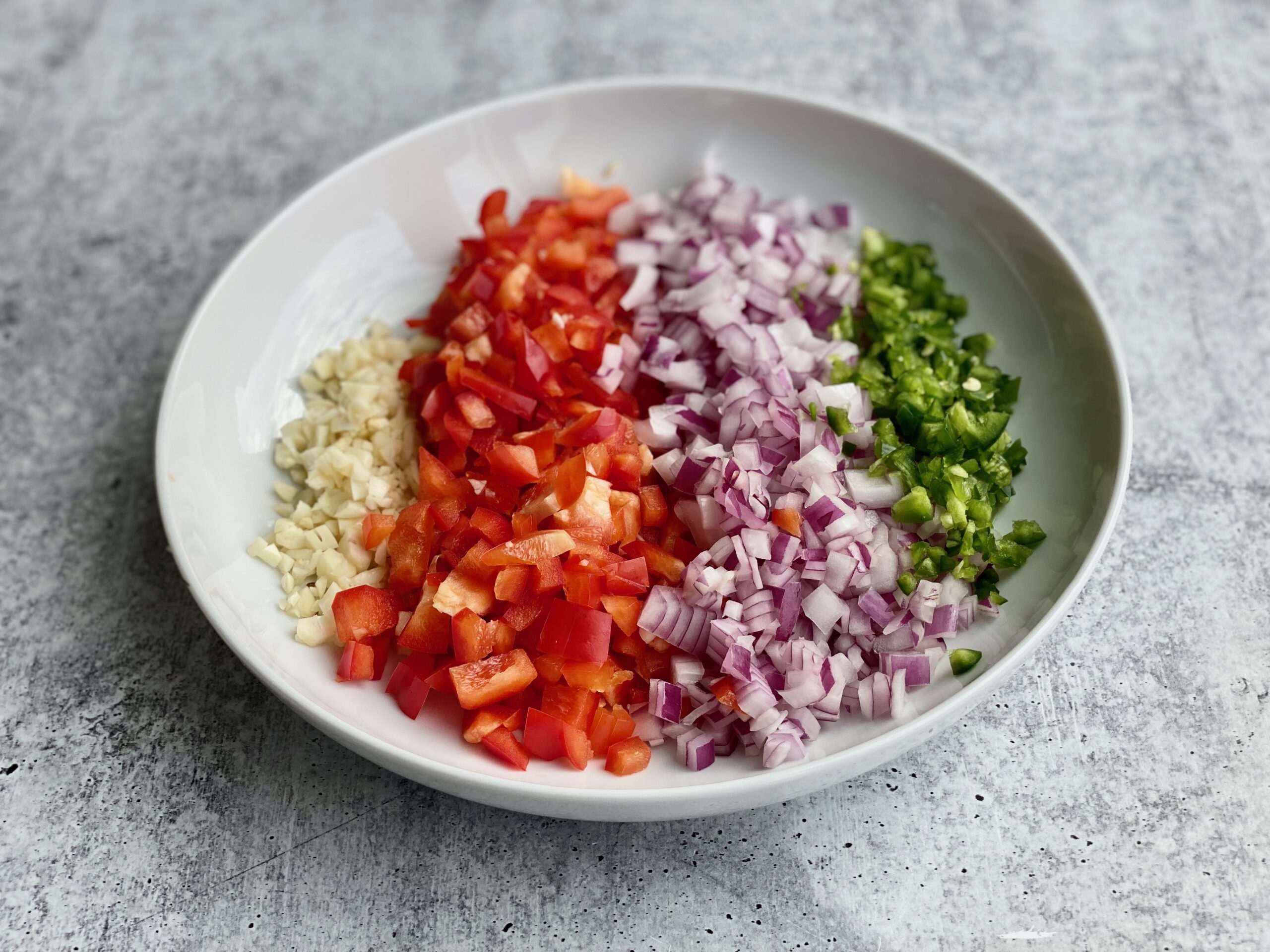 Mexican inspired
So what makes a Mexican Mac & cheese you might be asking yourself? Well since Mac and cheese is definitely not a Mexican dish I decided to use ingredients I use often in Mexican dishes. Which included LOTS of peppers. This version has three different kinds, bell peppers, jalapeños, and roasted poblano peppers.
I love using poblanos in Mexican dishes. The only thing is they take a little time and work. I roast them in the oven or on my grill pan. Then you have to let them sit for ten minutes or so to cool. Next comes the fun part, peeling off all the skin. This part is the time consuming part because sometimes the skin doesn't pull away nicely. Lastly I like to quick give my peppers a rinse to get all the bits of skin and seeds out of the peppers before I chop them up. Be careful if you do this though, when the water hits the pepper if the pepper is hot it might cause you to cough a little!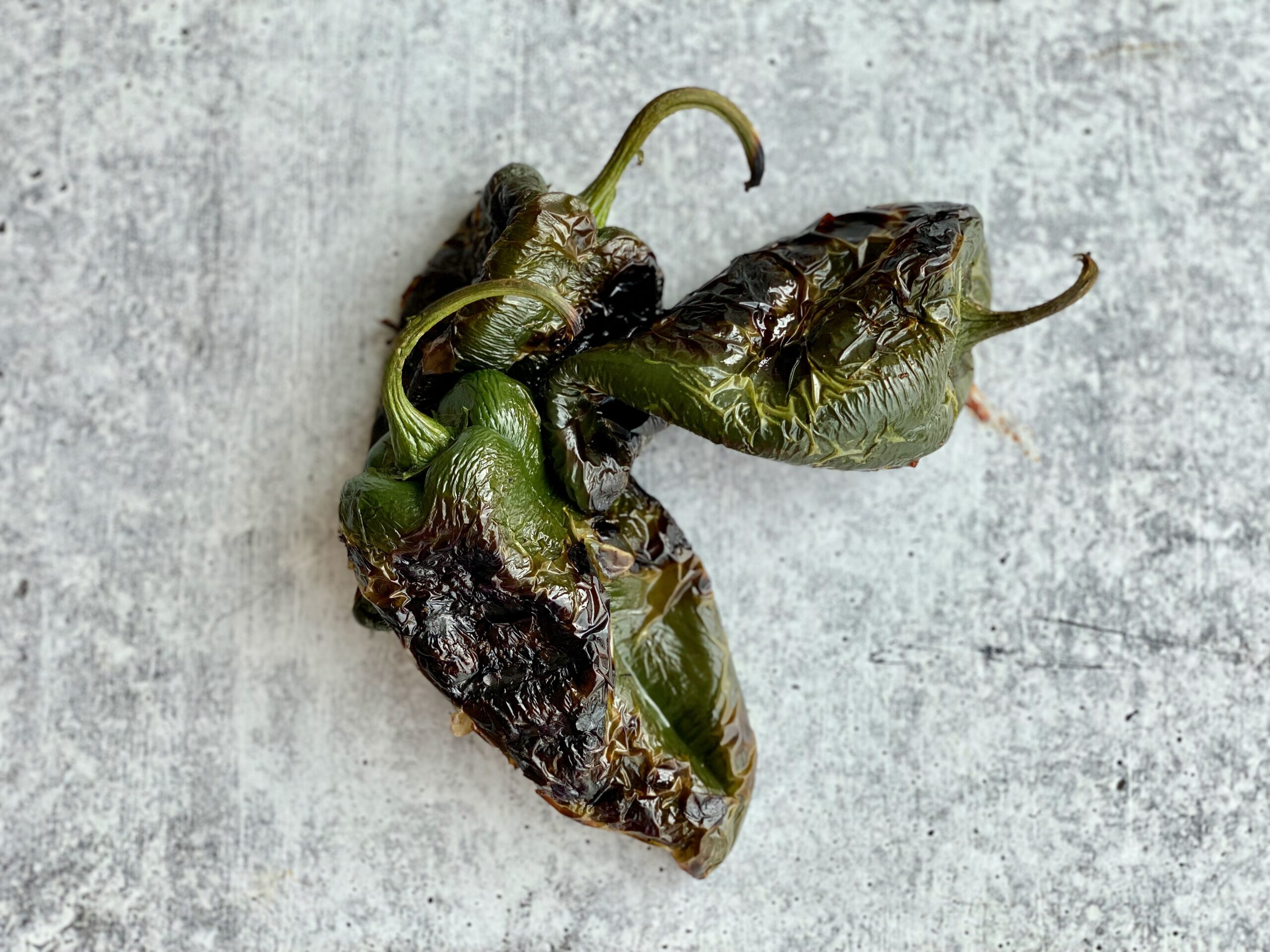 Then for a little extra I use black beans in the recipe. I cheat with a little help from the store since everything is going to get tossed together anyway. Additionally, the beans add a little extra protein if you wanted to keep this a meatless meal.
Ooey Gooey (Mexican) Cheese Sauce
Obviously the best part of a Mac and cheese is the cheese sauce. And even this one is Mexican inspired. I bought Mexican cheese to use in the sauce. My Whole Foods sells a three pepper gouda cheese that is a unique replacement for the standard pepper jack cheese. If you can find it I highly suggest using it.
But let's talk about my cheese FAIL here. I saw Oaxaca cheese which looked like a big ball of mozzarella and even said "melty like mozzarella". I thought perfect, another Mexican melty cheese. WRONG! The cheese didn't really melt and when it did it melted kind of all together like a big ball of cheese. So whatever you do – don't use Oaxaca in this recipe. Stick to a cheese you know and love before experimenting with something new!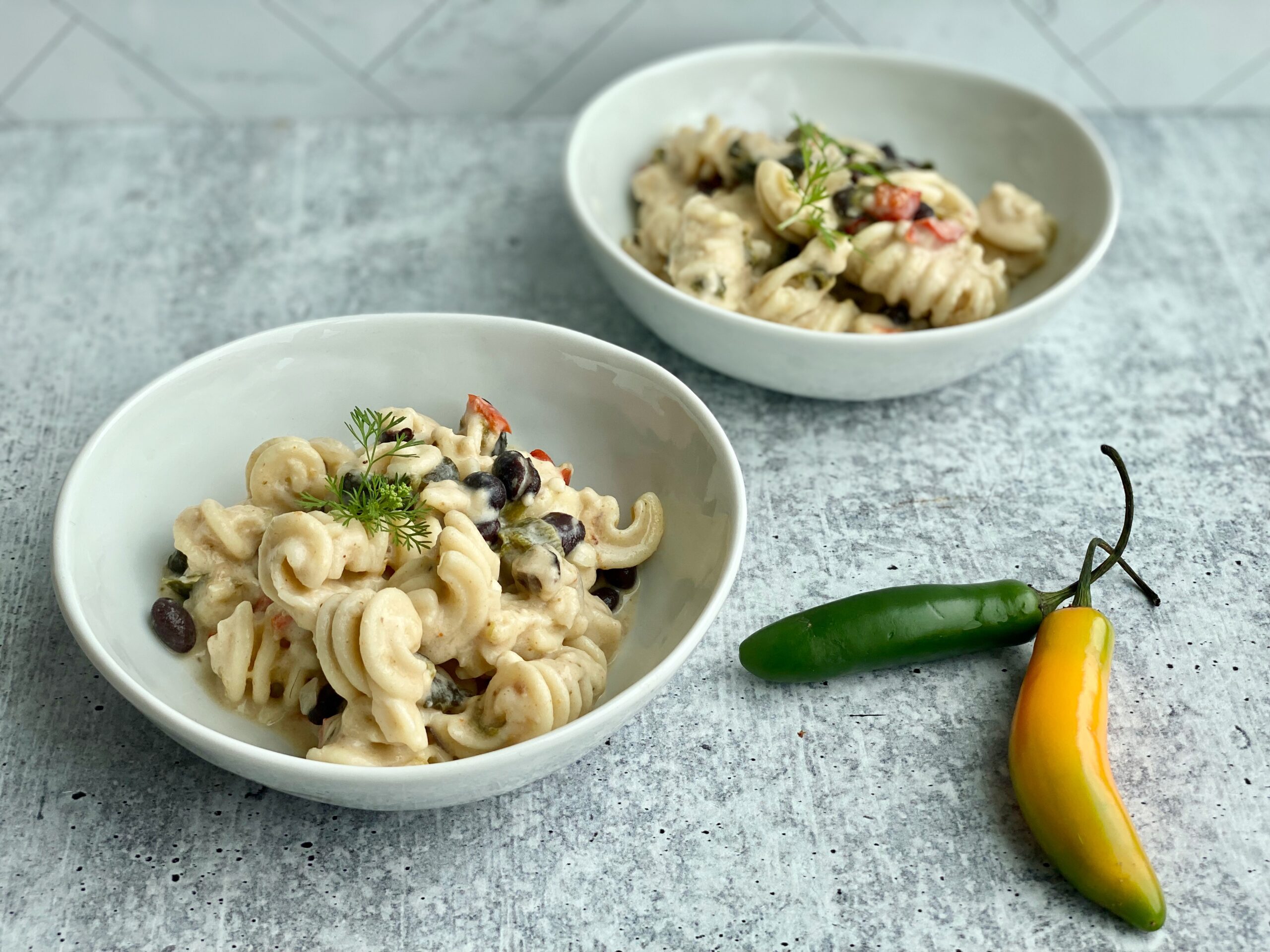 The last thing I did for the cheese sauce is use a little salsa verde. I love the combination of the tomatillos with the cheese in this recipe. Also because I kept the veggies simply seasoned with only cumin the salsa is another opportunity to infuse some flavor.
So while this dish might not be what comes to mind on a hot summer day it is still a good recipe to have at your disposal. Maybe the next time you are craving comfort food (no matter what the temp is) you will try this Mexican Mac and cheese version instead!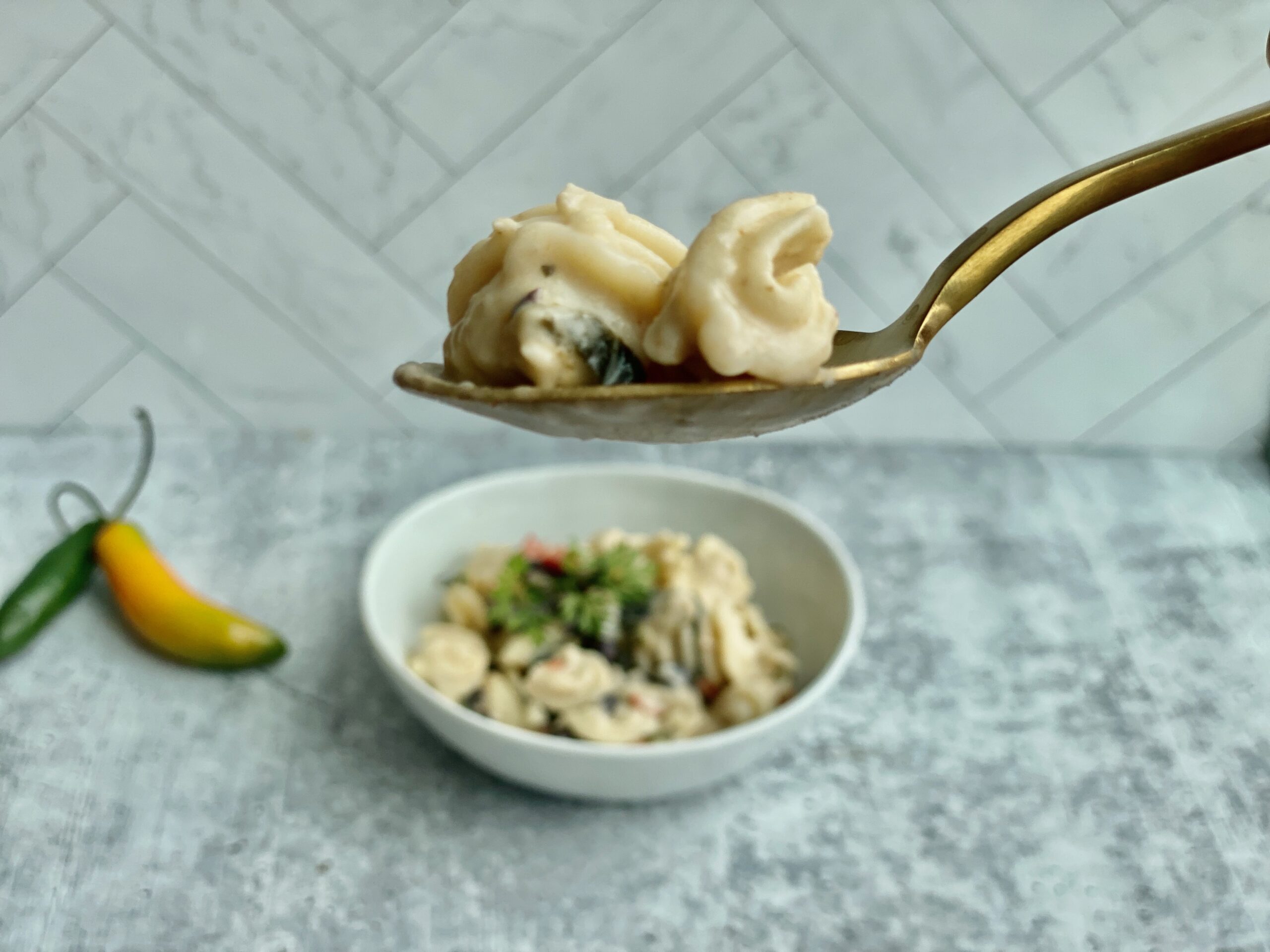 For more cheese and carbs check these out:
For more "international" Mac try this recipe
For the bacon lovers this Mac is for you
And for another Mexican inspired pasta dish click here
And remember, if you try this recipe be sure to leave a comment below and let me know how you like it or tag me on Instagram!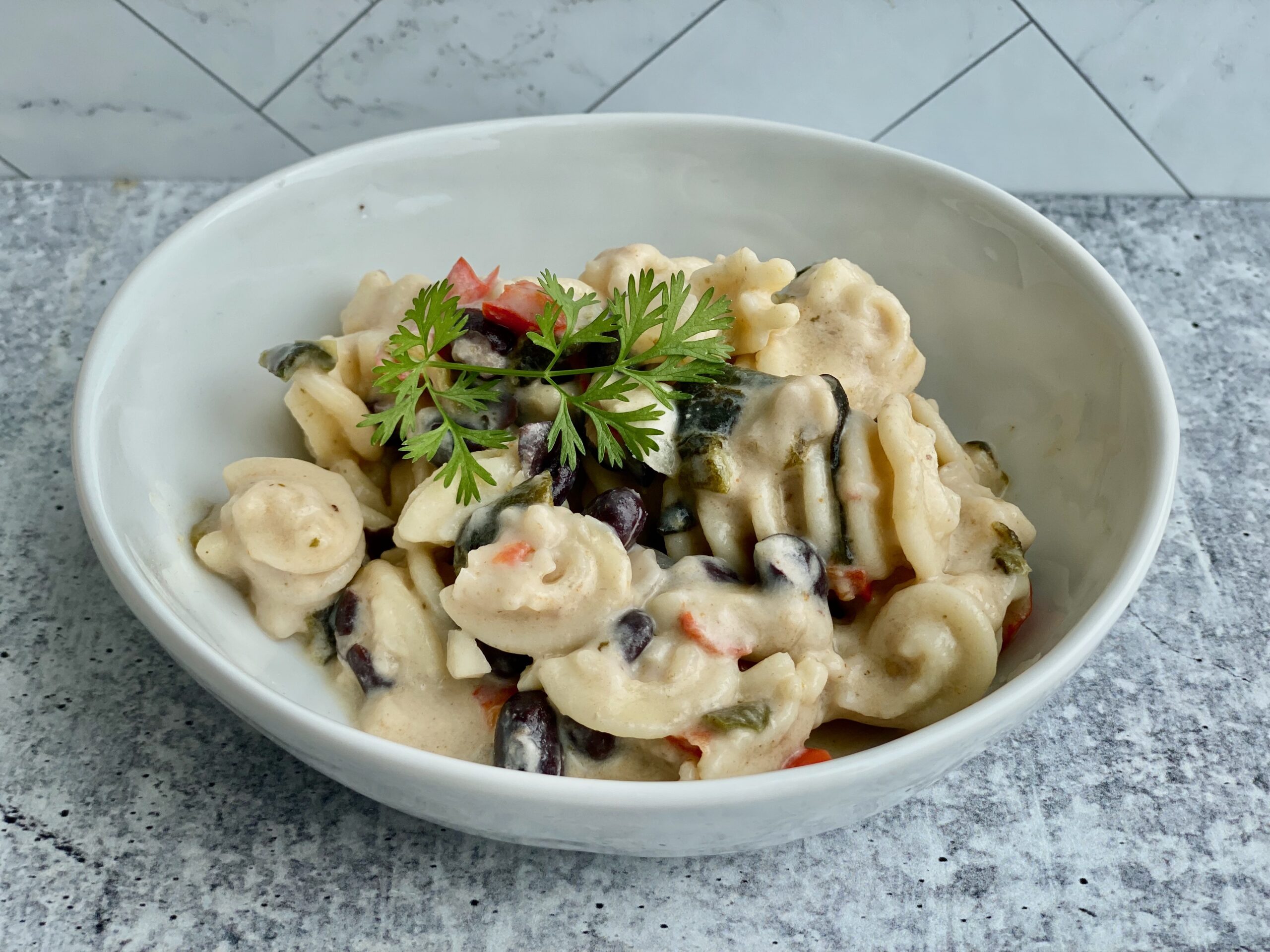 [lt_recipe name="Mexican Mac and Cheese" servings="4-6″ prep_time="10M" cook_time="20M" total_time="40M" difficulty="Medium" summary="This Mexican Mac and cheese uses Mexican ingredients and flavors to enhance the standard comfort food. " print="yes" image="https://eatbreathelove.net/wp-content/uploads/2021/06/IMG_1192-scaled.jpeg" ingredients="1 lb short shaped pasta (elbows, radiatori, shells or lumache work well);1 jalapeno, minced;4 poblano peppers, roasted, skin and seeds removed and chopped into a small dice (you can also use 2 small cans of green chilis as a time saver substitute);1/2 red onion, small dice;1 red pepper pepper, small dice;6 cloves of garlic, minced;1 can of black beans, rinsed and drained;1 TBS cumin;2 c shredded cheese (I would use 2 varieties including cheddar, pepper jack, Monterey Jack, three chili gouda, hatch chili cheddar. I prefer to grate myself for a creamier cheese sauce);1 c heavy cream;1 c salsa verde;Optional toppings:;scallions, avocado, cilantro, jalapeños, grilled meat, shredded beef or pork carnitas" ]In a frying pan with a TBS of olive oil sauté bell pepper, onion, garlic and jalapeño for 8-10 minutes over medium low heat until softened. ;Season veggie mix with salt, pepper and cumin. Add in black beans and poblanos (or green chilis) to the mix. Turn off heat.;Bring a large pot of water to boil for the pasta. Salt the pasta water and cook pasta according to directions. Be sure to save 1-1.5 cups of the pasta water before draining the pasta.;While water is boiling start your cheese sauce by heating up the heavy cream over medium in a large sauce pan. Make sure to stir so the cream does not scald.;Once the cream has come to a slight bubble turn the heat down to low and slowly whisk in the cheese handful by handful. Make sure the cheese has completely melted into cream before adding more.;Once cheese is incorporated whisk in salsa verde. Remove from heat.;Add pasta back into the pasta pan and turn heat to low.;Stir in veggie mix and then add in the cheese sauce.;Stir everything together well to allow the cheese sauce to coat the pasta. If the mixture is too thick slowly add in the pasta water and stir to thin it out slightly. Taste and season with more salt and pepper if necessary.;NOTE: go easy on the salt in the beginning of the recipe. The cheese will add a natural saltiness as will the salted pasta water. You can always add salt in at the end you can't remove it!;;[/lt_recipe]