Lately we have been on a major salad kick. Since we got back from our vacation from Mexico I have been CRAVING veggies. The best way to get them I find is in a salad. Growing up my dad always made Caesar salads for us as an entrée salad. To this day it's one of my favorites. Over the weekend we had them as a side salad and had leftover dressing. Since I couldn't let it go to waste, I decided to put a spin on an old classic and make chickpea Caesar salad.
Skip the meat, but not the protein
We don't eat meat a ton during the week. So when we make salads often time we add quinoa or chickpeas to them for a little extra protein. Originally I was trying to figure out what to replace croutons with when I made this salad. I wanted a crunch but didn't feel like bread. Since I use chickpeas as a salad topper a lot I figured they would be a good replacement.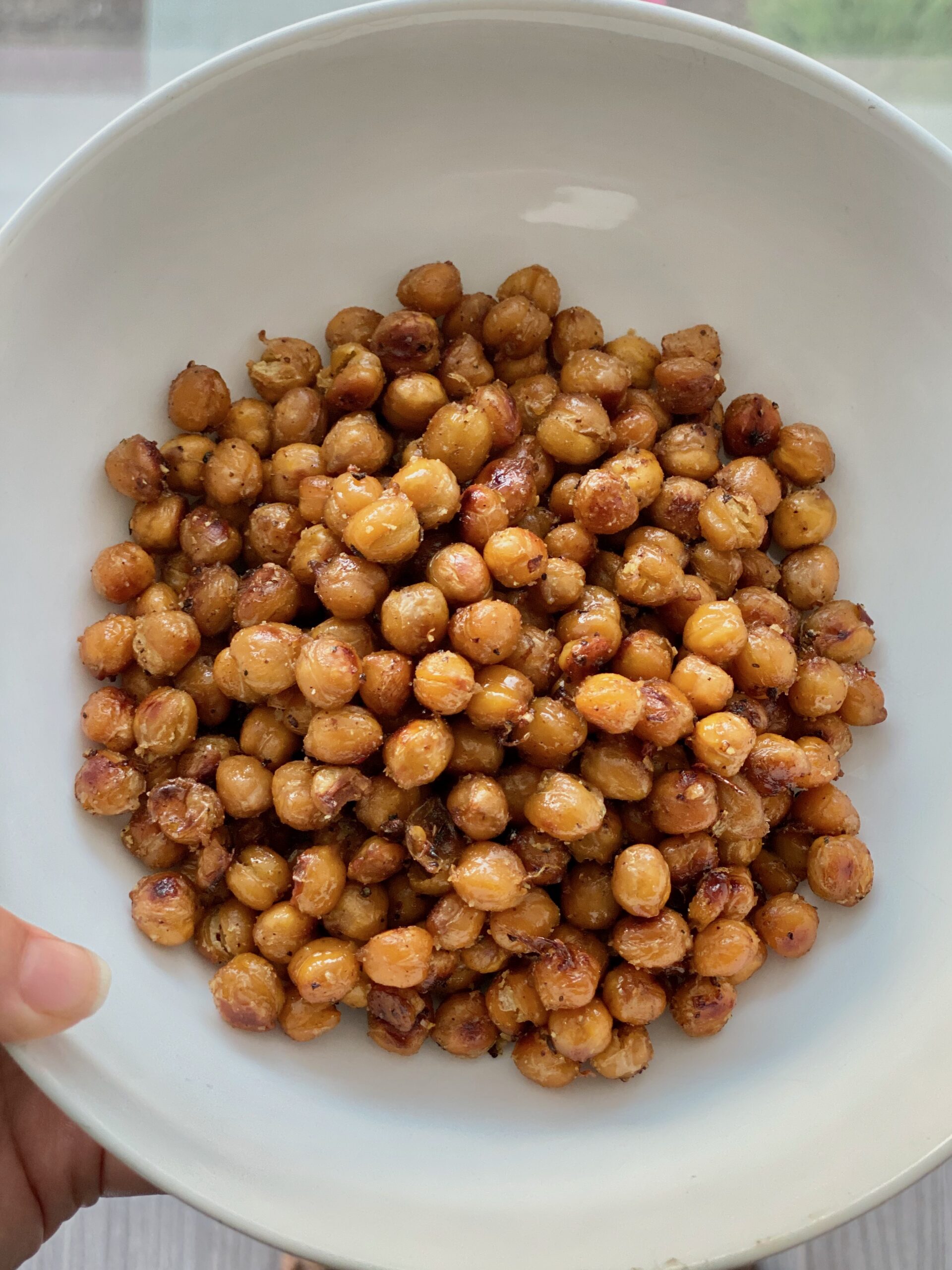 I didn't want any regular chickpeas for this salad. I wanted Caesar flavored chickpeas to pair with the dressing. To compliment the dressing I used a lot of the same flavors you find in Caesar dressing. First I coated the chickpeas with olive oil, Worcestershire sauce, lemon zest, and red pepper flakes. Then to get the same crunch a crouton has I roasted the chickpeas in the oven until they were golden brown and crispy. Watch out – these are so good some definitely did not make it to the salad because I snacked on them before hand.
Veggies, veggies and more veggies
Traditional Caesars are just romaine and parmesan. But as an entree salad I need more. So to get more veggies into my chickpea Caesar salad I like to add in some veggies. Cherry tomatoes and bell peppers are my favorite additions to this salad. Not only are loaded with Vitamin C, they are both rich in antioxidants. So besides being tasty in this salad they are really good for your health too.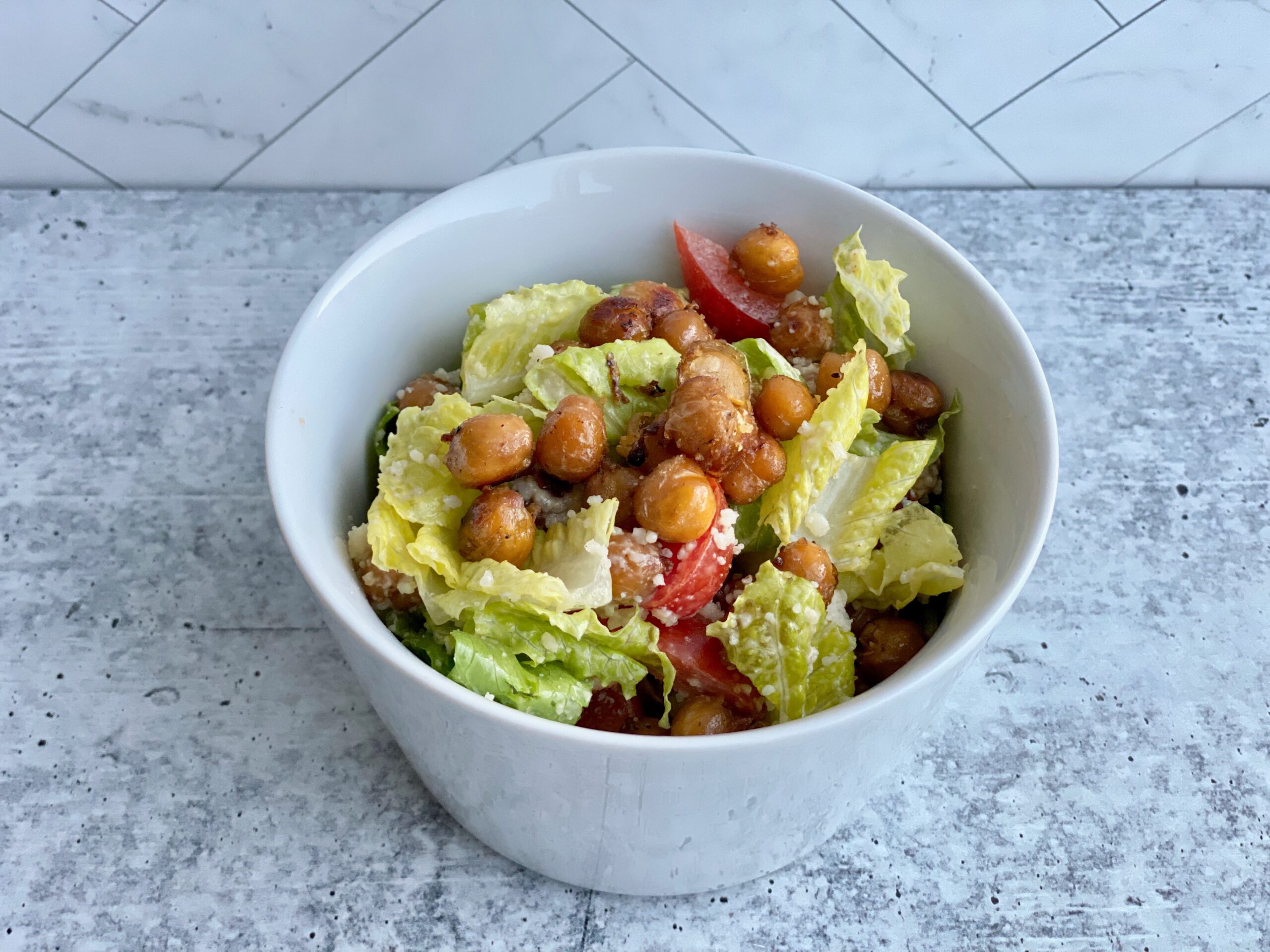 To keep the salad slightly classic I prefer romaine in this version. Typically I buy the whole hearts, wash them and chop them up. Plus there are so many precut salad varieties out there if you want to save yourself time feel free to use one of those. But if you are using romaine hearts – make sure to give yourself time for the lettuce to dry. Because there is nothing worse than wet lettuce. Additionally, the dressing won't bind to the lettuce if it's sopping wet.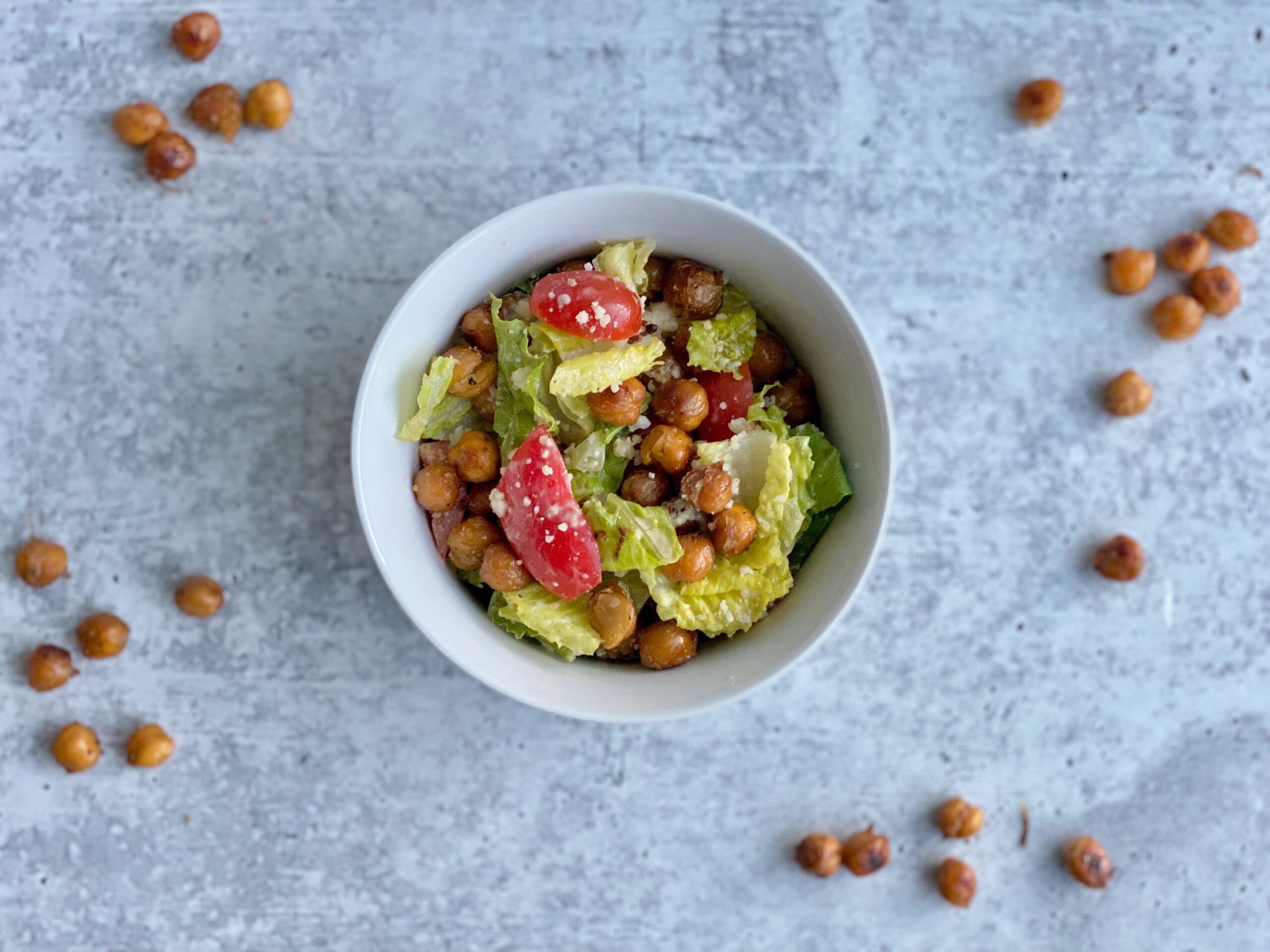 While this version is a vegetarian version you definitely could add a grilled protein to it additionally like shrimp or chicken. But if you are opting for a meatless meal I promise the chickpeas will make up for not having meat.
This chickpea Caesar salad is not traditional but it will be a new way for you to enjoy an old classic!
Chickpea Caesar Salad
June 19, 2021
: 2
: 10 min
: 25 min
: 35 min
: Easy
Caesar salads go meatless with the addition of roasted chickpeas for an added crunch.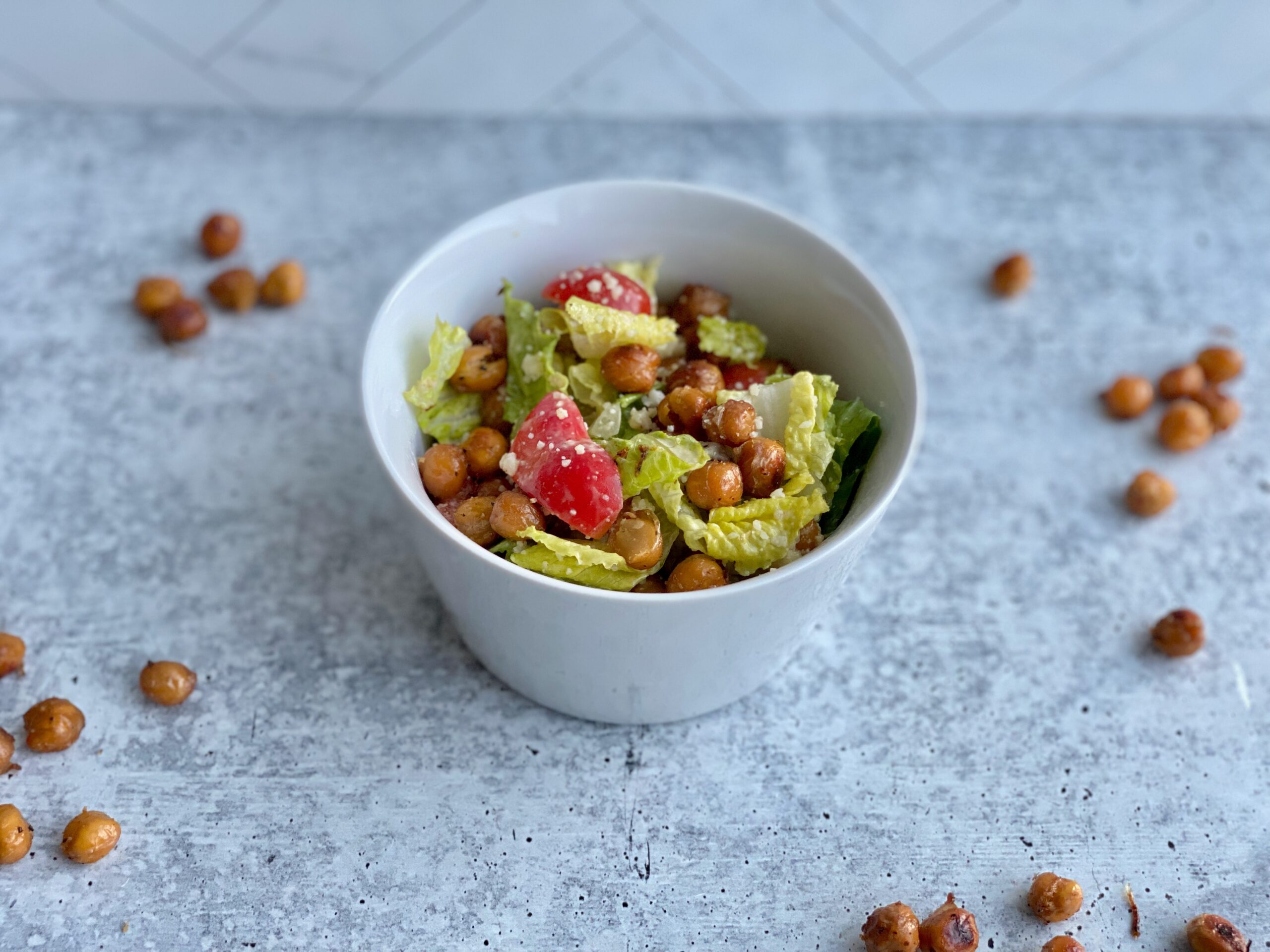 Ingredients
1 can chickpeas, drained, rinsed and patted dry
2 TBS olive oil
2 tsp Worcestershire sauce (use soy sauce for a vegan option)
zest of one lemon
3 hearts of romaine, sliced thinly (make sure lettuce is VERY DRY, you don't want wet lettuce!)
1 c cherry tomatoes, sliced in half
1 red bell pepper cut in large dice
1/8 c grated parmesan cheese
1/2 c Caesar dressing (I prefer homemade but grab your favorite bottle to save time!)
Directions
Step 1

Pre-heat oven for 425

Step 2

Combine chickpeas, olive oil, Worcestershire sauce, lemon zest. Season with salt and pepper. If you want a little spice add a few dashes of red pepper flakes! Bake on a cookie sheet for 15-20 minutes until golden brown and crunchy stirring occasionally.

Step 3

In a large salad bowl combine peppers, tomatoes, romaine, and parm. Season with fresh cracked pepper.

Step 4

Add in dressing, using tongs mix to combine salad and thoroughly coat with dressing.

Step 5

Serve in bowls and top with roasted chickpeas.

Step 6

NOTE: You can also top with a grilled protein like chicken or shrimp for a meaty version. Keep the chickpeas though – they are the game changer!
Caesar Dressing
June 19, 2021
: ~1 - 1.25 c of dressing
: 5 min
: 5 min
: 10 min
: Easy
This homemade Caesar dressing is easy to make and let's you control what's in your ingredient list!
Ingredients
1 egg - bring out of the fridge and let sit for 20 minutes or so to come up to room temperature
juice of one lemon (fresh)
1.5 tsp Dijon mustard (I LOVE the Whole Foods brand in this recipe, more than Grey Poupon)
4 cloves of garlic
4 anchovy filets (I promise you can't taste it, as gross as it may be to you these really make the dressing)
dash of Worcestershire sauce (3 shakes of the bottle)
dash of balsamic vinegar (3 shakes of the bottle)
1/4 c. grated parmesan
1.5 c. good quality olive oil
Directions
Step 1

In a food processor or blender blend egg, dijon, balsamic, Worcestershire sauce, anchovies and lemon juice until creamy.

Step 2

Let the blender run on low and VERY slowly steam in the olive oil in a continuous slow steady steam. This will allow the oil to emulsify and thicken the dressing.

Step 3

Next once olive oil is added and dressing has thickened add in parmesan cheese and season with salt and pepper.

Step 4

Pulse a few times to incorporate cheese (you don't want to run too long as the cheese will heat up and melt).

Step 5

Place in the refrigerator and allow to cool for an hour before using.