Summer is officially here. I don't know about you but in the summer I tend to eat way more salads. I think the thought of eating piping hot food on a hot summer day is just too much. This past weekend we were bbq'ing with our friends and I wanted a carb but didn't want anything too heavy. Ina Garten has an incredible pasta dish that I love to make in the summer and decided instead to use it as insipiration. And from that my caprese pasta salad was created.
Red, White and Green
Caprese salads are a staple in the summer for us. Fresh tomatoes, creamy mozzarella and basil pair for a nice fresh dish. The colors of the salad represent the Italian flag. It's interesting though, all the times we have been to Italy this salad was never dressed with balsamic dressing. I don't know if that is the Americanized version or what. However, I do love how a balsamic pairs with the ingredients so in this version I kept it in!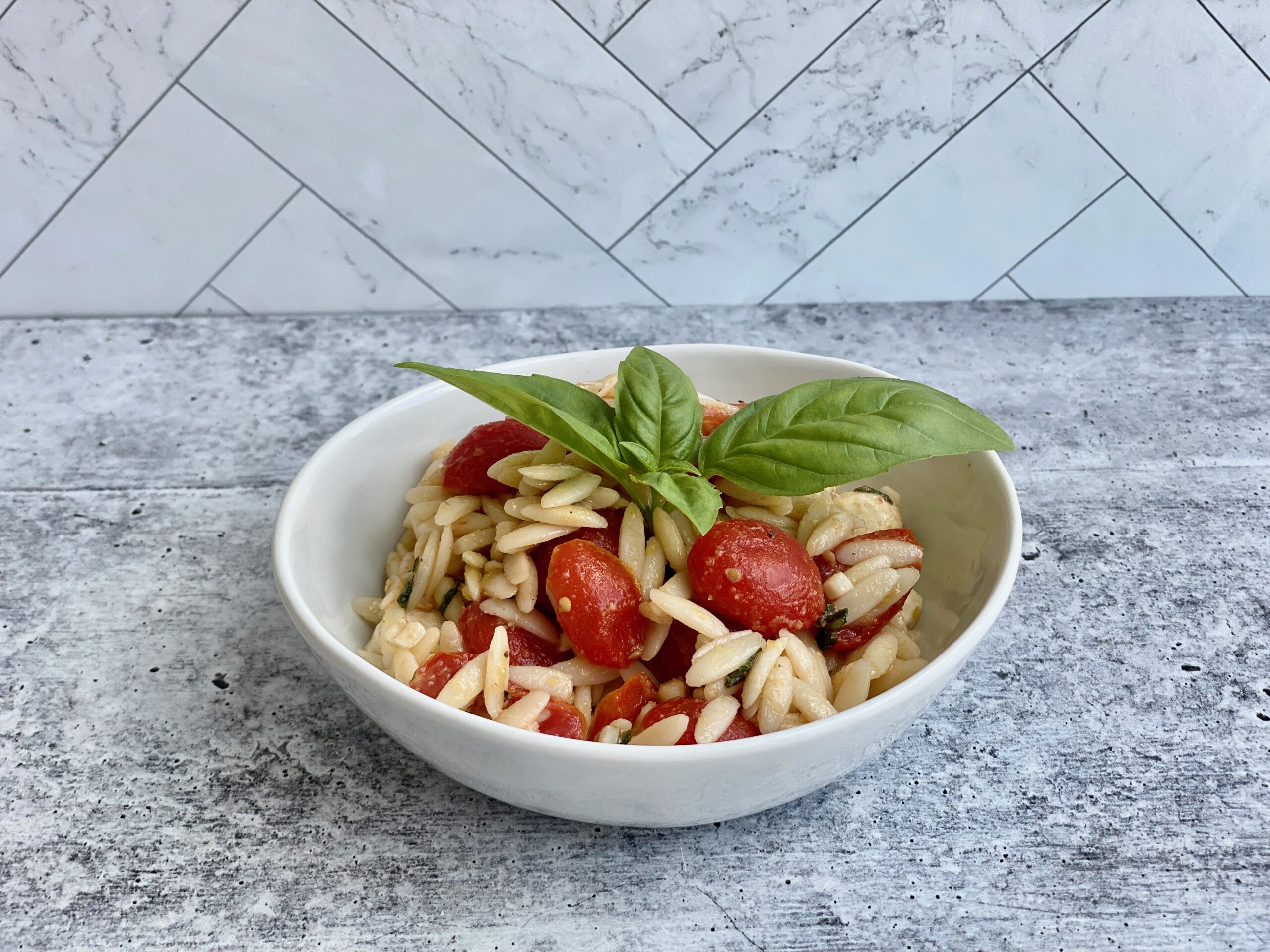 The three main ingredients stay in this caprese pasta salad. But instead of large tomatoes I opt for cherry tomatoes and small pearl mozzerella. Because I used orzo pasta I want something more similar in size. I chopped the cherry tomatoes in half to make them even smaller.
No one likes a dry salad
One mistake I used to make when preparing pasta salads was dressing the salad way before eating it. Unfortunately the pasta just sops up all the dressing before hand and leaves you with a dry salad when it's time to eat. Here is where Ina's Inspo comes in. For this dish I separate it into two parts.
Part one are the tomatoes and basil with the dressing. I cut the tomatoes up hours before I eat them. Then salt them liberally. The salt helps draw out all the juice from the tomatoes which mixes in with the vinegar and oil creating even more liquid and flavor.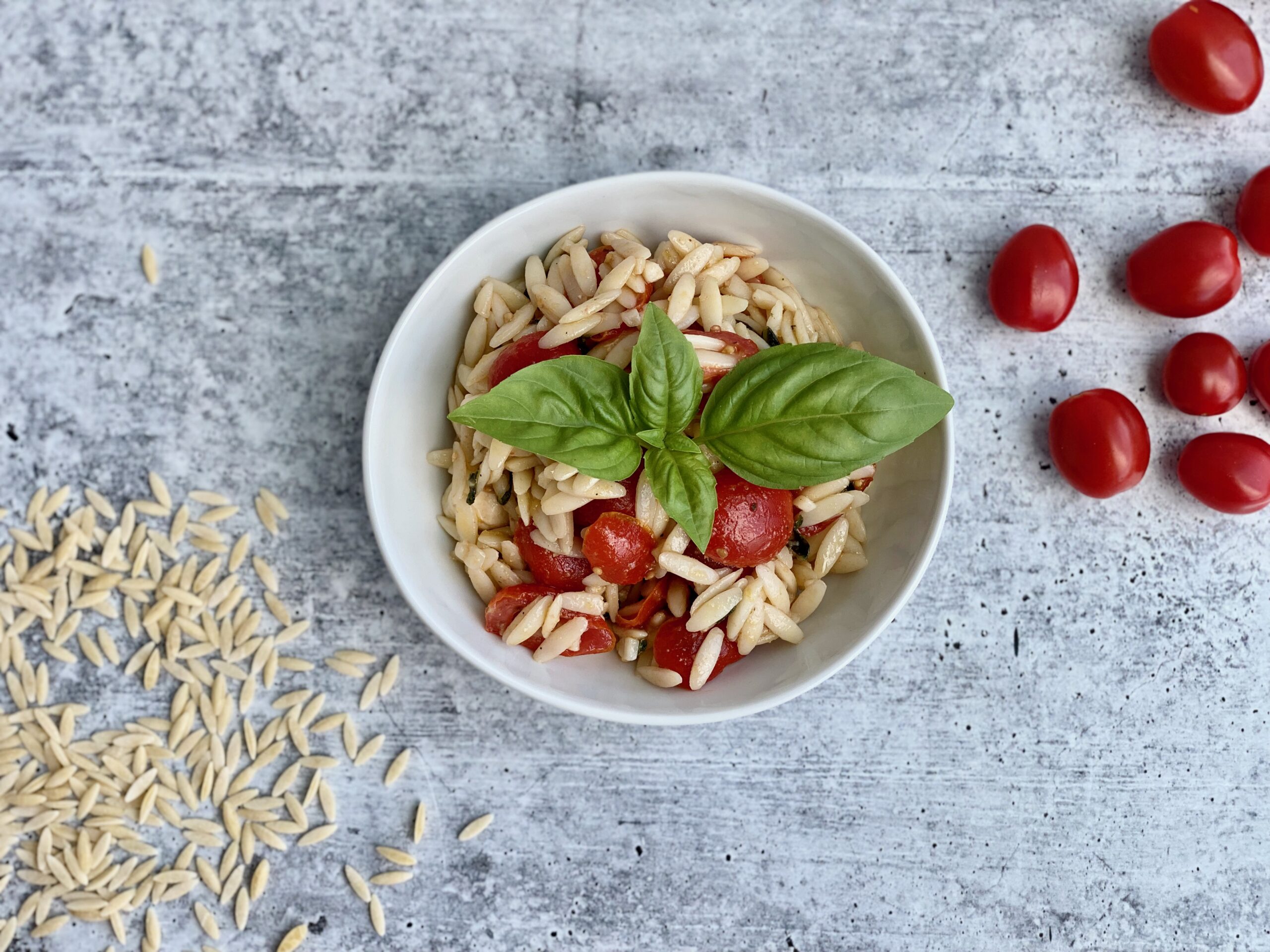 In my second dish I keep the pasta and the cheese. After the pasta is done cooking I don't want it to continue cooking. So I run it under cold water until the pasta is mostly cooled. Then I add that to the mozzarella balls and add a touch of olive oil so the pasta doesn't clump and stick together. I keep both containers in the fridge until it's time to serve.
When it's time to eat it's easy. Combine the tomato basil mixture with the pasta cheese mix. I stir everything up really well to make sure I get all the pasta coated. Then be sure to check your seasonings. Adjust salt and pepper as needed. If the pasta is a little dry a big splash of olive oil helps moisten it up.
And that's all there is to it. It truly is almost as easy as boiling water. Or in this case, boiling pasta. So the next time you need to bring a dish to pass be sure to try this caprese pasta salad recipe out.
For More Summer Inspired Recipes:
If you like Caprese salads try this Caprese Mac
For another pasta salad check out this Greek inspired recipe
And remember, if you try this recipe be sure to leave a comment below and let me know how you like it or tag me on Instagram!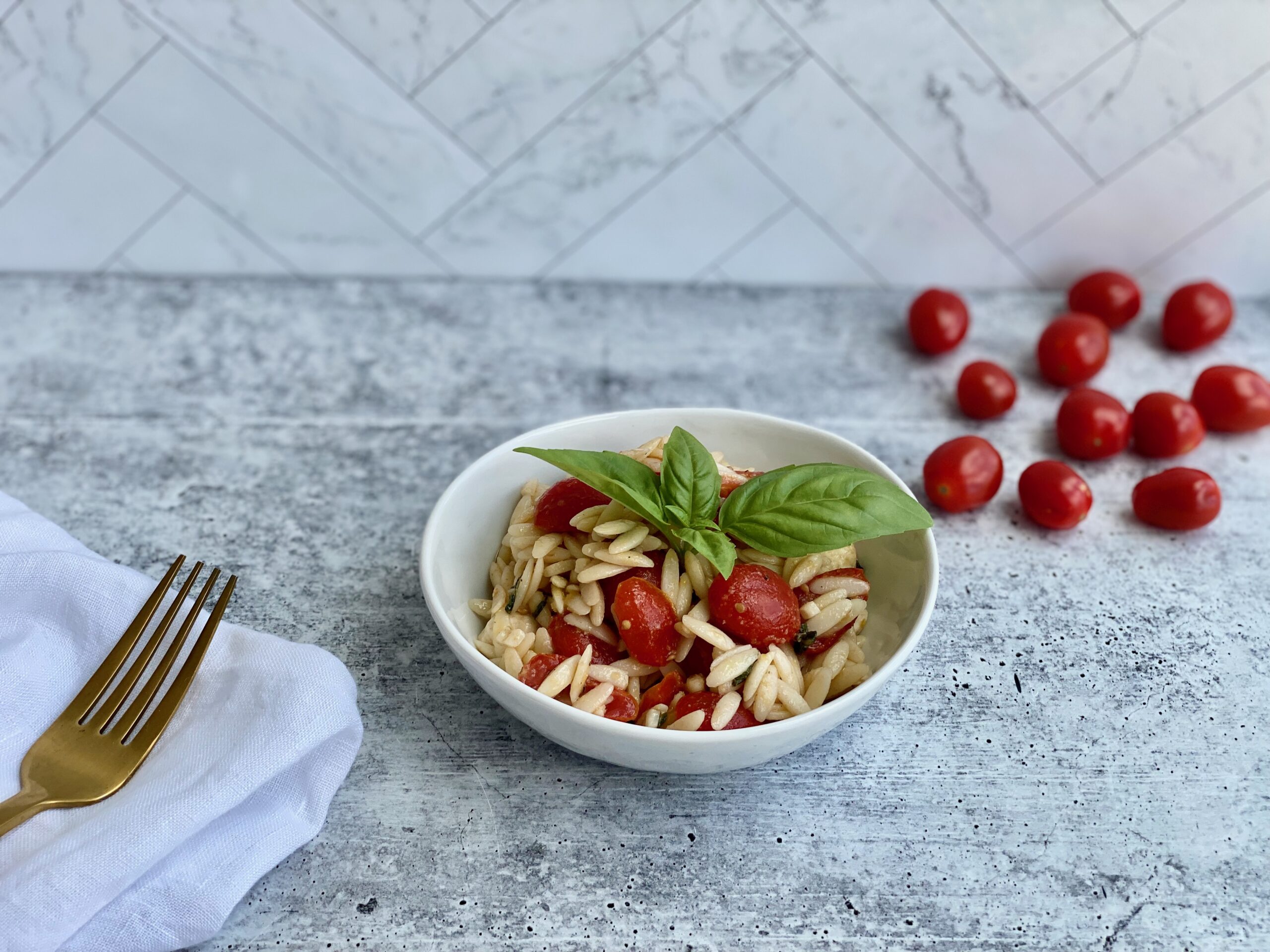 Caprese Pasta Salad
June 16, 2021
: 6-8
: 10 min
: 12 min
: 22 min
: Easy
This simple tomato, basil, mozzarella pasta salad is perfect for a summer side dish.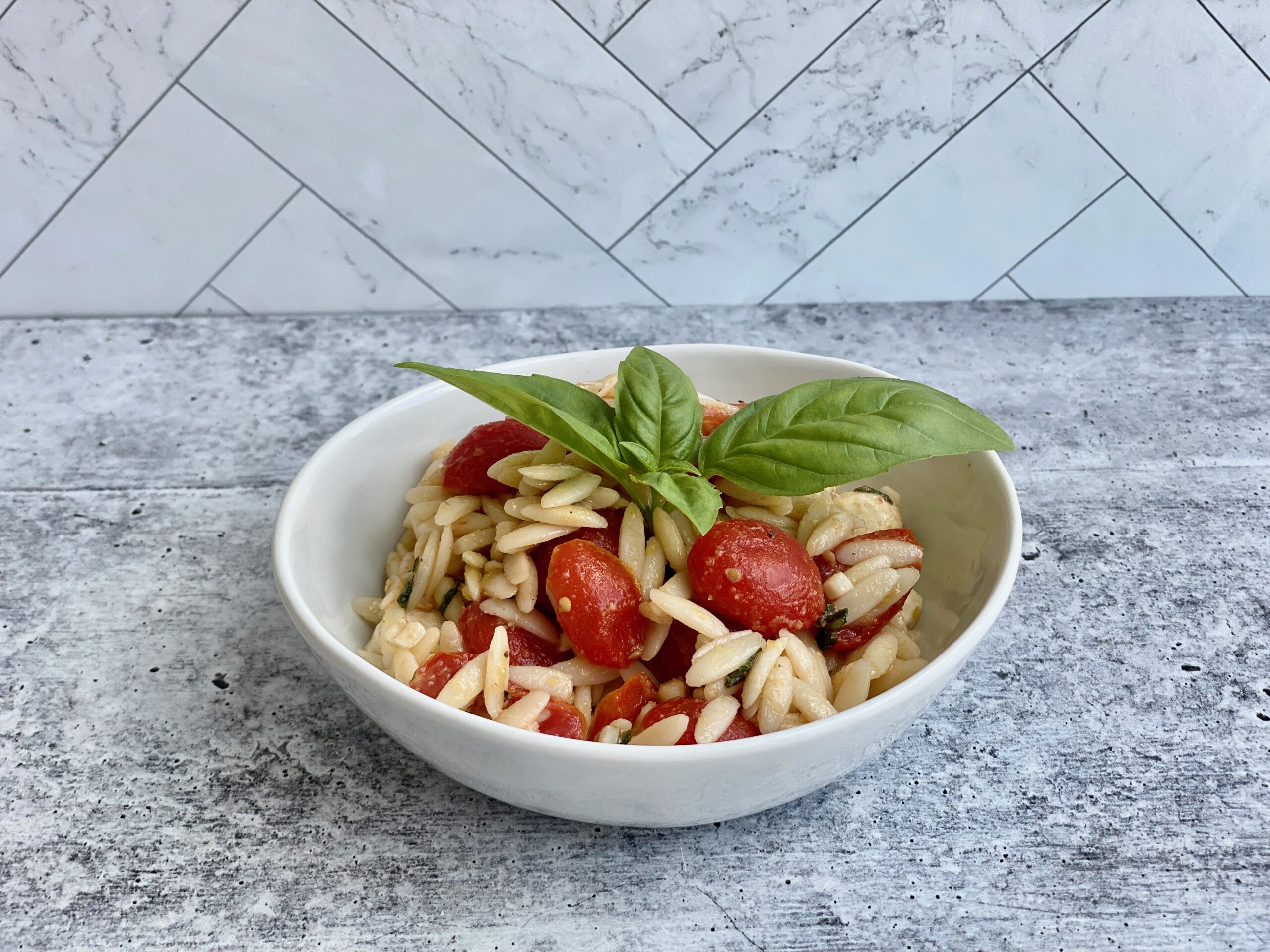 Ingredients
2 pints (32 oz) cherry or grape tomatoes, sliced in half
1 16oz container pearl mozzarella balls
Large handful or 1.25 oz container of basil, thinly sliced or torn
1 lb orzo pasta
3 cloves of garlic, grated or minced
2/3 c olive oil (plus more for drizzling)
1/3 c balsamic vinegar
Directions
Step 1

In a large bowl combine tomatoes, garlic, vinegar, olive oil, basil and season very liberally with salt and pepper (use at least 2 tsp of salt). Cover and put into fridge for a few hours so the salt breaks down the tomatoes and causes more juice to release.

Step 2

Cook pasta according to directions. When pasta is done, drain and rinse with cold water to cool off pasta completely and stop cooking it.

Step 3

If you are taking the salad somewhere combine pasta with mozzarella balls. Drizzle with olive oil and stir to help prevent pasta from clumping together. Leave tomatoes separate. I also like doing this ahead of time so pasta can go back in fridge and completely cool off.

Step 4

When ready to serve combine tomato/dressing mix with pasta/cheese mix.

Step 5

Season again with salt and pepper if necessary. If pasta seems a little dry drizzle with more olive oil.