Spring is here. Well really it feels like summer these days. And with the change in season comes a change of in season vegetables. The tomatoes are getting sweeter, asparagus, ramps and artichokes are in season. I love cooking with these vegetables. I love combining fresh spring/summertime vegetables with pasta. Roasted veggie pasta primavera is a way to get a ton of veggies into your meal.
More (Roasted) Veggies Please
Primavera in Italian just simply means spring. However, pasta primavera is now often associated as a vegetable pasta. The pasta is usually on the lighter side and not bogged down with heavy sauces. Which kind of makes sense, you don't want to have a ton of light veggies and then throw it in a cream sauce.
I peronsally am of the opinion the more veggies the better. But I don't like just sautéing my veggies. I prefer the flavor of roasting veggies in the oven. The veggies will get kind of charred and add a slightly smoky flavor to the dish. Additionally it makes for an easy clean up if you line a baking sheet with parchment paper. Then all you have to do is throw the parchment away.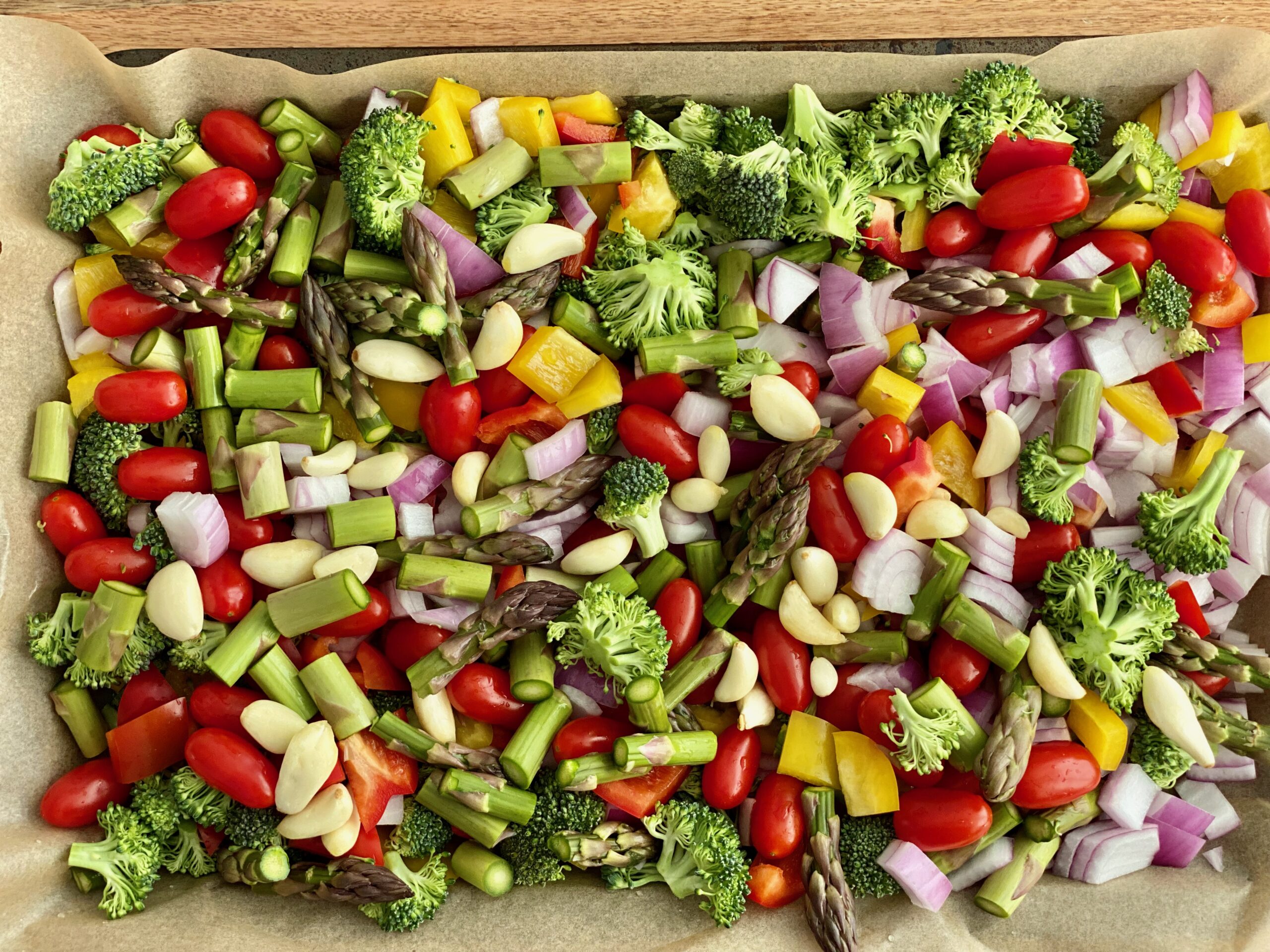 Because it is spring still I used a combination of asparagus, cherry tomatoes, bell peppers, onions and broccoli for my veggie mix. If you haven't roasted broccoli in the oven you are missing out. The tops of the florets get a little crispy and charred and it changes the flavor completely. It's my favorite way to cook broccoli. The veggies are lightly seasoned with olive oil, salt and pepper. I find when you over season veggies they lose their own flavor. Personally I would rather taste the flavor of the veggie not the seasoning!
Keeping it Simple
For this pasta primavera I decided to keep the sauce super simple. I also didn't want to do a ton of extra work. Sometimes I would get a new pan and do a white wine butter sauce. But honestly I didn't feel like doing any extra dishes. Plus I wanted the veggies to really be the star.
This sauce is so simple. It is made with a few ingredients – butter, lemon zest, chives and pasta water. That's it! When my pasta is almost done cooking I grab a large measuring cup and take a few cups of the pasta water. Once I drain my pasta I add it back into the pan and throw in the butter, chives, lemon zest and I season with fresh cracked black pepper. I find that I don't need a ton of salt because I season the pasta water pretty liberally with salt. Then when I add back the pasta water which is already salty I don't need any extra.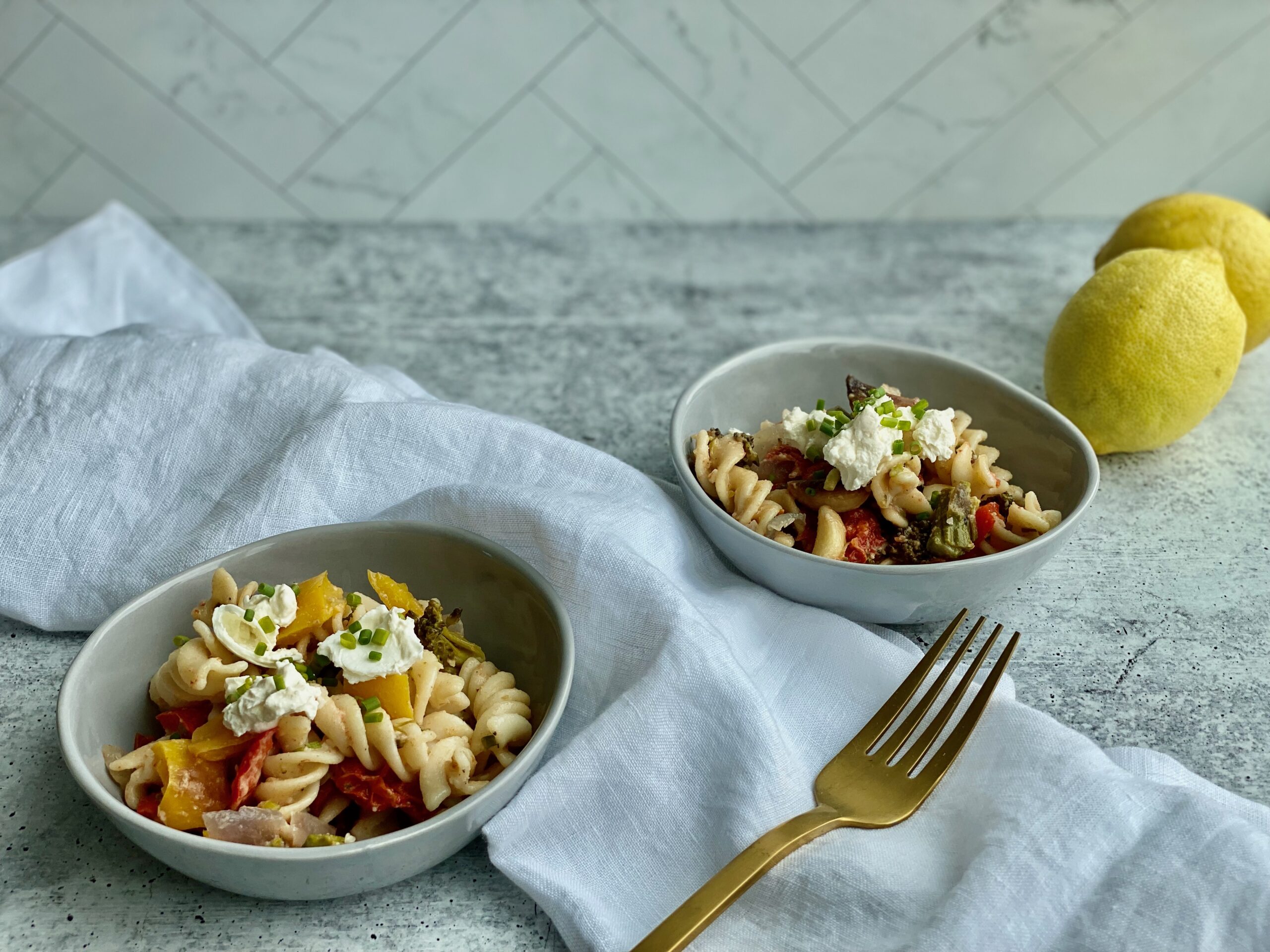 Also when the veggies cook in the oven the tomatoes and peppers release their juice and provide a little liquid. So when you toss the veggies in with the pasta that extra liquid helps form a sauce as well.
This dish is simple but does not lack in flavor. This roasted veggie pasta primavera is a new way to cook an old classic. After trying a new flavor plus the time saving on cleanup – you won't go back!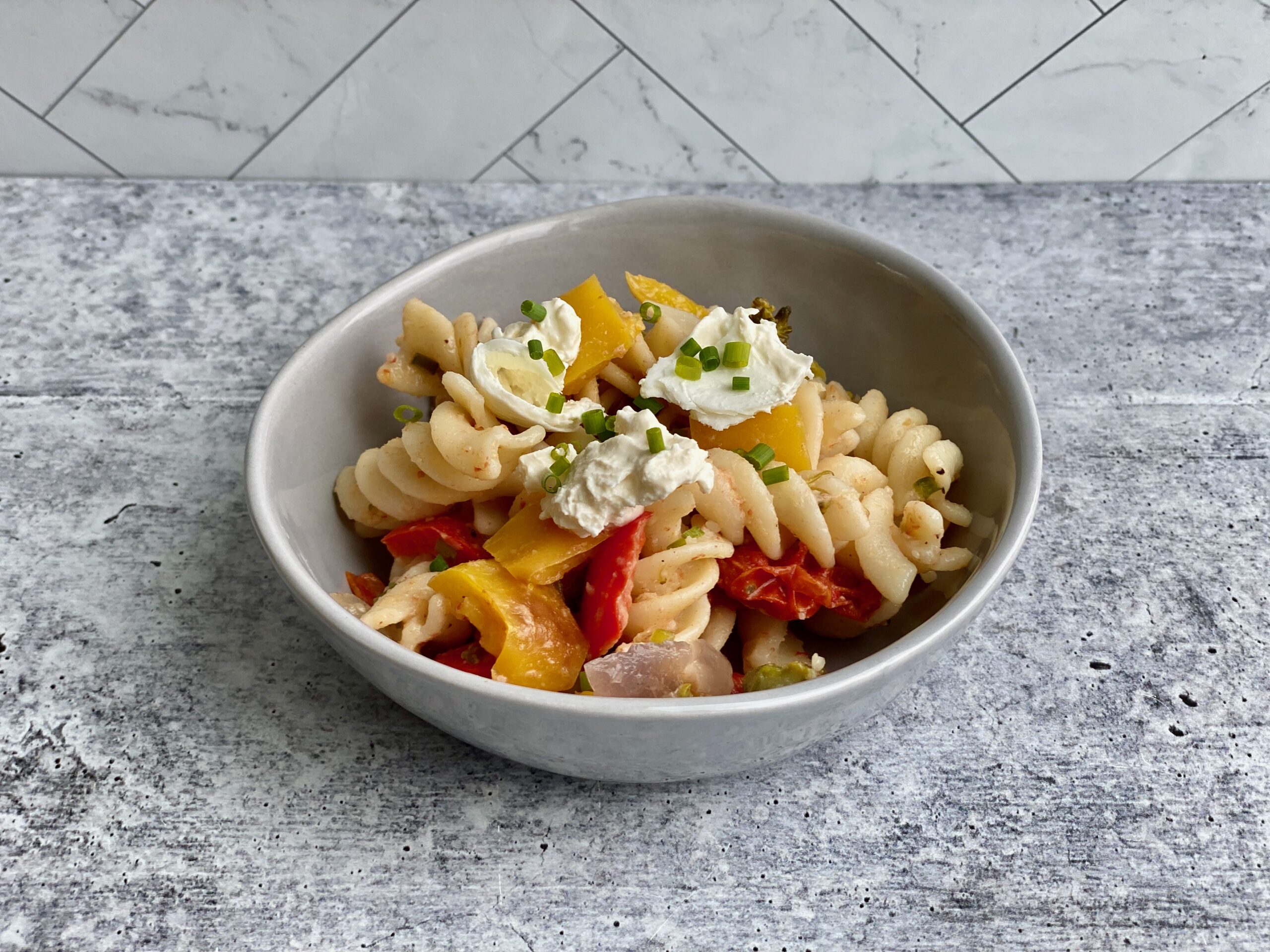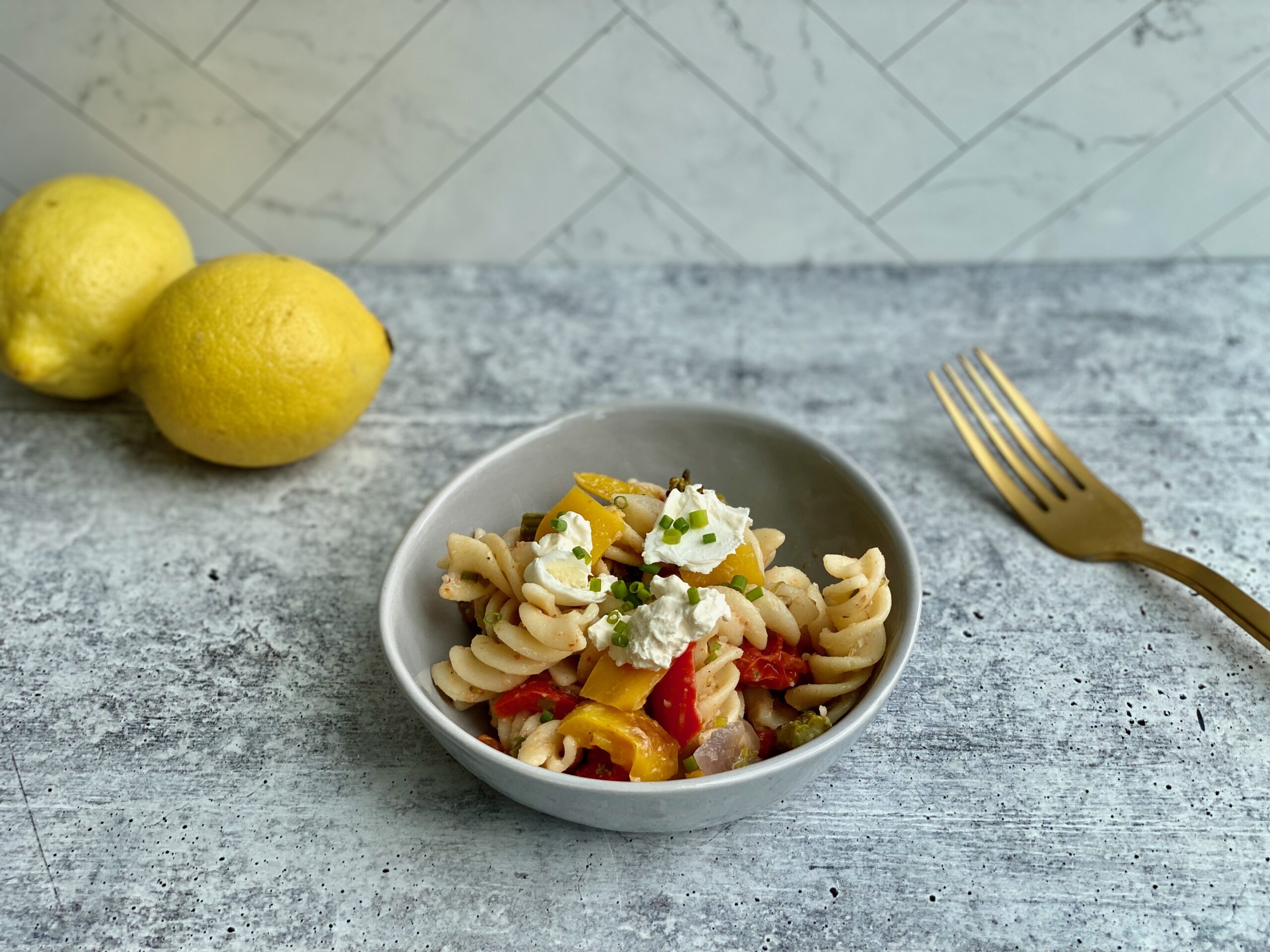 For More Pasta Recipes:
Herb Lemon Pasta with Breadcrumbs
And remember, if you try this recipe be sure to leave a comment below and let me know how you like it or tag me on Instagram!
[lt_recipe name="Roasted Veggie Pasta Primavera" servings="4″ prep_time="10M" cook_time="30M" total_time="40M" difficulty="Easy" summary="Veggies get roasted in the oven and combined with pasta and a light lemon sauce for a perfect spring or summer meal." print="yes" image="https://eatbreathelove.net/wp-content/uploads/2021/05/IMG_0344-scaled.jpeg" ingredients="1 pint of cherry tomatoes;2 bell peppers, large dice;1 red onion, large dice;1 bunch of asparagus, ends trimmed and then cut into one inch pieces; handful of whole garlic cloves (I buy pre-peeled which makes handfuls easy!) about 15-20 cloves;1.5 c broccoli florets (I buy pre-trimmed for less work!);1 lb pasta (penne or fusilli is best for this dish);4 TBS butter;zest of 2 lemons (about 2 TBS);bunch of chives cut small (about 1/8 – 1/4 c worth);4 oz burrata cheese torn in small pieces;1/2 c parmesan" ]Pre-heat oven for 425 (if your oven runs cold bring it up to 450);On a large parchment lined baking sheet spread veggies and garlic cloves out in a thin layer. Drizzle with a TBS or two of olive oil. Season liberally with salt, pepper and crushed red pepper flakes if you like a little heat.;Roast veggies in the oven for 25-30 minutes stirring occasionally. Veggies should get a little char and be soft.;Bring a large pot of water to boil. Once boiling add a few TBS of salt to water. Cook pasta according to directions.;Before straining pasta reserve 2 cups of salted pasta water.;Add pasta back to pasta pot and toss with butter, 1 c of the pasta water, lemon zest and chives. Season with cracked black pepper.;Add roasted veggies into the pan and stir to mix;Stir in parmesan cheese, if pasta is too thick add in more pasta water to thin out;Serve in bowls and add a few torn pieces of burrata to each bowl.;[/lt_recipe]