Summer time is in full force. And with summer comes summer parties and barbecues. Recently we had a party to go to and i knew I needed to make a dish. One of my best friends had been traveling in Greece and was sending me photos of his trip. My wanderlust set in and I was missing Santorini. The white buildings with the blue roofs, the beautiful sea and the Greek salads! Greek salads are so fresh over there. They taste like everything was picked from the garden that day. However, there isn't a lot to them since there isn't any lettuce. To make a salad to pass and have more substance I decided to take my Greeksipration and make a Greek pasta salad.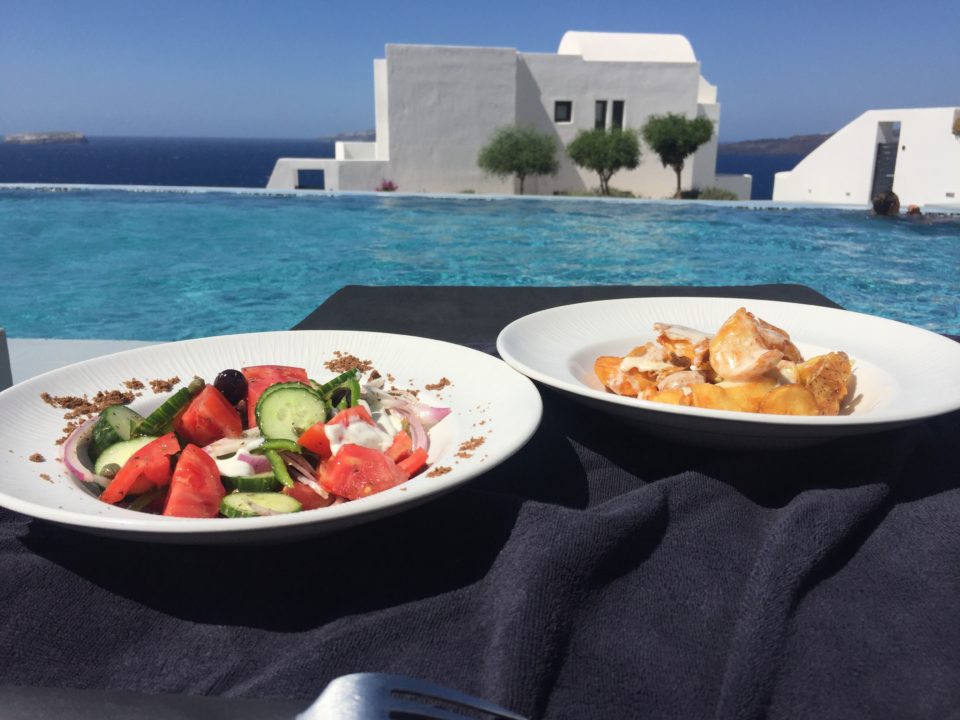 Typical Greek salads consist of nothing more than green bell peppers, red onions, tomatoes, kalmata olives, and fresh feta cheese. They are simply dressed with red wine vinegar, olive oil and a sprinkling of fresh oregano. I didn't want to make this salad anymore complicated than that. I had been growing fresh oregano on my balcony so I decided it would be the perfect use. In my little chopper I made my dressing with fresh oregano, lemon juice, red wine vinegar, a few cloves of garlic and olive oil. I made the dressing a few hours before I actually dressed the salad so all the flavors could merry together.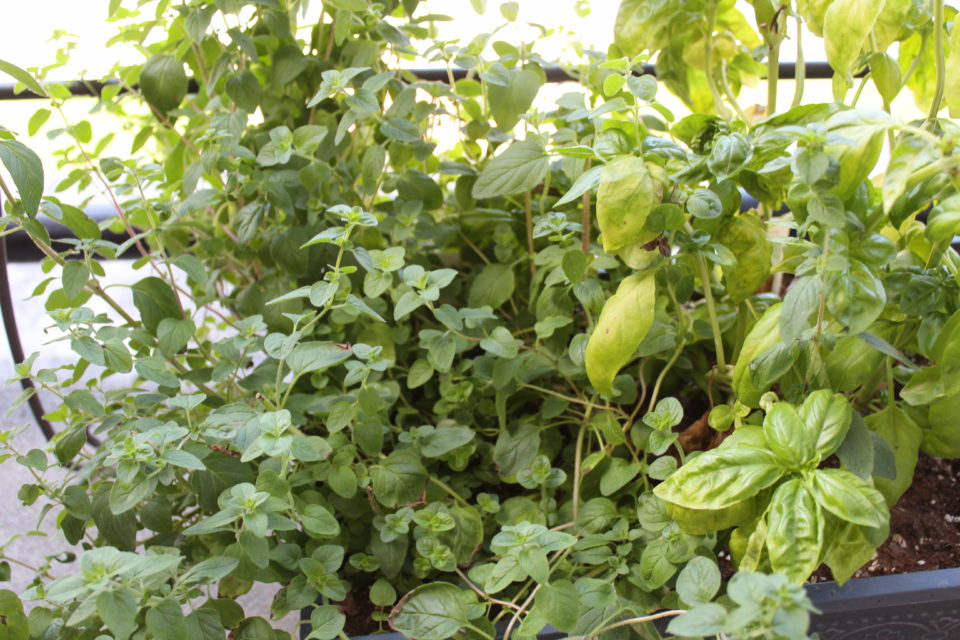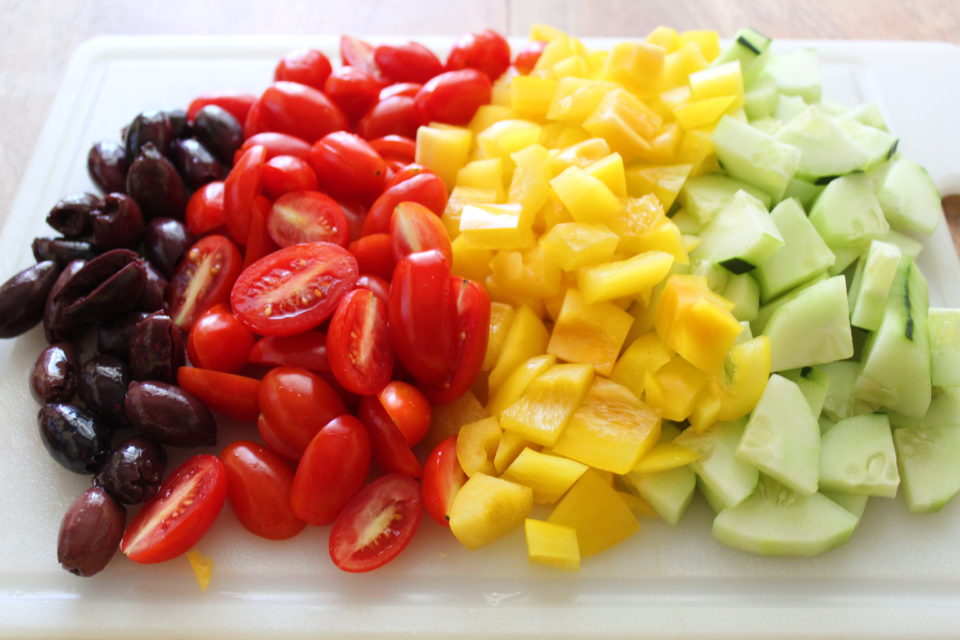 The salad was just as simple as the ingredients above. The only thing I added was some tri-color pasta. The secret with the pasta is to cook it al dente and when it is done I strained it but then started rinsing it with cold water. I put a nice heaping drizzle of olive oil to the pasta so it wouldn't stick together, added all my veggies and put it in the fridge a few hours to chill. If you dress the salad too long before I find that the noodles soak up all the dressing and can leave your salad dry. I chose to dress it right before I left for our party. Or even take the dressing with you and dress it right before serving. If you really want the salad to be more authentic – splurge on good feta cheese. I promise you can taste the difference!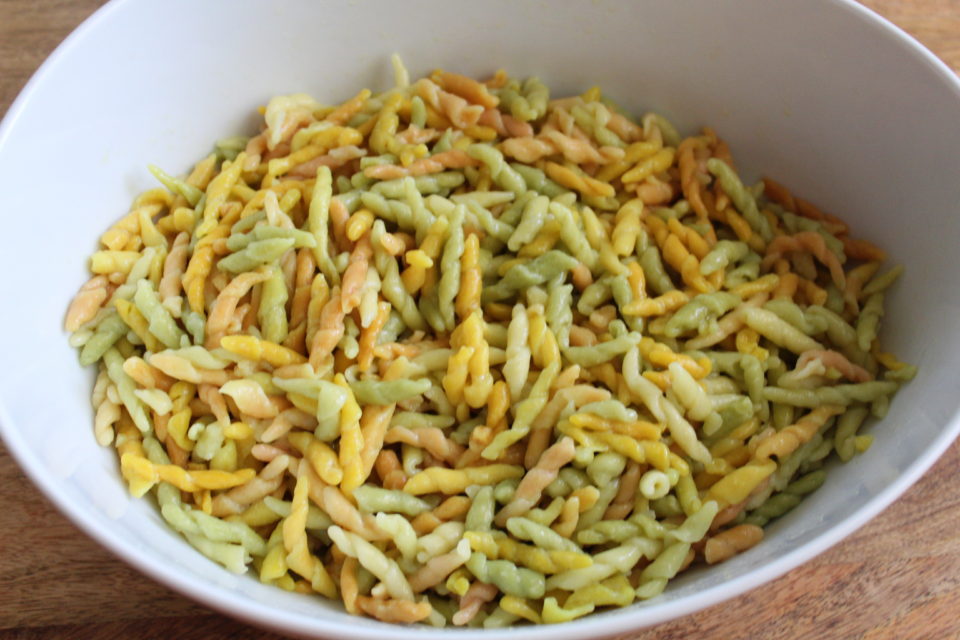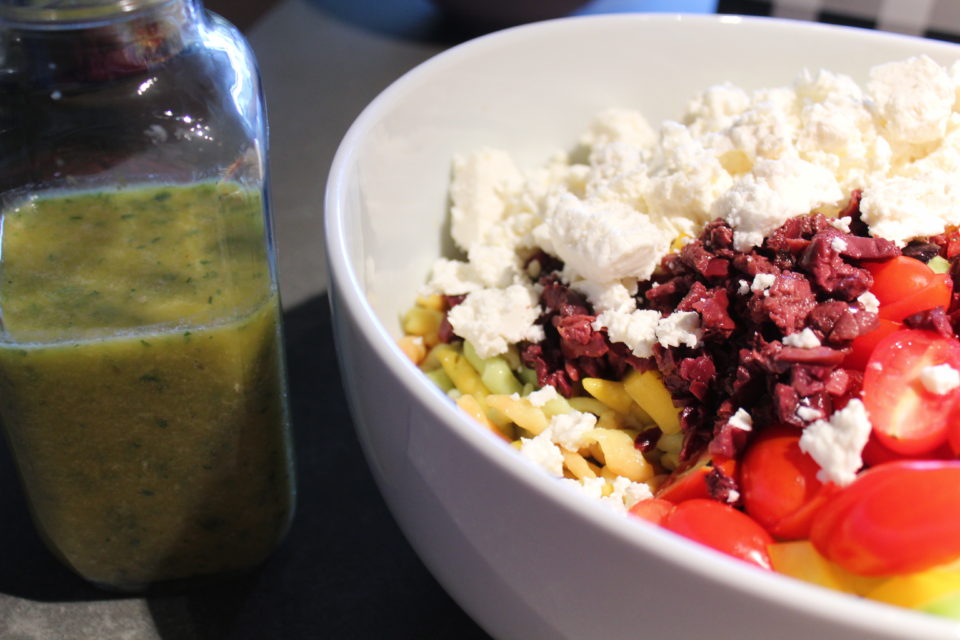 Just because something is simple doesn't mean that it can't be jam packed with flavor. And while this wasn't a TRUE Greek salad it definitely did the justice of taking me back to beautiful Santorini.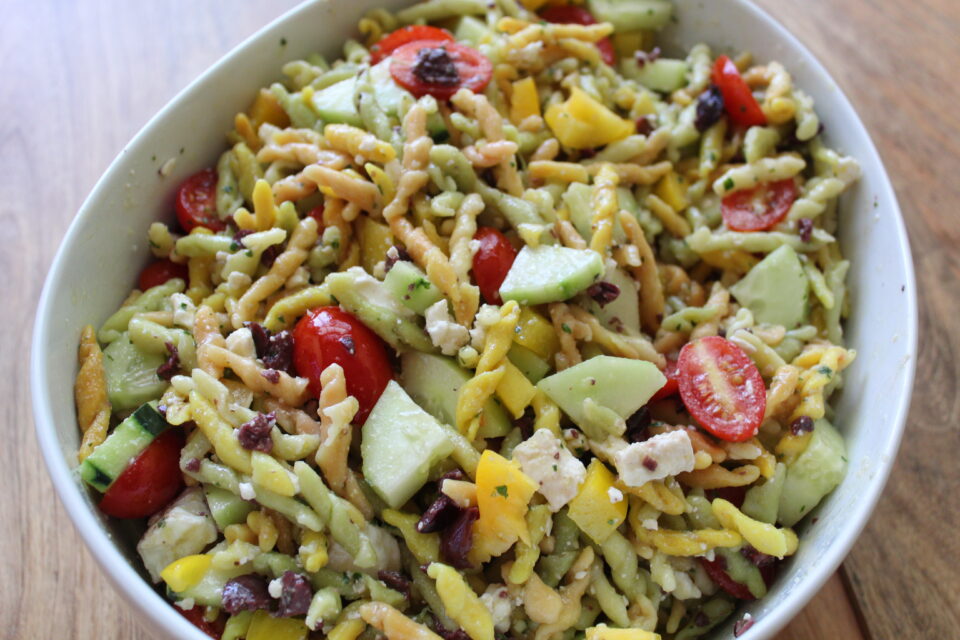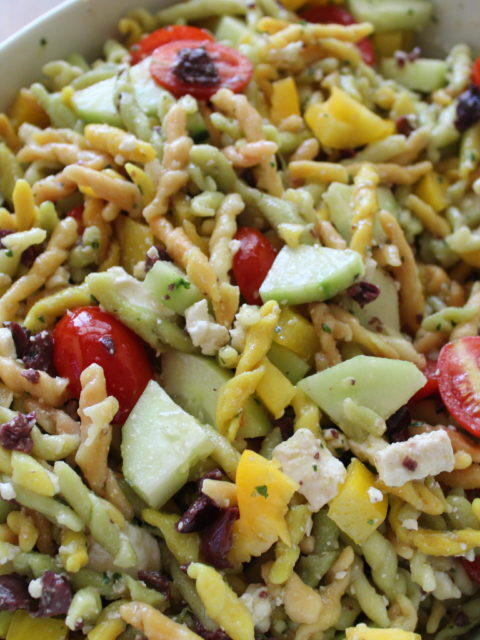 Greek Pasta Salad
---
1 lb tri-color pasta (or regular pasta works fine)
1 cucumber, sliced in quarters then thinly sliced
12–15 kalmata olives, pitted, thinly sliced
1 bell pepper, any color, diced
1 pint of cherry tomatoes, sliced in half
8 oz feta cheese, crumbled
Dressing
1 c extra virgin olive oil
juice of one lemon
1/2 c red wine vinegar
4 sprigs fresh oregano, leaves removed from stems (alternatively you may use 1 TBS dried oregano)
3 cloves of garlic
salt and pepper to taste
---
Instructions
Bring a large pot of water to boil. Salt water liberally and cook pasta according to directions. Once pasta is cooked, drain and rinse with cold water to stop the pasta from cooking. Drizzle with a little olive oil to prevent pasta from clumping together. Transfer to large serving bowl.
Add in chopped vegetables and feta and mix up. Pour one half of the dressing into the salad and mix up. If your pasta seems dry slowly add in a little more at a time. I wound up with about 1/3 of my dressing left which is perfect for a salad or to marinate chicken in some other time!
To make the dressing
In a measuring cup squeeze the juice of the lemon. Fill the measuring cup with red wine vinegar until you reach 1/2 cup. Add all ingredients to a chopper or blender. Blend a minute or two until olive oil and vinegar have blended and herbs and garlic are chopped. Season dressing with salt and pepper to taste and quick pulse again to incorporate seasonings through out.
Prep Time: 7
Cook Time: 20
Save
Save
SaveSave