This potato leek and white bean soup adds an unexpected ingredient to an old classic. White beans give this recipe a little something extra!
I love potato soup. I think because I have so many childhood memories of it. My dad and I lived together in high school when my parents got a divorce and when he was afternoon shift he would make me a huge pot of potato leek soup that I would eat for dinner all week. Then when I went away to college he would bring me a big container of it to school. So I am always looking to create a version of the potato leek soup I grew up with. And sometimes I throw in some twists – like in this version of potato leek and white bean soup.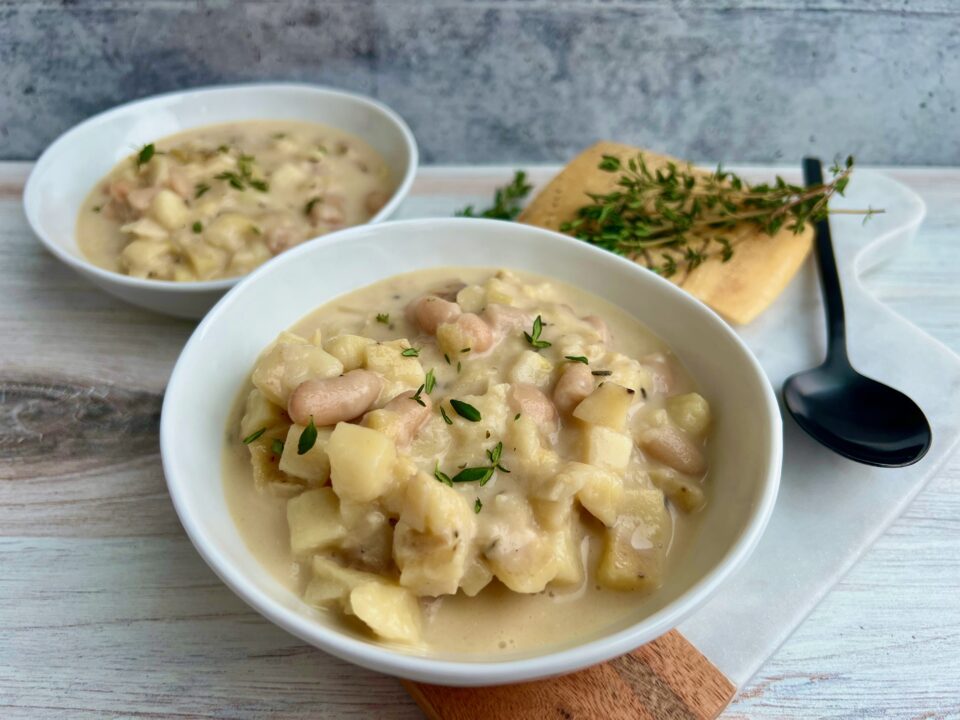 An Unexpected Ingredient
I had seen some recipes for potato leek and white bean soup but none of them looked like what I had in my head. I was still on a bean kick from making my Roasted Garlic and White Bean soup so decided to stick with the bean theme.
What I love about cannellini beans is that they are really creamy. So they give soups a creamy texture without necessarily using anything cream based. My dad's version of potato soup uses lots of milk. But we aren't big milk drinkers here so using the beans is a way to get some creamy texture without adding anything dairy based. Which is also great if you are vegetarian.
I find that there is a secret to working with the beans though. Don't rinse them. I usually drain most of the liquid off of the beans but whatever is left goes right in the soup. Canned beans are usually just packed with water and maybe some salt. So that thick liquid in the can is just the starch from the beans mixing in the water. But it also helps thicken up the soup. So the next time you are cooking with beans – especially in soups – be sure not to rinse away all that starchy goodness.
A "Brothy" Soup
My husband and I differ on what kinds of soups we like. I am in the camp of the thicker the better. I love stews and thick soups. He prefers a brothier soup most days. Typically when I make potato soup I puree it. However I have been using my food processor to dice potatoes recently and since I could save so much time I decided I would do that and not puree the soup.
My food processor dices potatoes (or any vegetable for that matter) very small and VERY quickly. I like to use Yukon Golds because I save even MORE time by not peeling them. However if you are using a russet potato I would remove the skin. If you do not have a tool that helps you save time just be sure to try to keep the potatoes relatively the same size.
Even though this soup is not pureed it does tend to thicken up from the starch of the potatoes and the beans. So if you find the soup becoming too thick use more broth to thin it out to your liking.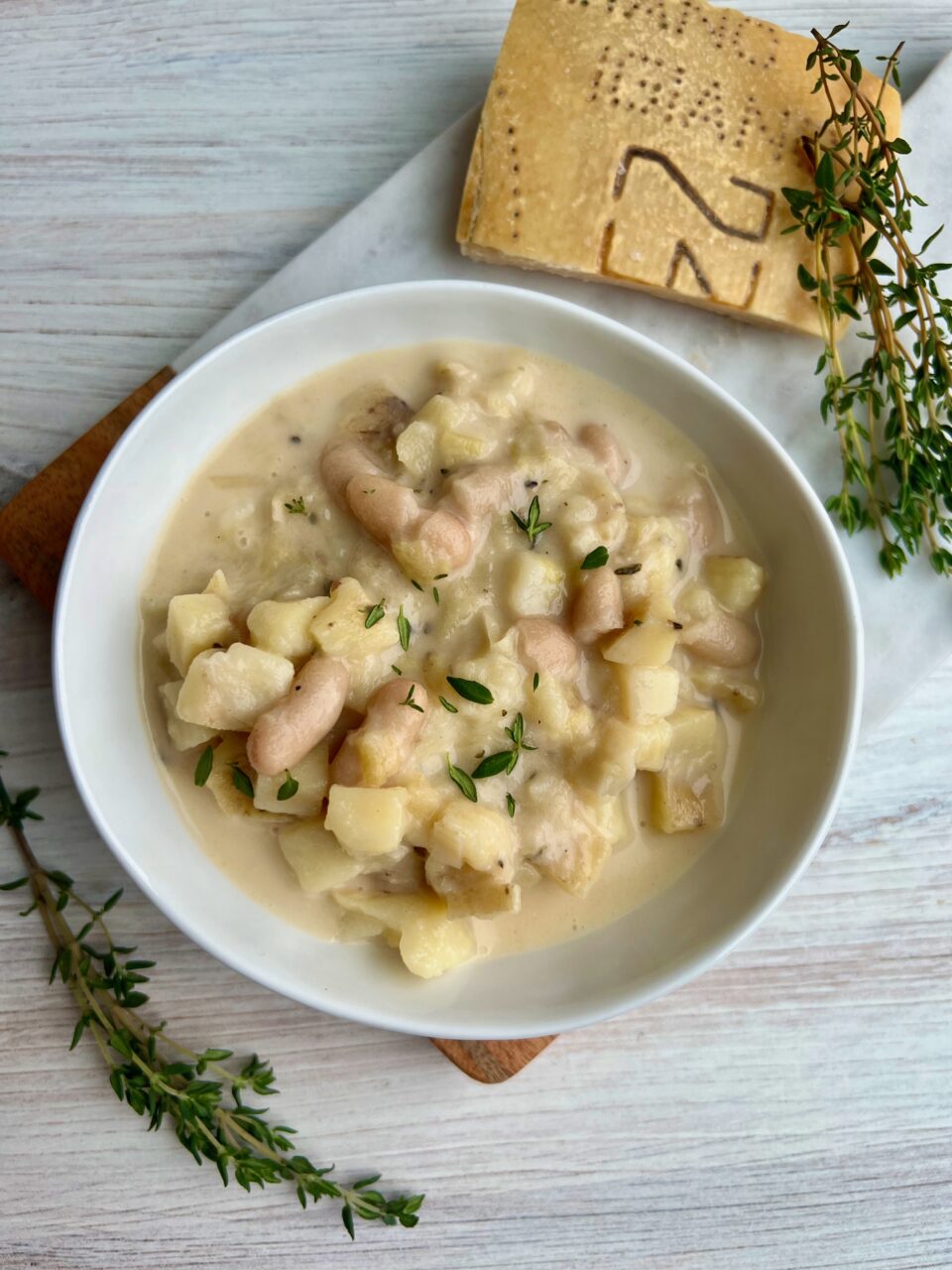 More Potato Soup Recipes
Easy Potato Leek Soup with Bacon
Corn Poblano Chowder – while not a potato forward soup they are in there!
The next time you are craving potato soup be sure to try this potato leek and white bean recipe out. And if you do be sure to rate and comment below and tag me on Instagram!
Print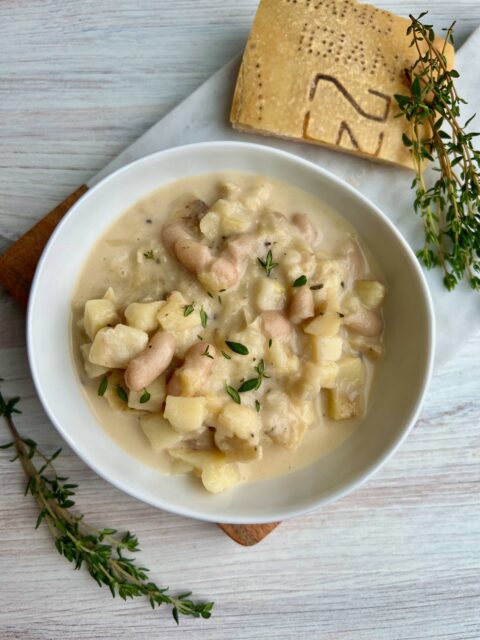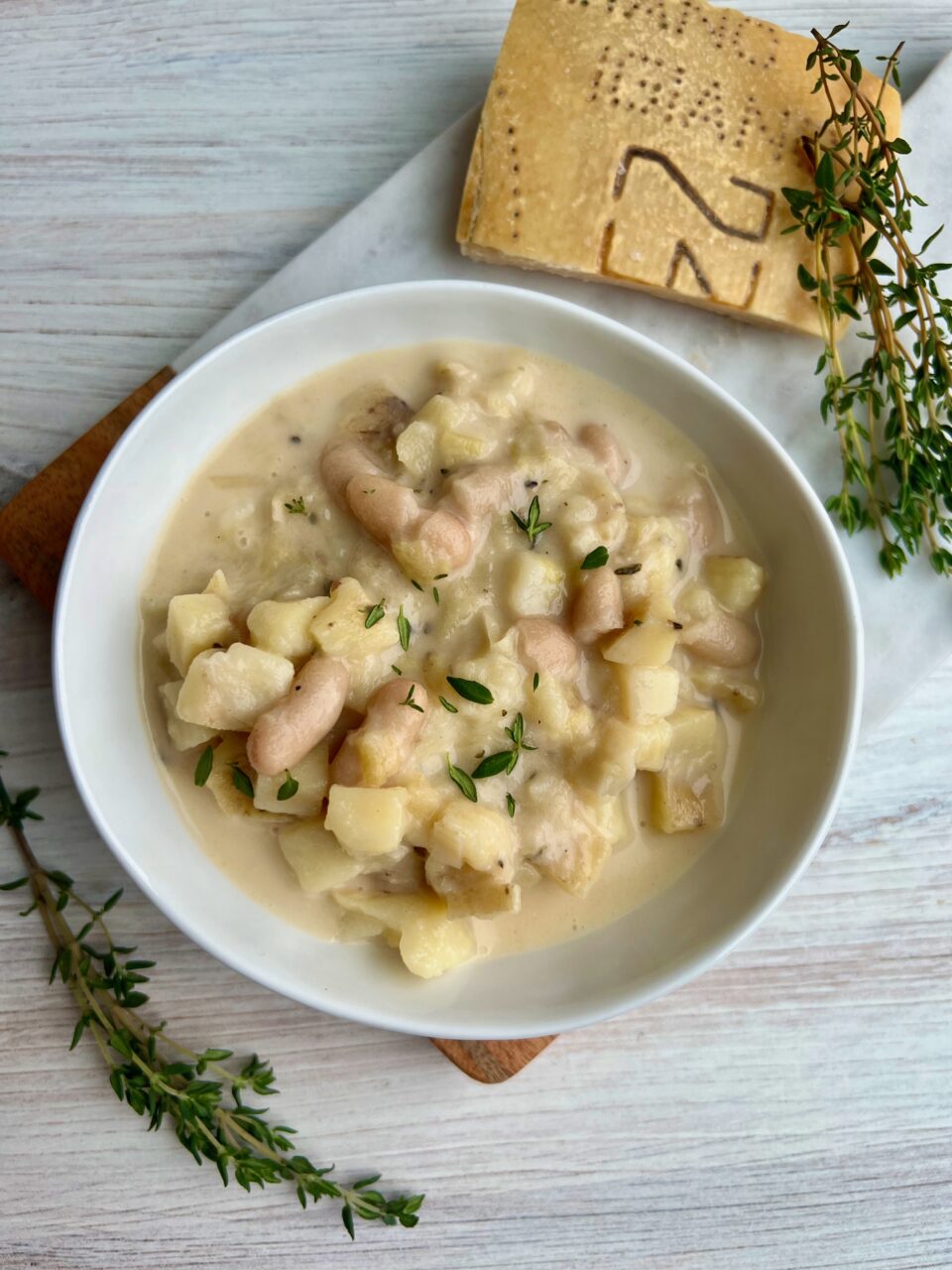 Potato Leek and White Bean Soup
---
Author: Karissa P
Total Time: 40M
Yield: 6 1x
Description
This potato leek and white bean soup adds an unexpected ingredient to an old classic. White beans give this recipe a little something extra!
---
2 TBS butter or olive oil
6–8 cloves garlic, minced
3 lbs Yukon Gold potatoes, diced small skins left on (if you can't find Yukon Golds you can use russets but I would peel if using russets)
2 large or 3 medium leeks, light green and white parts only thinly sliced (I cut in half lengthwise and then slice)
2 cans cannellini beans, drained not rinsed
1 c white wine (I like Pinot Grigio here I would just not use anything sweet like Riesling or Moscato)
7–8 c chicken or veggie broth – I prefer to use low sodium so I can control the salt
2 parmesan cheese rinds (look in the specialty cheese section at your store or sometimes they are found with the big wheels of parmesan)
6 sprigs of fresh thyme
2 bay leaves
1/8 c heavy cream
Grated parmesan for topping
---
Instructions
In a large soup pot sauté garlic and butter over medium low heat
With kitchen twine tie together thyme and bay leaves. If you do not have twine you can just throw them in the soup pot just be mindful when serving soup to remove the stems.
Add in herb bundle and leeks and turn heat up to medium. Cook until leeks are wilted down stirring occasionally. Season with salt and pepper.
Add in potatoes and 6 cups of the broth, bring temp up to medium high to a gentle boil. Once boiling turn heat down to medium heat. Cook until potatoes are cooked thru. Since the potatoes are small this should only take 8-10 minutes at most.
At this point the potatoes should have absorbed most of the broth. Add in one more cup of broth, beans and heavy cream, cook 5 more minutes until everything is combined. Check the seasonings and season with more salt and pepper if necessary. (I like a lot of cracked black pepper!) If the soup is too thick you can add in the last cup of broth to thin it out.
Top with parmesan cheese.
Notes
For a vegan version use olive oil instead of butter and omit the cheese and heavy cream. The soup will be pretty thick on it's own so no need to replace the cream with a milk alternative
Prep Time: 10M
Cook Time: 30M