This butternut squash pasta is a perfect way to use fall squash. Blended in with a simple tomato sauce it is an easy way to change things up.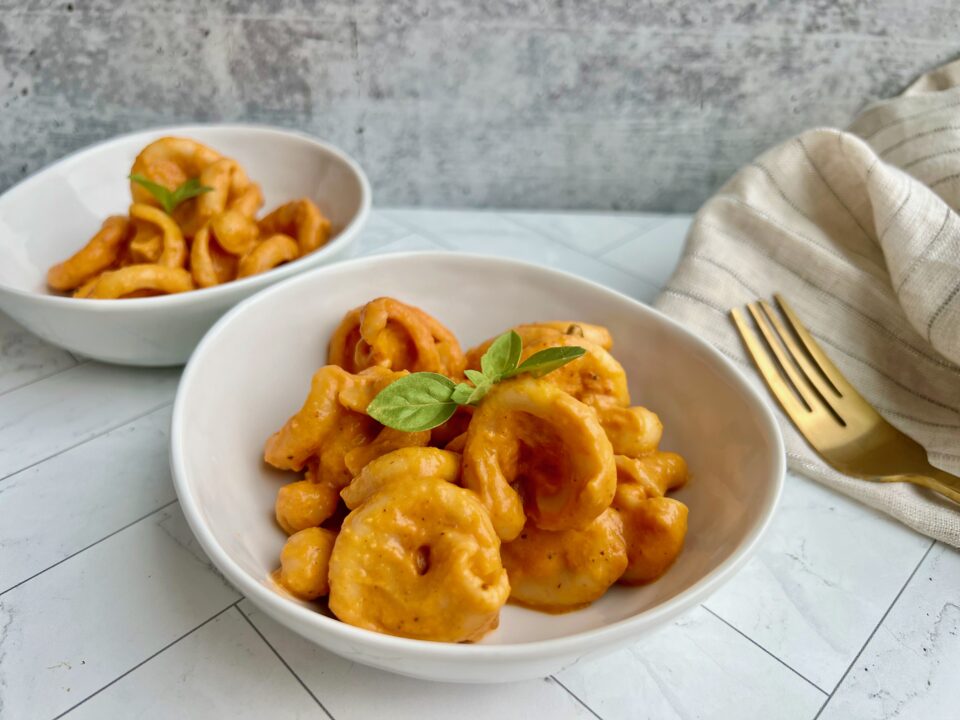 We just got back from a trip to Portland Maine. If you haven't been – I highly recommend it. So much so I wrote a blog post on all the great spots to go to last year. We went to this great restaurant called Fore Street and I had a rich creamy butternut squash soup. It reminded me how much I actually like butternut squash but I always forget to cook with it. However, I am not a fan of it used in sweet meals. So once we got back I knew I wanted to create a savory dish with it. So I created this butternut squash pasta recipe.
Not you Grandma's Tomato Sauce
The tomato sauce used for the butternut squash pasta is not your traditional pasta sauce. Firstly – not too many tomato sauces call for squash that I see! But it's a great way to incorporate an in season fall vegetable. Additionally to change up your typical tomato sauce recipe.
To make the sauce not teeter on the edge of sweet I wanted to enhance the savory profile of the soup. Enter in the prosciutto! Prosciutto is an Italian cured meat (literally translates to "ham") that is flavorful and salty – much like bacon. It is cured so it is often eaten raw and goes great on a charcuterie board.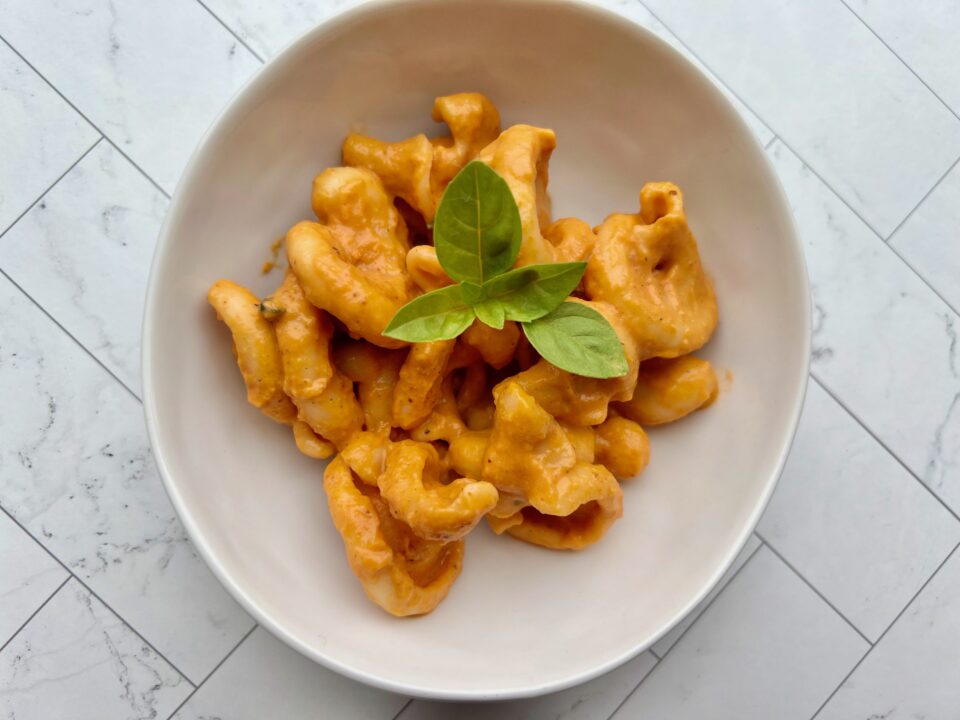 Because the meat is cured you don't need to cook the prosciutto. However prosciutto is also DELICIOUS when it's crisped up almost like bacon. It becomes very light and crispy. I am quite certain any Italian reading this is probably cursing me right now. I am sorry! In this sauce I start by putting the prosciutto in my pan with a smidge of olive oil and crisp them up. Then what is left in the pan is that smoky, meaty flavor and brown bits that flavor the sauce up nicely. Then the cooked prosciutto is reserved to top the pasta with.
Time Saving Tips
Personally I am not the biggest fan of huge chunks of butternut squash in my pasta. So I decided I wanted to incorporate it into my meal but almost hide it. So I created a version of a pasta sauce with the squash in it. Also I was feeling lazy. I didn't want to cube up the squash and cook it or roast it in the oven. So lucky for me Whole Foods does the work for you! You can actually buy frozen cubed butternut squash in the freezer aisle! It saves so much work and time in the kitchen.
So the sauce will cook on the stove awhile but that is the easy part! It's almost set it and forget it (except you are going to want to stir your sauce from time to time). So using the tips below you save time and clean up:
I like to use a chopper for my onions and garlic. Not that dicing is hard but it seriously takes all of 30 seconds to chop them up.
Canned crushed tomatoes – it's fall in Michigan. Tomatoes are not in season. Tomatoes are canned when they are at their peak freshness which allows you to enjoy them all year round
Frozen butternut squash cubes – explained more above
So while this butternut squash pasta is not super traditional it is a perfect recipe to get into that fall spirit (and sneak in some extra veggies!) And remember, if you try this recipe be sure to rate it and leave a comment below and let me know how you like it. Or tag me on Instagram!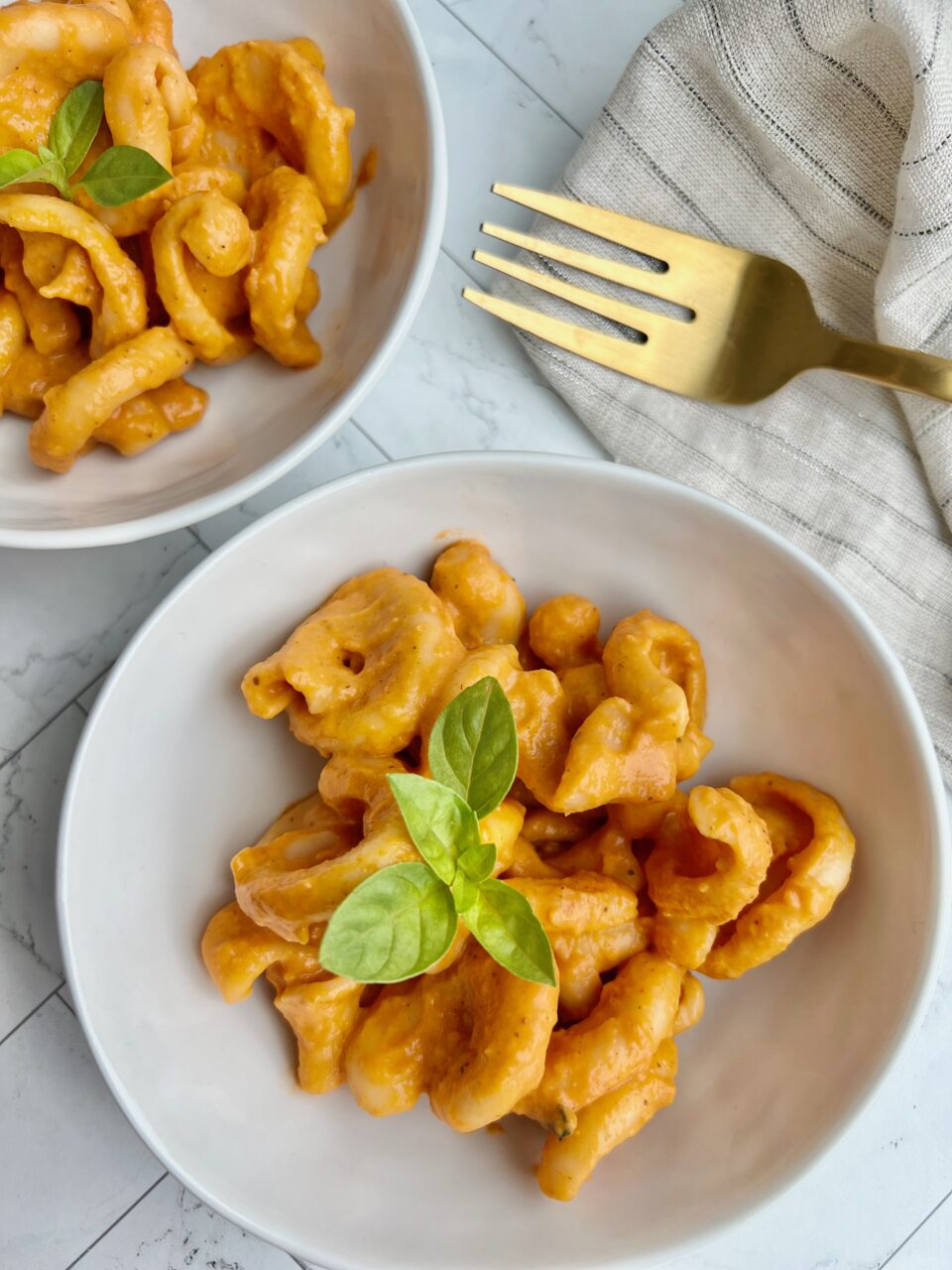 Print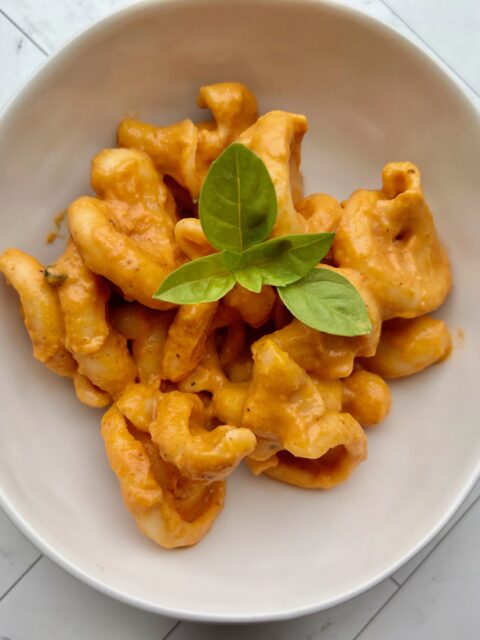 Butternut Squash Pasta
---
Author: Karissa P
Total Time: 1HR40M
Yield: 4-6 1x
Description
This butternut squash pasta is a perfect way to use fall squash. Blended in with a simple tomato sauce it is an easy way to change things up.
---
6–8 slices of prosciutto or bacon
1 small yellow onion, minced (or 1/2 a medium onion)
6–8 cloves of garlic
1 leaf of fresh sage (if you can't find omit, don't use dried as it will change the flavor of the sauce)
1 28 oz can crushed tomatoes
2 parmesan rinds
1 lb (16 oz) frozen butternut squash cubes
1/8 cup heavy cream
1 lb pasta – I love penne, ziti, conch, vesuvio is my favorite shape
1 handful fresh basil, torn or cut into thin slices
---
Instructions
In a large soup pot or dutch oven, place prosciutto with 1 tsp olive oil and brown until crispy over medium heat. Be careful as it will go from golden brown to burnt quickly. Set aside. Do not clean out pan.
Add in onions, garlic, a few shakes of crushed red pepper flakes if you like a little spice and the sage leaf with one TBS of olive oil. Scrape all those brown bits from the meat up from the bottom of the pan. Turn heat down to medium low to medium and cook onions until soft. You do not want your onions to brown. Cook 12-15 minutes.
Add in your tomatoes and parmesan rind. Season with salt and pepper. Cook partially covered over medium low for an hour stirring occasionally. The tomatoes will cook down and thicken over time concentrating their flavor.
Add in squash with one cup of water. The tomatoes should have concentrated so the water will help give something to steam the squash in. Cook another 10-15 minutes until squash is not frozen.
Remove parmesan rinds and sage leaf. In batches blend the sauce in a Vitamix or blender.
Return to the pot with heat on medium low. Add in heavy cream and fresh basil. Adjust seasonings as necessary.
At this point cook your pasta according to the directions. Be sure to salt your pasta water.
Combine sauce and pasta and serve immediately. Top with fresh parmesan and reserved bacon or prosciutto crisps.
Prep Time: 5M
Cook Time: 1HR30M
Category: pasta
Keywords: pasta, pasta sauce, butternut squash, bacon