This copycat Outback potato soup is quick and easy to make. Diced potatoes are paired with special seasonings for this replica of the original.
When I first moved to metro-Detroit that was the first time I ever had been to Outback Steakhouse since we didn't have those where I grew up. Of course I loved the famous blooming onion. But honestly what I liked more than any steak or entree there were the soups. (Shocker right?!). They had a creamy onion and a potato soup that were so good. Good enough for me to order a few bowls as takeout on the regular.
Over the years I have been trying to figure out how to replicate Outback's potato soup. It's not a usual soup for me, meaning it's not loaded with veggies. Also there was always something I was trying to figure out with the spices. Their soup had a subtle spiciness to it that really set the soup apart.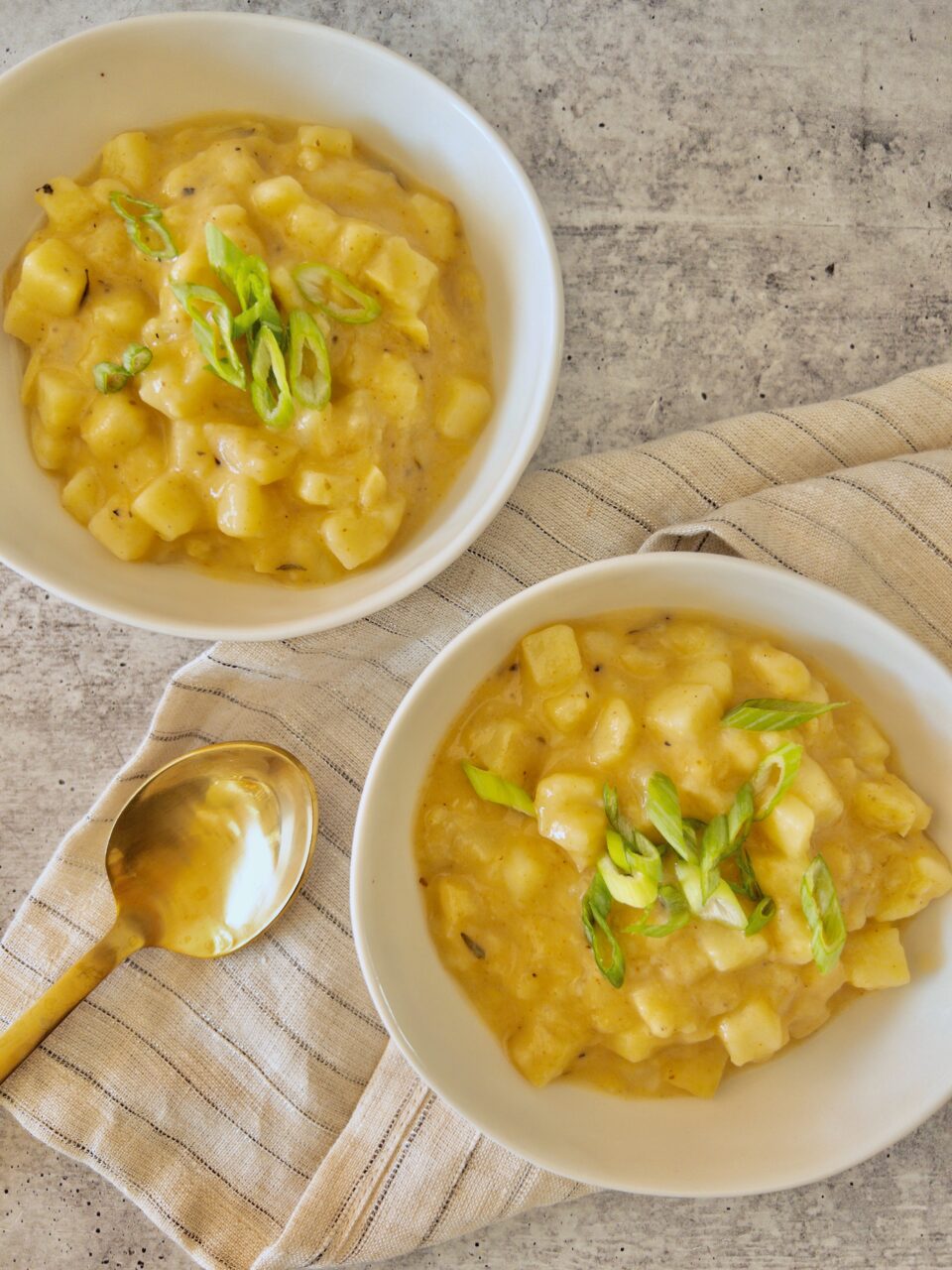 The Secret is in the Seasoning
I was craving an Outback-esque soup the other night and I started Googling Outback seasonings. Because I know there is something in their soup that I couldn't pin point. I finally figured it out. It's seasoning salt. I found "Outback Seasoning" salt for sale and in it the main ingredients were pepper, garlic, paprika, turmeric, and a little cayenne. Which makes sense because the paprika and turmeric would give that slightly yellow-orangish color that the soups always had.
So I started hunting down seasoning salts. I have to be careful because a lot of pre-mixed seasonings can contain MSG which I cannot have. And some blends have random things in it like natural flavors and who knows what. So I found a few brands that contain only the spices and we bought some at the store. If you are looking for pure spice only seasoning salt check out these brands:
Or if you want to just make your own blend check out this recipe from Plain Chicken.
Keep it Simple
This copycat Outback Potato Soup is not hard to make at all. But there are a few things that I found helped me save time. Because I was using so many potatoes I didn't want to spend time chopping everything. And I wanted the potatoes to be small so that's a pain to chop. But I found a new hack that makes my life easier – my food processor.
My new food processor comes with a dicing attachment. It allows me to quickly dice my vegetables and have them uniform in size which is key for even cooking. However if you are not looking to splurge on a new food processor a simple vegetable dicer like this would do the trick. But let's be honest, you could just chop the potatoes yourself as well!
In addition to the potatoes chopped onions are slowly cooked to release all that sweet flavor they give. I always like to incorporate fresh herbs when cooking so fresh sprigs of thyme and garlic are cooked with the onion. Then we make a rue, add the broth, bring to a boil and add the potatoes. That's basically IT!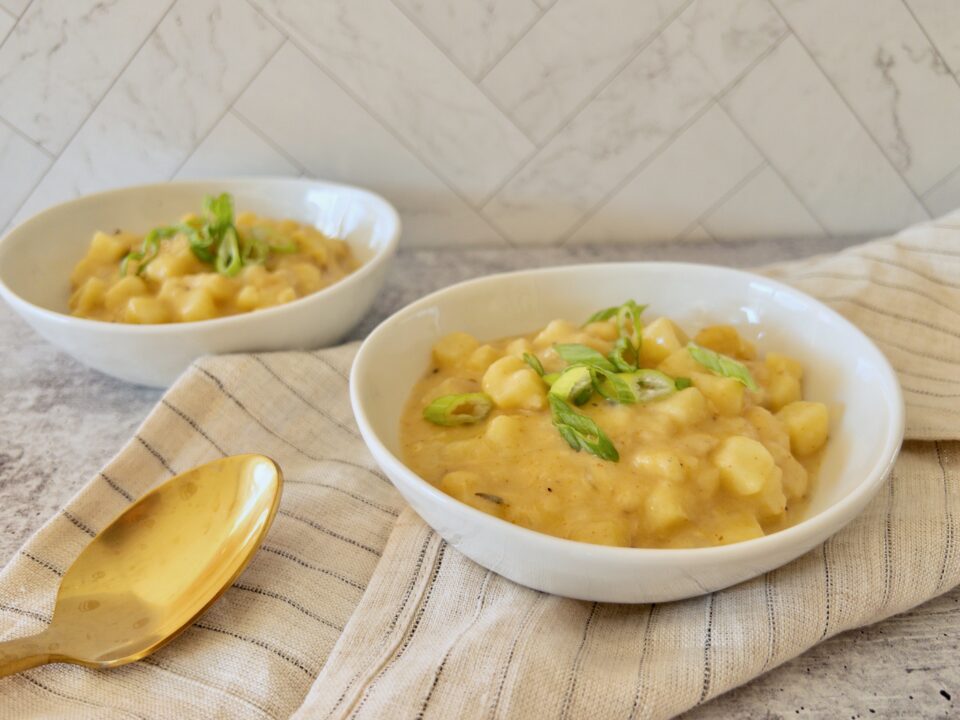 Don't forget your toppings
At Outback they always topped the soup with cheese, bacon and scallions. It would make the soup have a little extra creaminess from the cheese melting. The onions and bacon gave the soup a little extra crunch. Their bread was always delicious to sop up that last bit of soup so feel free to buy a little loaf of bread to pair with the soup.
Whatever you do, don't miss the opportunity to top the soup off with some of your favorites. The added ingredients help add texture and balance out the creaminess of the soup.
So the next time you might be craving takeout or soup or just need a new recipe, be sure to try this copycat Outback potato soup recipe. And remember, if you do try it be sure to share it, rate it and tag me on Instagram!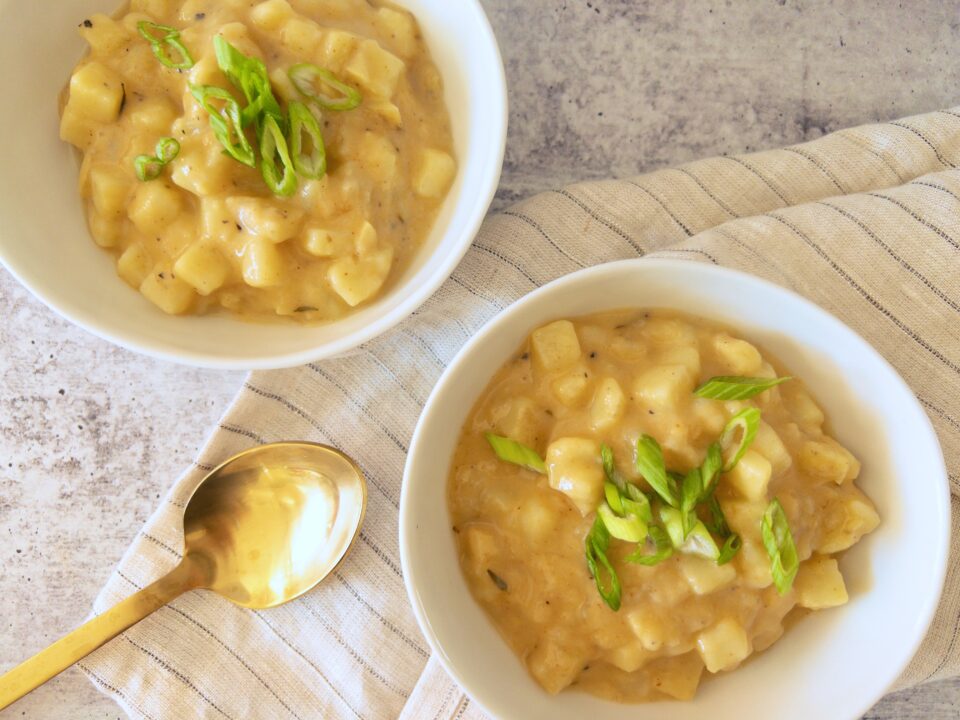 For more potato soup variations check out these recipes:
Print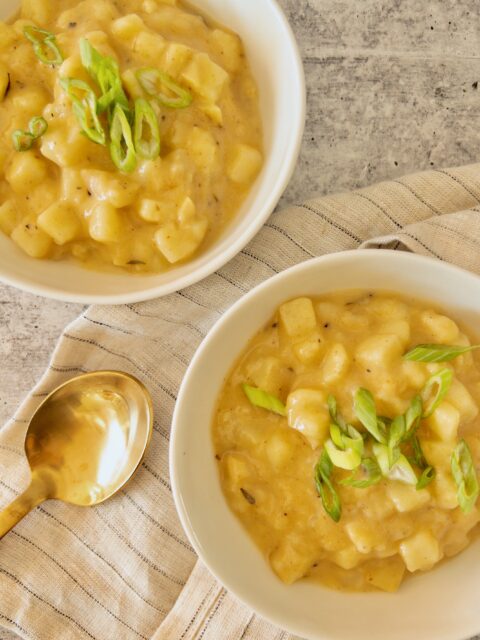 Copycat Outback Potato Soup Recipe
---
Author: Karissa P
Total Time: 50M
Yield: 6 1x
Description
This copycat Outback potato soup is quick and easy to make. The secret is in the seasoning!
---
1 lb of bacon
1 medium to large yellow onion, small dice
6 cloves garlic, minced
a few sprigs of fresh thyme
2 bay leaves
2 TBS butter
1/4 c flour
6 c chicken broth (I prefer low sodium chicken bone broth for extra flavor)
3 lbs of potatoes (use Russet or Yukon golds, if using russets be sure to peel first) small dice
2 TBS seasoning salt
1/4 c heavy cream
Additional toppings for soup – scallions or chives, cheese (Monterey Jack, cheddar, muenster all work well), a dollop of sour cream or Greek yogurt
---
Instructions
Cook bacon in your preferred method (I like to cook in the oven at 415 on parchment paper to avoid splatters and smoke), KEEP YOUR BACON FAT and set bacon to the side
WIth kitchen twine make a herb bouquet with the thyme and bay leaves. If you do not have twine it is ok to just add to the soup however watch for the thyme stems when you serve
In a large soup pot add 2 TBS bacon fat, onion, garlic, seasoning salt and herb bouquet. Cook over medium low for 12-15 minutes until the onions and garlic are soft
Add in 2 TBS of butter and flour, stir until everything makes a paste. Cook for 2 minutes so the flour is not raw
Add in the broth and turn the heat up to medium high until broth starts to bubble. Be sure to stir the broth and flour mixture together so the flour does not clump. Once the heat is turned up the broth should start to thicken. Season with salt and pepper.
Add in potatoes and turn heat down to medium. Cook 10-12 minutes until the potatoes are cooked where you can pierce them with a fork.
Turn heat down to medium low and stir in heavy cream. At this point the soup is done. The soup with thicken as it sits on the stove for longer or even the next day. Adjust salt and pepper as needed or maybe even add a little extra seasoning salt!
Top with toppings of your choice – don't forget your bacon!
Notes
For a vegetarian version omit the bacon and use 4 TBS of butter or olive oil instead. Use veggie broth instead of chicken broth.
For a vegan version use 4 TBS olive oil, veggie broth and omit heavy cream and cheese. To additionally thicken the soup up without the heavy cream start with 4 cups of broth when cooking potatoes and add in more if necessary.
This soup is a mix between a super thick soup and a brothy soup. If you prefer a very thick potato soup when adding in the broth start with 4 cups (as long as your potatoes are covered all the way) and add more broth as necessary.
Prep Time: 10M
Cook Time: 40M
Category: soup