This corn poblano chowder is a perfect use for corn on the cob. Paired with smoky bacon, lots of veggies and a little cheese it's a perfect summer soup.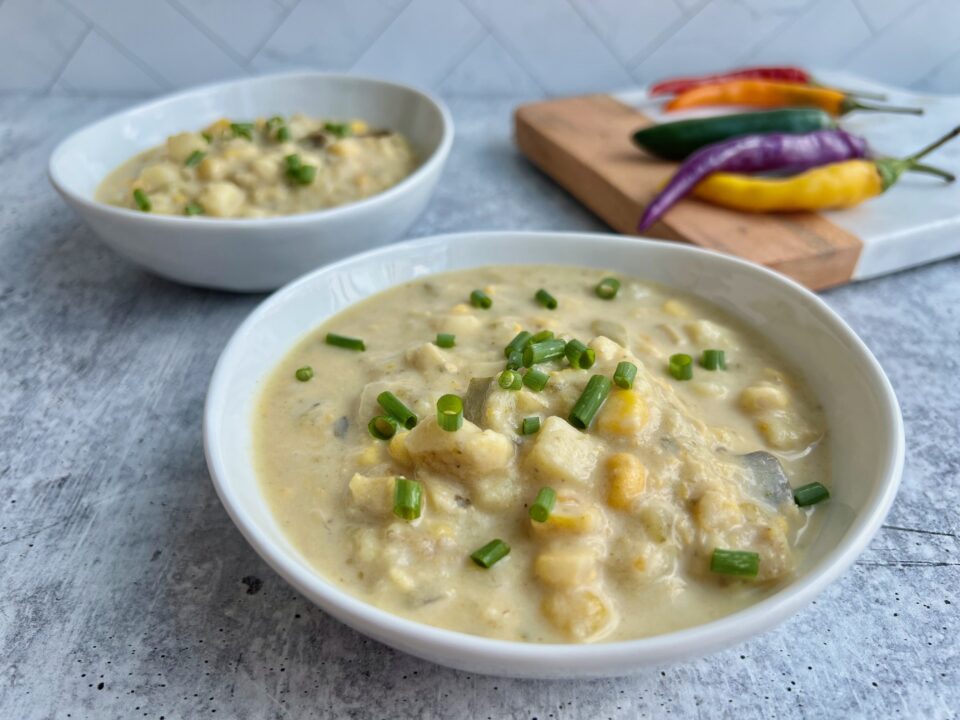 Nothing screams summer more to me than corn on the cob. But if you aren't new here you know I am really picky and we eat mostly organic. Organic or non-GMO corn is really hard to find. But I was at my farmers market the other weekend and I found some. So I knew I had to make corn poblano chowder.
Easy Corn Cooking
I love corn on the cob but it can be a pain. First you have to shuck it. Then all those silk strands get caught in the corn kernels. And if you don't remove them, caught in your teeth! However years ago I found a secret to cooking the best corn. And not only is it easy to cook it tastes delicious.
What's the secret? Leave the corn in the husks. What? Yes! In the husks. When the corn is steamed in the husks the clean up is so easy. Once the corn is cooked and cooled when you peel off the husks the silk comes straight with it. I find that almost all those strands of silk are easily removed. Sometimes you might have a few strays that you have to pick out. But not as many as when you are peeling corn raw.
Here's how you do it:
Soak your corn in water for 15-20 minutes before cooking, especially if you are going to cook on the grill so the ends of the corn don't start on fire.
Either in the oven heated to 400 or on the grill on indirect heat (that means NOT over the flame) cook the corn for 20 minutes. Be careful if you have a gas oven as you don't want the corn close to the flame in the oven either!
Set the corn to the side and let cool for 5 minutes and make sure it's cool enough to handle or use oven gloves
Peel the husks from the corn
Eat either on the cob or remove kernels for a soup like this corn poblano chowder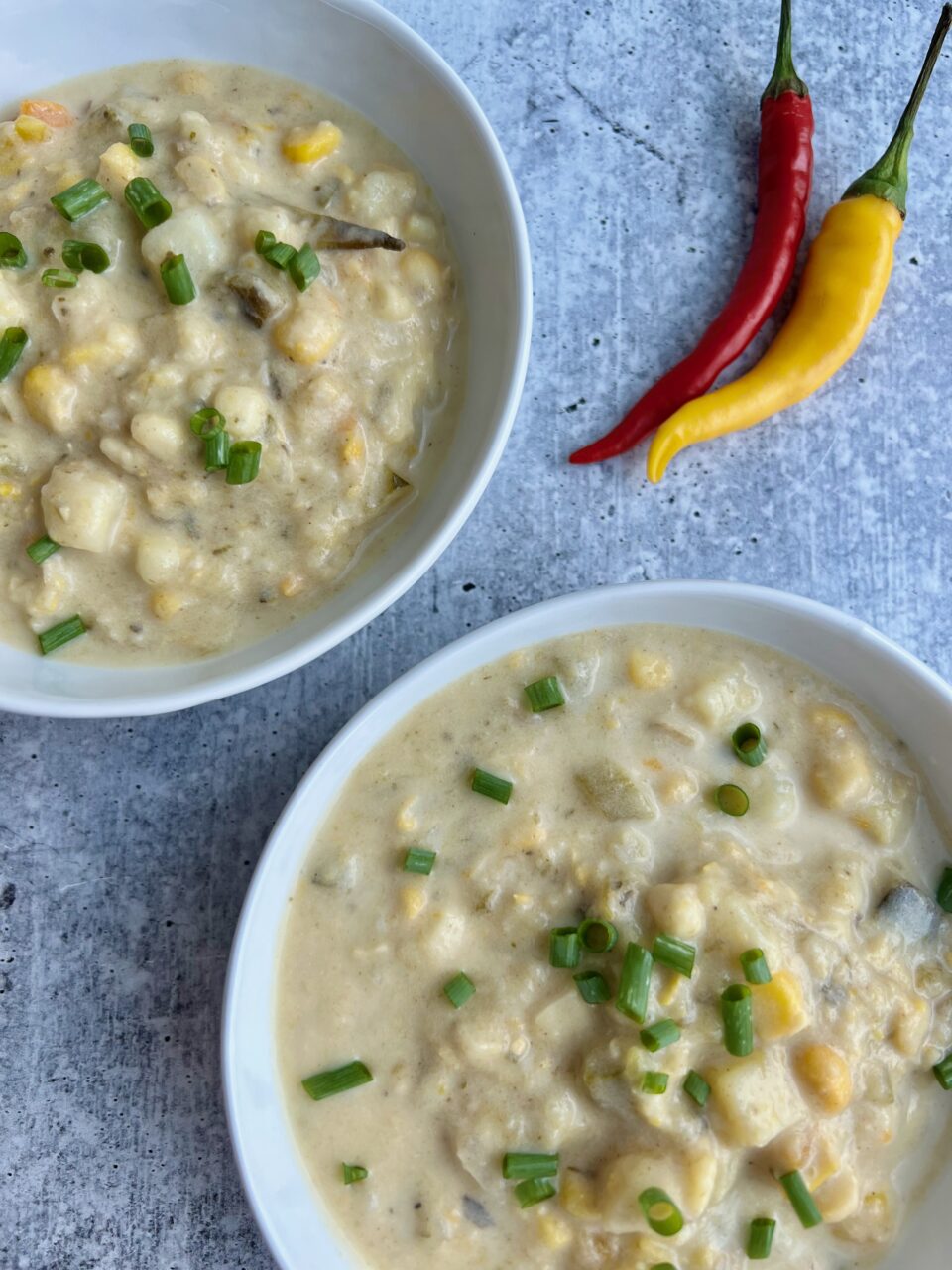 More Time Saving Tricks
Because this dish takes a little bit due to the pre-cooking of the corn and the peppers I wanted to save time everywhere else I could. First I cooked the poblano peppers at the same time as the corn to only use the oven once. You can do the same thing if you want to grill your peppers. When the corn was cooling so were the peppers. And while both were cooking I started the soup.
Since we are making a chowder potatoes are one of the ingredients. But I wanted all my potatoes in a nice small dice. Which I most certainly could do on my own. But I had a lot of potatoes to cut. I remembered that I just bought a new food processor – which had a dicer (no this is not an ad, I generally just love this thing!) This thing was such a time saver. The processor spit out nice small potatoes in all of two minutes. And since I had more veggies to cut I used the food processor for ALL my veggies which saved me (and my hands) tons of minutes I didn't have to chop!
If you aren't in the market for a few food processor here are a few dicers I found that would do the trick:
This vegetable slicer has seven different blades and you can spiralize veggies too!
This one has five different blades for different options of sizes however it looks a little less durable than the one above
If you are looking for an electric chopper but not a full out food processor this option would work, however it appears to be more of a chopper than perfect uniform dice like above
Putting it all together
While the corn and peppers cook in the oven that's when I start making the chowder. The chowder itself is easy. Onions, garlic, and bell peppers are sautéed. Then the broth, zucchini and potatoes are added. The potatoes start to break down and thicken up the soup. If thick chowders aren't your thing you can always thin it out with more broth.
This soup is easily modified for any type of diet as well:
Vegetarian version – swap out the chicken broth for veggie, omit the bacon. A can of pinto beans in here would be delicious for some extra protein. Add when you add the potatoes.
Vegan – same as #1 plus omit the cheese and heavy cream – you COULD use a nut based milk however I haven't tried it and it's thick enough on it's own so to avoid the nut milk changing the flavor I wouldn't use it
So the next time you are in the mood for something corny and comforting be sure to try this corn poblano chowder. And if it's not summer – frozen corn works great as well. And if you do be sure to rate and comment below and tag me on Instagram!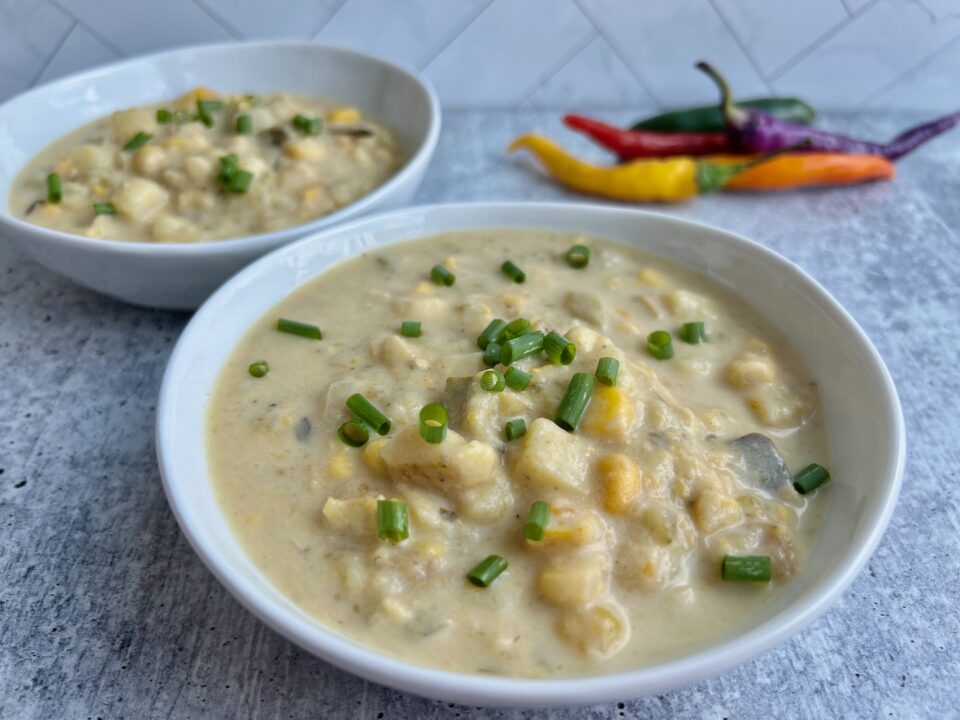 Print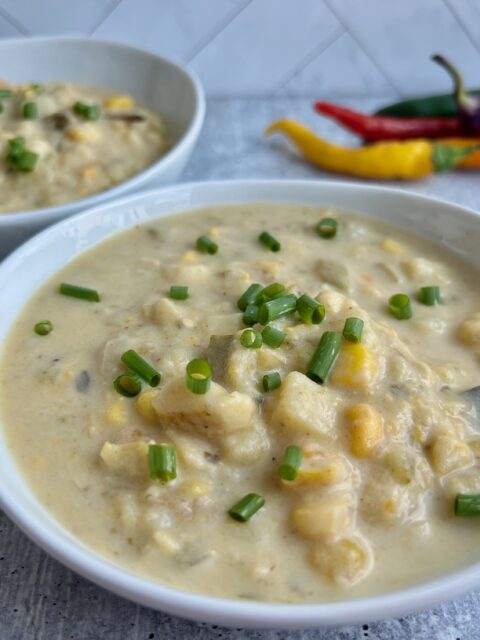 Corn Poblano Chowder
---
Author: Karissa P
Total Time: 1HR15M
Yield: 6-8 1x
Description
This corn poblano chowder is a perfect use for corn on the cob. Paired with smoky bacon, lots of veggies and a little cheese it's a perfect summer soup.
---
6 slices of bacon
4 ears of corn or 2 c frozen corn
3 poblano peppers or 2 cans mild green chilis
2 bell peppers (I prefer red, orange or yellow here), small dice
2 TBS cumin
1 yellow onion, small dice
2 medium zucchini, small dice
2 lbs Yukon gold potatoes, small dice
6 c chicken broth
1/4 c heavy cream
For toppings:
sliced scallions, avocado, pepperjack cheese, cilantro
---
Instructions
To cook poblano peppers broil over high heat so the skins char up. Check and rotate every few minutes so all sides get charred and bubbly. Let cool for 10 minutes. Peel the skins from peppers, remove stems, seeds and the ribs of the peppers. Dice small.
Soak corn on the cob in their husks in water for 10 minutes
Cook bacon in your preferred method (pan, oven, griddle, etc) I prefer a cookie sheet in the oven at 415 for about 12 minutes until bacon is crispy. Set bacon aside for later.
Turn the oven to 400. Place corn on the cob in the husks on a cookie sheet or if your oven is electric directly on the racks of the oven. (Don't do this with a gas oven if the corn silk gets too close to the oven flame they will burn). Cook for 15 minutes. Let corn cool before handling.
While the corn is cooking in a large soup pot use 2 TBS of the bacon fat to sauté the onions and bell peppers over medium low to medium heat for 10-12 minutes until soft. Season with the cumin and salt and pepper.
Add in chicken broth, potatoes, and zucchini turn heat up to medium high and cook for 10 minutes until potatoes are tender.
While potatoes are cooking, slice corn off the cob. Add corn and poblanos to the soup.
Once the potatoes are cooked (try one after 10 minutes, they should be fork tender) turn heat down to low. Using an immersion, pulse the soup a few times. Alternatively if you don't have an immersion blender you can take out 1/4 of the soup, pulse with blender and add back in.
Stir in the heavy cream. Check your seasonings and season with more salt and pepper if necessary.
Top with any toppings of your choice including the bacon!
Prep Time: 15M
Cook Time: 1HR