These vegetarian Greek bowls are perfectly balanced with roasted veggies, toasted chickpeas, couscous and Halloumi cheese with a yogurt sauce. Plus sheet pans make for an easy clean up!
I love making Greek or Medeterranean inspired foods. Village salads are my favorite when we have gone to Greece. Plus when I make food from my travels it takes me back to where I have visited. I love experiencing other cultures through their food. So making these vegetarian Greek bowls with halloumi was a way to transport back to Santorini, a place I love.
Eat the rainbow
I love making "bowls" as I call them where I just put a lot of things together and eat it like a salad almost. One of the staples in whatever kind of bowl I am making are roasted veggies.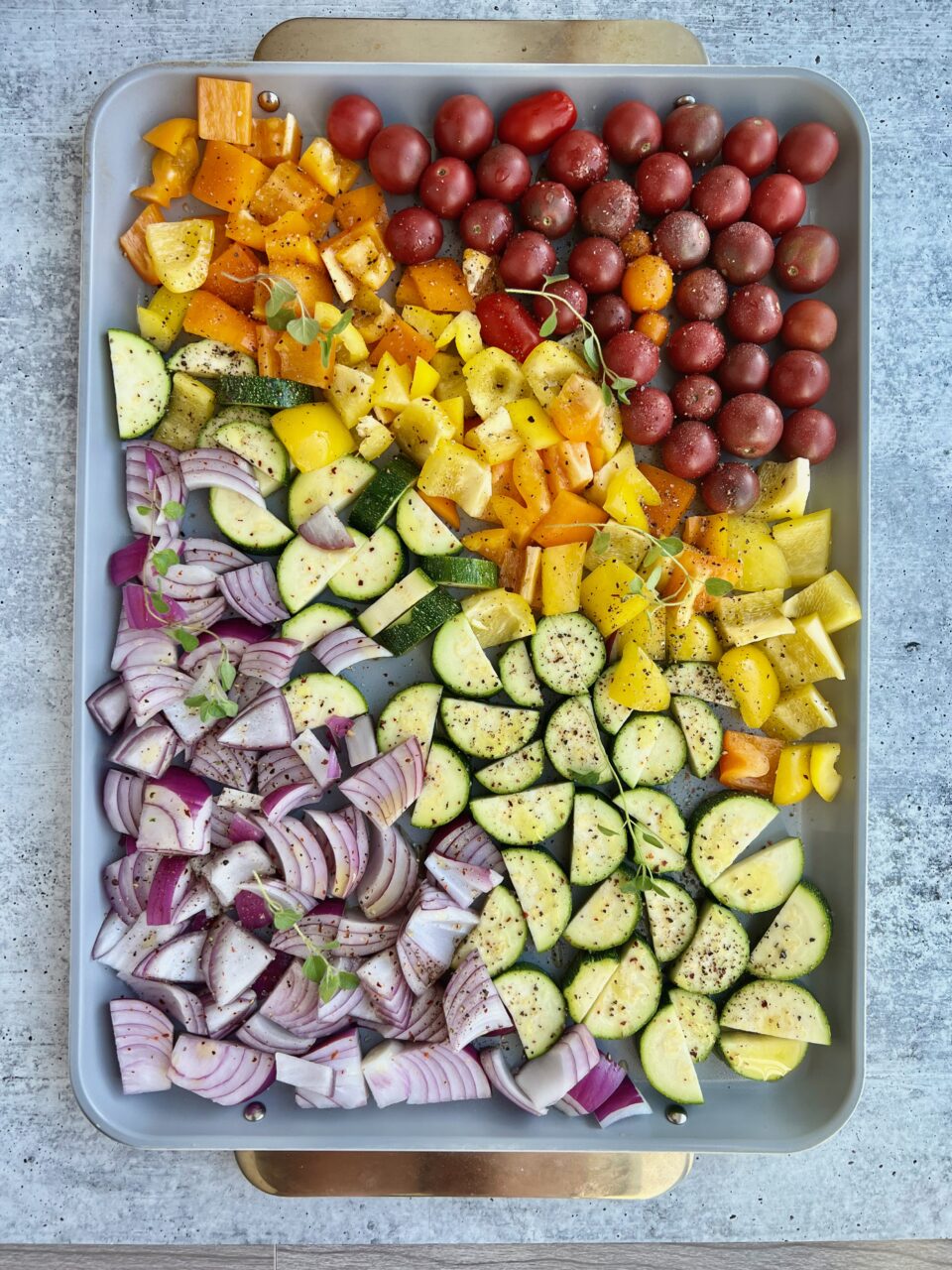 Roasting veggies is a super easy no fuss way to cook vegetables. Plus I love the char that the veggies get on them which reminds me of grilling them without the work of firing up the grill. Additionally I love how vegetables taste. So when I roast my veggies I always keep the seasonings simple to let the true flavors of the veggies come out. I drizzle them with a tablespoon of olive oil, salt, pepper, a little oregano and crushed red pepper and that's it!
Using a variety of vegetables gives you a variety of nutrients. I like to use different colored bell peppers, a red onion, zucchini and cherry tomatoes. Not only do they taste good and are good for you but they look pretty!
Easy clean up
I love using cookie sheets when I am cooking. They make clean up super easy. Especially if you line your cookie sheets with parchment, then you don't even have to wash the pan!
Because I am roasting the veggies I additionally roast up some chickpeas on a separate cookie sheet. Again, easy cleanup! The chickpeas add a little protein and some extra texture from the crunch.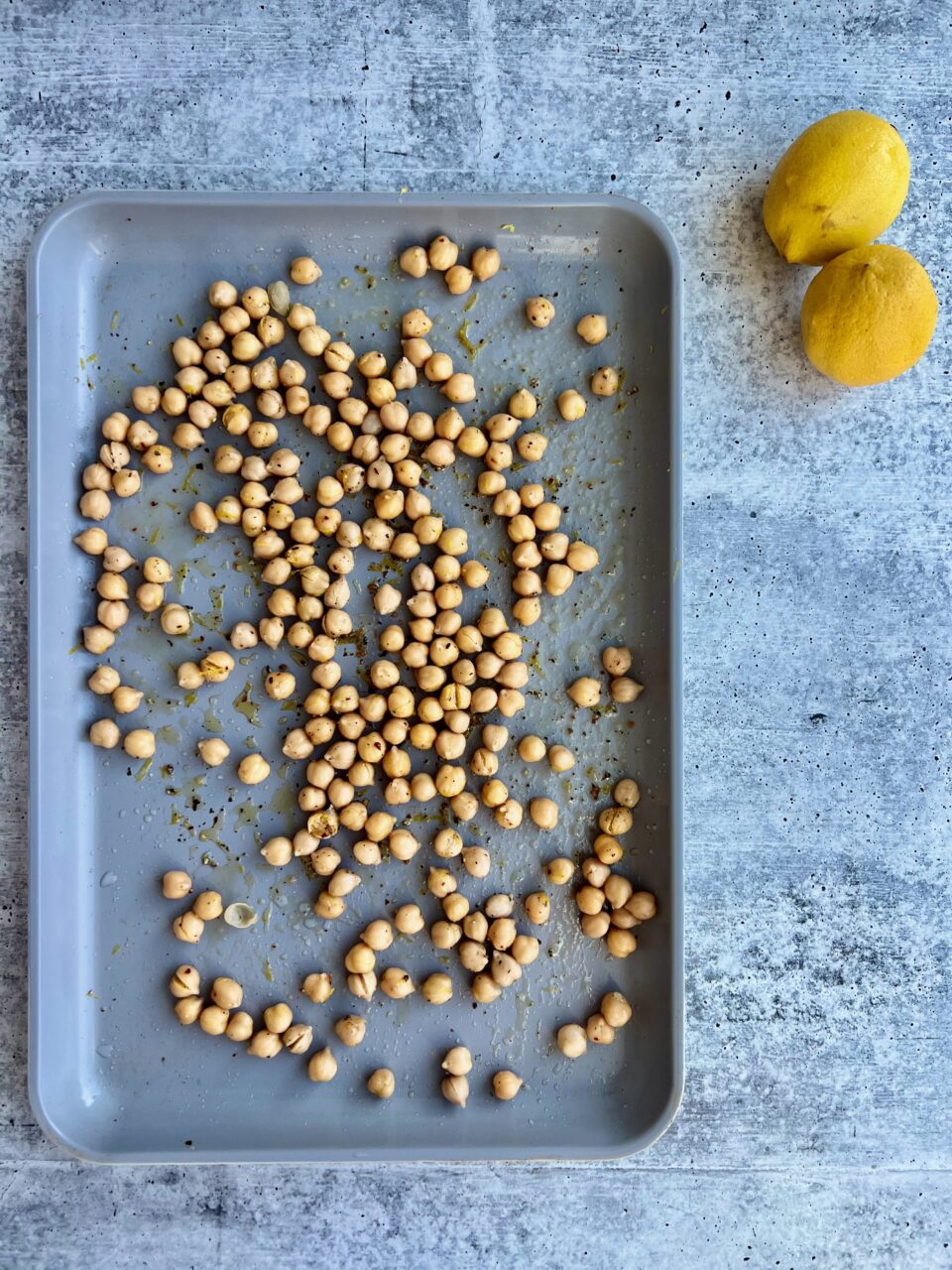 Recently I was in the market for new cookie sheets. I was replacing mine every few years because they would get gross. We had bought a skillet from Caraway and decided to try their baking sheets. I am so happy I did. They are a breeze to clean (when you don't use parchment) and are non-toxic non-stick. So if you are in the market for a new baking sheet I feel like these are worth the splurge!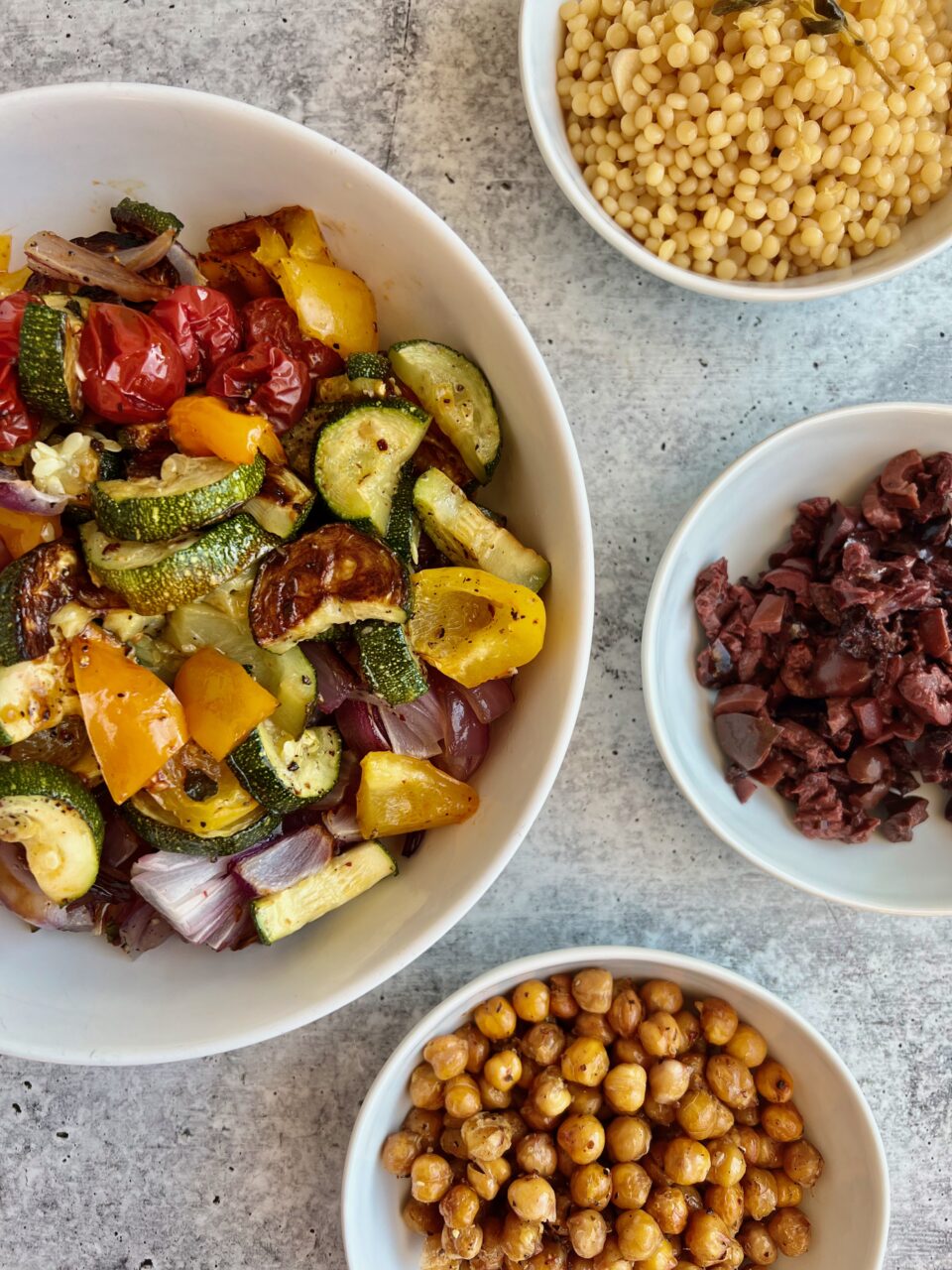 Mixing it all together
A good bowl to me has a nice balance of ingredients. No matter what the seasoning I find myself always trying to put together the following:
Veggies, lots and lots of veggies (almost all of the time roasted!)
Protein – my go to is roasted chickpeas but if you are a meat eater you certainly could use a grilled meat
Grain – quinoa, rice or couscous are usually used for me depending on what I am making
Fat – a sauce or a cheese to bring it all together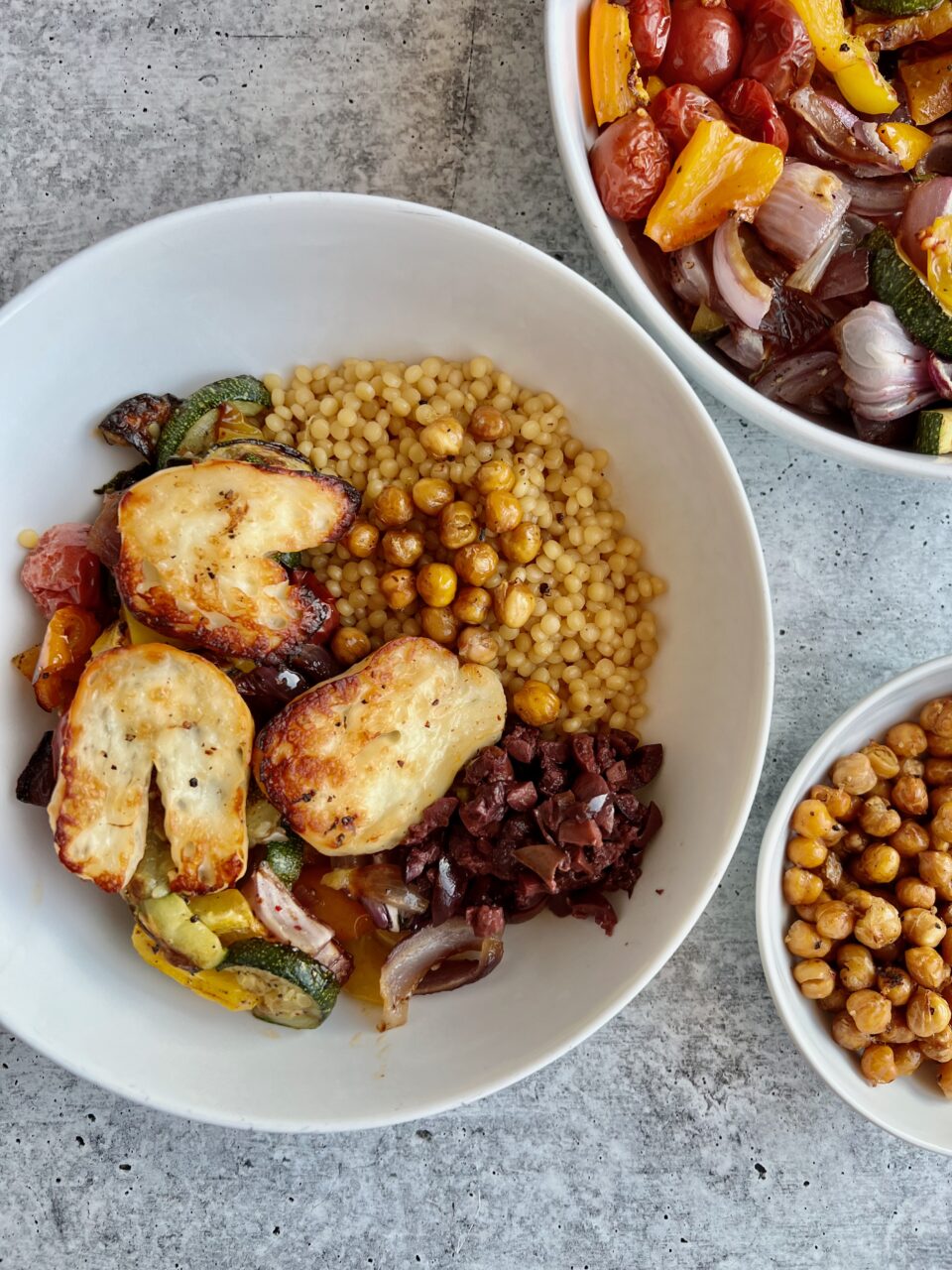 If you use those as a guideline the sky is the limit. I will do an Asian inspired bowl with Thai Basil pesto, veggies and rice. Or a Mexican inspired bowl with veggies, rice, black beans and avocado for the fat. They are versatile to make and give you the perfect balance of nutrients.
Whether or not you have been to Greece these vegetarian Greek bowls with halloumi are a perfect way to be transported there. And fuel your body with some good food! If you try these bowls be sure to rate and comment below and tag me on Instagram!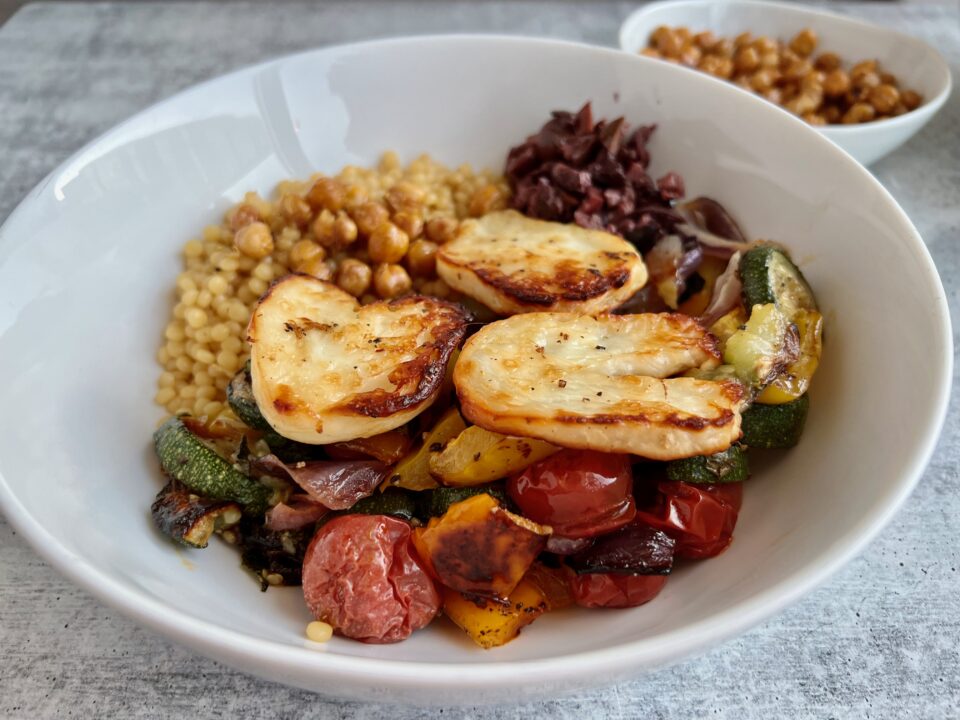 Print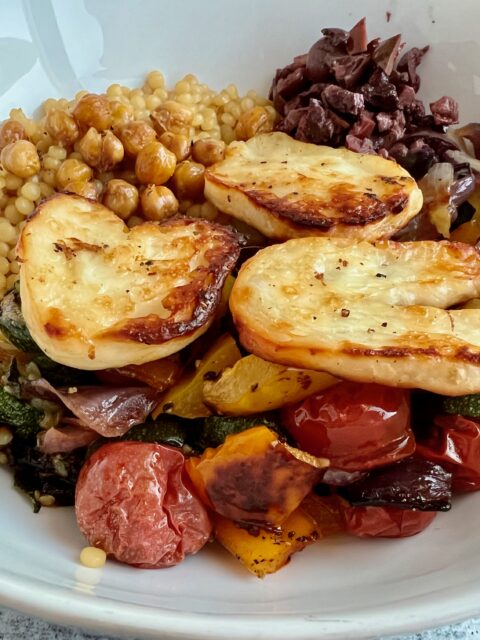 Vegetarian Greek Bowls with Halloumi
---
Author: Karissa P
Total Time: 40M
Yield: 4 1x
2 bell peppers, large dice
1 red onion, large dice
2 medium zucchini, cut in half length wise and then sliced into half moons
1 pint cherry or grape tomatoes
a few sprigs fresh oregano
1 can or box (12–15 oz) chickpeas, rinsed and drained
zest of one lemon
1 c kalmata olives chopped up
1 TBS butter
2 cloves of garlic minced
1 c couscous
1–2 c veggie or chicken broth
6–8 oz halloumi cheese sliced in 1/4 inch thick slices and patted dry
Yogurt Sauce
1/2 c plain Greek yogurt
1/4 c olive oil
1/8 c water
3 cloves garlic
1/4 c lemon juice (use fresh squeezed lemons for a better flavor)
handful of fresh Italian parsley
salt and pepper to taste
---
Instructions
Pre-heat oven to 425
Place zucchini, peppers, onion and cherry tomatoes on a large baking sheet. Make sure that the veggies are in one single layer. Drizzle with a TBS of olive oil, season liberally with salt, pepper, a few dashes of red pepper flakes and top with the sprigs of oregano
Place chickpeas on a smaller cookie sheet. Drizzle with olive oil, season with salt, pepper, red pepper flakes and the lemon zest.
Bake chickpeas and veggies for 20-25 minutes until chickpeas are golden brown and the veggies are soft and charred slightly
While veggies are roasting cook the couscous. In a large sauce pan add butter, couscous and garlic. Cook over medium low to medium heat for a few minutes to toast up slightly. Add in the broth but follow your package instructions. Some varieties call for different amounts of liquid usually anywhere from 1.25-1.5 cups of liquid per cup of couscous. Season with salt and pepper, add in a sprig of oregano for extra flavor. Follow the package instructions for cook time.
Place all ingredients in a blender for yogurt sauce, set aside
Once veggies are done leave your oven on. Transfer chickpeas to a bowl. Place halloumi on the cookie sheet. Bake for 4 minutes at 425. Flip the cheese. The bottom should be golden brown. Cook another 3 minutes to brown up the other side.
Assemble the bowls. Serve veggies, couscous and some of the olives in a bowl. Top with chickpeas and Halloumi. Drizzle with yogurt sauce.
Prep Time: 10M
Cook Time: 30M