In the summer I love any recipe with tomatoes. So gear up for more…. But for real I want to incorporate summer tomatoes into EVERYTHING. My husband was making steak the other night and I was trying to figure out a good side dish to go with it. I love my dad's version of parmesan orzo but I wanted to figure out how to use some of the juicy tomatoes from the store. So I whipped up a cheesy orzo with roasted tomatoes instead. It was so good! In fact, this might replace the old version!
Roasted Tomatoes PLEASE!
Have you ever roasted cherry or grape tomatoes in the oven to make a sauce of some sort? If not you are missing out. Burst tomatoes are seriously one of my most favorite ways to eat tomatoes in the summer. I like to coat them with a little bit of olive oil, season them simply with salt, pepper and red pepper flakes and then let them roast until they blister and burst.
By setting the oven to a higher heat, when the tomatoes cook they also brown up ever so slightly. This little char helps provide just a little something extra for taste. Then when they do burst the juice from the tomatoes combines with the olive oil to make a light tomato sauce of sorts.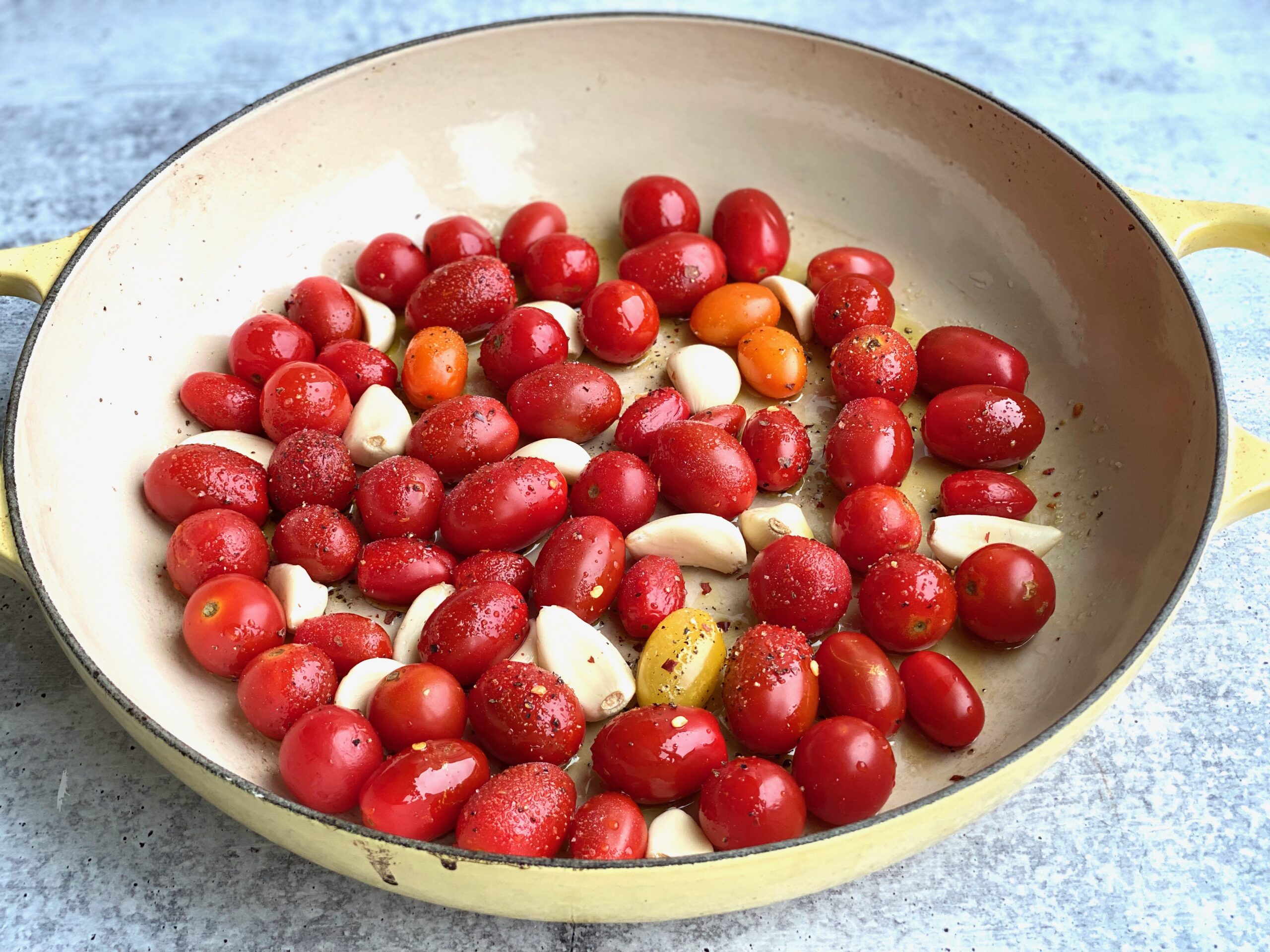 So in this recipe I decided I wanted to have a one pot meal. So I used my Le Creuset braiser which is safe for the oven. If you do not have a pan like this you most certainly could dirty a second dish and roast the tomatoes in a baking dish. However if you are looking to make an investment for your kitchen I think I use this pan more than my dutch oven. When the tomatoes are done cooking I removed them from the pan but didn't clean it to leave all the residual flavor for the orzo.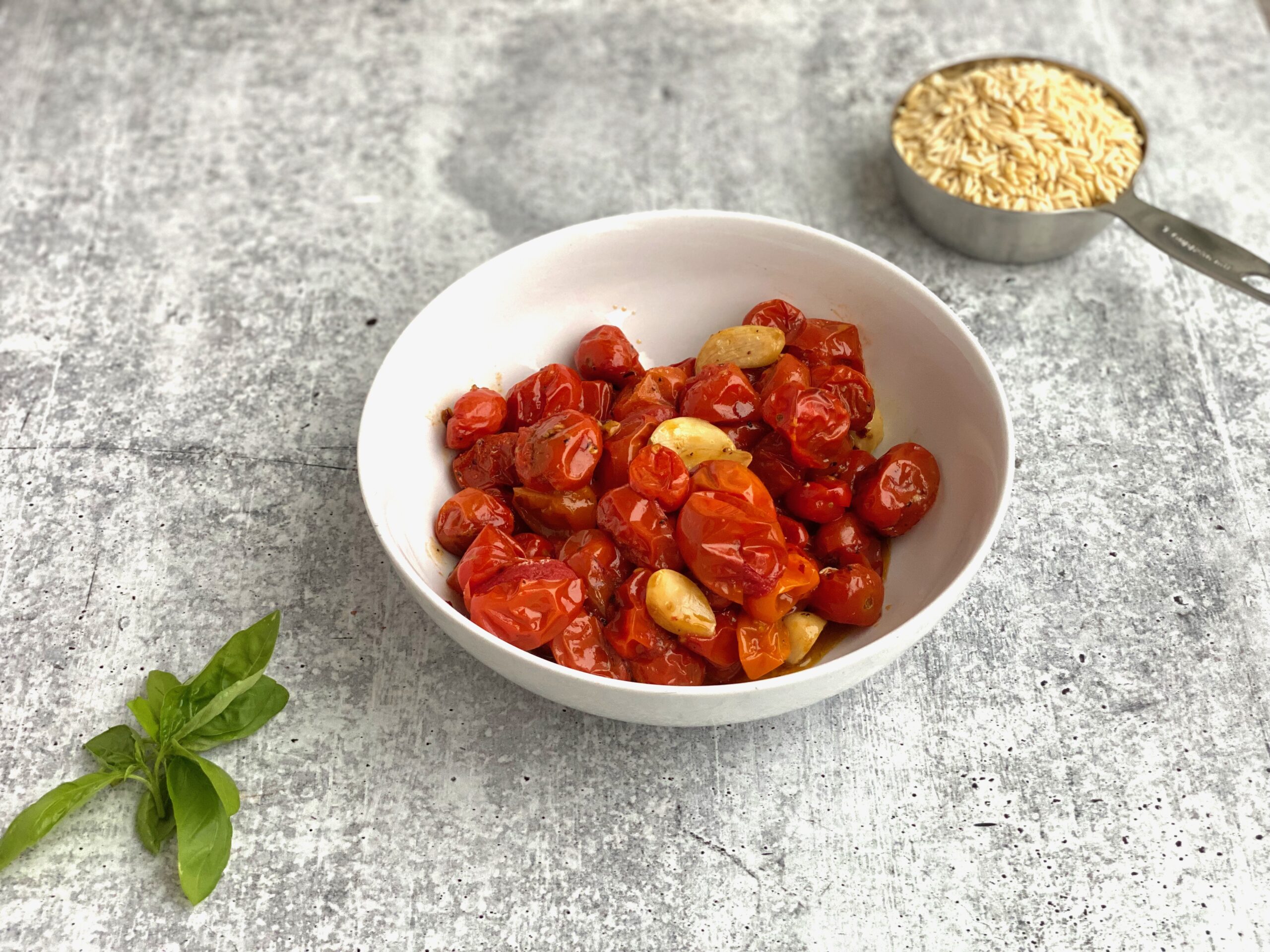 Risotto style orzo that is….
In the version I learned from my dad he taught me to cook the orzo like risotto. So what does that mean to any of you who have never made risotto before? Well it means you are not going to just boil the orzo pasta in water and drain it. No you are actually going to build up the flavor and the creaminess by adding a little broth at a time. Oh yeah – and we are using BROTH not water. Which means MORE FLAVOR.
So I start by quick cooking a little onion in the pan. Once that softens I add in the orzo and let that cook a few minutes so it kind of browns and gets a little toasty. (I told you we are building flavor!) Then I add in about two cups of broth. This is where the risotto method comes in. I cook the pasta in the broth over medium heat until almost all the liquid absorbs, then I add in a few more cups. The key here is to just use your broth straight out of the room temp box. If you take it from the fridge the broth is cold and that will cool down the pasta. Really if you are making true risotto we would heat the broth. But you are not so unless your Nonna is cooking with you I won't tell if you won't.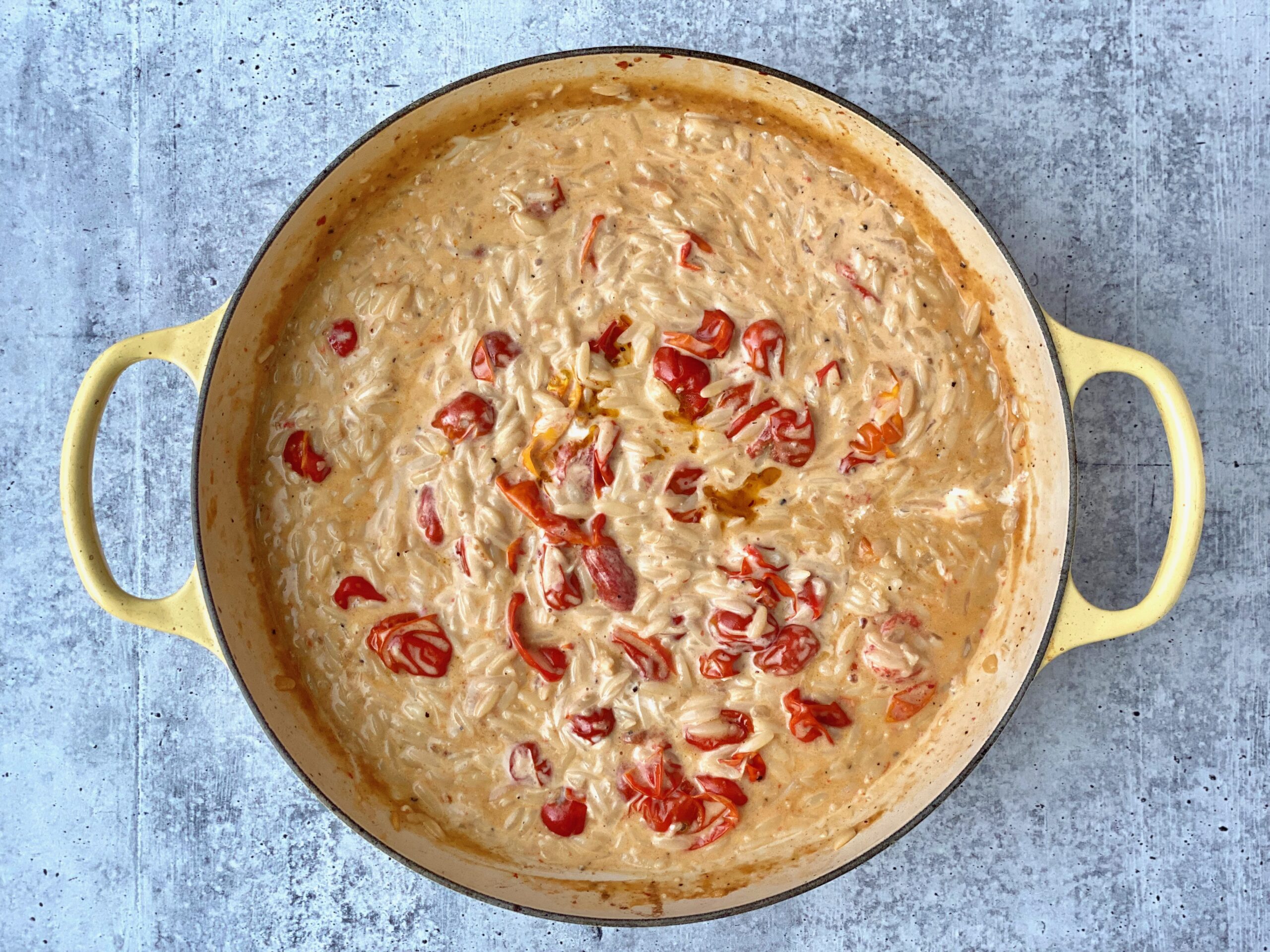 Creamy cheesy goodness
Cooking the pasta like risotto allows all the good starchy liquid from the pasta to be absorbed. It helps make the pasta creamy without even having cream in the dish. But wait – we are. Kind of. I love using marscapone cheese in my Italian inspired dishes. This is no exception. I added in a few (very large) dollops of marscapone cheese at the very end to make the pasta even creamier. Marscapone is almost like Italian cream cheese. It's often found in sweet dishes but since marscapone has a light profile makes it acceptable for savory dishes as well.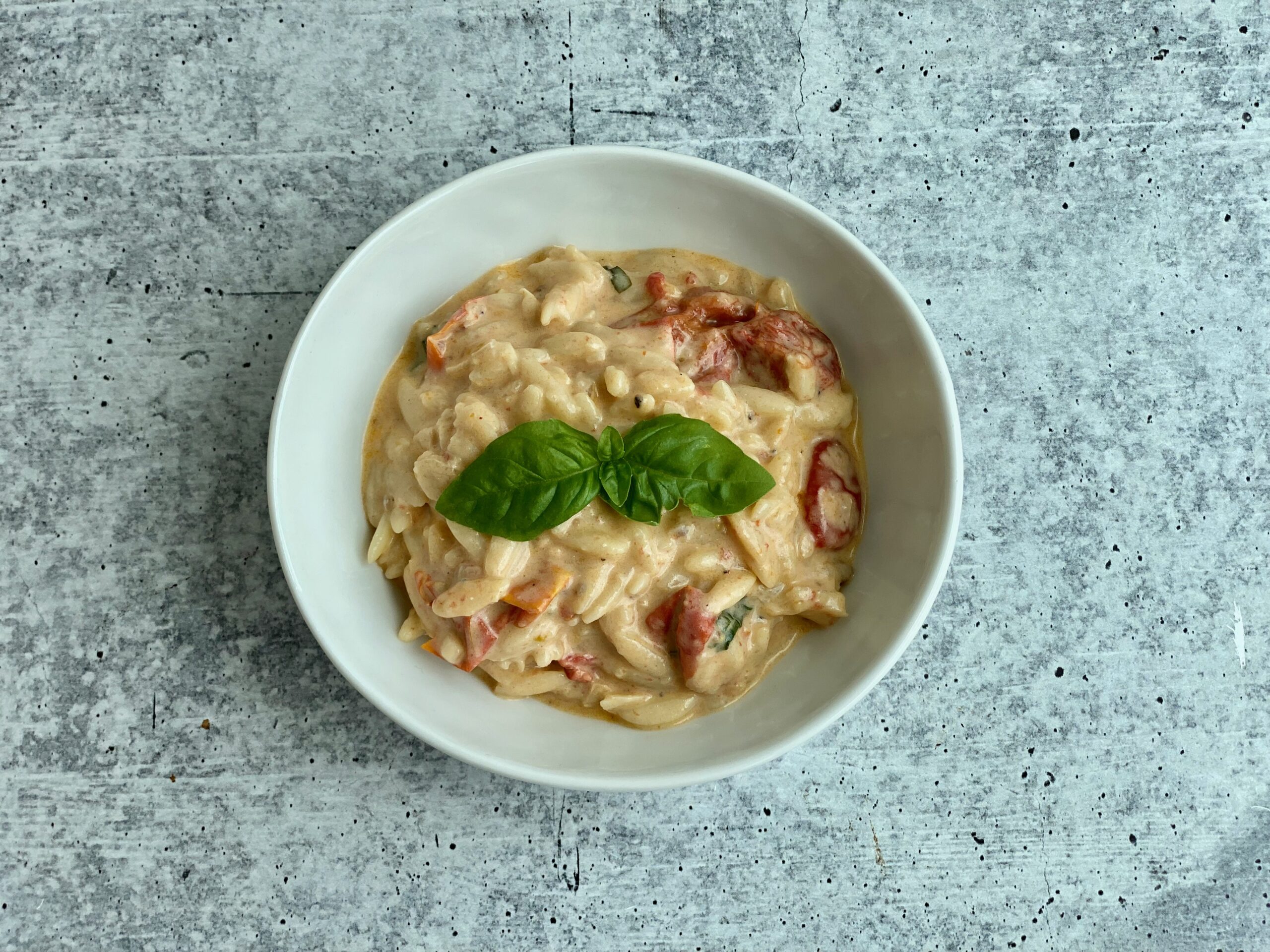 Lastly I stir in some parmesan (because it's called CHEESY orzo after all!) and the roasted tomatoes back into the orzo. Fresh basil rounds out the flavor and adds not only a little color but a little herbaceous-ness to the dish.
This cheesy orzo with roasted tomatoes is definitely going to become a new go-to for me. It pairs nicely with a piece of grilled meat but I could see this being great on it's own paired with a nice fresh salad. It's a perfect recipe if you are like me and want to get the most of your summer tomatoes.
For even more ways to use up your tomatoes:
Want more orzo? Check out this caprese pasta salad recipe
This recipe combines tomatoes and orzo into a soup
And remember, if you try this recipe be sure to leave a comment below and let me know how you like it or tag me on Instagram!
Cheesy Orzo with Roasted Tomatoes
July 4, 2021
: 6
: 5 min
: 45 min
: 50 min
: Medium
This cheesy orzo is combined with roasted tomatoes for a simple side dish.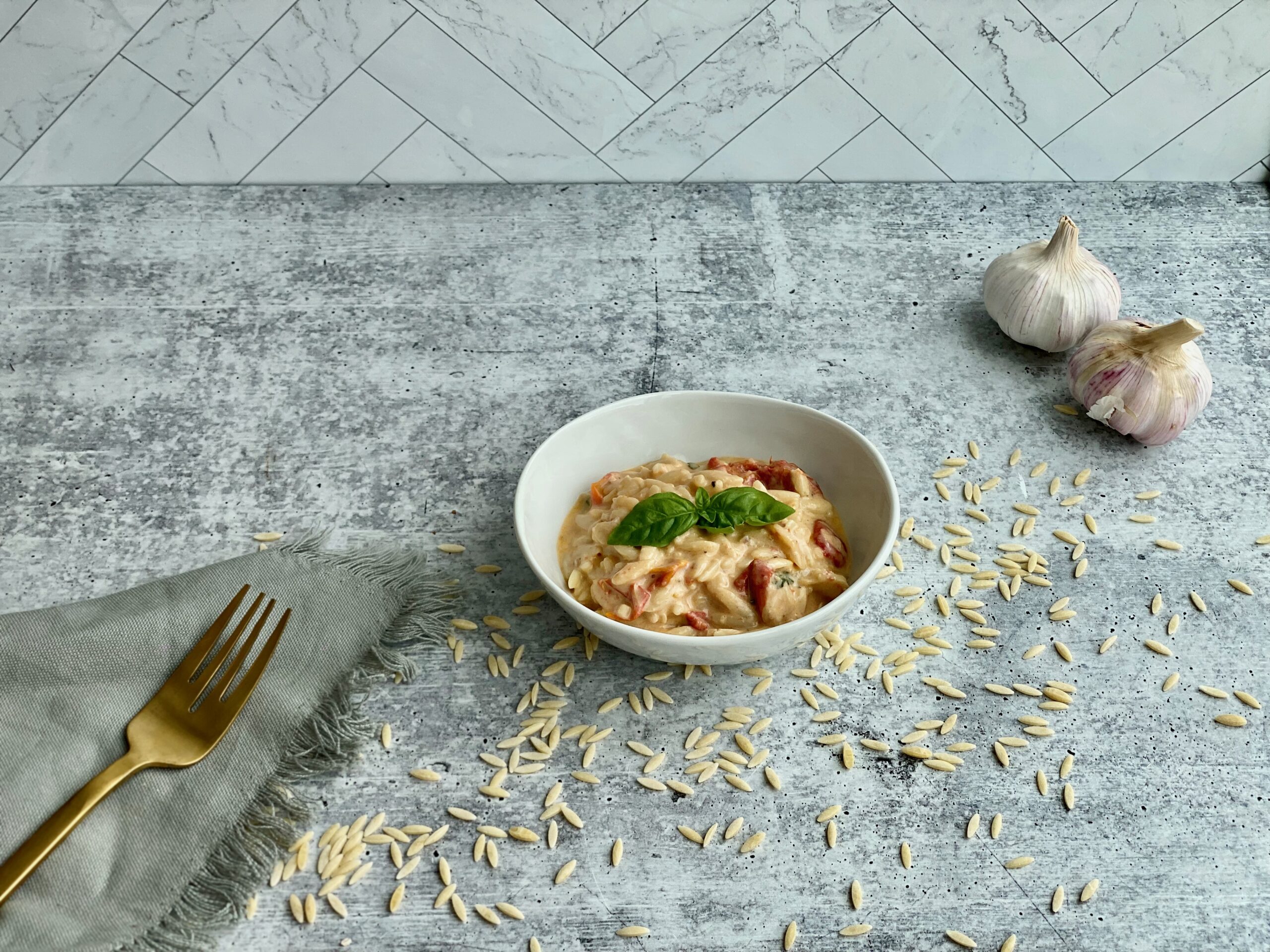 Ingredients
2 pints of cherry or grape tomatoes (any smaller variety will work here)
10 whole cloves of garlic
1/2 c minced yellow onion (about half of a medium sized onion)
1 c dry orzo pasta
6-8 c veggie or chicken broth (I prefer chicken broth here for the extra flavor)
4 TBS marscapone cheese
1/2 c grated parmesan cheese
large handful of basil torn into small pieces or thinly sliced
From the pantry: olive oil, salt, pepper, crushed red pepper flakes
Directions
Step 1

Pre-heat oven to 425

Step 2

In a large brasier or oven safe dish combine tomatoes, garlic cloves, 2 TBS olive oil, salt, pepper and a few shakes of crushed red pepper flakes. Roast for 25 minutes until cherry tomatoes are slightly brown and burst.

Step 3

Remove the cloves of garlic and using a fork crush the cloves of garlic so it makes a paste like substance.

Step 4

Reserve tomato mix in a bowl. No need to rinse brasier out.

Step 5

Add 1 TBS olive oil to braiser. Over medium low heat cook the onion for 10 minutes until softened.

Step 6

Once onion is cooked add in the orzo. Cook a few minutes so some of the pasta starts to brown slightly.

Step 7

Add in 2 cups of broth and the roasted garlic paste, turn heat up to medium

Step 8

When the broth is almost all absorbed add in 2 more cups. If your pasta started to stick to the bottom once you add more liquid start to scrape the pasta up with a flat wooden spoon.

Step 9

Repeat the process one more time. After 6 cups of liquid have been added try the pasta to see if it almost cooked. If so no need to add more. If the pasta is not cooked, add in another cup at a time until the pasta is cooked.

Step 10

Once pasta is cooked stir in marscapone and parmesan cheese. Add back in the tomatoes and fresh basil as well.

Step 11

Stir everything together to combine. Taste the pasta and add more salt and pepper if necessary.