I have a few recipes that when I go home to visit my dad I request for him to make me. His creamy parmesan orzo dish is one of them. He used to make a huge pan of it when we were younger and we would gobble it down. His version and mine are slightly different but they are both delicious and really easy to make!
Never enough garlic
In my family you can never have enough garlic. My grandpa used to kid with my grandma "don't wash your hands" after she chopped it because he loved the smell. My family operates on the rule if a recipe calls for 2 cloves we use twenty. This recipe is no exception. Since I seriously do use twenty-twenty five cloves of garlic I have learned a few tips to make my life easier.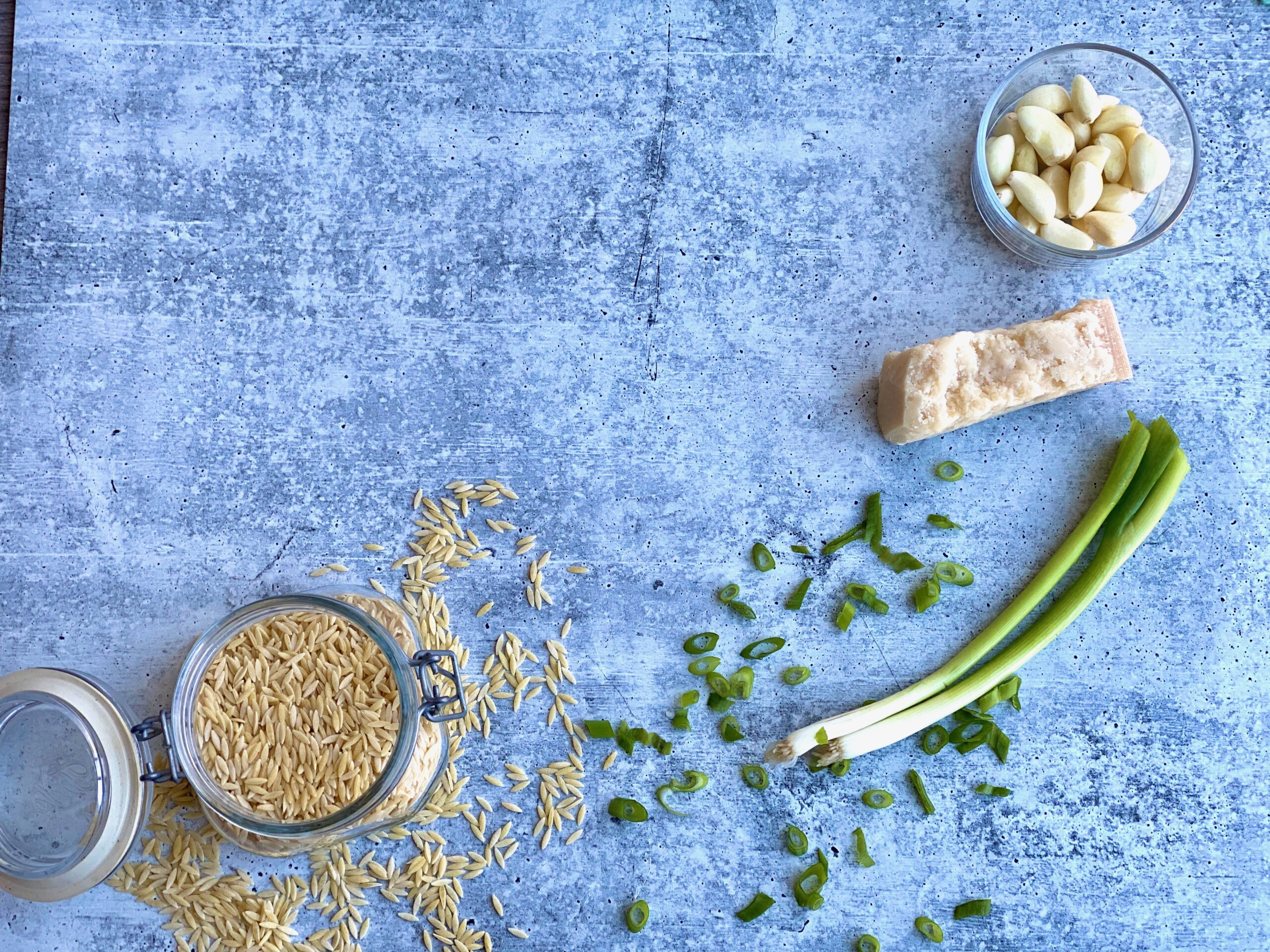 We buy pre-peeled garlic. But I am picky about my pre-peeled garlic. Pre CHOPPED garlic to me doesn't taste good. I feel like the fresh garlic taste goes away after it sits in a jar. I try never to use the pre-minced stuff. Usually jarred garlic is stored in water and some kind of acid to preserve it. I think that changes the flavor. Instead I buy the fresh pre-peeled garlic cloves. These are usually found in the refrigerator aisle at the grocery store with the produce, not on a jar on a shelf somewhere.
Once we buy the whole peeled cloves if I know I am going to need it all chopped I use my mini-chopper to save some time. Then I store it back in the fridge. We also use a ton of garlic so it definitely doesn't take us long to go through it. You definitely can use a bulb of garlic and peel it yourself if that is the only option you have. But remember – less is NOT more!
How does pasta get creamy without cream?
How does the creamy parmesan orzo become creamy when the recipe doesn't call for cream you might wonder. The orzo gets it's creaminess from the cooking method. The orzo is cooked like risotto. I add a few cups of broth at a time until the liquid is almost fully absorbed and then I add more. The starch from the pasta goes into the broth which makes the pasta creamy. At the end I add in parmesan cheese for a little extra flavor that also makes it creamy.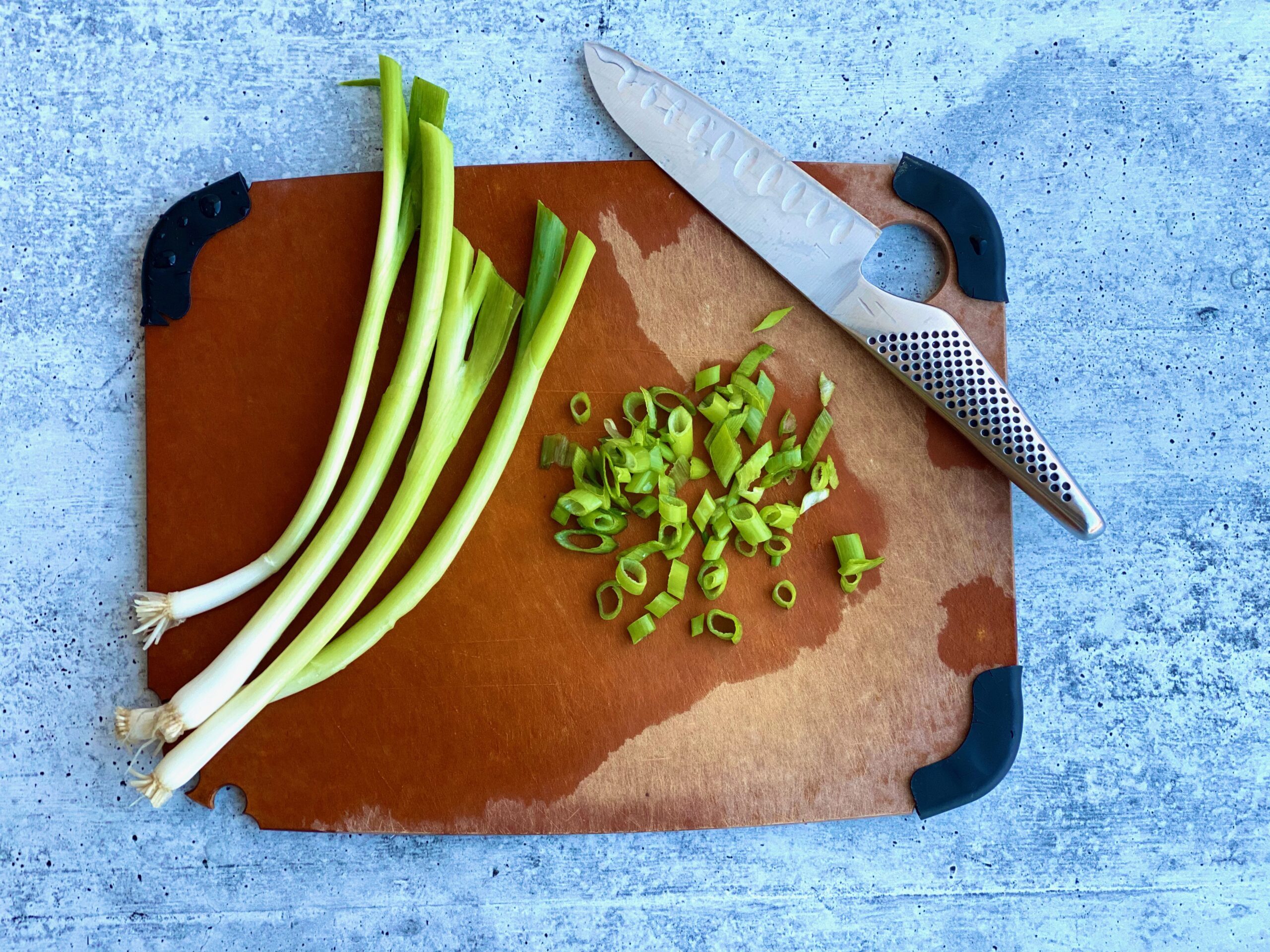 One thing I have kept from my dad's recipe are the scallions. I add the scallions in with the last batch of broth when the orzo is almost cooked. The scallions cook for a few minutes with the pasta. The scallions provide a subtle soft onion flavor to the dish. Additionally they add a little variance to texture in the dish.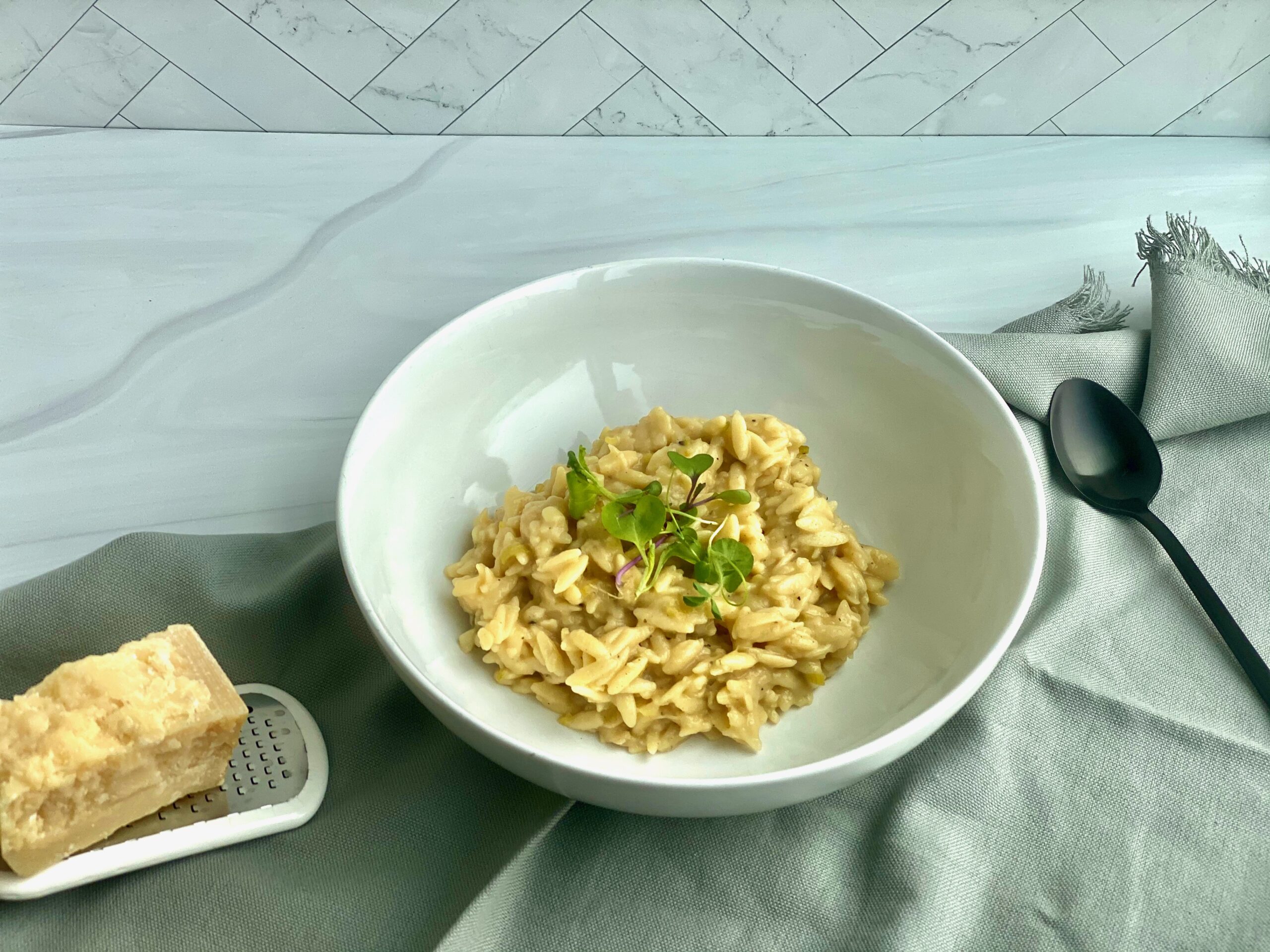 This creamy parmesan orzo dish is super easy to make. It pairs really nicely with any kind of meat, steak, chicken or even shrimp.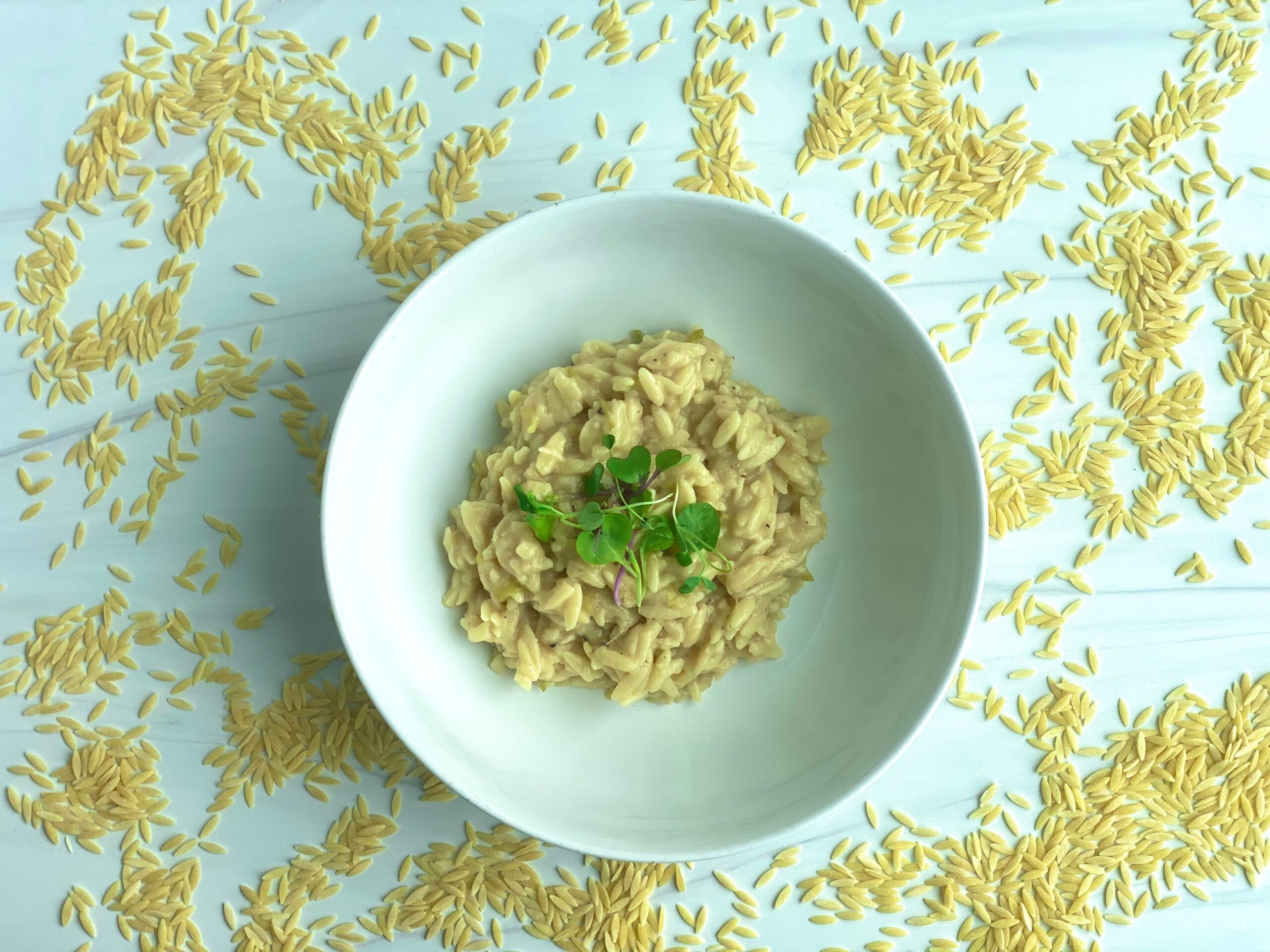 For more easy side dishes be sure to check out these other recipes below:
Herb Lemon Pasta with Breadcrumbs
And remember, if you try this recipe be sure to leave a comment and let me know how you like it or tag me on Instagram!
Creamy Parmesan Orzo
March 14, 2021
: 4-6
: 5 min
: 30 min
: 35 min
: Easy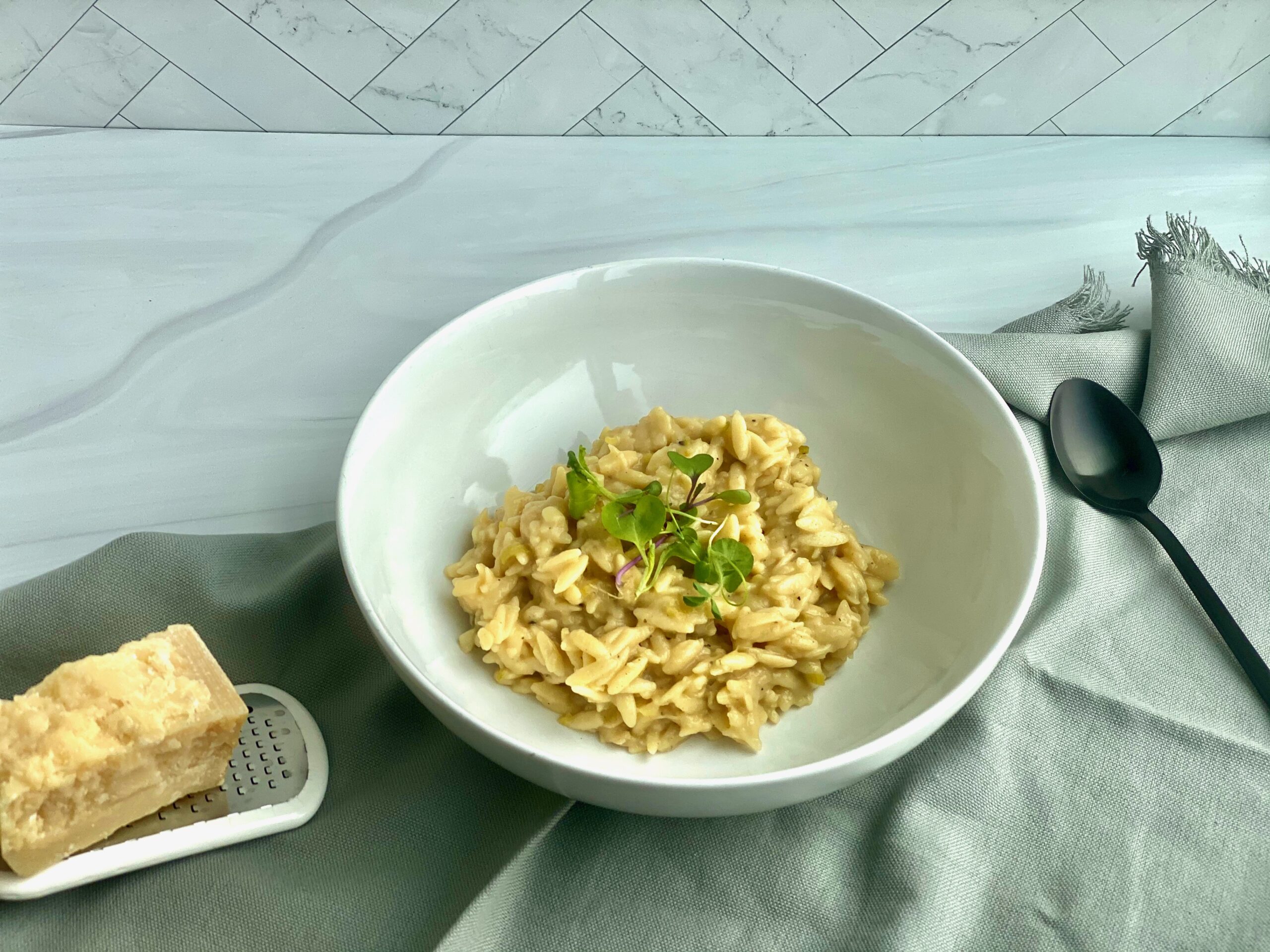 Ingredients
1 shallot, minced
20-25 cloves of garlic, minced
3 TBS butter or olive oil
1 c white wine
1.5 c orzo
7-8 c chicken broth
4 scallions, thinly sliced
1 c parmesan cheese
Directions
Step 1

In a high sided skillet or braising dish sautée garlic and shallots over medium low heat with butter for a few minutes until they soften.

Step 2

Add in the orzo and turn heat up to medium. Cook orzo a few minutes until some of it turns golden brown.

Step 3

Turn heat up to medium high and add in wine. Cook until almost all the liquid is evaporated from wine, a few minutes.

Step 4

Turn heat back to medium, season with salt and pepper. Add in one cup of broth, stir and let broth almost evaporate completely.

Step 5

Once there is hardly any broth left add another cup and stir. Continue this process until about 6 cups of the broth are gone.

Step 6

After about 6 cups of broth add in the scallions.

Step 7

At that point try your pasta. You want the pasta to be al dente. If the pasta is not cooked fully then continue to add one cup of broth, then try again.

Step 8

Once the pasta is cooked thru stir in parmesan cheese and serve.