I seriously could eat soup every day, but especially in the winter. Lately I have been loving a good brothy soup. Normally I cook with a lot of vegetarian broth but there is something about chicken broth that makes me feel comforted. And I love it if I feel even a twinge of a cold coming on. Which has been often these days. Kids in daycare = colds NONSTOP. So I have been putting a spin on chicken noodle soup by making a lemon couscous version. This version is a game changer.
Like most of the soups I make it starts with a mirepoix which is carrots, celery and onions. In addition to the mirepoix I add in leeks, bay leaves and garlic. I like to cook the veggies over a low heat to let them get nice and soft. Once they are cooked I add in my broth and bring it up to a boil.
Fake it til you make it – with store bought bone broth
Here is my new cheat ingredient – bone broth. You can find so many varieties of chicken broth, chicken stock and bone broth now all in a box. Pacific has been one of my go-to broth's for a long time and now they make bone broth too. You can tell instantly the difference between the bone broth and the regular broth or stock. The color is so much richer, and so is the flavor. It's more expensive but I promise it's worth every penny.
A few of my other favorites are Kettle & Fire, they slow cook their broth and have an auto ship option to save 20%. I also love the bone broth you can get in the freezer section as well. This just will take your soup a little bit longer to come to a boil. If you are buying a boxed or frozen broth be sure to read the labels. I have found some sneaky ingredients make their way into boxed broths like sugar, carmel color and natural flavors to add a few.
The star ingredients – lemon & couscous
So in lieu of normal egg noodles for chicken soup I have been swapping in pearl couscous. It makes me think of a grown up version of alphabet soup. Plus you don't have to slurp up the noodles off your spoon so your spouse and co-worker won't give you the stink eye when you eat! While the pearl couscous is more like a pasta it does have added health benefits. It is rich in selenium which is an antioxidant that helps your body reduce inflammation. It also does have some protein to it as well (approximately six grams for every one cup cooked).
My last change to regular chicken noodle soup is the fresh squeeze lemon. There is something about the tanginess of the lemon that pairs so nicely with the broth and seasonings. Lemons are loaded with Vitamin C so when added to your soup it give you that boost if you are truly fighting off a cold. But even if you aren't it simply adds extra flavor to your soup so don't leave it out.
Simple changes to classics can really be a game changer. And this lemon couscous soup is no exception!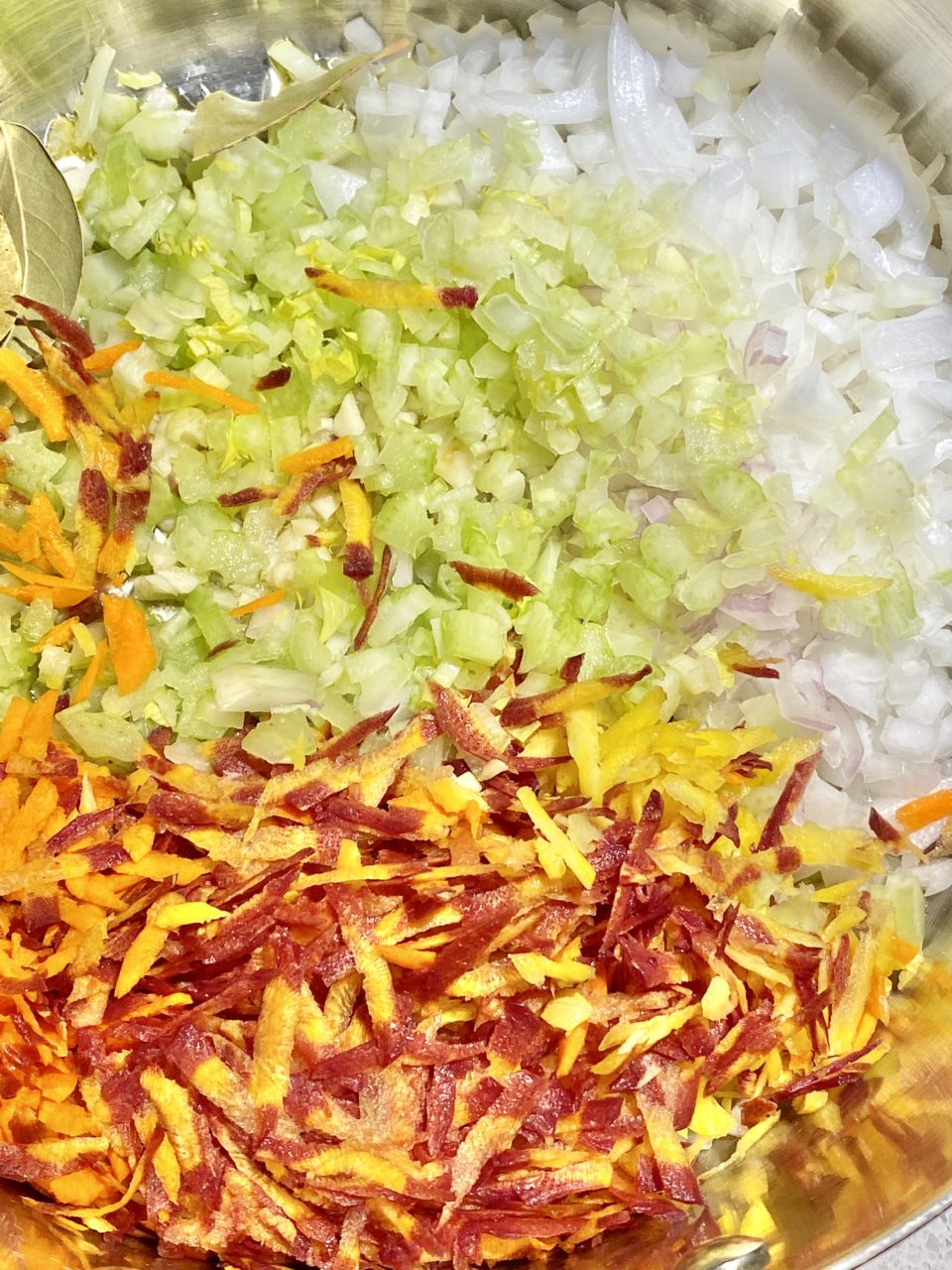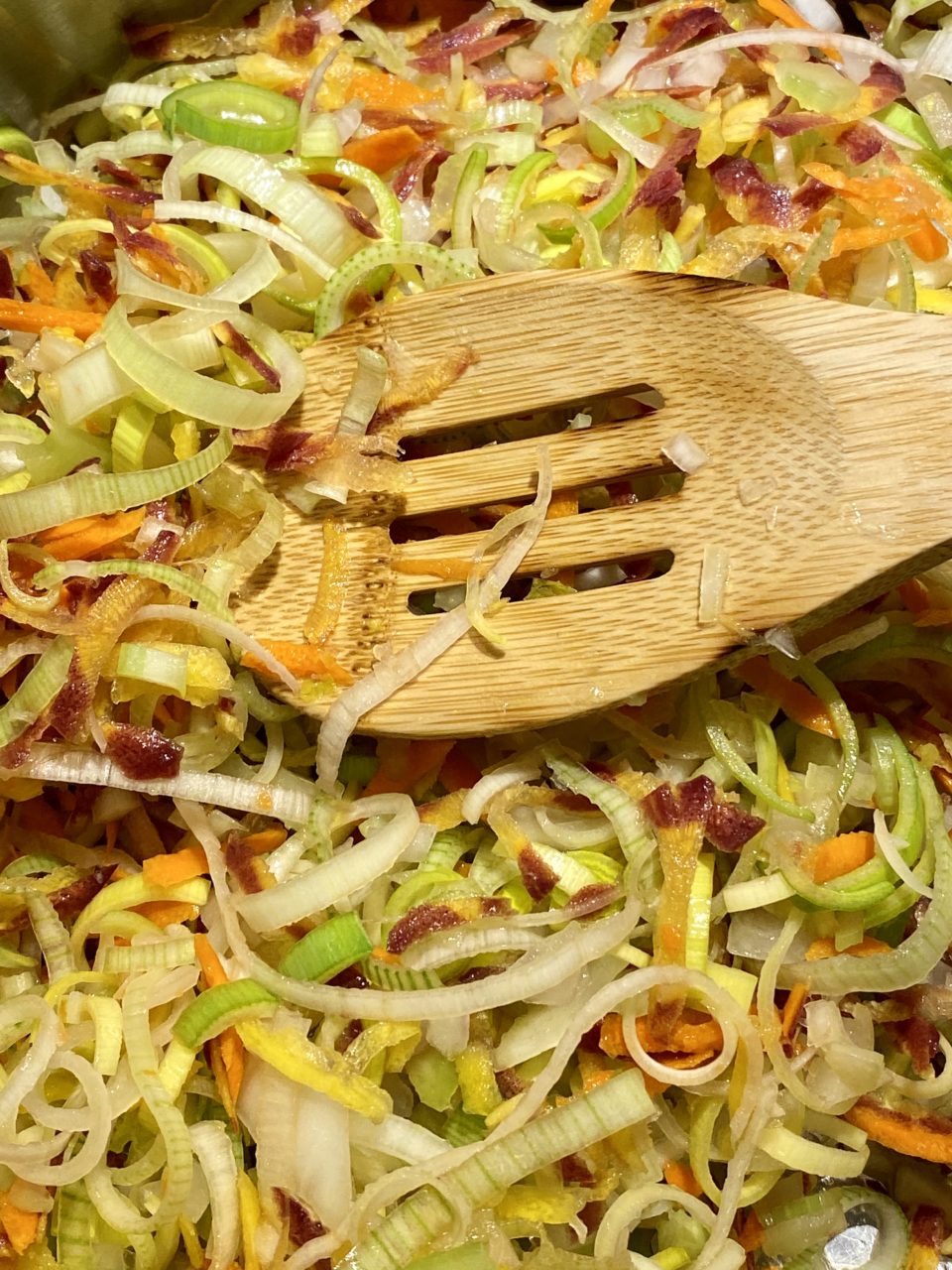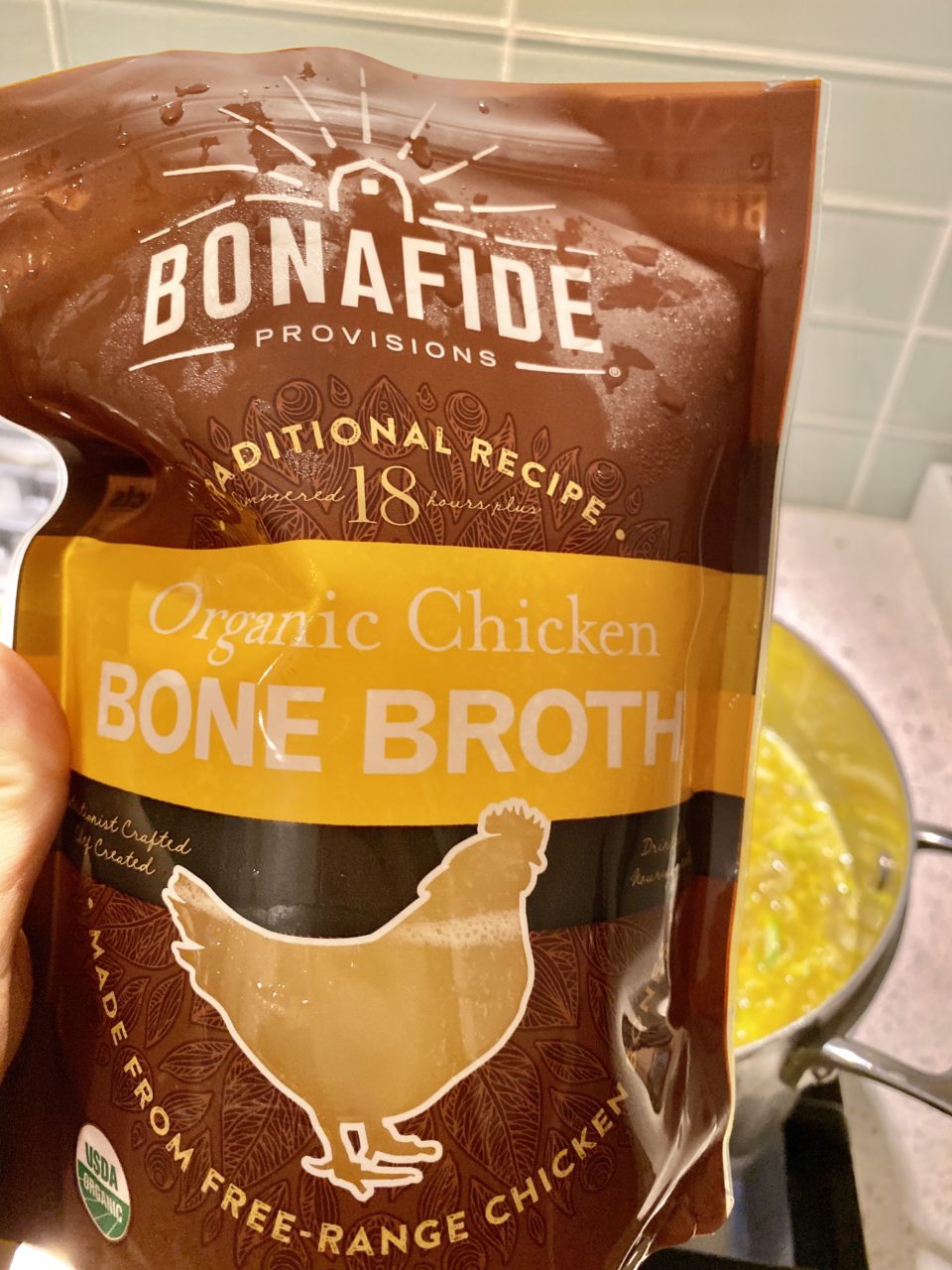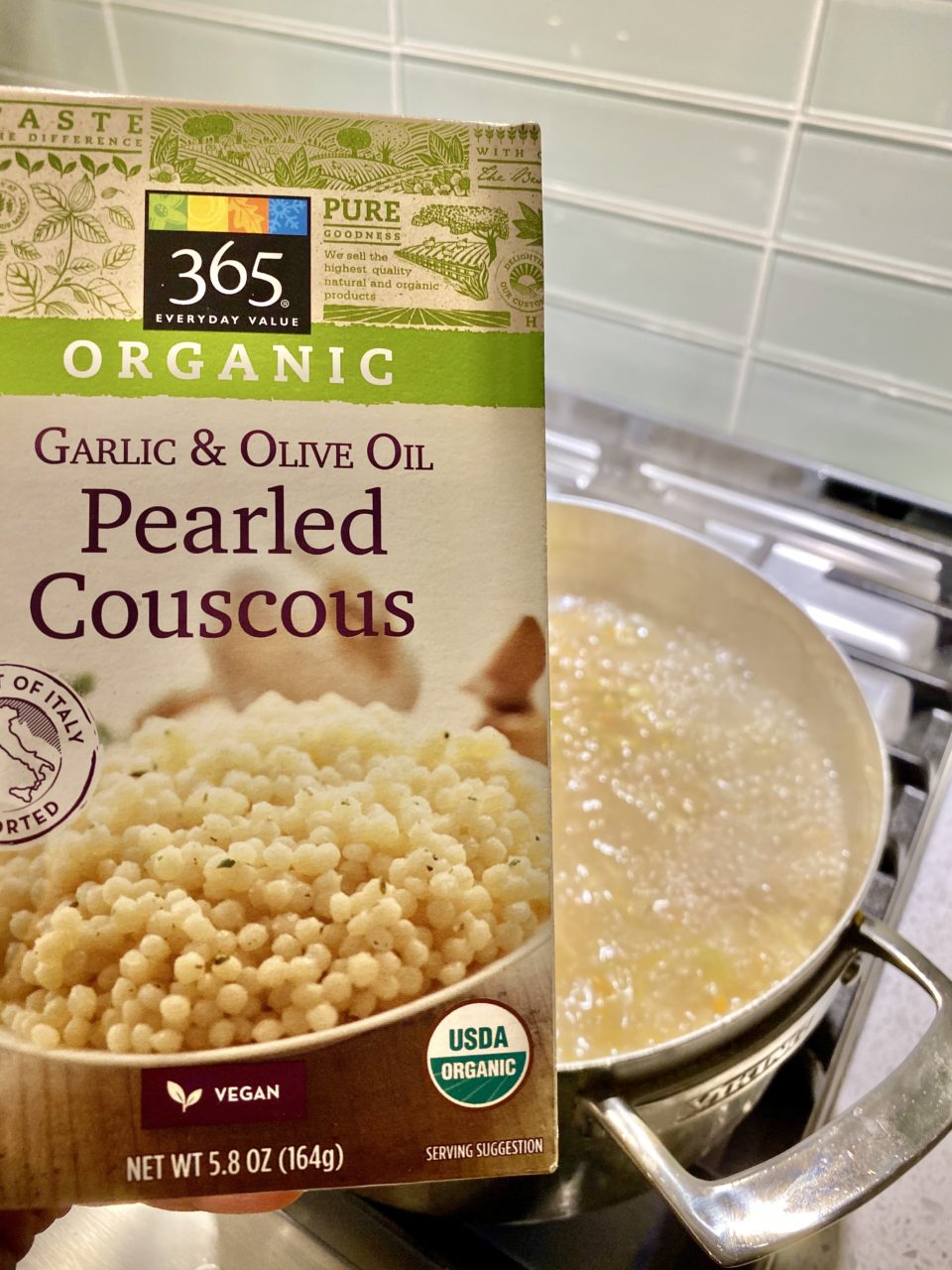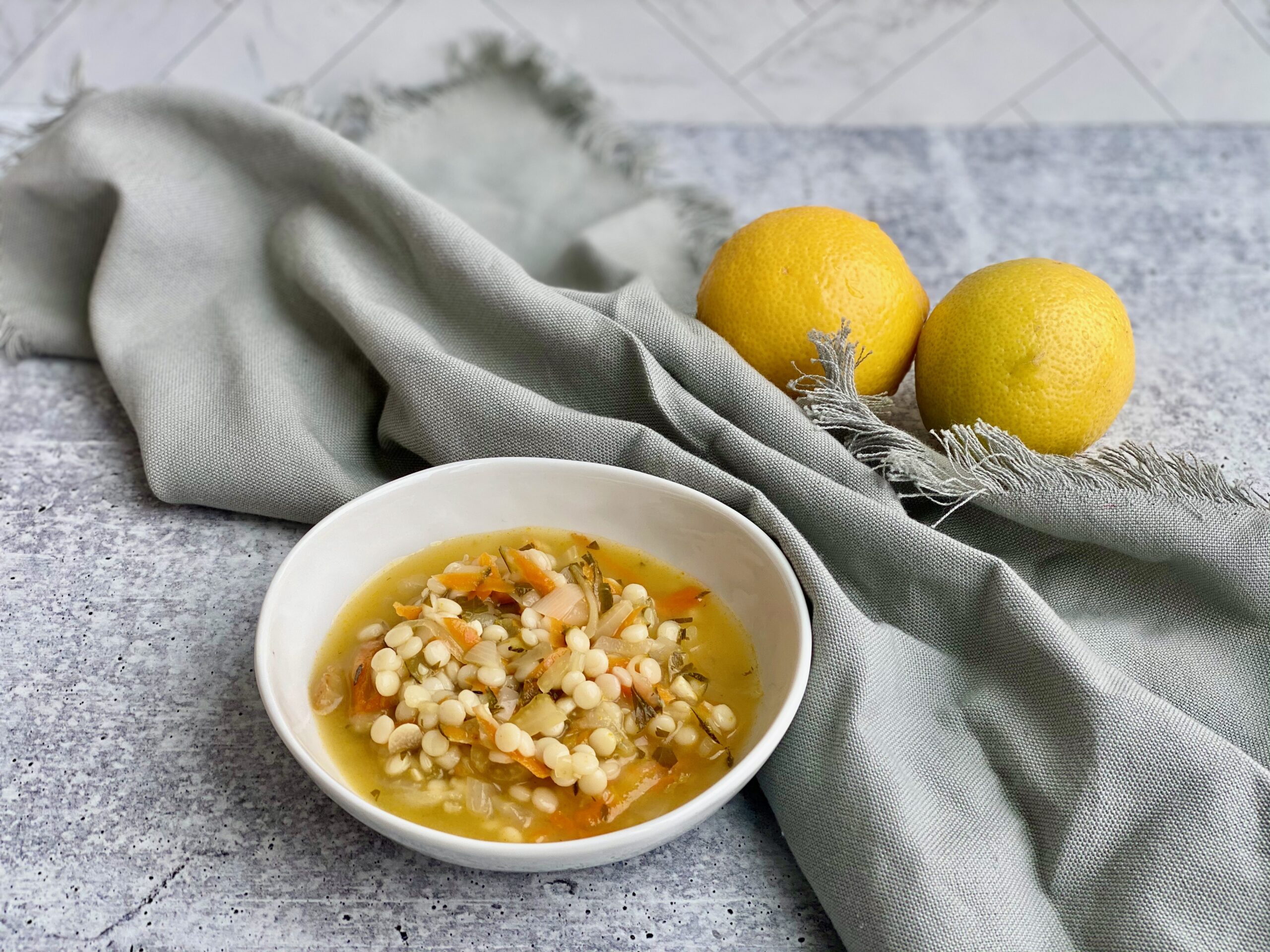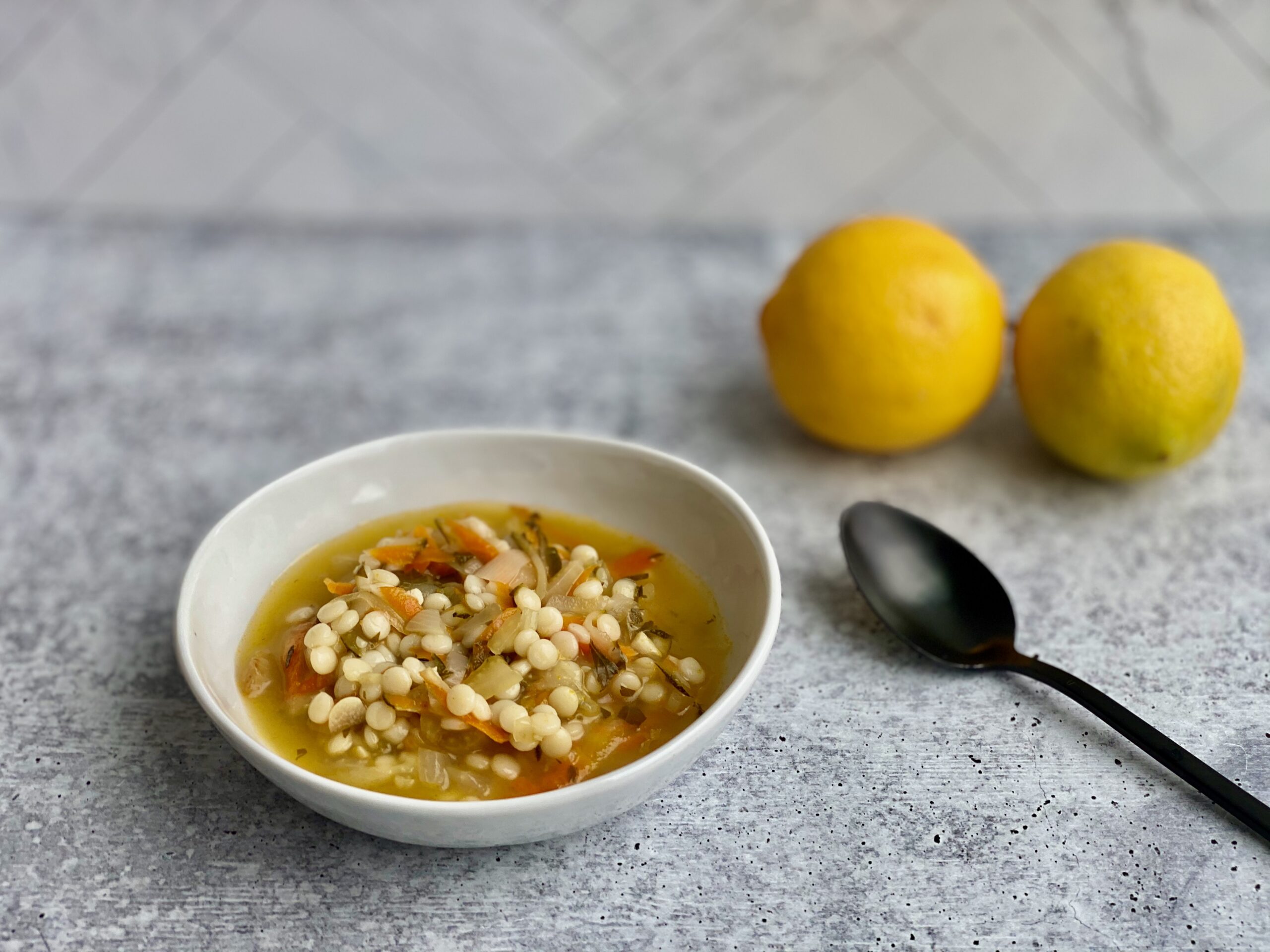 If you liked this lemon couscous soup you will love these:
Avgolemono soup – Greek lemon rice
Speaking of lemon rice – this side dish is easy and lemony
If you like the combo of lemon and pasta try this Italian inspired mac & cheese
Print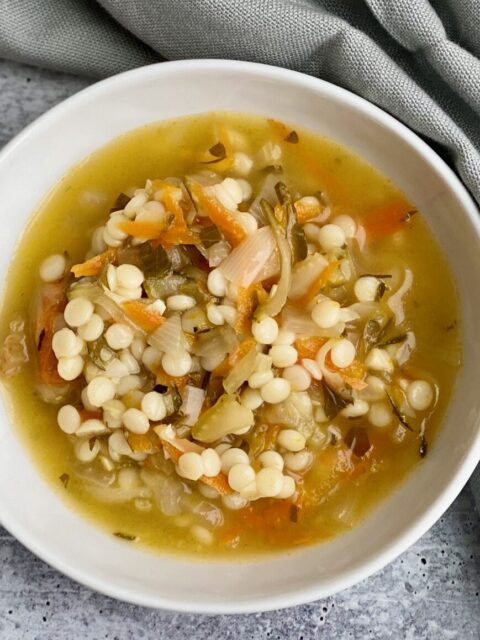 Lemon Couscous Soup
---
6–8 stalks of celery, thinly sliced
3 carrots, grated (or 1 c already grated carrots)
2 leeks, thinly sliced light green and whites only
1 onion, diced small
5 cloves of garlic, minced
1 shallot, minced
2 bay leaves
2 medium zucchini, grated
12 c chicken broth (HIGHLY recommend using bone broth for at least 6-8 cups, the flavor is SOOO much better)
1.5 c pearl couscous
Juice of 3 lemons
A large handful of Italian parsley, minced
Parmesan cheese for topping (optional but really good!)
---
Instructions
In a large soup pot sautée celery, onion, carrots, garlic, leeks, shallots and bay leaves over medium low 15-20 minutes until softened.
Once veggies are cooked add in broth and zucchini and bring up to a gentle boil. Season with salt and pepper.
Add in couscous and cook according to package instructions (I find usually 20 minutes is enough time). Once you add in couscous add in the lemon juice.
When couscous is cooked stir in the parsley.
Top with parmesan cheese for a nutty finish!
Notes
If you are missing actual chunks of chicken you can buy a rotisserie chicken and shred it in at the end.
Prep Time: 10
Cook Time: 40