It's getting cold out finally here. There is something about the winter that just makes me crave comfort food. Typically during the week we eat really healthy. Monday thru Thursday are pretty much vegan meals and we save our cheat meals for the weekends. Even our cheat meals tend to be healthy but this weekend wasn't. I had been craving cheese and pasta and it had been awhile so I decided to make some mac and cheese. And what goes better with mac than bacon? So we headed out to the store to get everything to make beer and bacon mac.
I have been going back to old school ways of cooking. When I was in college you wouldn't catch me cooking with butter. To this day I mostly use olive oil but there is something about real butter that can really make things taste better. I feel the same about bacon fat. After I cooked up my bacon I reserved some of the fat to cook my shallots and garlic in. There is a nice smokiness that the bacon fat infuses into the vegetables that gives the mac a little something extra.
A few years ago I made a really good cauliflower beer cheese soup (recipe here) so I took some inspiration from that to make the cheese sauce. Whole Foods sells single cans of PBR (thank you neighborhood hipsters!) so I didn't have to buy a six pack since we don't drink beer. The beer gives the cheese sauce a subtle tanginess that pairs well with the gouda and sharp cheddar cheese in the sauce. To lighten the sauce up a little I use chicken broth instead of milk. I personally don't think you can tell the difference once you whisk the cheese in anyway.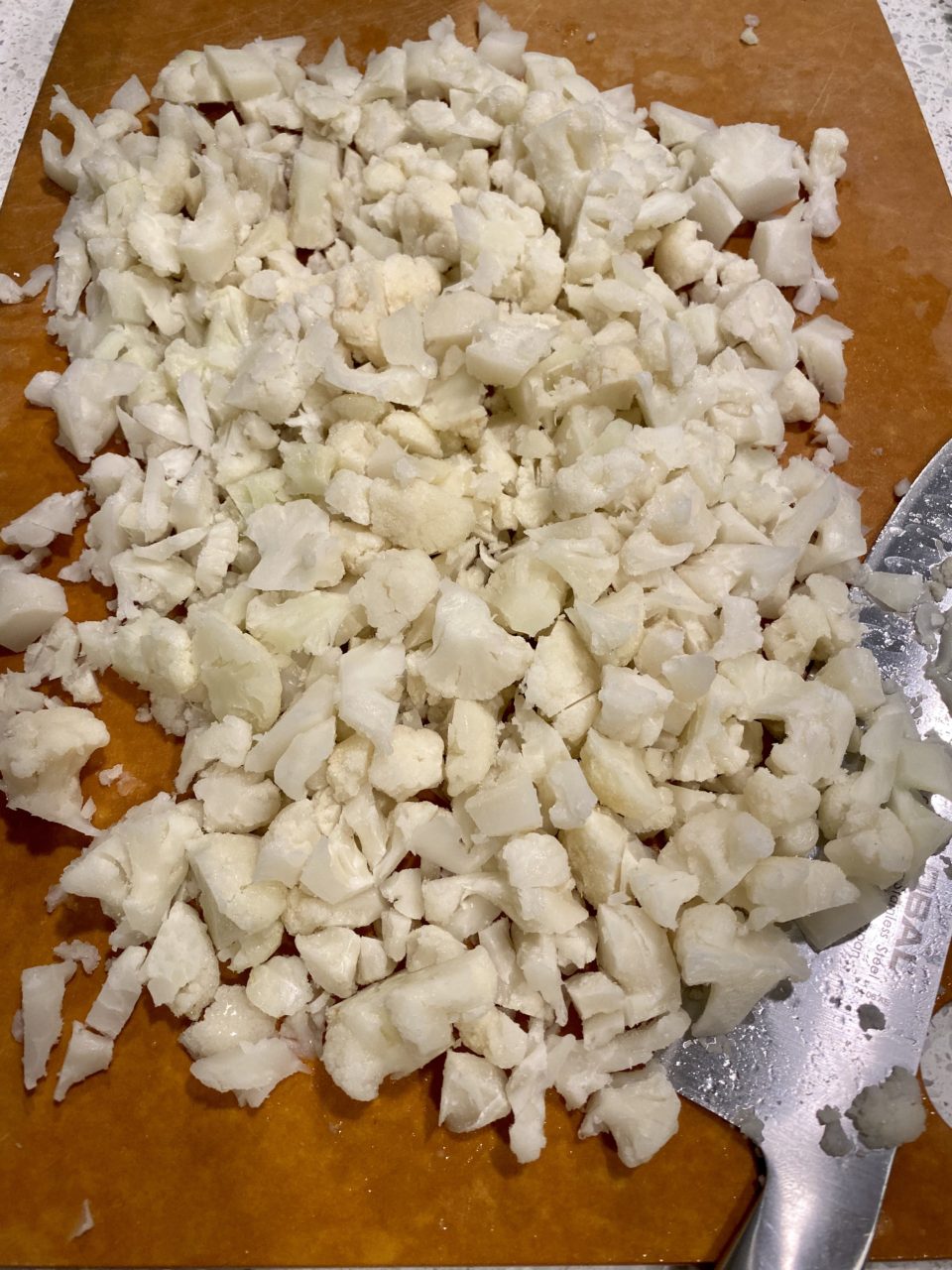 Another trick I use in this recipe is using frozen cauliflower. I find that chopping a whole head of cauliflower or broccoli can be time consuming. So lately I buy a one pound bag from the freezer and let it sit out while I cook. Then I empty the bag onto a cutting board and chop the florets down even smaller. Because the cauliflower has had some time to thaw a little it becomes really easy to chop. Then to save time and washing a dish, I throw the cauliflower in with my pasta when my pasta is almost done cooking.
Comfort food doesn't have to be unhealthy. There are ways to lighten up old classics. With little changes like beer, bacon and cauliflower you can also put a new spin on an old classic. Your stomach will thank you!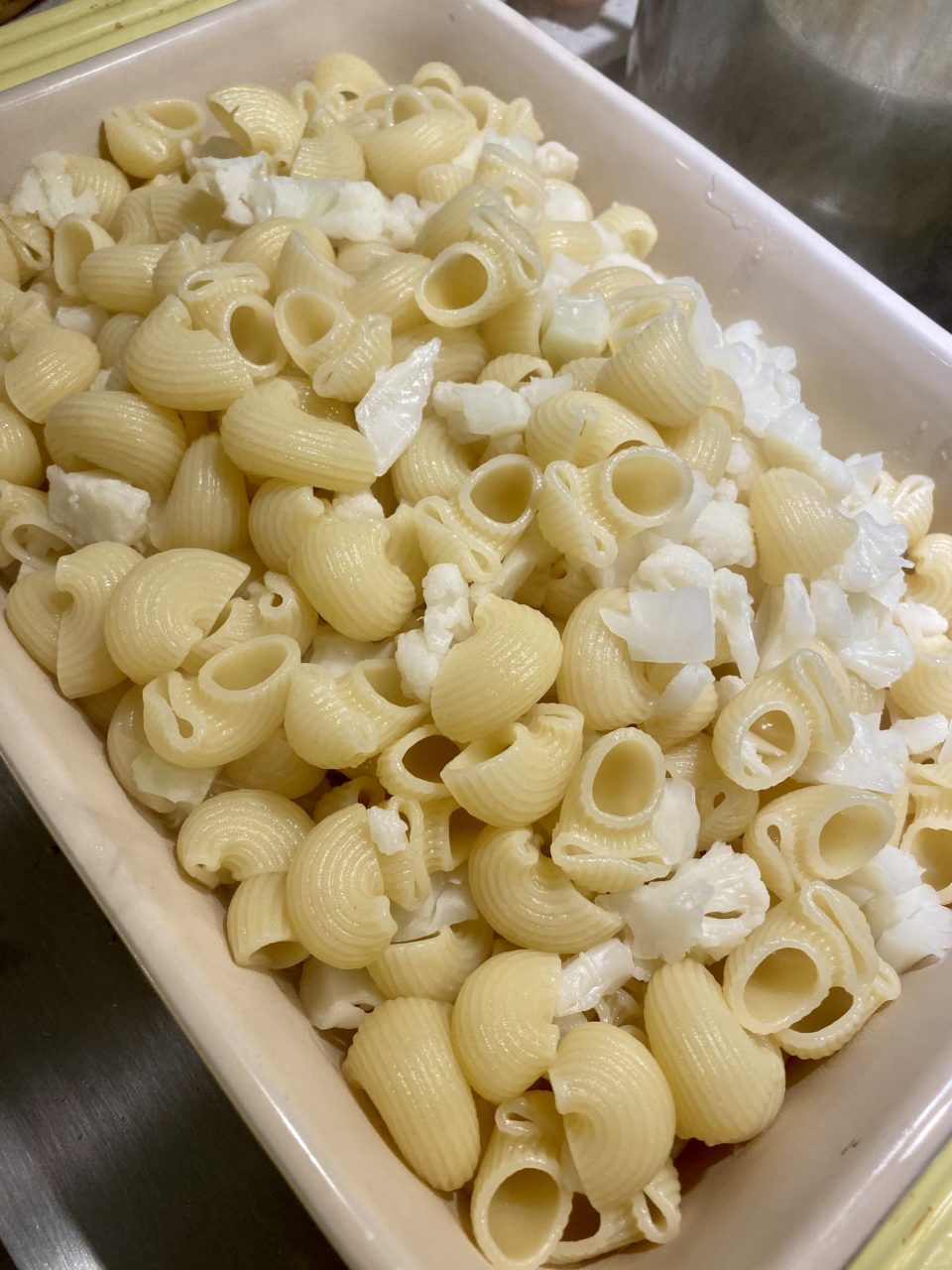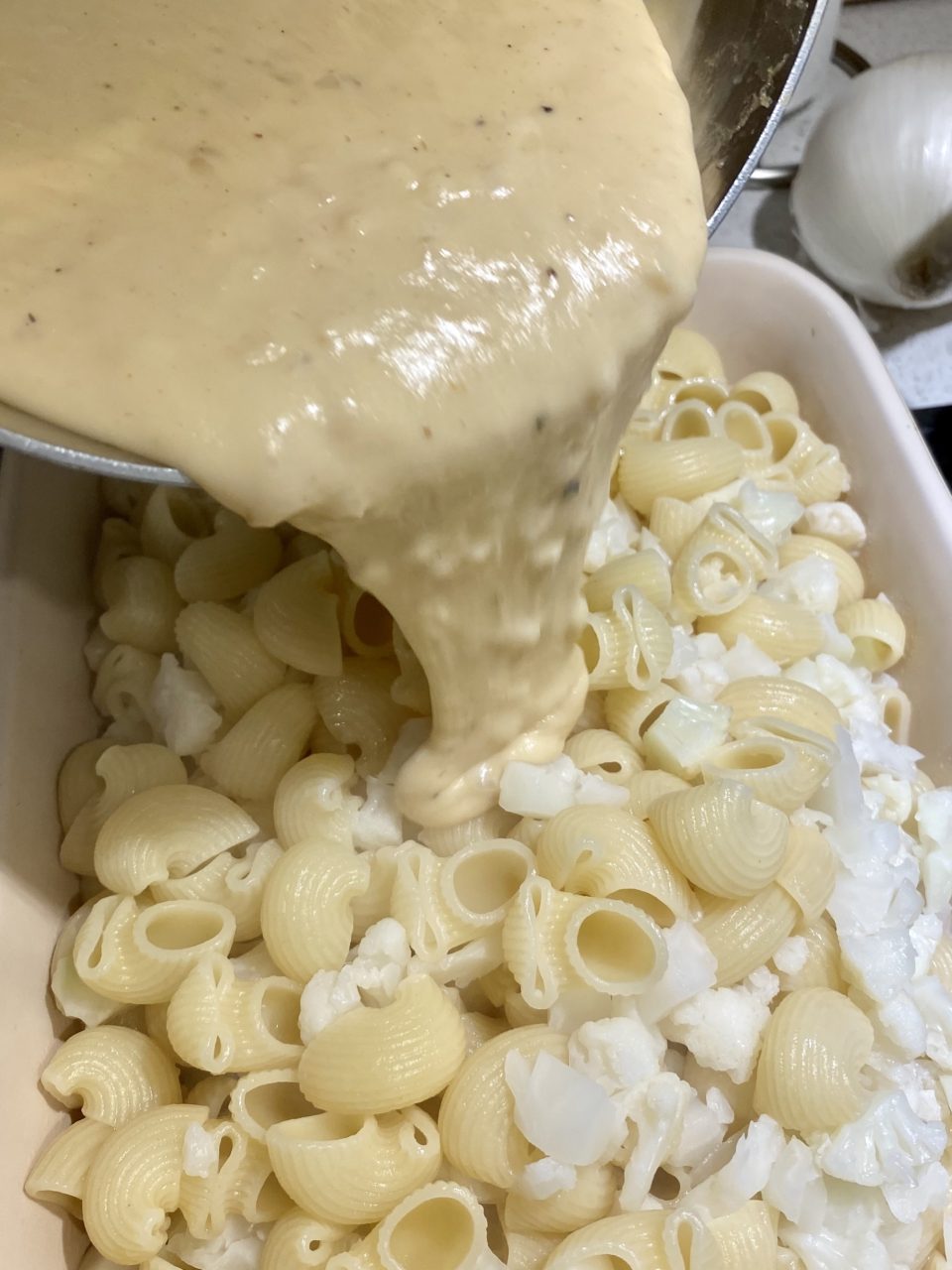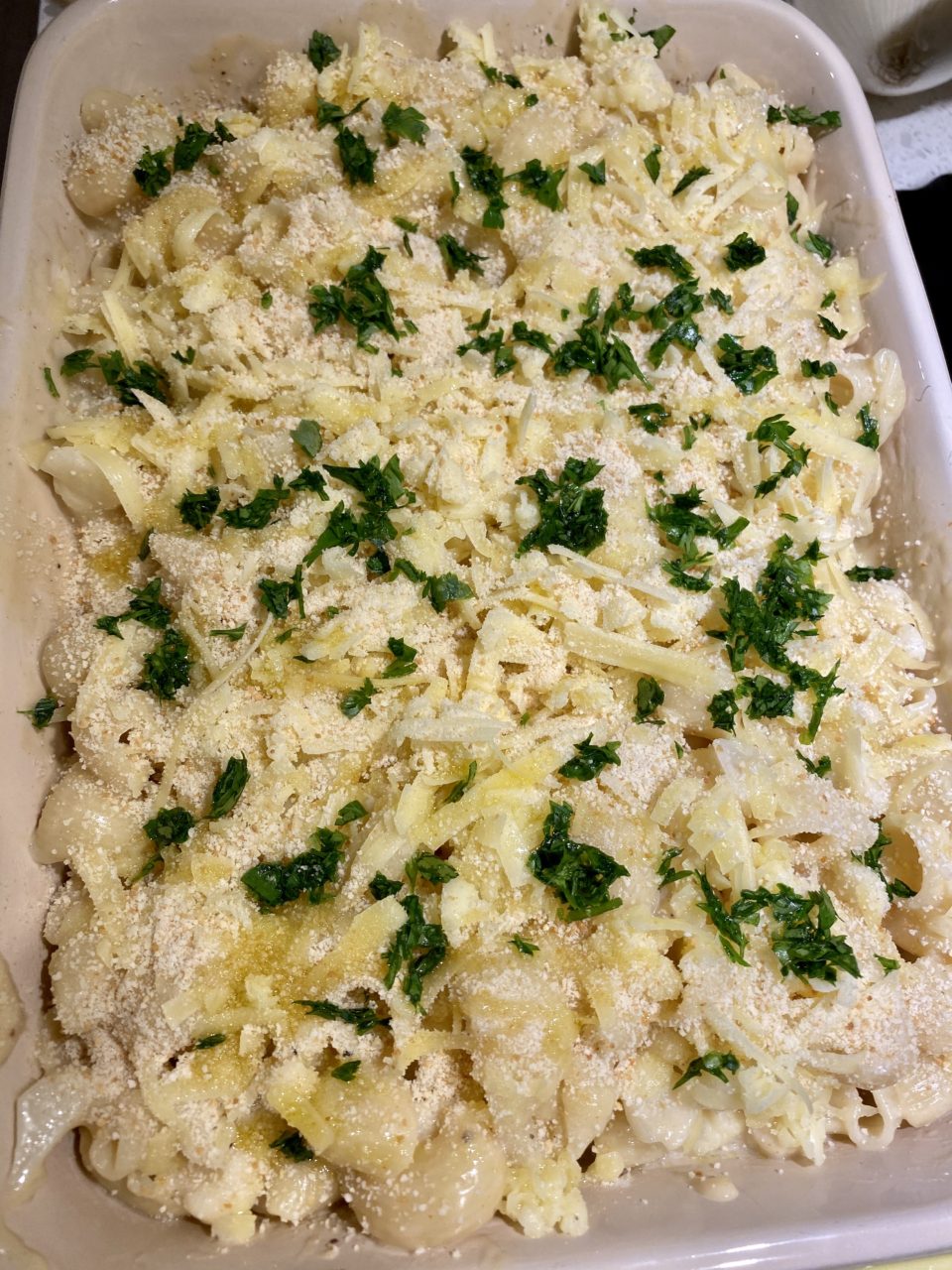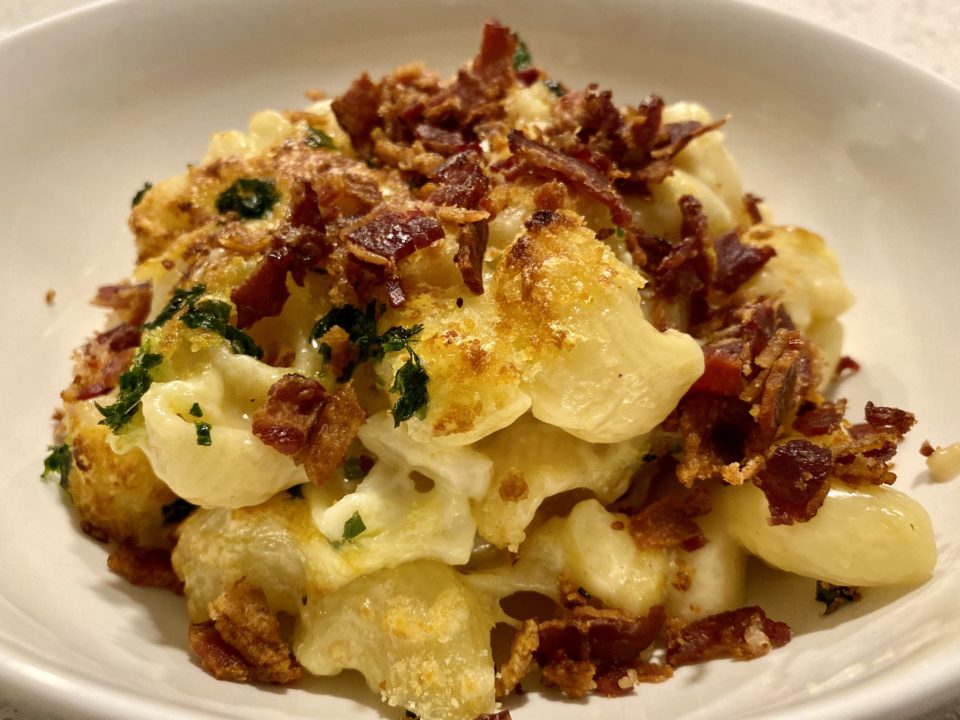 Print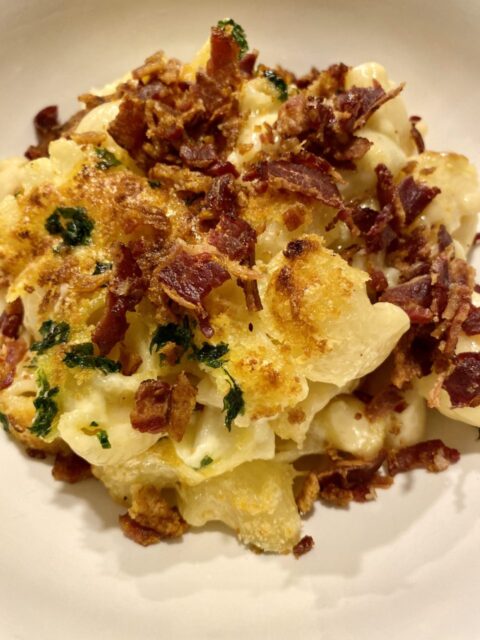 Beer & Bacon Cauliflower Mac
---
1 lb of bacon
1 large or 2 small shallots, minced
6 cloves of garlic, minced
1/4 c flour
1/2 c light beer
2 c chicken broth
1/2 tsp ground mustard
1/4 tsp nutmeg
1/2 tsp paprika
1/2 tsp Worcestershire sauce
2 c shredded cheese (I used a combo of Gouda, sharp white cheddar and Monterey jack cheese, make sure to grate the cheese yourself versus using the pre-shredded variety)
1 lb of smaller pasta shape (shells, macaroni, fusilli all work great for this dish)
1 lb of frozen cauliflower florets
1//2 c panko bread crumbs
Small handful of Italian parsley, minced
---
Instructions
Pre-heat your oven to 415. Take frozen cauliflower out of freezer to start to thaw.
Line a cookie sheet with parchment paper (or aluminum foil) and place bacon in single layer. Bake for 15-20 minutes flipping every 4 minutes until bacon is cooked to your liking. Be sure to keep an eye on it because it can go from being almost done to overdone quickly. Once bacon is cooked place on a plate with paper towel to absorb the grease and set aside.
Put a large soup pot full of water on to boil. While water is coming up to a boil start to make your cheese sauce. In a large sauce pan spoon in 4 TBS of leftover bacon grease. Over medium low heat cook garlic and shallots for a few minutes until soft and fragrant. Mix in the flour and stir together. Let flour cook for a few minutes while stirring.
Turn up heat to medium high and add in the beer. Cook and whisk together for a few minutes until most of the beer has cooked out. Add in the chicken broth, nutmeg, paprika, mustard and Worcestershire sauce. Season with salt and pepper. Continue to whisk for a few minutes until the liquid mixture has started to thicken up. Turn heat down to medium low.
Take the cauliflower out of the bag onto a cutting board. Chop in a large dice, you want the size of the cauliflower to be around the same size as your pasta.
Once your pasta water has come to a boil salt the water liberally with sea salt or kosher salt. The water should taste like the ocean! Add in your pasta. Check the instructions for cooking time. Set a timer for two minutes less than the lowest time they recommend. Example: if cooking time is 9-11 minutes set the timer for 7 minutes. When the timer goes off add in your cauliflower to the pasta to cook. Check pasta in 2 minutes. You want the pasta to be a little al dente as it will continue to cook in the cheese sauce.
While your pasta is cooking, finish your cheese sauce by slowly whisking in a handful of cheese at a time. Each time you add more cheese you want to make sure it is fully melted into the sauce. Save a large handful of the cheese to the side. Once cheese is stirred into the sauce turn the heat off and set aside. If your mix is too thick add a few TBS of chicken stock to the mixture to thin it out slightly.
Pre heat broiler to high.
Once you have drained the pasta place back in your pasta pot and stir in the cheese sauce. Transfer pasta mix to a large baking dish. Top with the remaining cheese, panko bread crumbs and Italian parsley. You can also drizzle a little more bacon fat or olive oil over the top of the breadcrumbs which will help them get nice and brown. Place under the broiler 3-5 minutes (be sure to keep an eye on it!) until the top is golden brown.
Don't forget your bacon! Crumble up to serve on top of the mac while serving.
Notes
You can make this vegetarian by omitting the bacon and bacon fat. Instead of the bacon fat you can use butter, avocado oil or extra virgin olive oil.
Prep Time: 5
Cook Time: 45