Hi, I am Karissa. I am a carboholic. If you are new to my blog then I am glad we got that out of the way. For those of you who have been around you are well versed in my love for carbs but mostly PASTA! We usually reserve our heavier meals for the weekends. I was CRAVING mac and cheese but also wanted something lemony. So I figured what if I made and Italian inspired mac and cheese and got the best of both worlds?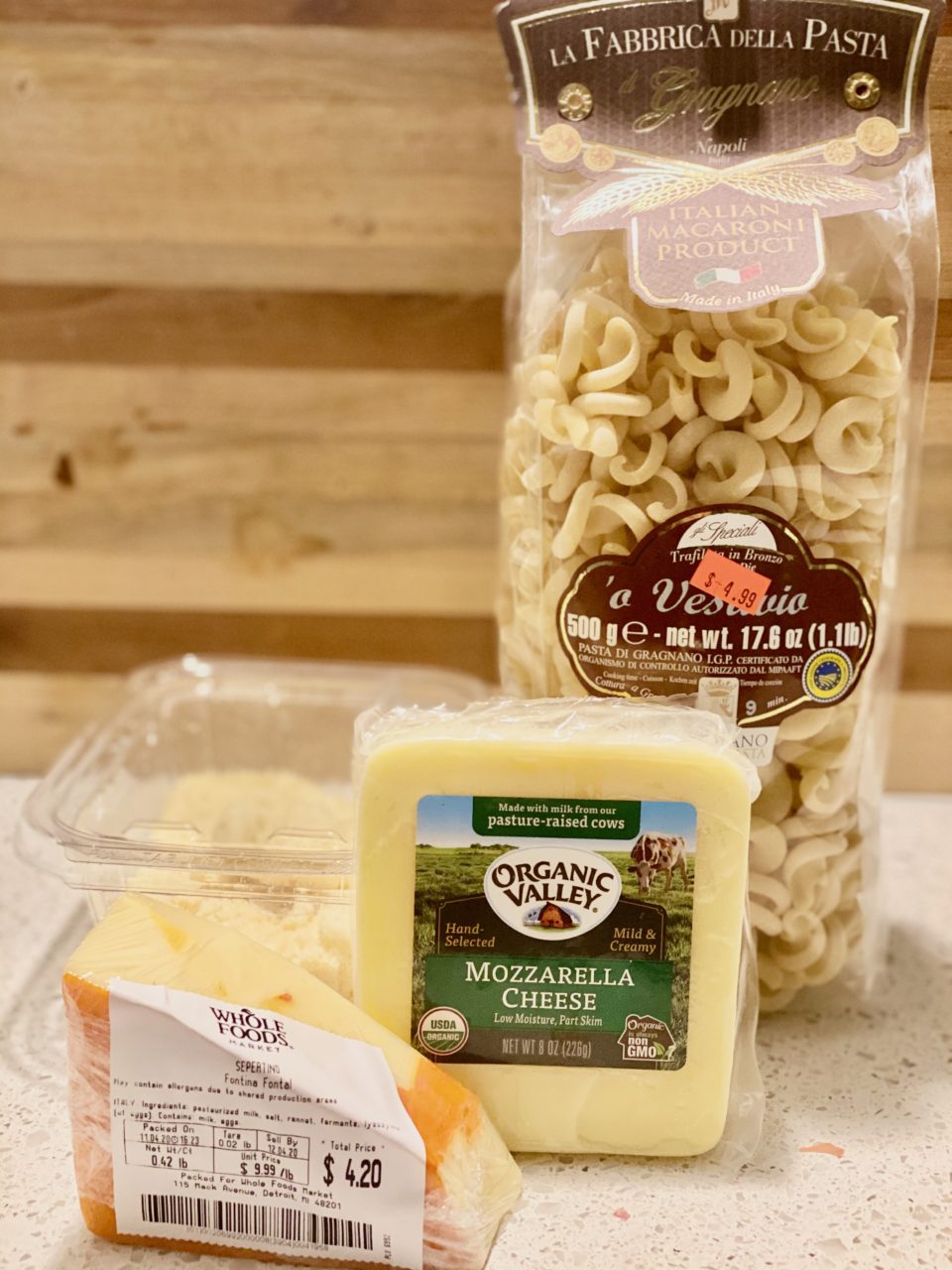 Let's talk cheese…..
I think the key to a good mac and cheese is using good cheese. I have made my fair share of mac and cheeses now to know a few tricks. First, shred the cheese yourself! Pre-shredded cheeses usually have preservatives added to it for shelf life but that can affect your cheese sauce. Sometimes the sauce will taste powdery or worse yet, your cheese won't melt nicely. If you are taking the time to make homemade mac in the first place, go the extra mile and grate the cheese yourself. And the good varieties (like fontina!) usually don't come pre-shredded!
Secondly, use good cheeses! In this version American cheese is not going to cut it. For this Italian mac and cheese I wanted strong Italian flavors. So I mixed fontina, parmesan and mozzarella for that extra creamy factor. Plus the bonus of using a good cheese, you don't have to use as much of it to get that intense cheese flavor so you can save a few calories. Speaking of saving calories, I use chicken broth for the base of my sauce. I find that cheese gives the sauce so much richness that you don't need the milk. And honestly I think a chicken (or veggie) broth has more flavor than milk anyway.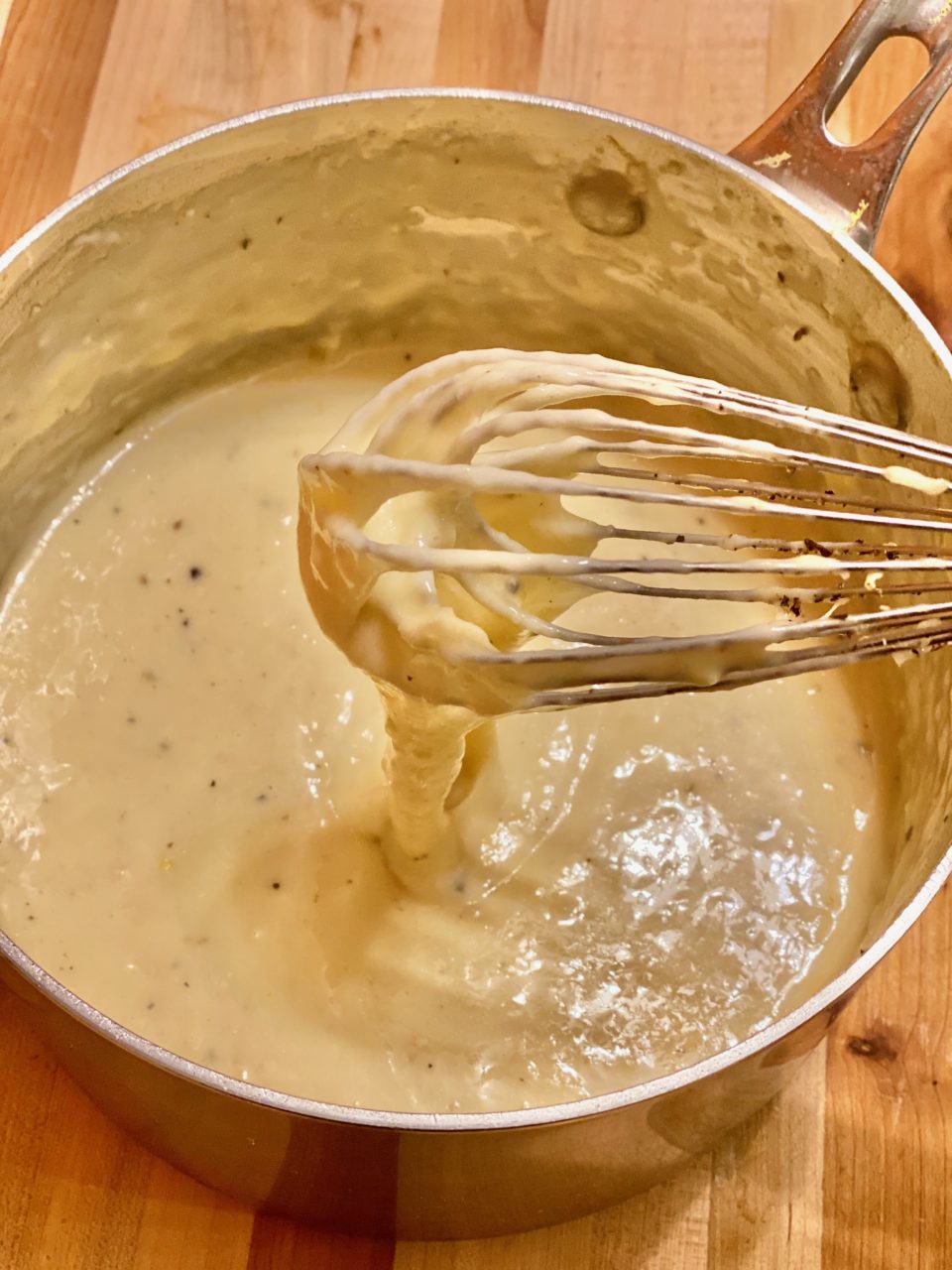 Let's talk pasta……
While we are splurging on good cheese don't forget the noodles. I personally think that using a good pasta in a pasta forward dish is the way to go. My go-tos, organic imported from Italy. At a minimum I go for imported pasta from Italy if it's not organic. I can't explain it the pasta from Italy is just 100 times better than what we get here. Well, I take that back, the Italians have been making pasta longer than any American so that probably is why! Also read your ingredients. I only buy pasta where there is one ingredient – wheat. To me if something is being added back in that means there is more processing to the food. And while imported pasta is a little more expensive there is just something about it that tastes better and makes it worth every penny!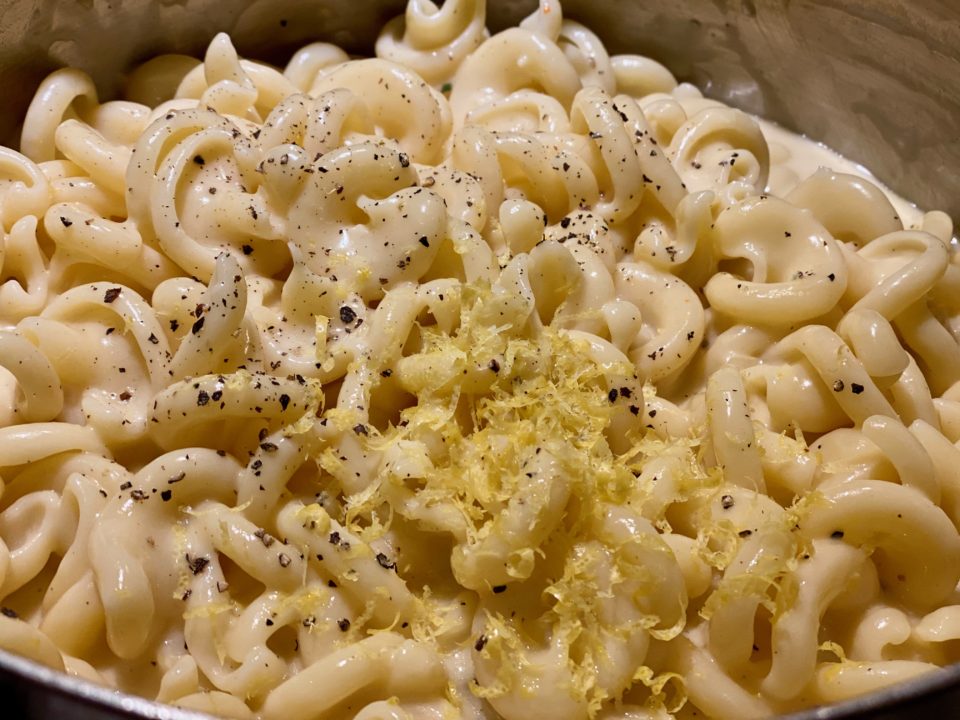 Here are some of my favorite brands of Italian pastas:
And don't forget about the topping!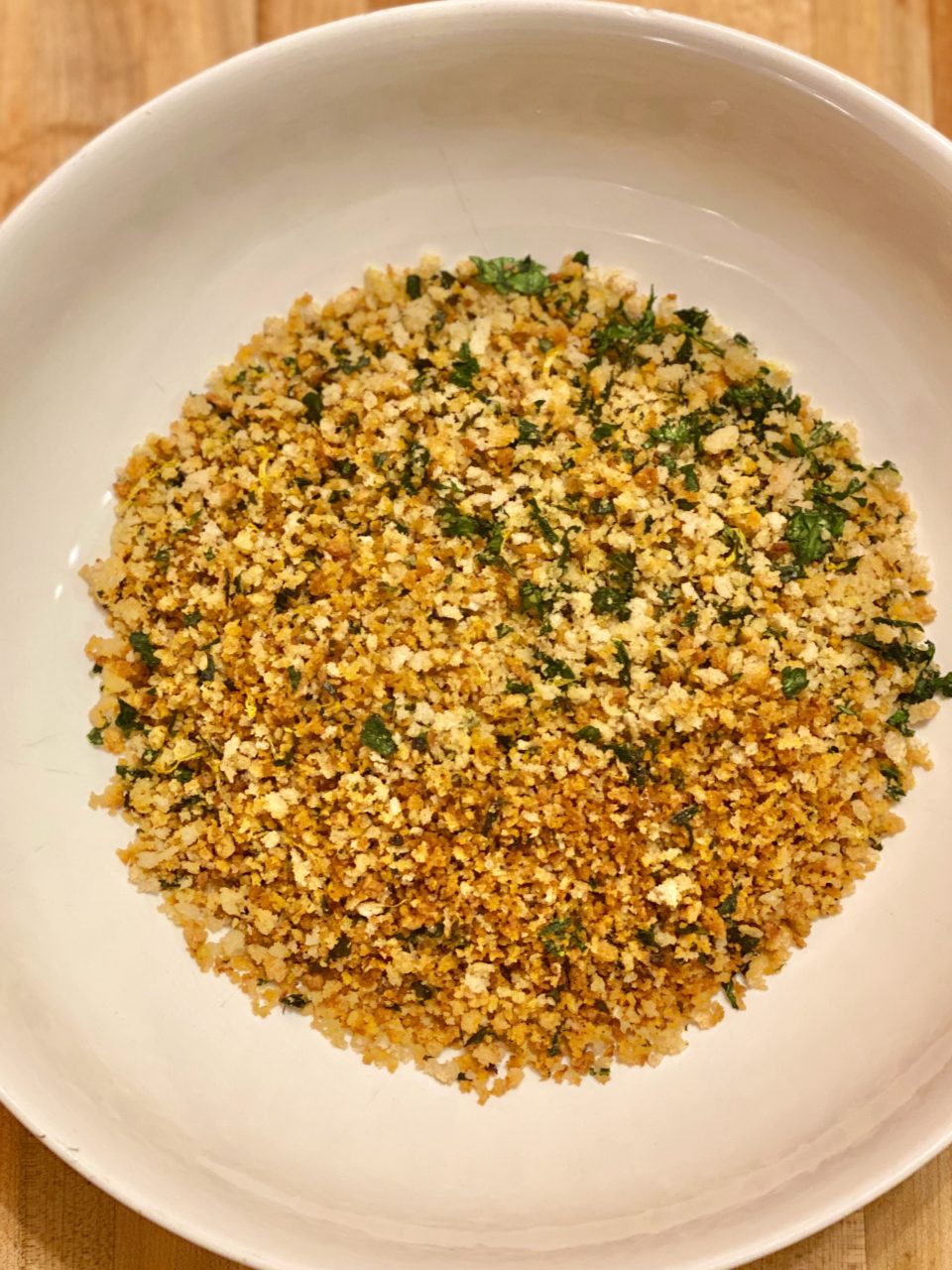 I almost forgot! Not only does this dish have great cheeses and authentic pasta it has a lemony breadcrumb mixture to sprinkle on top. So while this is a stove top mac and cheese you still get the crunchiness of a baked mac by making the breadcrumbs and just using them as a topper. It's the best of both macs.
While this Italian inspired mac and cheese is different than the traditional versions, it is equally as delicious. If you try it be sure to leave a comment below or tag me on Istagram @eatbreathelove313.
If you like this be sure to check out these other pasta dishes:
Another Mac! Beer & Bacon mac and cheese (everything is better with bacon!)
If you liked the breadcrumb idea in this recipe you will like this too: Herb Lemon Pasta with Breadcrumbs
For another cheesy pasta dish try this Lazy Lasagna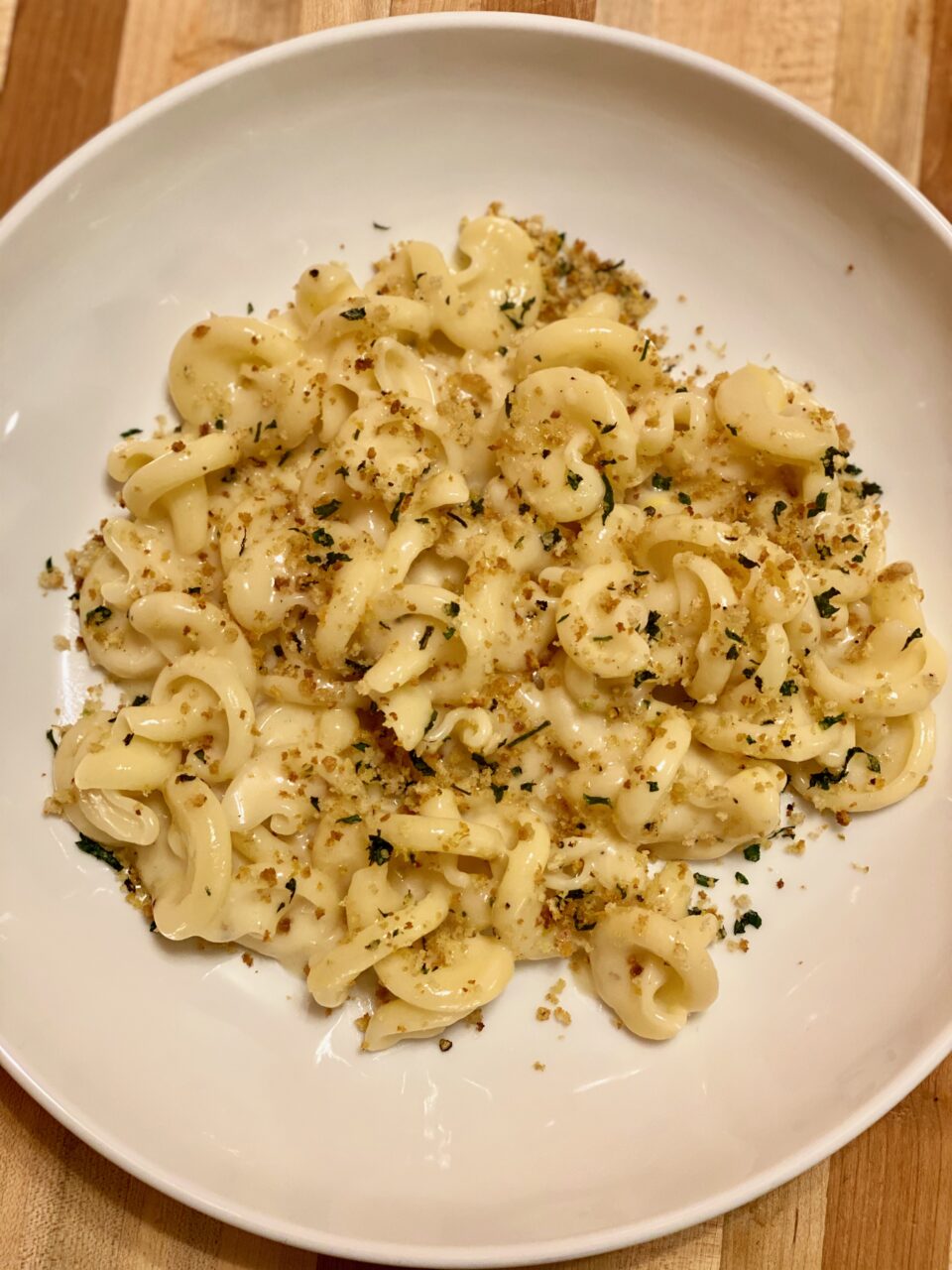 Italian Inspired Mac & Cheese
December 19, 2020
: 4-8 (4 if this is your main, 8 if this is a side)
: 5 min
: 30 min
: 35 min
: Medium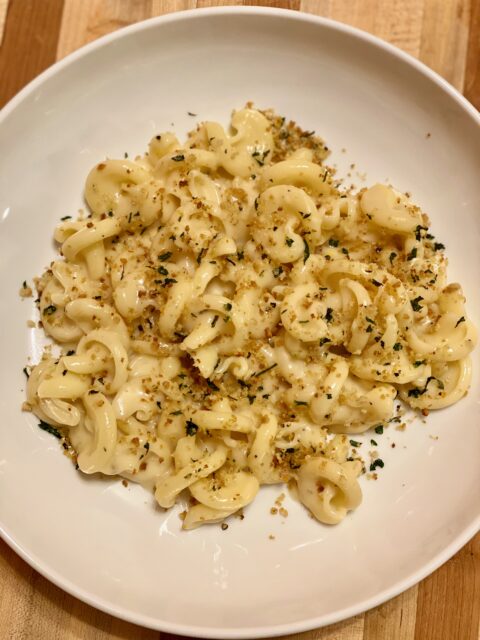 Ingredients
6 garlic cloves, minced
1 shallot, minced
6 TBS butter
4 TBS flour
3 c chicken broth (use vegetarian for a vegetarian version)
8 oz mozzarella cheese, grated (use a brick of mozzarella here, don't use the buffalo mozzarella)
6-8 oz (or .4-.5 lbs) fontina cheese, grated
1 c grated parmesan
1 lb of pasta
I used Vesuvio noodles but fusilli, shells, campanelle all work great
1 c panko bread crumbs
2 TBS minced fresh Italian parsley
Zest of 2 lemons, juice of one
Directions
Step 1

In a large sauce pan sautée garlic, 3 TBS aid butter and shallots over low to medium low heat for 5 minutes to soften. You do not want your garlic to brown so if you heat is too high remove pan from heat and lower temperature.

Step 2

Bring a large pot of water to boil for the pasta while you are making your sauce.

Step 3

Once garlic is softened add in the flour and whisk for a few minutes until the flour is golden brown and not raw.

Step 4

Turn the heat up to medium high and add in your chicken broth and lemon juice. Season with salt and pepper. I like a lot of fresh cracked pepper in mine!

Step 5

As the heat starts coming up be sure to whisk your liquid mixture. At this point you will notice the sauce thicken so it can coat the back of a spoon. Turn the heat down to medium and continue to stir.

Step 6

In a small frying pan melt the remaining 3 TBS of butter. Once melted add in panko bread crumbs, fresh Italian parsley, zest of one lemon and salt and pepper. Cook for a few minutes over medium low to medium heat until breadcrumbs are golden brown. Be careful because once they brown up they can burn quickly! Once golden brown remove from heat and set aside.

Step 7

Once pasta water is boiling season LIBERALLY with salt, it should taste like the ocean. Cook pasta according to directions.

Step 8

Turn the heat off for your sauce. Slowly whisk in all the cheese, 1/2 cup at a time. Let the cheese incorporate into the sauce before adding the next cup. Once cheese is fully incorporated set aside.

Step 9

When pasta is done cooking combine the pasta, sauce and the remaining lemon zest. Stir to combine everything. Taste the pasta and season with more salt and pepper if necessary.

Step 10

Serve in bowls and top with bread crumb mixture.