I love lasagna! Actually I love pasta in general, so lasagna is no exception. I love all the layers of pasta and cheesy goodness. But it is such process to make (here is a recipe for a traditional version). So it's not something I make all the time, especially now when time is hard to come by. The other night I was craving it so I figured I would experiment to make a version of lazy lasagna.
How is this lasagna "lazy"? I skip all the layering. That to me is the most time consuming part. And messy. So instead I put all the ingredients of a standard lasagna in the dish so the flavor profile stays exactly the same.
The first thing I do is recreate that cheesy layer. When I was growing up my mom always used cottage cheese in her lasagna. But sometimes I feel like that makes the mix kind of watery. So lately when I want to use cottage cheese in a dish like this I put it in the food processor. In this version of lasagna I wanted to put a pesto spin on it. In my food processor I combined by cottage cheese with every ingredient that you would find in pesto – basil, pine nuts, garlic and parmesan. I also used a pre-shredded Italian cheese blend as well. It's so simple (you might call it lazy!) to just throw all in the processor, pulse a few times and then it's done!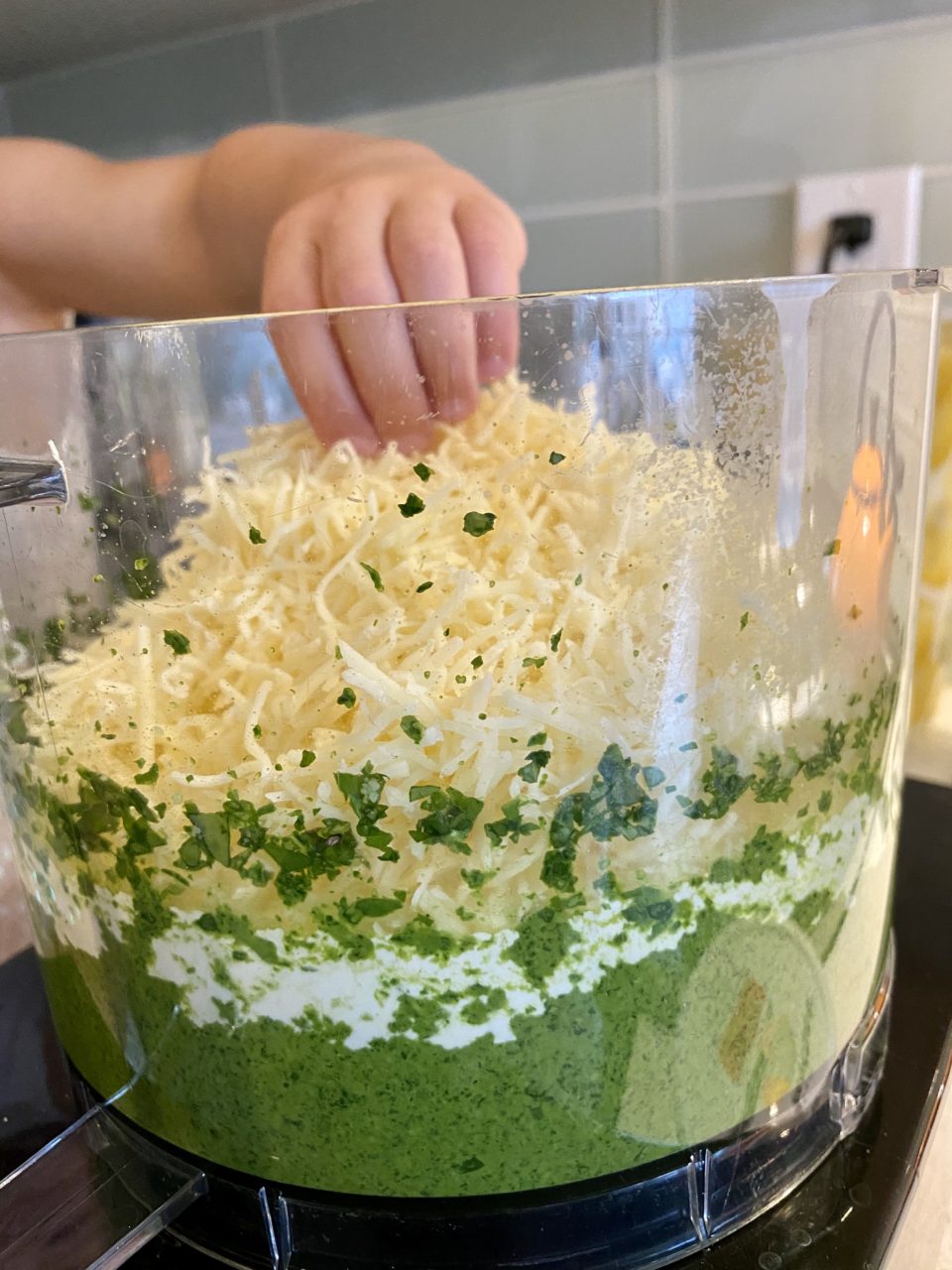 I still decided to make my own tomato sauce, because that part is super easy. But if you really wanted to be lazy, you could use a few cups of your favorite jarred sauce. That would save you even more time. This tomato sauce is a set it and forget it recipe. So while it takes a few hours to cook the only effort is walking by to stir the sauce from time to time.
To keep the lazy lasagna similar to the original dish I chose my pasta shape wisely. I used little noodles called lasagnette. Lasagnette just means little lasagna which is exactly what the shape looks like. These little noodles are about an inch big and they have the ribboning on the edges like a standard lasagna noodle.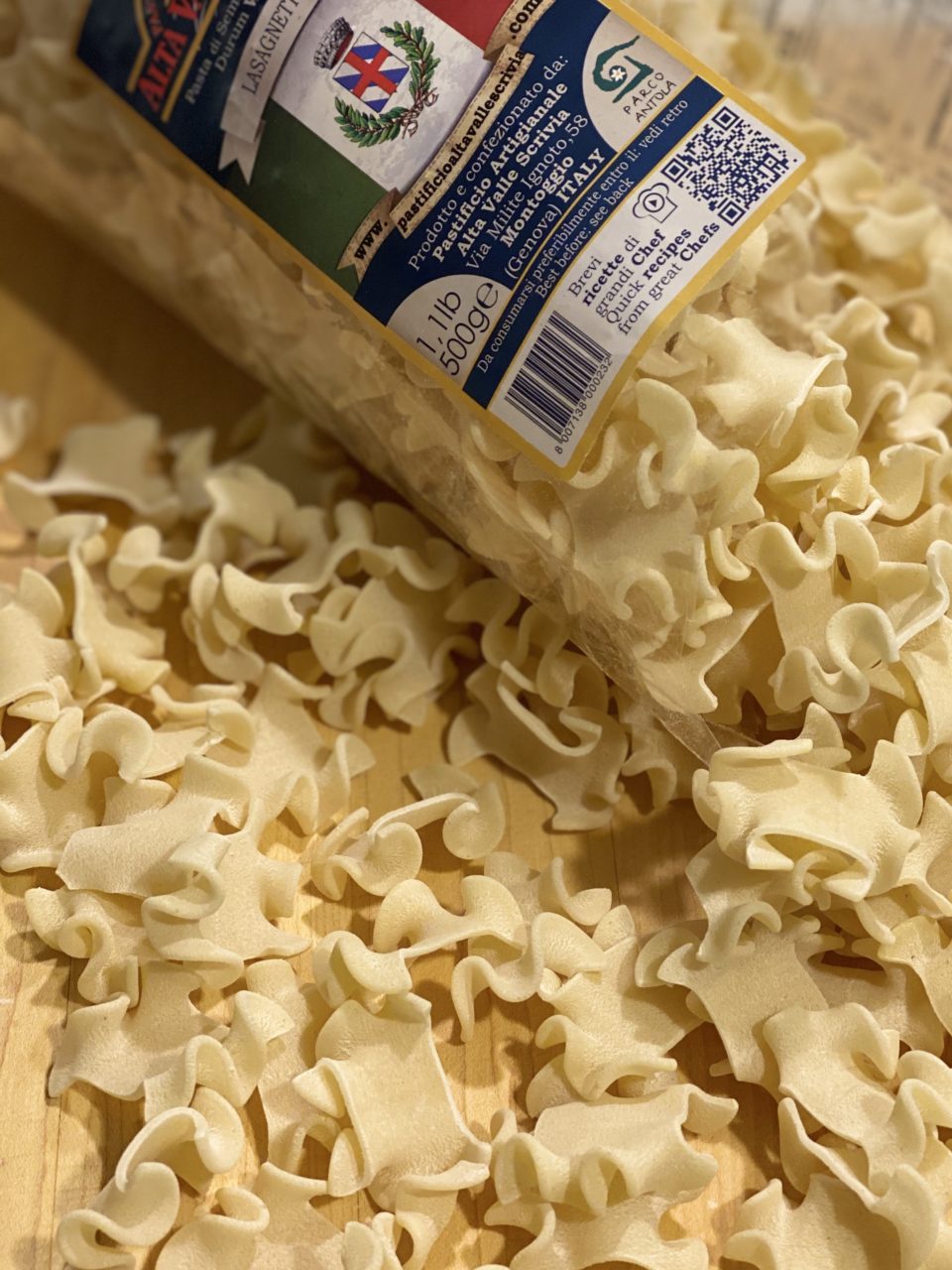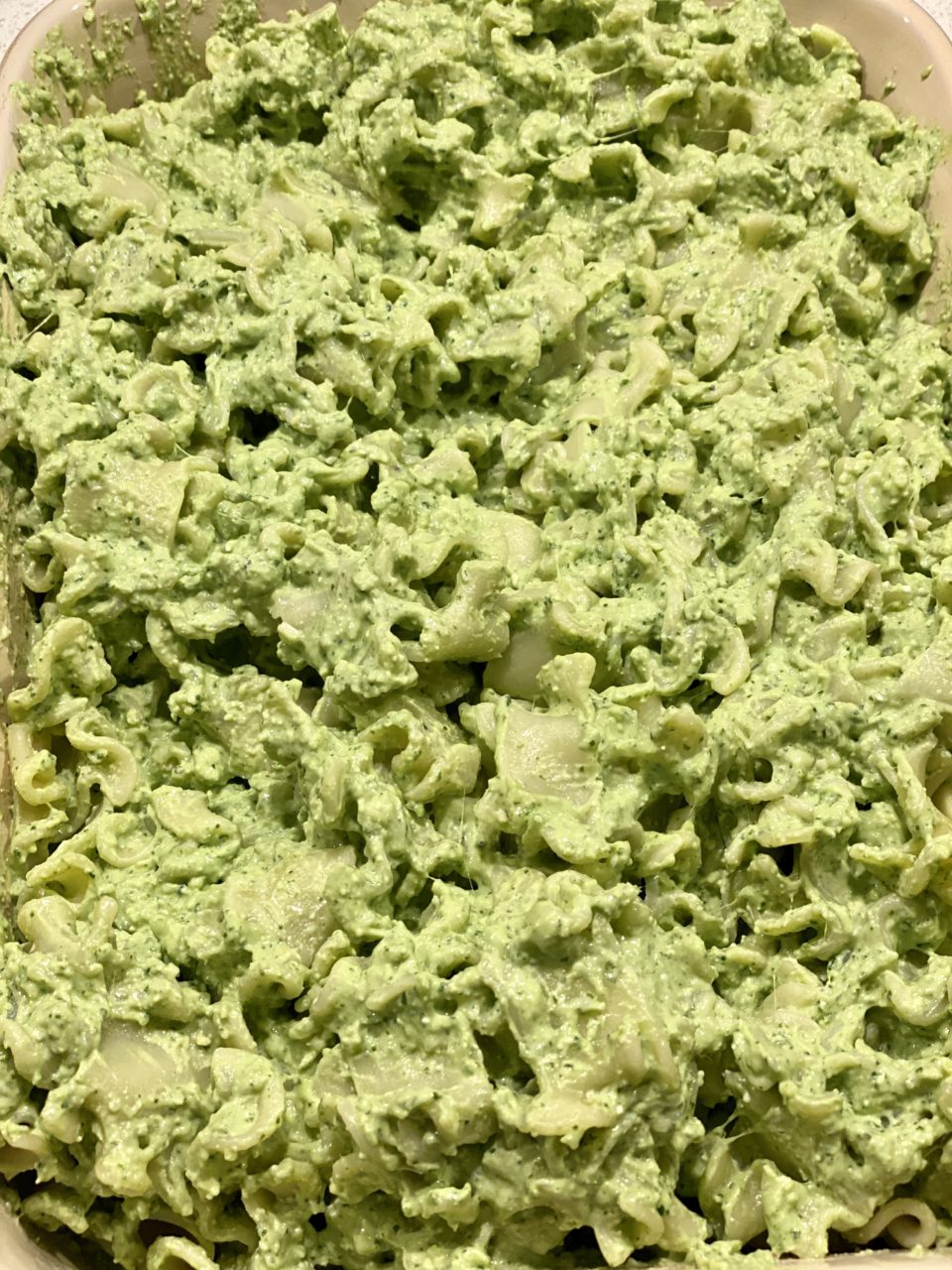 Instead of the lasagna layering process all the ingredients get combined in a baking dish. I cook the noodles a few minutes shy of al dente because they will cook more in the oven. Then I toss the pasta with all the pesto cheese mix to give them a good coat. Then I top the cheesy pasta mixture with the tomato sauce. Lastly, I put on the mozzerella medallions on the top. That goes in the oven for 10 minutes (opposed to 30-45 like a traditional lasagna) to really just warm the cheese thru. I turn the broiler on high for about 5 minutes to make the cheese nice and golden and voila, that's it!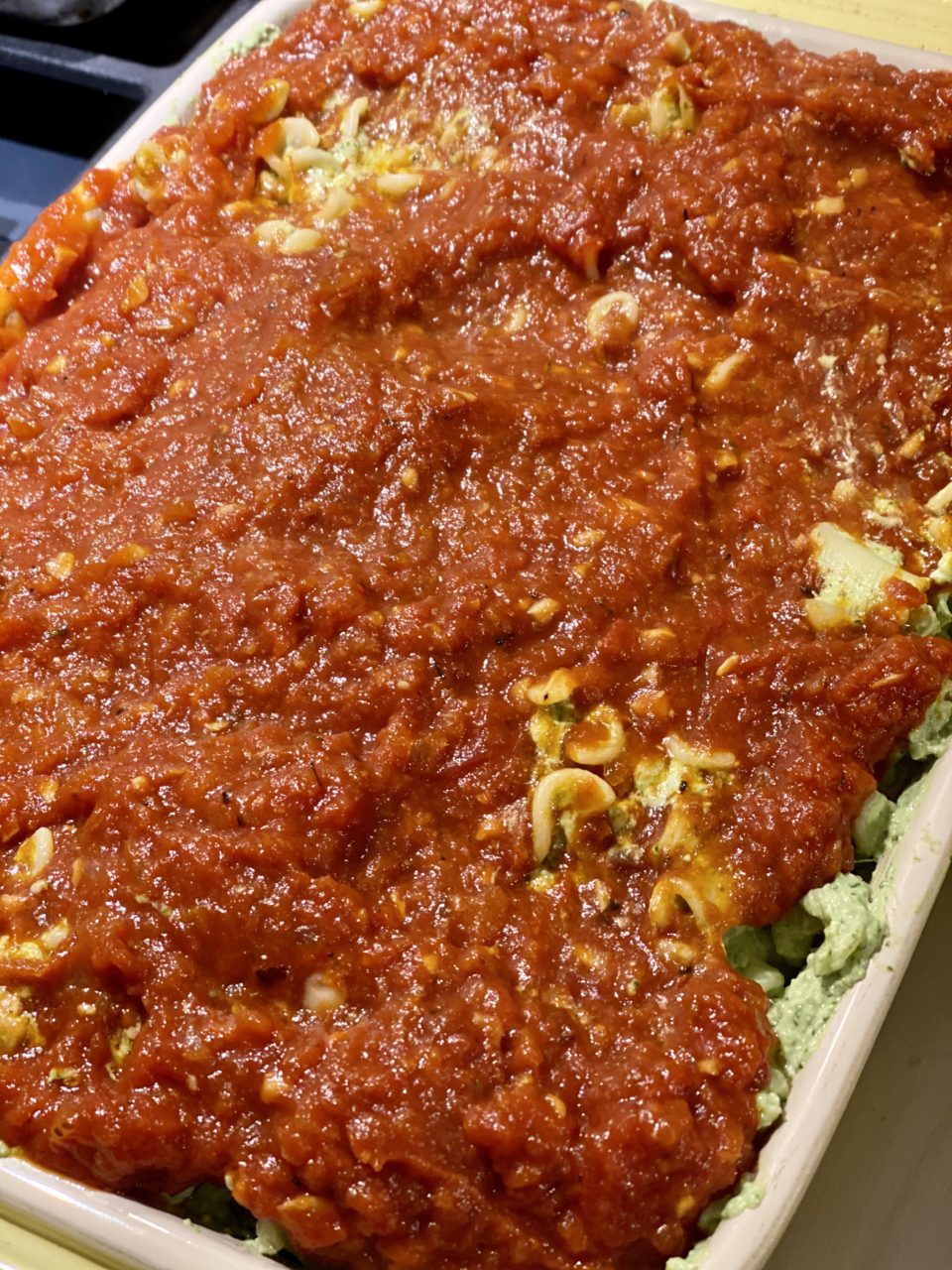 Comfort food doesn't have to be a long drawn out process. And while the traditional version is delicious if you don't have time you can still satisfy your craving with this lazy lasagna recipe.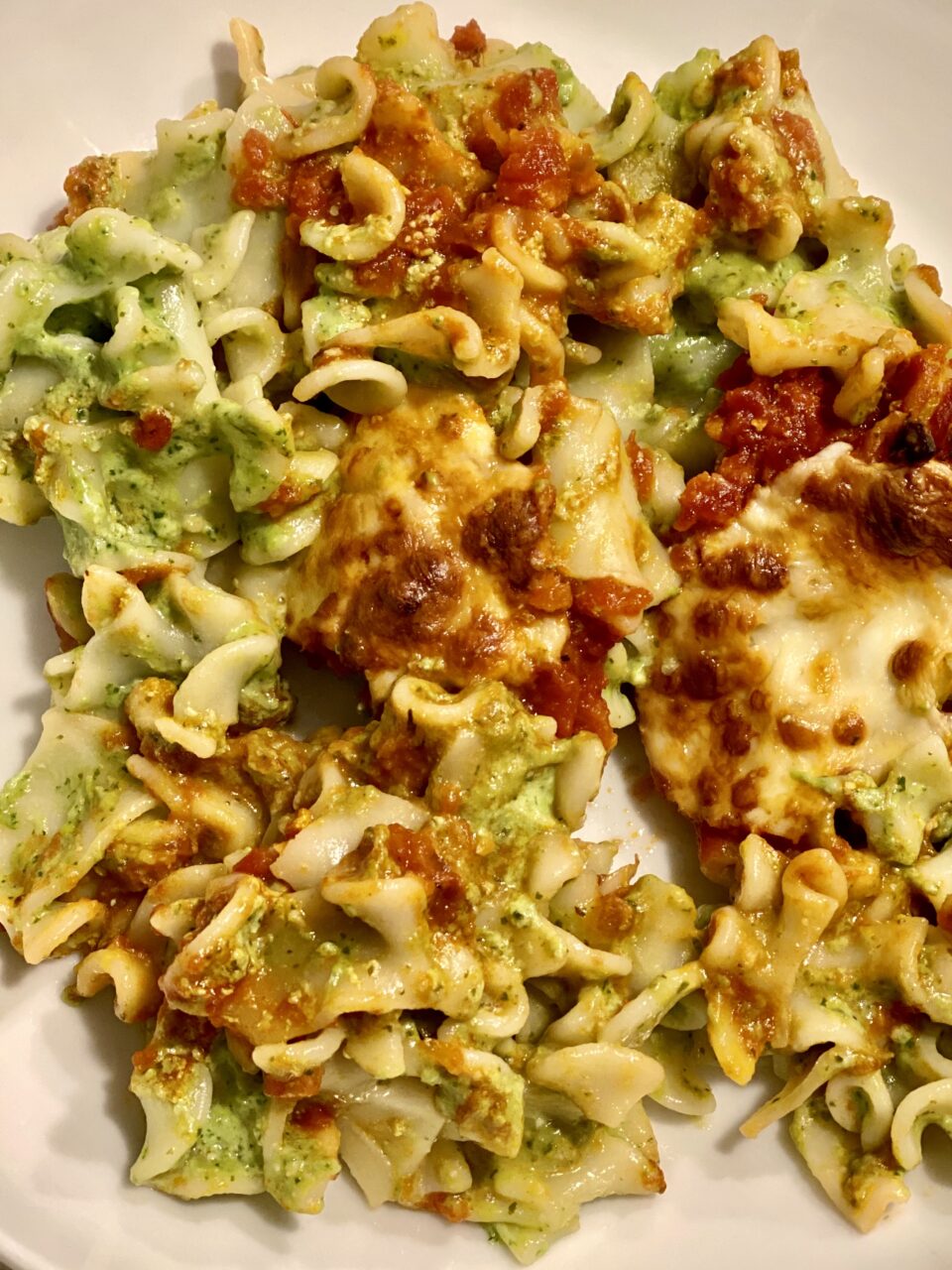 Lazy Lasagna
October 4, 2020
: 6-8
: 15 min
: 30 min
: 45 min
Directions
Step 1

Pre-heat oven to 375

Step 2

Bring a large pot of water to a boil

Step 3

While pasta water is coming to a boil make the cheese mixture by placing the basil, pine nuts, parmesan, garlic and spinach in a food processor. Season with salt and pepper. Pulse until the mixture almost looks like pesto.

Step 4

Then add in the cottage cheese and Italian cheese. Blend until all of the ingredients are incorporated.

Step 5

When water is boiling be sure to liberally salt your pasta water. Cook your pasta 2 minutes short of al dente per the cooking instructions on the packaging. You want the pasta to not be cooked all the way as it will cook in the oven.

Step 6

Once pasta is done, drain and add to a large baking dish (9×13 works well here).

Step 7

Stir the cheese mixture into the pasta making sure the pasta gets well coated.

Step 8

Top the cheesy pasta mixture with the tomato sauce.

Step 9

Top with mozzarella medallions.

Step 10

Bake in the oven for 10-15 minutes, just enough to warm the cheese through.

Step 11

Turn on the broiler for 3-5 additional minutes to make the cheese golden brown,

Step 12

Serve with a salad and some good crusty bread for a complete meal.
Simple Tomato Sauce
October 4, 2020
: 8 cups
: 10 min
: 2 hr
: Easy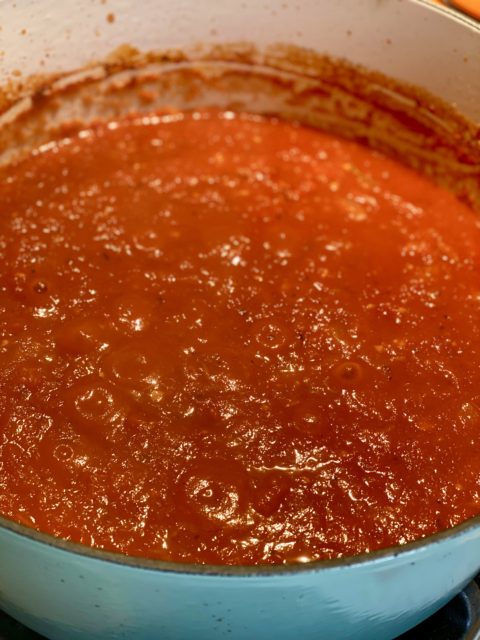 Ingredients
1 small yellow onion, minced (if onion is large use half)
6 cloves of garlic, minced
1 tsp red pepper flakes (omit if you don't like spice, or add more if you like it spicy)
2 28oz cans crushed tomatoes (San Marzano work really good)
1 TBS Italian seasoning
2 parmesan cheese rinds
1 tsp sugar
Directions
Step 1

In a large soup pot or dutch oven sauté onion, garlic, and red pepper flakes in a few tablespoons of olive oil over low to medium low for 15 minutes. You want the onions to not get brown so you may need to lower your temperature.

Step 2

Once onions and garlic are cooked through, add the canned tomatoes, sugar, Italian seasoning, parmesan cheese rinds to the pan.

Step 3

Season with salt and pepper.

Step 4

Partially cover and cook for 2 hours stirring every 15 mins or so. The sauce will start to cook down and thicken over time.

Step 5

Use immediately or store in the refrigerator for up to a week. This sauce also freezes well.