Growing up in the UP (Upper Peninsula) we had this restaurant called Vango's that was a Greek restaurant. They had the BEST greek avgolemono soup. Avgolemono soup is a lemon egg soup. Beyond that it can take on a lot of varieties. People add rice, orzo noodles, chicken, vegetables and spices depending on the cook. The soup at Vango's had vegetables, chicken and orzo so that is what I was accustomed to.
One of my best friends is 100% Greek. He hosts a great Thanksgiving Day party because he lives on the main street in Detroit that the Thanksgiving Day parade is on. His parents moved to the U.S. from Greece and his mom makes a huge pot of avgolemono on Thanksgiving. For a few years it has been tradition to go to his house the night before Thanksgiving and help make the soup.
While this recipe is not truly authentic it takes a little of what I have learned from YiaYia and what I know from my hometown favorite and combines them for this version of avgolemono soup with orzo.
Eggs in soup??
Some people might think it sounds weird to put eggs in your soup but you can't taste the egg. They really just act as a thickening agent to your soup. But the key with adding eggs to a hot soup like this is to temper your eggs. This will prevent your eggs from becoming scrambled when you add them in (we are not making egg drop soup here).
What I do is I take my eggs out of the fridge and crack them into a large mixing bowl and whisk them together. I do this right when I start making my soup so they come up to room temperature. Then I use a soup ladle and while I continuously whisk the egg mix I slowly ladle in my broth. I probably added in about 10 ladles of soup while whisking. This brings the temperature of the eggs up without cooking them like scrambled eggs. You then take this mix and stream it into your soup while stirring.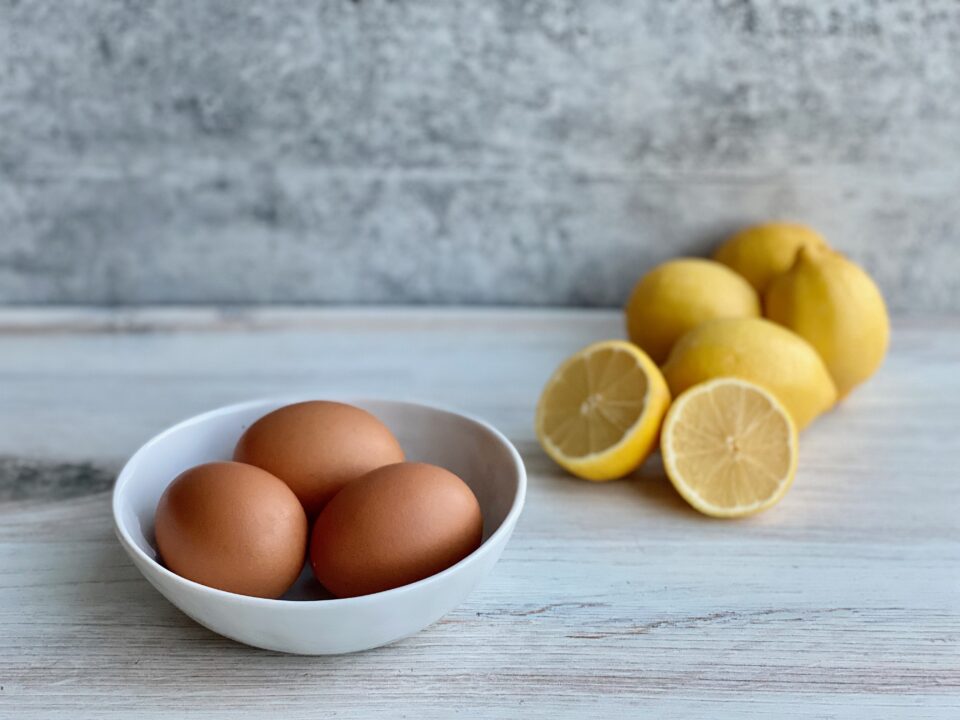 One other pointer my friend told me that I had never done is let your soup cook for a few hours. I usually just stirred my eggs in and that was the last step. This time I waited about an hour to serve it and it thickened up so nicely. The key here is to keep your stove on LOW. You don't want the eggs to break and make your soup a weird texture.
Non-Traditional Ingredients
This version of greek avgolemono soup has a few non-traditional ingredients. For starters – the veggies. Like a typical chicken soup I use celery, onion and carrots. Then like most of MY soups I add in shredded zucchini. The veggies are chopped small so they can blend in with the other non-traditional ingredient – orzo!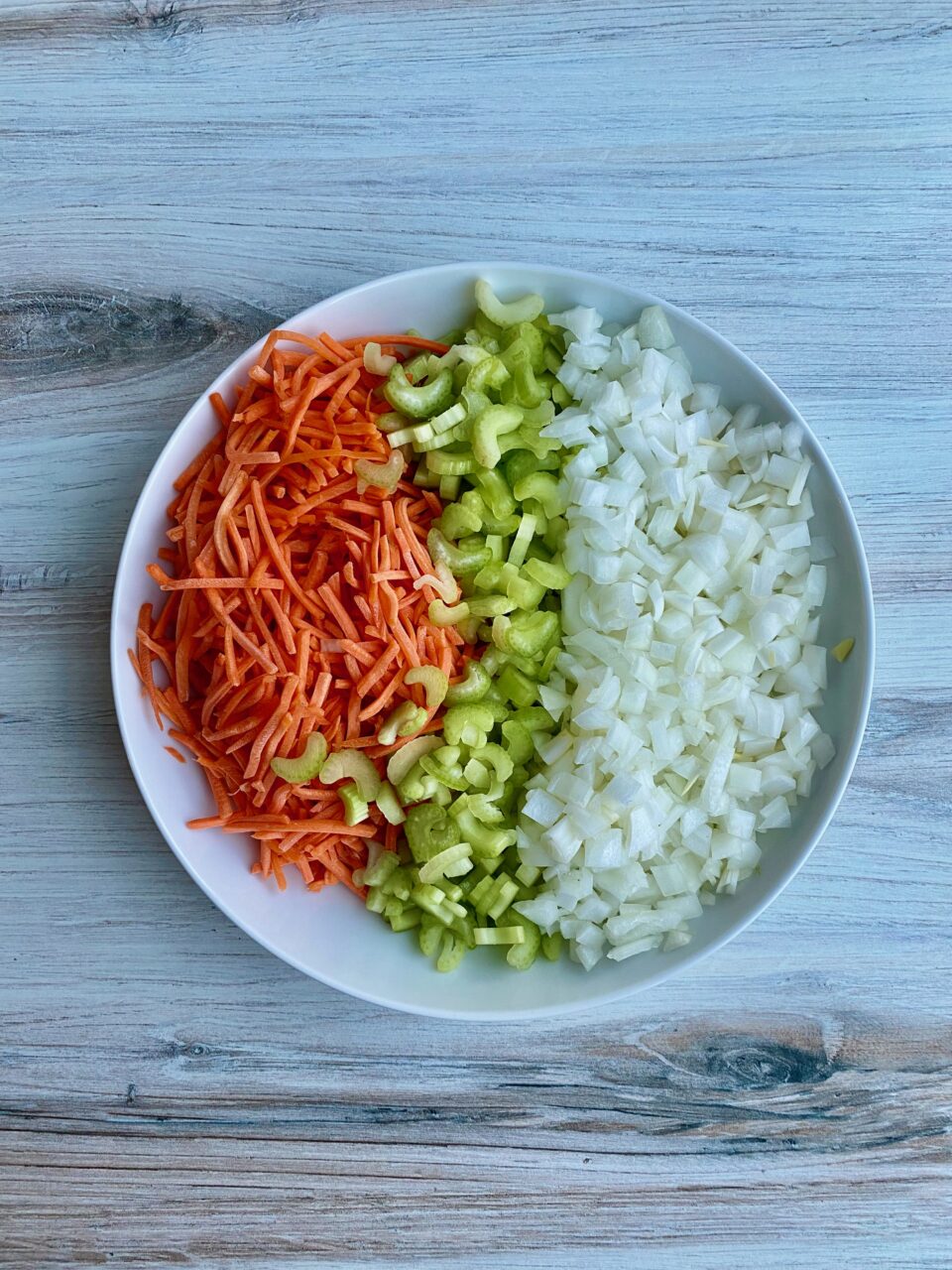 I use orzo noodles instead of rice. I think it's because of my hometown version. Since I grew up eating it with orzo and not rice, that is my association of the soup. The orzo makes this more like a Greek chicken noodle soup. You certainly could use rice instead but try it with the orzo one day, see what you like best.
This Greek avgolemono soup with orzo turned out to be a hybrid of my childhood and my adult life. It was the perfect balance of lemony richness with some added nutrients from the vegetables. Efcharisto Christos!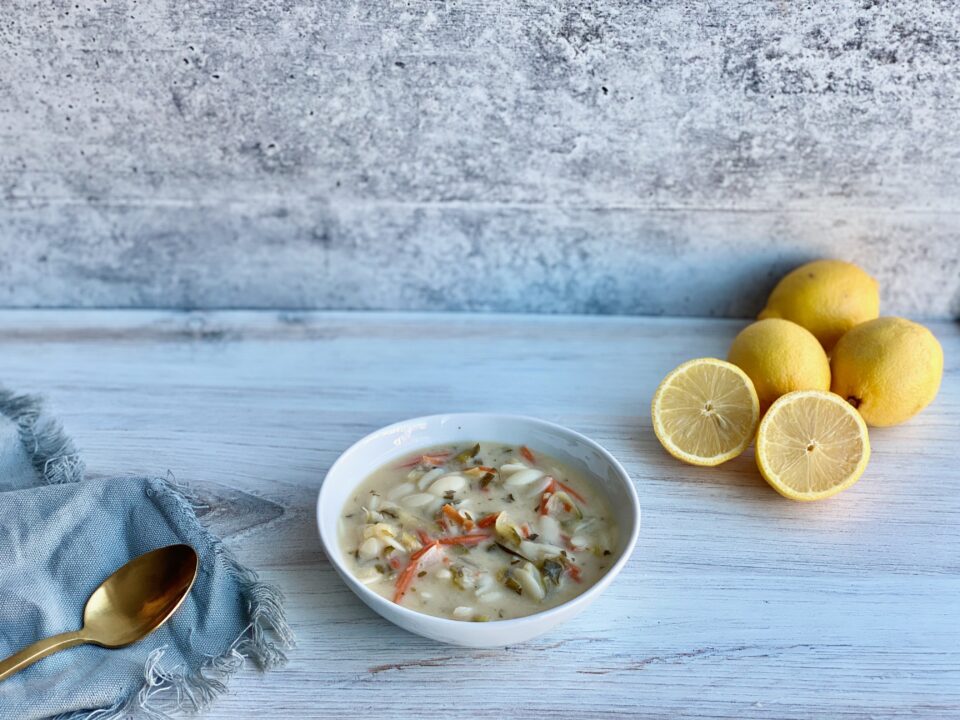 Print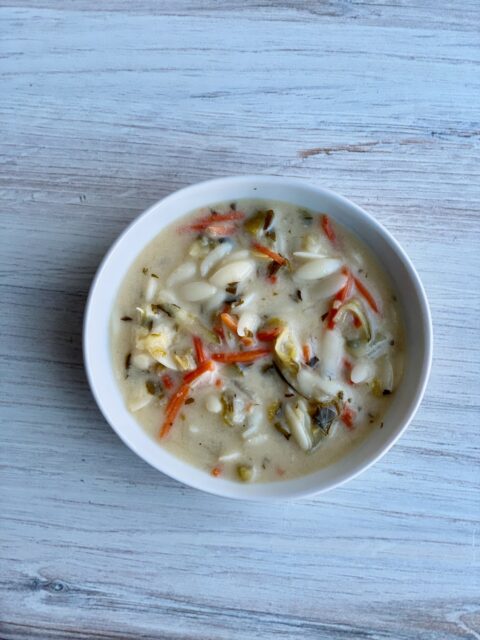 Greek avgolemono soup (lemon rice)
---
Total Time: 3 minute
Yield: 4-6 1x
6–8 ribs of celery sliced thinly
1 yellow onion diced
4 carrots grated or diced
10–12 c chicken broth
2 medium zucchini, grated
1.5 cups of dried orzo noodles
3 large eggs
3–5 lemons (if your lemons are big you may need less)
1/2 cup fresh flat leaf parsley minced
white pepper
salt
1 TBS olive oil
Optional: cooked chicken (a rotisserie chicken would be great in this recipe)
---
Instructions
Crack eggs in a large mixing bowl and whisk, set aside.
In a large soup pot over medium heat sauté celery, onions and carrots in olive oil until tender 10-12 minutes.
Add in 10 cups of chicken broth/stock and bring to a boil. Season with white pepper and salt (to your taste – I like a lot of pepper in my dishes).
Once your stock is boiling, add in orzo and zucchini. Stir so orzo does not stick to the bottom. Cook 10-15 minutes until orzo is cooked through.
Reduce the heat to low. Wait for 10 minutes to let soup slightly cool down.
Add the juice of the lemons to your eggs. Whisk vigorously. The air helps make your egg mixture light.
While whisking continuously add in one ladle of soup at a time to your egg mixture. Add in about 10 ladles full of broth to your mix whisking the entire time. Add your egg mix back into your soup while you stir.
Stir in Italian parsley.
Let soup cook for another 30 minutes to thicken up stirring every 5-10 minutes. If the soup is too thick you can use the remaining broth to thin it out slightly.
If using chicken I place mine in the bottom of my bowl and serve the soup over it. Squeeze a little fresh lemon over the top.
Prep Time: 15m
Cook Time: 1hr
Category: soup