Veggies are seasoned Greek style and roasted in the oven with Halloumi cheese for an easy meal. Plus using a sheet pan makes clean up a breeze.
Lately I have been trying to make my life as easy as possible in the kitchen. Less time, less dishes but without the sacrifice of health and flavor. We eat a ton of veggies in this house. One of my new weeknight favorites is my Greek veggies with Halloumi cheese sheet pan meal.
Eat the Rainbow
When it comes to eating fruits and veggies there is this saying "eat the rainbow". Different colors of fruits and vegetables have different nutrients and health benefits. So if you are "eating the rainbow" in theory you are getting exposure to a lot of different nutrients. (here is a good article to learn more). Therefore, this recipe is perfect if you are trying to get more color in your diet.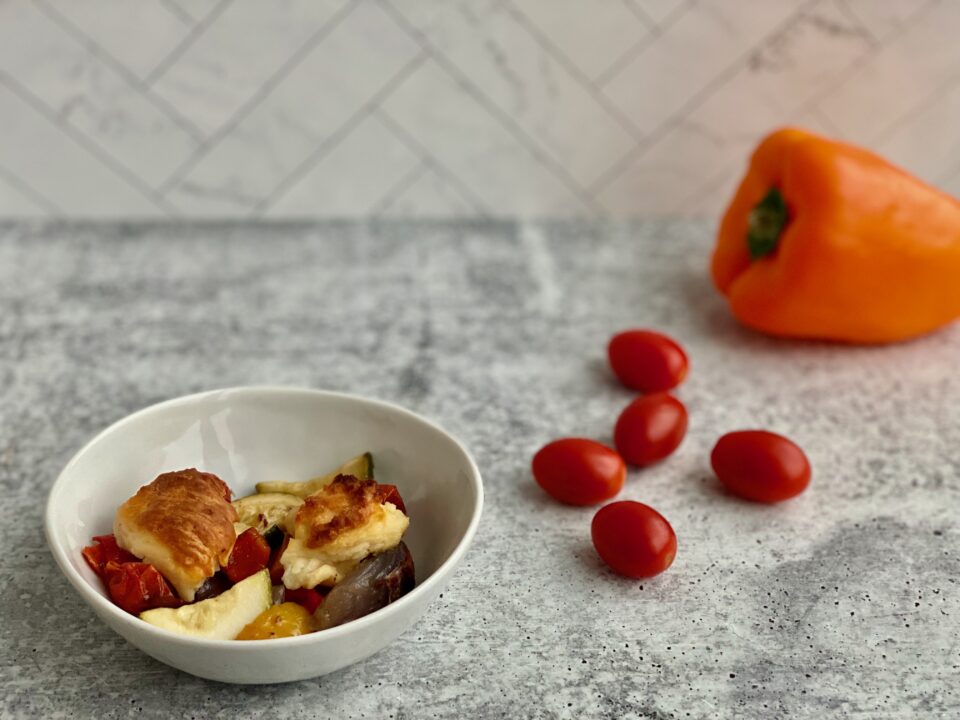 It's all about the veggies. I take a combination of bell peppers (two different colors to help with the rainbow), red onion, zucchini, and cherry tomatoes and spread them on the largest sheet pan I have. I personally err on the side of less is more with flavoring my veggies. I like to taste my vegetable and not mask it with a ton of seasoning. So I use a simple mix of olive oil, oregano, garlic salt, pepper and crushed red pepper flakes. Then they roast up in the oven for about 25 minutes.
More (Halloumi) Cheese Please!
If you are vegan just skip this paragraph all together. But if you are not don't skimp on the cheese! If you have never tried Halloumi cheese do yourself a favor, run to the store and get everything to make this ASAP. Halloumi cheese is a cheese from Cyprus. It's typically a goat's milk cheese. It's a harder cheese and it's kind of rubbery. Which I know doesn't really sound appetizing but I assure you – it is. Because it's a hard cheese it stands up well to frying or grilling.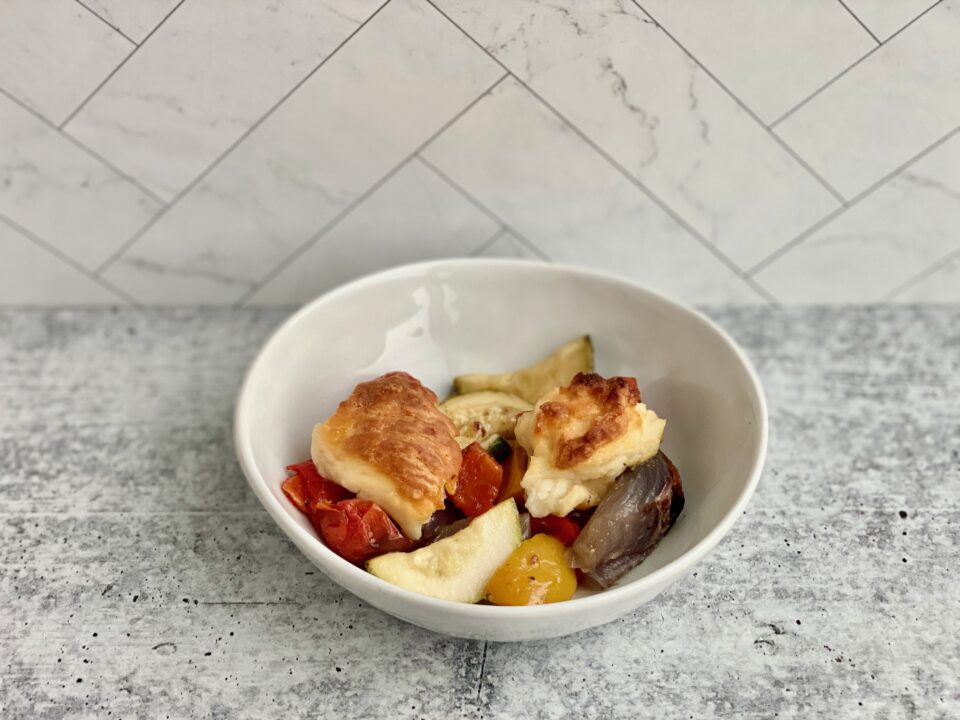 Or in this case – roasting! When the veggies are almost done cooking I take out the sheet pan and tear up chunks of the Halloumi and scatter all on top of the vegetables. When the cheese goes in the oven it starts to roast up and get a nice golden brown. This cheese doesn't really melt. But the top gets that nutty roasted flavor to it which pairs nicely with the veggies.
Complete the Meal
While the veggies and cheese are great on their own I turn this into a bowl of sorts. Additionally I roast up chickpeas in the oven on another sheet pan. I also serve this over top of my lemon parmesan rice (in this case I skip the parm in the rice since I am using the Halloumi). You could use this just as a side dish to a piece of chicken or fish as well if you were watching your carbs.
When roasting the veggies sweat out their juices which makes a little sauce. But if you are looking for more to mix with I make a simple lemon sauce to top the veggies with. The possibilities are truly endless with this dish.
The next time you want an easy meal with very little clean up try this Greek veggies with halloumi cheese sheet pan dinner. Whoever does the dishes will thank you!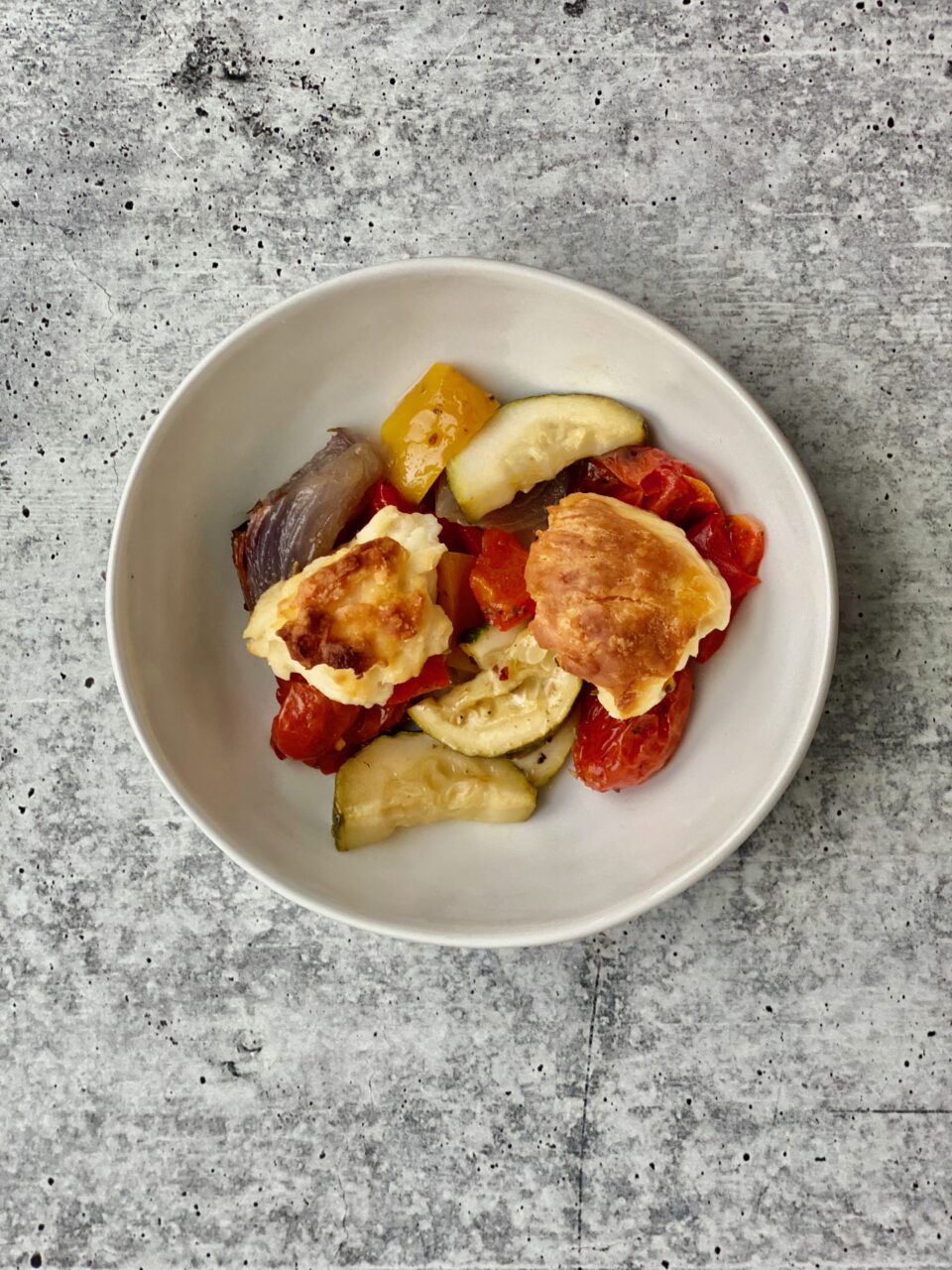 Print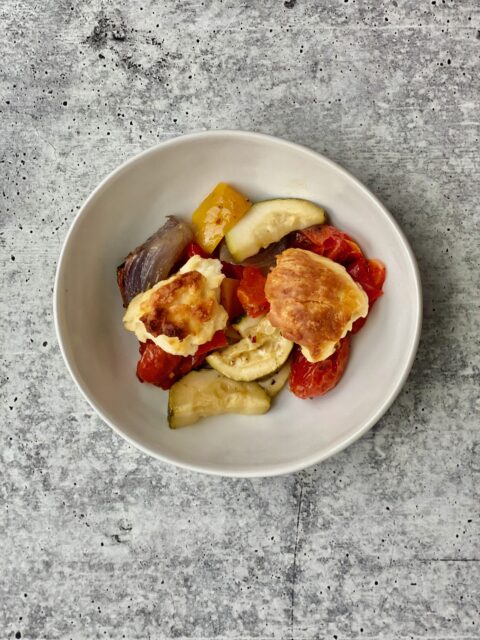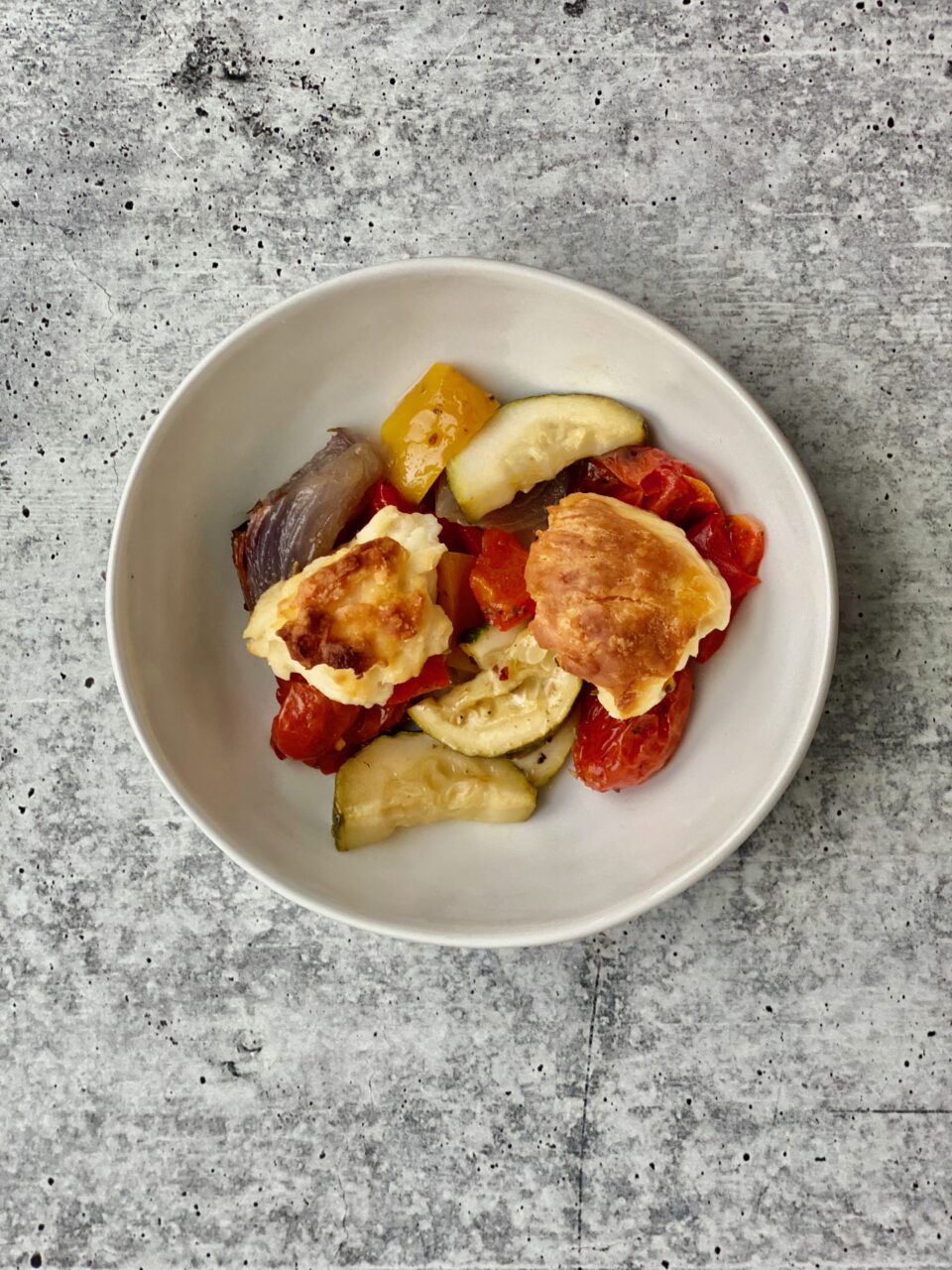 Greek Veggies with Halloumi Cheese
---
Author: Karissa P
Total Time: 53 minute
Yield: 4 1x
Description
Veggies are seasoned Greek style and roasted in the oven with Halloumi cheese for an easy meal. Plus using a sheet pan makes clean up a breeze.
---
1 red onion, large dice (unless the onions are small then use 2)
3 bell peppers, large dice (I prefer red, yellow and orange in this dish)
1 medium zucchini cut in half length wise and then in slices (should look like half moons)
1 pint cherry tomatoes
8–10 oz Halloumi cheese
1 cup kalamata olives, chopped
Pantry items: olive oil, garlic salt, pepper, red pepper flakes, oregano
---
Instructions
Pre-heat oven to 425
On a parchment lined cookie sheet arrange all veggies except the olives in a thin layer
Drizzle a few TBS of olive oil on veggies, season liberally with garlic salt, pepper, a few dashes of crushed red pepper flakes and 1 TBS oregano
Stir veggies around so they all become seasoned
Roast in oven for 20 minutes
Take veggies out and tear Halloumi into chunks to scatter on top of veggies
Cook 5 additional minutes
Turn broiler on low and broil for 3 minutes until Halloumi is golden brown
Remove from oven, mix with olives and serve
Notes
This dish can be served over rice, couscous or quinoa for a full vegetarian meal or with grilled chicken or fish
For a simple sauce for the veggies combine 8 oz Greek yogurt, juice of one lemon, a large handful of Italian parsley (minced), 2 cloves of garlic (minced or grated), 1/4 c olive oil, salt & pepper to taste
Prep Time: 5m
Cook Time: 35m