This one pot orzo and veggies takes very little time to make AND saves time on cleanup. Pasta, tons of veggies and beans are combined in this one pot dish for an easy, flavorful meal.
So I am not a big crockpot girl. We have an Instantpot thing and I think I have used it twice and my husband only uses it for hardboiled eggs. I know I am probably missing out here. But I do love time savers and anything that requires less dishes. So one pot meals and sheet pan dinners are great for me when I can whip them up. Which is how this one pot orzo with veggies was concocted!
Veggies, veggies and more veggies
If this is your first time here, hi I'm Karissa and I load everything I make with veggies! So this recipe is no surprise. Especially as a mom I am trying to get as many veggies into my daughter's meals as possible. I guess I am doing ok because my 3 year old LOVES green beans and broccoli?!? (I'll take it!)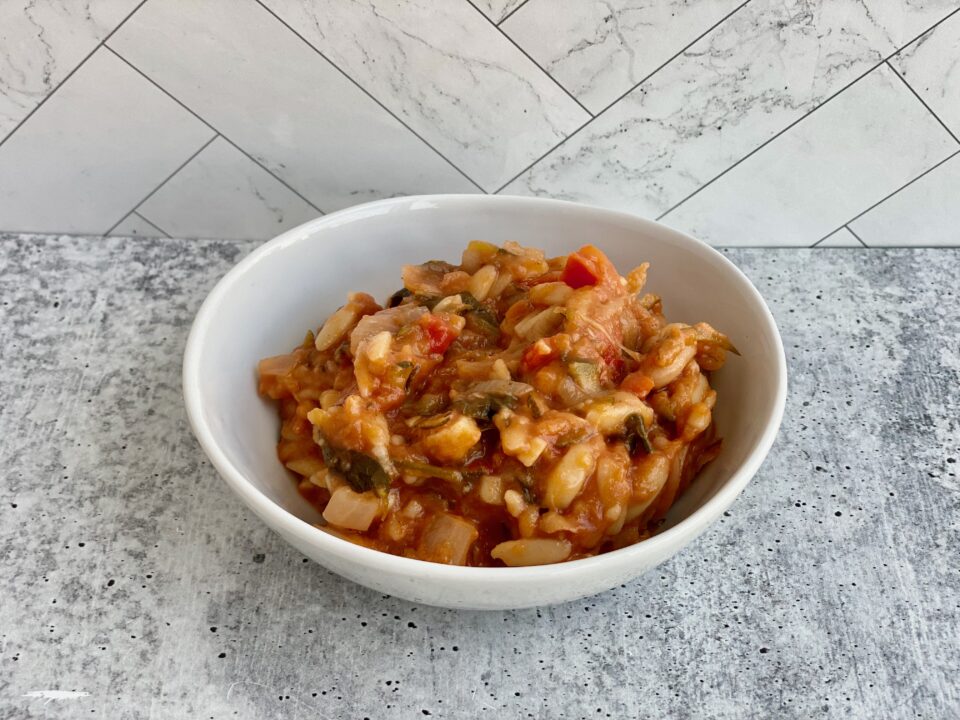 Since this dish leans on the Italian inspiration side my mix starts with garlic, onions and bell peppers. Once those are sautéed up and starting to soften everything else gets added to the pan. Including more veggies. Shredded zucchini is a go to for me. It goes in almost anything I make. Once you grate the zucchini it winds up being very small and you can't even taste it in your dish.
Since this is a meatless meal I used cannellini beans. I love using cannellini beans in Italian food. It reminds me of our trip to Florence where I had the best beans ever. In addition to the beans I also chop of fresh baby spinach for MORE veggies for this dish. Again, if you have picky eaters, chop the spinach small and they will never know. I do find that fresh spinach is the way to go. Frozen spinach to me gives off such a strong flavor, no wonder most kids don't like it. Try the fresh stuff for this dish – you might be surprised!
One pot, easy clean up
Personally the best part of a one pot meal is the cleanup. With this one pot orzo dish I create layers of flavor without using multiple pans. Typically pasta dishes would require you to cook the pasta separately (and make an extra dish to wash) but not this one.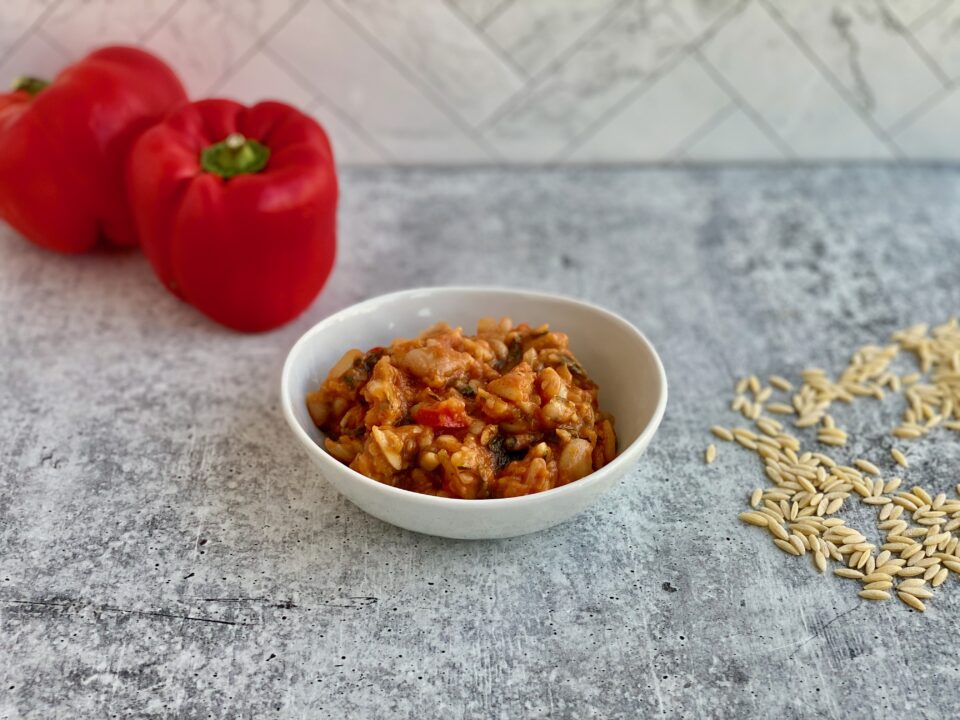 By adding the orzo to enough liquid in the pan the orzo cooks up with everything else. The combination of the crushed tomatoes and broth get soaked up into the orzo which not only helps cook it, but infuses the noodles with flavor. And don't worry about the mixture looking soupy at first, once the pasta cooks that liquid will get sucked right up by the orzo!
This one pot orzo and veggies could not be easier to make. Once the veggies are sautéed everything else gets thrown in the pot and left to cook. Fifteen to twenty minutes later – dinner is done.
So if you are looking for a meatless dish or just a really good one pot dish to avoid cleaning dishes – try this one pot orzo with veggies for dinner. And if you have any picky veggie eaters, try this anyway. Let me know if sneaking in the veggies works!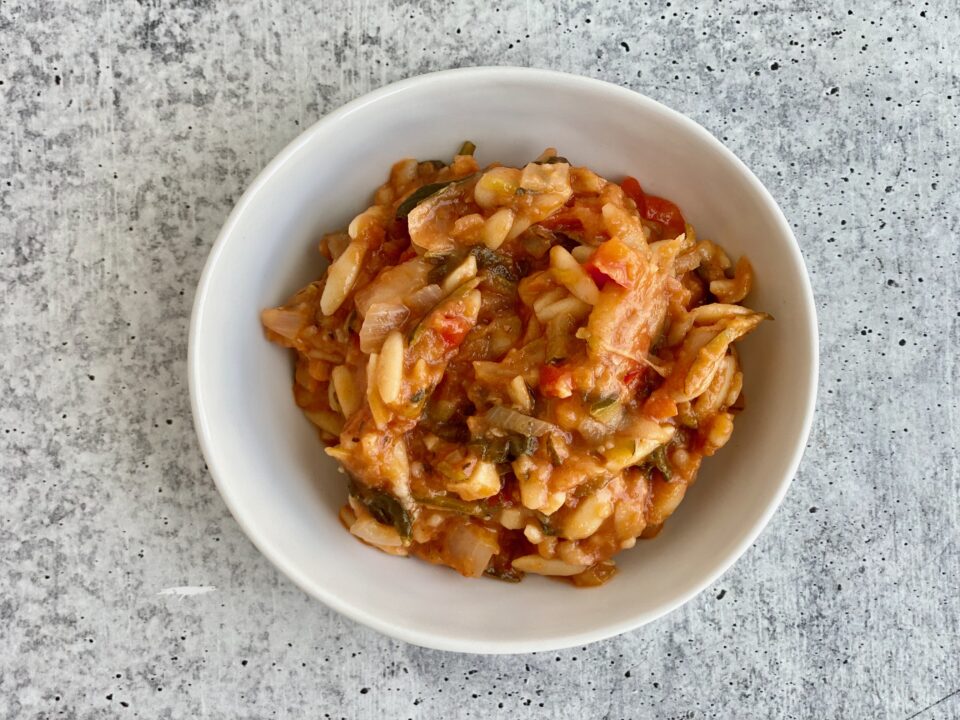 Print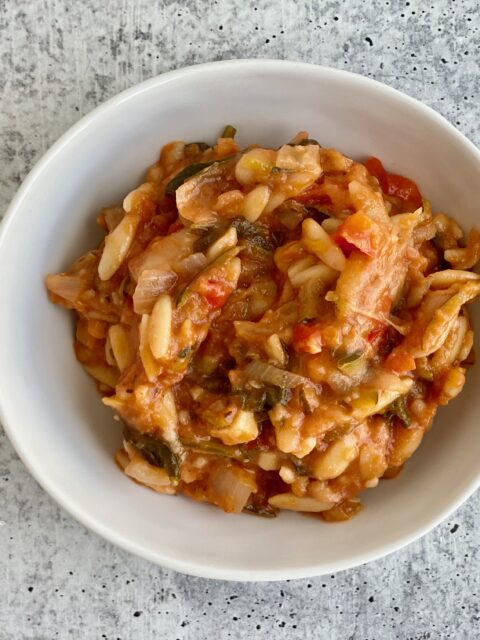 One Pot Orzo with Veggies
---
Author: Karissa P
Total Time: 47 minute
Yield: 6 1x
Description
This one pot orzo and veggies takes very little time to make AND saves time on cleanup. Pasta, tons of veggies and beans are combined in this one pot dish for an easy, flavorful meal.
---
2 bell peppers, small dice (remember, you want your veggies to be similar in size to your pasta so don't chop the peppers too big!)
1 yellow onion, small dice
6 cloves of garlic, minced
2 medium zucchini, grated
1 28 oz can crushed tomatoes
2 cans of cannellini beans, drained, not rinsed
1 c orzo pasta
2.5 cups veggie or chicken broth
1.5 TBS Italian seasoning
2 heaping handfuls of fresh baby spinach, chopped
Parmesan cheese for topping
---
Instructions
In a dutch oven or soup pot sauté bell peppers, onion and garlic in a small amount of olive oil over medium low for 6-8 minutes until softened. If you like a little spice add in some crushed red pepper flakes.
To the pan add crushed tomatoes, zucchini, beans, broth and Italian seasoning, bring up to a gentle boil (medium high). Season with salt and pepper.
Once mix is bubbling add in the spinach and orzo pasta, turn down heat to medium. Stir occasionally (especially in the beginning) so the orzo does not fall and stick to the bottom.
Let the orzo pasta cook for 10-15 minutes until cooked thru. If your mixture is still more soupy, let the pasta cook a few minutes longer. The longer the pasta sits the more liquid it will absorb.
Top with parmesan cheese
Notes
For a vegan version omit parm.
Prep Time: 5m
Cook Time: 25m
Category: Pasta
Keywords: pasta, orzo, veggies, one pot, vegetarian, vegan, easy meal