It's getting colder which means I start craving more comfort food. My husband was doing a five day fast (check out Prolon if you have not heard me mention this before) so I was at liberty to make what I wanted over the weekend. He doesn't appreciate thick creamy soups as much as me so I thought it was a perfect opportunity to make a soup I absolutely love -chicken and dumpling soup.
All about the dumplings
If you look up chicken and dumpling soup you can find two different methods. Drop dumplings or rolled dumplings. Dropped dumplings are where you make the dumpling dough and then drop them into the soup to cook. They look like big fluffy rolls sitting on top of the soup. Rolled dumplings are when you take the dumpling dough and roll them out into a thinner circle and cut them up almost to look like big noodles. Typically I prefer the rolled dumplings. However, I found a way to make drop dumplings taste even better.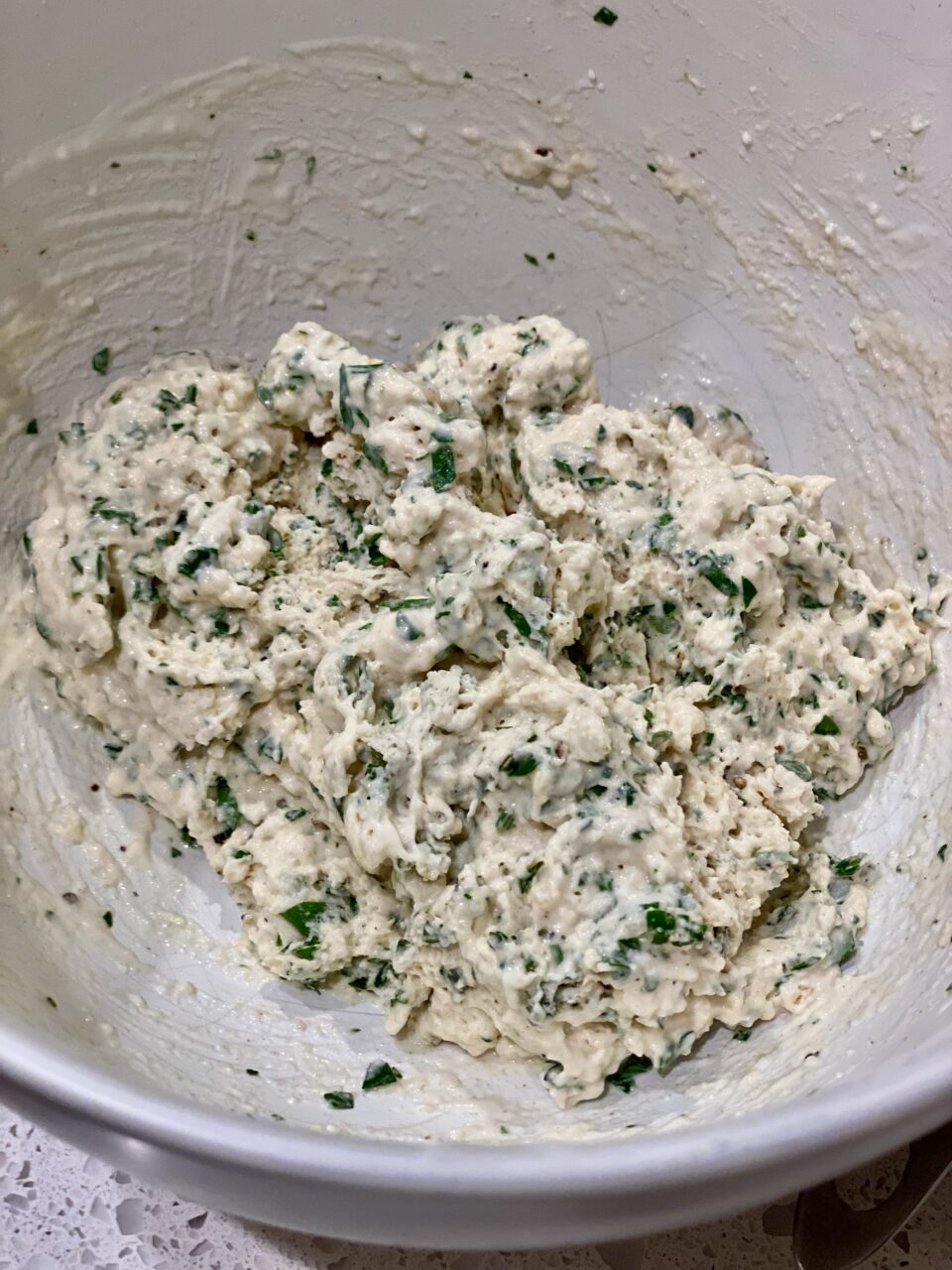 I used to struggle with the dropped dumplings because they were so big. I found that the middle was always really dense and they were just kind of hard to eat. So I found the problem really wasn't the dumpling dough. The problem was the size. So now I make little tiny dumplings instead. I use two teaspoons to drop in small amounts of the dumpling dough. The dumplings will swell and puff up while they cook in your soup broth so it's ok if you only drop small amounts. When they are done cooking they wind up being the size of gnocchi. Then the dumplings are easy to consume and you don't have to chop up your soup!
Additionally I use a ton of fresh herbs in my dumpling dough. The combination of buttermilk and thyme go very well together. I also add in Italian parsley and chives. I have added cheese to my mixture before as well but I forgot to buy it at the store so this time did with out.
The key to the best chicken
I have mentioned before in my chicken wild rice soup recipe I found the secret to the best chicken for chicken soup ever. By found I mean I watched the legend Ina Garten do this and have never looked back. Roast your chicken in the oven!
This now is my go-to any time I am going to make a soup that I have chicken in. Yes you definitely could save time and buy a rotisserie chicken. But if you are going to cook it at home for the love of something – stop poaching your chicken. I promise this will taste a million times better.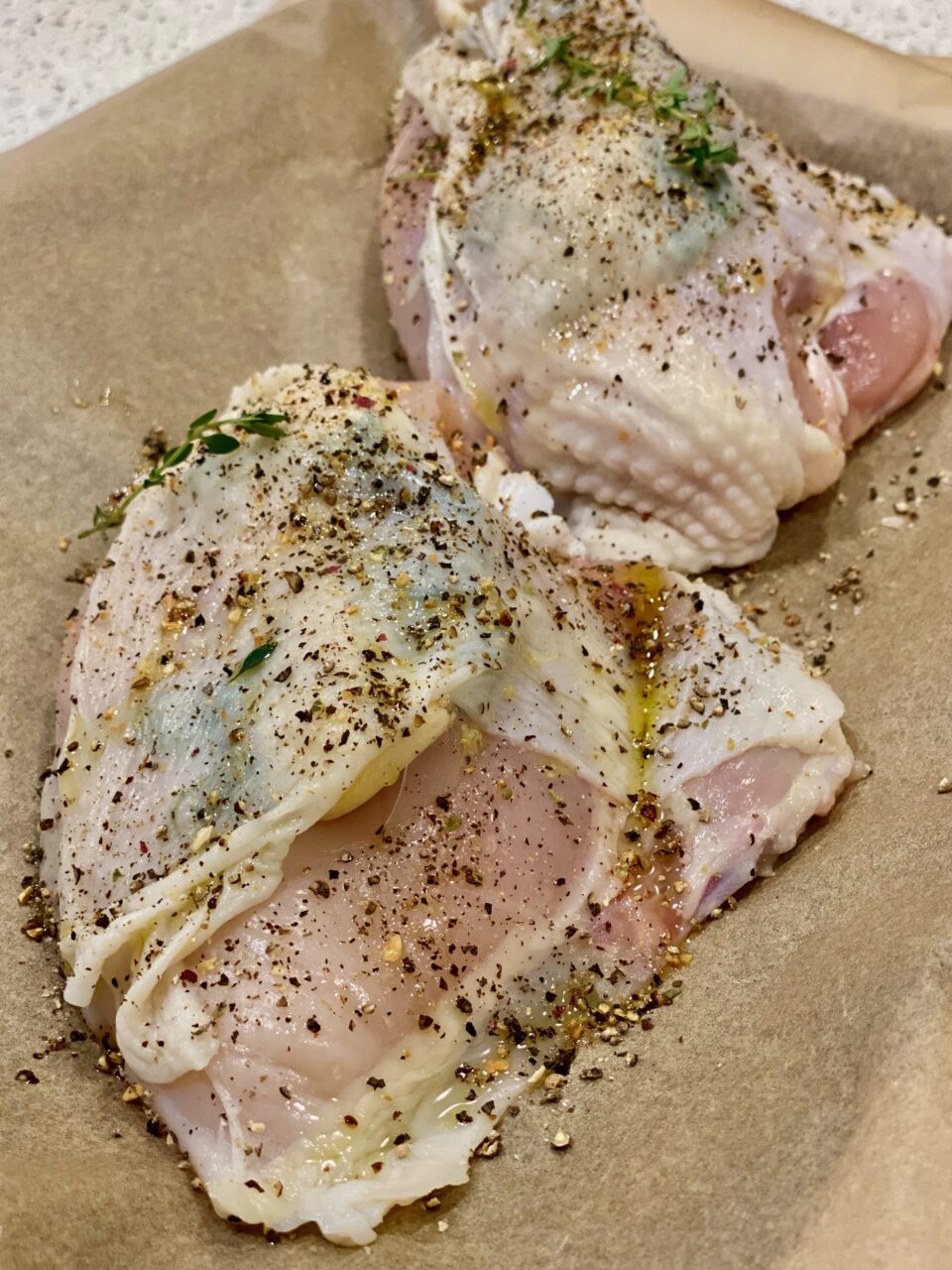 First I start by seasoning my bone on skin on chicken breasts. And I don't mean the top of the skin. I season the INSIDE of the chicken. How you might ask? I gently remove the skin away from the breast. Not completely, you just want to separate it enough so you can "stuff" something in the little pocket. Garlic cloves are a must. I usually use 4 whole cloves of garlic on each breast. Then comes the herbs. It depends on what I am cooking, if my soup is more rosemary heavy I will use that. If I am making my Chinese Palace soup I will hit it with some ginger and garlic. In this version though I used thyme leaves.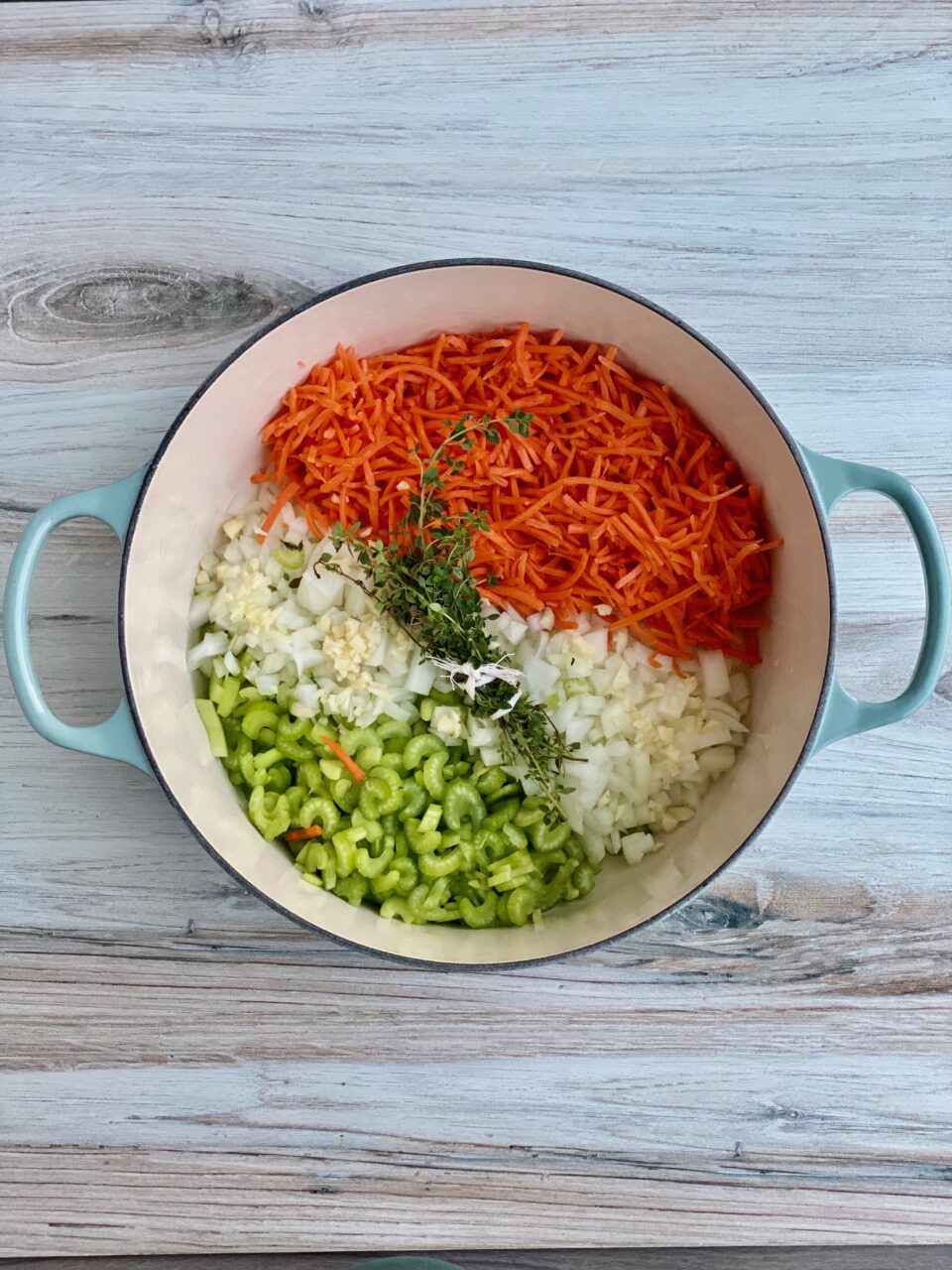 Once your chicken is stuffed, season the skin LIBERALLY with salt and pepper. Err on the side of "is this too much?". I assure you it won't be. Then I drizzle the chicken with a little olive oil and start the roasting process. I put the chicken in the oven at 425 for about 12 minutes so the skin can get really crispy. Then turn it down to 400 for the remaining 20-25 minutes. If you don't have a meat thermometer I would strongly suggest getting one. You want chicken to be at least 165. Also I find that cooking these chicken breasts depends on the size. Some times it takes 20 minutes additional, sometimes 25. But you don't want to get sick nor do you want to cook your chicken too long and dry it out.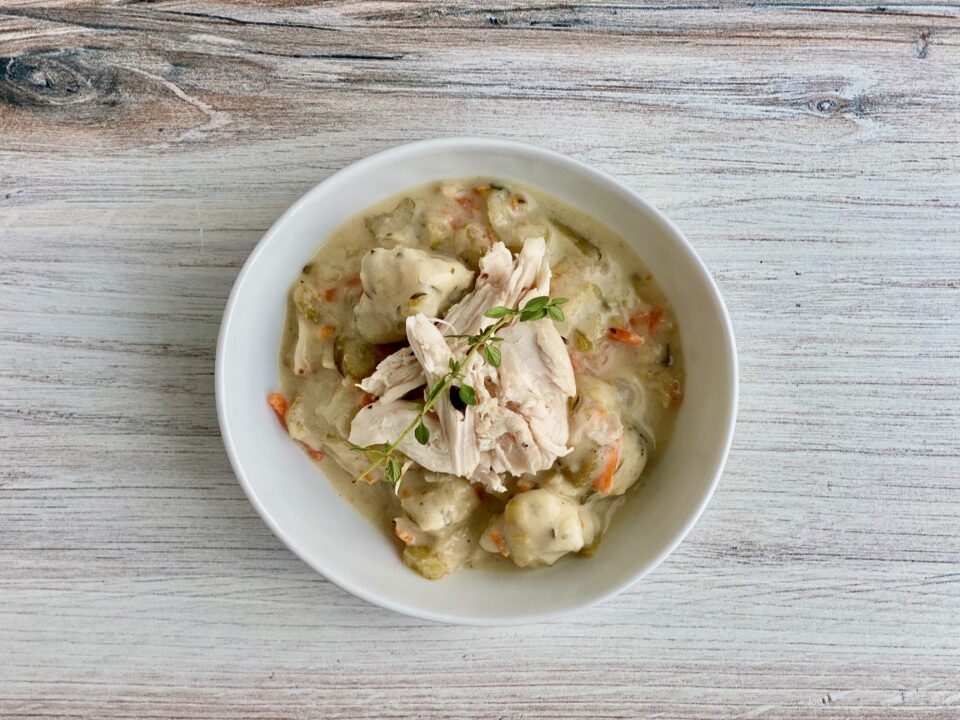 Bringing it all together
The rest of the chicken dumpling soup is super simple. It's a ton of veggies, some wine and fresh herbs all cooking together. I like to multi task and put the chicken in the oven while I cook the soup so everything comes together at the same time.
If you were team rolled dumplings previously this drop dumpling recipe might just win you over. So the next time you are craving chicken and dumpling soup be sure to try this recipe out.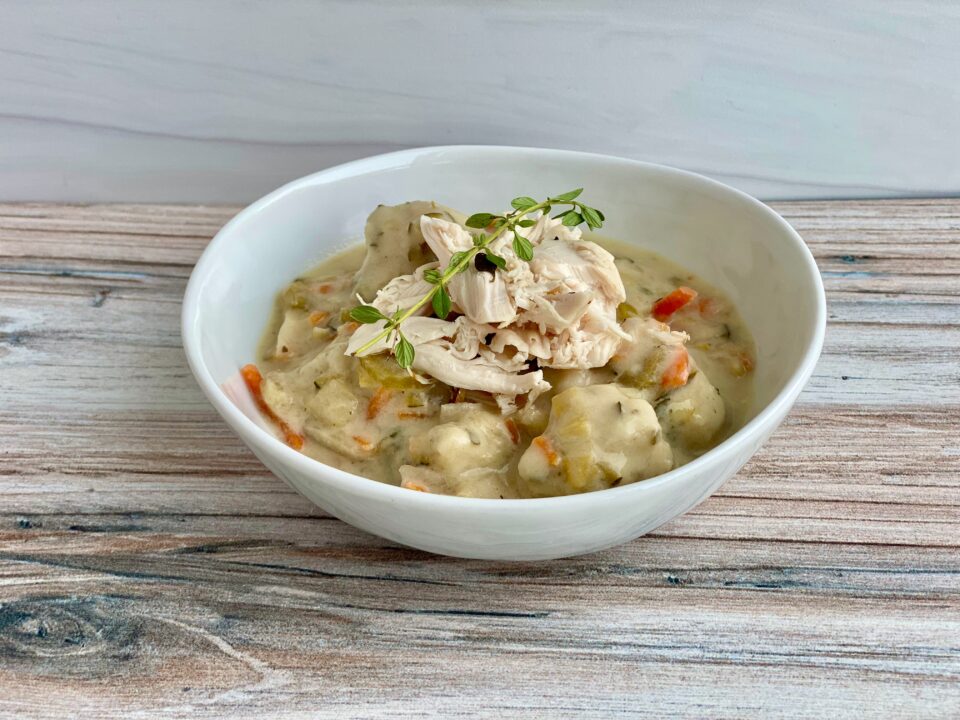 FOR MORE RECIPES BE SURE TO CHECK THESE OUT:
Use the same roasted chicken technique in this verde chicken chili recipe
This creamy chicken noodle soup is another comfort food meal
And remember, if you try this recipe be sure to rate it and leave a comment below and let me know how you like it. Or tag me on Instagram!
Print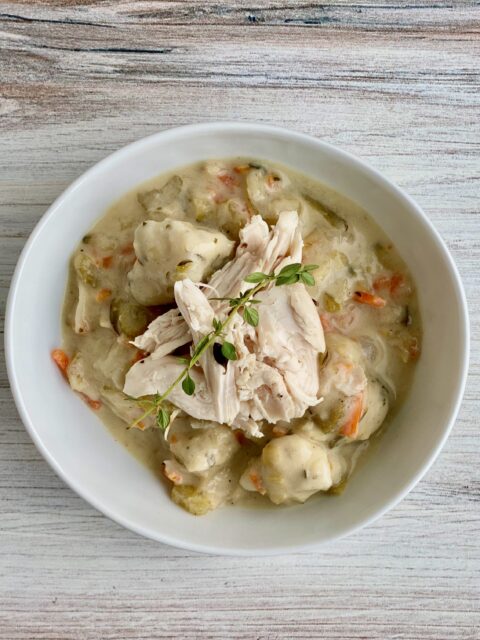 chicken and dumpling soup
---
Description
These light and fluffy dumplings pair with herb roasted chicken for a flavorful pot of comfort food.
---
For the dumplings:
1

c

flour

1/2

c

buttermilk

1/2 tsp

baking powder
finely chopped fresh herbs – I use a combination of chives, thyme (leaves just stripped from the stem) and Italian parsley) you want a minimum a few tablespoons. I would say maybe 1/8 c of herbs.
For the soup:
2

TBS butter

6

–

8

stalks of celery thinly chopped

1

c

grated carrots

2

leeks, light green and white part only thinly sliced, rinsed very well

1

yellow onion, small dice

2

medium zucchini, grated

4

cloves of garlic, minced

2

bay leaves
a small bundle of fresh thyme (10-12 sprigs)

1

c

white wine (I like pinot Grigio for this)

1/4

c

flour

8

–

12

c

chicken broth
handful of Italian parsley, minced

1/4

c

heavy cream
For the chicken
2

bone on skin on chicken breasts

6

–

8

whole garlic cloves
a few sprigs of fresh thyme
---
Instructions
Preheat oven to 425
Prepare your chicken. Loosely pull the skin away from each chicken breast. Under the skin stuff 3-4 garlic cloves and a few sprigs of thyme. Season each breast (the skin) liberally with salt and pepper and drizzle a tiny bit of olive oil over it.
Bake chicken on a parchment lined sheet pan or baking dish for 12 minutes at 425. Then turn heat down to 400 and cook another 20-25 minutes until chicken is at least 165 on a meat thermometer. Set chicken aside to cool.
While the chicken is cooking in a large soup pot sauté celery, carrots, onion, leeks, garlic, bay leaves and thyme leaves over medium to medium low heat for 10-12 minutes until veggies are softened.
Next, add in flour, stir into the veggies and let cook for a few minutes so the flour is not raw
Turn the heat up to medium high and add in wine. Stir the wine into the soup. The wine should reduce down rather quick.
Once wine is reduced add in 8 cups of broth and the zucchini. Let soup come to a gentle bubble.
While your soup is cooking stir all of the ingredients for the dumplings into a bowl.
When soup is gently bubbling start dropping in small teaspsoons of the dumpling dough. The dough will float at the top. Once the whole top of the soup is covered with the dumplings you may have to make room by moving the dumplings over to continue to drop the dough in. Once all the dough is dropped in turn heat down to low. The dumplings will take a few minutes to cook.
Stir in Italian parsley and cream. Let soup sit on low heat for 10 minutes to let the flavors merry. If the soup is too thick you can add in a cup or two of extra chicken broth.
To serve, ladle the soup into bowls. Top with the roasted chicken (you can either cut up or shred once cooled).