[dropcap]W[/dropcap]hen my sister and I were little a common meal at our house was soup. There was a restaurant growing up called the Chinese Palace. We would go sometimes with our mom and dad for the buffet but they had this soup that was so good. It was really easy to make so we would always say to our dad "will you make us Chinese Palace soup?". It was a nice brothy chicken based soup that was perfect if you were feeling sick or if it was cold (growing up in the Upper Peninsula of Michigan the latter happened often).
Recently I had been sick and wanted a simple brothy soup to make. By me, I mean my husband. All I wanted to do was lay on the couch. I had told him about this "really easy soup my dad used to make us" so I called my dad and asked how to make it. As a kid you don't have much of a concept of simple recipes, you just know your parents make you food and you like it. I knew it was easy but I didn't know HOW easy it was. Basically it's chicken, chicken broth, rice and scallions – LOTS of scallions. I knew I could easily articulate this to have my husband make it for me and he made it just like I remembered. Since then it's been on the rotation of our menu.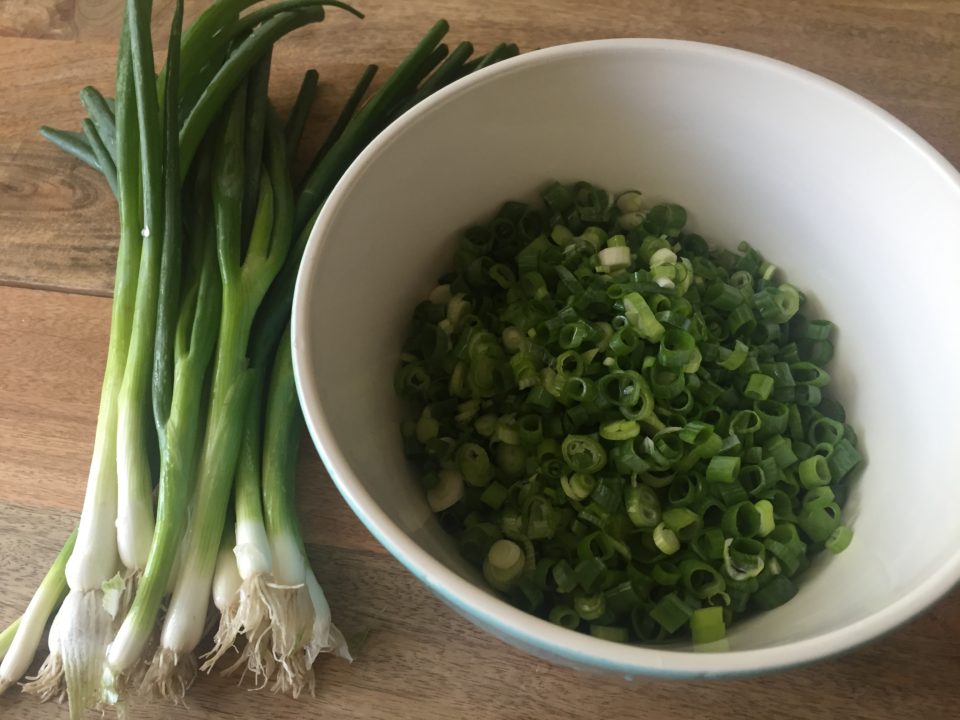 We had just been up north for a long weekend and had ate out all weekend. It's the one thing I love and hate about being on vacation. By the time we get back from somewhere I am ready to make my own food. We landed at 11 am and had a ton of stuff to do at home to get ready to leave town again. It would have been easy to run grab something for take out but we both did not want to eat out again. This soup was the perfect go-to. From start to finish it takes 30 minutes to cook and most of that time spent cooking the rice. Boxed chicken broth also helps speed up the process. If you have more time you can make your own stock but in a pinch the boxes are great.
Since the soup is so simple I try to amp up the flavors as much as I can. I always cook any grain that calls for water in chicken broth to add another dimension of flavor. Also in this recipe I enhance the flavor of the store bought chicken broth by poaching my chicken breasts in the broth while I heat it. I always use bone on skin on breasts to add more flavor to the broth. The key is to not overcook the chicken so it doesn't dry out. Since the seasoning of the soup is just salt and pepper I like to use white pepper. I find that it gives it a different taste that really compliments the peppery-ness of the scallions. When you first read that you need 5 bunches of scallions you will think it's a lot but it really isn't since the soup is so brothy.
When you are in a pinch or sick or cold this is the perfect soup to satisfy whatever your need is. Plus it's a huge bonus that it will only take you 30 minutes – the same amount of time it would have been to place a to-go order at the Chinese Palace (which has long closed down now).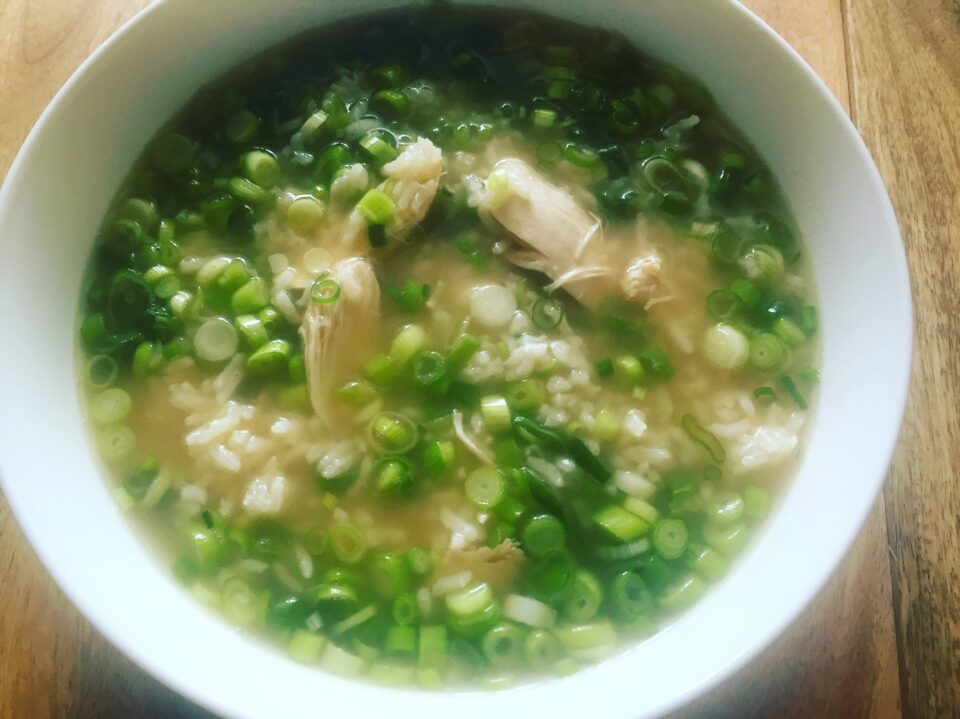 Print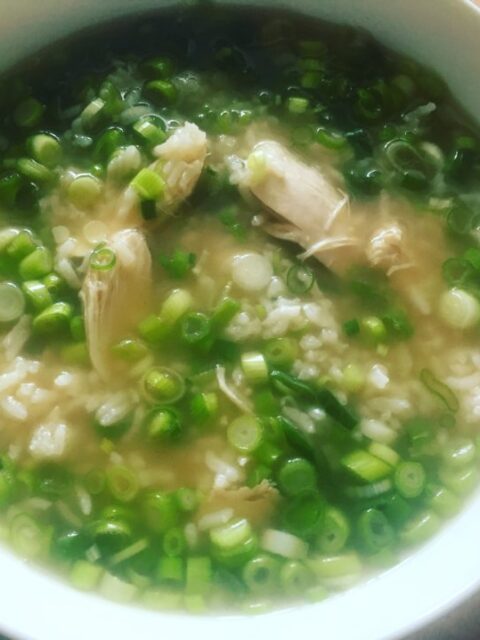 quick chicken and rice soup
---
2

c

of uncooked rice (I like to use jasmine or basmati)

16

c

chicken broth (4 1 qt boxes – I like to use low sodium)

1

–

1.5

lbs bone on skin on chicken breasts

5

bunches of scallions thinly sliced
salt and white pepper to taste
---
Instructions
Rinse the rice under cold water until the water runs clear to help remove all the starch from the rice. This will help the rice become fluffy and not stick together as much.
In a large soup pot add raw chicken and 12 c (3 boxes) of chicken broth and bring to a slow boil.
In a small sauce pan add rice and 4 cups of chicken broth and bring to a boil. Once boiling, cover and simmer for 15 minutes (or however many minutes the directions on your package state). After 15 minutes remove from the stove, fluff and let stand for 5 minutes.
While the rice is sitting pull the chicken from the broth. Strain your chicken broth through a fine mesh sieve and add back to the pot. Add scallions to the broth and season to taste with salt and pepper (I personally like to use a lot of white pepper to add a little kick).
Pull the chicken off of the bone and add back to the soup. To serve, scoop rice into soup bowl and ladle broth/scallion mixture over the rice. NOTE: For left overs keep the rice separate from the soup so it doesn't get soggy.
Prep Time:

5

Cook Time:

30