When my husband is out of town for work I don't know what happens but I rarely get the urge to cook. It's odd to me because before I met him I cooked for myself all the time. I loved being in the kitchen making myself a good home-cooked meal. I think now I just enjoy having a few minutes of down time that I don't want to be spending them behind the oven. He always jokes when he calls me "What's for dinner? Smoothies?" and 90% of the time he is correct. The last work trip he went on the first night I was craving a ton of vegetables but it was already 8pm and I didn't want to head to the store to cook. So I made the go-to smoothie but it didn't hit the spot. The next night I went to an earlier yoga class so I could come home and spend some time in the kitchen.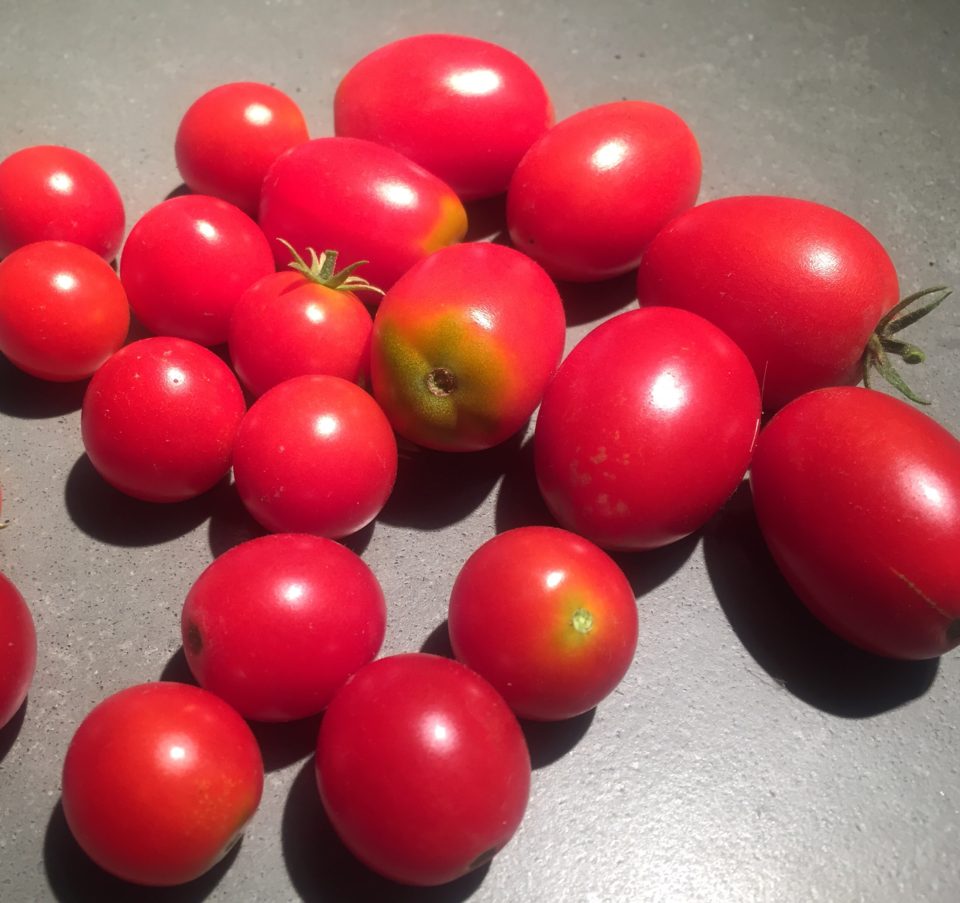 I am not a vegetarian but I definitely can do without meat for days, sometimes even weeks. I find that I don't crave it and don't want to hassle with it. Usually when my husband is gone I don't cook meat. One meal I love with lots of veggies is stuffed bell peppers, but they can be a lot of work. Over the years I have saved myself time and just cooked the filling. I don't hassle with stuffing a pepper and putting it in the oven for 30 minutes to broil. My version of the "inside" of the stuffed peppers is loaded with vegetables. Tomatoes, zucchini, peppers and onions seasoned liberally with red pepper flakes and Italian seasoning puts an Italian spin on this. You can use a can of tomatoes for the recipe but since it's summer the tomatoes are filling up the grocery stores. I live in a city and do not have a yard. I only have a balcony but this year I gave a go of urban gardening. So this summer I started with two pots of tomatoes, one cherry and one roma and I must say I am pretty proud of myself. My little organic tomatoes have grown nicely with sun, water and some love (no pesticides or fertilizers needed!) so instead of canned tomatoes I used some from my "garden" along with some juicy heirloom tomatoes from the store.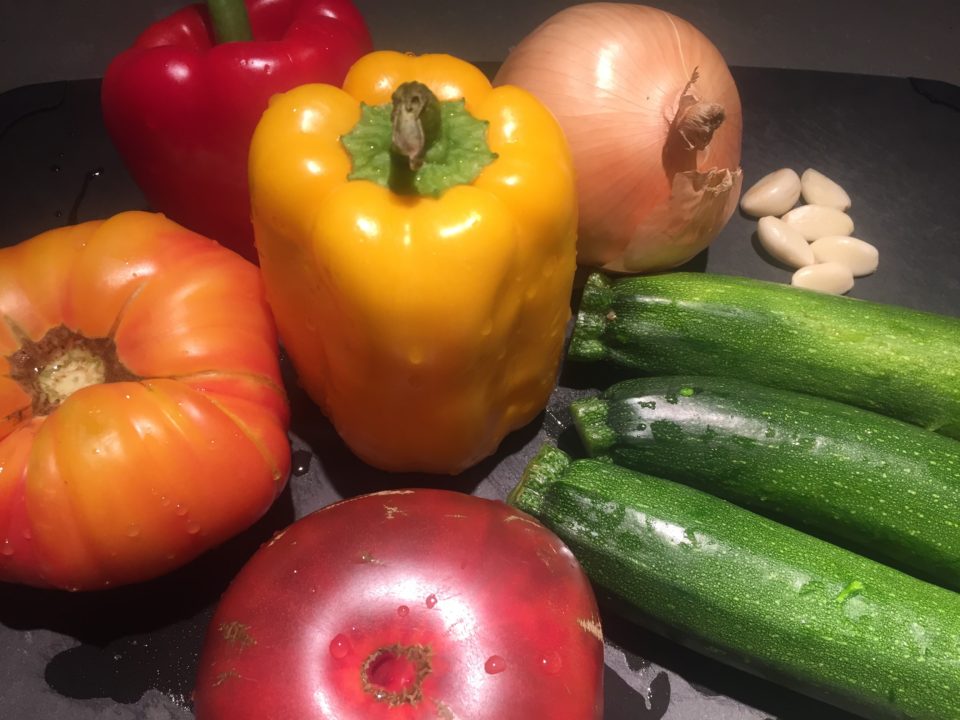 Growing up in the Upper Peninsula of Michigan we were close to Minnesota and Wisconsin. I remember there was a restaurant in my hometown that had wild rice soup and it was made with Minnesota wild rice. If you have never had Minnesota wild rice you MUST try it. It takes a little longer to cook but the flavors are worth it. The hulls crack open as it's cooking and you are left with this nutty, fluffy but a little crunchy rice that is a great addition to soups or in this case – my peppers. One of my favorite brands can be found here. To infuse an extra layer of flavor I like to cook all my grains in chicken broth (so yes this is a meat-less meal but I still like the flavor of the broth, like I said, I am not a vegetarian). This wild rice does not have the standard 2:1 liquid ratio so be sure to read the instructions before cooking.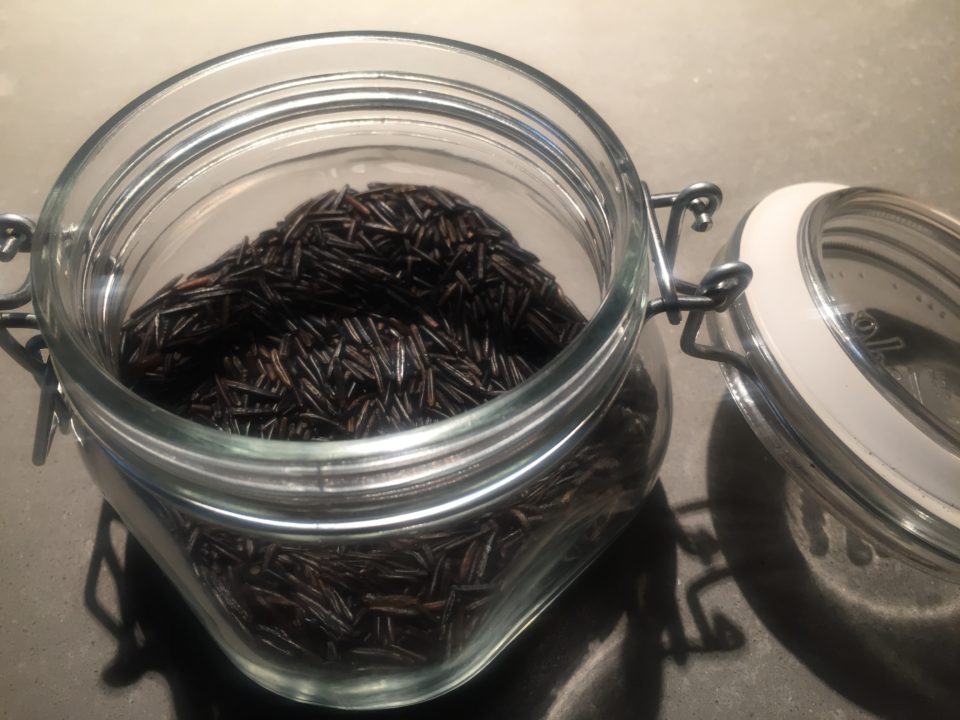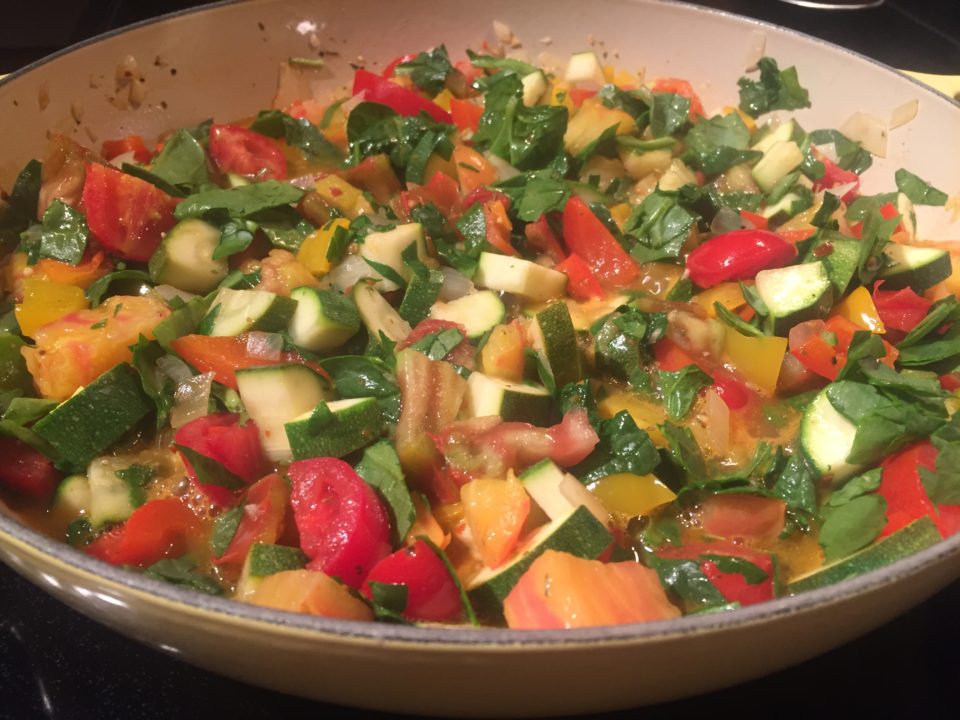 This meal can be modified to appeal to anyone. You can substitute veggie broth for a true vegetarian dish, omit the cheese to make it vegan, or if you really can't have a meatless meal you can brown up a pound of ground turkey or ground beef to add to the filling. Either way you are still getting a few solid servings of vegetables and save yourself a half hour at least by not stuffing your peppers. You can sacrifice the cooking time without cutting corners on flavor!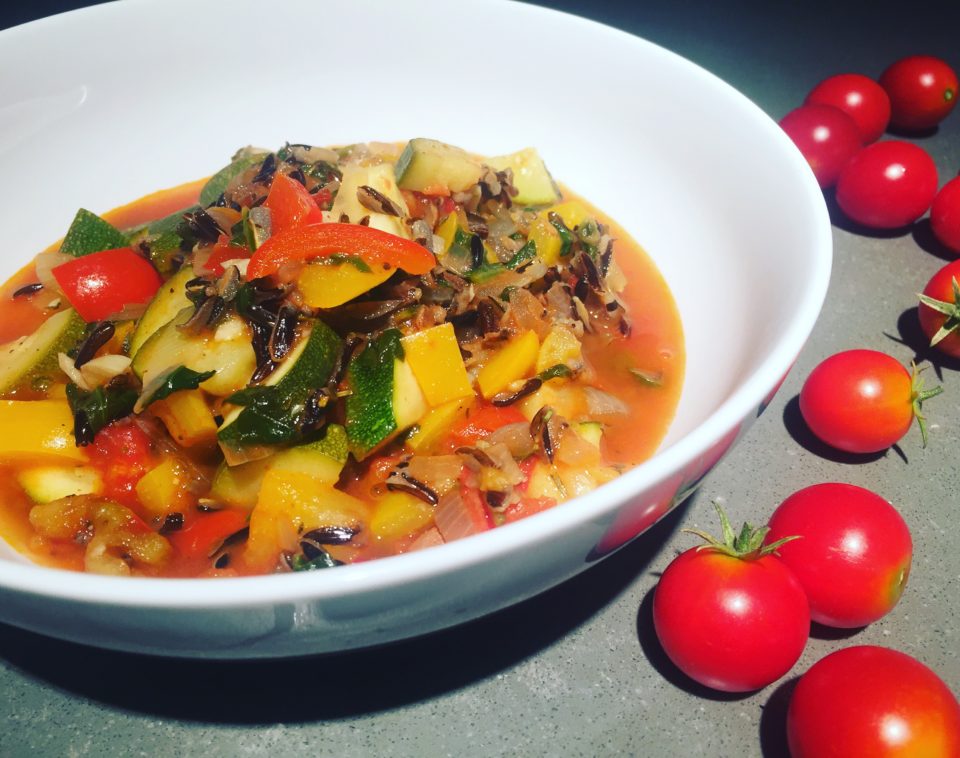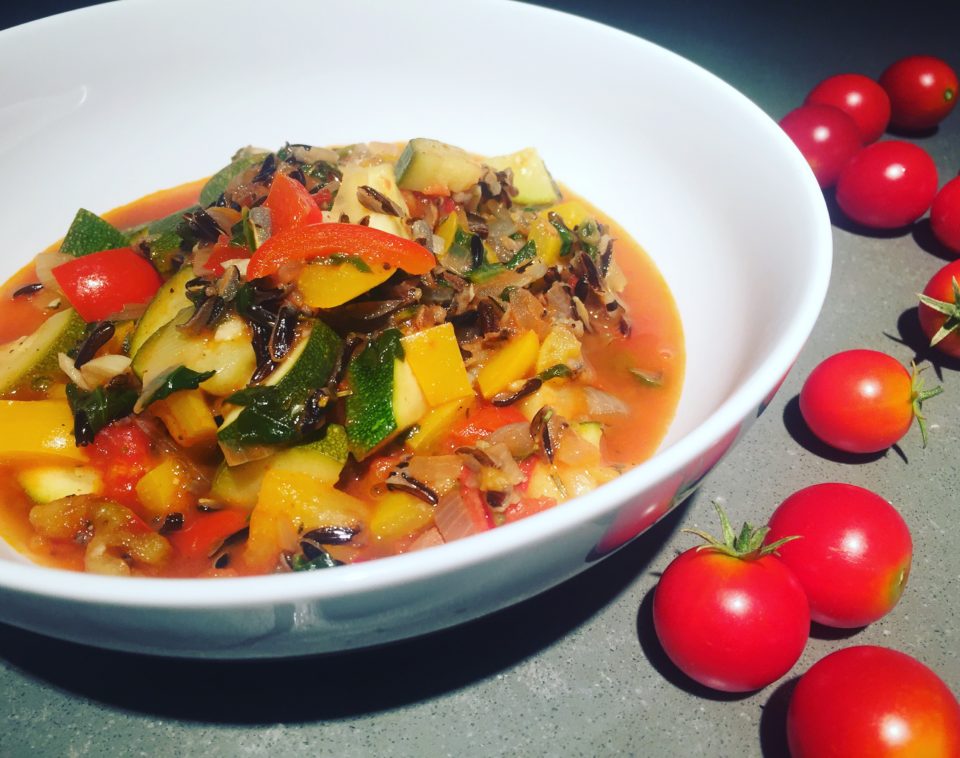 deconstructed "stuffed" bell peppers
2016-08-23 18:10:48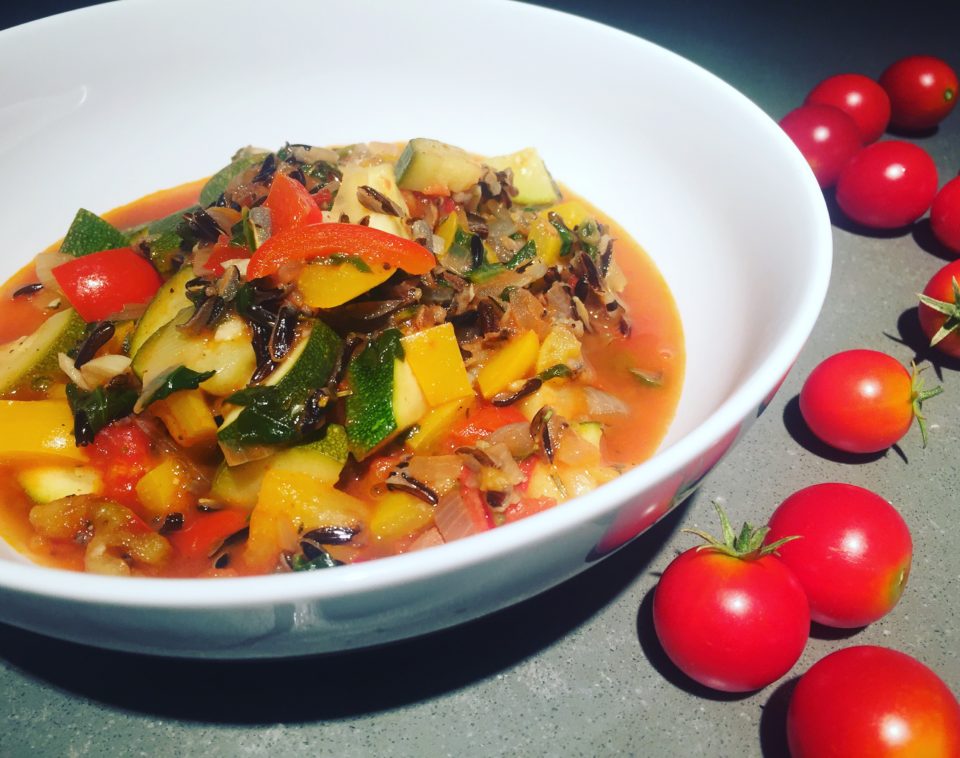 Serves 4
Ingredients
2 bell peppers diced (I like using red, orange or yellow for a sweeter flavor but you can use green if you prefer)
1 medium yellow onion diced
2 medium zucchini diced (I cut in half length wise, then in half again, then slice in chunks)
6 cloves of garlic minced
2-3 TBS tomato paste
3-4 large tomatoes (I used 2 heirloom and 4 small romas) if the fresh tomatoes are not in season or good use 1 28 oz can of diced tomatoes with their juice
3 c baby spinach rough chopped
2.5 c cooked wild rice
2-3 c. of chicken broth (or veggie broth)
2 TBS Italian seasoning
1/2 tsp red pepper flakes (if you don't like spice you can omit this)
1/4 c grated parmesan cheese
Instructions
In a sauce pan, follow the instructions to cook your rice. Use broth instead of water. Start this first as this takes the longest.
As your rice is cooking in a large sauté pan, sauté bell peppers, onions, garlic and red pepper flakes in a few TBS of olive oil over medium heat for 10-12 minutes until soft. Add in the zucchini and cook a few more minutes. Add in tomatoes, Italian seasoning and spinach to cook down and wilt the spinach. Season liberally with salt and pepper. Stir in tomato sauce to help thicken the mixture. Turn the heat down to low. Once the rice is done cooking add to vegetable mix. Stir in the parmesan cheese. If the mixture is too runny you can add a TBS more of tomato sauce to help thicken. The mixture will thicken as the rice soaks up the juice. Season with more Italian seasoning, salt and pepper if necessary.
Notes
You may add ground meat to this mixture. You can start the mixture by browning the meat and seasoning with Italian seasoning. Then add the vegetables from that point to the same pan with your meat and continue the steps outlined above.
OR use veggie broth and omit the cheese for a vegan version!
eat.breathe.love https://eatbreathelove.net/