When I think grilled cheese I immediately think tomato soup. The two are classics that go so well together. I already have a post for the two found here but I feel like you can't go wrong with any version you make. It is the dead of summer and all of the seasonal summer vegetables are here. My absolute favorite are heirloom tomatoes. I love all the varieties in colors and sizes and they taste so fresh and good. I usually freeze a bunch as the summer starts to wind down so I can use them all winter long in soups and sauces.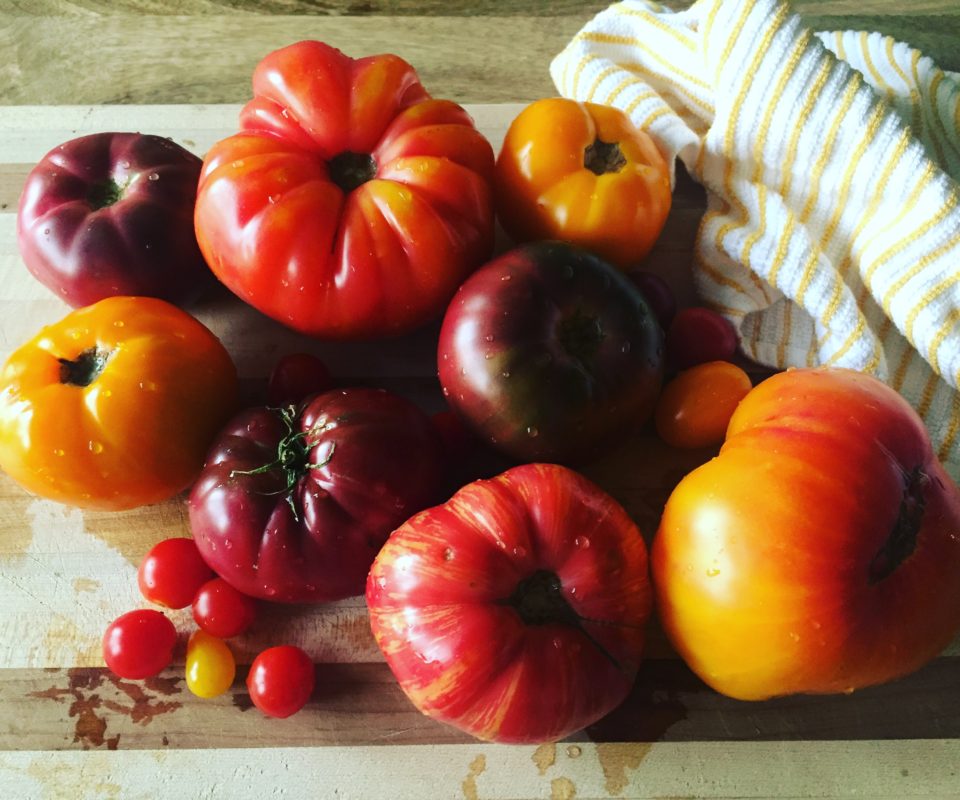 My go-to tomato soup is roasted in the oven. The summer vegetables have officially made their appearance at the grocery stores and markets including the heirlooms. Roasting the tomatoes in the oven brings out such an intense flavor, almost like you are concentrating it. So to remix the old recipe I added other summer vegetables like the zucchini. I also kept this version seasonal with the addition of fresh chives on the top which adds a sweet onion like flavor.
The other "new" ingredient from the last version in this soup is the addition of buttermilk. I had baked (my once a year event) a week prior for my husband's Birthday and we had bought buttermilk that of course only had a tablespoon used out of it. We found this great dairy company that does not pump their cows full of hormones and are grass fed. When we DO use milk which is not often, I try to buy from them. The buttermilk adds a creamy tangy addition to the soup.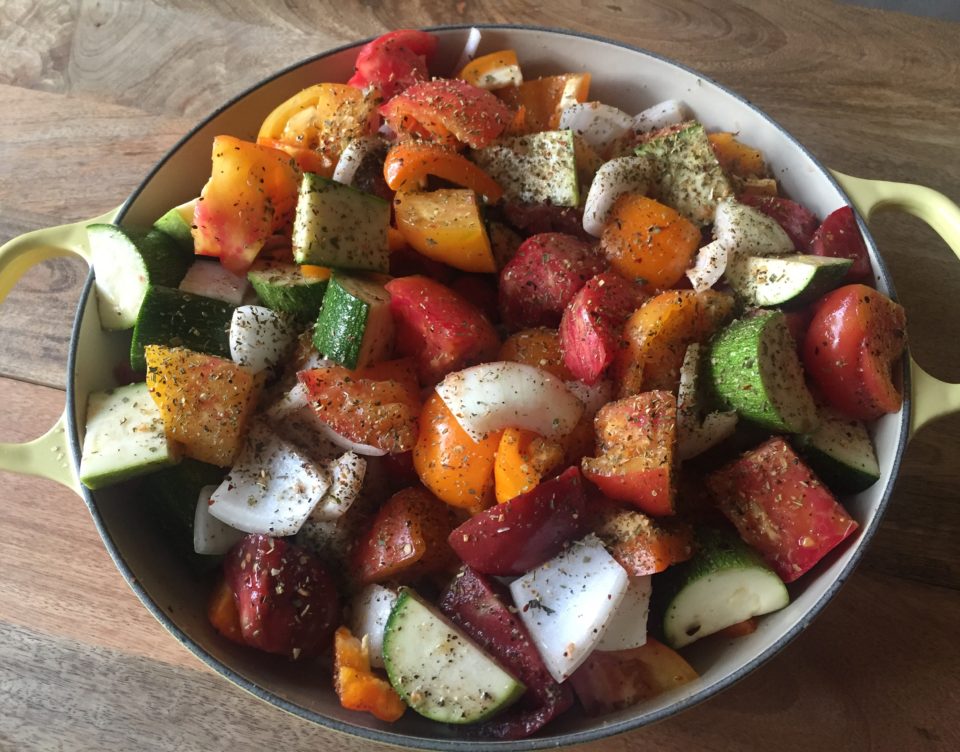 To re-vamp my standard grilled cheese I decided to add bacon. First off bacon makes everything better right? I crisped up the bacon in the oven (the BEST way to cook bacon in my mind – heat in the oven at 400 degrees and cook for 10-12 minutes flipping occasionally). I then reserved the bacon fat to brush my bread with. Typically I brush my bread with olive oil or a garlic butter but since I was using bacon I decided to use all of it – fat and all! Additionally, it gives another layer of smokiness to the sandwich. I paired it with a sharp white cheddar and gouda cheese. Since it was summer I decided to fire up my grill and actually GRILL my GRILLED cheese. It crisped up the bread nicely and added those nice grill lines to the bread.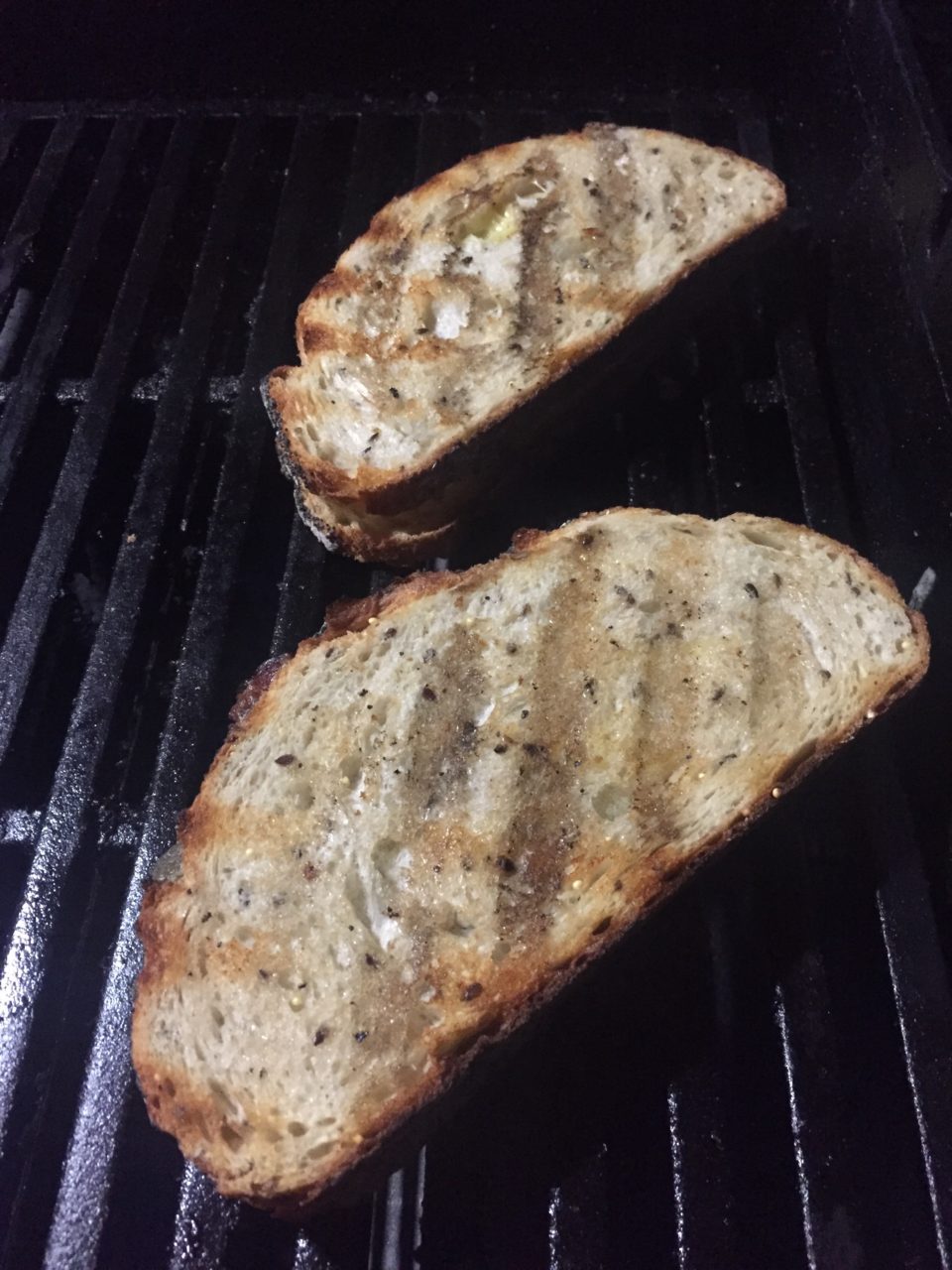 Little tweaks to your favorite recipes can completely change the way your go-tos taste. Incorporating seasonal vegetables and using fresh ingredients can enhance and put a new spin on old favorites.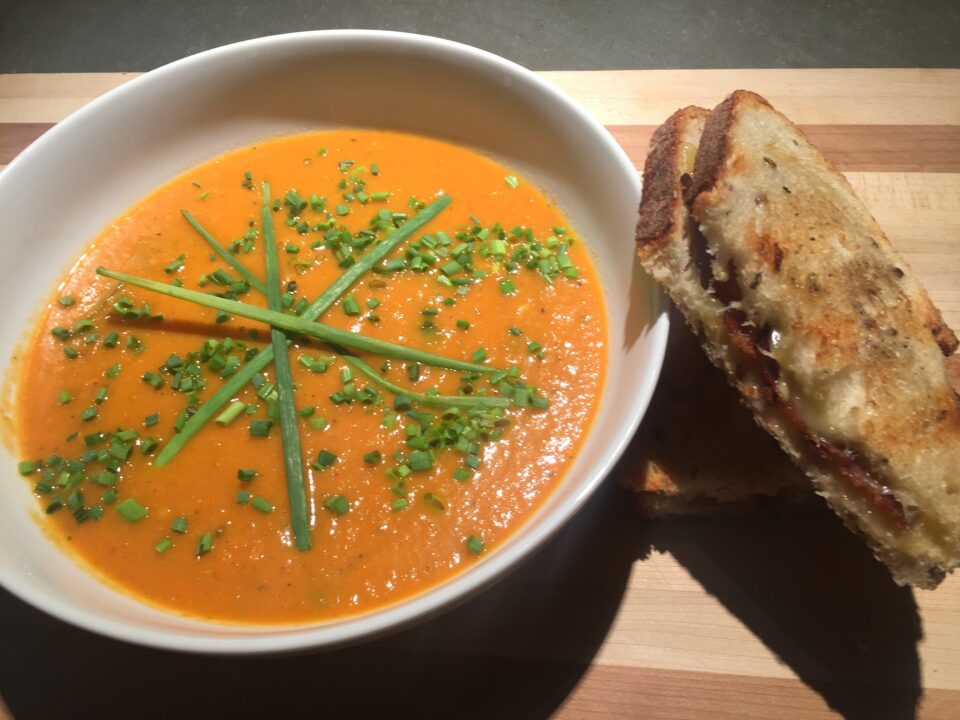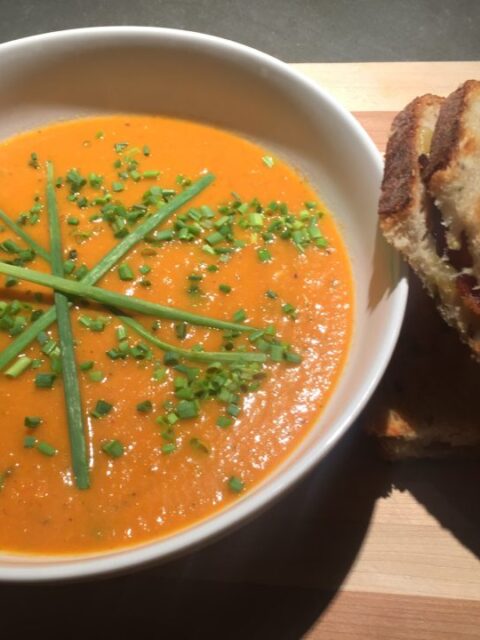 summer grilled cheese and tomato soup
Prep Time:

15

Total Time:

15 minutes
---
for the soup
2.5

–

3

lbs. fresh tomatoes (I love heirlooms for this recipe, all varieties of color) rough chopped

1

medium sized yellow onion rough chopped

2

medium zucchini rough chopped

1

bell pepper rough chopped

2

TBS Italian seasoning

1/2 tsp

red pepper flakes

3

TBS olive oil

1/2

c buttermilk
salt and pepper to taste

1

bunch of basil torn into small pieces

1

bunch of fresh chives minced
for the grilled cheese
12

slices of cooked bacon and bacon grease reserved

8

slices of bread (I use a good hearty multi-grain fresh form a bakery)

8

slices of sharp white cheddar cheese

8

slices of gouda cheese
---
Instructions
for the soup
Pre-heat oven to 450
In a large roasting pan or baking dish combine all of the vegetables for the soup with the olive oil, red pepper flakes, Italian seasoning and salt and pepper. Roast for one hour stirring occasionally.
When vegetables are finished roasting let cool 10 minutes. Add vegetables to a large soup pot and puree with an immersion blender. If you do not have an immersion blender transfer the soup in batches to a blender being sure to slightly vent the top of the blender to prevent your food from exploding from the heat. Once soup is pureed stir in the buttermilk. Stir in the fresh basil. Taste your soup and season with more salt and pepper or Italian seasoning if needed. Top with minced chives.
for the grilled cheese
Pre-heat grill (if you do not wish to grill your sandwiches you can just make in a frying pan).
Brush the outside of the slices of bread with the reserved bacon grease. Assemble your sandwich by placing 2 slices of each cheese and the bacon in between the slices of bread. Cook on medium heat until the sandwiches are nice and brown on both sides. It is better to keep your heat at medium and take your time with cooking them versus having the heat high and cooking too quickly and burning your bread.
---
---
Save
Save