Guess how we kicked off the New Year? With soup of course! I made a big pot of Italian inspired creamy chicken noodle soup on New Year's Day. I don't make a ton of meat soups because I usually eat them through out the week and don't like reheating meat. But because it wasn't a Sunday and we weren't going to have a ton of leftovers I figured, why not?
Italian inspiration……
I wanted to use Italian flavors in this soup. The first thing that comes to my mind when I think about Italy is lemons. We got married in Sorrento, Italy which is one of the lemon capitals of the country. The Sorrento lemons are big, juicy and one of the best lemons I have ever had. To pair with the lemons in this soup I also used a nice Italian Pinto Grigio to give the soup a subtle tanginess.
To make the soup actually creamy I used Marscapone cheese. Marscapone cheese is like the Italian version of cream cheese. It is neutral in flavor so it can be used in sweet or savory dishes and worked perfectly in this soup! Finally don't forget to top the soup with a little fresh grated parmesan for that nutty, salty flavor.
Don't forget the vegetables!
Also if you guys have been following along you know I love my veggies in soup. This one is no different. The soup gets my standard base of a mirepoix (celery, onions and carrots) plus garlic. Lots of garlic! But then once the soup is almost cooked I throw in a ton of fresh chopped baby spinach. Baby spinach will wilt down when it cooks so don't be alarmed at how much the recipe calls for. I promise you won't even know it's in there.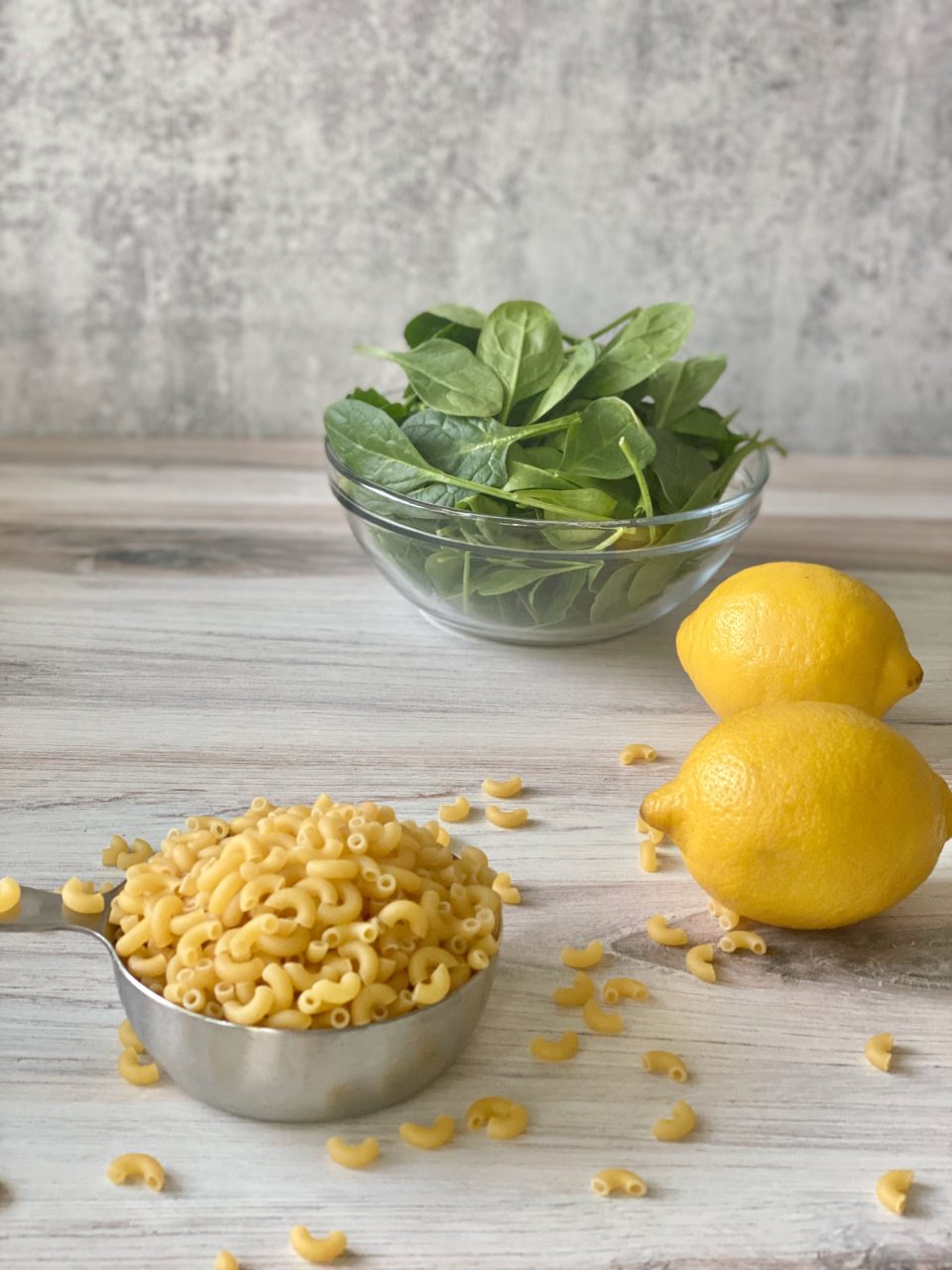 An added time saver…..
Often times chicken for soups in my opinion, turns out dry. There are a few things I have found that helps prevent this. Ina Garten made chicken noodle soup before and she roasts her bone on, skin on chicken breasts in the oven. That helps seal in the moisture of the chicken. But I also found a new trick. When I put my pasta in to cook I put my chicken breasts in with it. So then my chicken poaches in my flavored soup instead of water. Also the juice from the chicken infuses into the chicken broth so it's a win win. Then once the chicken is cooked I take it out of the soup, shred it and put it back in. Soup-er easy! You can always use a rotisserie chicken or ditch the meat all together too!
While this Italian inspired creamy chicken noodle soup may not be something you actually find in Italy the flavors definitely took me back. The rich creaminess of the marscapone paired with the lemons give this soup something extra you typically wouldn't find. It was a perfect way to start the New Year and is a great rotation for your comfort food recipes. Furthermore, you can make it in under an hour so that itself is a win!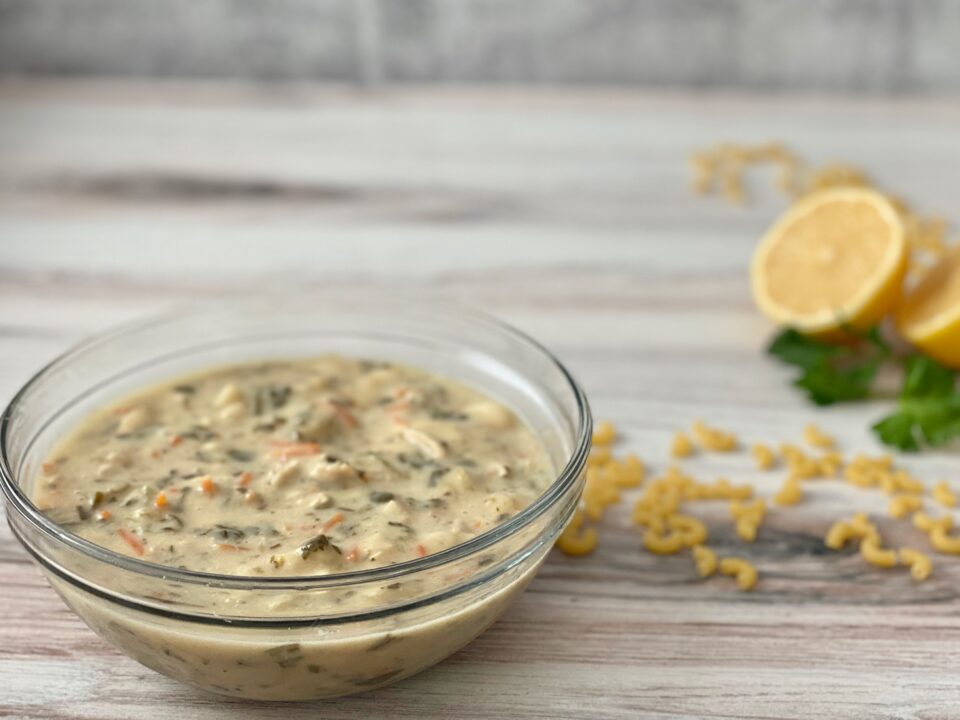 If you like this creamy chicken noodle soup you will love these: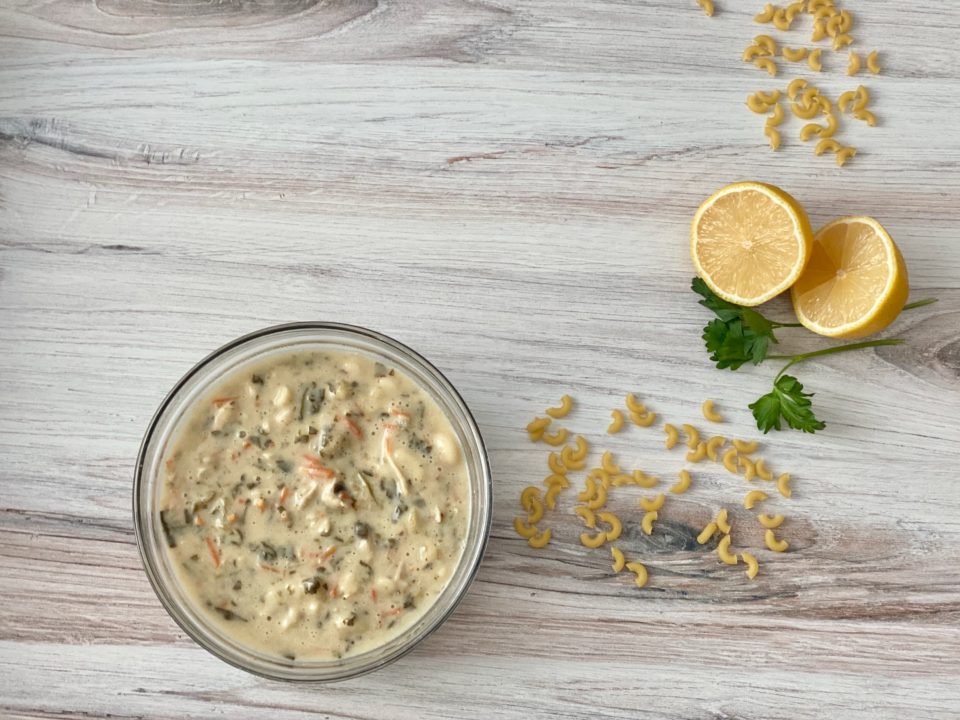 Print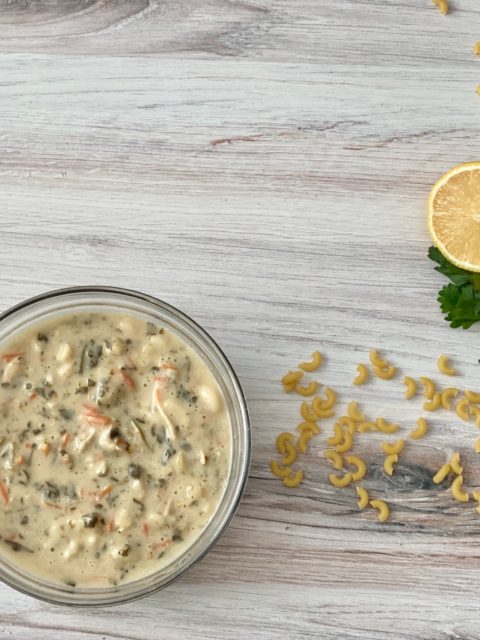 Italian Inspired Creamy Chicken Noodle Soup
---
Author: Karissa P
Total Time: 24 minute
Yield: 4-6 1x
Description
This creamy chicken noodle soup puts a new spin on an every day classic.
---
2 TBS butter or olive oil
6–8 stalks of celery, thinly sliced
1 c grated carrots
1 yellow onion, diced
8 cloves of garlic, minced
2 bay leaves
1/4 c flour
1.5 c dry white wine (I used Pinot Grigio, make sure it's something you would drink and DON'T use cooking wine, if you don't have wine on hand you can omit)
12 c chicken broth (most boxed broth is 4 cups so I use 3 boxes)
5 oz container fresh baby spinach, rough chopped
1 c small pasta like elbows, ditalini or orzo
Juice of 2 lemons
1 lb. boneless skinless chicken breast (or you could use rotisserie chicken as well!)
Parmesan cheese rind (usually you can find with the fresh parmesan at grocery stores)
1 c marscapone cheese
1/8 c heavy cream
1 large handful Italian parsley, minced
Parmesan cheese for topping
---
Instructions
In a large soup pot sautée celery, carrots, onion, garlic and bay leaves in butter or olive oil over medium low heat for 10-12 minutes until softened.
Add in flour and stir around until flour is no longer white, 1-2 minutes.
Add in white wine and turn heat up to medium high. Cook for 3-5 minutes, stirring frequently until the wine cooks out and the veggie mix thickens.
Add in 8 of the 12 cups of broth, Parmesan rind and spinach. Leave heat on medium high and bring to a gentle boil. Season well with salt and pepper.
Once broth is gently boiling add in pasta, lemon juice and chicken (if using rotisserie chicken wait until the very end to add to the soup). Cook 12 minutes until chicken is cooked through.
Turn heat of the soup down to low. Remove chicken and shred or chop. Add chicken back to the soup with the parsley, marscapone cheese and heavy cream. Stir to melt the marscapone into the soup.
At this point in time your soup will be thickened. If you like a thick hearty soup leave as is. If you want the soup to be more brothy add in the remaining 4 cups of chicken broth.
Check the seasoning, add more salt and pepper if necessary.
Top with parmesan cheese and serve.
Prep Time: 10m
Cook Time: 30m
Category: Soup