If you have been following along for some time then you won't be surprised that my husband loves anything and everything Mexican. He is from Texas and would eat something Mexican inspired every night if he could. He really wanted tacos one night and asked if I could whip up a side of Mexican rice to go with it.
Rice and Easy…. or is it?
You think rice and you think it's easy to make right? I did. But I have screwed up so many pots of rice. So now I have my tips and tricks to ensure that doesn't happen.
First, for any dish you are making be sure to read the back of your rice. Not all rice has the same liquid to rice ratio which is where I used to go wrong. I always assumed it was two cups of liquid for every one cup of rice. Not for all rice. So that was the biggest mistake I was making.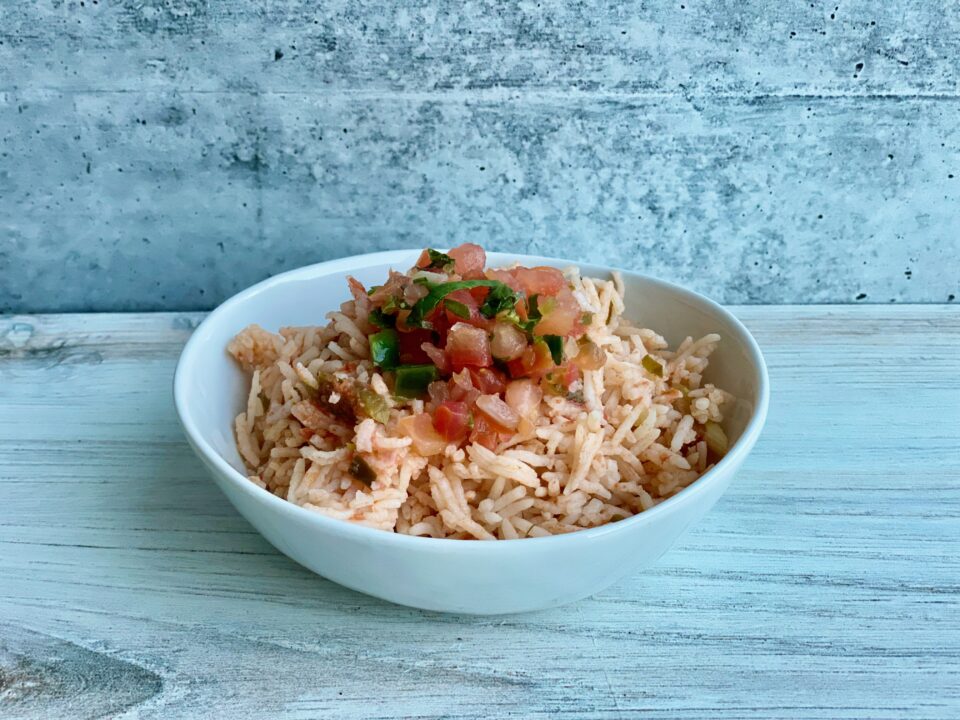 Second, rinse your rice, especially for this easy Mexican rice dish. When you rinse the rice under cold water all that starch gets rinsed off which gives the rice that individual grain texture instead of one big lumpy mess.
Last, use some fat. I firmly believe that rice tastes better with a little fat in it. I use butter but you most certainly could use a tablespoon of a neutral oil like avocado oil in this dish or even vegan butter.
Making it Mexican inspired
You know when you go to a Mexican restaurant and the rice is a subtle orange color? That's from tomatoes. In my easy Mexican rice I always add some kind of tomato base to the cooking liquid. I will use a liquidy salsa if I have it on hand (don't use pico, you want the liquid, not the veggies!). Or sometimes I drain the liquid from a can of diced tomatoes. Other times if I don't have any of those on hand I will throw in two tablespoons of tomato paste. Any of those will help give the rice the subtle color AND flavor you are used to.
Additionally I like to infuse the broth with jalapeños, garlic and onions. I just think it gives the rice a little something extra. Also notice I said broth, not water. Using broth instead of water adds even more flavor into the rice as it cooks. If you really want the rice to be like the stuff you get at restaurants you could also add a handful of mixed veggies to the rice as it is cooking. (the pea, carrot, corn mixture is what you usually get at restaurants).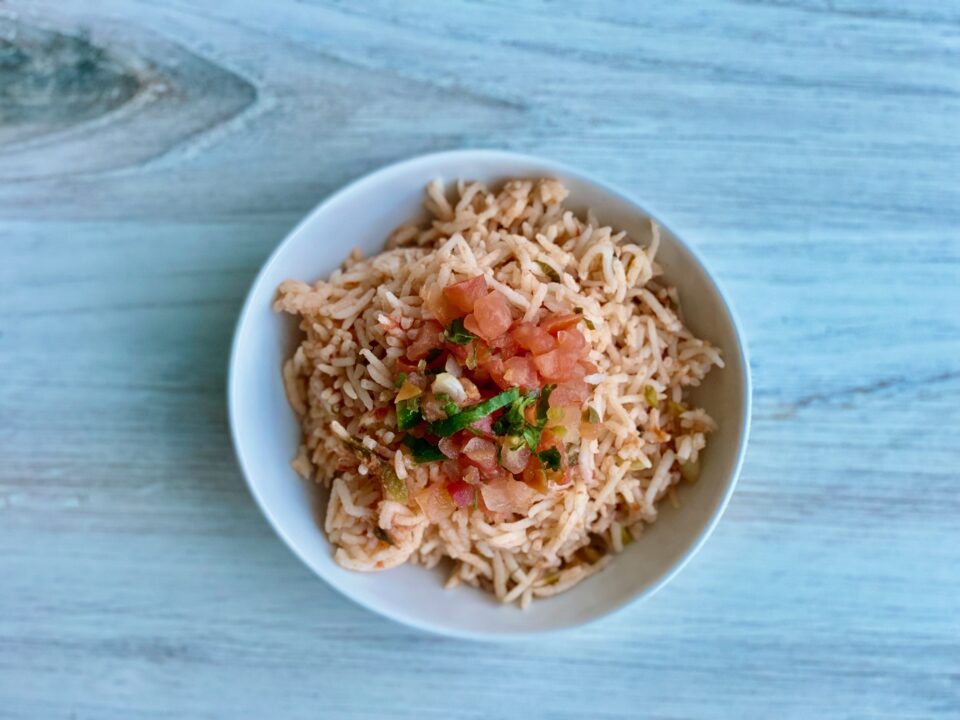 Bottom line, rice SHOULD be easy. And it doesn't have to be flavorless. By taking a few extra steps not only can you avoid mushy overcooked rice but it can be infused with flavor as well. Be sure to try this easy Mexican rice the next time you are cooking Mexican. It's a perfect side dish for tacos, enchiladas, or anything else Mexican.
Print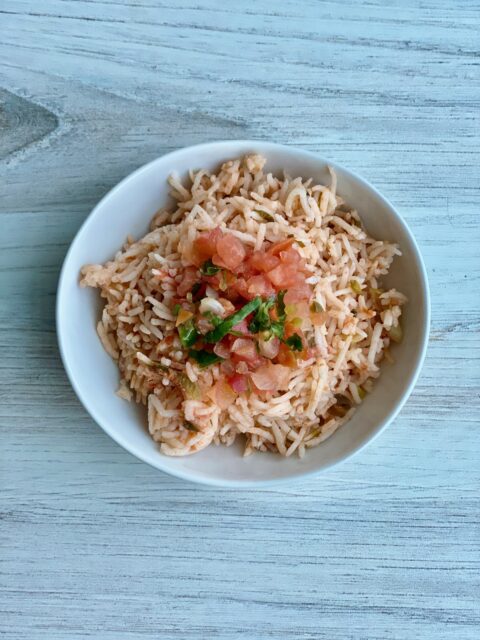 Easy Mexican Rice
---
Author: Karissa P
Total Time: 25m
Yield: 6 1x
2 c basmati rice
3.5 c chicken or veggie broth
1/2 cup salsa (I love a fresh liquid-y salsa for this, don't use pico you want the liquid here) or you can use the juice from a can of diced tomatoes or even tomato sauce
3 cloves of garlic slice in half
3 TBS butter
1 TBS cumin
1 scallion sliced thin
1/2 jalapeno minced (omit if you don't like spice)
---
Instructions
Read the instructions to your rice to make sure the ratio is 2:1 (liquid to rice). If not adjust accordingly. Use 1/2 cup of the tomato liquid and reduce or increase the broth if necessary. (ex if the rice is 1.5:1 and you need 3 cups of liquid you would use 1/2 of tomato, 2.5 cups of broth)
In a large sauce pan place all of the ingredients except the rice. Bring to a boil.
Once boiling stir in the rice, season with salt and pepper. If the broth you are using has a lot of salt in it go easy on the salt. Cover your rice and cook according to instructions, let stand if instructions call for it. Each variety is different. Some rice cooks for 10 minutes and stands for 5, some cook for 20 minutes. Just read the back of your package.
Notes
Serve with tacos, grilled meat like skirt steak or chicken. For a vegetarian version use veggie broth. For a vegan version use veggie broth and replace butter with olive oil or coconut oil.
Prep Time: 5m
Cook Time: 20m