I LOVE carbs! Love them! I like potatoes pretty much in any fashion. A good homemade pasta makes my mouth water. I love the grains as well, farro, quinoa, wheatberries and lentils are some of my favorites. But I never realized how many carbs I was eating until my husband decided he wanted to try to lose some weight and make a lifestyle change and start a carb cycling program. Zoodles became a way to swap out carb heavy pasta for a lighter version for him.
Since he could only eat a cup of carbs in the morning this made me have to re-think our lunches and dinners. When I think carbs I think the basics, the re-fined processed carbs – the breads and pastas. I never really counted beans and lentils as a "carb" because they have so many other benefits and often were my meat substitute. It was really hard trying to think of new things to cook for us for dinner especially with me not always eating meat.
One of the best gifts we registered for our wedding was our spiralizer. I love being able to make noodles out of zucchini and squash. I love vegetables. Even if we are eating a real pasta dish I often will spiralize veggies and throw them in with our noodles. Recently we got back from our vacation and my husband got back on track with his program (which has successfully helped him lose and keep off at least 10 pounds since January). I decided that I would try to make a true carb-less dish for dinner, something relatively quick and figured zoodles would work.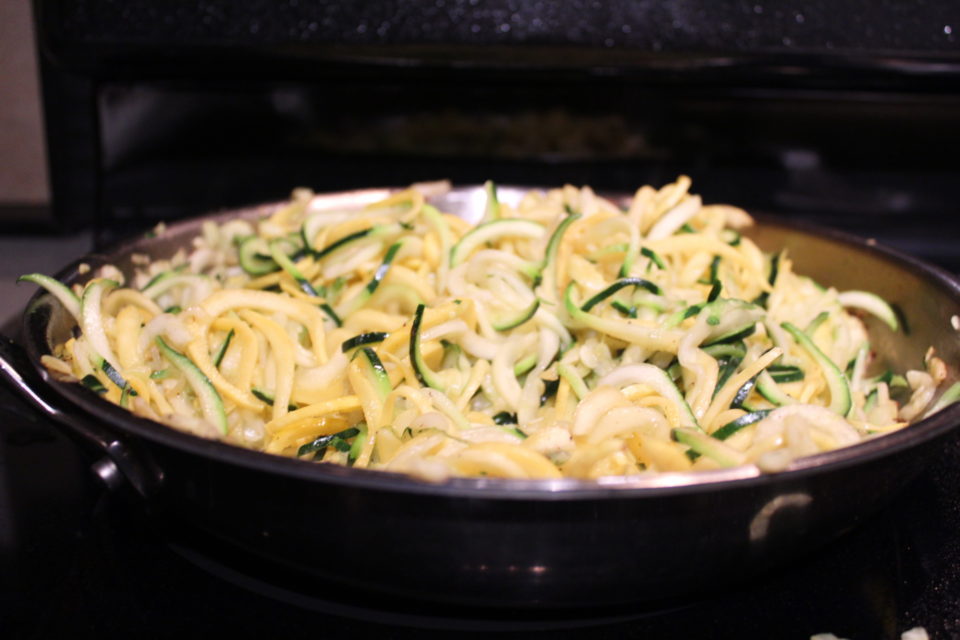 I have cooked zoodles several different ways as a "pasta". The one issue with the zucchini is that they are a water dense vegetable. One time I made them in a light sauce and they ended up watering down my sauce and dish. Over time I have tried several tactics to try to get a less watery dish. Now I make my zoodles first and liberally salt them and set them in a colander to release some water. I also learned not to put them in the sauce.
Then after I cook my meatballs and all those good brown bits are left in the pan I add the zoodles to the same pan. When the zoodles start to release a little water it enables you to scrape up those bits and give your zoodles flavor. I only cook them a few minutes just to soften slightly. Lastly I use tongs to pull them out of the pan which lets them drain off more of the water before I put them into my serving bowl.
But the true star of the dish are really the meatballs. I never thought in my lifetime I would eat meatballs, let alone suggest making them. I have a serious issue with the texture of ground meat in general so for me to make something with not just one but THREE types of ground meat still amazes me (yet I still won't eat sausage…). Some grocery stores sell a true meat ball mix already made which is beef, pork and veal. If your store doesn't, I buy a pound of each and freeze half for another dinner.
I have learned the appreciation of simply seasoning my food to let the natural flavors come through of what you are cooking instead of over seasoning and not tasting anything but the seasoning. These meatballs are simply seasoned with fresh garlic, fresh flat leaf Italian parsley, a little crushed red pepper and some Italian seasoning. While there is a small amount of bread crumbs in these they help bind up the meat so if you on a strict no carb plan then you can omit them.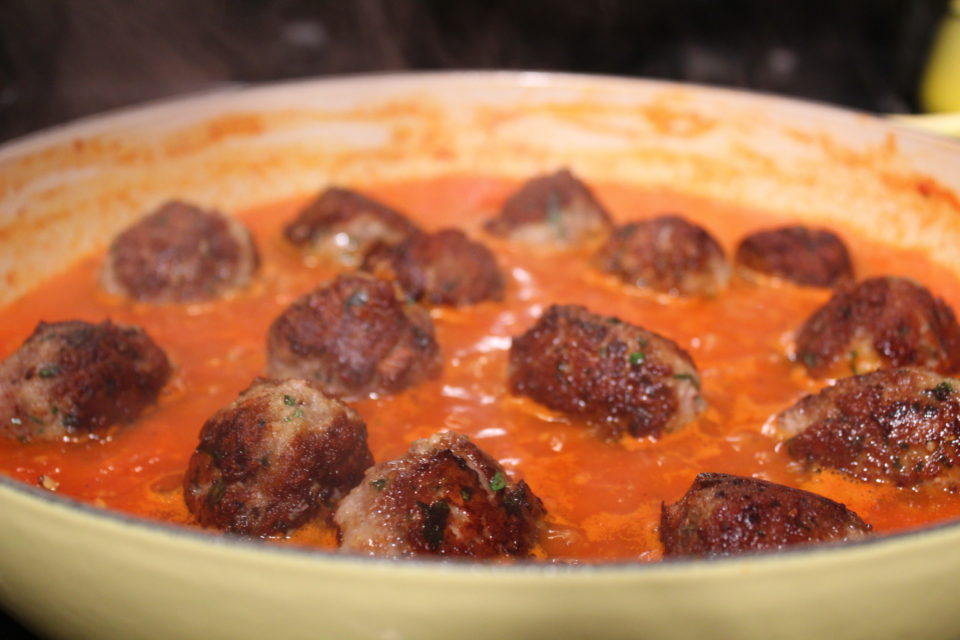 If you are trying to watch your carb intake or just try something new this is a quick meal that will almost fool you to think you are eating real pasta…. almost!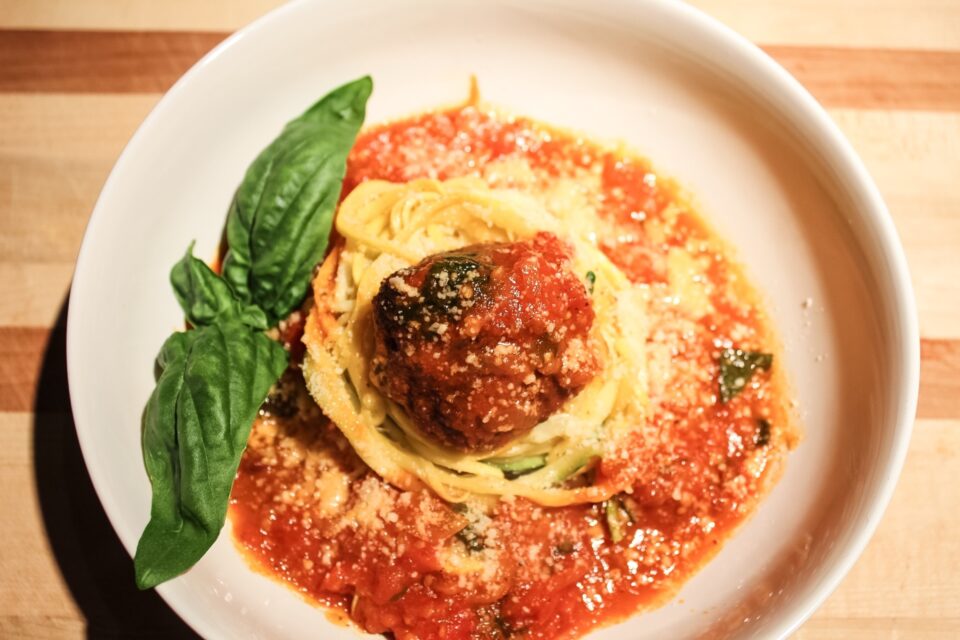 Print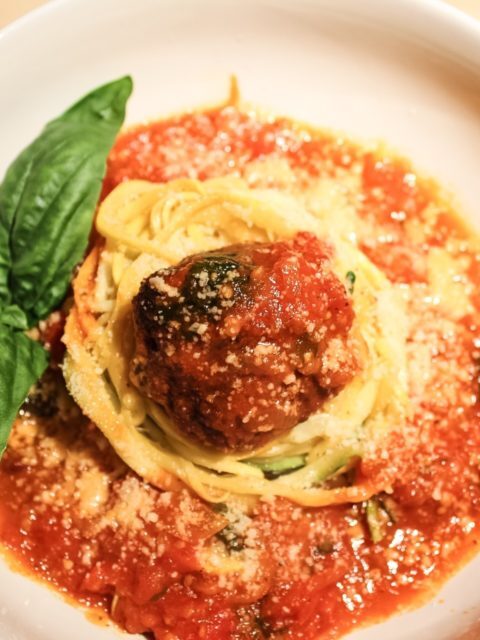 no carb spaghetti and meatballs
---
Total Time: 1 hour 15 minutes
for the meatballs
1.5 lbs of meatball meat (I used .5lbs of each ground pork, ground veal and grass-fed ground beef)
6 cloves of garlic minced
1/4 c minced Italian parsley
1/3 c panko bread crumbs
1/4 c grated parmesan cheese
1 egg
salt and pepper to taste
1/2 tsp red pepper flakes (1 tsp if you like a little spice)
1 TBS Italian seasoning
for the "pasta" and sauce
6–7 medium sized zucchini/yellow squash – put through the spiralizer
1 16 oz can of tomato sauce
5 large tomatoes diced and their juices (I used heirlooms, you could use roma or if tomatoes are not in season use 1 28 oz can of diced tomatoes)
6 cloves of garlic minced
1/2 of a yellow onion minced
1/2 tsp of crushed red pepper
1 package of basil
2 TBS Italian seasoning
parmesan cheese to top with
---
Instructions
Place spiralized vegetables in a colander and salt liberally. Mix to spread the salt onto the veggies. Let stand while you get your sauce and meatballs going. This will help draw out the water of the vegetables.
for the sauce
In a large saute pan heat 2 TBS of olive oil and over medium heat add onions, garlic and red pepper flakes. Cook until onion is nice and tender (about 12 mins). Stir from time to time so onions do not brown. Once onions are cooked add in tomatoes, tomato sauce, Italian seasoning and season with salt and pepper. Turn heat up to medium high stirring occasionally to let the sauce start to cook down. Tear the basil in pieces and add to your sauce.
for the meatballs
Combine all of the meatball ingredients in a mixing bowl. Using your hands mix the ingredients together. You do not want to over work the meat. Just mix enough to get seasonings, breadcrumbs and the egg distributed through the mixture. Roll mixture into 2 inch balls (about the size to fit in the palm of your hand. In a large pan heat up a few TBS of olive oil over medium to medium high heat. Once the oil is warmed add in half of your meatballs. Do not over crowd the pan. After a few minutes rotate the meatballs and repeat to brown on all sides. Once the first batch is done remove and let rest on a plate. At this point the meatballs are not cooked all the way through, just nicely browned on the outside. Repeat with the second batch. Once all the balls are cooked slide into the tomato sauce. Stir to coat the balls with the sauce. Turn the heat to medium. Let cook for 15-20 minutes to allow the meat to cook the remaining way through.
When the meatballs have about 5 minutes left, drain most of the grease (not ALL of it, leave a little bit) from the meatball pan and discard. Turn the heat to medium low. Add in your zucchini noodles. The veggies will sweat out a little water which will allow you to scrape up all the brown bits left in the pan and give your "noodles" more flavor. Once the veggies have cooked a few minutes you can start to assemble your dish.
I use tongs to remove the veggies as there will be water in the pan and you do not want to the liquid in your meal, it will make the sauce runny. Put the "noodles" on the bottom of your plate, top with sauce, meatballs and parmesan cheese.
Prep Time: 30
Cook Time: 45