[dropcap]A[/dropcap]fter being in Greece for a week my husband was CRAVING spicy food. There isn't much spicy food in Greece. The best we could find was in Croatia when we found red chili oil for our pizza. Once we got home my husband was putting jalapenos on everything. I was actually in the mood for some spicy food as well so I started thinking about what I could make for us for dinner. Since it was a Sunday, my go-tos on Sundays are of course soup. It's easy for me to eat a pot and then I get leftovers for lunch. Usually we try to avoid eating out during the week as much as possible because you don't know what goes into the food you eat most of the time. Personally I would rather make my own food and at least know it's healthy.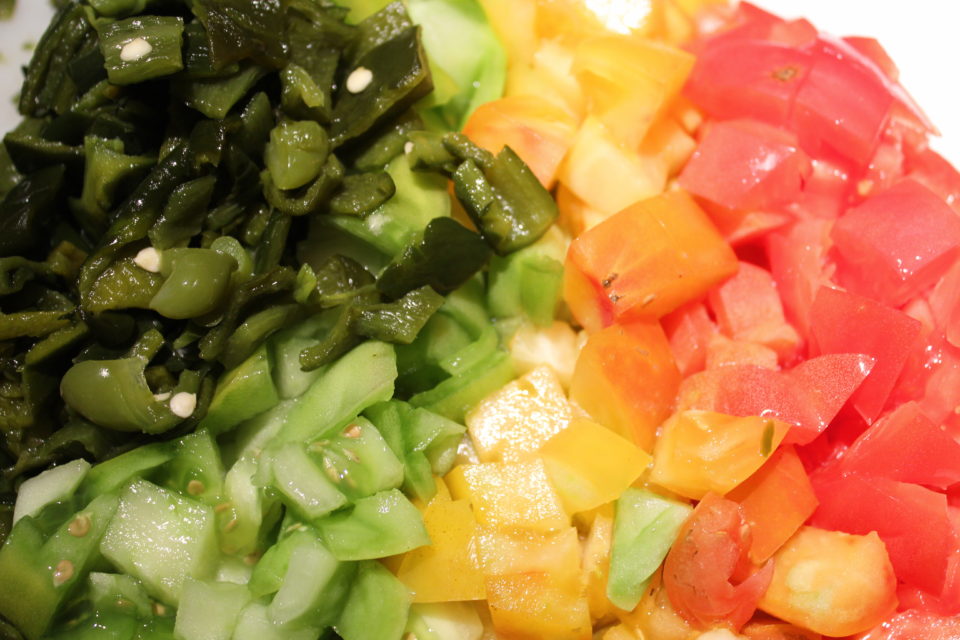 Recently I had seen organic poblano peppers at Whole Foods when we had been there a few days before and they looked really good. Sometimes it's hard to find organic poblanos so when they are at the store I try to make things with them. Lately I had seen some recipes that were poblano chowders and all were made thick with the addition of heavy cream and milk.
Since my husband had mentioned he wanted potato leek soup so I started thinking about how I could make a poblano chowder with out all the fat that a heavy cream adds. When I make lentil soup I often time thicken it with garbanzo beans that I puree. So I decided in this version of a chowder I could do the same thing but use cannellini beans instead. When the beans are blended, they add a nice creamy texture to the soup which also adds protein to the soup (great for vegetarians).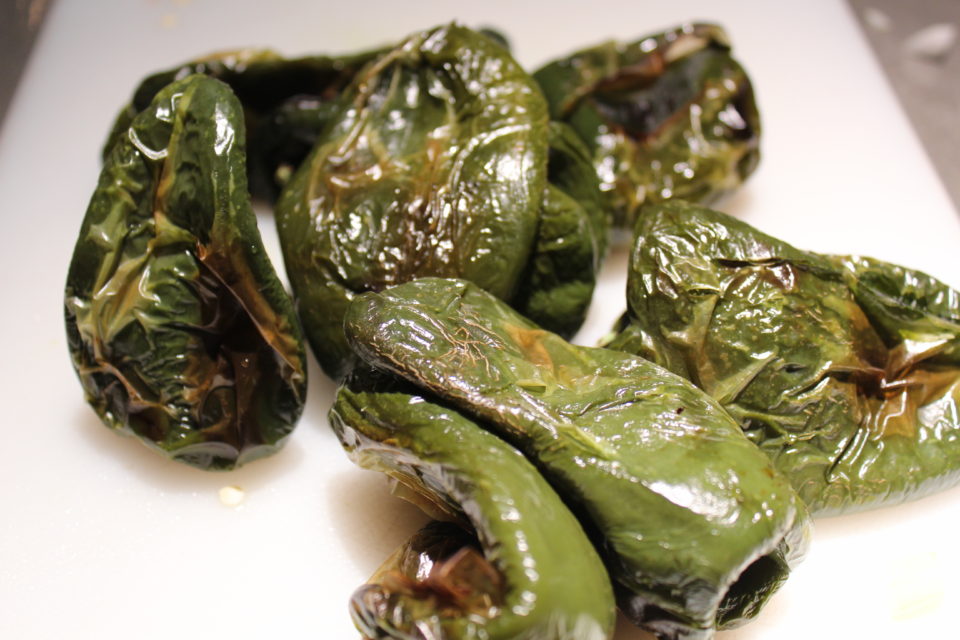 Typically chowders have potatoes in them so I diced some yukon gold potatoes and boiled them in a few cups of chicken broth. I knew the base of my soup would be very thick and in order to thin it out I would have added broth to it eventually so this way you can keep the chunks of potatoes and add the broth they were boiled in to the soup which kills 2 birds with one stone.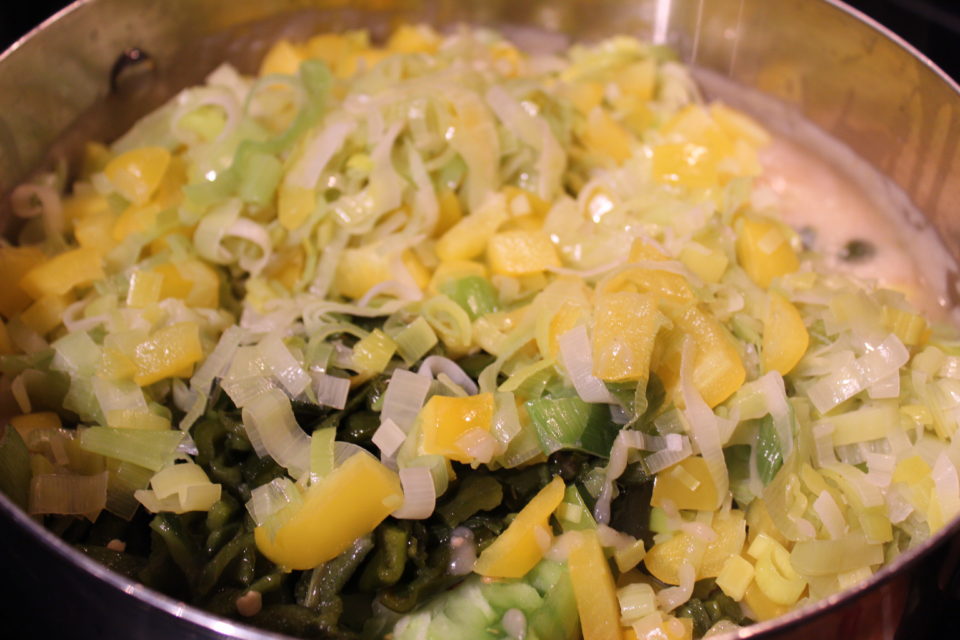 To keep the smoky flavor of the soup and compliment the roasted peppers, I decided to make bacon to top the soup with. Originally my husband had wanted potato leek soup so I decided to add some leeks to this chowder and wilt them down in some of the reserved bacon fat. If you wanted to keep this soup truly vegan or vegetarian you can just sauté the leeks and peppers in a little olive oil. If you do eat meat, don't skip this step. The bacon fat enhances the smokiness of the soup and adds an extra layer of flavor.
Chowders don't have to be thick and creamy from fatty ingredients. You can make thick soups healthy and still have just as much creaminess and flavor as if you would if you used cream and milk. Save yourself the fat and calories without sacrificing flavors.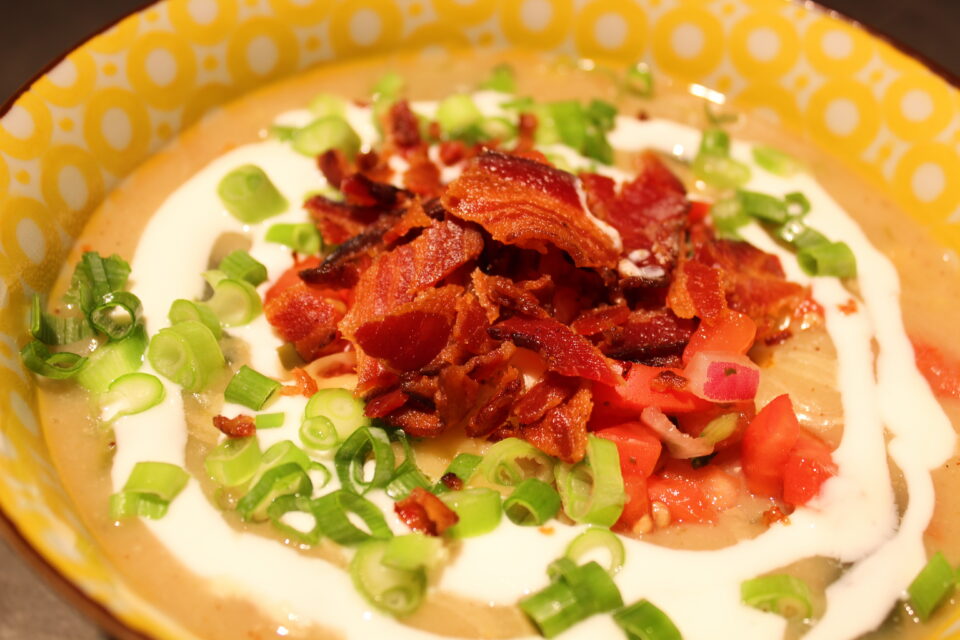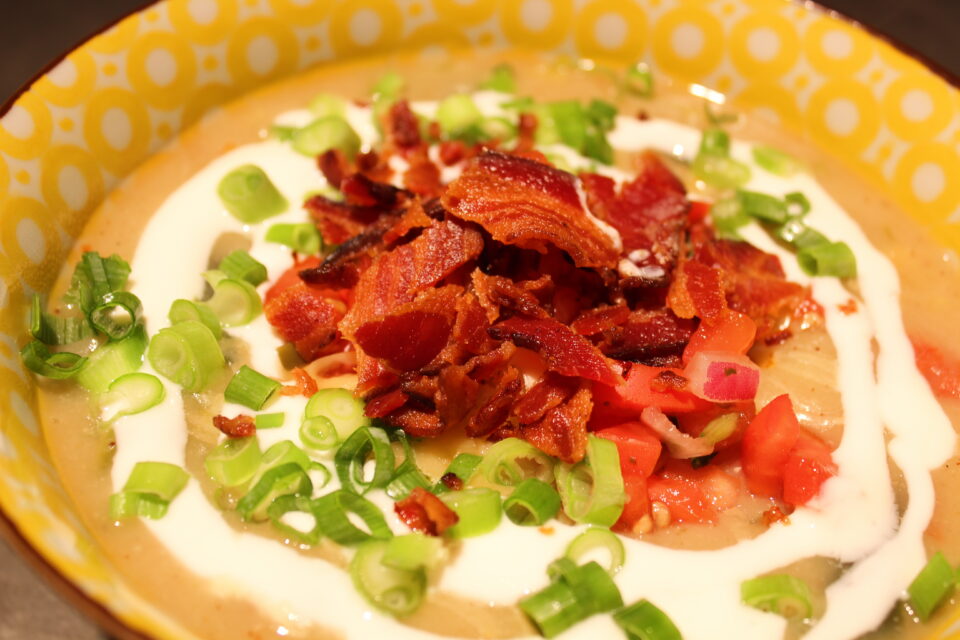 roasted poblano chowder
2016-09-12 09:06:41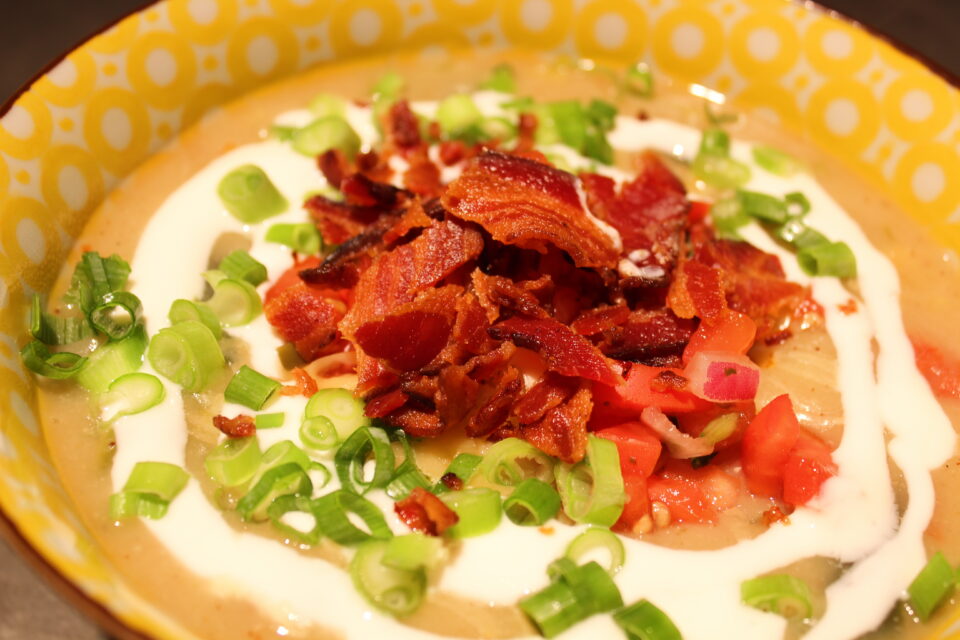 Serves 6
Ingredients
5-6 poblano peppers, roasted, seeds removed, chopped in small dice
1 yellow onion diced
5 cloves of garlic minced
2 bay leaves
6-8 c chicken broth (you can replace with vegetable broth for a vegetarian option)
3 russet potatoes, peeled and rough chopped into cubes
2-3 yukon potatoes small dice
1 yellow bell pepper diced
2 leeks sliced thin
6 slices of cooked bacon, reserve the grease
3 tomatoes diced (I used heirloom tomatoes in 3 colors, you could use roma tomatoes here as well, if tomatoes are not in season you can substitute a 28 oz can of diced tomatoes)
2 15 oz boxes or can cannellini beans, drained (no need to rinse)
2 TBS cumin
1 tsp chili powder
For toppings
scallions sliced thin
pico de gallo salsa or fresh diced tomatoes
cheese
Greek yogurt
avocado
sliced jalapenos
chopped cilantro
Instructions
Pre-heat your broiler to roast the poblano peppers. Place peppers on your oven rack (I put a cookie sheet on the rack below the peppers to catch any liquids that might drip). Turn your peppers every 5 minutes (less if you have a really hot oven). The peppers should become charred and blistered on all sides. Continue to flip until your pepper has cooked on all sides. Once done place peppers in a brown paper bag (I use my grocery bag) and let sit at least 10 minutes. Once the peppers have cooled, peel the charred skins from the peppers, remove the seeds and chop into a large dice.
In a large soup pot combine 1-2 TBS of reserved bacon fat (if you do not want to use bacon fat you can use olive oil instead), onion, garlic and bay leaves. Season liberally with salt and pepper. Cook over medium heat until onion is soft and tender (10-12 minutes). Then add russet potatoes and 1 box of chicken stock (4 cups) and bring to a boil.
While the soup is coming to a boil in a small frying pan with 1 TBS of bacon fat (or olive oil) over medium low heat sautee the sliced leeks for 4-5 minutes. Next add in the bell peppers and cook a few more minutes until leeks have softened.
In a small sauce pan add 2 cups of chicken stock and yukon gold potatoes and cook until fork tender. Reserve both the broth and potatoes. While this sounds like an extra step but this is so you can still have chunks of potatoes in your chowder.
Once the russet potatoes are cooked through, add in the beans to warm (in your large soup pot). Remove the bay leaves from your potato/onion mixture. With an immersion blender puree until smooth. If you do not have an immersion blender you can use a regular blender just be sure to vent the top to prevent an explosion. Next, to the pureed mix add leeks/pepper mix, chopped poblano peppers, fresh tomatoes, cumin, chili powder and yukon potato/chicken broth mixture. Stir together. The broth from the yukon potatoes should thin out the puree turning it from mashed potatoes to a soupier consistency. If the soup is still too thick slowly add 1/4 c of broth at a time to get it to your desired thickness. Season with more salt and pepper if necessary. Alternately for a spicier version you can add in more chili powder or a few dashes of Tobasco sauce.
Finally top with the reserved bacon you cooked (crumbled) and any toppings of your choice.
eat.breathe.love https://eatbreathelove.net/