[dropcap]I[/dropcap] know I am completely at fault for our on the go lifestyle. Sitting still and relaxing isn't something that comes easily to me. Due to that, our weekends are often filled up. Usually we wake up and leave the house and don't get back until later. Sleeping in doesn't really happen. At least I know this so I do my best to work on it. A few weekends ago we had my work Holiday party. It was on a Friday night so I knew Saturday we would be moving slow. So I didn't make a single plan for us. Prior to the weekend I told my husband "let's sleep in until whenever we wake up and actually do NOTHING." Which I am sure completely shocked him. And that is EXACTLY what we did.
When we were long distance and he used to come to visit me we had those lazy weekends. We would sleep in and spend the whole day together. No plans, just us, at home being together. We would cook breakfast and drink coffee and laugh. It was weekends like that where we truly got to know each other because we had days together without any distractions. We both share a love for cooking so our time in the kitchen is always a bonding experience for us.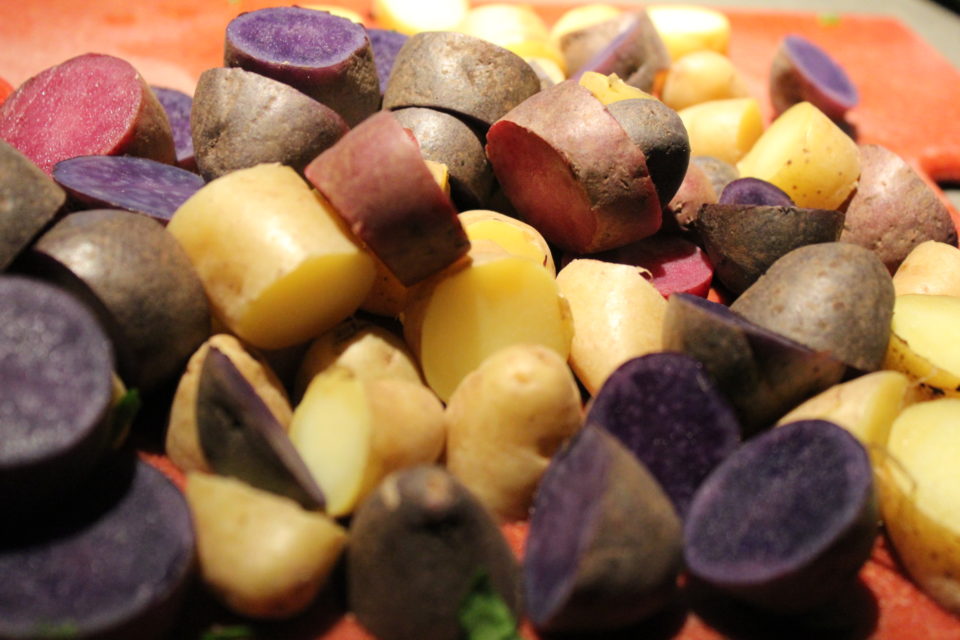 We decided to make brunch on our lazy Saturday like we used to. I am a sucker for a breakfast skillet. Usually skillets are loaded with potatoes and veggies, topped with scrambled eggs. They are my favorite. Turns out after thinking I was allergic to eggs for years I found out I am allergic to the oil that they use in most restaurants. So when we go to breakfast eggs are out which makes me sad. But when we actually do get a chance to cook at home, I love being able to have them.
The beauty of a skillet is you can do whatever you want with them. Any combination of meat (or not), veggies, potatoes (diced or hashbrown), cheese and toppings. I decided to go southwest with this one since I didn't want any meat and could sub in beans. Secondly because my husband loves anything and EVERYTHING spicy.
I don't eat as much meat as him but he loves chorizo. I am picky but I like the flavor chorizo gives to this meal. It's a spicy smoky flavor. How I appease both of us is I cook the chorizo first. Then I remove it from the pan but the little bit of fat and spice it leaves makes the veggies I cook in my pan have lots of flavor. After I assemble everything back together, my husband can add the cooked chorizo back to his portion. If you are a strict vegetarian you can substitute any fake meat product or just omit this step all together and maybe use a little more seasoning to your dish.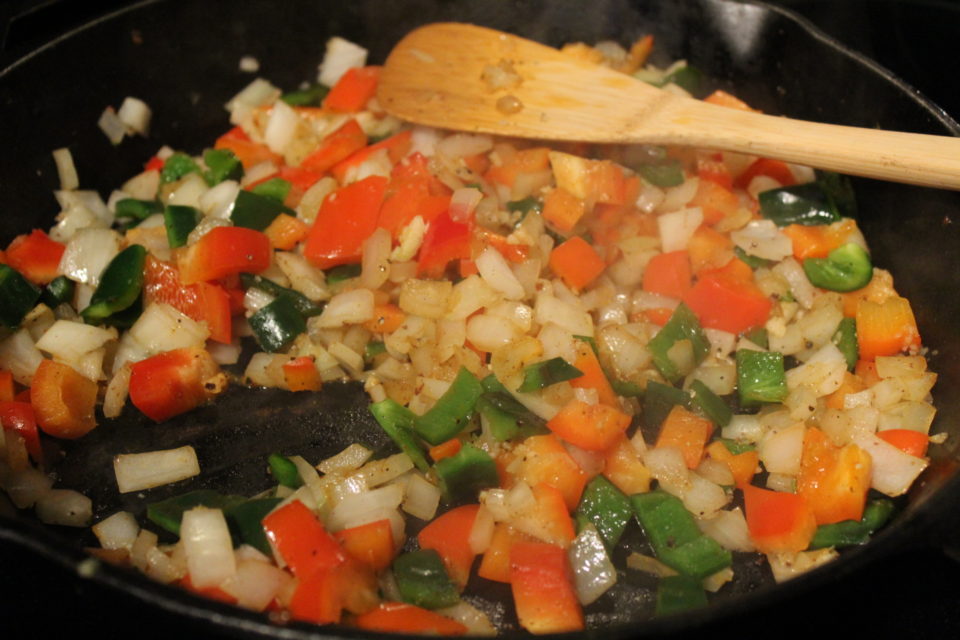 We tag teamed this meal in the kitchen. While I made the skillet and my husband made the eggs. When I was little my parents always put some milk and cheese in with their scrambled eggs. Typically we don't buy real milk but we did have some Greek yogurt at home so he put in a tablespoon to our eggs which made them stay nice and fluffy.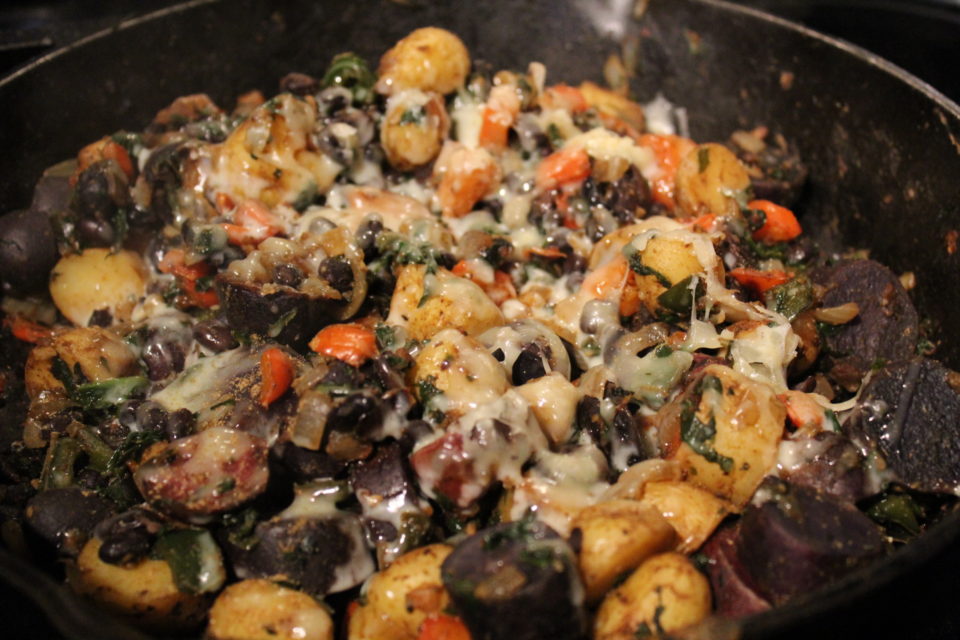 This meal doesn't take too long together so you don't need an entire day to cook this. However, if you don't have any time constraints you can sleep in, put on a pot of coffee, make this skillet and then cozy up when you are done. Bonus – there is no reason to shower or change out of your pajamas!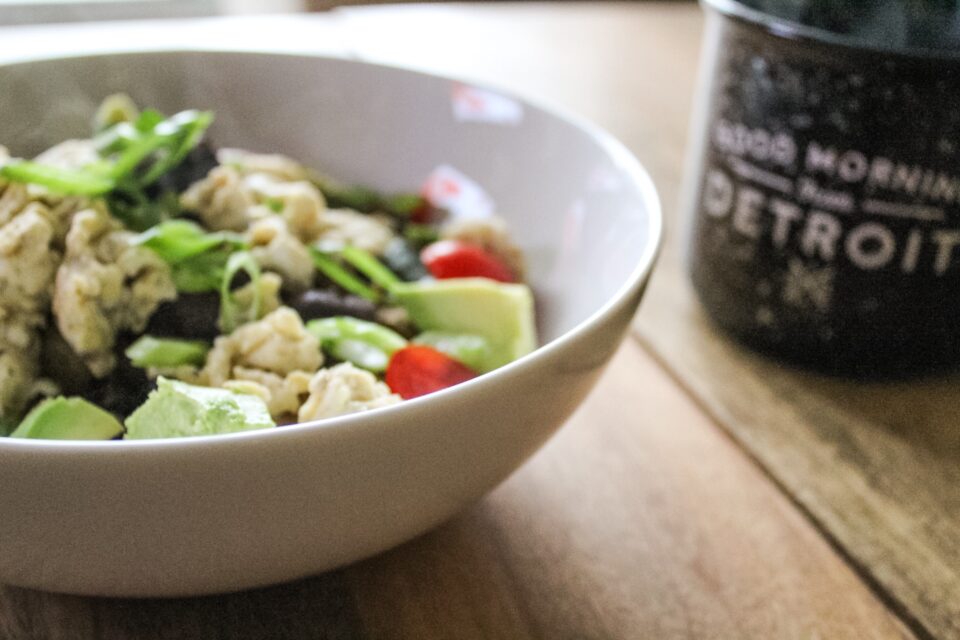 Print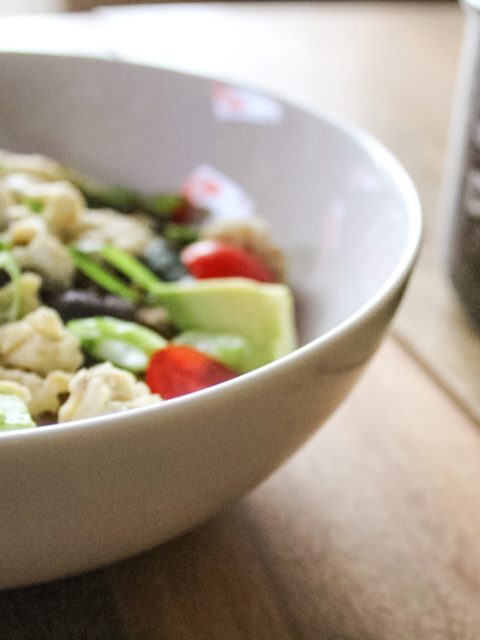 southwest scramble
Prep Time:

10

Cook Time:

25

Total Time:

35 minutes
---
8

eggs

1

TBS of Greek yogurt

1

lb of chorizo (if in links, remove from casing)

1

red bell pepper, diced

1

red onion, diced

1

poblano pepper, diced (if you can't find poblanos you can use a green pepper)

1

jalapeno, minced (for less spice you can use half or omit all together)

1

can of black beans, drained and rinsed

1.5

–

2

lbs of potatoes (I buy the bags of tri-color potatoes which are about

28 oz

) you can use red skins, yukon golds, fingerlings, or any variety of a smaller variety)

1

–

1.5

TBS cumin

1

–

1.5

TBS chili powder

1

c grated monterey or pepper jack cheese
Additional toppings
scallions
avocado
salsa
Greek yogurt
cilantro
fresh tomatoes
hot sauce of your choice
---
Instructions
In a large sauce pot with cold water, add the potatoes (whole!) and bring to a boil. Par boil the potatoes for about 5-7 minutes. You want to be able to pierce the potato with a fork but not have them be done all the way. If you cannot pierce with a fork, cook for a few more minutes (2-3) and try again.
Meanwhile, in a large skillet (I use my cast iron) over medium heat brown up chorizo until cooked through. Remove from skillet and set aside. Leave the oil from the chorizo in the pan to sautee pepper, onion, garlic and jalapeno until soft (about 10 minutes). Season with the cumin, chili powder and salt and pepper. If you don't love a ton of seasoning start with a TBS of each and test. If you want more add another 1/2 TBS of both to your mixture.
Once potatoes are par boiled drain from water. If you are using small fingerlings I cut into thin slices. For red skins or yukons you can cut into a larger dice. Move peppers and onions to the side of the pan. Turn heat up to medium-medium high. Add in a small amount of fat of your choice (butter, olive oil, coconut oil) and make a thin layer with the potatoes. This is where I am terrible, WAIT for a few minutes so the outside of the potatoes crisp up. Then flip them around and brown up all of the sides of the potatoes.
Once the potatoes are cooked through (test one) adjust your seasoning if necessary (a little more cumin, salt, pepper, chili powder, whatever you need) and add in black beans. Cook a few minutes to warm the beans through. Add chorizo back to skillet. Last, top veggie mixture with the cheese. Turn the heat down to low and let the cheese melt. If you find your cheese isn't melting cover the skillet with a lid for a few minutes.
Whisk eggs and Greek yogurt together in a bowl and season with salt and pepper.
In a large non-stick skillet over medium heat add your egg mixture. Continue to mix the eggs to scramble them. When your eggs are done (I prefer mine DONE, some people like them a little soft and undercooked, whatever your preference is) place potato mixture in a bowl, serve with eggs on top. Lastly, top your skillet with whatever toppings you prefer.
---
---