It is beginning to finally feel like fall which means I am feeling like comfort food. What I really wanted to make for dinner the other night was some Mac and cheese but didn't feel like something as heavy. I figured if I added some vegetables to it it would be a little "healthier". So my cheesy broccoli pasta was invented.
Lightened Up Cheese Sauce
Cheese sauces get a bad rap for being really fattening. And if you look at traditional ingredients you know why. Often times cheese sauces are made with butter, milk, heavy cream and the cheese. When I make my cheese sauces I find you really don't need all that extra.
We aren't big milk drinkers here. I do love a good cheese but our milk of choice is coconut milk for smoothies. I know there are a lot of vegan "cheese sauces" that call for coconut milks but I can usually taste it. So instead of milk I use broth. You can use veggie broth or chicken broth. Personally I like the flavor chicken. broth gives so I stick with that but if you want a vegetarian version veggie broth works.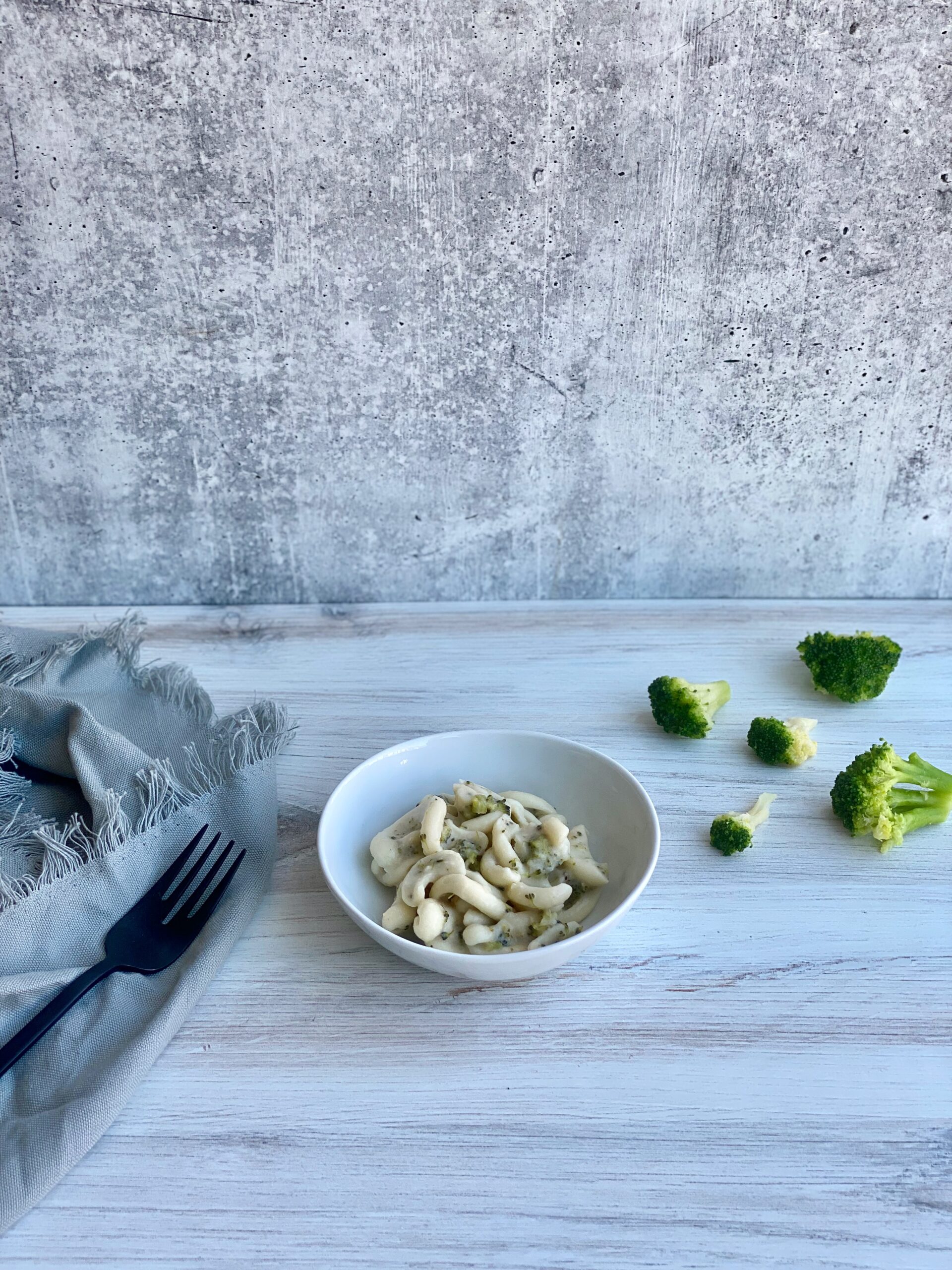 The sauce is made like a traditional cheese sauce. A little butter helps the garlic and shallots sweat out. Then I add a little flour to make a roux. In this version I also used white wine. I find white wine pairs really nicely with the fontina cheese I was using. Then instead of the milk I use the broth to make the sauce. Lastly after the mixture has thickened up I remove the sauce from the heat and stir in the fontina and parmesan. I have had a ton of cheese sauces break on me over the years and removing from the heat prevents that from happening.
Eat your greens
When I think broccoli I think broccoli cheese soup. It's one of my favorites in the winter. So pairing broccoli with a cheese sauce seems like a no brainer. And turning it into a cheesy broccoli PASTA dish is even more common sense!
The secret with this broccoli is to cook it separate. I find that fresh broccoli takes a little longer to cook and since I remove the sauce from the heat once the cheese is in the broccoli would't have a chance to cook down. So I really finely chop the broccoli heads. I buy the pre cut florets but a whole a crown of broccoli would work here. Once I get the broccoli into nice tiny pieces it's time to cook it up.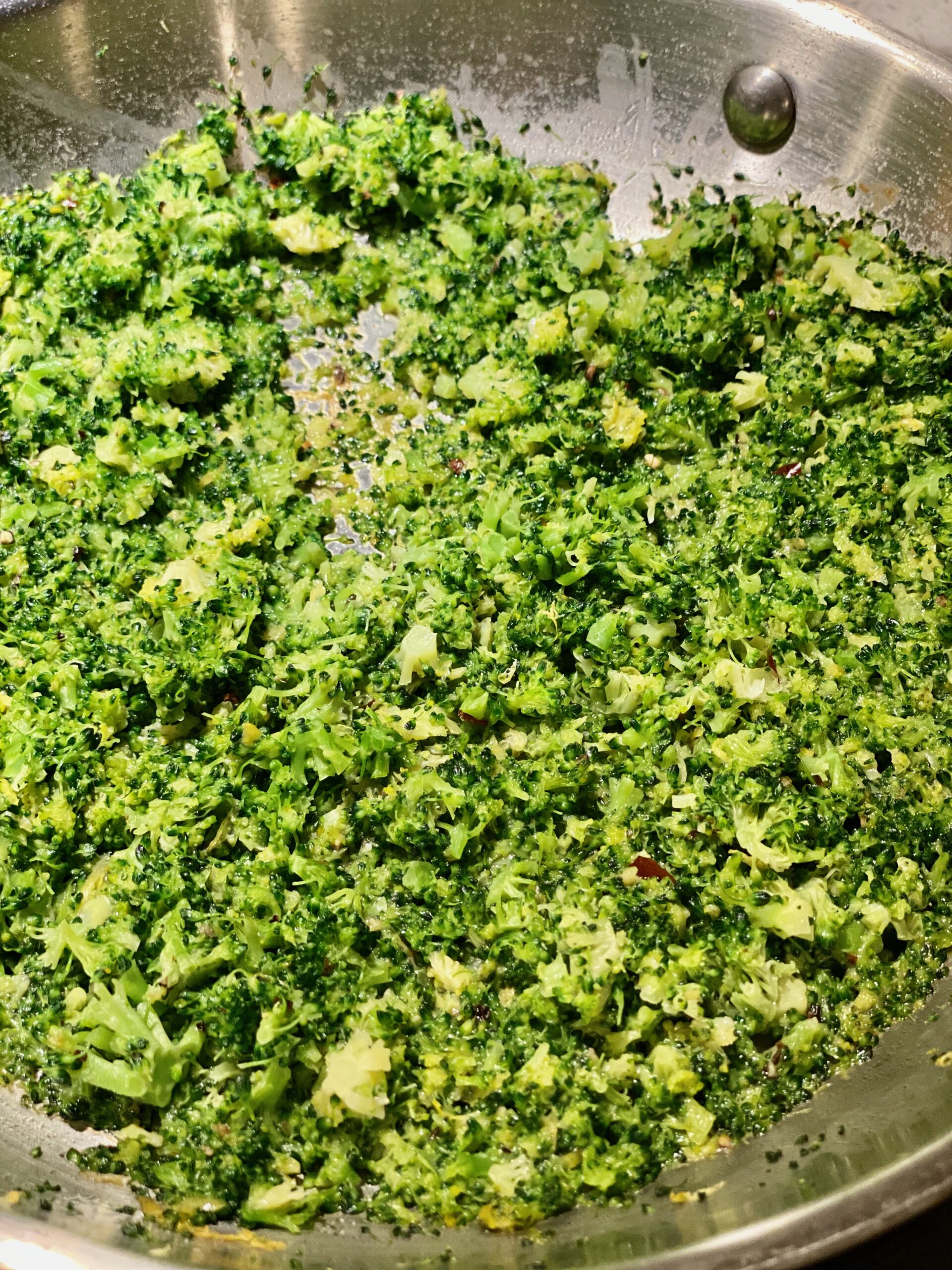 In a sauté pan I use a little butter and crushed red pepper flakes with the broccoli. To get it to cook down and not burn I add in a little broth to slightly steam it. Then comes the secret ingredient. Lemon zest and juice. Lemon pairs not only nicely with the broccoli but the fontina cheese as well.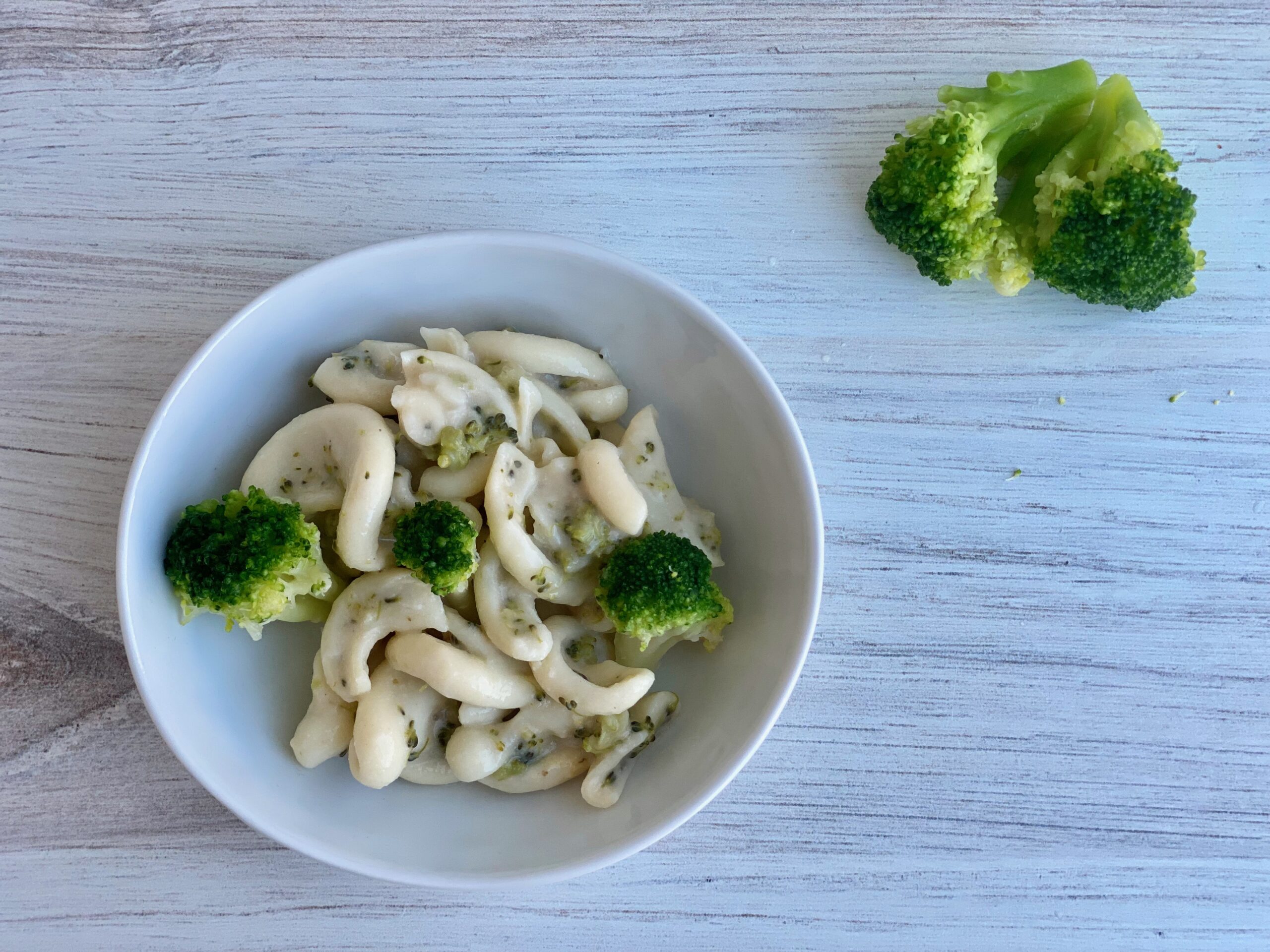 Putting it all together
I'm all about efficiency in the kitchen. The first thing I do is make the broccoli and then have my ingredients chopped and my cheese grated. While I put on my pasta water to boil I start making the cheese sauce. Then once the pasta is done cooking the sauce is done and you can throw everything all together in the pasta pot.
While this isn't your typical Mac and cheese this cheesy broccoli pasta is delish. It pairs nicely with chicken as a side dish or could be served with a salad on it's on its own. I promise you won't even know the milk is missing!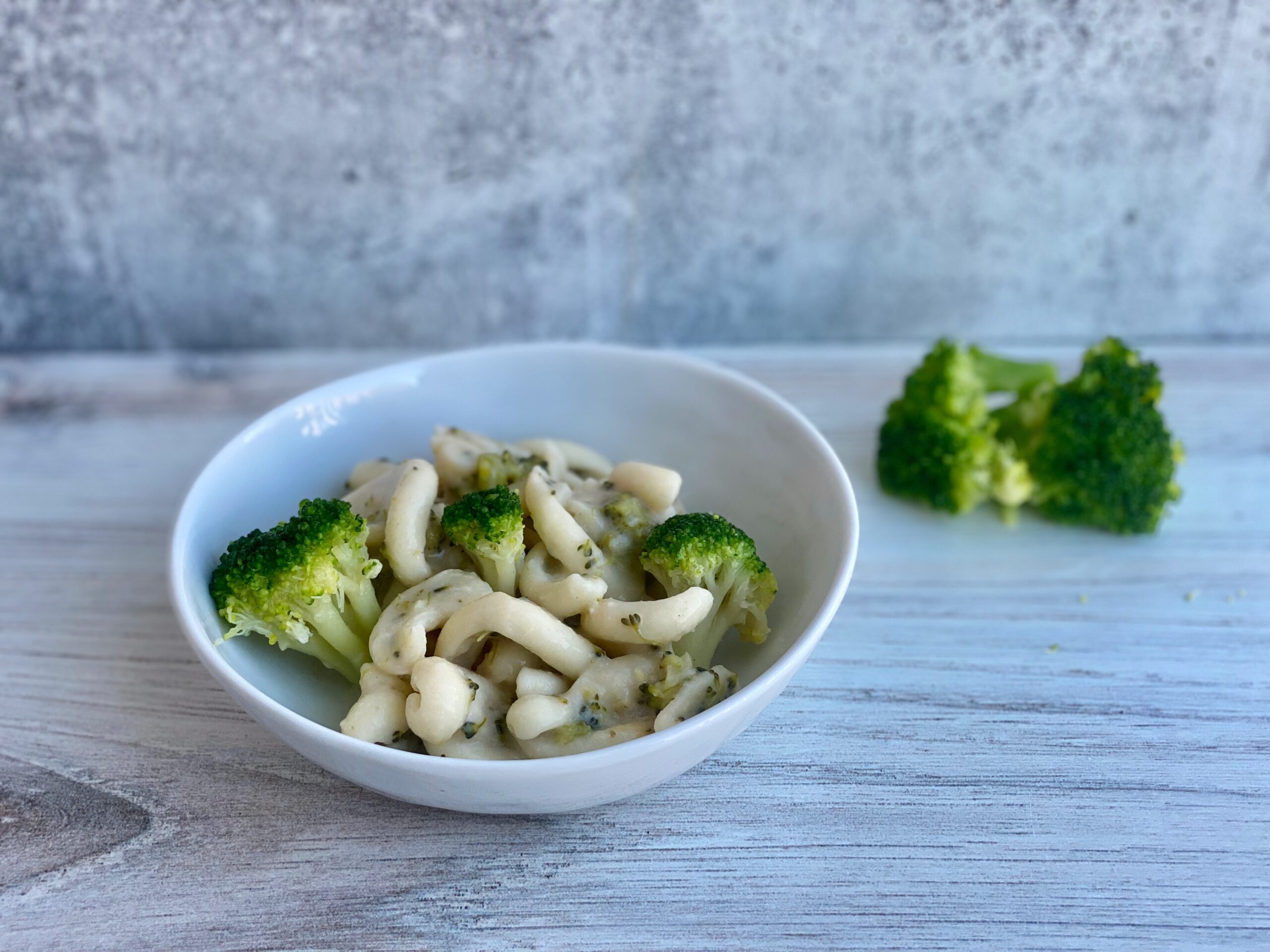 Love Broccoli? Check these out as well:
Try this EASY broccoli cheddar soup
Broccoli goes well with bacon (what doesn't?!?!) in this risotto recipe
More broccoli and noodles in this sheet pan ramen dish
And remember, if you try this recipe be sure to leave a comment below and let me know how you like it or tag me on Instagram!
Print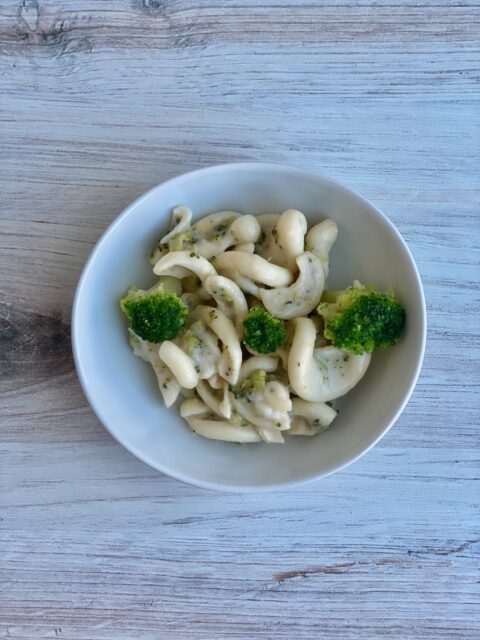 ---
Description
This cheesy broccoli pasta is lightened up. This creamy, cheesy pasta is easy to make. Surprise ingredients help lighten the dish up.
---
1 head of broccoli or 10–16 oz pre cut florets, very finely chopped and stems removed
5 TBS of butter
zest and juice of one lemon
4 cloves of garlic, minced
1 shallot, minced
3 TBS flour
1 c white wine
4 cups of chicken or veggie broth
dash of nutmeg

1/2 TBS Dijon mustard
1.5 c grated parmesan cheese
1–1.5 c grated fontina (if the fontina doesn't grate well for you pull apart into tiny pieces)
1lb of pasta (I used vesuvio pasta for this but shells, macaroni, fusilli or conchiglie would all be great here)
---
Instructions
In a small pan melt one TBS of butter, add in broccoli and turn heat to medium to medium low
Season with salt and pepper, a dash of red pepper flakes and about 1/4 cup of broth. Cook a few minutes until broccoli has softened. Add in lemon zest and juice and remove from heat and set aside.
Start a large pot of water to boil for pasta. When the water is boiling be sure to salt liberally and cook your pasta according to directions.
While the pasta water is coming to a boil, in a large saucepan sauté remaining 4 TBS of butter with shallots and garlic over medium low heat until they are soft and tender (a few minutes).
Add in the flour and mix well. Let the flour cook a few minutes so it does not taste raw.
Add in the wine and turn heat up to medium to medium high heat. Whisk to remove any lumps of the flour.
Once the wine has cooked out add 2.5 cups of the broth, dijon and nutmeg and continue to whisk. Season with salt and pepper. Continue to whisk as sauce gently boils and thickens up for a few minutes. The sauce should coat the back of a spoon.
Once the sauce has thickened remove from the heat and 1/2 c to a cup of cheese at a time while whisking. Make sure the cheese is fully melted before adding more. If the sauce is too thick you can add a little broth to thin out.
Once the pasta is cooked and drained, add pasta, sauce and broccoli back to the pan. Stir to incorporate. If the sauce was too thin I let the pasta sit in the sauce for 5 minutes and it will absorb some of the sauce.
---