Boursin cheese mashed potatoes is a game changer to your side dish game. This simple side dish is easy to make but screams gourmet.
For the past three years my husband and I have been cooking dinner for 20 or so of our close friends on New Years Eve. We host it at our BFF Christopher's house because his kitchen was bigger than when we lived in our loft. Sadly our annual tradition will be missed this year. The first year when we made dinner I made these delicious Boursin cheese mashed potatoes and topped them with buttered lobster. They were SOOOO good. So when Christopher told me he wanted chicken for his Birthday dinner I knew the perfect side dish to make.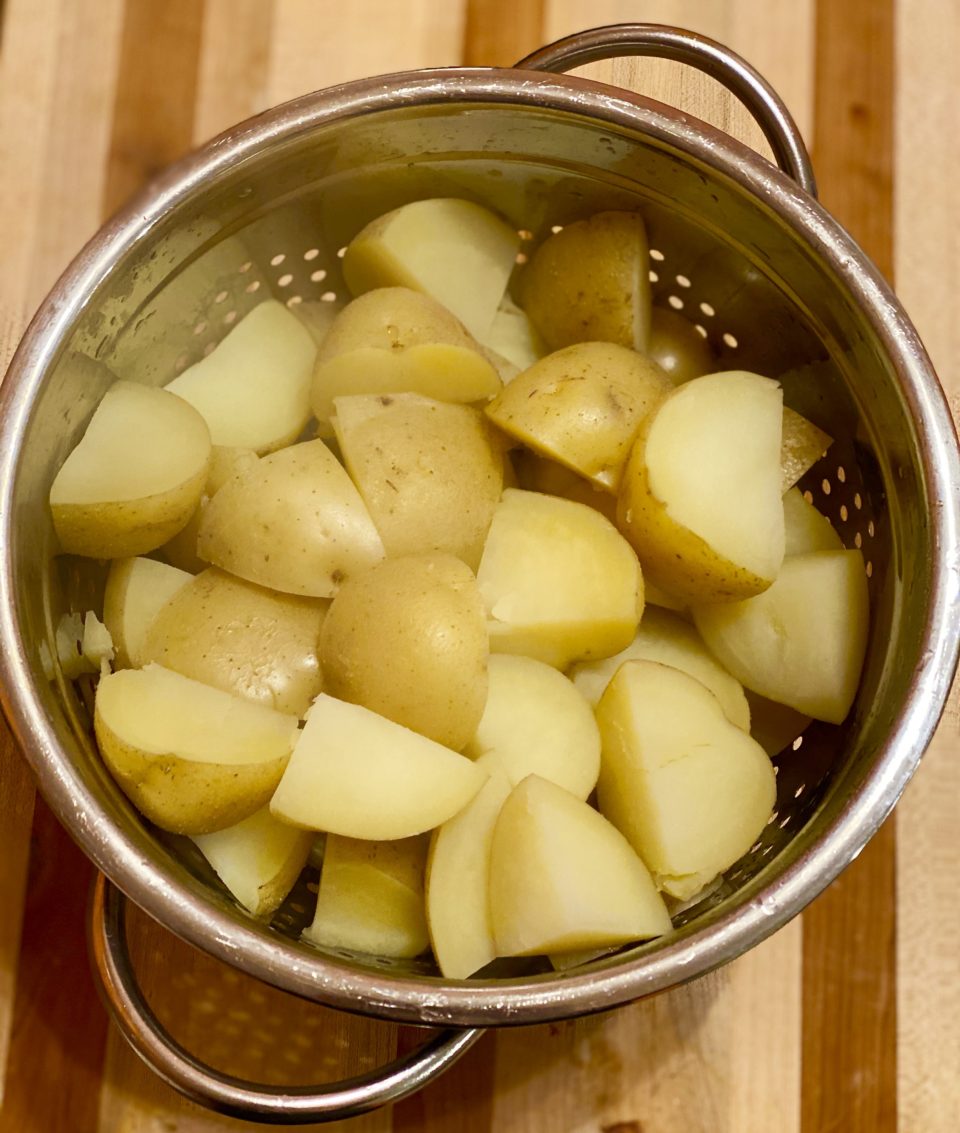 The secret ingredient….
Boursin cheese is a gournay cheese. It is soft and spreadable. Some people say it's kind of like cream cheese but it's more crumbly to me. It also has garlic and herbs in it. Now there are actually several different flavors you can try. I remembered as a kid my parents used to have it in the house. One of my favorite snacks as an adult my dad will make is a crusty baguette sliced and toasted in the oven and then spread with Boursin cheese. It gets a little melty from the warm bread – delish!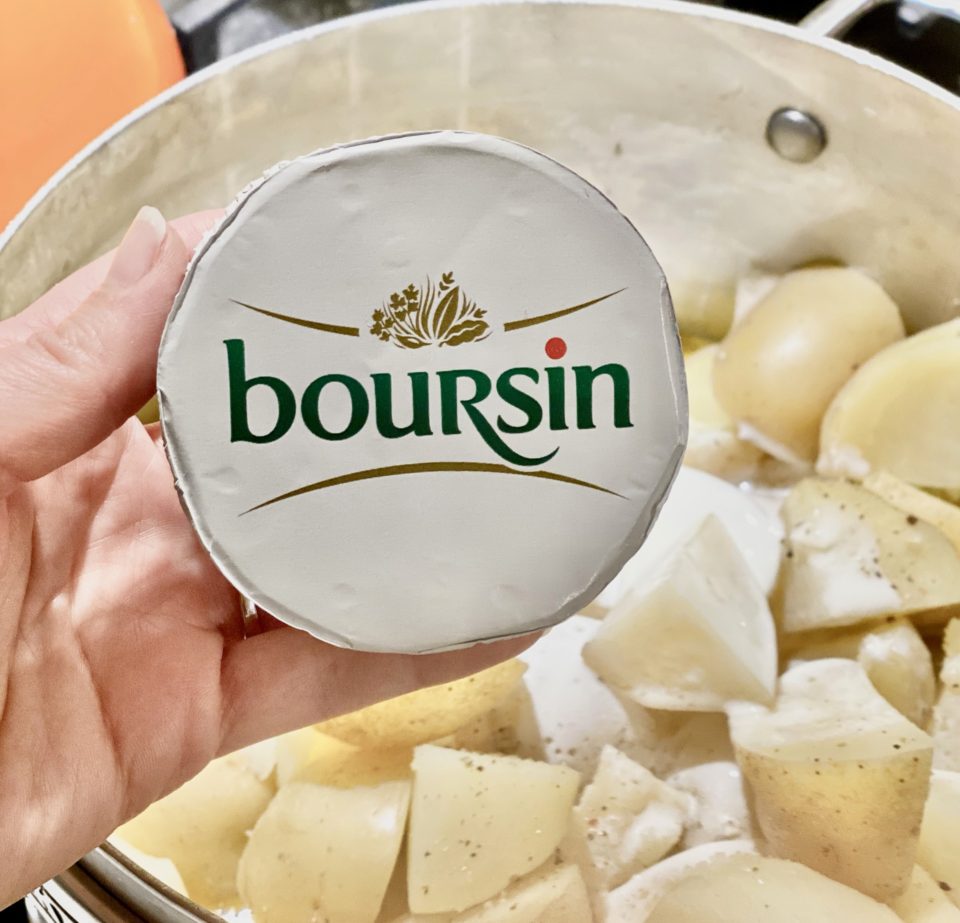 Because Boursin is soft and creamy it is also perfect to incorporate into creamier dishes like pasta, soup or even mashed potatoes. And the fact that it already has herbs and garlic in it already makes less chopping in the kitchen. It also pairs nicely with a nutty parmesan cheese. It makes the potatoes extra creamy, herbaceous and slightly tangy.
The other ingredients….
Since I was making buttermilk roasted chicken (for the best recipe check out Samin Nosrat's recipe here!) I had some leftover. The buttermilk was a perfect compliment to the Boursin. And butter. Of course lots of butter. These potatoes are a splurge side dish. I definitely wouldn't make them every weekend but they are perfect for a special occasion.
The Boursin cheese mashed potatoes were a big hit again. I am just sad it took me so long to remake them. However, perfect timing since Thanksgiving is right around the corner. So if you are looking to amp up your mashed potato game this recipe is for you!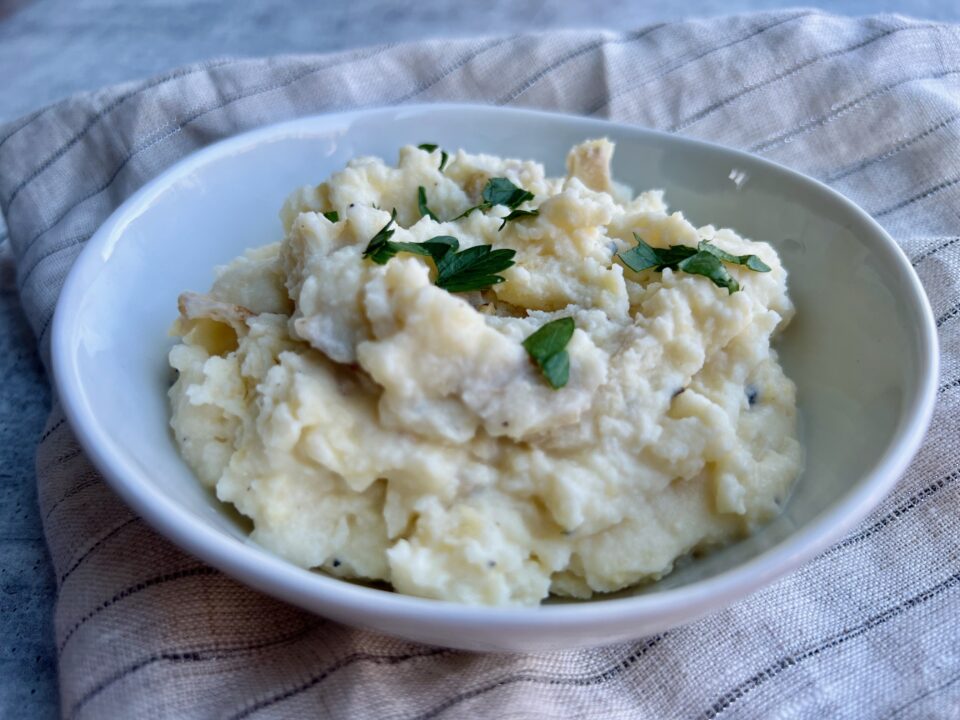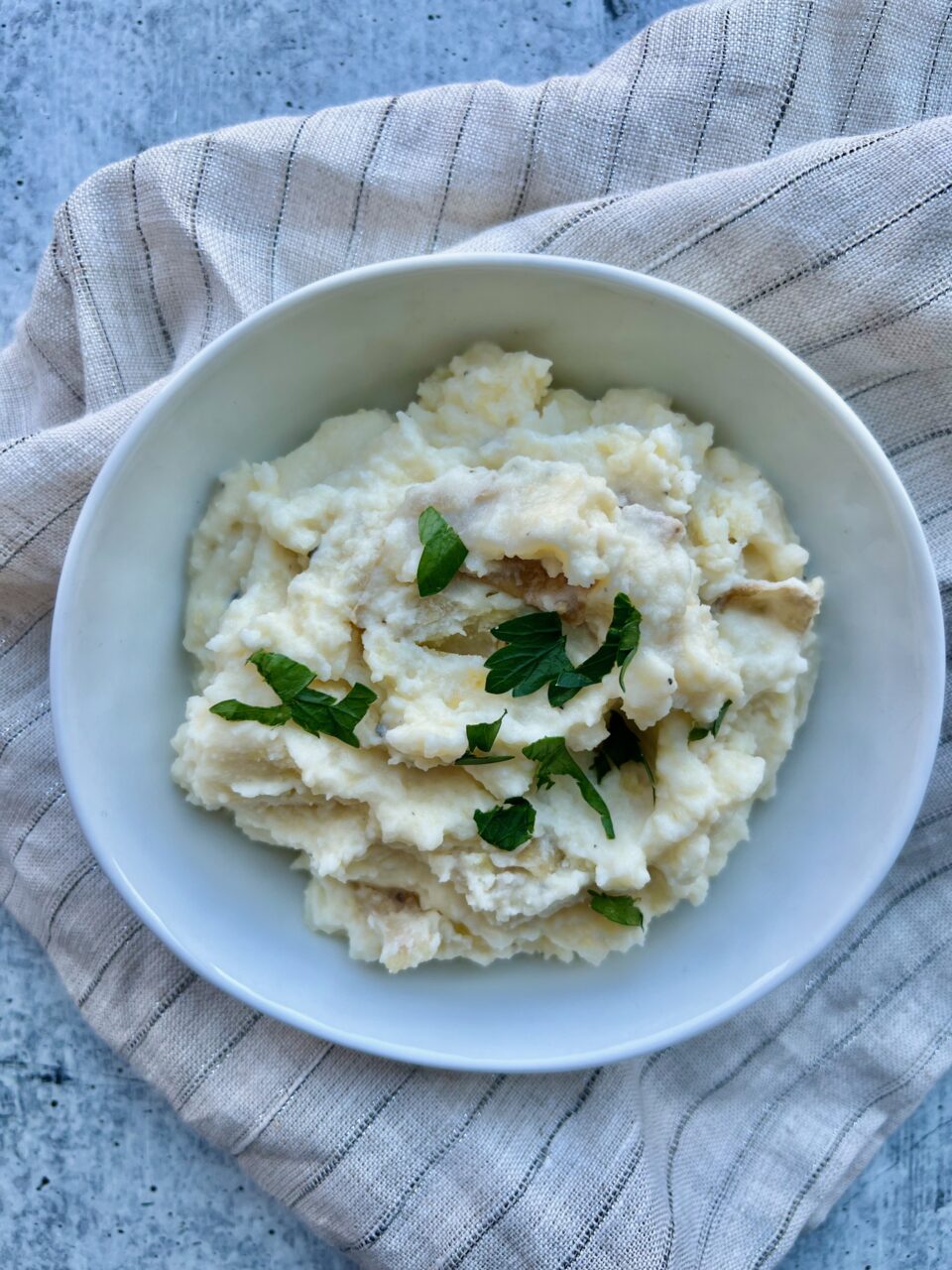 Print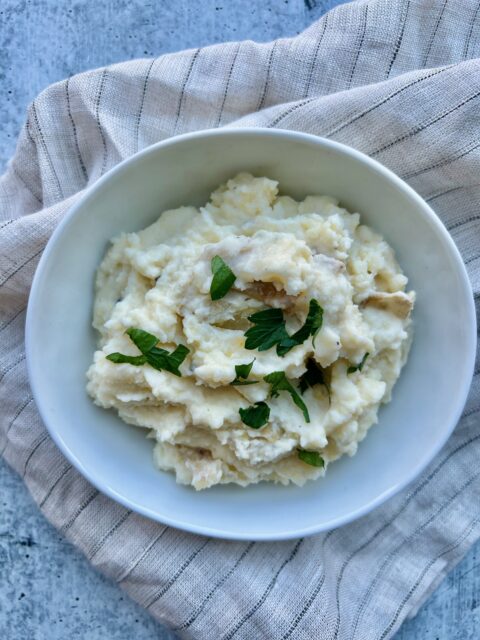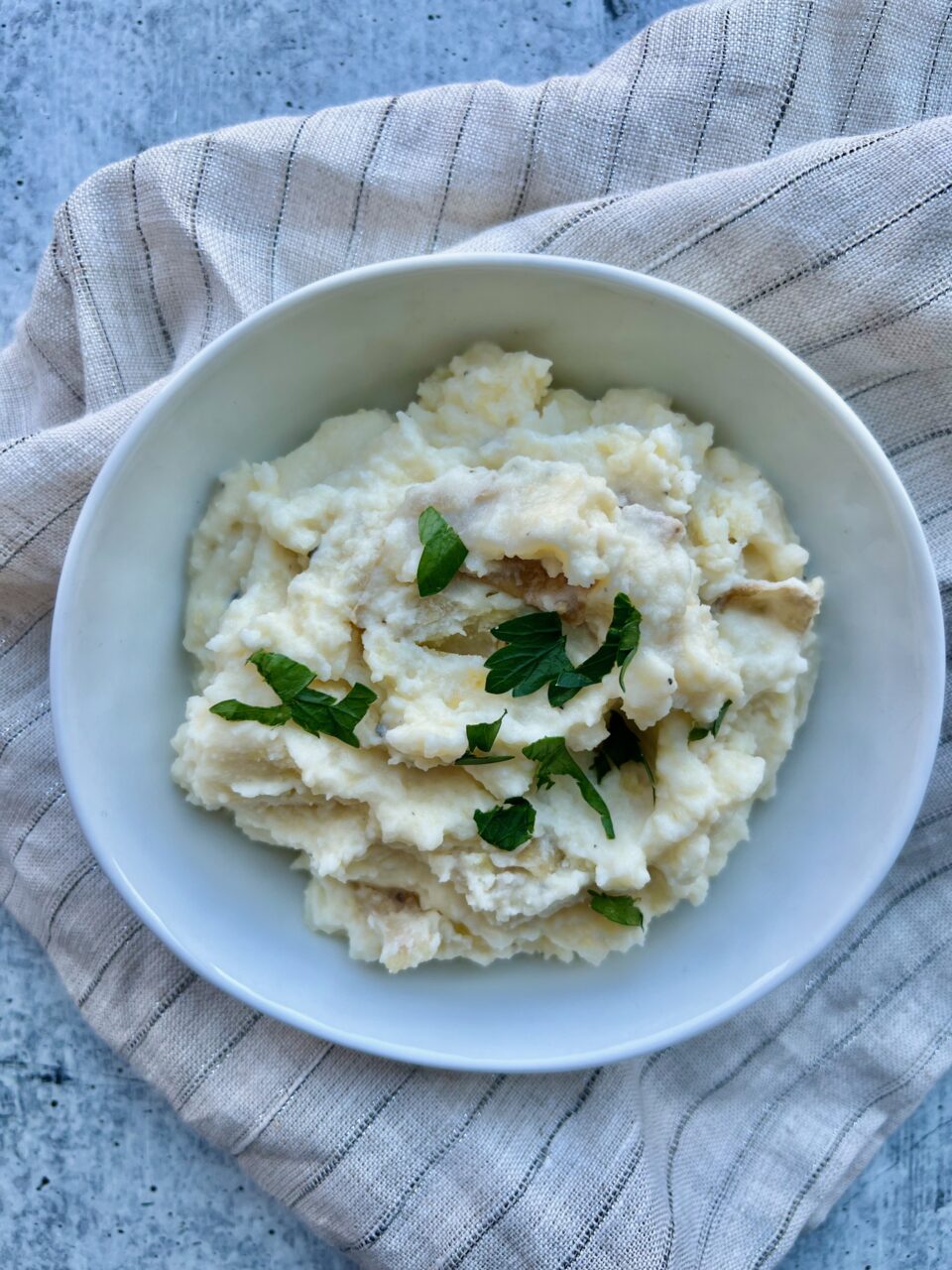 boursin cheese mashed potatoes
---
Author: Karissa P
Total Time: 35M
Yield: 6 1x
Description
Boursin cheese mashed potatoes is a game changer to your side dish game. This simple side dish is easy to make but screams gourmet.
---
3 lbs yukon gold potatoes, washed cut into large chunks, skin on (make sure your chunks are roughly the same size so they cook evenly)
1 package (5.2 oz) Boursin cheese (garlic & herb)
1 c buttermilk
6 TBS butter
1 c grated parmesan cheese
1 c chicken or veggie broth
Fresh chives for garnish
---
Instructions
Place potatoes in cold water in a large pot. Salt liberally. Bring to a boil. Cook 10-15 min until you can easily pierce the potatoes with a fork.
Drain potatoes and return to pot over low heat.
Add butter to the warm potatoes and let melt. Season with salt and pepper.
Add in buttermilk, Boursin and parmesan cheese. Start mashing. I use a potato masher for a chunkier texture. You could also use a hand mixer if you want creamier potatoes
Add in a little broth. Mash more. Do this until you achieve the consistency of potatoes you like. I like my potatoes on the thicker side.
Top with fresh chives.
Prep Time: 5M
Cook Time: 30M