On Sundays I make soup. Most of the time that is. I love being able to have leftovers for the week. This Sunday I was looking for something easy to make. I knew that my version of tomato soup is always pretty simple. Roasting the tomatoes in the oven takes the cook time off the stove. But I wanted some extra veggies so this time I made an easy roasted tomato VEGETABLE soup by adding in a few things.
Tomato, tom-ahto
I used to never like tomatoes as a kid, now I mostly love them. It's still spring here in Michigan which means tomatoes are not in season. If I am going to make something that is tomato based like this soup or a sauce I want to maximize the flavor which means not using fresh tomatoes yet. I always use canned tomatoes imported from Italy. I just find the flavor is better. Canned tomatoes are picked during peak season so you know you are going to get a good flavor.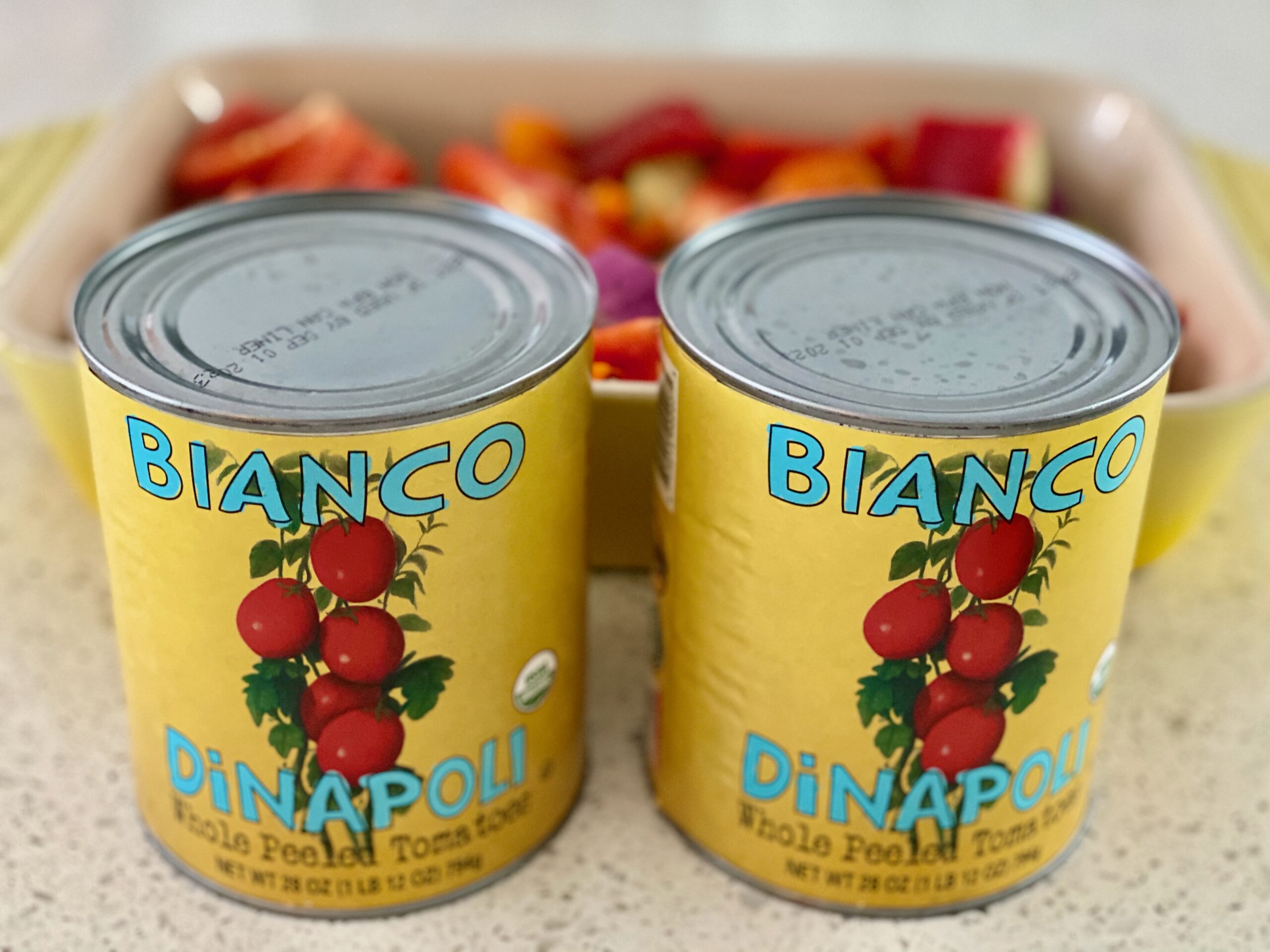 Roasting the tomatoes in the oven gives this soup a different taste. When I cook with canned tomatoes I find the longer you let them cook the less raw they taste. But when you roast them in the oven you don't need hours and hours to cook that raw taste. The tomatoes char up under a hot temperature which adds a little smokiness to the soup.
More vegetables please
I wanted more veggies so in this soup I decided to add some extras. I usually always add in a red onion and whole garlic cloves while I am roasting my tomatoes. For this version I also added two bell peppers and two zucchinis. The bell peppers add a slight sweetness. The zucchini I add for more nutrition but they don't do much in terms of flavor. If you don't like zucchini try this soup. I promise you won't taste them.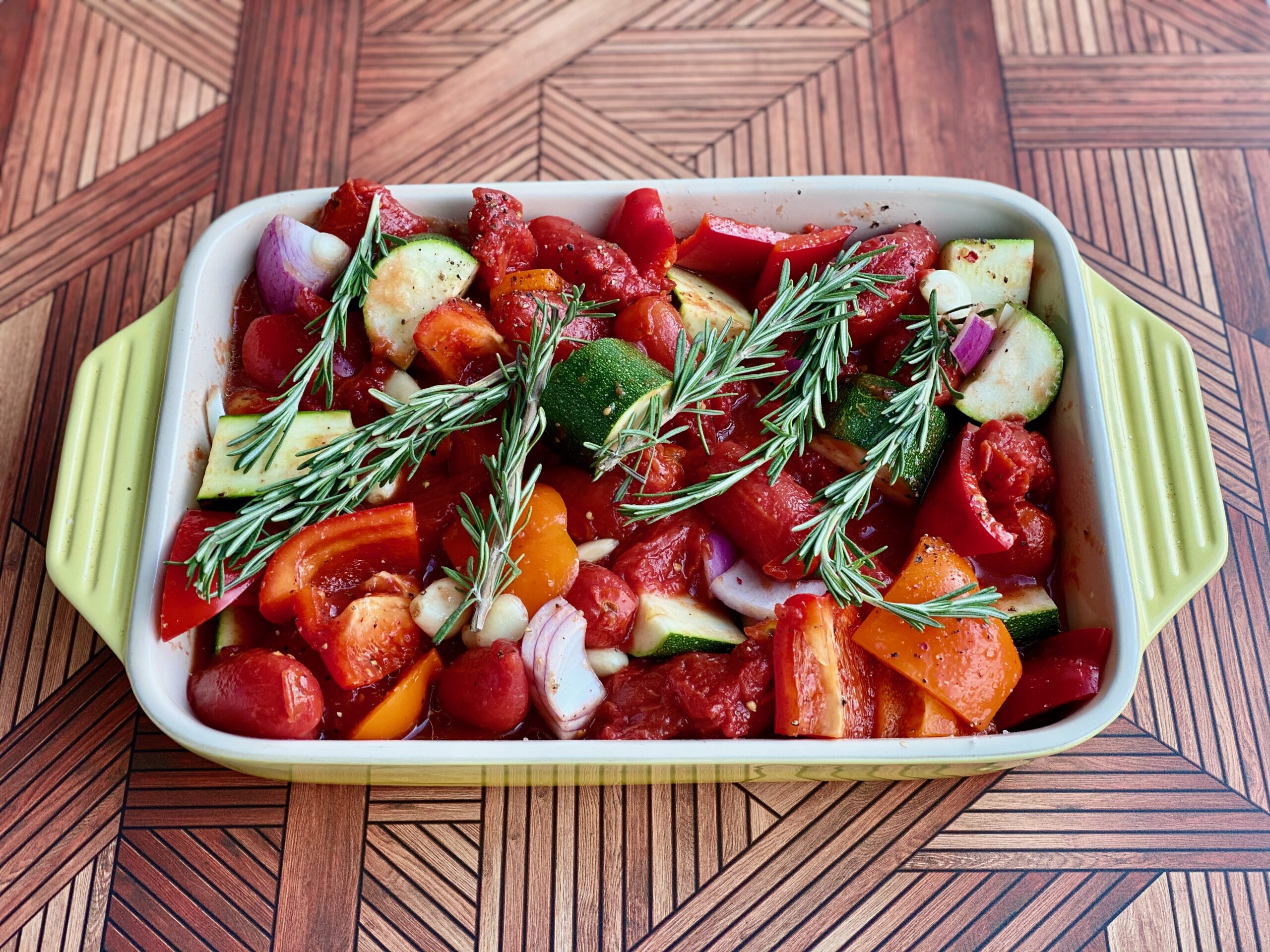 Lastly this soup gets a new twist. It is not a tomato basil soup. I use rosemary when I roast my vegetables. The rosemary will crisp up fast and dry out. It takes on a whole new flavor when it's roasted in the oven. Plus it makes your house smell good! Just remember to pull the leaves from the stems and discard before you blend the soup up!
The surprise ingredient
After I blend the soup up I add a little broth to it and put it in a soup pan to finish cooking. I wasn't sure what I was going to do with the soup. Sometimes I will add a splash of heavy cream. I often add a parmesan cheese rind to add a little nuttiness and salt to the soup. Every now and again I will add basil. I wasn't feeling any of those though.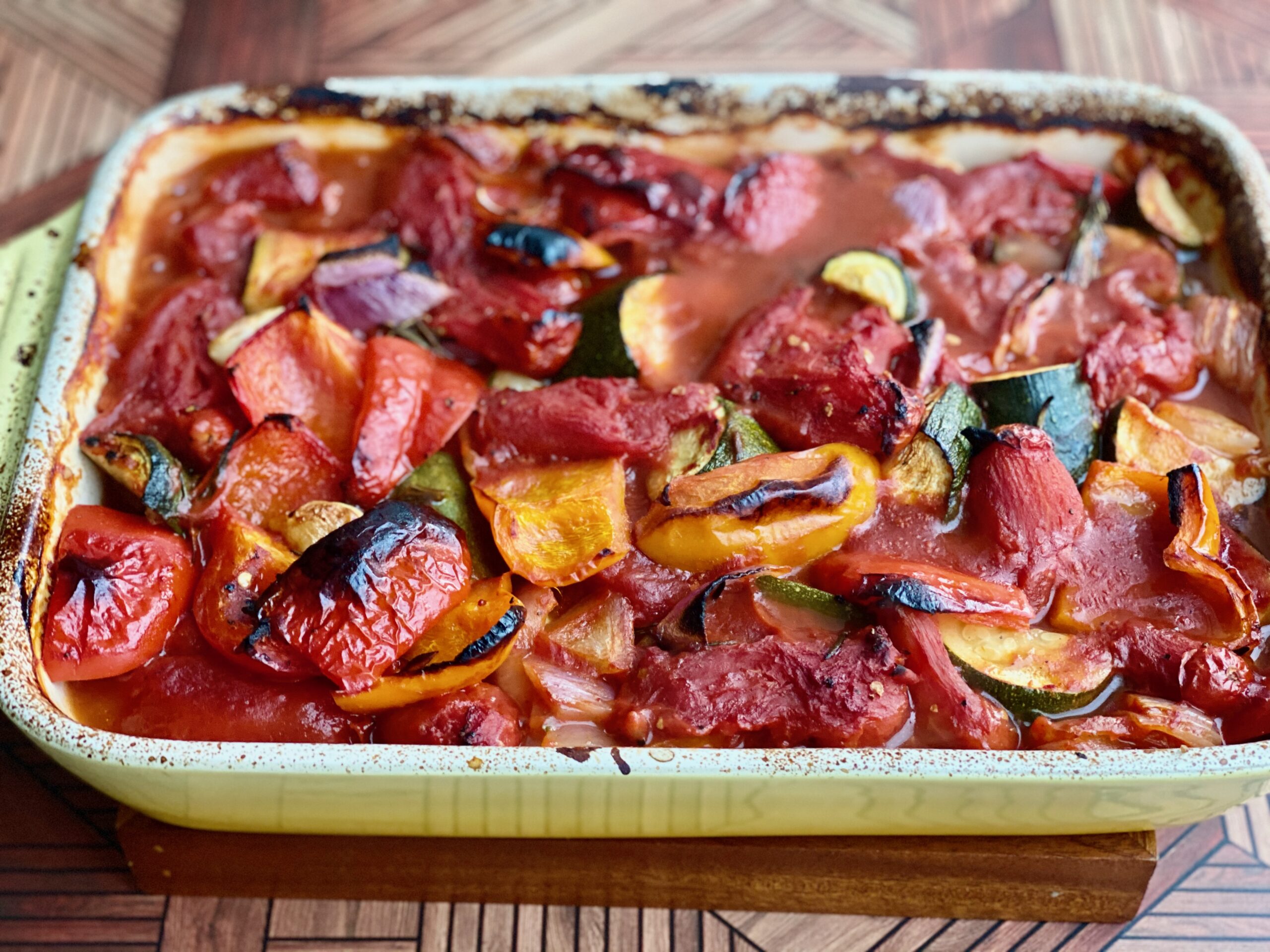 But I was making grilled cheese. And on my grilled cheese I was using Boursin cheese. Boursin is a soft spreadable cheese flavored with garlic and herbs. I use it in mashed potatoes, on grilled cheese, on toasted baguettes for a snack. I have even made pasta with it. But I had a half of it left that I knew I would just wind up throwing it away. So instead I tossed it into my soup.
The Boursin cheese added a slight creaminess to the soup. The herb and garlic flavor complimented the rosemary and garlic I had roasted. It's subtle enough that the tomatoes are still the star but definitely adds a little something extra to the soup.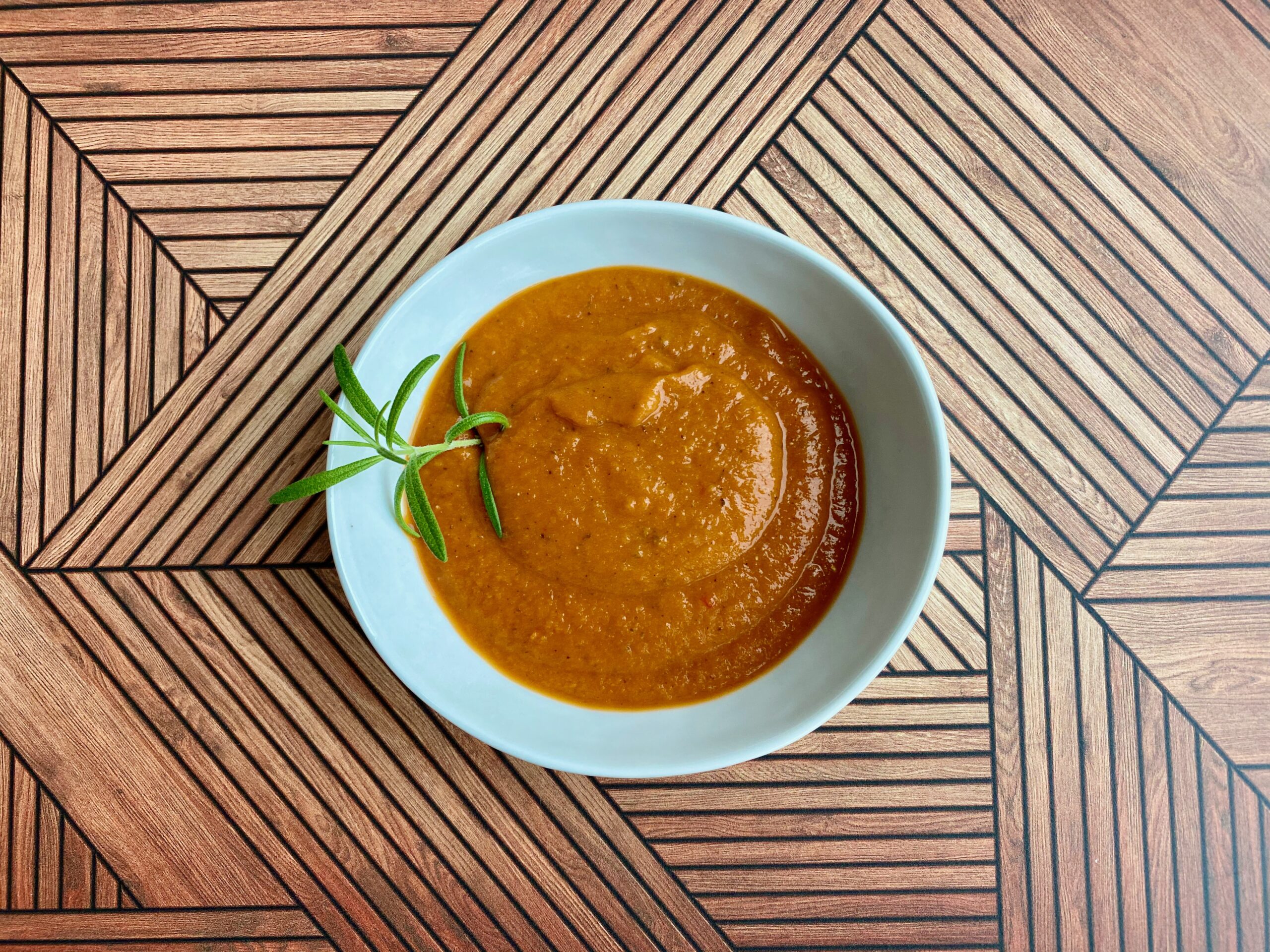 Tomato soup is not hard to make. It doesn't have to involve spending hours in the kitchen but it doesn't have to come out of a can either. This easy roasted tomato vegetable soup requires very minimal effort that even a "bad cook" can quickly master! Pair it with a grilled cheese sandwich and you have an upscale version of a childhood classic.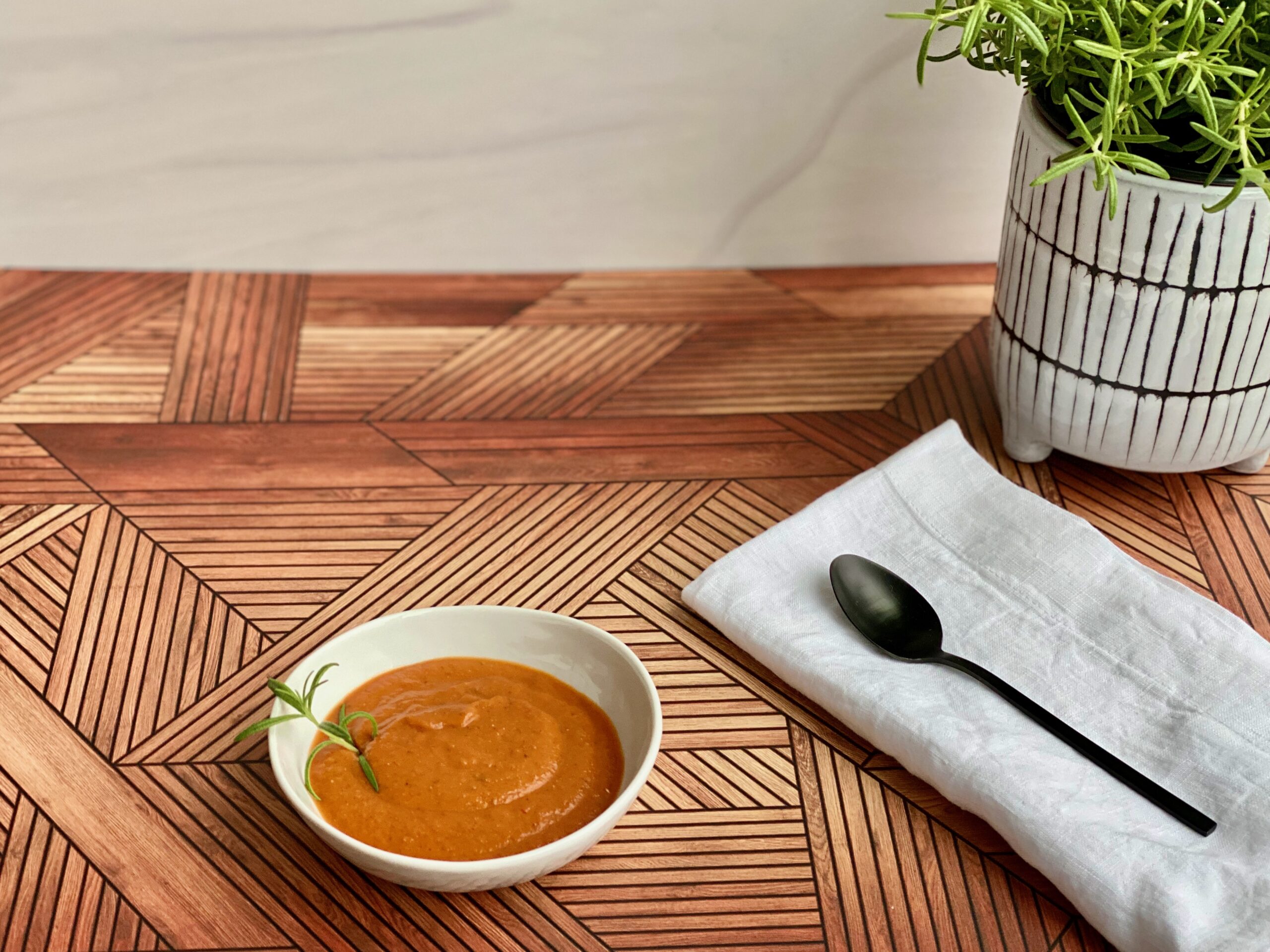 Print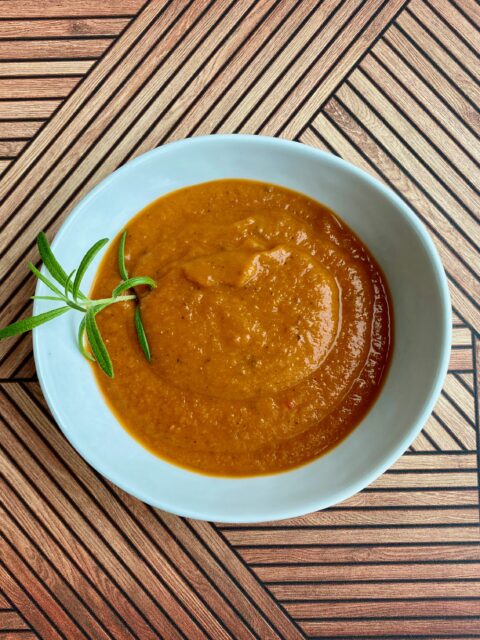 Easy Roasted Tomato Vegetable Soup
---
Author: Karissa P
Total Time: 3 minute
Yield: 6 1x
Description
This easy roasted tomato and vegetable soup gets paired with Boursin cheese for a simple yet delicious soup.
---
2 bell peppers, rough chopped
1 medium or 2 small red onion, rough chop
2 medium zucchini, rough chop
2 28 oz cans whole tomatoes (I prefer organic Italian imported for maximum flavor!)
10 cloves whole garlic
2–3 sprigs fresh rosemary
2 c vegetable or chicken broth
1/2 package of Boursin cheese – the cheese is 5.2 oz I used half, I prefer the garlic and herb version which is the original
---
Instructions
Pre-heat oven to 425. If your oven is a colder oven you could go to 450.
In a large baking dish combine peppers, onions, garlic, zucchini and tomatoes. Season with salt and pepper (add some red pepper flakes if you like a little spice!). Drizzle with 2 TBS of olive oil and top with rosemary. Bake for 1 hour stirring every 15-20 minutes. NOTE: after the first 15 minutes stir the rosemary into the sauce so it doesn't overcook and burn
Once veggies are cooked, remove any extra rosemary leaves from the stem. Discard stem. Blend all vegetables in a blender or Vitamix. Add to a large soup pot.
Turn heat on to low. Add broth to vegetable mixture. Taste your seasonings and season with salt and pepper if necessary.
Add in cheese and stir around until melted.
Prep Time: 5M
Cook Time: 1HR 30Min
Category: Soup
Keywords: soup, Boursin cheese, tomato soup, roasted veggies