This creamy tomato wild rice soup is made easy by roasting veggies in the oven. Then Boursin cheese is added to make the soup rich and creamy.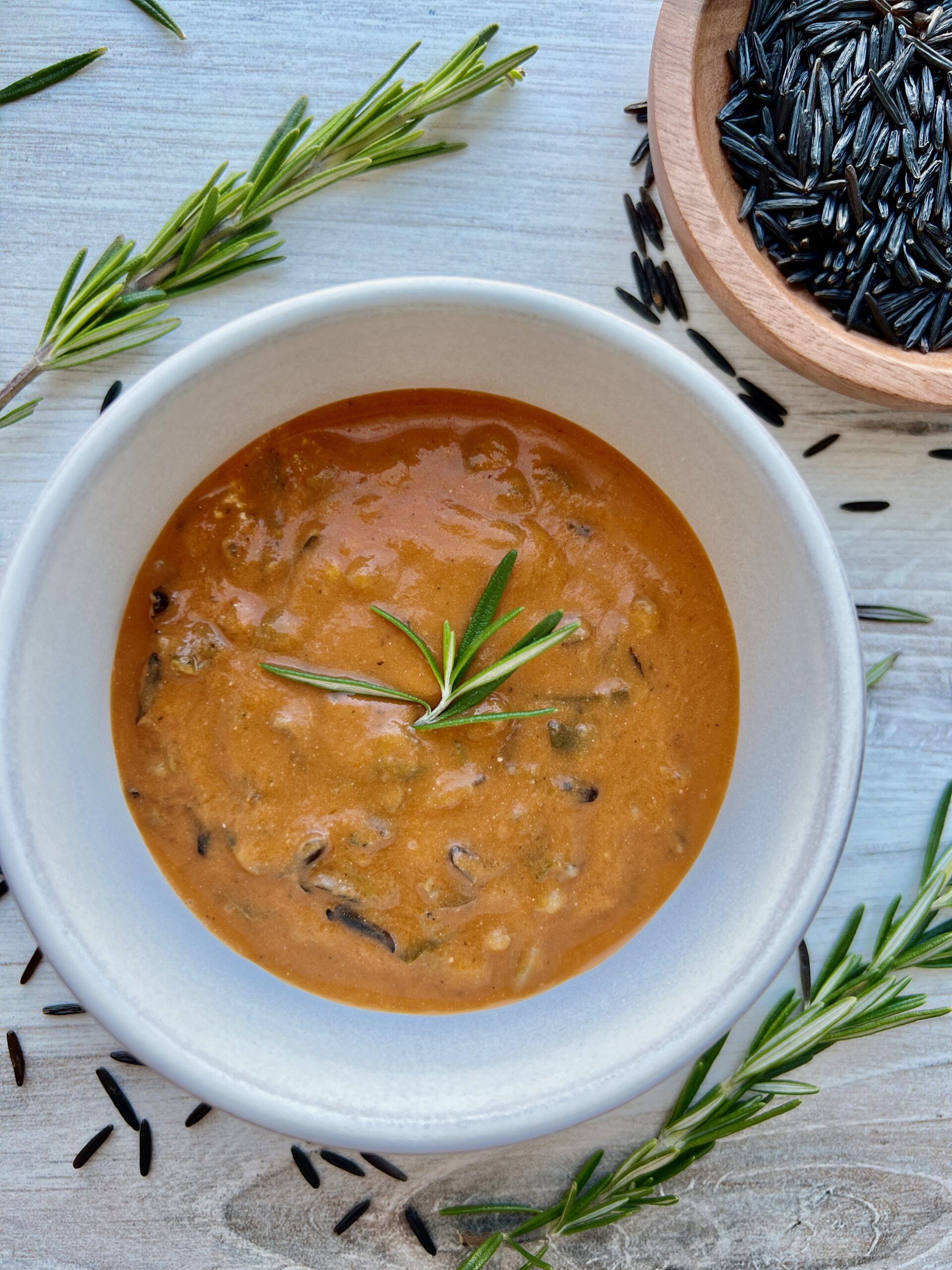 There are some nights where I just need something quick and easy to make. Especially being a working mom the last thing I want to do is spend hours in the kitchen. So when I wanted to make a big pot of soup the other night and not do a lot of work I needed to come up with something. I love making roasted tomato soup but wanted something a little more hearty because it was cold out. I decided to make a version of creamy tomato wild rice soup and add a new special ingredient.
Easy Tomato Base
One of my favorite tomato soups to make is a roasted tomato soup. I use whole canned tomatoes and combine with veggies and herbs to bake in the oven. The vegetables will get a slight little char on them which makes the flavor of the soup base that much better. It's not an over powering flavor but something that sets the soup apart from a basic tomato soup.
Blending the veggie mix up is a huge time saver. Also it provides the perfect opportunity to sneak in a few extra veggies without picky eaters even noticing. Because the soup will be blended there no need to spend a lot of time chopping veggies. I just cut everything into large chunks. All the veggies go into a big pan. You can set it and forget it as they roast in the oven.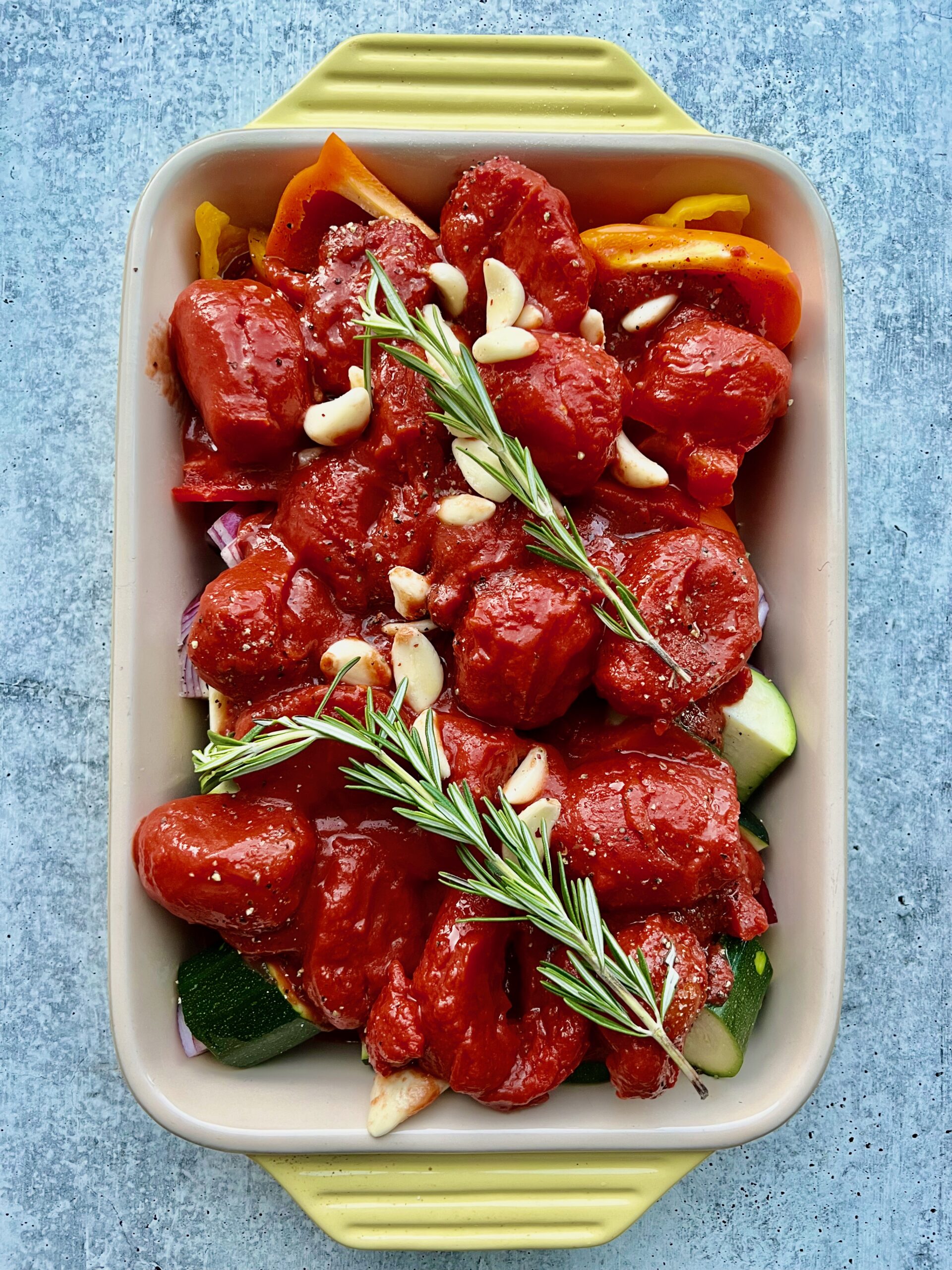 This base for the soup includes:
Canned whole tomatoes – I love to use something from Italy. Tomatoes are canned during peak season which results in maximum flavor. Which also means not worrying about if tomatoes are in season!
Bell peppers – gives the soup a subtle sweetness and are loaded with Vitamin C
Purple onion – they are less pungent than the white onion in my opinion
Garlic – using whole cloves in this recipe to keep it simple but once roasted adds a whole additional flavor profile
Zucchini – you won't even know it's in there
Fresh rosemary sprigs – once roasted the flavor becomes almost nutty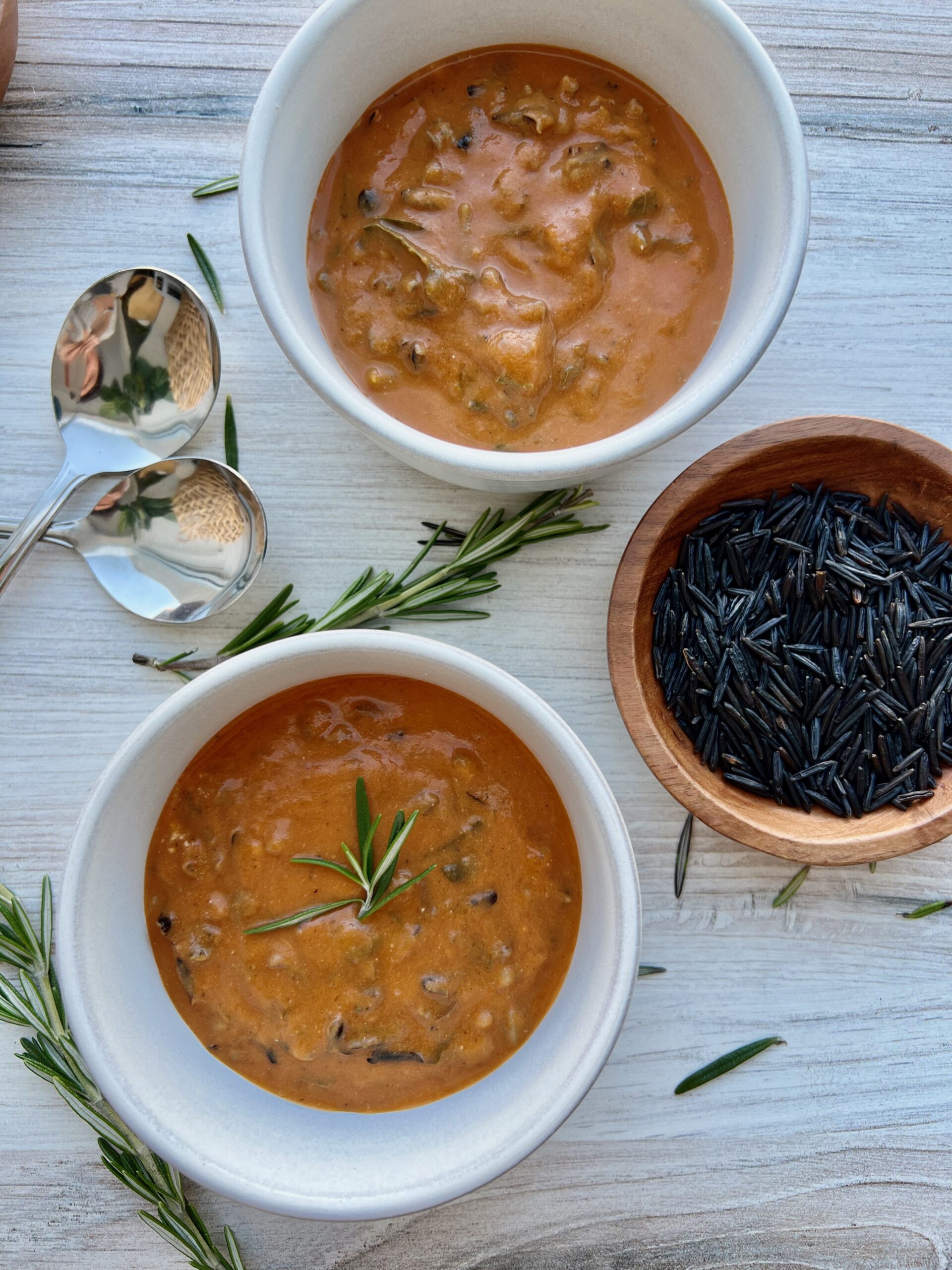 Putting it All Together
To save as much time as possible this creamy tomato wild rice soup involves some multi tasking. But the easy kind! While the veggies are roasting in the oven I cook the wild rice. Wild rice is one of my favorite grains. I grew up in Northern Michigan, close to Minnesota where a lot of the wild rice for the country is grown. Which means we grew up exposed to a lot of dishes with wild rice in them.
A lot of people will just cook rice in water and that's it. Don't do that! Use this as an opportunity to impart more flavor into your soup. Here are some tricks for a flavorful rice:
Use broth (veggie or chicken) for more flavor – the rice will absorb it while cooking and won't be bland like being cooked in water
Add in aromatics – fresh herbs and whole garlic cloves are used in this recipe
Add in a little fat – I used to skip adding a tablespoon of butter to my rice, was I ever missing out!
After the veggies have cooked they are pureed into a liquid. The tomato mix is added into a soup pot with the wild rice. Then we add the secret ingredient – Boursin cheese to make the soup have even more herb flavor and become ever so creamy. The last step of the soup is to add in the spinach and then it's done!
So the next time you need an easy soup be sure to try out this creamy tomato wild rice soup. Also if you do be sure to rate it and leave a comment below and let me know how you like it. Or tag me on Instagram!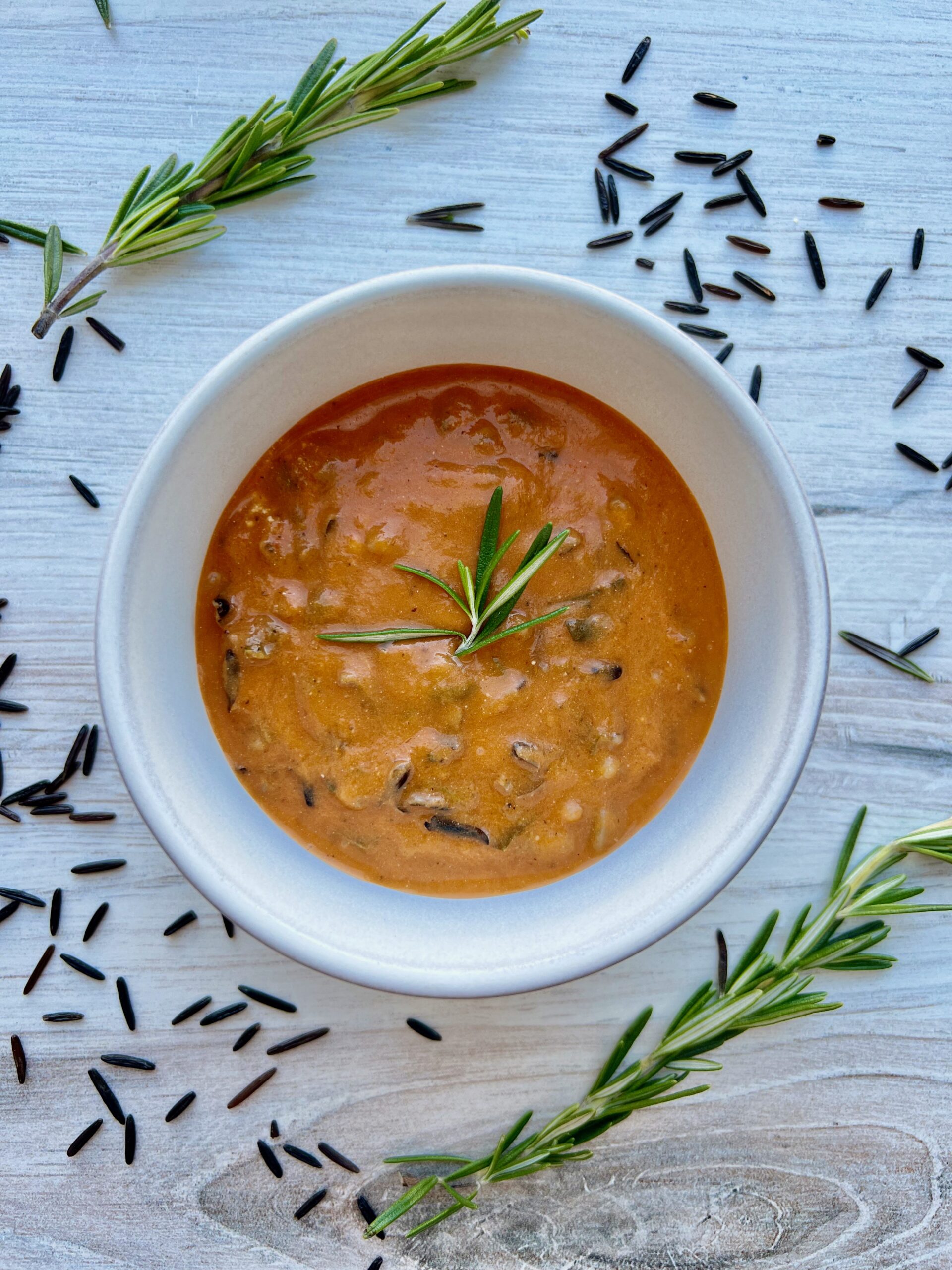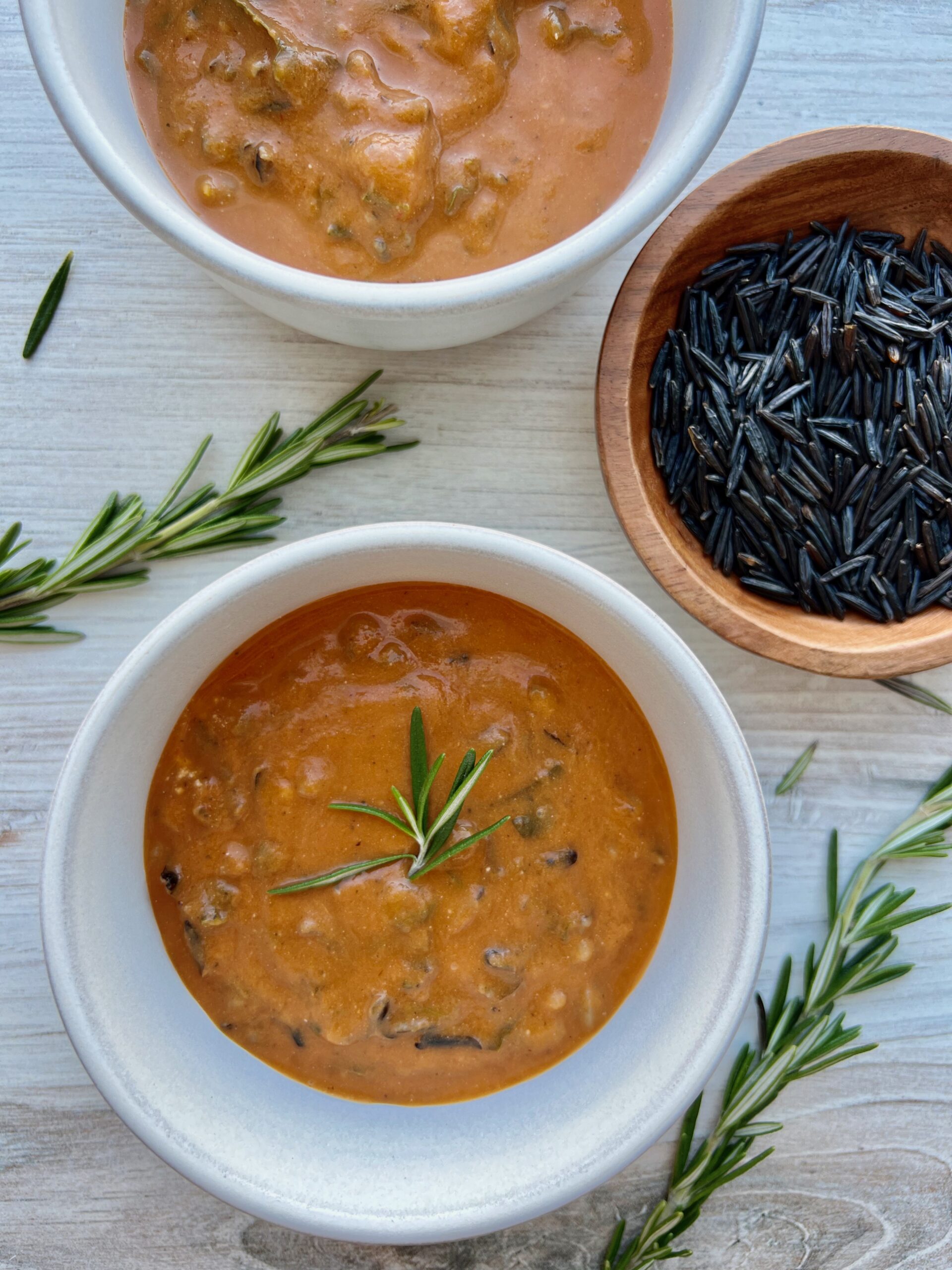 Print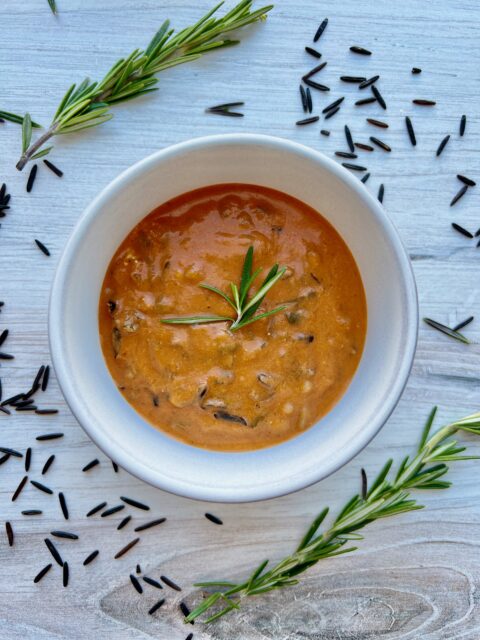 Creamy Tomato Wild Rice Soup
---
Author: Karissa P
Total Time: 1H5M
Yield: 4-6 1x
Description
This creamy tomato wild rice soup is made easy by roasting veggies in the oven. Then Boursin cheese is added to make the soup rich and creamy.
---
2 large bell peppers, cut into large chunks (I prefer red, yellow or orange)
1 red onion, cut into large chunks (I cut the onion into 1/8s)
2 medium zucchini, cut into large chunks (I cut in half length wise, then chunk up)
2 28 oz cans whole tomatoes
8–10 cloves of garlic left whole
5–6 sprigs of rosemary, 2 left out the rest tied together in a bundle with twine
1.5 c uncooked wild rice
6 cups broth (veggie or chicken)
2 TBS butter
1 package Boursin cheese (I like the original flavor "garlic and fine herbs")
6–8 oz package fresh baby spinach, fine chop
parmesan cheese for topping
---
Instructions
Pre-heat oven to 425
In a large sauce add in 6 cups of broth with rosemary tied with twine, 3-4 cloves of garlic, butter and season with salt and pepper
Once broth mix comes to a boil add in wild rice and follow cooking instructions
While rice is cooking add bell peppers, onion, zucchini, tomatoes, and the remaining garlic cloves to a large baking dish. Season liberally with salt and pepper and drizzle with a tablespoon of olive oil. Bake for 45 minutes stirring once. I prefer the veggies to get a little char on the top so don't worry if they start getting color.
Once veggies are cooked set to the aside and allow to cool slightly down for 10 minutes. Then add to a blender or Vitamix and puree until completely smooth. If there is not enough liquid to your mix to blend you can add a few splashes of broth.
Add pureed veggies to a large soup pot. Once rice has cooked for 45 minutes and is mostly done add the rice and remaining liquid from the rice into the soup pot (remove rosemary bundle). Taste soup and season with more salt and pepper if needed.
Add in Boursin cheese and spinach. Stir and let cook 5-10 minutes until cheese is melted and spinach is wilted.
Notes
For a thinner version of the soup add more broth. Additionally the soup will thicken up the next day.
Prep Time: 5M
Cook Time: 1H
Category: soup
Keywords: soup, tomato, wild rice, Boursin