I love making Asian food at home. MSG and I don't mix so I have a hard time eating Asian food out for this reason. I like making simple meals that don't take a lot of time to put together but have big flavor. These sheet pan ramen noodles that I came up with checks all the boxes.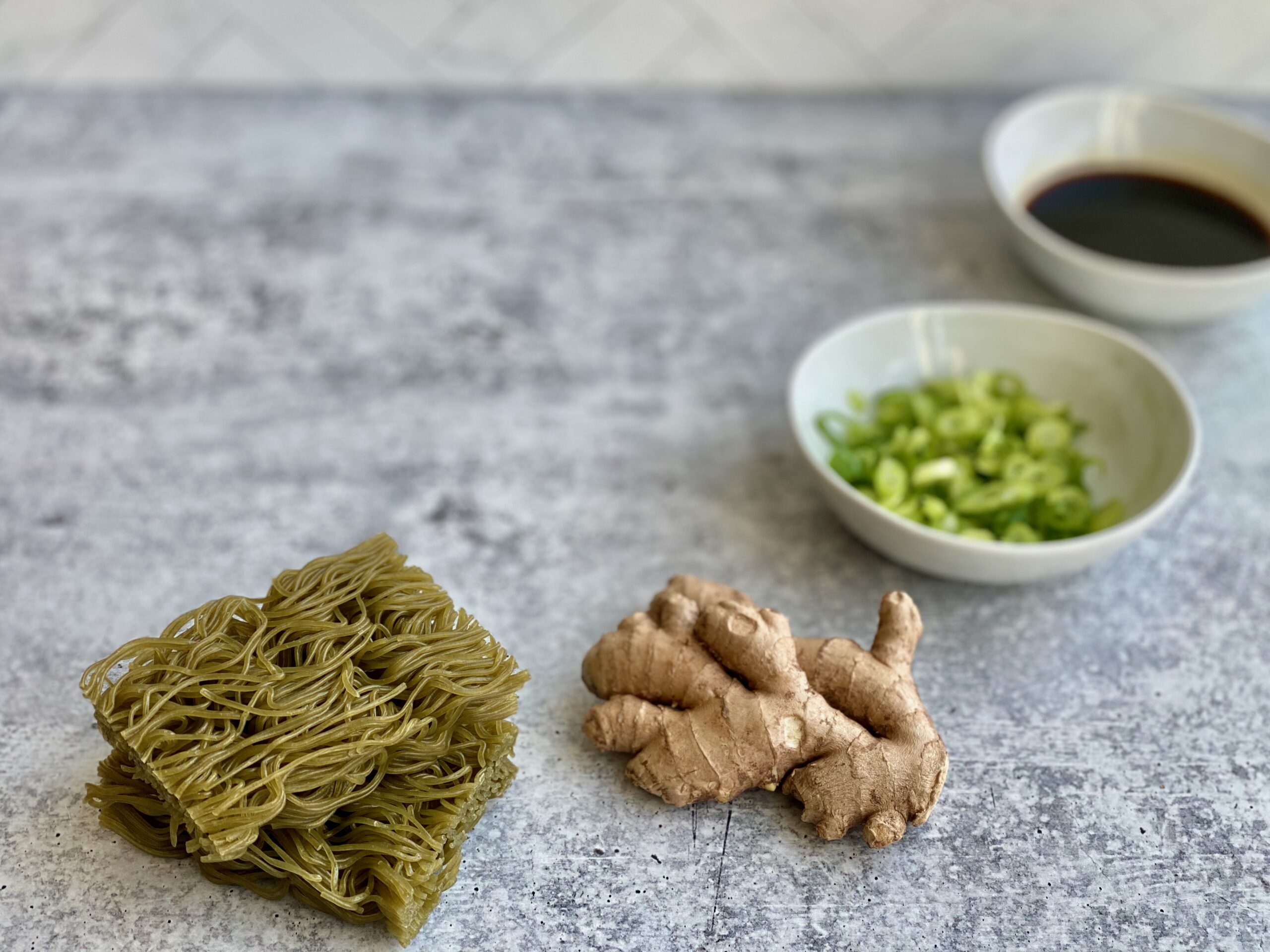 Eat the rainbow
There is a saying "eat the rainbow". The more colors of foods you can eat in one meal the more nutrients you can receive. This sheet pan ramen is loaded with veggies. First I chop bell peppers and onions in a large dice. Personally I like to use two different bell peppers. I prefer red, yellow or orange bell peppers just because they are a little sweeter but if you like green peppers you certainly can use them here.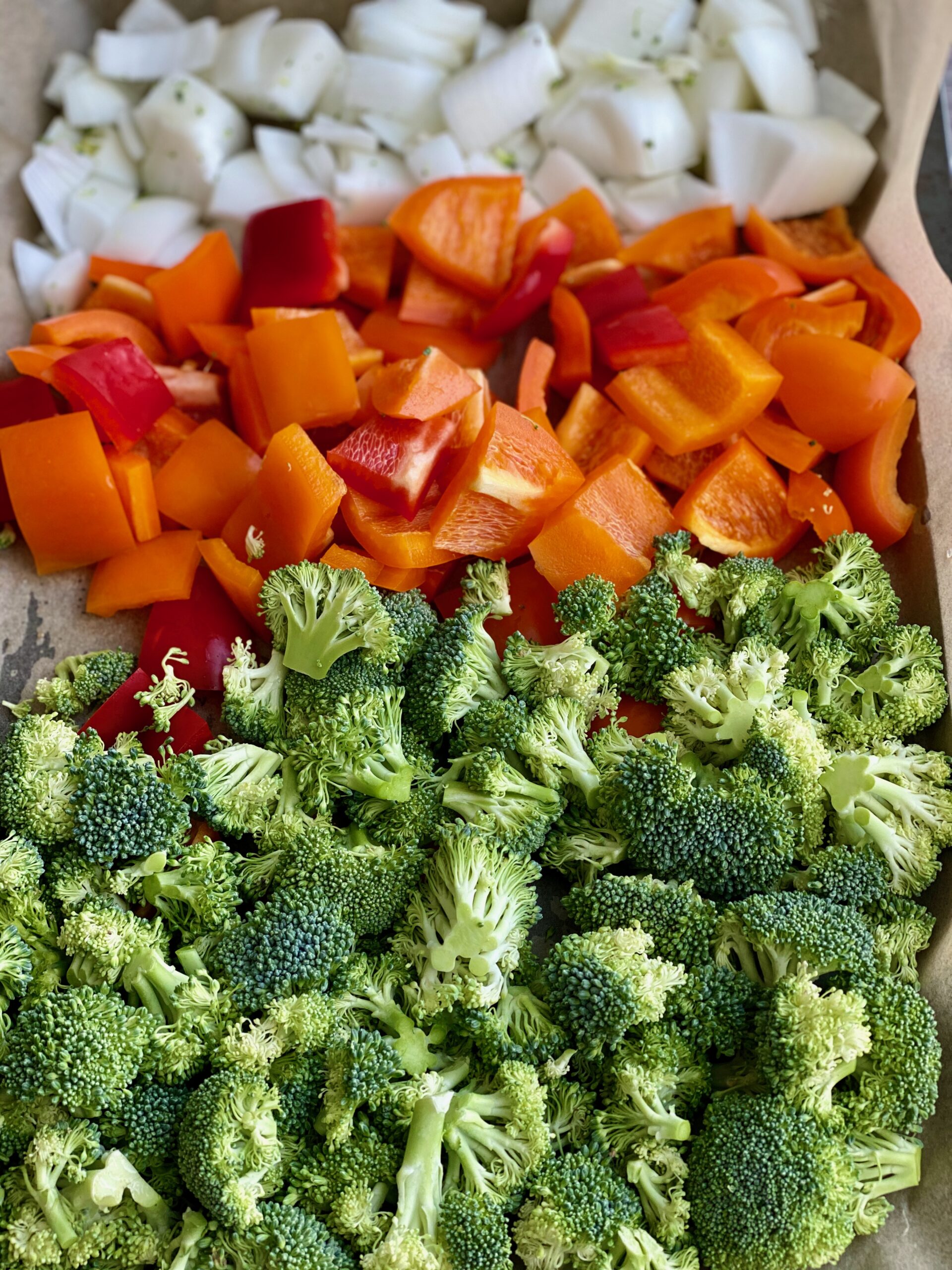 I also love how broccoli tastes roasted. The tops of the florets get a nice little char when roasted in the oven. Also for additional time savings I have been buying the pre-chopped florets. The work is mostly done for you. All I do is remove some of the larger stems and if the florets are too big I chop them a little smaller to make everything a more uniform size. If there are pieces that are way larger than the rest they will take longer to cook and then the rest of the veggies will over cook. When possible try to be consistent with the size of your vegetables. And if you want to save even more time, cook your veggies on parchment paper and avoid washing another dish.
Not your college ramen
Ramen noodles have come a long way since my college dorm days. I remember you could get them for something insane like 10 for a dollar. Also as I am now older I realize what that equates to in quality. Ick! The ramen selections out there now are crazy. Ramen can be found made out of all varieties of rice these days, brown rice, jade rice, and forbidden rice to name a few. The ramen noodles we buy are from Lotus Foods and are organic. If you can't find the noodles by themselves you can always buy the soup and just use the noodles and not the other ingredients.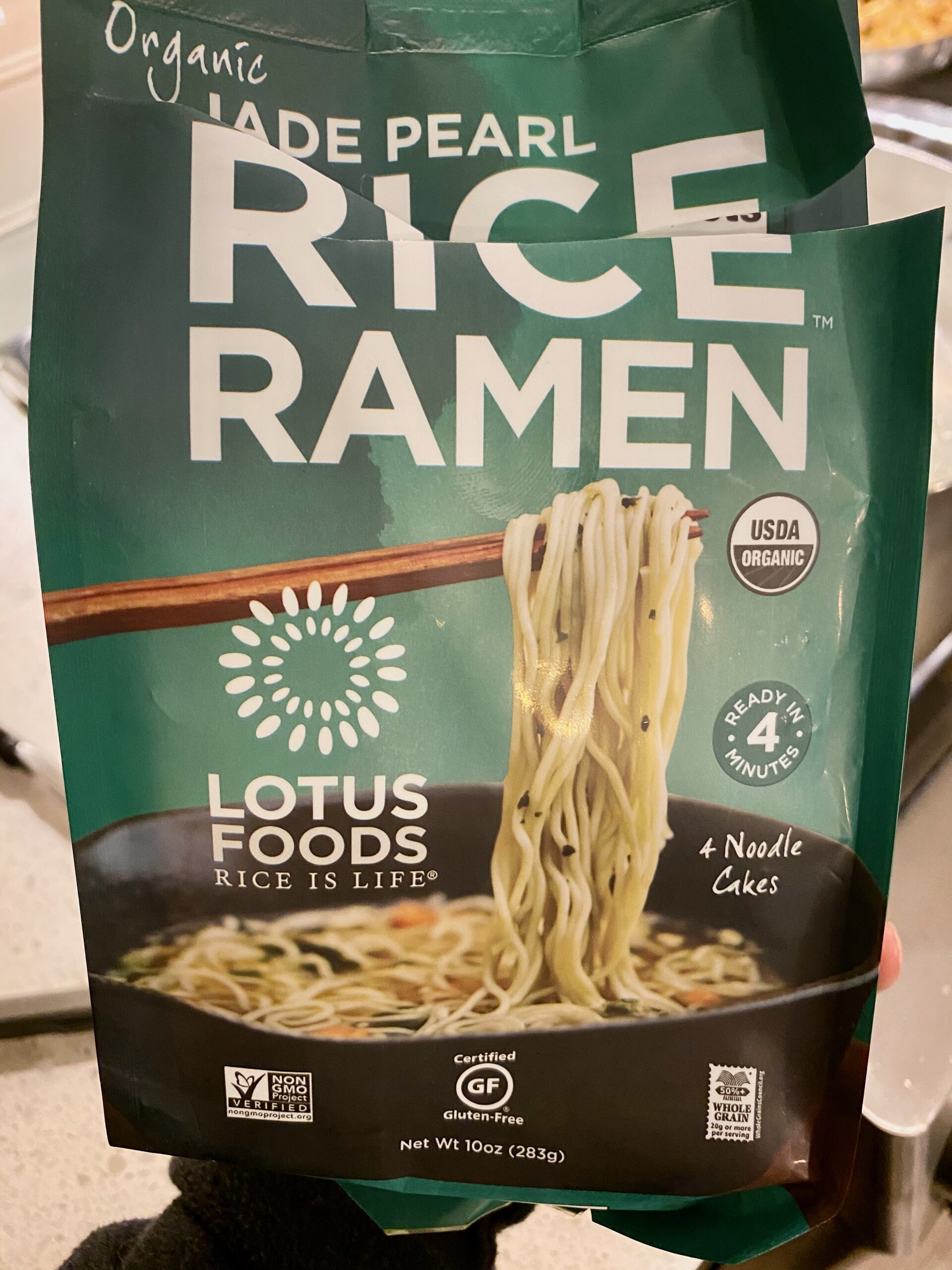 You don't need a flavor packet for these noodles! The sauce is a simple one yet full of flavor. Tamari sauce (or soy sauce) gives a salty umami flavor to the dish. The toasted sesame oil provides a nuttiness. Lastly, the sriracha adds a hint of heat to help balance out the noodles and the veggies. And if you are like my husband and the spicier the better – add more!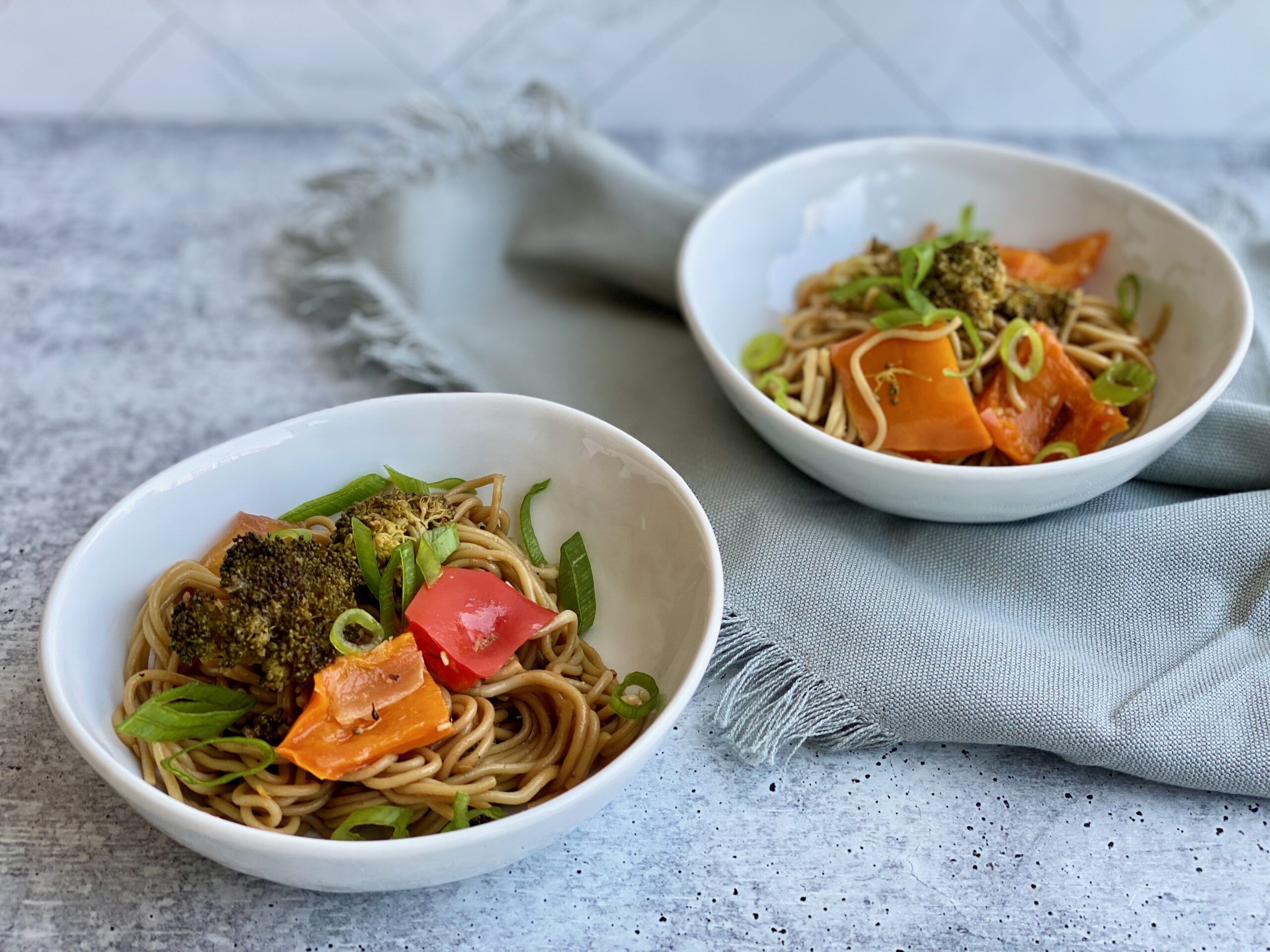 While this dish is most likely not something you would find at any Asian takeout it is just as fast. My sheet pan ramen noodles gives you the same combination you are most likely to find in a restaurant. The combination of veggies, noodles and a delicious sauce make this a well balanced meal. The next time you are craving take out you will want to make this instead!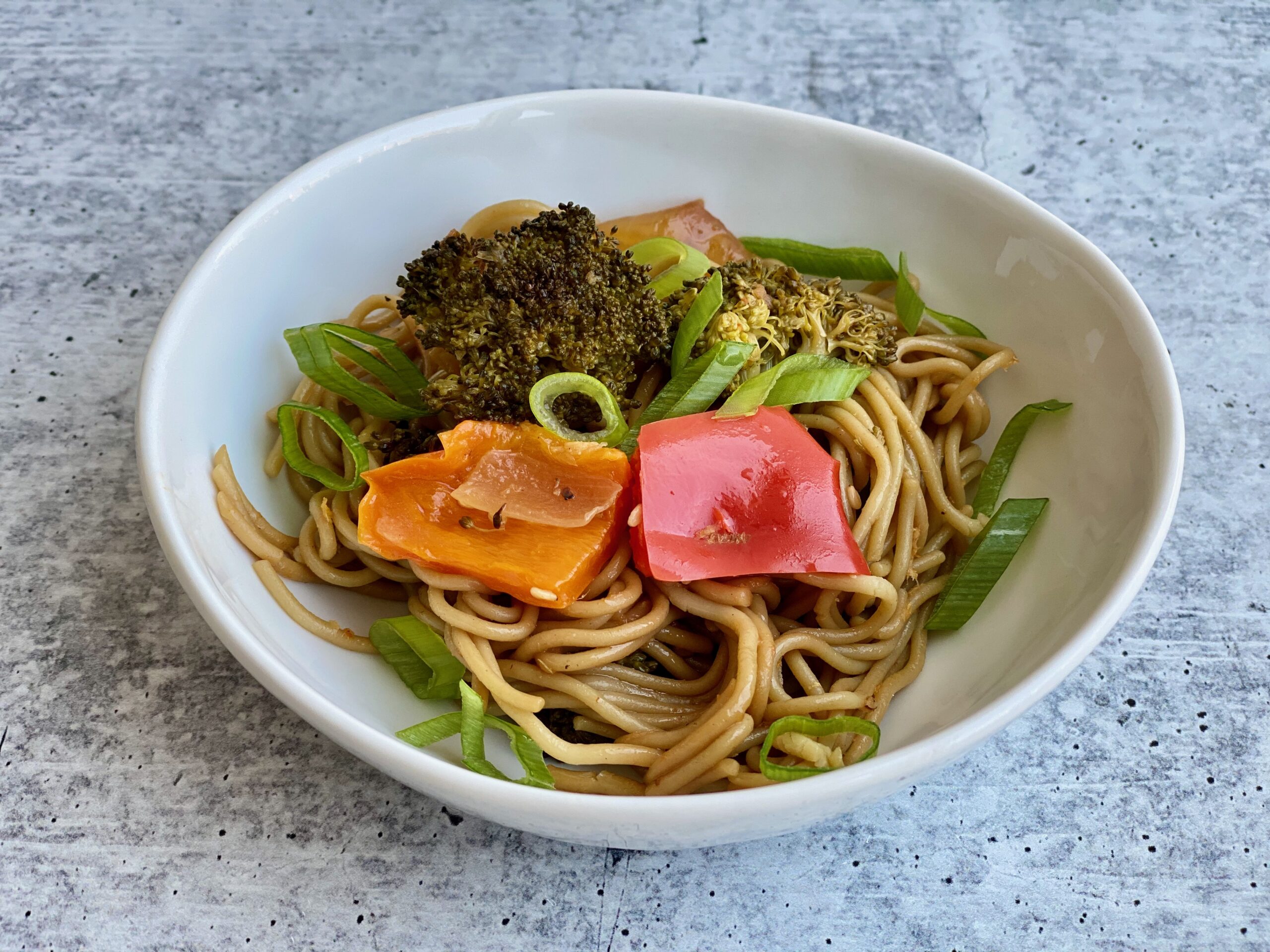 Looking for more Asian inspired recipes?
Peanut coconut sauce with veggies
And remember, if you try this recipe be sure to leave a comment below and let me know how you like it or tag me on Instagram!
Print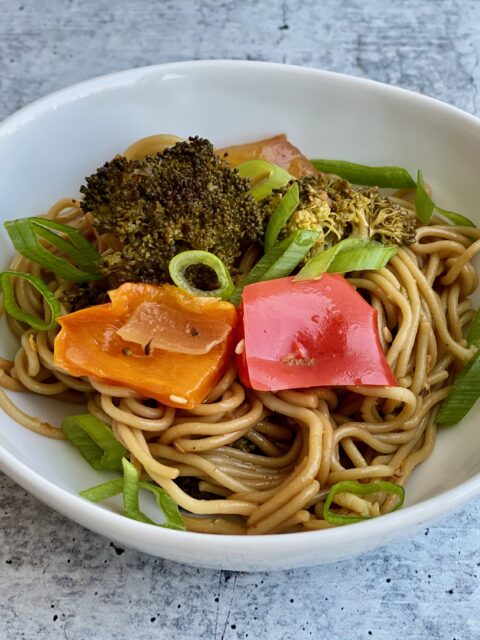 Sheet Pan Ramen Noodles
---
Author: Karissa P
Total Time: 30M
Yield: 2-4 1x
Description
Sheet pan ramen noodles is an easy yet flavorful recipe.Paired with roasted veggies and a simple sauce this fast meal is easier than takeout.
---
2 bell peppers, large dice
1 white onion, large dice
1 head of broccoli chopped into florets or I use a 10 oz bag that is prechopped and just cut into uniform pieces and trim the stems
2 TBS sesame oil
4 ramen noodle cakes
Additional topping options: scallions, sesame seeds, avocado and cilantro
FOR THE SAUCE:
3/4 c Tamari or soy sauce
2 TBS rice wine vinegar
2 TBS sesame oil
1 TBS Siracha
1 inch fresh ginger, minced or zested
3 cloves of garlic, minced or zested
---
Instructions
Pre-heat oven to 425
On a parchment paper lined baking sheet mix bell peppers, onion and broccoli with 2 TBS of the sesame oil. Bake for 20-25 minutes stirring occasionally.
In the mean time mix all the ingredients for the sauce together and set aside. If you want it spicier add more Siracha.
Bring a large pot of water to a boil when your veggies are almost done.
Cook the ramen according to package instructions. The brand I use tells you to run them under cold water once cooked.
Once ramen are cooked return to the pot. Add in sauce and roasted veggies. If you cooled your ramen off with cold water turn heat back on low to make sure the noodles and veggies are warm.
Top with any toppings of your choice, we love avocado, sesame seeds and scallions.
Notes
If you want to make this a meaty meal my husband cooked a 1/2 lb of ground pork on the side and seasoned with Tamari, fresh garlic and fresh ginger. You can do this and then add the cooked meat to the dish at the very end as well.
Prep Time: 5M
Cook Time: 25M
Category: vegan
Keywords: asian, ramen, noodles, sheet pan, veggies, vegan