This tomato wild rice soup is a change up from the traditional creamy version. Loaded with veggies and tomatoes it's a great variation from the usual version.
I am sure you already guessed it – another soup recipe! Soup Sundays are a real thing in our house. First off – soup is easy to make in large quantities. So it serves as dinner for us on Sunday night and then lunches for me for most of the week. Additionally I find making soup is a way for me to get in a TON of veggies (usually) so I know I am getting them through out the day. And if my daughter winds up eating it I know she is getting a lot of nutrients as well. This Sunday I decided to whip up a batch of tomato wild rice soup for us to eat.
Wild Rice Rice Baby
I LOVE wild rice! My dad used to make me chicken wild rice soup as a teenager. There was this restaurant back home too that made a really creamy wild rice soup and they always used Minnesota wild rice. If you can find Minnesota wild rice for this soup I HIGHLY recommend using it. If not any wild rice or wild rice blend (like this one) will do!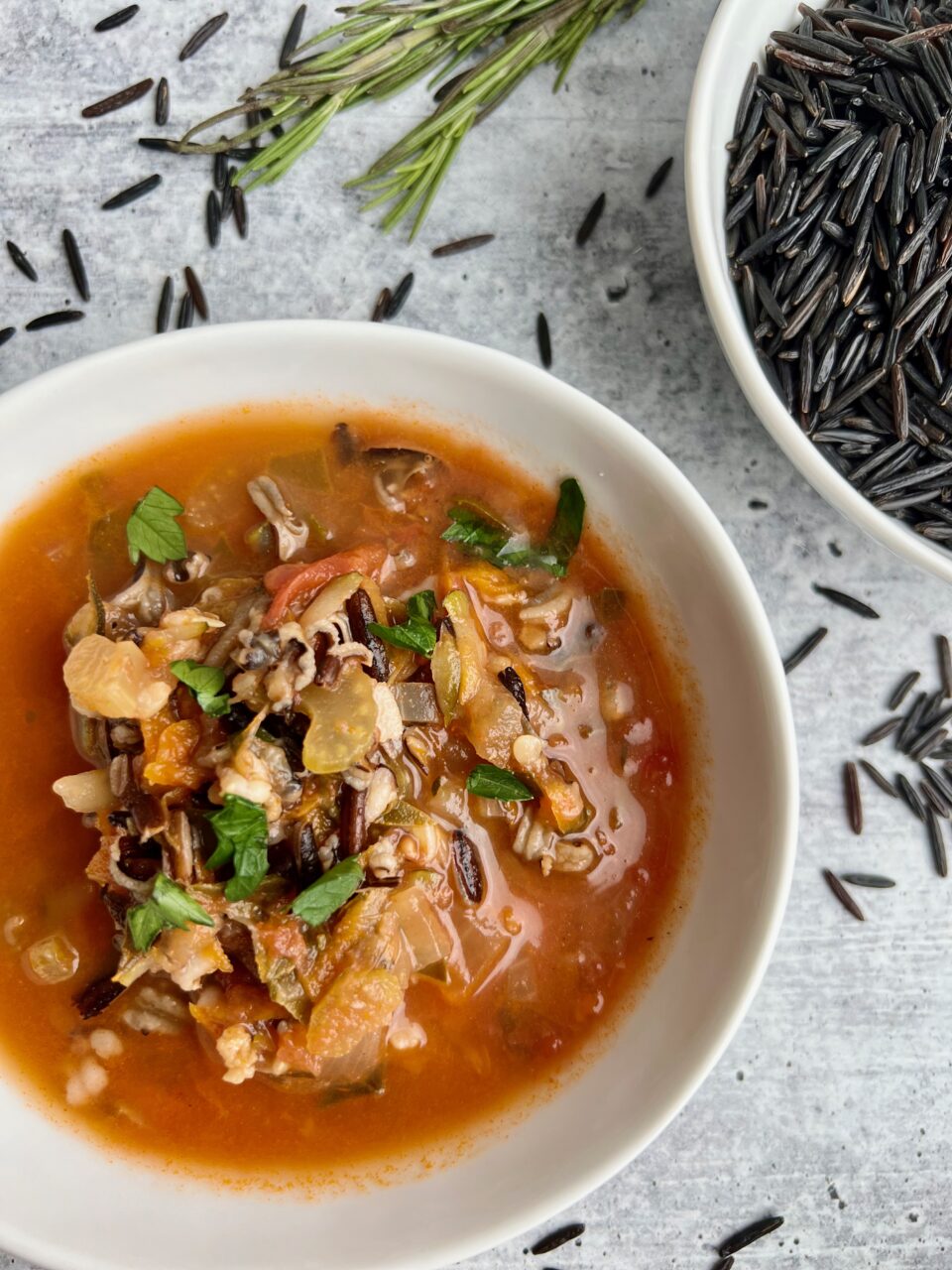 Wild rice has a ton of health benefits. It's loaded with fiber, for a grain high in protein, plus it has a lot of good nutrients for your body. But bottom line – it just tastes good! However, it does take a longer time to cook. So the key to this soup is to start your rice first. Then chop your veggies and do everything else.
Also I find that the cook times on the rice always seems to be off. My packages will say 45 minutes and the rice is never cooked in that time. So I usually check the rice (in the odd chance it's FINALLY going to be right?!) and most of the time wind up leaving it on the stove fifteen minutes longer than it calls for.
I like to cook the rice separately for this recipe. You COULD cook the rice directly in the soup but given that it takes SO long to cook and absorbs a ton of broth I personally think it's easier to do it in it's own pot.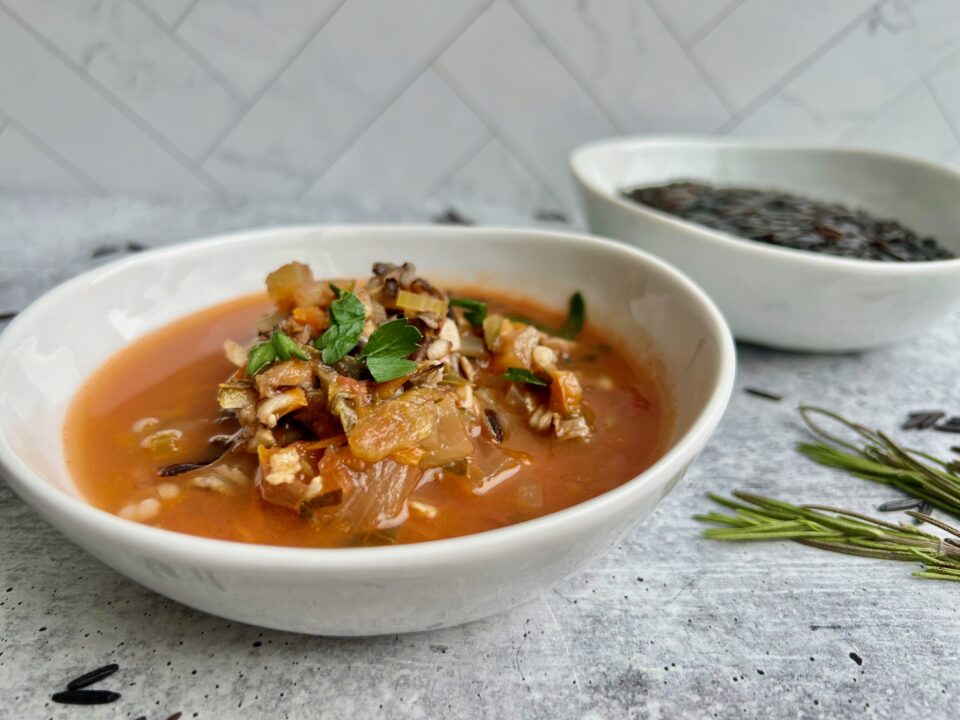 Veggie Overload
If you have ever read the blog or made one of my soups you will know that I am notorious for loading soups with veggies. Even veggies I personally don't like. The key is to keep everything small. Especially with a rice soup you don't want small grains of rice but then huge chunks of veggies. Here are the veggies in this soup and the keys to keeping them small:
Celery – THINLY slice the celery, not only does it cook faster but then it's smaller, my husband doesn't like celery but when it's thinly sliced it doesn't bother him
Carrots – GRATED carrots. I don't like carrots but when they are grated I can't tell they are in there versus biting into a big chunk
Zucchini – GRATED, same as the carrots. Plus zucchini is a watery vegetable so it doesn't really taste like much anyway
Spinach – wait? Spinach?? YES! First off – always use fresh baby spinach. The flavor is not as harsh as bigger versions. And frozen spinach to me is really gross tasting. Secondly, chop the spinach small. Once you add it to your soup it looks like an herb floating around and doesn't really taste like much.
Tomatoes – ok ok it's really a fruit but still. By using crushed tomatoes you aren't left with huge chunks for any non tomato lovers but you get the health benefits and the subtle flavor.
So there you have it. While this tomato wild rice soup has a longer cooking time due to the wild rice it really is simple and easy to whip together. So if you are ever craving a wild rice recipe be sure to try this soup out. Also if you do be sure to rate it and leave a comment below and let me know how you like it. Or tag me on Instagram!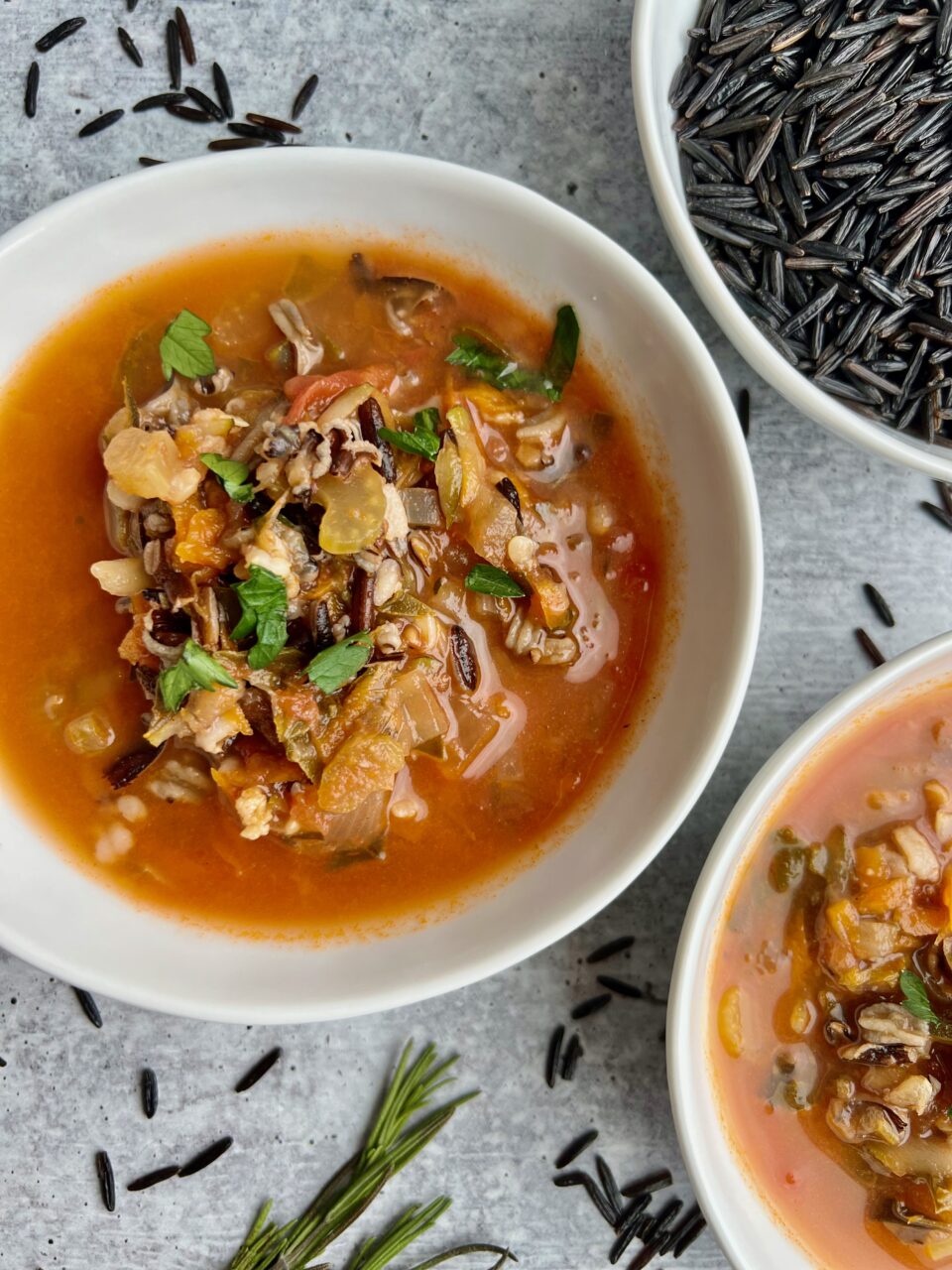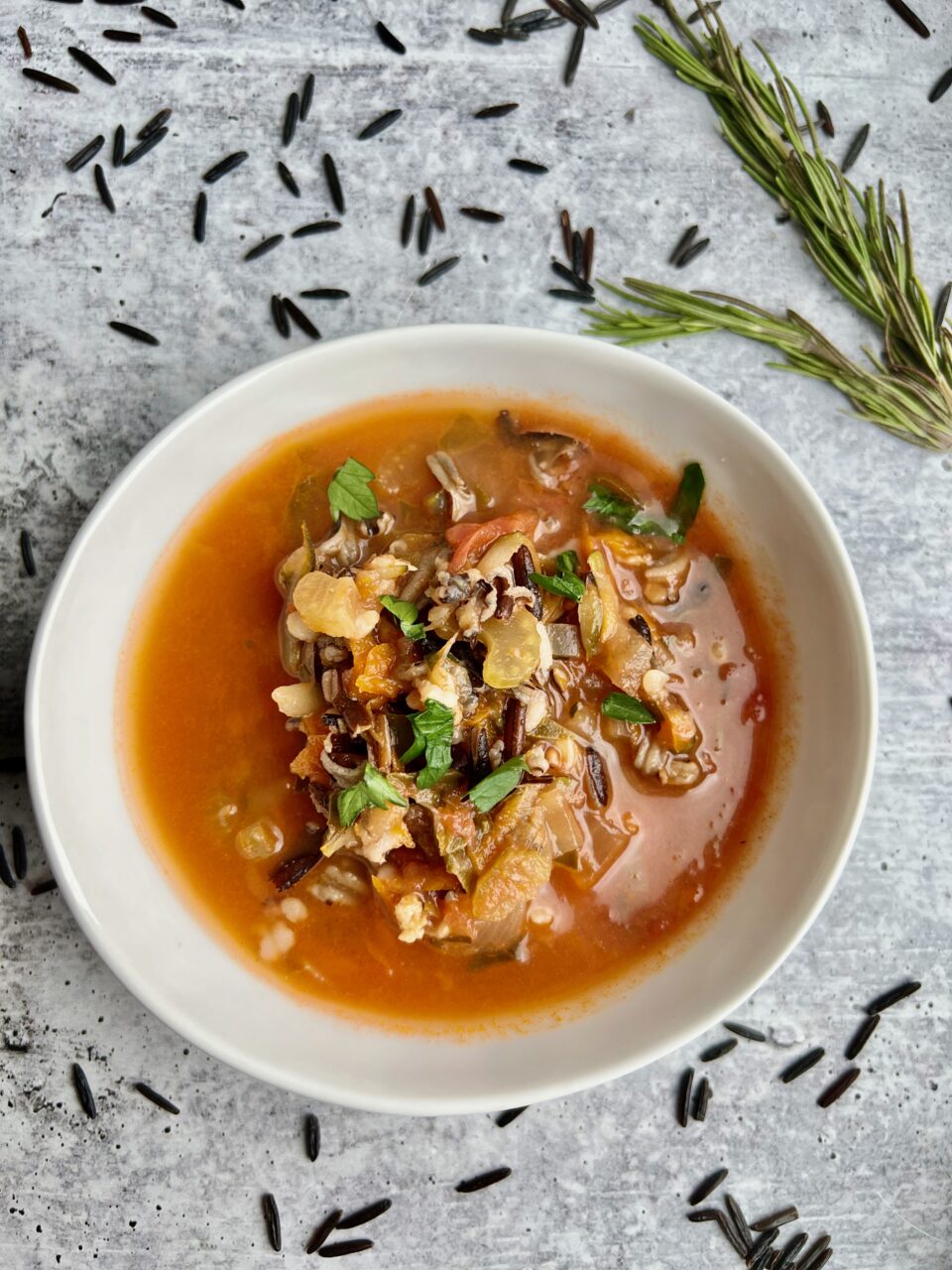 Print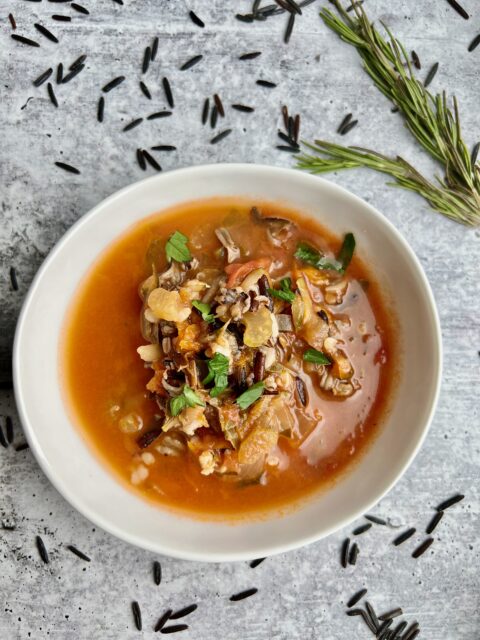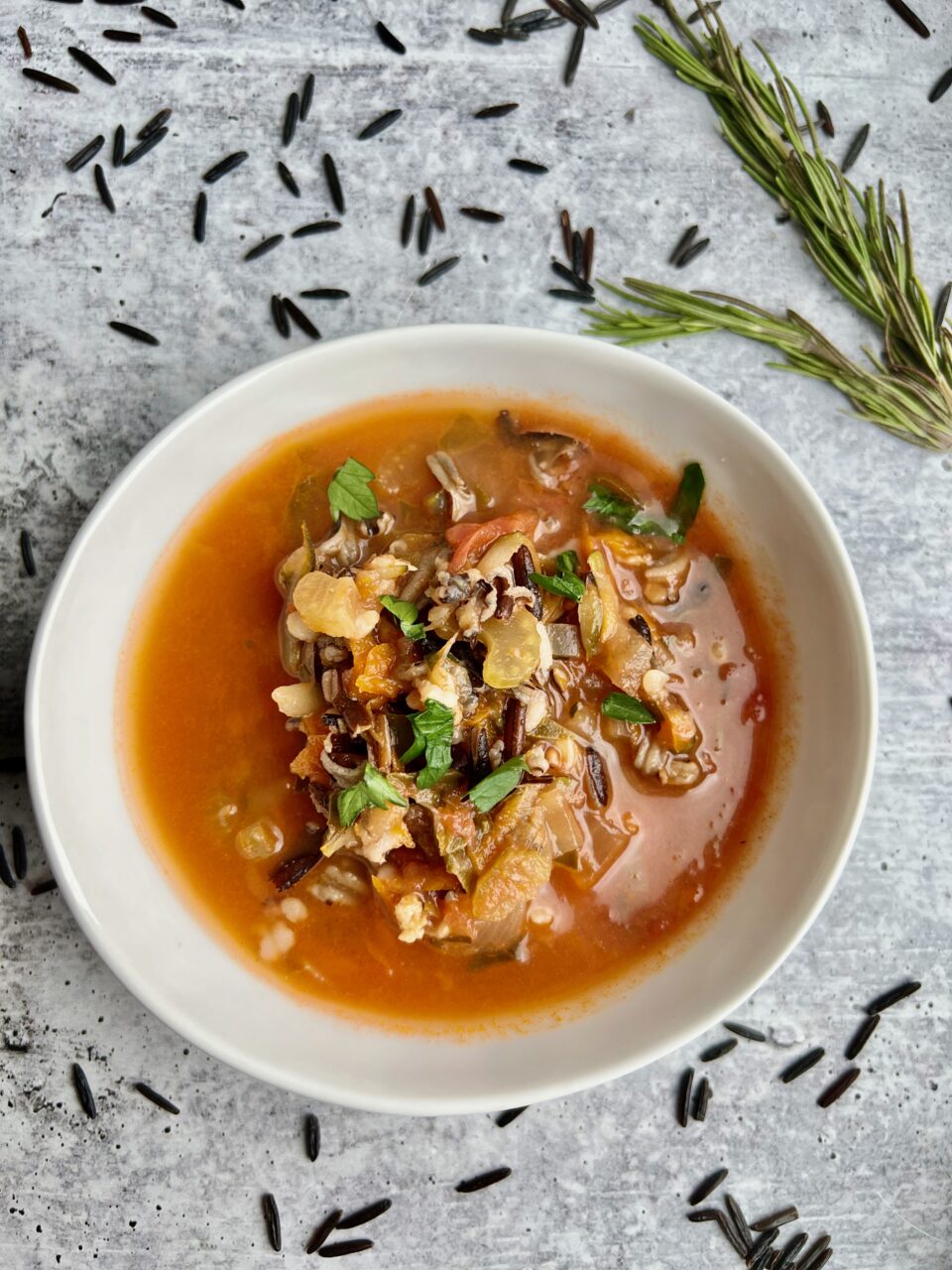 Tomato Wild Rice Soup
---
Description
This tomato wild rice soup is a change up from the traditional creamy version. Loaded with veggies and tomatoes it's a great variation!
---
6–8 ribs of celery (I use the whole bunch of celery), thinly sliced
1 c grated carrots (or 2 carrots grated)
1 yellow onion, diced
6–8 cloves garlic, minced
2 bay leaves
2 sprigs of fresh rosemary
1 28 oz can crushed tomatoes
8–10 cups of veggie or chicken broth (I personally like the taste of chicken broth better in general)
2 zucchinis grated
1 5oz bag of baby spinach, chopped
2 parmesan cheese rinds
grated parmesan to top with
For the rice:
1.5 c wild rice or wild rice blend
6 c broth
2 TBS butter
1 sprig rosemary
4 whole cloves of garlic
---
Instructions
First start your rice. Read your instructions to your rice carefully. However much water it calls for for 1.5 cup of rice replace it with broth. Once the broth has come to a boil add the butter, rosemary, and garlic and be sure to season with salt and pepper. I find with wild rice usually the cook time on the package is off by about 15 minutes. Check your rice after the recommended cook time and if there is still a lot of liquid and the rice isn't done leave on 15 mins longer.
Next start your soup by sautéing onions, garlic, celery and carrots in 1 TBS olive oil over medium to medium low heat. Season with salt and pepper.
Tie up the sprigs of rosemary and bay leaves together. I like to wind my string around most of the length of the rosemary so the leaves don't fall into the soup. Add this herb bundle to your veggies.
Add in crushed tomatoes, shredded zucchini, parmesan cheese rinds and 6 cups of broth. Let cook over medium heat while the rice finishes cooking.
Once the rice is done add it to your soup pot with the chopped spinach. Let cook a few minutes so the spinach wilts down.
If the rice has absorbed too much broth add the remaining 2 cups of broth. The soup will definitely thicken up overnight if you have leftovers.
Lastly top with parmesan cheese and enjoy!