This easy ramen is simple to make. Stirfry veggies and ramen noodles are combined with a quick peanut coconut sauce for a delicious meal.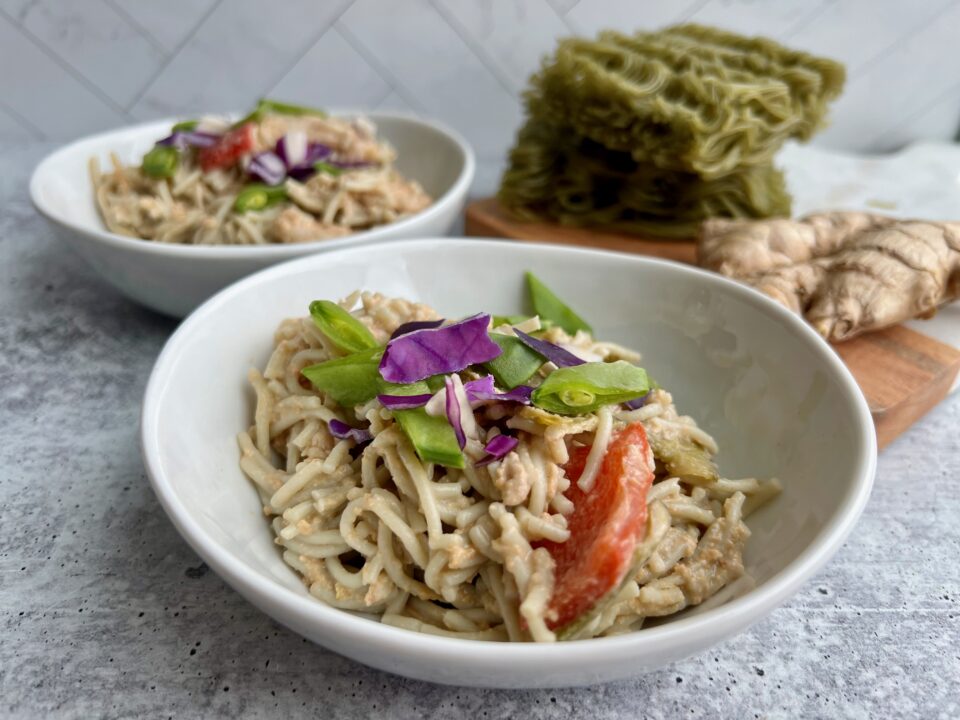 During the week I don't have a ton of time to spend in the kitchen. Especially after working in the office all day. So I try to make quick and easy meals for dinner. I am always looking for something that takes very little prep and minimal cook time. Stir fry veggies almost always in our rotation for week night meals. So I figured why not whip up an easy ramen with peanut coconut sauce.
Easy Stir fry Veggies
One of the things that makes this easy ramen with peanut coconut sauce EASY are the veggies. The only "hard thing" about it is actually chopping them! Additionally the great thing about this is you can swap in whatever vegetables you have on hand or your favorite and you get the same great taste.
There are a few keys to make a good stir fried veggie:
Let your oil actually heat up before adding the veggies. I like using sesame oil for this but you could use avocado or peanut oil as well.
Once your veggies get into the pan leave them alone for a few minutes. I like the veggies to get almost that slight brown color to them (without burning)
Stir fried veggies are not super soft. I like these veggies to have a little crisp to them. Since they are slightly crispy that additionally results in less cook time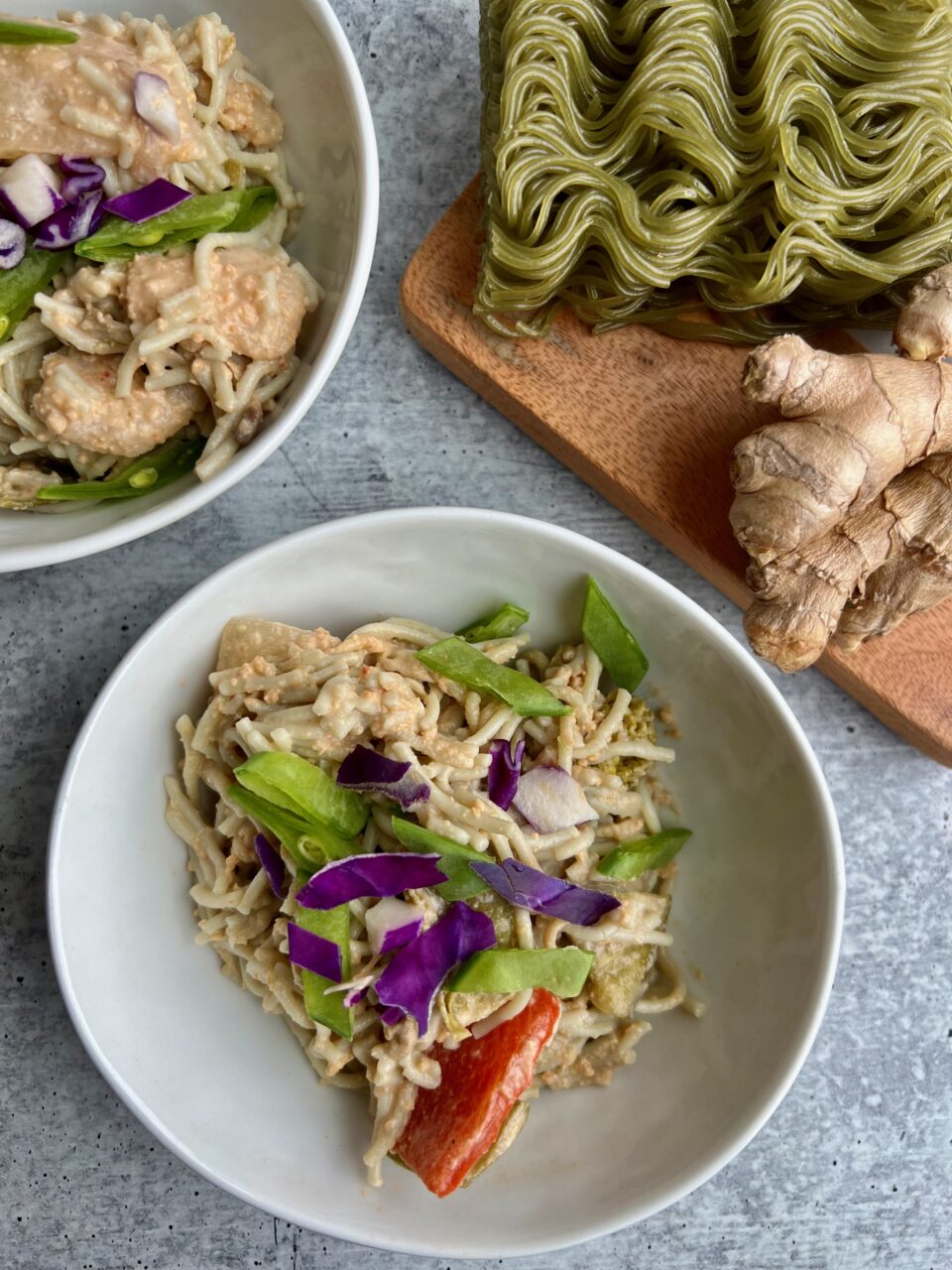 All Ramen is Not Created Equal
Ramen has really blown up over the past years. Long gone are the days of the ten cent ramen packages with those seasoning packets full of who knows what. You can find all kinds of varieties of ramen now – brown rice ramen, forbidden rice ramen, organic ramen etc.
One of my favorite ramens are from Lotus Foods. This is not a sponsored ad I just genuinely love them. They have all kinds of varieties and most of the packages come with four "bricks" of ramen. Which is perfect when you are cooking for a family of three to four (or two people and you want leftovers!). If you are in a bind though you most certainly can use ramen packets that have the seasonings and just not use the season package.
Here are a few of my favorites to use in this recipe: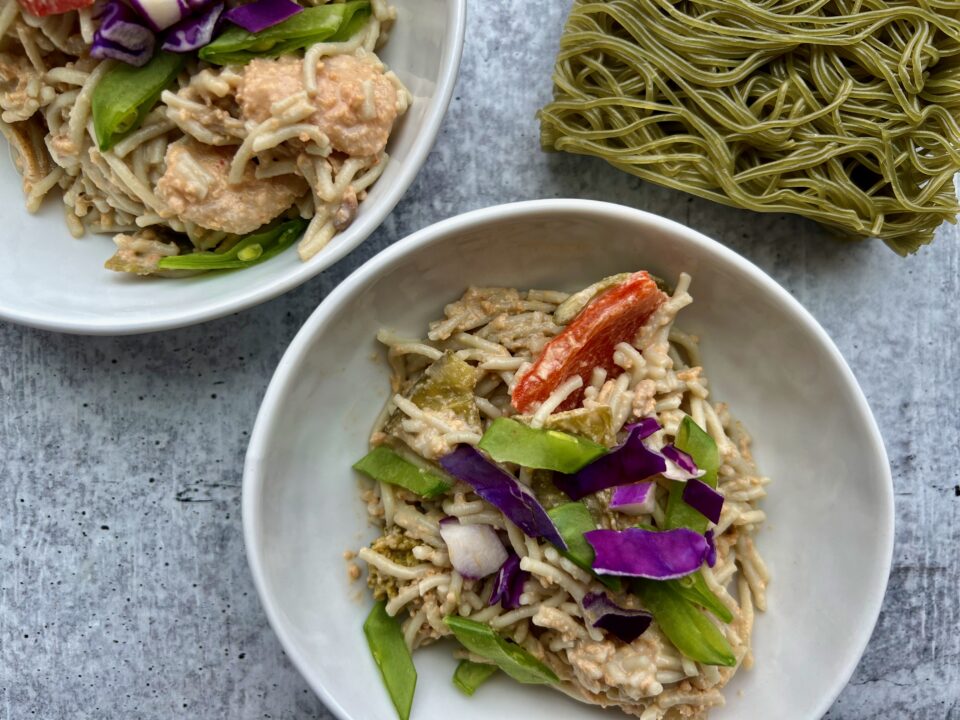 Putting it All Together
This meal comes together quickly. Also it's a good meal to multi task with. I like to chop my veggies first. Then while the veggies are cooking I bring my water to a boil. At this time you can make the sauce (or make the sauce first). Then then the noodles will cook while the veggies cook.
Be sure to read the directions of the noodles. Not all noodles have the same cook time. I also find the cook time sometimes is a little too al dente for me. So I always try the noodles before I drain them. Also pay attention as most noodles will call for you to run them under cool water. Don't skip this step. If you don't the noodles will keep cooking and could turn mushy!
Once the noodles are done I toss them and the sauce in the same pan as the veggies. Then top with your favorite toppings like scallions and Siracha and you are done. Just like that this easy ramen with peanut coconut sauce is complete!
The next time you are craving an easy veggie filled weeknight meal try this easy ramen with peanut coconut sauce. And when you do be sure to rate it and leave a comment below and let me know how you like it. Or tag me on Instagram!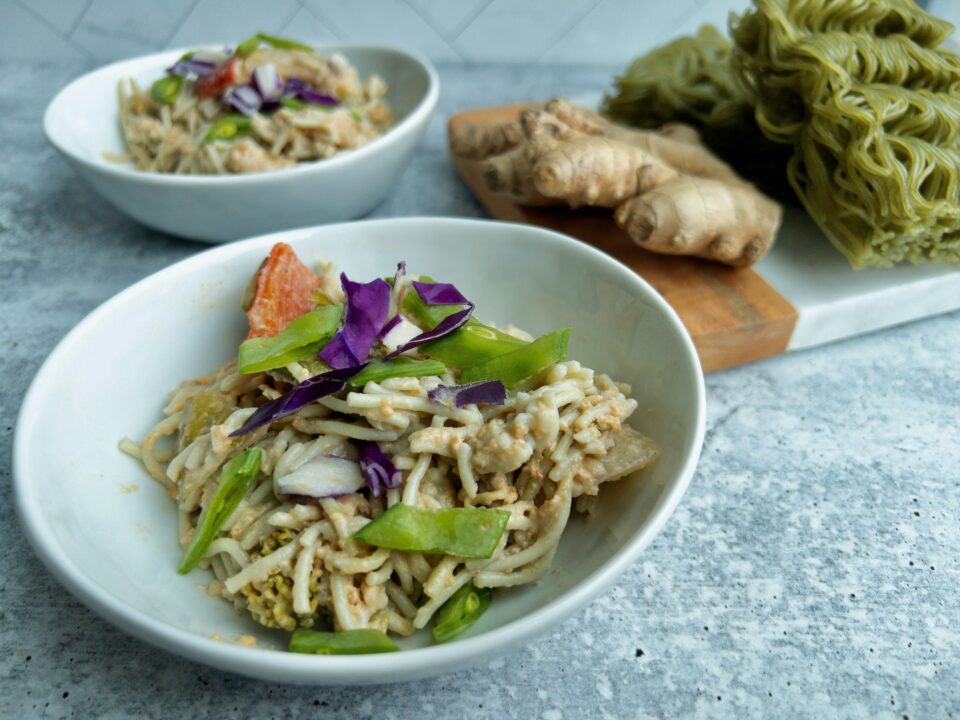 Print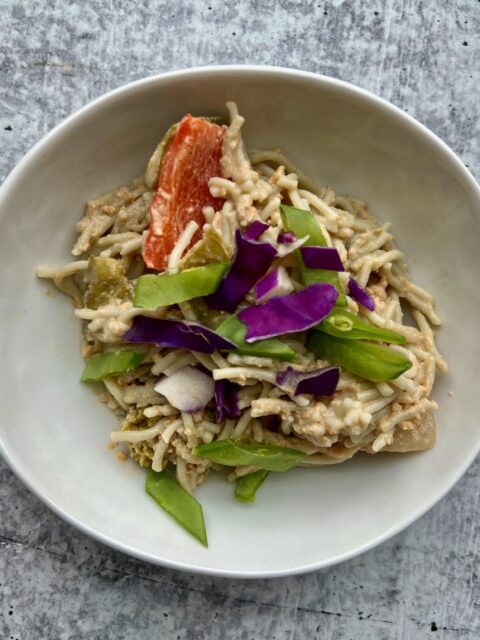 Easy Ramen with Coconut Peanut Sauce
---
Author: Karissa P
Total Time: 30M
Yield: 3-4 1x
4 packages of Ramen Noodles (I love Lotus Food brand!)
2 large bell peppers, large dice
2 c broccoli florets (I buy prepackaged florets to save time!)
1 white onion, large dice
1 c pea pods
12–14 oz bean spouts
1 TBS sesame oil
Sauce:
1 can full fat coconut milk
1 inch fresh ginger grated or minced (or 1/2 TBS ginger paste)
3 garlic cloves grated or minced
1/4 c Tamari or soy sauce (I prefer low sodium)
1 c peanut butter (creamy works best here, I buy no sugar added)
1–2 TBS Siracha (start with 1 TBS and add more if you want it spicier)
Juice of 1 lime
Optional items to top with:
Scallions, thinly sliced
Avocado slices
Sesame seeds
Siracha
---
Instructions
Combine all ingredients for the sauce in a bowl. Whisk together. If the sauce is too thick you can thin out with a little splash of warm water. Set aside
In a large high sided skillet or wok heat sesame oil to medium heat. Add in peppers, onions and broccoli. Cook until slightly tender about 5-7 minutes. I like my veggies to still be slightly crispy.
Add in pea pods and bean sprouts. Cook a few more minutes until bean spouts have softened.
While veggies are cooking bring a large pot of water to a boil. Cook ramen according to instructions. Usually they will tell you to run the ramen under cold water to stop cooking.
Combine ramen and sauce with the veggies. Stir to coat noodles completely with the sauce.
Serve with toppings of your choice
Notes
You can add in whatever veggies you like here. Grated carrots, water chestnuts, bok choy would all be delicious in this.
I don't love using frozen veggies for this as I find they are too watery
If you are craving meat you could brown 1/2 lb of ground pork in a little sesame oil with grated ginger and garlic and add to the dish at the end.
Prep Time: 10M
Cook Time: 20M