When I was single living alone I cooked for myself all the time. Often times I made most of my meals on the grill because it was easy to whip up food for one. Most of the time I probably made dinner 4-5 nights a week and the other nights I would be out with friends or making popcorn for dinner. Since I met my husband we take turns cooking or cook together. However, when he goes out of town for work I have ZERO desire to make dinner. It's funny how things can change. When he is gone, dinner for me often times becomes smoothies or popcorn. Definitely nothing fancy or anything that takes more than 10 minutes!
The last time he was out of town I knew I needed food for lunches and I was sick of eating out. Recently we had been on vacation and I was ready for homemade meals. So I started thinking about what I could whip together quickly. Often times I don't get home until later so spending hours in the kitchen for me is not an option. Mostly soup becomes my go to quick meal. I had been craving some kind of tomato based soup but wanted a little more substance to it. And tomato cauliflower soup was concocted!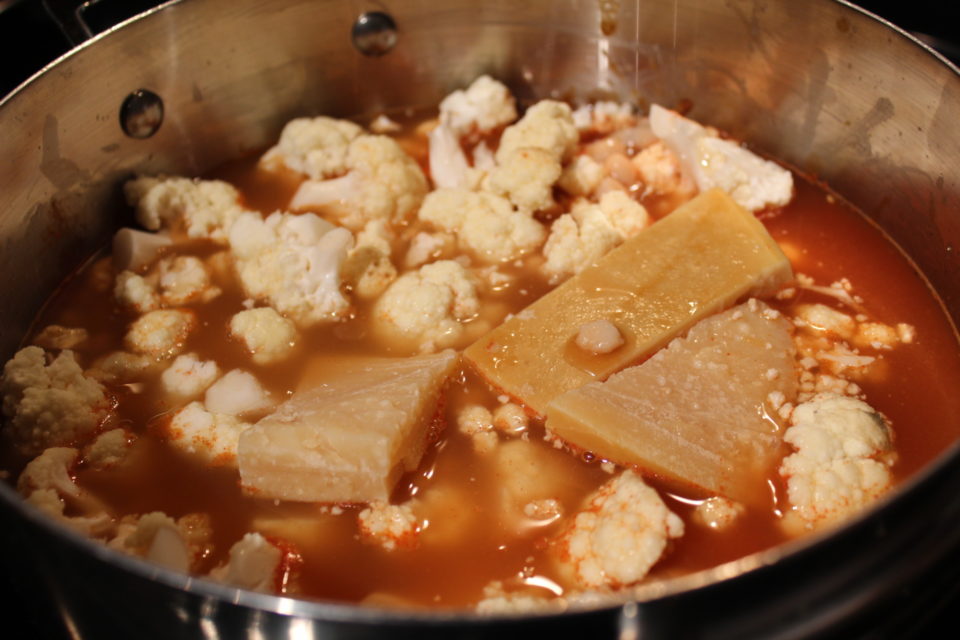 When I make soups I try to load them with veggies so I can get a lot of servings into one meal. If I want to thicken soups naturally without the use of heavy cream or butter and flour I use beans. You can blend beans in a soup and it instantly thickens the soup. I thought I could do something similar with this recipe. Since I would be blending this soup all the way I figured I could add in other ingredients that you wouldn't notice as well to get the nutritional benefits from them like celery and cauliflower. Cauliflower?? I know. It sounds super weird but trust me, you don't even know it's in there.
In our house we cook a lot with garlic. When I have a little extra time I love roasting garlic in the oven. It tastes so good just spread on a cracker. By roasting it in the oven it gets really sweet and soft. Plus you don't have to worry about trying to pop all the cloves out of the shell. By slicing the top off the entire head of the garlic all you have to do is use a fork to pick out the cloves when it's done. I used 2 whole heads of garlic in this soup, again trust me!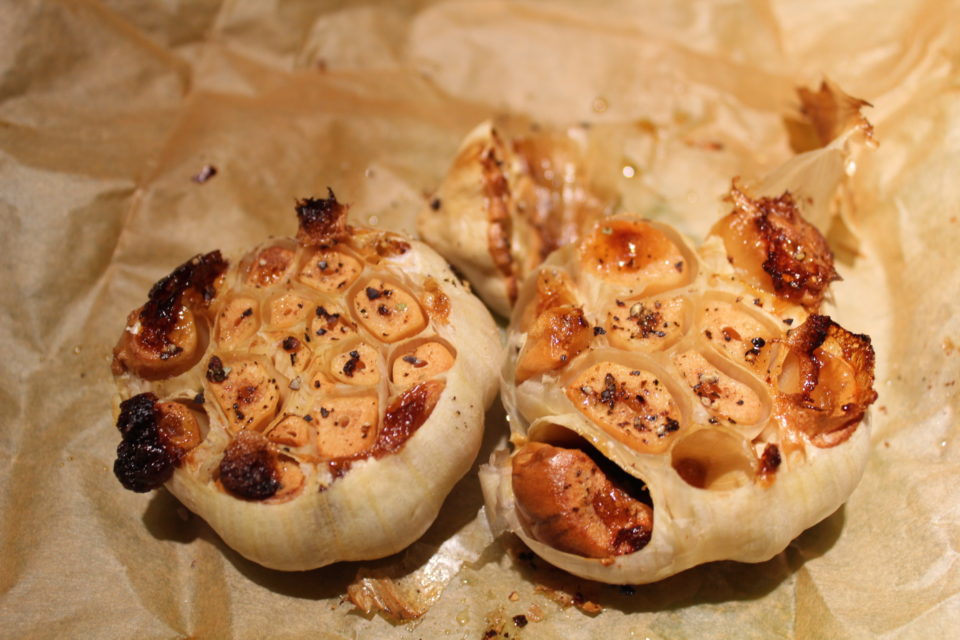 One of my favorite snacks my dad would make us is roasted garlic and Boursin cheese. You spread that on some nice warm bread and it tastes so good. Boursin is a soft cheese with lots of herbs in it. Since I was adding the roasted garlic to my soup I decided to go back to my favorite snack and add in some of the cheese to my tomato cauliflower soup. Since the cheese has all the herbs in it you don't have to worry about seasoning the soup too much.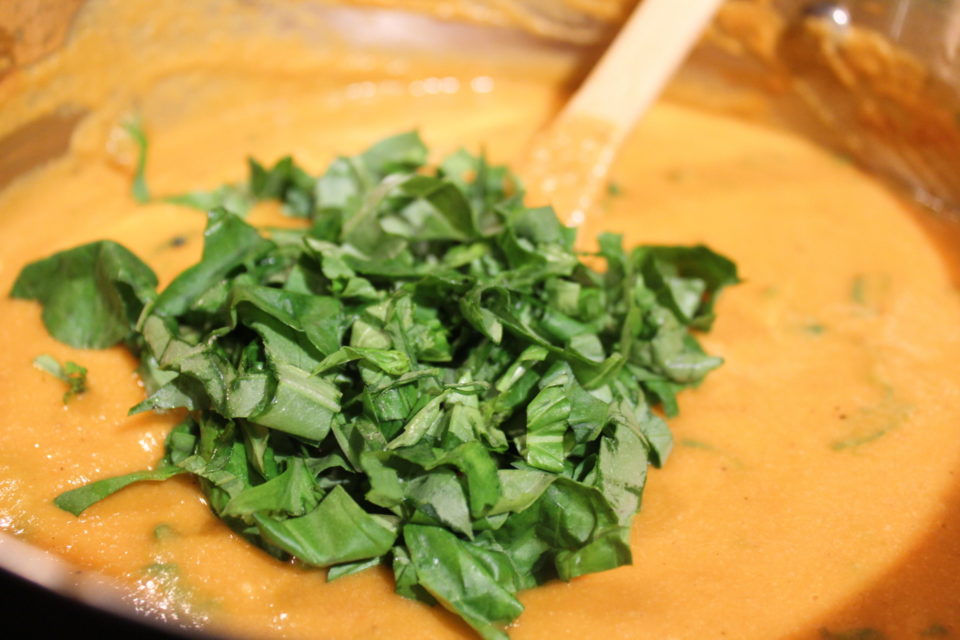 While this was a meal that required a little more effort than making a smoothie or popcorn, it wasn't much! Plus once you blend it all up it's almost like a smoothie anyway! So the next time you are looking for an easy soup be sure to make this tomato cauliflower soup.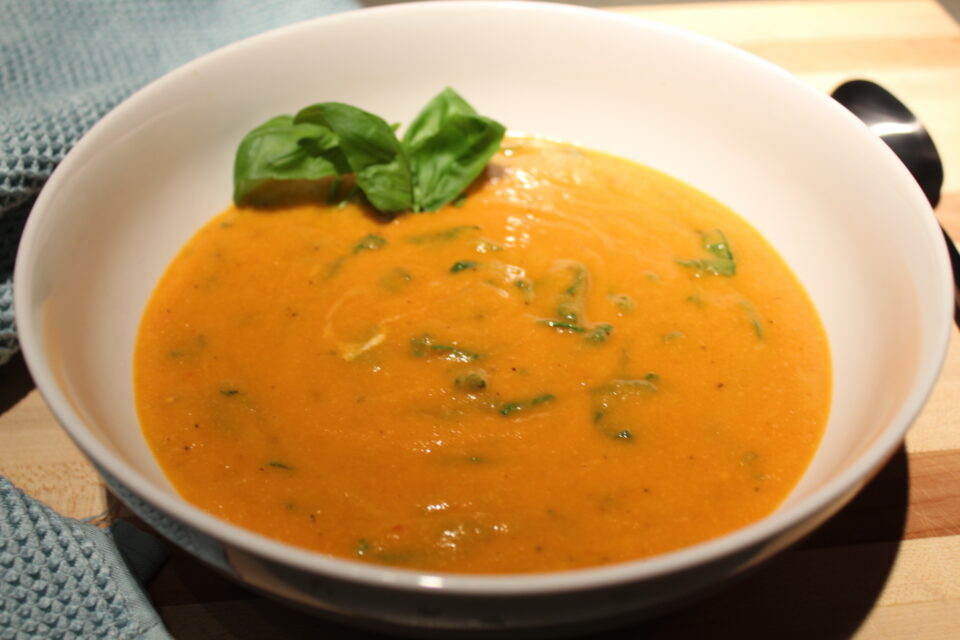 Print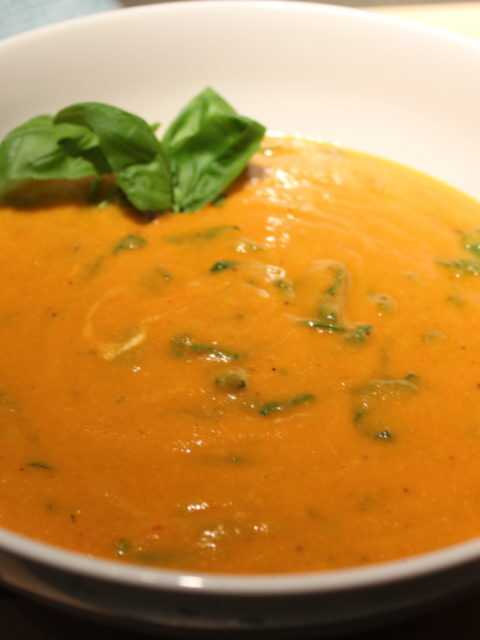 roasted garlic tomato soup with cauliflower
---
2

whole heads of garlic

1/2

package (5.2oz package of Boursin cheese)

5

–

6

ribs of celery sliced thin

1

yellow onion diced

1

head of cauliflower cut into florets (you can leave them larger)

2

14 oz cans of cannellini beans (drained not rinsed)

1

parmesan cheese rind (you can find these sometimes with the fresh parm, they add a great flavor when you use in soups. If you can't find it is ok to omit)

2

boxes (or

8 cups

) of chicken or vegetable stock

1

28 oz can whole peeled tomatoes (I like San Marzano)

1

package or large handful of fresh basil torn or sliced into small pieces
---
Instructions
Pre-heat the oven to 400 degrees.
Slice the heads of the garlic off so that all of the garlic cloves are exposed. Usually I cut off the top 1/4 of the entire head. On a cookie sheet drizzle the heads of garlic with olive oil and season with salt and pepper. Place in the oven and cook for about an hour. After 45 minutes check the garlic. You do not want the garlic to burn, just become nice and golden brown. (PS – your house is going to smell amazing!)
While the garlic is roasting you can start your soup. In a large soup pan with a little olive oil, sautee the celery and onion over medium heat until soft (about 10-12 minutes). Add in the tomatoes, cauliflower, beans , parmesan rind and enough broth to just cover everything (about 4-5 cups). Break up the tomatoes with the back of a wooden spoon just so they don't burst open while they cook. Turn up to a boil and season liberally with salt and pepper. Once boiling turn the heat down to medium heat and let cook about 10-12 minutes until the cauliflower is cooked through. Turn heat down to low.
When garlic is done roasting using a fork, pick the cloves out and add them to your soup. Some cloves might be stubborn, I just leave those and try to get MOST out of the shell. Remove parmesan cheese rind. Using an immersion blender or a regular blender blend the soup until it turns to a smooth puree. If the soup is too thick at this point add in more stock, a little at a time, until it thins out to your desired thickness. Stir in the Boursin cheese and basil. Season with more salt and pepper if necessary.