[dropcap]L[/dropcap]ately low carb nights have become a common theme in our house. Previously I have written before about how my husband followed a pretty strict carb cycling program that helped him drop 10 lbs. Now it's more of a lifestyle for him. Typically we don't eat many carbs during the week or if we do it's a small amount like quinoa in a salad but pasta dishes are saved for the weekends. Recently he had sent me a link to a really good looking pasta dish with pesto and roasted tomatoes in it. Since it was a week night I didn't want anything that heavy for dinner so I started thinking about what else I could make.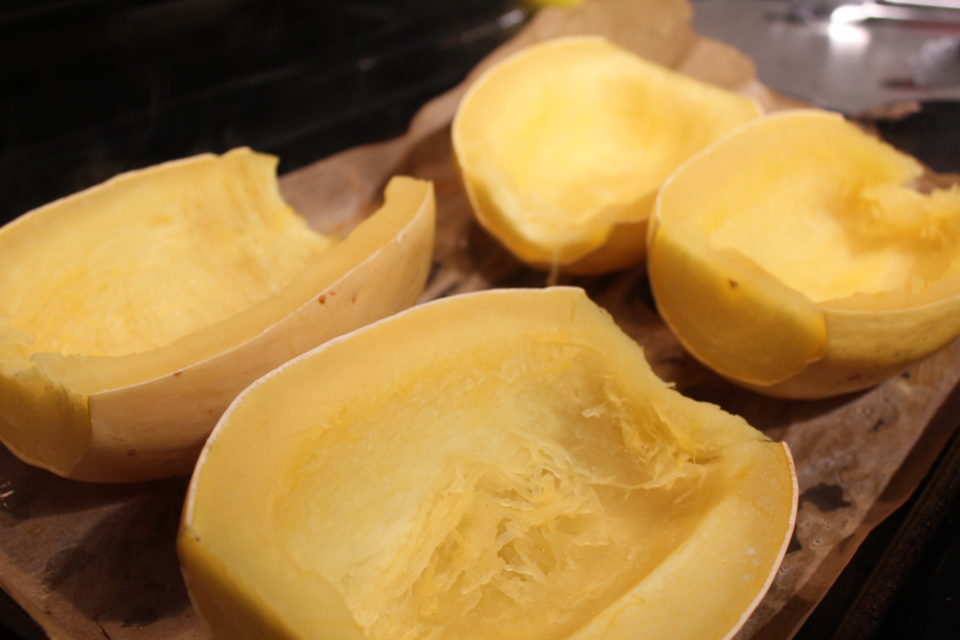 Often times I don't follow recipes. Let me re-state that, for COOKING I do not follow recipes, for baking that's a different story. However, I will look at recipes and get ideas and inspirations but I can't say there are many recipes I follow strictly. When I started thinking about low-carb dinners I came back to the pasta recipe he sent me. In general, spaghetti squash is always a nice substitute for pasta. Texture wise the two are similar if you think about angel hair pasta. When the squash is plain you are able to taste the sweet flavor it naturally has. The squash will be more noodle-like when covered in a sauce. Using inspiration from the recipe Chase sent to me I decided to go with a pesto squash.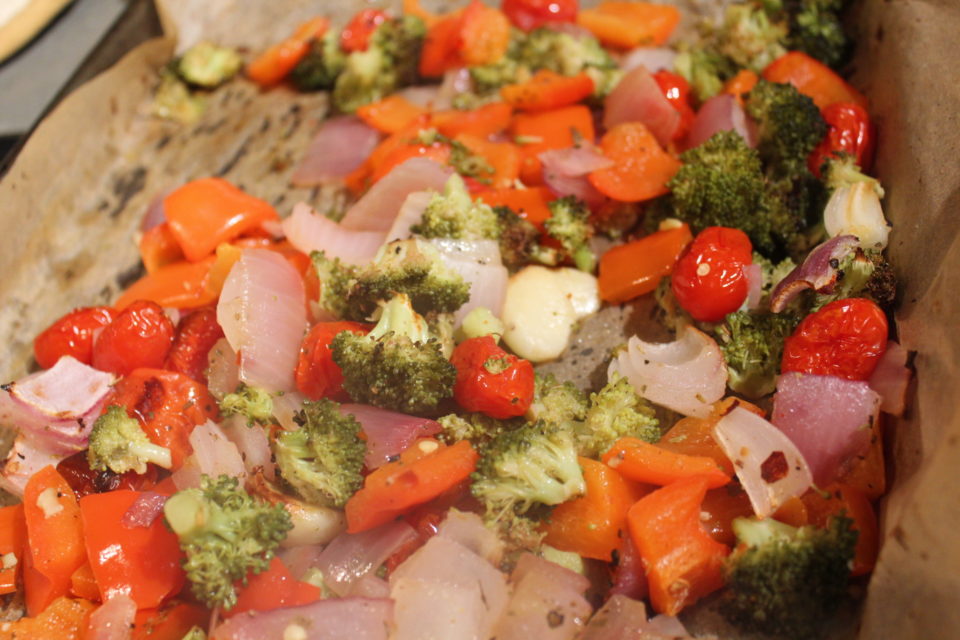 As you all know from reading pretty much any other blog post of mine, I LOVE incorporating vegetables to any dish I make. Roasting vegetables in the oven is one of the easiest ways to cook them. All you have to do is season them and forget about them for 30-40 minutes which is perfect since the spaghetti squash takes about that long to cook. Besides, roasting the veggies let's you use your oven for the entire meal instead of using your stove. When I roast veggies I just rough cut them into chunks (not too big think the size of a normal mouthful of food) and season them accordingly to whatever style food I am making. Furthermore roasting whole garlic cloves with the veggies will help enhance the garlic in the pesto. Plus roasting the garlic brings out a sweetness to it.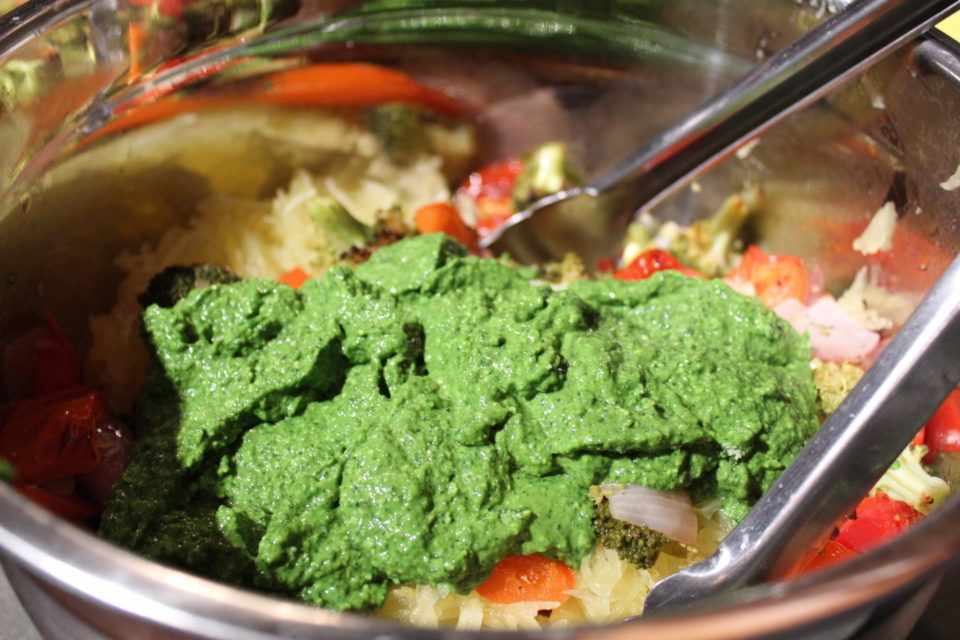 Once both the spaghetti squash and the vegetables are done roasting in the oven, the rest of the meal comes together quickly. You can create "noodles" with the squash when you use a fork to shred it. Next I chose to toss the veggies, pesto and "noodles" in a large bowl. Afterwards I stuffed the mixture back into the squash shell just for appearance. If you didn't want to take this extra step you can just put the mixture into a baking dish. Finally the dish is topped with some fresh mozzarella cheese and then placed under the broiler for a few minutes to heat everything together and melt the cheese.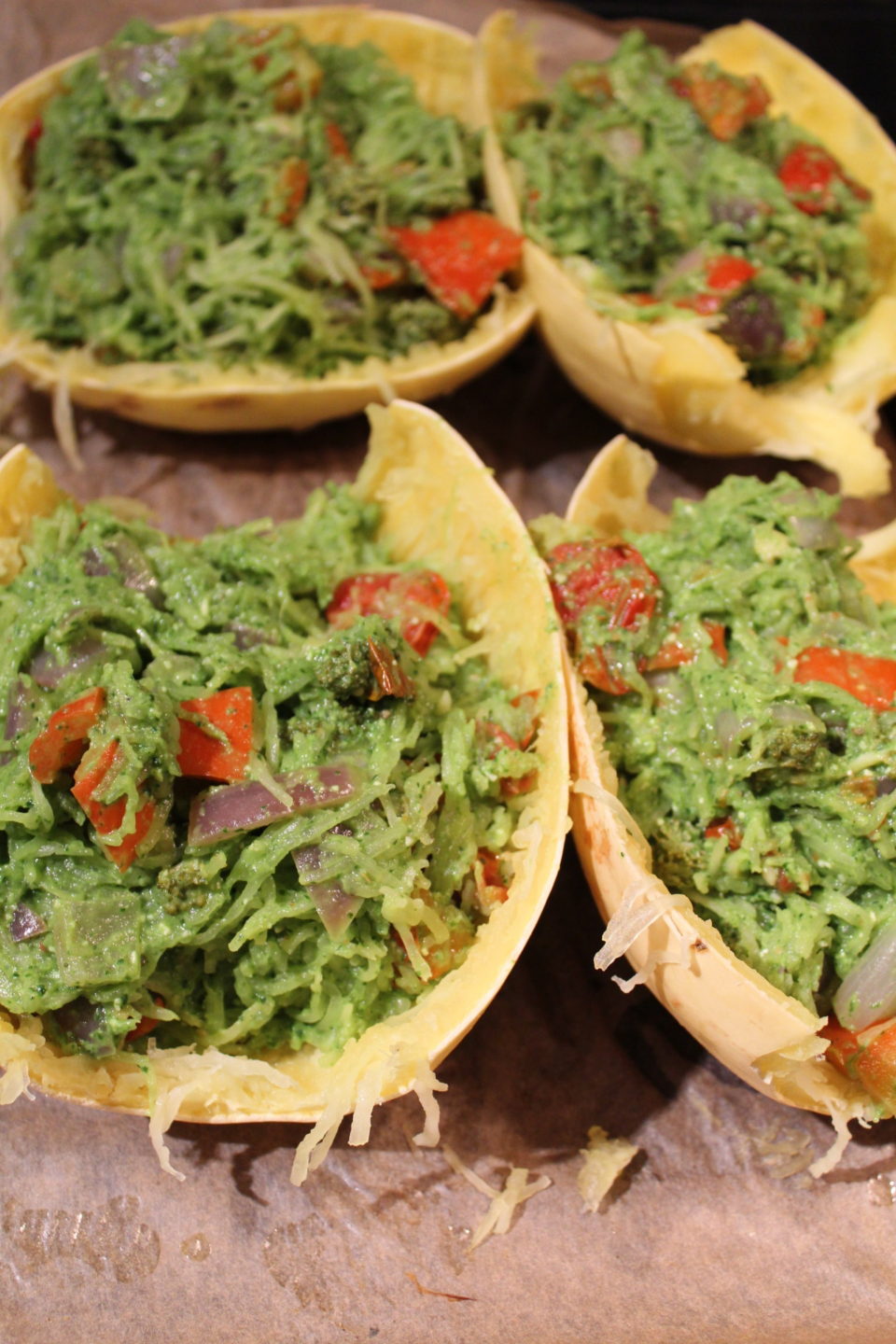 When you use spaghetti squash instead of pasta it's a good way to get more vegetables incorporated into your meal. While this vegetarian dish is complete on it's own, you could add some grilled chicken to the dish if you truly cannot do without the meat. Not only is this meal healthy, low carb and full of veggies it also is easy to make and tastes great too!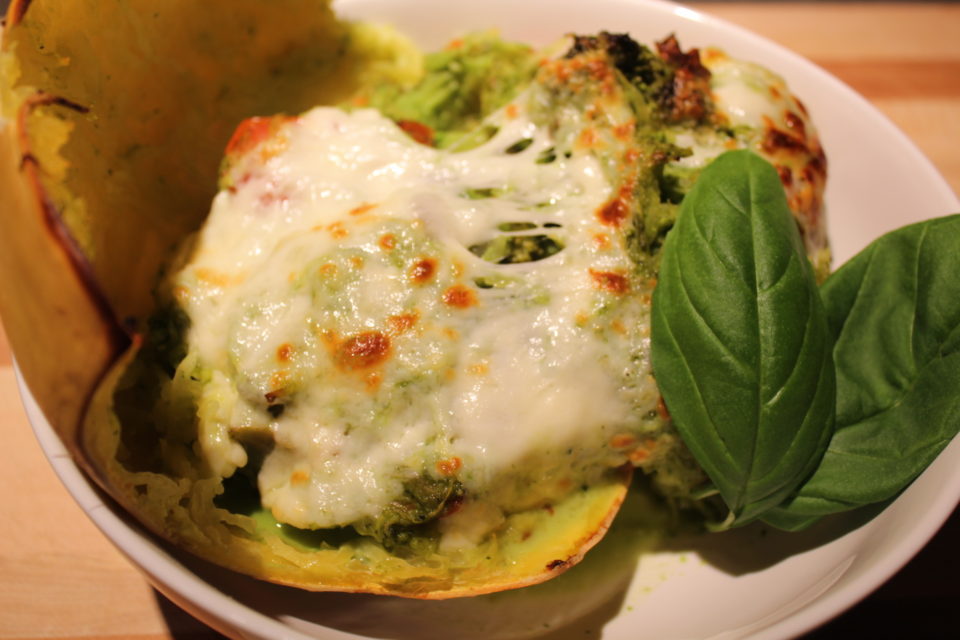 Print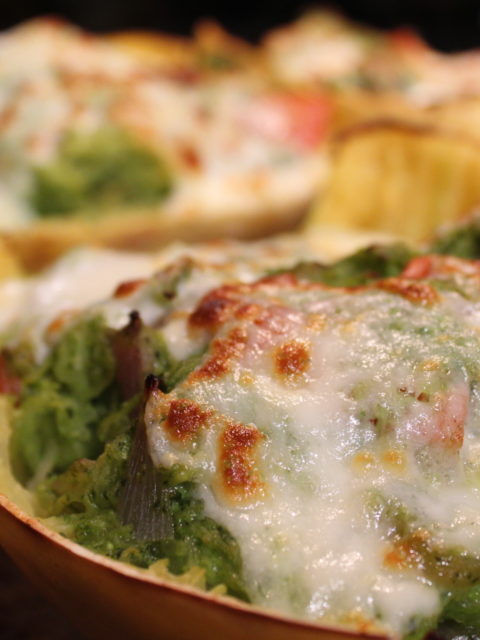 pesto spaghetti squash with roasted veggies
---
Total Time: 1 hour 15 minutes
2 spaghetti squash
2 red bell peppers cut in larger dice
1 red onion cut in same size dice as peppers
1 head of broccoli cut into small florets
2 TBS olive oil
10 whole cloves of garlic
1 TBS Italian seasoning
1/2 tsp red pepper flakes (you can omit if you don't like spice)
8 slices of fresh mozzarella cheese
for the pesto
2 cups of fresh baby spinach
1–2 oz fresh basil (I buy 1 oz packages if using loose fresh basil use 2 large handfuls)
1/2 c grated parm
1/4 c toasted pinenuts (Trader Joe's sells them already toasted but raw are ok as well)
3 whole peeled garlic cloves
one big squeeze of fresh lemon juice
2 TBS olive oil
salt and pepper
---
Instructions
Pre-heat oven to 400 degrees
In a baking dish or on a cookie sheet combine all of the ingredients except the spaghetti squash and mozzarella cheese. Mix up to ensure your veggies are seasoned well and spread evenly in baking dish or cookie sheet.
First cut spaghetti squash in half length wise. Next scoop out all of the seeds. Season the flesh side of the squash with salt, pepper and a small amount of olive oil. Bake in the oven on a cookie sheet or pan, flesh side down for 35-40 minutes or until you can easily pierce the skin with a fork (kind of like a baked potato). While your squash is roasting, roast your vegetables as well turning the veggies (not the squash) every 10-15 minutes. Once you remove the squash and veggies from the oven, pre-heat the broiler to high.
Once the squash is done, with a fork start to scrape the insides of the squash to make your "noodles". In a large mixing bowl combine the "noodles", roasted veggies and pesto. I chose to place the mixture back into the squash shells for appearance but you could also place the mixture in a large baking dish. Whatever method you choose, then top the mixture with the fresh mozzarella cheese. Finally place under the broiler for 5 minutes to get the cheese melted and golden brown.
For the pesto
Combine all ingredients except olive oil in a food processor or blender. Once everything is blended together stream in olive oil. Your pesto will still be thick and will thin out once cooked.
Prep Time: 15
Cook Time: 60