[dropcap]A[/dropcap]sian cuisine is NOT my specialty in the kitchen. I will never claim to know the difference between Chinese food, Thai, Vietamese, Korean etc. because I don't eat a ton of Asian inspired meals. First of all you know how high maintenance selective I am about meat. Secondly I suffered from MSG poisioning from an Asian restaurant before. It was the WORST.THING.EVER. Within 2 hours of eating my meal I was doubled over at my desk with the most intense stomach pains I have experienced. My husband picked me up from work and I was on the couch for 2 days. It was awful. I didn't know it was a thing until I Googled it – it's scary stuff. Because we eat so clean my body clearly cannot process it.
Anyway, I have a fear of eating Asian for this reason. Even when restaurants tell me they don't cook with it I always wind up slightly sick the next day. Unfortunately though, my husband LOVES it. He studied abroad in Thailand and they use lots of spice and cilantro in their dishes (his two favorite things) so when I am gone for the night he relishes in the opportunity to get take out.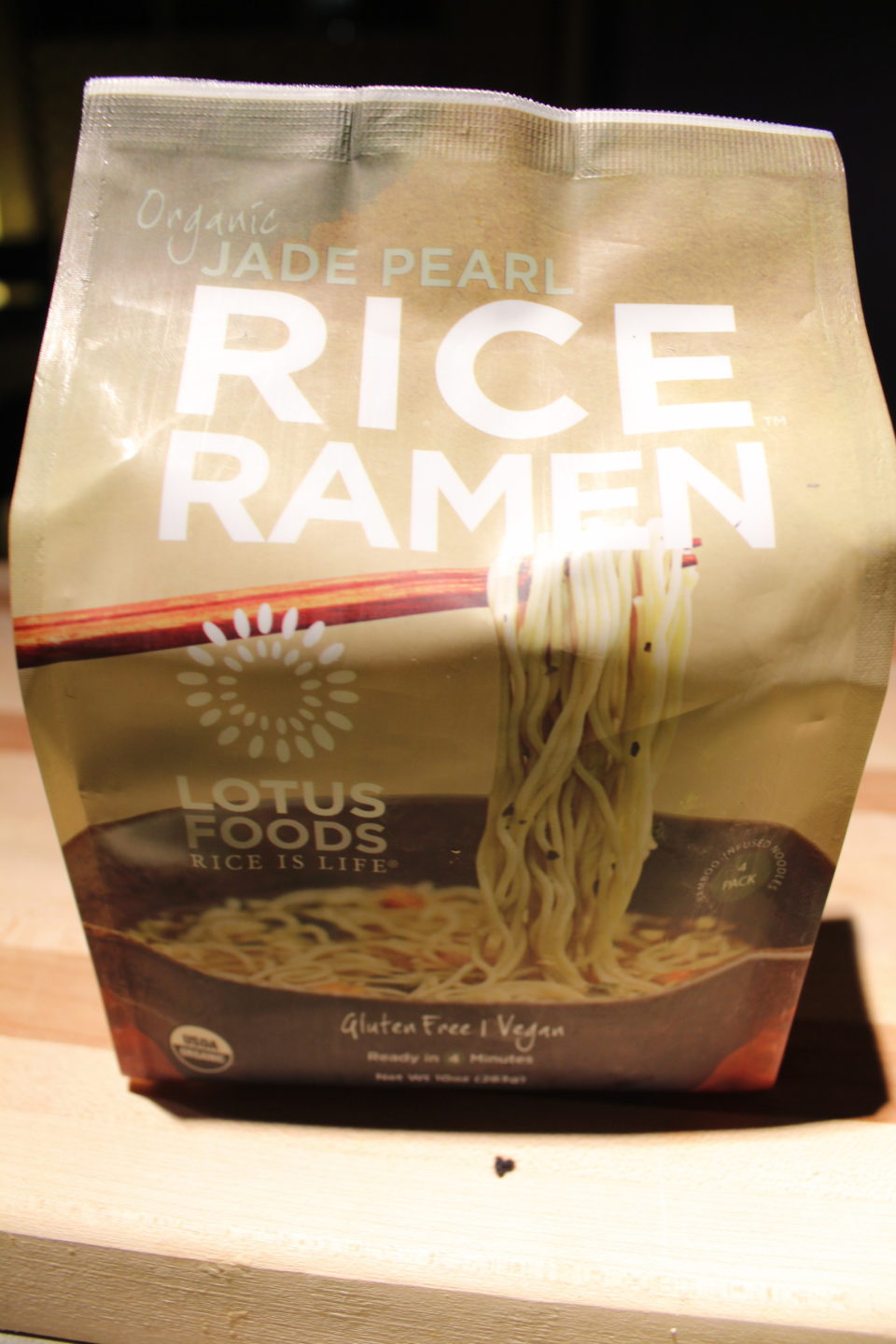 Recently we have had a few ramen restaurants pop up in Detroit that he swears are good (I will take his word for it). When I think ramen I think ramen from college – with their little MSG filled seasoning packets. I have now learned there is more out there than those. Whole Foods has organic ramen (MSG free thank you very much!) that are just the noodles. This also leaves a blank canvas for you to do whatever you choose with. Including NOT adding MSG.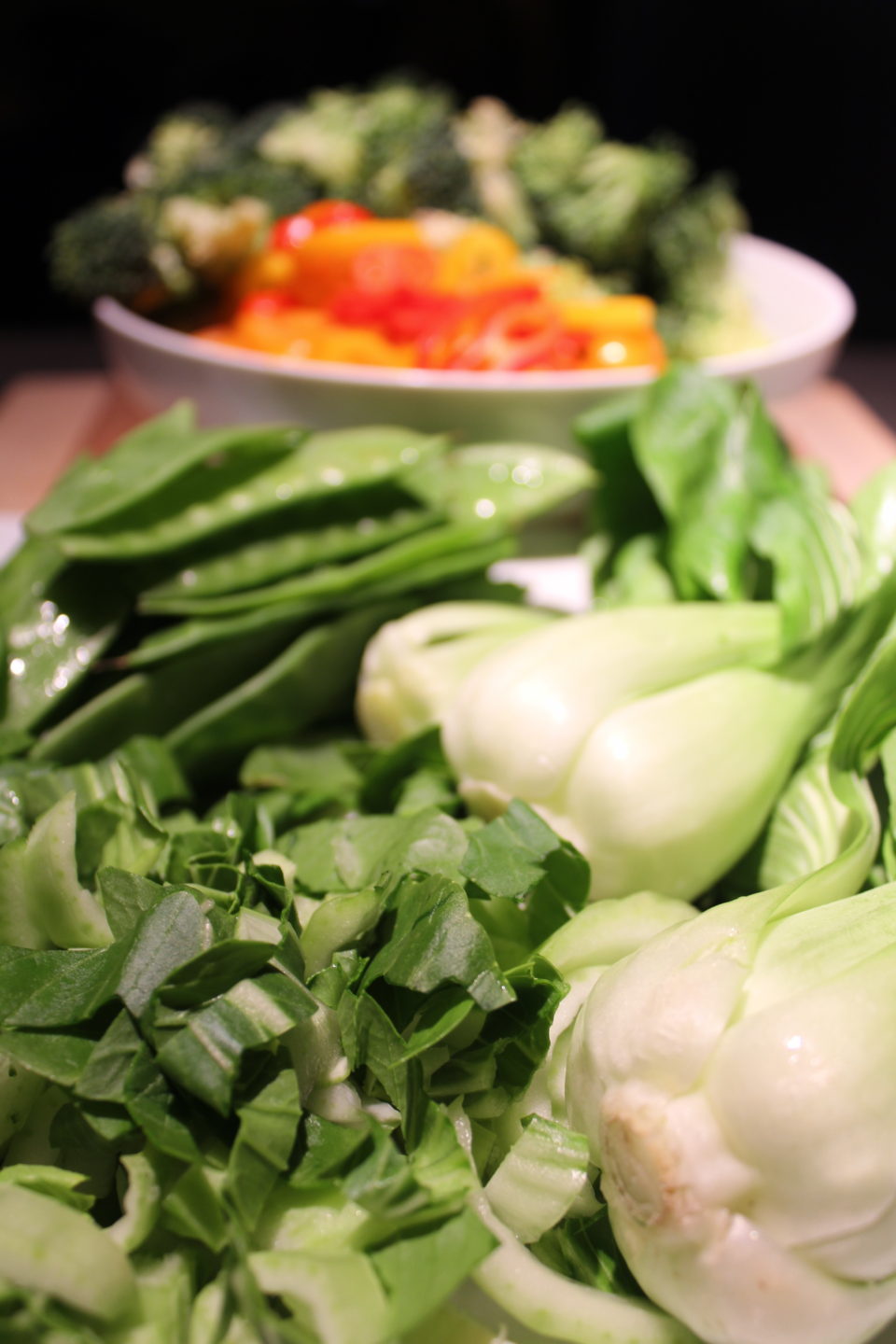 Since I have always loved peanut sauce, I decided to be adventurous and try to make us an Asian inspired dish. The one thing I love about the cuisine is the plethora of vegetables that are often found in the dishes. And as a result, makes for a perfect Meatless Monday.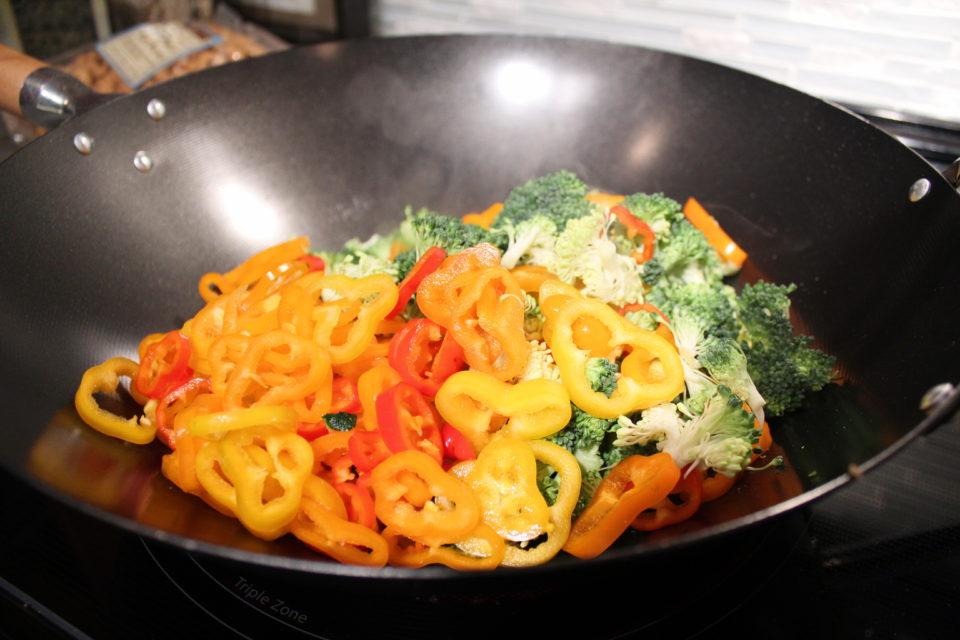 Not only is cooking with veggies healthy, it makes for a quick and easy dinner. I think it took me longer to chop all my veggies than it did to cook everything. Plus this dish is a total multi-tasking meal. While my veggies were cooking in the wok (you don't need a wok a deep skillet will do) I could make my sauce and start boiling water for the noodles. It takes longer for the water to boil than the ramen to cook! In addition to my wok veggies, I spiralized a few zucchinis as well and threw them in with my ramen the last minute they were cooking. Since the spiralizer curls the veggies they blended nicely with the wavy ramen.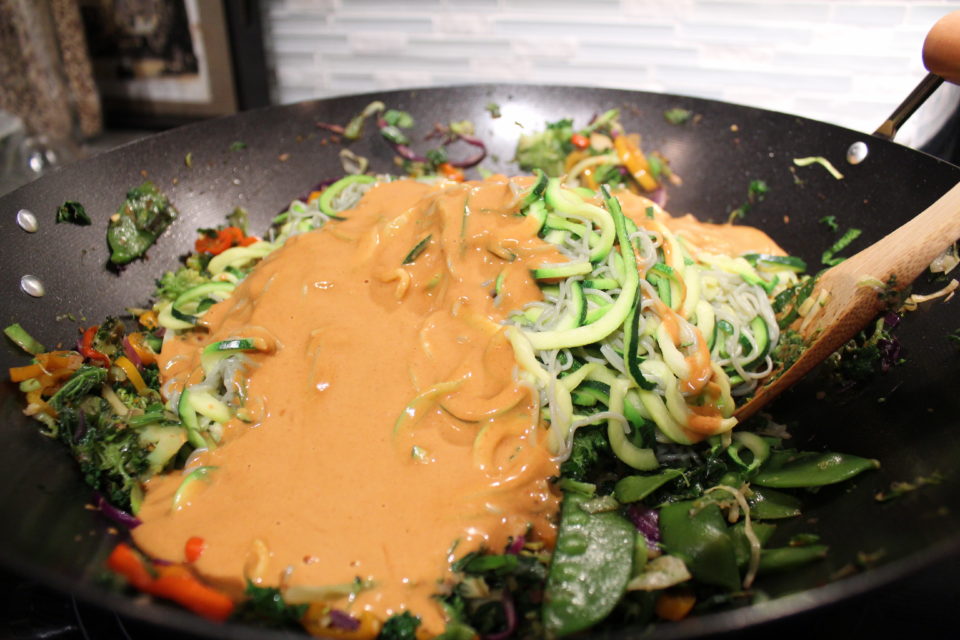 Don't be intimidated by complex flavors that you might not be used to cooking. Meals like this one come together quickly and will make you forget that you didn't get take out. In the time you would have placed your order, ran to pick it up and headed home, this meal will be made – MSG free!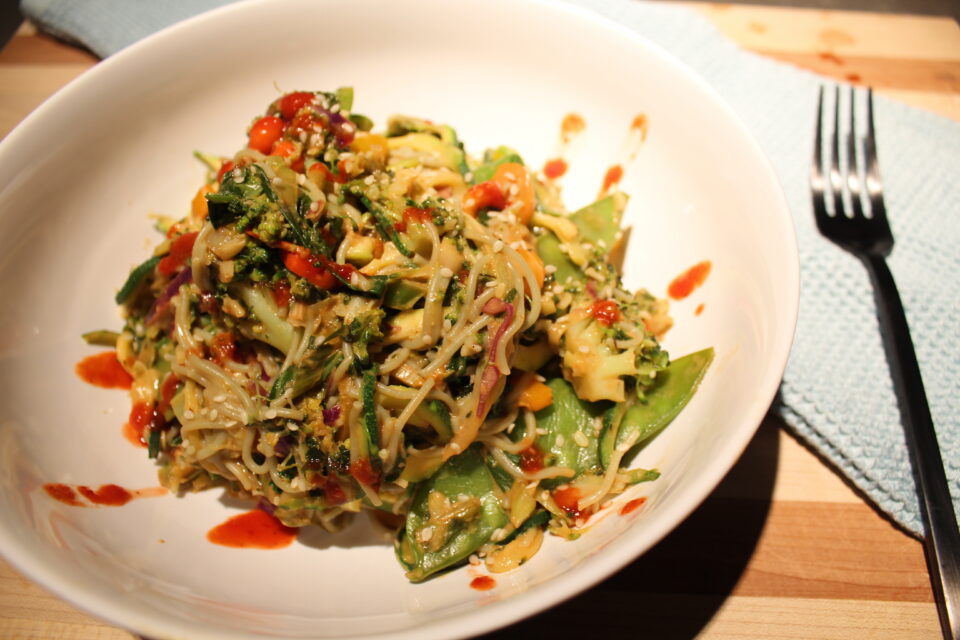 Print
2 c broccoli florets
2 bell peppers thinly sliced (I used baby bell peppers and thinly sliced about 9 of them)
1 c snow pea pods
4 heads of baby bok choy thinly sliced
6 cloves of garlic minced (or one heaping TBS of pre-minced garlic)
2 c kale, brussels, cabbage mix (or you can use 1 c of shredded red cabbage)
5–6 scallions thinly sliced
2 packages of ramen
3 zucchini – spiralized into zoodles (my Whole Foods has them already made if you want to save time!)
2 TBS sesame or peanut oil
sesame seeds for garnish
For the peanut sauce
1/2 cup peanut butter (I chose creamy unsalted)
2 TBS low sodium soy sauce
1 TBS Sriracha sauce (if you can't handle a lot of spice start with a teaspoon or two instead)
1 TBS rice wine vinegar
the juice of one lime (if your lime isn't juicy use two, mine produced 1-2 TBS of juice)
1 tsp grated ginger (Trader Joe's has ginger paste which saves you the time grating!)
1 tsp umami paste (I found mine at Trader Joe's – if you can't find it's ok to omit this)
---
Instructions
In a bowl combine all ingredients for peanut sauce and whisk together.
Bring a large sauce pan of water to boil for your noodles.
While your water comes to a boil, in a wok or a deep skillet heat sesame or peanut oil to medium high heat. Next add in broccoli and bell peppers. Cook for 2-3 minutes stirring occasionally so the veggies don't burn. Add in bok choy, scallions and pea pods. Cook an additional 2 minutes. Turn down heat to medium and add in kale/brussel/cabbage blend and garlic. Cook another 2 minutes. Turn heat to low.
When water comes to a boil add in ramen. Follow the directions for the brand you purchased. Mine said to cook for one minute, then break apart with a fork and cook an additional three minutes. When the noodles had one more minute left to cook I added in my zucchini noodles. BEFORE YOU DRAIN THE NOODLES – save one cup of the pasta water. Then drain.
Add noodles to your veggie mix.
To the peanut sauce add in the reserved hot pasta water and whisk. This will help thin out the sauce. Immediately add to the noodle veggie mix and stir to combine.
Notes
I find if I buy peanut butter that is only made of peanuts and open a brand new bottle this works best. The peanut butter is still soft and liquid. Be sure to mix your peanut butter all the way so the oil mixes in before using it in this recipe.
Prep Time: 15
Cook Time: 20