[dropcap]I[/dropcap] remember seeing a commercial for either Chili's or Applebees before. They had this cheesy chicken skillet that looked so good. The base appeared to be mashed potatoes then they were topped with fajita veggies and chicken. To finish the dish they topped it with cheese and melted it. Now if you have read a few blog posts of mine, by now you are probably thinking "she wouldn't eat at either of those places!" and you are correct. I wouldn't but the commercial did the job, it made me hungry.
When you look at the nutrition facts for most meals at chain restaurant they are very unhealthy. Furthermore, they often times are loaded with processed foods. When I was in high school I worked at Red Lobster. I remember seeing most of the food pre-portioned out coming straight from the freezer and put back on the stove to heat up. No thanks. But this dish isn't anything complex and was actually really easy to replicate.
Since I have never had this dish I just conceptually threw something together. We have been trying to cut back on carbs during the week so instead of potatoes I thought I would make a cauliflower mash. Which is really easy to make. They were out of fresh cauliflower so instead I bought 2 bags of frozen florets and realized I will be using frozen more often now. While normally I spend the time chopping it myself and it actually was cheaper to get the frozen stuff – plus a huge time saver. Lastly I threw some scallions in with the mash at the end to add to my southwest flavor profile I was going for.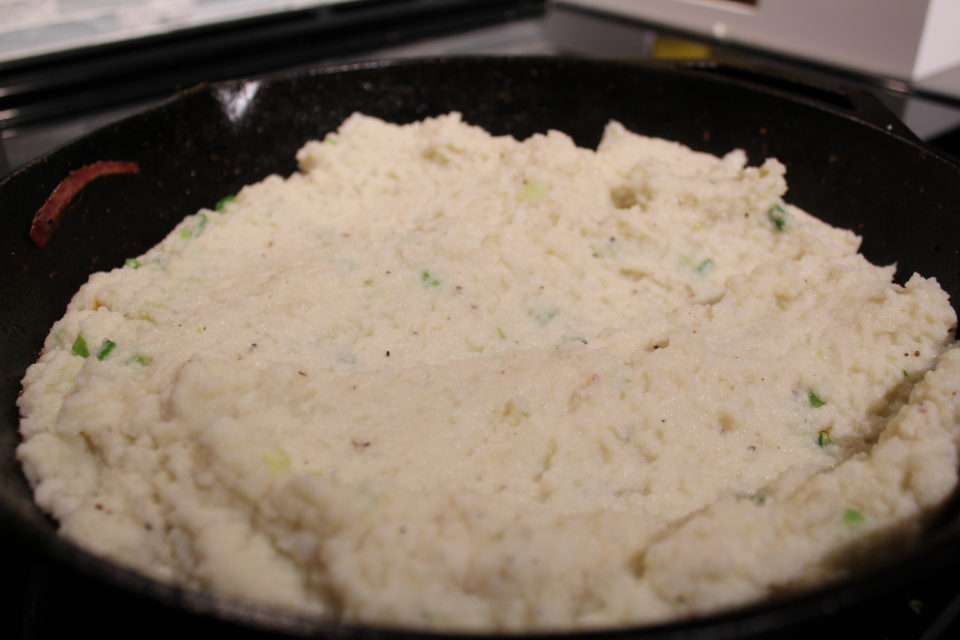 Whenever I make fajita style veggies I always add zucchini to the mix. Since I like my peppers and onions thin, sometimes slicing the zucchini to be the same size can be a pain. Apparently I was full of time saving steps that night. I completely forgot I have a mandolin and that I could slice my zucchini quickly using that tool. But if you don't have a mandolin you can just do the work yourself. However, if you are into kitchen gadgets I would say a mandolin is up there as one of my favorites because it can save you so much time.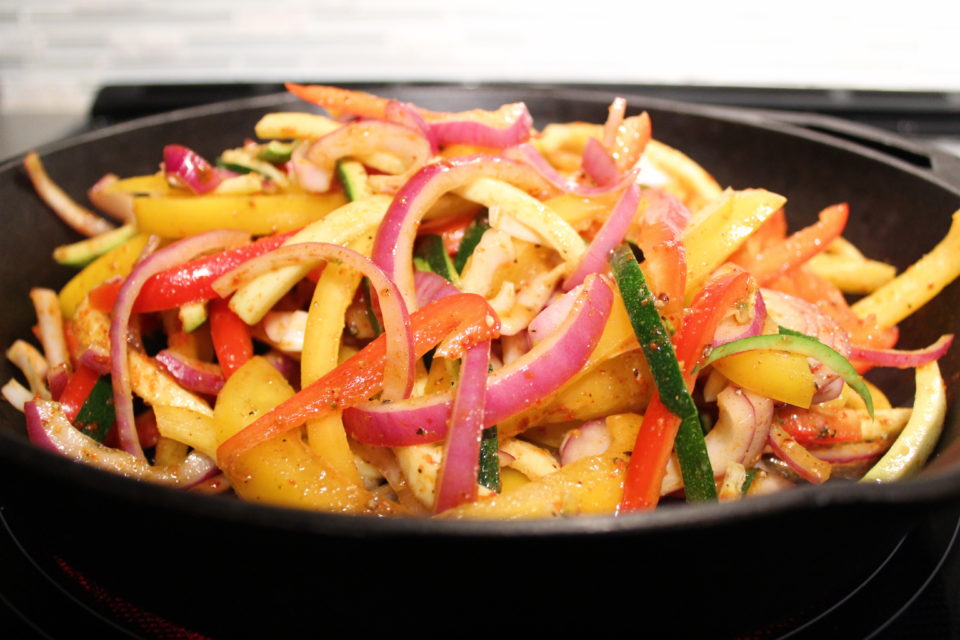 I wanted my chicken to have a lot of flavor. When we are just grilling chicken for salads and it's going to have dressing or something else put on it we just simply season and grill it. For this though, the chicken was going to be a main component of the dish. Before I went to work in the morning I marinated the chicken in garlic, citrus juices, jalapeños and seasoning. It soaked in all that good liquid all day long. Because citrus helps break down your meat it results in a nice juicy piece of chicken. Which is another reason to marinate if you use chicken breasts as they can tend to dry out.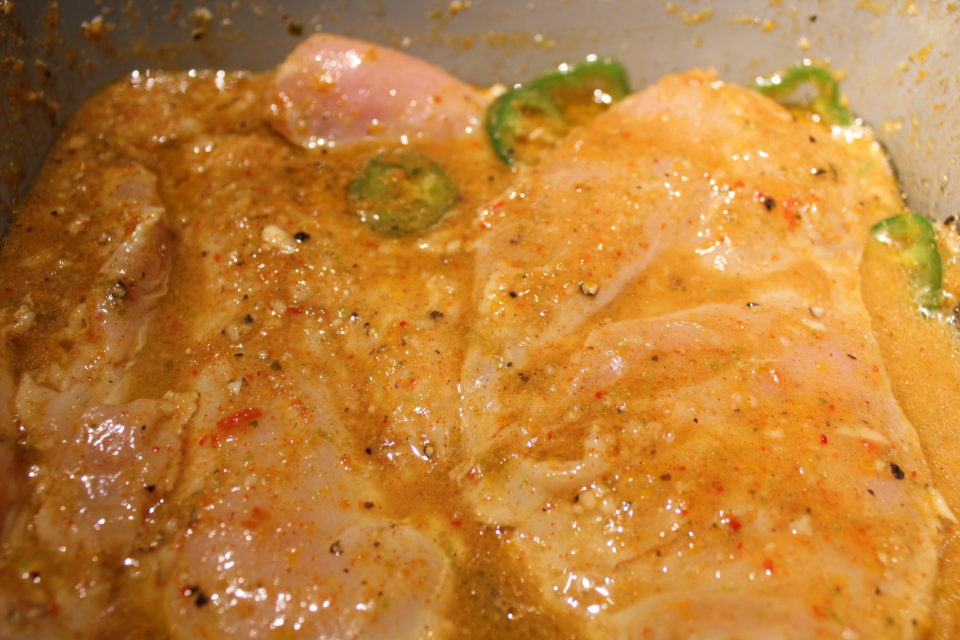 I used my cast iron skillet because you can put it in the oven. If you don't have a cast iron though, any baking dish would work here. Really the only reason you need your oven is really just to melt the cheese in this dish.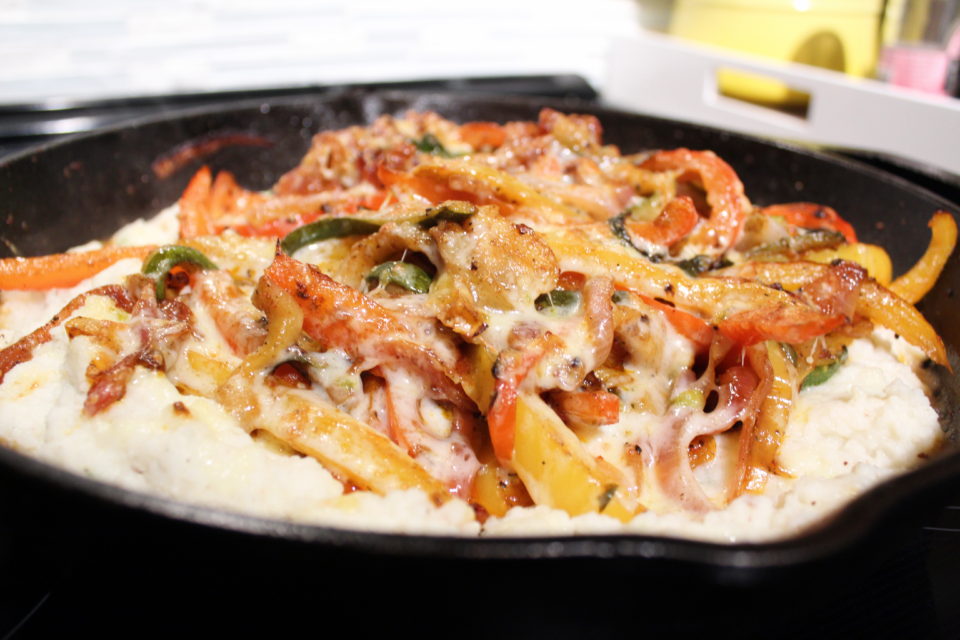 Restaurant food can tend to be unhealthy. And it can have lots of hidden ingredients and preservatives. When you can make a restaurant inspired dish at home you can control all of that. Plus you don't have to tip anyone but yourself!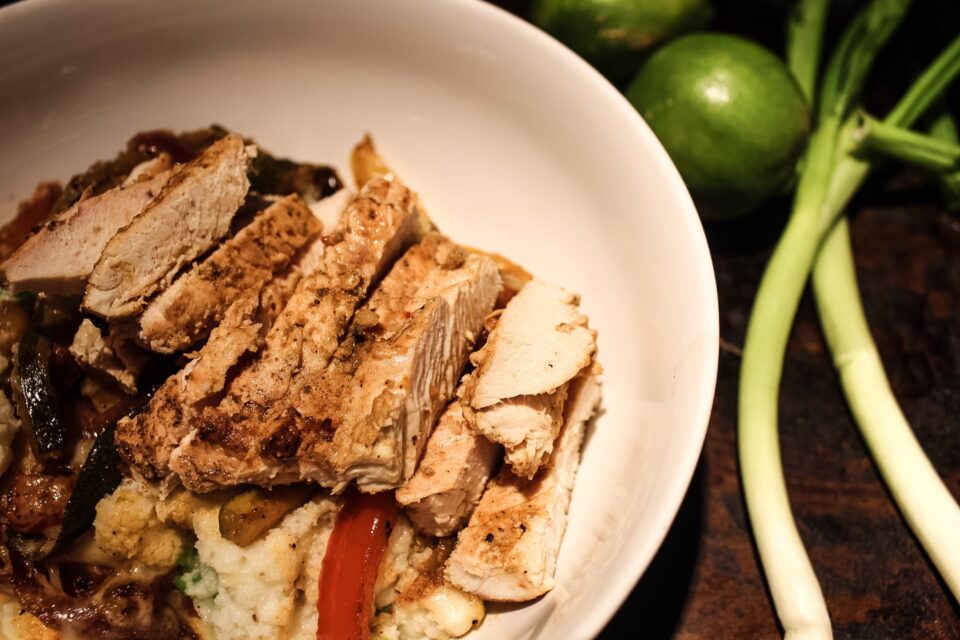 Print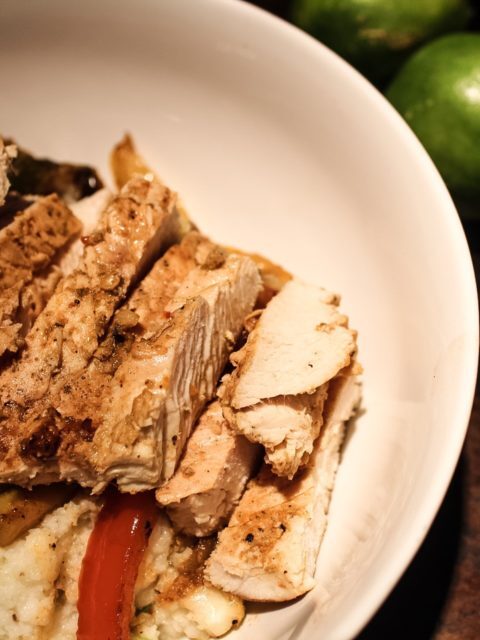 Sizzling Chicken Skillet
---
*Double this recipe to serve 4 people
Chicken
2

boneless skinless chicken breasts pounded thin (or better yet, tell your butcher you want

2

chicken cutlets – they already did the work for you!)
juice and zest of one lime
juice and zest of one orange

6

cloves of garlic minced

1/2

jalapeno sliced thin

1

TBS cumin

1

TBS chili powder (I am obsessed with Trader Joe's Chili Lime seasoning!)
A few dashes of hot sauce of your choice

1/8

c olive oil
salt and pepper (use less salt if you use the seasoning mentioned above as it has salt in it)
Veggies
2

bell peppers any color sliced thin

1

red onion sliced thin

2

zucchinis sliced thin

1

–

2

jalapenos sliced thin (if you don't like spice omit)
juice of

one

lime

1

TBS cumin

1

TBS chili powder (again the Chili Lime is great here too!)
a few drizzles of olive oil
salt and pepper
Cauliflower Mash
2

16 oz bags of frozen cauliflower florets

6

scallions sliced thin

6

cloves of garlic minced

2

TBS butter or olive oil (for this I prefer butter)

6 oz

plain Greek yogurt

1/8

–

1/4

c chicken broth
salt and pepper

8 oz

of cheddar cheese grated
---
Instructions
At least 2 hours before you intend to cook – or preferrably in the morning so your chicken has time to marinate – place all of the ingredients except the chicken in a large storage container. Whisk all the ingredients to blend. Add in the chicken. Place in the fridge until it is dinner time.
When you begin to cook, take your chicken out of the fridge and let it come to room temperature. It's easier to grill meat that isn't freezing cold.
In a large bowl combine all of the ingredients for the veggies. I find tongs or my hands work the best to mix everything together to really get the veggies coated with the seasonings.
Bring a large pot of water to boil
In a cast iron or oven proof deep skillet, sautee veggies over medium high heat. Keep your veggie mixing bowl to the side – you will use it again before you wash it. I like my veggies to get a little char on them from the cast iron. Be sure to keep an eye on them so they don't stick and burn. Cook for 8 minutes. I like my veggies to still have some crunch to them for this dish similar to fajitas. Turn the heat down to low and set aside. Once I start my veggies I pre-heat my grill for my chicken.
Pre-heat oven broiler
When the water is boiling, add in florets and cook about 4-5 minutes until cauliflower is tender. Remove to a strainer. In same pot cook scallions and garlic over medium low heat in a small amount of olive oil or butter (think a teaspoon worth at most, you don't need much). Cook a few minutes to get both soft. Remove from pan and set aside. Add cauliflower back in to the pot and add yogurt, butter, salt and pepper and 1/8 c of the chicken broth to start. Mash the cauliflower with a potato masher or an immersion blender to blend. If your mash is dry add in the remaining 1/8 c of chicken broth. (I have found starting with a little bit is better with cauliflower, they can get runny pretty quickly) Once mashed add in onion/garlic mix and combine.
If you are multi-tasking grill your chicken for 4-5 minutes a side over medium-medium high heat. Once done let rest.
Next remove veggies from skillet and place back into the bowl you mixed them in. Spread cauliflower mixture into cast iron skillet. Top with veggies. Lastly, top veggies with cheddar cheese. Place under the broiler for 2 minutes. If your cheese is not melted keep an eye on it. Every oven is different and mine only took 2 minutes. Some might take 3-4.
To finish, serve spoon cauliflower mixture and then top with chicken breast (I sliced mine into strips for this).
Prep Time:

15

Cook Time:

25