As you know by now if you have read any of my previous posts – we don't eat a ton of meat. We may eat meat once on the weekend and sometimes not at all. I always have been picky about eating meat and before I met my husband I wasn't eating a ton of it. I am not vegetarian I just am super selective about the quality of meat I eat. My husband is from the south and when we met I would often cook dinner and he would make meat for himself. Now he eats more vegan that I do! However, this past weekend he asked me to make a meaty tomato sauce which actually sounded good to me. So I started thinking on how I was going to make a tomato meat ragu.
Italian Inspiration
When we were in Italy last we took a cooking lesson in Bologna and learned how to make traditional Bolognese sauce. Surprisingly there isn't any tomatoes in the traditional recipe, just a tablespoon or two of tomato paste. I knew that wasn't going to work so I decided I was going to take a hybrid of my quick tomato sauce that is usually vegetarian and the Bolognese sauce I learned how to make.
Recently I had made meatballs so I had some meat in the freezer from my meatball mix. I always make a combination of grass-fed beef, pork and ground veal when I make meatballs. I knew the trifecta would go great in a sauce. The one thing I learned in our cooking class (thank you Maribel!) was to make sure you brown up the meat really well before you add any vegetables. When you add the vegetables in they can cause a little water to soak out and you don't want mushy meat!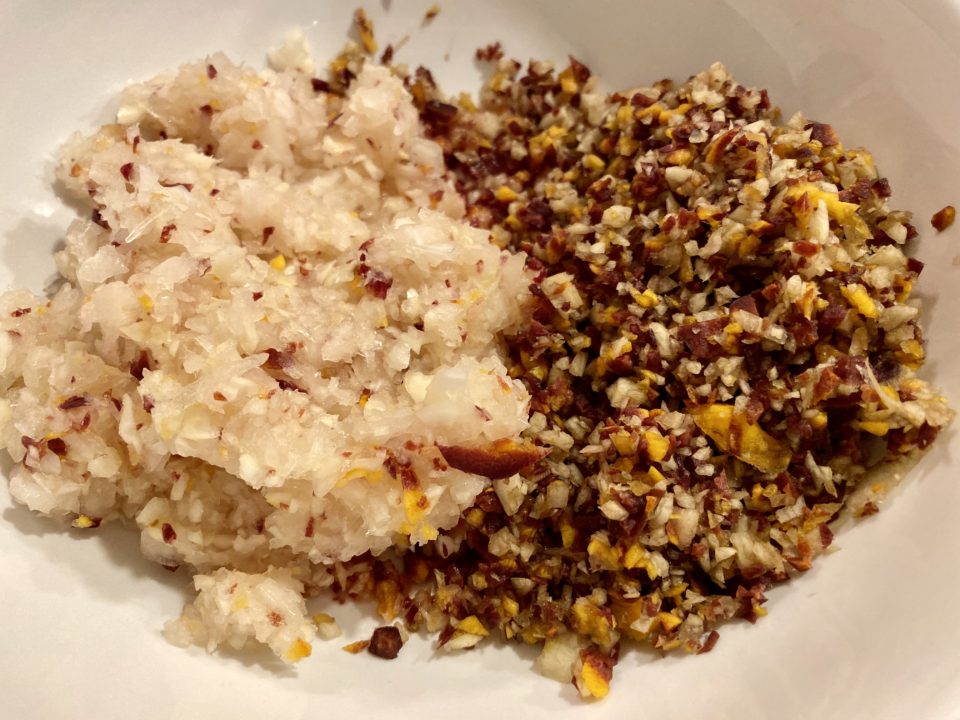 Typical Bolognese sauce calls for a soffritto which is minced onion, carrots and celery. I decided to omit the celery since my husband doesn't love it. I have been using our little chopper a lot lately to do my dirty work. First I rough chop the onion and carrots and then throw them in the chopper to get a fine mince to them. My daughter is getting super curious as most twenty months old are and she loves to help me cook already. So the chopper not only saves time but it gives her something she can help with. She loves pushing the button and seeing the vegetables get chopped up.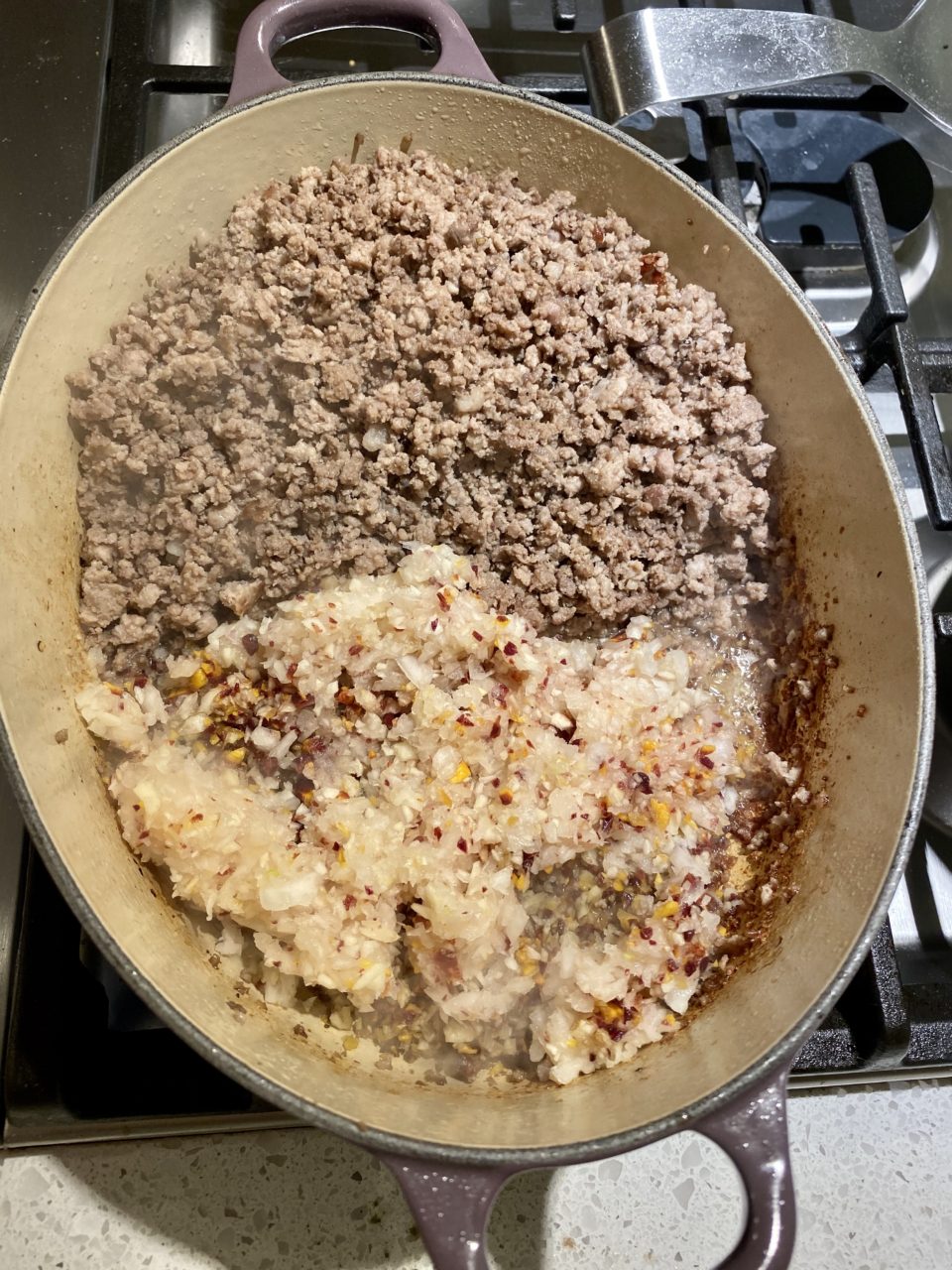 Ways to ensure maximum flavor
Red wine and good tomatoes are key to give this sauce a great flavor. For the red wine I use anything we would normally drink. Lucky for me we had a little Chianti left from the night before so that went in the sauce. If you don't have any wine or don't drink you most certainly can omit it. But it does give the sauce an extra depth of flavor so if you have it use it. If you want to stay more traditional for this sauce splurge on San Marzano tomatoes. They are grown in Italy and are perfect for sauces.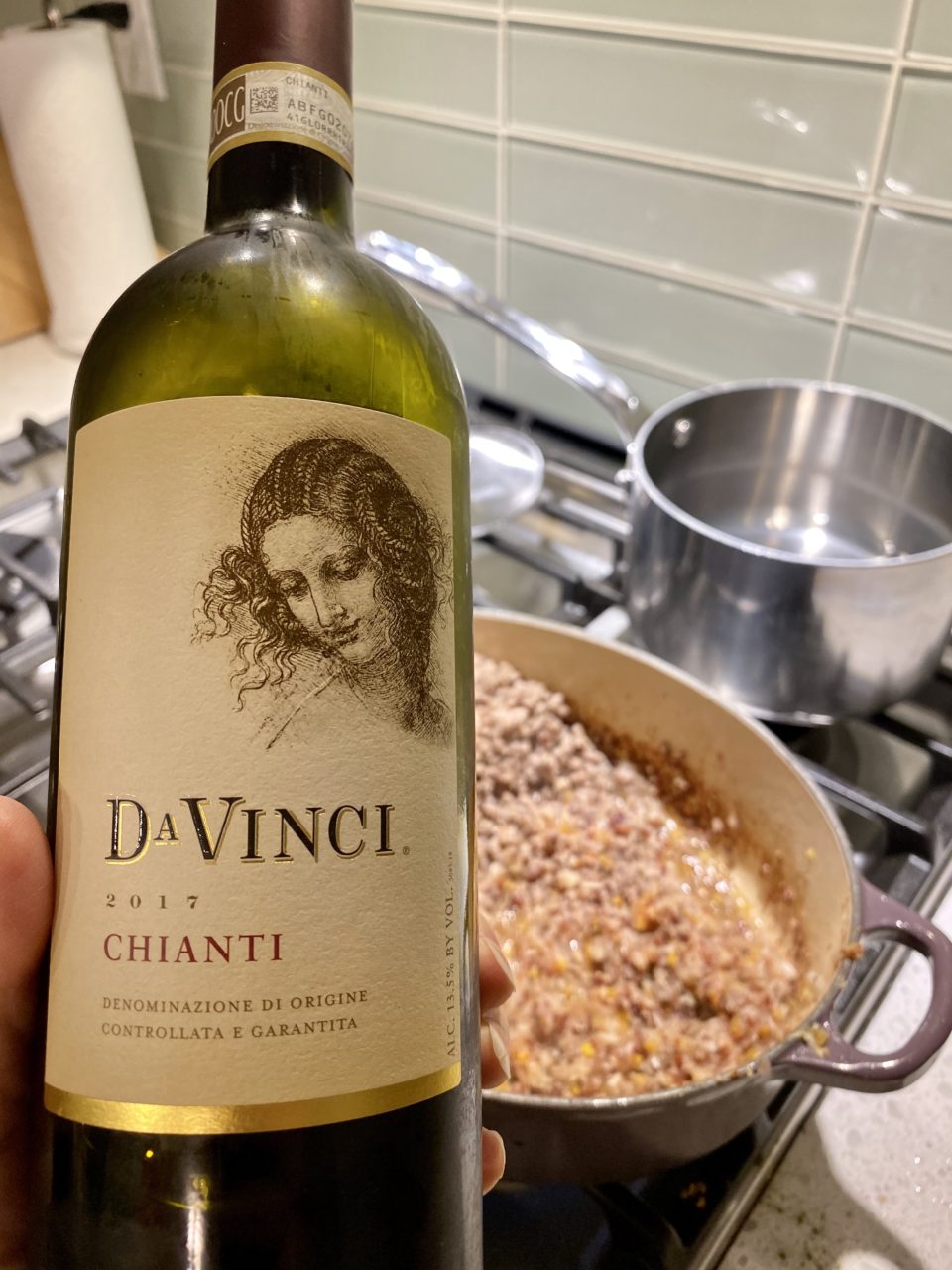 And good pasta, don't forget a good quality pasta! You don't want to make an amazing sauce and then just put it over a mediocre noodle. Lastly for the pasta – imported Italian pastas are my absolute favorite. I just think they taste so much better and are of better quality. Some of my favorite brands are Seggiano and Montebello.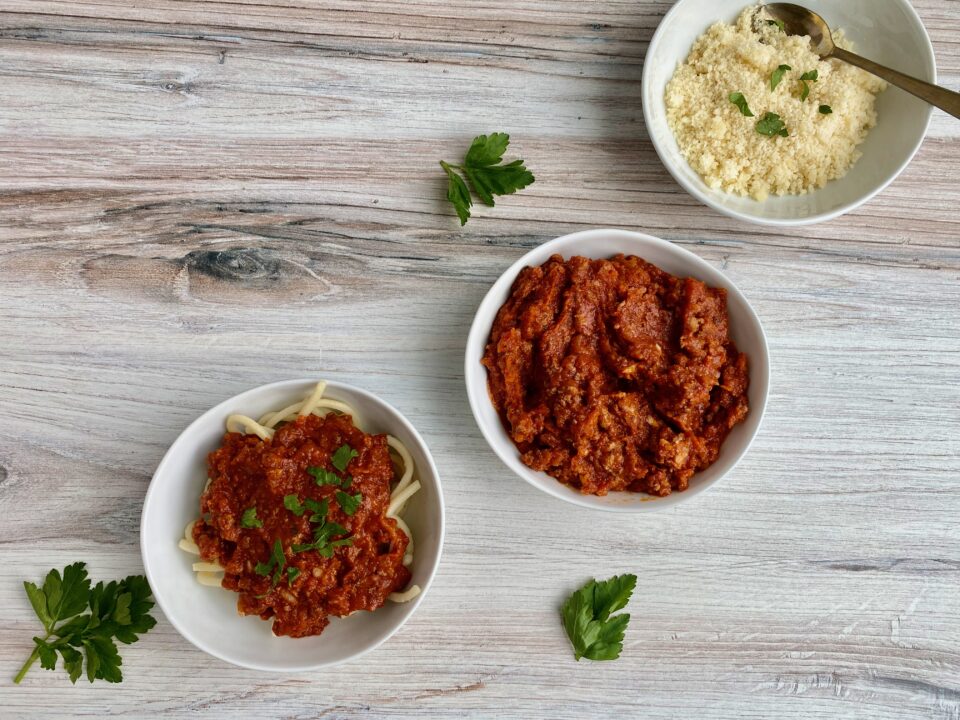 This tomato meat ragu doesn't actually take long to throw together. Just give yourself a few hours for it to simmer low and slow on the stove and cook out the raw tomato flavor. It pairs nicely with a green vegetable like asparagus or green beans. And be sure to get some good Paremsan Reggiano to top it with. It will make you almost feel like you are in Italy!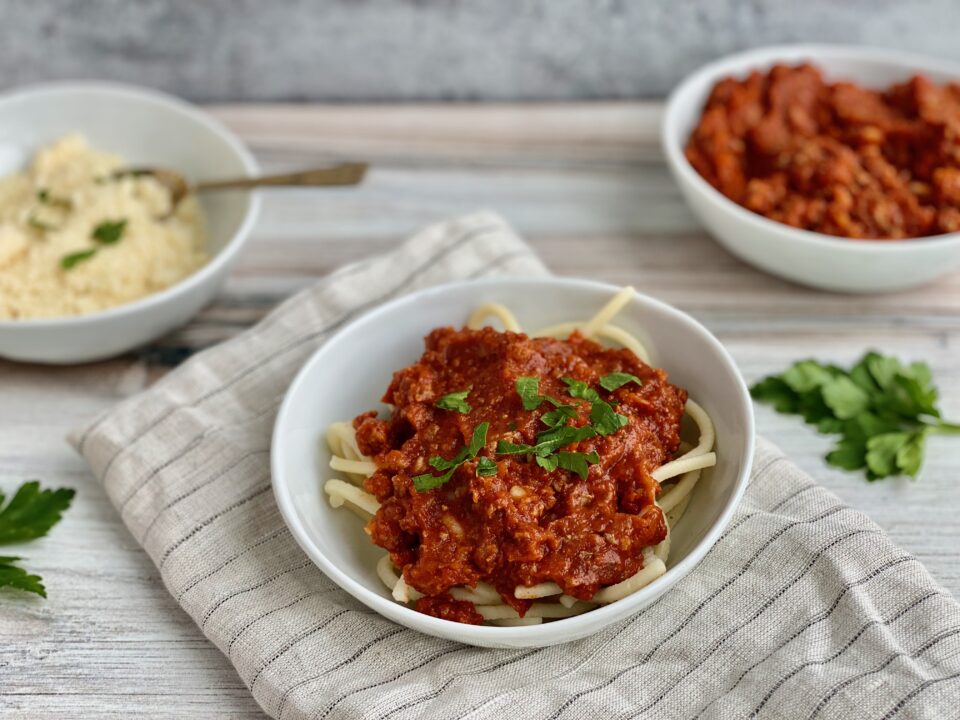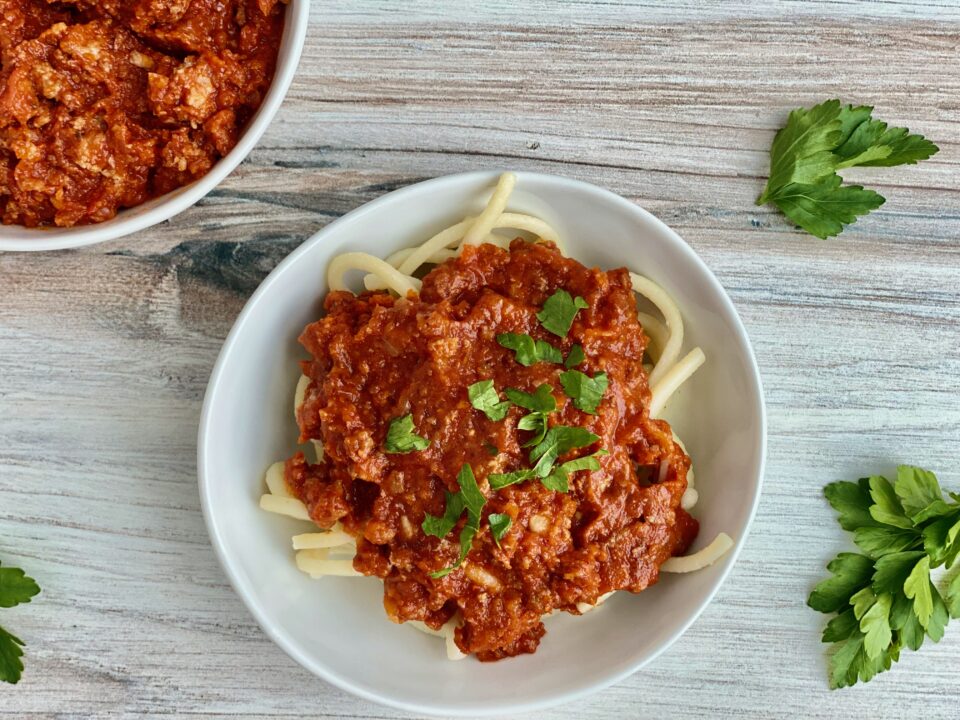 Print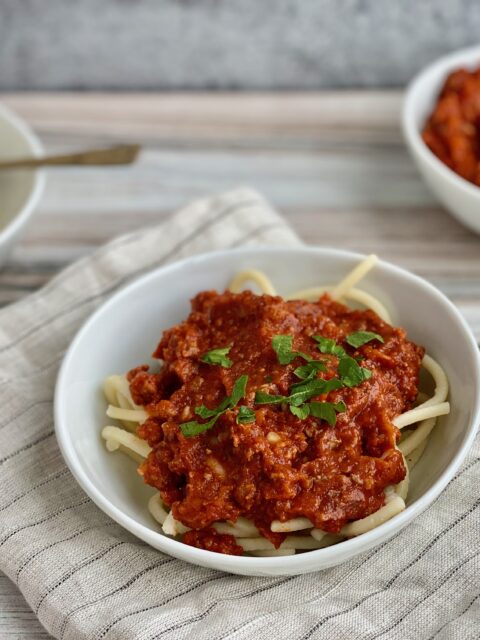 tomato meat ragu
---
Total Time: 3 hours 5 minutes
2–2.5 lbs of ground meat, I use an even split of ground beef, ground pork and ground veal. If you can't find ground veal you can do 1 lb. each of ground pork and ground beef.
2 carrots, minced or grated
1/2 large (or 1 small) yellow onion, minced
6 cloves of garlic
1 c red wine (something you would drink!) Chianti or any Italian reds would work great
1 tsp sugar
2 28 oz cans of crushed San Marzano tomatoes
1 parmesan cheese rind
1 lb of pasta (spaghetti or orecchiette work great)
---
Instructions
In a large Dutch oven or soup pot add a few turns of extra virgin olive oil. Turn heat up to medium.
When the olive oil has heated up add in your meat. Increase the heat to medium-medium high heat. While the meat is cooking season liberally with salt and pepper. Break the meat up into bite sized pieces as the meat cooks. Also let the meat sit a little so it gets nice and golden brown. Don't worry if the pan starts to get a little brown on the bottom too.
Once the meat is cooked through push it to one side of the pan and turn the heat down to in-between medium/medium low. If there is a lot of grease left in the pan scoop some of it out. (remember – DON'T PUT IT DOWN YOUR GARBAGE DISPOSAL!!!) put it in a can or container and let it harden and then throw away.
Add in the carrots, onion and garlic. Cook a few minutes until the vegetables are softened and translucent.
Turn heat back up to medium high and stir in the wine. While the wine is cooking out make sure to scrape up those good brown bits from the bottom of the pan (there is lots of flavor there!). Let the wine cook down until it's mostly evaporated.
Next stir in the tomatoes, parmesan rind and the sugar. Season again with salt and pepper. Turn the heat down to low and cover most of the way but leave a little of your pan uncovered. Cook for 2.5 hours making sure to stir occasionally. Taste your sauce and be sure to season with salt and pepper as needed.
Once the sauce has cooked cook your pasta. Be sure to salt your pasta water LIBERALLY with sea or kosher salt. The water should taste like an ocean! Once the pasta is cooked stir in your sauce. Top with parmesan cheese.
Prep Time: 5
Cook Time: 180